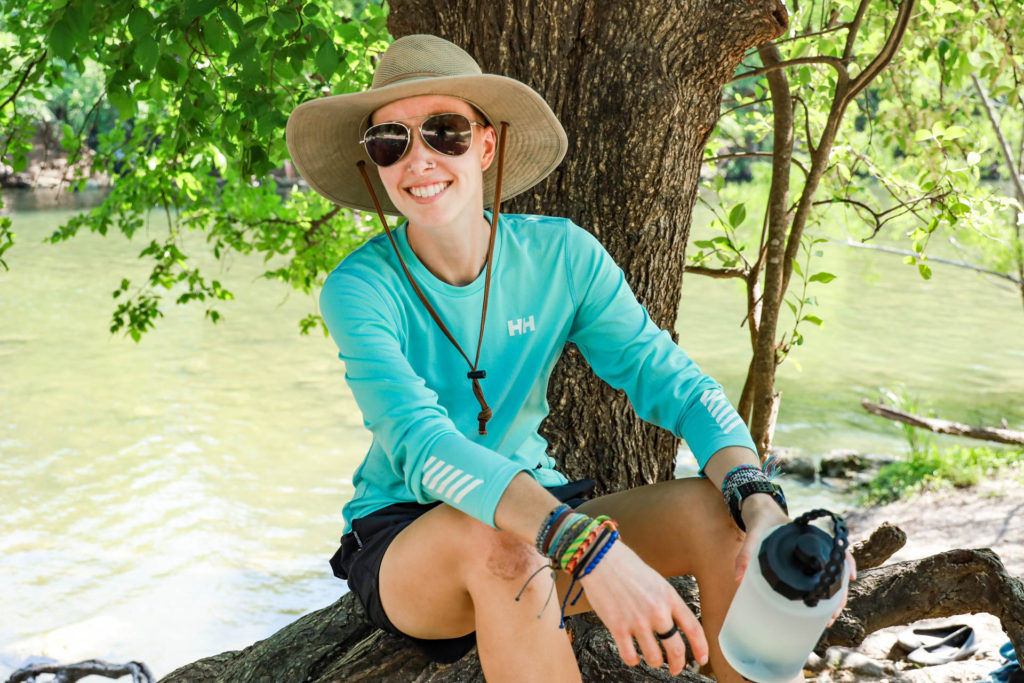 We get stoked about sustainable outdoor clothing and gear from sustainable outdoor brands. After all, if the brands that outfit us for adventure don't care about the environment they're encouraging us to recreate in, then are they even worth our spending money?! But that's why we love highlighting eco-conscious brands in these here Sustainability Spotlights: to introduce you to the cool, eco-friendly names and products we've come to know and love. Like Helly Hansen. Wanna know more? Sure ya do. Read on for our Q&A with Rebecca Johansson, Sustainability and R&D Manager at sustainable outdoor brand Helly Hansen.
Sustainable Outdoor Brand Helly Hansen
Terradrift: What is Helly Hansen's mission and how do your products achieve that mission?
Rebecca Johansson: Helly Hansen makes professional grade gear to help people stay and feel alive in some of the world's harshest outdoor environments. Our mission has always been to develop high quality, performance-driven gear that protects people at sea and in the mountains – and we achieve that by working closely with professionals who work and play in diverse and challenging conditions. Because they put our gear to the test firsthand, it's insights from these pro skiers, sailors, rescue professionals and mountain guides that allow us to continue to improve and deliver innovative, technical apparel. As part of our mission, we know that long-term success can only be achieved by also respecting and protecting the environment. So we strive to ensure our actions support the possibility for people and the planet to thrive.
Right on! How are your products better for the environment and better for people trying to get outside more? Talk about some of your most sustainable materials and manufacturing practices.
We began our sustainability journey by exploring and evaluating the methods we use to create our products and the materials used in them. Key focus areas for us are climate change and water – including use, consumption and pollution. As well as nature – from land use to biodiversity and restoration – and the longevity of our products.
Climate change
Our immediate target is to have at least 50% recycled content used in our products by 2025. Meanwhile, we are currently developing our 2030 climate target, and have measured our carbon footprint for the first time, including products and materials. So we know our hot spots and that the next step is to build an action plan to tackle these areas.
In order to track, measure and improve the environmental impact in our supply chain we are also rolling out the Higg Facility and Environmental module. We have a target to have minimum 80% of our suppliers reporting on Higg FEM by 2025, and aim for everyone to reach level 3.
Water
When it comes to water, we use solution dyed fabrics, mainly for linings and in our base layers. Solution dyed materials have a lower carbon footprint, and use less chemicals and water during production. We are proud to have saved 2.3 million liters of water in 2019 by using solution dyed materials instead of conventional wet-dyeing.
We also aim to have fully phased out PFC DWR in all of our inline garments by the latest 2023. We really believe that in a few years the use of PFC chemicals will be history. And we are investing in material R&D and research internally, which has already yielded first-to-market innovations like LIFA INFINITY PRO, where no chemicals are used in the waterproofing of the garments.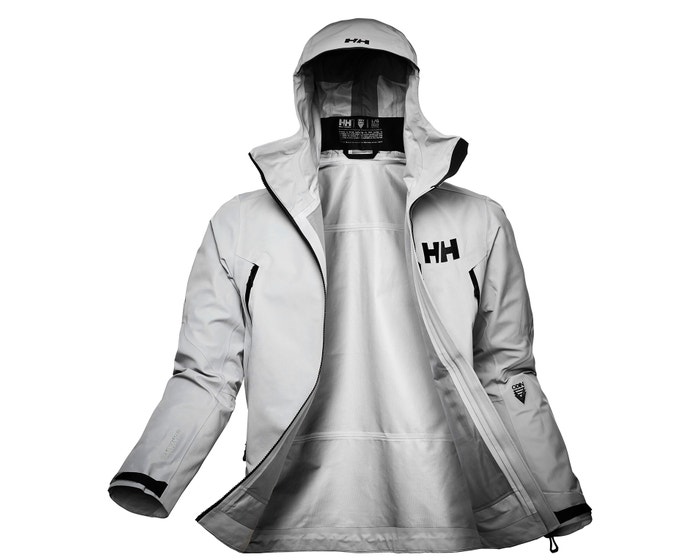 With LIFA INFINITY PRO™, we use our LIFA® fibers, a Helly Hansen technology that is lightweight and hydrophobic, delivering a waterproof/breathable membrane and durable water repellency without the use of chemicals. While the face is solution dyed, saving on GHG emissions, water and dyestuff (read about traditional dying on Terradrift). It is our most innovative, responsible waterproof/breathable technology to date.
In our sport segment we currently have over 70% Bluesign approved fabrics. Bluesign fabrics, made in their approved facilities, ensure the adoption of best available technology and use of Bluesign approved chemicals, as well as optimize efforts in regard to air emissions, wastewater and solid waste.
Nature
Our largest impact on land use and surrounding local ecosystems is linked to cotton and wool raw materials. So in 2021 we have transferred a large portion of our cotton to organic cotton (read about the difference between conventional cotton and organic cotton here), which today accounts for around 50% of our cotton. We also take animal welfare into account when deciding on fabrics and trims and don't use leather in any of our apparel and we phased out real fur in 2007.
Longevity
A key focus for us as a brand has always been to make long lasting products of high quality. We have worked hard to ensure we can guarantee quality at every step of the material and product manufacturing process, and with each individual piece of a garment. For us, long life gear also means long lasting performance, timeless design, and construction that enables repairs, so that people really want to wear our products year after year, adventure after adventure.
Let's talk about circular manufacturing. Helly Hansen utilizes this in a handful of sustainable clothing items, right? How does that work and why do it?
Helly Hansen's Mono Material concept is the brand's first step in the space of circular manufacturing, considering product end-of-life at the beginning – at the design brief and design table. Mono Material construction currently features in products in the Helly Hansen Urban and Ski collections, with garments made from a single material to increase recycling opportunities and reduce the hardships of textile recycling.
Today it's estimated that only 1% of garments are really being recycled back into new garments and we want to be part of raising that number. We fully acknowledge that there are many puzzle pieces that need to come together to reach a state where we can recycle all our products back into new ones. But we also know that actions need to happen in parallel here. We can't wait until the technology and infrastructure is fully in place until we begin designing for recyclability. Then we will be too late.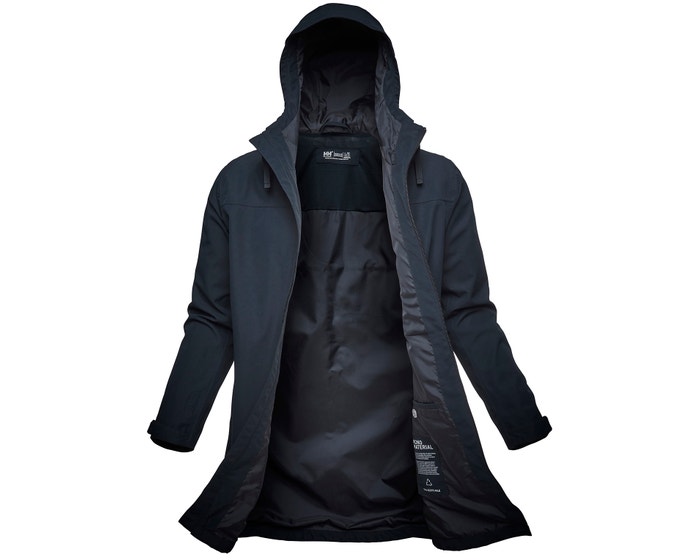 Somebody has to lead the way! But I want to hear more about these materials that don't need any sort of waterproof treatment! Talk more about those products and why they're a big deal.
The industry has been working on substituting PFC chemicals for years (read about PFC's here), which is what is conventionally used to achieve the DWR effect on textiles. PFC chemicals are proven to be harmful for the environment and living organisms so Helly Hansen is fully committed to phasing them out, and very close to being able to regard PFCs as part of history. Right now, we are mainly replacing PFCs with hydrocarbons.
In addition, when we launched LIFA INFINITY PRO™ last year we looked beyond chemical treatments and instead deep dived into what can be achieved within the textile constructions and raw material properties.
We continue to push ourselves in this space and believe that better choices for the environment can also mean better choices for the technical performance of the gear – they can go hand in hand.
That's awesome. Waterproof fabric that doesn't need chemical re-waterproofers! Does Helly Hansen have any other lofty goals when it comes to sustainable outdoor clothing or practices? What are they and how are you planning on meeting them?
We do have big picture goals, yes. For example we aspire to become carbon neutral, fully circular, and contributing to nature restoration. We know that for the most part, our carbon footprint is coming from making our materials and products, so the spotlight is really on how we can bring that footprint down. Our focus now is to develop our interim climate target and action plan for 2030, which we will communicate publicly this year. It will require actions for incremental improvements and innovation at a large scale.
But it's not all about the products, right? It's about giving back, too. What are some of the ways you're supporting and protecting the outdoor spaces we all love?
Definitely. A great example is our work with The Conservation Alliance in North America, which brings outdoor communities and businesses together to protect the environment. With TCA, we're involved in a number of initiatives. We are donating all profits from US face mask sales, and a portion of sales from events like Earth Day and Black Friday, back into the Alliance to support the protection of public lands and wild spaces, as well as volunteering our time to help clean up efforts in local areas.
As an outdoor brand, do you think there's a certain responsibility that outdoor-related companies have to protect the natural spaces we all love?
Yes, we are all dependent on a healthy environment, and whether we love the outdoors or not the degradation of the ecosystems will have a negative impact on us. As an outdoor brand supporting outdoor professionals and enthusiasts, we are naturally linked to nature and see the consequences of climate change up close. It only heightens our drive and urgency to act.
On the flip side, as consumers, when we go shopping for outdoor clothing and gear, how can we make more responsible purchases?
I think only buy what you really need, and what you can use for multiple activities. Also choose products you really love – then you are more prone to take care of them and ensure they have a long life. It's also helpful to educate yourself about what brands are doing to invest in a more responsible future, as well as how to care for your products.
And lastly, I'd say look for products with third party environmental certifications, like Bluesign, or that are using preferred materials such as organic cotton, or that are made PFC-free, with recycled content, or solution dyed.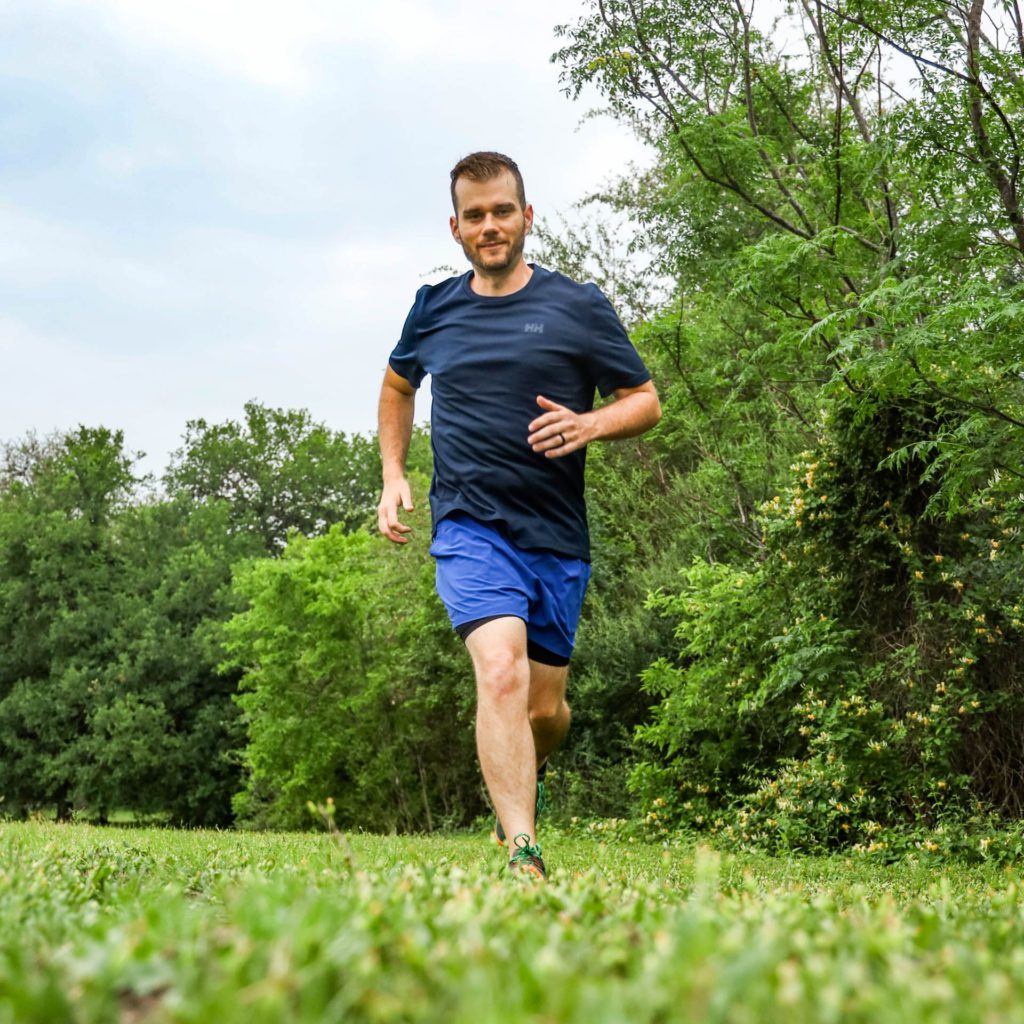 •
We're so glad outdoor brands like Helly Hansen are putting an emphasis on sustainability and offering such high-quality outdoor apparel! Want a peek at some of our fave products? Check 'em out below!
The entire Lifa Solen line (made with recycled coffee grounds)
•
This post contains affiliate links, which means with every purchase you may be helping support this channel and more great sustainable outdoor content!
Alisha is a freelance writer and photographer based in Austin, TX. She loves her tiny house, vegan food and experiencing the community of travel in far away places. She's also pretty sure she's addicted to coffee. alishamcdarris.com