Snowshoes. We love 'em. They're super handy for, you know, walking on snow. Because nobody likes post-holing in a foot and a half of powder over three miles when you're just trying to enjoy a scenic winter hike. But there are tons of snowshoe options out there and, frankly, most of 'em aren't terribly sustainable.
But we found two that do, in fact, leave a lighter footprint–no pun intended–and we're gonna compare them so you can pick the best snowshoes for you. So allow us to introduce you to the MSR Revo snowshoes and the TSL Symbiox Hyperflex Instinct, two different snowshoes for different types of snowshoers (and terrain).
(Note: neither of these are technically entry-level snowshoes. While beginners can absolutely wear them and enjoy them, they are designed to perform on varied trails that may be icy, rolling, and more challenging terrain. Think somewhere between backyard rambles and mountaineering.)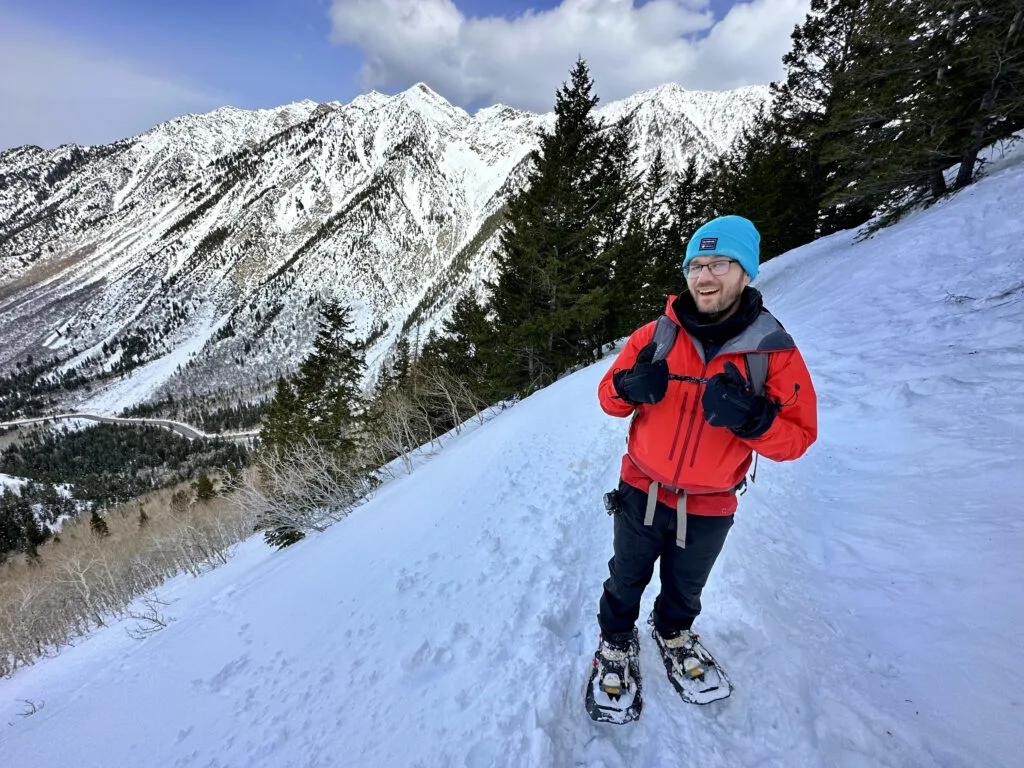 MSR Revo snowshoes: Best For Leisurely Snowshoeing
These MSR snowshoes designed for use on rolling terrain come in a men's and women's version, which feature only subtle differences in width. During testing, Josh and I both wore them without any issues.
Features
Narrow for a more natural stride.
New Paraglide mesh bindings offer easy adaptability and fit no matter what type of shoe you're wearing.
Fit nearly any and all shoes and boots.
The deck is made of a durable and lightweight injection-molded plastic and the frame stainless steel.
For traction, the base features steel crampons and perimeter teeth
They come in various sizes based on your weight and what type of snow in which you'll be hiking (there's a sizing chart on the website to help you figure out what size you need).
You can purchase 5" Evo Flotation Tails separately if you'll be walking in more powdery snow and need a little more lift.
Price: $199
Pros
Made of durable materials that are going to last.
Crampons and perimeter teeth mean there's plenty of grip on flat or gently rolling terrain.
The deck has a touch of flex.
New Paraglide bindings are comfortable for all-day wear.
Come with a three-year limited warranty and are repairable.
Made in the USA (Seattle)
Cons
The bindings take a bit of finagling to get on and tightened.
Fewer crampons across the bottom of the foot mean they're not as effective on aggressive or rugged terrain.
There's no heel lift.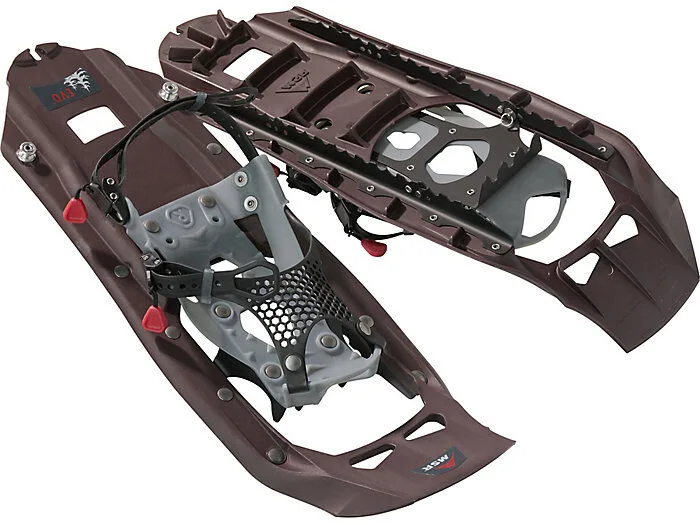 The Review
Designed for hikers who are passionate about snowshoeing in all kinds of snow but aren't interested in extremely technical hikes and don't want to bust their budget, the MSR Revo Trail are a solid and well-designed option. They're made of durable materials, constructed in the USA, have a good warranty, and are easy to wear and use.
Comfort starts with the bindings, which are a new design that locks in your feet with a sort of rubbery "mesh" that works with all sizes and types of boots and shoes and doesn't create pressure points. You have to finagle with two separate straps (one on the front, one on the back), both of which are a bit tricky to adjust with bulky gloves on, but it's doable, especially given the large red pulls attached to both. But once you get them adjusted properly, they feel secure and comfortable, even on all-day excursions.
As for function, the large, solid bases were a bit better than the TSL snowshoes at keeping us afloat on powdery snow thanks to the more rigid construction and shape—the optional tail accessory should boost that performance even further. And while we were a bit concerned they wouldn't offer the same traction on packed or icy surfaces because they didn't have as many crampons on the bottom, the perimeter teeth did a solid job. That said, if you hit some sharp mounds or depressions where the full footprint isn't in contact with the ground (like on obnoxiously rocky or uneven trails), you may not have quite the same purchase as shoes that feature more crampons and blades. But that, in conjunction with the absence of heel lifts, is why these are better for less demanding terrain.
Good to know about those perimeter teeth: depending on how you walk, the front of the deck may get scuffed up in short order. When those teeth rub against the plastic, they scrape and scratch. Josh had more of an issue with this than I did, so again, it largely depends on your stride.
But what makes them more sustainable than other snowshoes? Well, They're made right here in the USA, for starters. In Seattle, in fact. Which keeps the shipping footprint way down. And should you need parts repaired or replaced, that same Seattle shop can help you out with that. Just send 'em in. They'll even fix them for free if they're within the warranty period because the brand wants to keep as much gear in use and out of landfills as possible.
Find the men's on Moosejaw here and the women's here.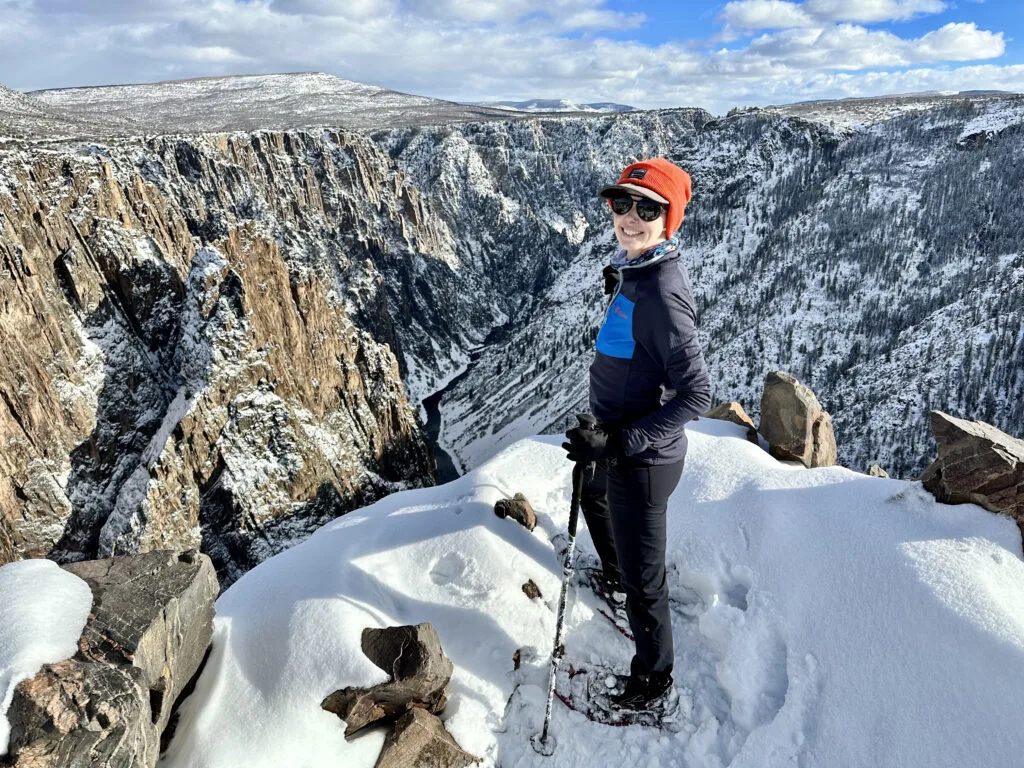 TSL Symbioz Hyperflex Instinct: Best for Rugged Terrain
We've tested TSL snowshoes before and are fans. But these in particular recently got a binding upgrade recently, so we were keen to give the updated model a go. They come in several sizes. Find them on REI here.
Features
Narrow and hour-glass shaped for a more natural stride.
Features a super simple and easy-to use Boa system on the bindings.
Fit nearly any and all shoes and boots.
There's a sound and shock absorbing system in the deck for quieter walking.
Carbon reinforcements store and redistribute energy as you move.
Numerous steel crampons plus vertical blades are spread across the bottom of the shoe.
They come in various sizes based on your weight (there's a sizing chart on the website to help you figure out what size you need).
There's a heel lift that's deployable via trekking poles.
Price: $330
Pros
Heel Lift.
Crampons and vertical blades offer plenty of purchase on pretty much any snowy surface.
The deck has a touch of flex.
New Boa bindings are extremely fast and easy to put on, remove, and adjust.
Come with a two-year limited warranty and are repairable.
Super flexible.
Cons
Expensive.
Plastic frame and deck don't feel like they will be quite as long-lasting.
Bindings aren't as comfortable after hours on the trail.

The Review
The TSL Snowshoes were my favorite pair to wear. Part of the reason why involved the Boa adjustment system, which is stupid fast and easy (Just slide your foot in, press the dial down, and twist, then pop it back up again to loosen), feels secure, and is adjustable with gloves on. When adjusting the heel lift they slipped off my heel some, but as long as I had them dialed in snuggly, they still weren't going anywhere. The bindings may not have been quite as comfy after hours and miles of wear, but we're talking a very minimal difference between these and the MSR shoes.
I also appreciated the hourglass shape and narrow profile of the shoes, which not only allowed for a more natural stride, but more maneuverability, too, when trekking across narrow trails that called for placing feet close together or one directly in front of the other.
As for traction, the combo of steel crampons plus vertical blades spread across the base (not just at the toes) meant these bad boys offered plenty of purchase on pretty much any snowy surface and terrain: steep, flat, icy, rolling, uneven, you name it. And the heel lift? Best snowshoe feature ever. Just flip it down and it makes hiking up steep snowy slopes so much more comfortable and relieves a lot of strain from your calves. It makes a big difference when you're spending hours hiking uphill.
The TSL Symbioz Hyperflex Instinct snowshoes were quiet when walking, and the extremely flexible design of the platform makes conquering aggressive, uneven, or technical terrain way more manageable than a solid, flat-based snowshoe with limited flex.
As for sustainability, most of what sets these apart is that they are highly repairable. Meaning if something breaks or goes wrong with your snowshoes, you can contact TSL and they'll help get you parts to repair them.
Find a pair on REI or Moosejaw.
Bottom Line
If you're in need of a solid pair of snowshoes for hilly or mountainous snowy adventures, these will do the trick. Just grab the pair that's right for you, layer up, and hit those winter trails already (maybe some hikes near Aspen?)!
Wander on.
•
This post contains affiliate links, which means when you clicky-click and make a purchase, you help support more great sustainable outdoor content! It doesn't even cost you anything! That's what we call a win-win.
Alisha is a freelance writer and photographer based in Austin, TX. She loves her tiny house, vegan food and experiencing the community of travel in far away places. She's also pretty sure she's addicted to coffee. alishamcdarris.com