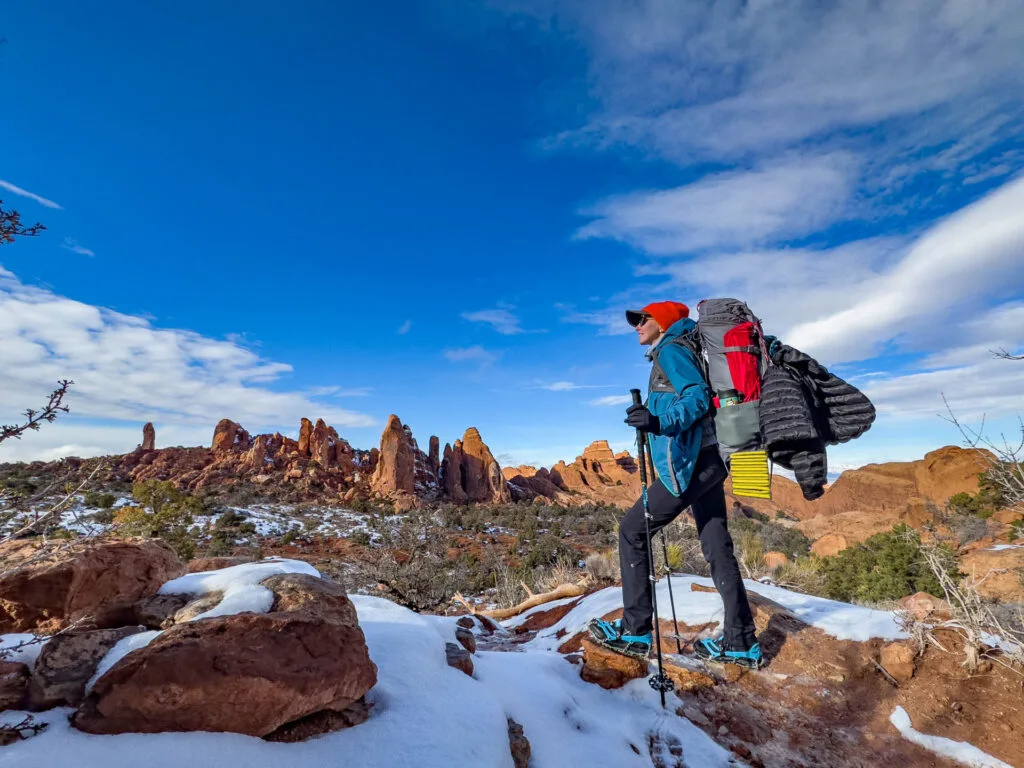 Winter backpacking is the bomb (so is winter hiking and camping). The trails are empty, campgrounds aren't crowded, you don't have to fight for backcountry permits, there are no bugs or snakes or bears or other things that you have to watch out for in warmer months, and you definitely don't have to plan months in advance to make park or camping reservations.
So yeah, winter hiking is awesome. But here's the thing: it does require a bit more gear and preparation. By which I mean, you can't just grab your trusty ultralight quilt and your favorite sun shirt and hit the trail. Because cold and snow do bring a layer of, how should I put this? Complication. Because while heat illness and dehydration are dang serious, snow, extreme cold, and hypothermia are no joke.
So if you're gonna hike, camp, or backpack in the winter, you definitely need to be ultra prepared and pack some very different gear than in the summer. Fortunately, we gathered up a bunch of great winter-specific gear, took it into the backcountry, and put it to the test to see what worked and what didn't.
We'll show you pretty much all the winter backpacking gear we brought, then grade its performance from 1 to 5 stars (five being the best). So let's get started with winter gear and then we'll move onto winter hiking clothes and accessories!
Winter Backpacking Gear
Backpacks
We both tested brand new Mystery Ranch packs, Josh a men's version, me a women's. While I love an ultralight backpack, when winter backpacking a larger pack that can carry a heavier load is required.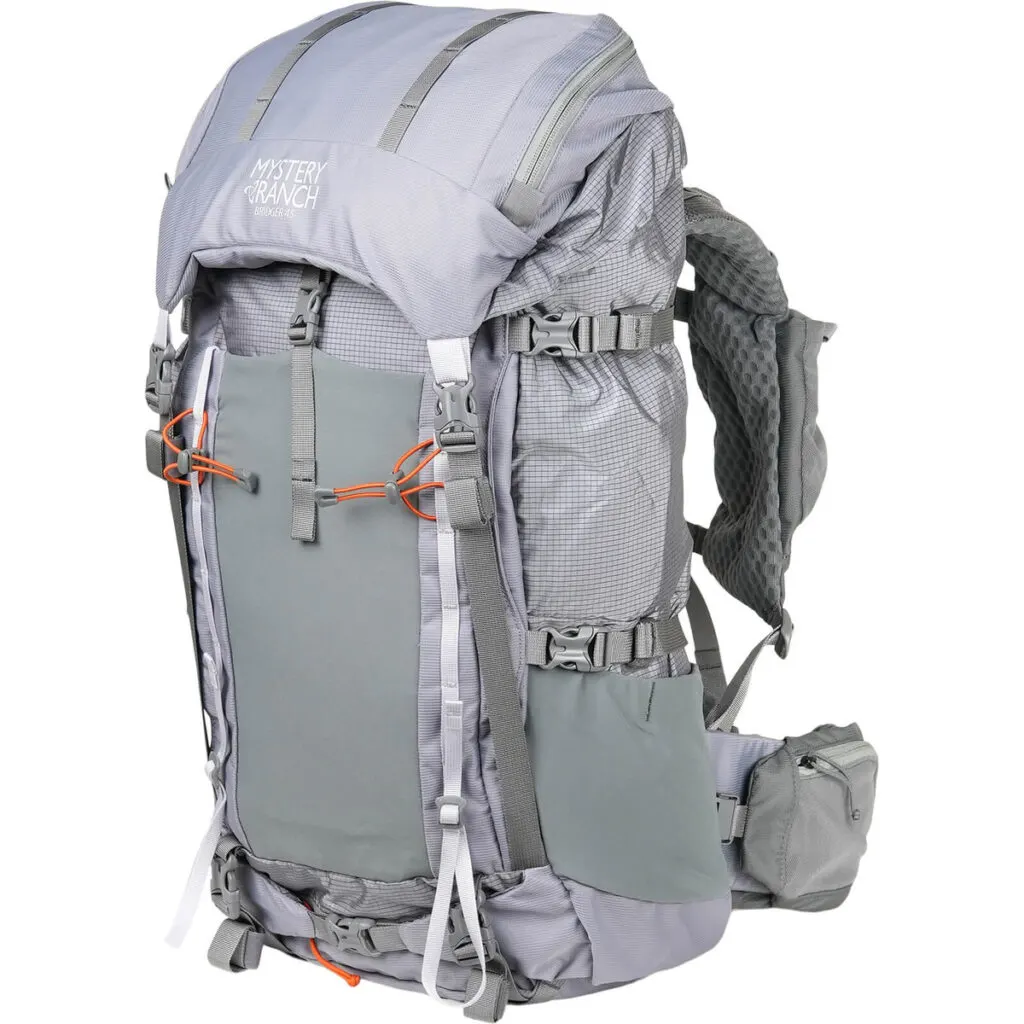 Mystery Ranch Bridger 45 (Hers): ★★★
I carried the Mystery Ranch Bridger 45L, which I was particularly excited about because it has a vest-like harness instead of traditional backpack straps. And while that harness didn't create sore spots, I didn't like the fit like I thought I would. Once I got the straps adjusted correctly, they weren't as functional as I had hoped. The harness pockets were too high and it just didn't feel like it fit well on my small frame.
And honestly, there were too many unnecessary straps and adjustment points. And I hate Velcro webbing wranglers. The capacity wasn't really expandable and overall it felt like Mystery Ranch tried really hard to make a pack chock full of features, but most of them are unnecessary. But I'm a minimalist. Some people may love all the attachment points and the endless clips and webbing, but it just slows me down.
So this pack gets a 3 from me, but definitely try one one before you decide, because it might fit your body much better.
Find the Mystery Ranch women's Bridger 45 here.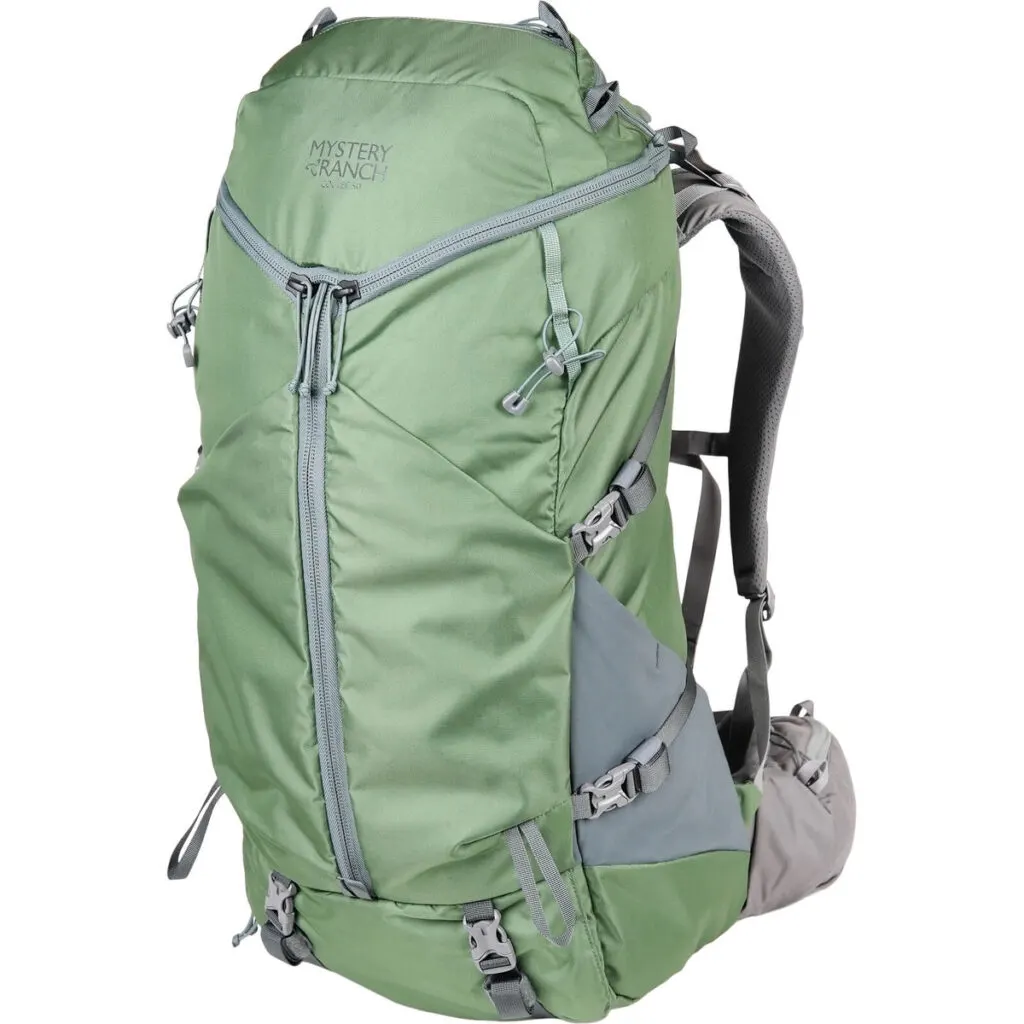 Mystery Ranch Coulee 50 (His): ★★★☆
I carried the Coulee 50L. It didn't have quite as many attachment points as the Bridger, though still plenty of exterior pockets. The fit and comfort were good, but the front zipper design is just OK. I do like a front zipper, but I think a full U-shaped zipper like on the Deuter Futura Air Trek makes more sense than a Y-shaped zipper down the front.
And this may be personal preference, but I also wish the top of the pack was expandable, which would make it more versatile for more types of trips, because I had it packed FULL for a two-day winter trip. Plus the Velcro back panel adjustment isn't terribly quick and easy to use. So This pack gets a 3.5. Because it's comfy, but less versatile than other packs.
Find the Mystery Ranch men's Coulee 50 here.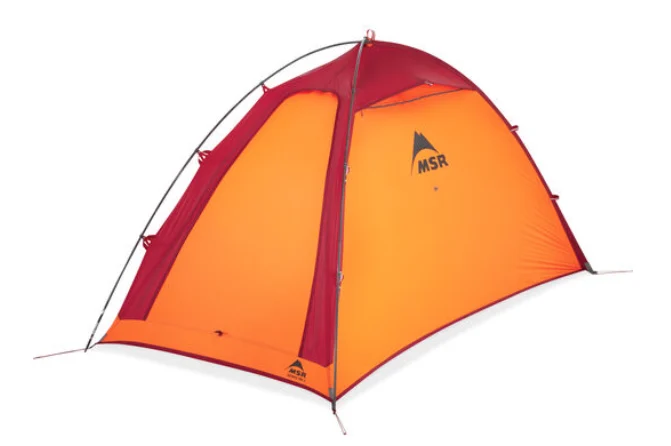 Winter Tent: MSR Advance Pro 2: ★★★☆
We used the MSR Advance Pro 2 for our winter backpacking and camping trip. And right off the bat, let me tell you, this is the smallest two-person tent we have ever slept in. And that including our Big Agnes Tiger Wall. And while we are usually happy to squeeze into a two-person tent in order to save a few ounces compared with a three-person tent, this one had us longing for something bigger.
The headroom was actually not bad: we could both sit up inside, and it has two vents at the top to keep air circulating. But it also only had one door and no vestibule. Now, this is fairly common for winter/4-season tents (check out our review of the Rab Latok 2), but we're not fans.
One door makes it very difficult to crawl in and out, especially when there are extra layers and bulky sleeping bags everywhere, and no vestibule means not only does all your gear have to go inside the tent with you–backpacks, etc.–but because of how the door is shaped, if you open it while it is snowing, raining, or has recently done either of those things, all of that precipitation is coming straight inside the tent with you.
Maybe it's just us, but if a lack of vestibule makes the tent vastly less functional, the tent should come with a vestibule. You shouldn't have to buy it separately. Just my opinion. That's why we give this tent a 3, but only if we are rating it for two people. If you're solo camping, it's just the right size. Just spring for the vestibule add-on. That would take it up to a 4 in our opinion.
Find the MSR Advance Pro 2 here.
Winter Camping Sleeping Bags
Winter bags are bigger and bulkier, especially if you choose to use synthetic insulation like we do (read why here).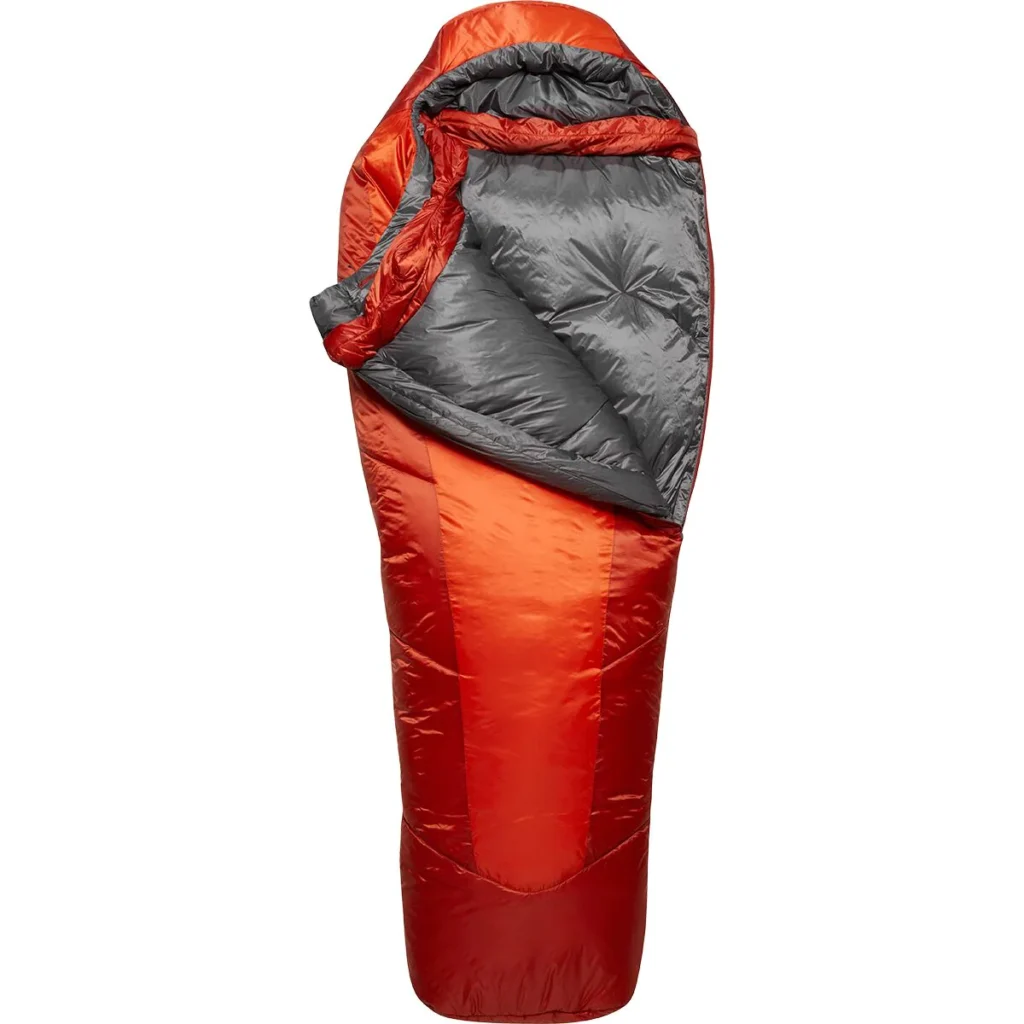 Rab Solar Eco 4 10º (Hers): ★★★★★
I cozied up in the Rab Solar Eco 4, a 10° bag that is made entirely of recycled synthetic materials. I did test the bag at pretty dang close to its comfort rating, which is probably about 20°. And yes, it kept me nice and cozy all night long.
That's because in addition to being nice and warm, it had a sensible hood, a very useful interior pocket to keep batteries and cell phones warm, and a zipper baffle to keep out drafts. It even packed up tolerably small and light for such a warm synthetic bag. One of the smallest and lightest synthetic bags I could find in this temperature range, in fact.
Find the Rab Solar Eco 4 10º here.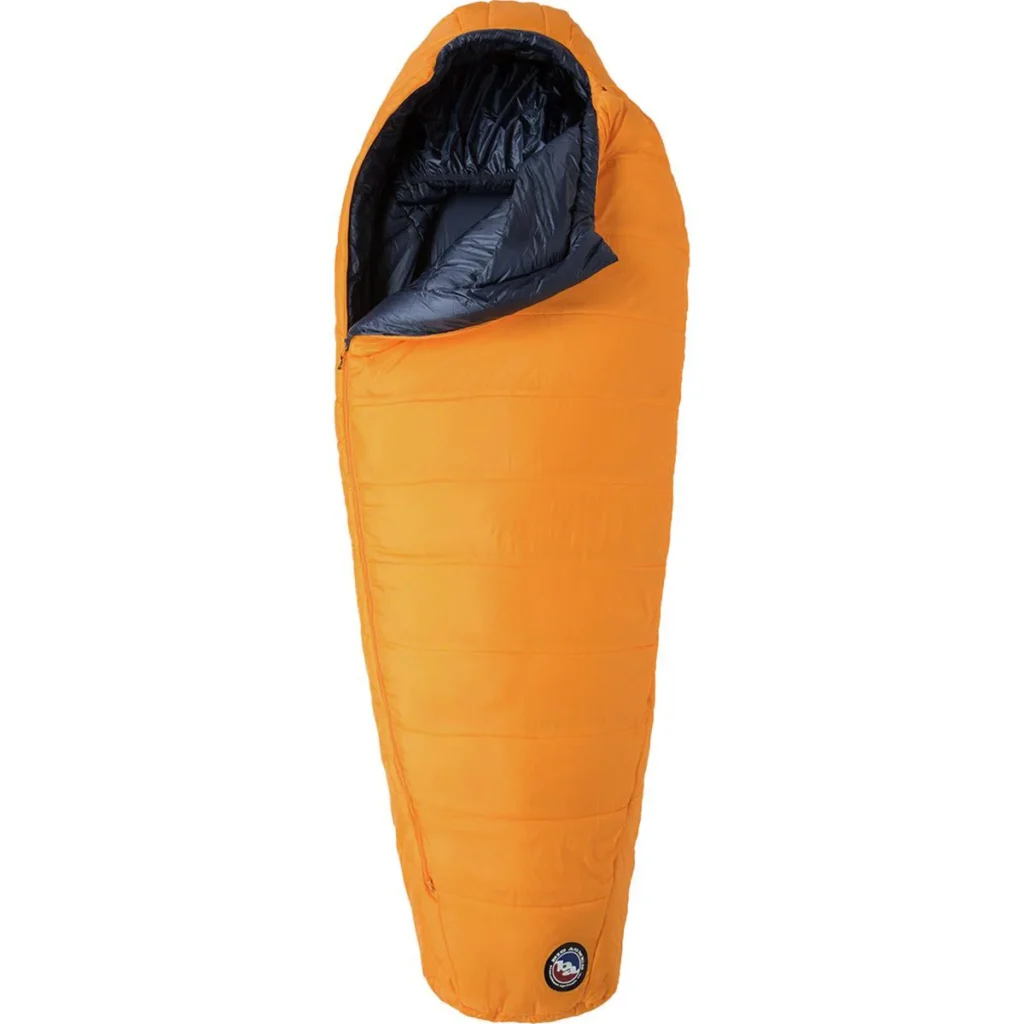 Big Agnes Lost Dog 0º (His): ★★★★★
This bag is also made with recycled synthetic materials and insulation. We probably only experienced about 20° temperatures during testing, but despite that, I was a little worried that I wouldn't stay warm because this bag doesn't have insulation in the back. The idea is that you slide a pad into the sleeve and you don't need it (read more in our full review of the warmer version of this Big Agnes Sleeping bag here).
That turned out to be correct; I slept cozy every night. It is a pretty bulky sleeping bag, though, and filled up a good portion of my pack. I was able to smash it down and compress it in order to fit everything I needed into my pack, though, and it includes an interior zipper pocket and a cozy hood, so I'd definitely use it again.
Find the Big Agnes Lost Dog 0º here.
Insulated Sleeping Pads
In the winter, you need more than an ultralight inflatable sleeping pad; an insulated pad works in conjunction with your bag to keep you cozy (read more about sleeping bag temp ratings here).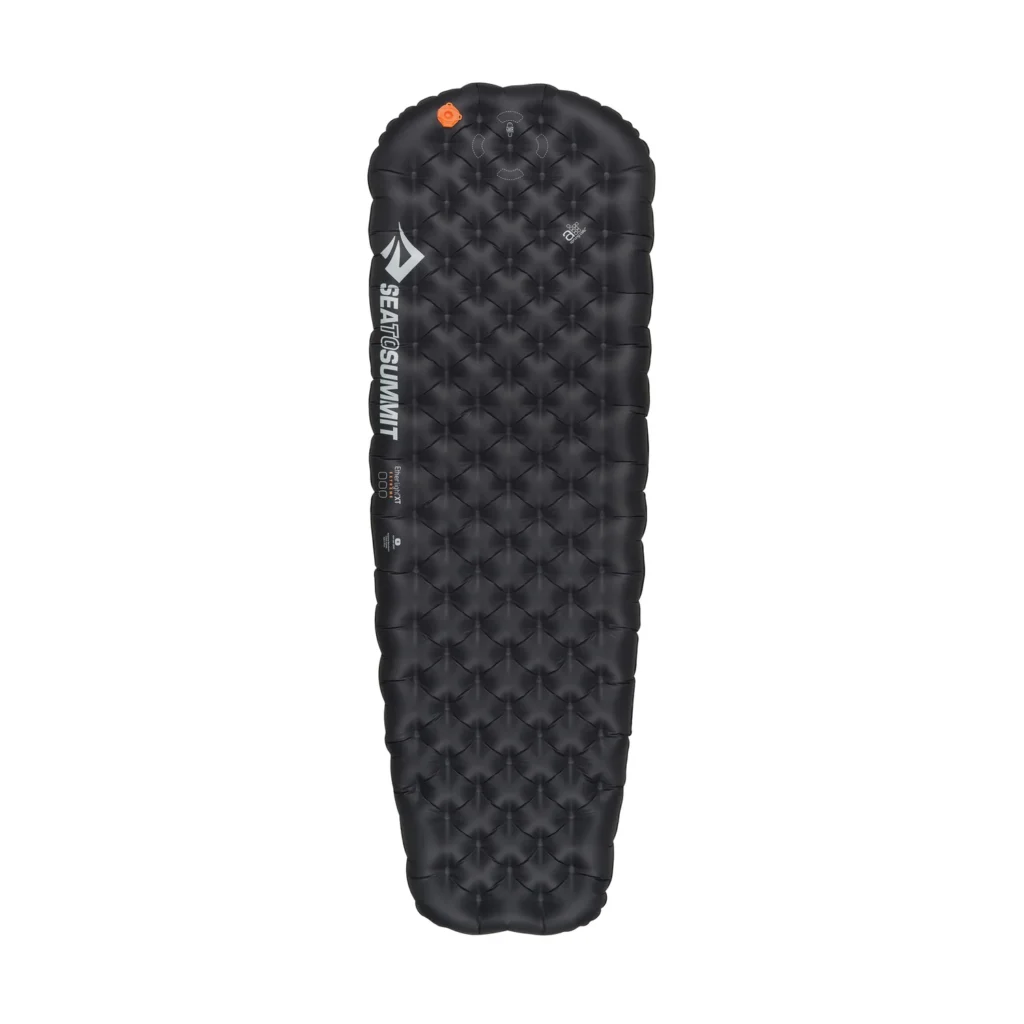 Sea to Summit Etherlite XT Extreme (Hers): ★★★★★
I used one of the warmest insulated sleeping pads on the market, the Sea to Summit Etherlite XT Extreme, which has an impressive R-value of 6.2. Paired with a Nemo Switchback closed cell foam pad, it was plenty warm.
The inflatable pad is super cozy, but also doesn't roll up terribly small. that said, when warmth matters, I am willing to give up a little space in my bag to ensure that I'm actually going to sleep when the temperatures drop. Plus, it's also quite comfy.
Find the Sea to Summit Etherlite XT Extreme here.

Therm-a-rest NeoAir Venture (His): ★★★★★
I was surprised how warm I stayed with the slim and packable insulated Therm-a-rest NeoAir Venture, which only has an R-value of 2.2, but when layered with a Therm-a-rest Z-Rest foam pad, I had no issues with the cold.
Closed cell foam pads are extremely useful for boosting the R-value of an inflatable sleeping pad, but also for leveling out the floor of your tent, and unfolding to sit on during the day when the ground is cold and/or snowy.
Find the Therm-a-rest NeoAir Venture here.
Cooking, Eating, Drinking
When it comes to cooking, you can't typically use your trusty canister stove (check out this post about backpacking stoves and which are better for winter here); you need something that will function in below-freezing temps.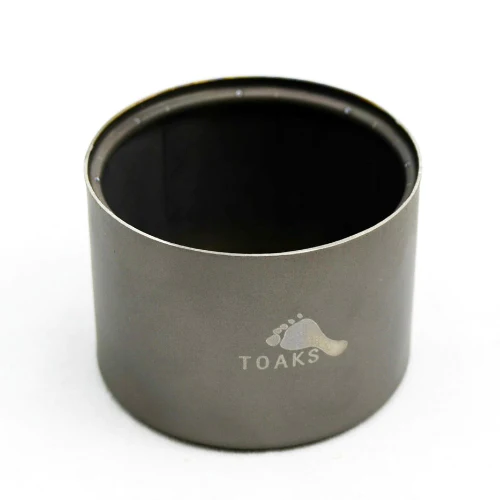 Toaks Titanium Siphon Alcohol Stove: ★★★★★
An alcohol stove is more reliable than a canister stove and much easier to use than a liquid fuel stove in cold weather. So we used our trusty Toaks Siphon paired with a Toaks titanium 650 mL pot that we arranged above the stove using tent stakes. It worked beautifully, though dos take longer to boil water than a liquid fuel stove would.
Find the Toaks Titanium Siphon Alcohol Stove here.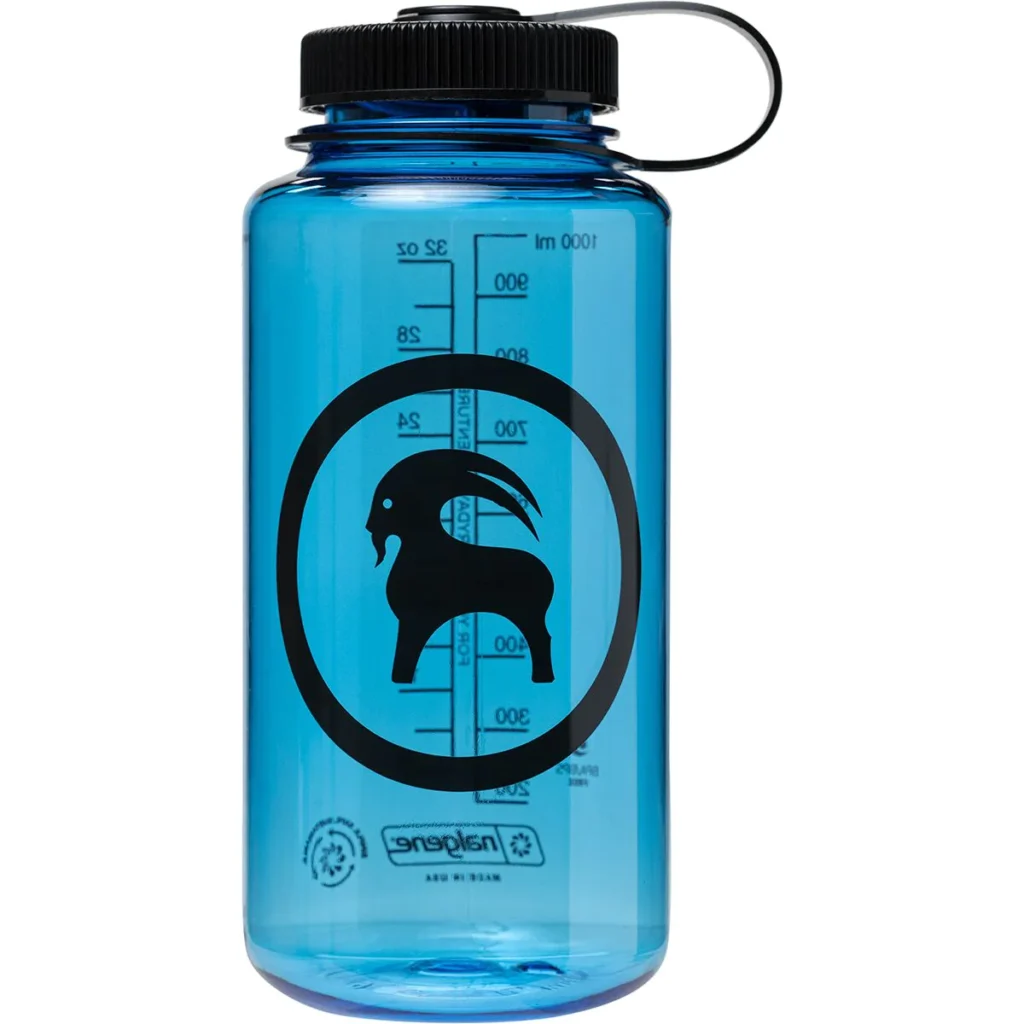 Nalgene 32oz Water Bottles: ★★★★★
Speaking of boiling water, we had to carry in all of our water, so we used a combination of bottles. We each packed a Nalgene bottle, which is excellent as a bag warmer at night–just boil some water, pour it in to a Nalgene, screw the lid on super tight, and toss in your bag to keep you warm. Highly recommend. But a Nalgene won't keep water from freezing when the temperature drops, so we also brought along lightweight, vacuum insulated steel bottles.
Find a 32oz Nalgene here.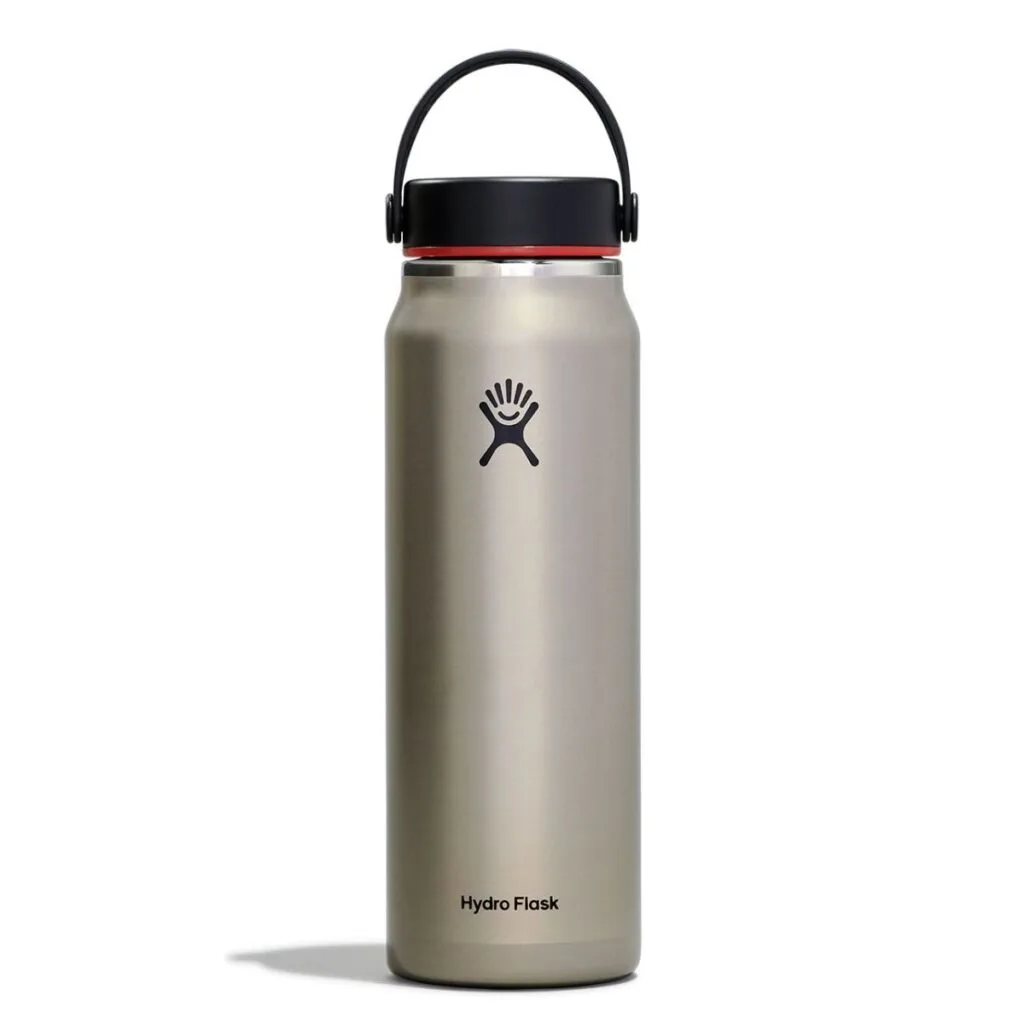 Hydro Flask Trail Series: ★★★★★
These insulated bottles are lighter than traditional insulated vessels, but will keep water from freezing when you're spending hours outside in the cold. Even overnight, our water didn't freeze. You can also prepare a hot meal or beverage in the morning before you leave camp, pour it into an insulated bottle, and enjoy something warm on the trail.
Find the Hydro Flask Trail Series here.
Clothing for Winter Backpacking
What you wear is extremely important when recreating outdoors in the winter. It's imperative that you layer well (read more about how to layer in this post) and stay warm.
Baselayers
Your first line of defense against the cold. They should wick sweat and insulate well.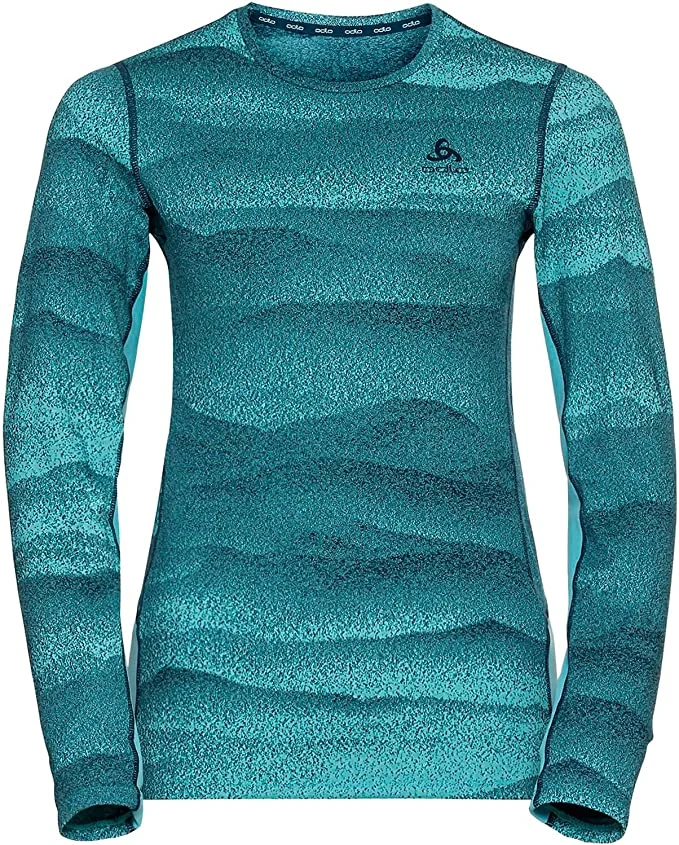 Odlo Blackcomb Eco and Whistler Eco (Hers): ★★★★★
I used two different base layers: An Odlo Blackomb Eco during the day when I was hiking, which is a nice snug baselayer that's great at wicking sweat, and an Odlo Whistler Eco for sleeping because it's cozier for when you're less active. Both are made of recycled synthetic materials. They're both comfy, stretchy, and functional and I love them both.
Find the Odlo Blackcomb Eco top and bottom and Whistler Eco top and bottom here.
Saxx Roast Master Midweight and Heavyweight (His): ★★★★
I also wore two different Roast Master base layers from Saxx: one midweight layer when hiking and a heavyweight for sleeping. They were both cozy and comfortable, but while they functioned well at wicking perspiration and didn't smell at the end of the day, the fabric doesn't feel quite as technical as other baselayers I've tried.
Find the Saxx Roast Master Midweight layers here.
Winter Hiking Pants
Softshell pants are often all you need when winter backpacking unless you're expecting extended wet conditions, in which case you may need a hardshell or rain pant in addition.
SheFly Go There Pant (Hers): ★★★★★
On my lower half, you guessed it, I was wearing my SheFly GoThere pant (check out my full review of the SheFly pant here). Because, frankly, I don't think I will ever hike in the winter in any other pair of pants again. The patented second zipper made it extremely convenient to go to the bathroom without having to hike through deep snow, half a mile off-trail to find a tree to protect my modesty, and it allowed me to go to the bathroom quickly and easily any time of day or night without literally freezing my buns off like I would if I'd had to drop my pants to my ankles. The pants are also water resistant, durable (I did a lot of but sliding on rock) and extremely stretchy and flexible.
Find the SheFly Go There Pant here.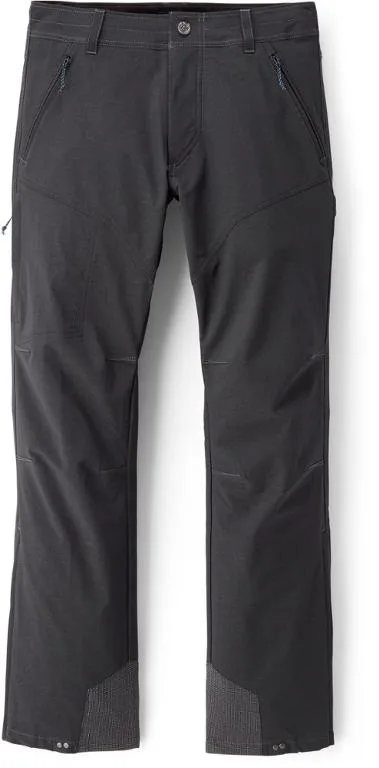 Kuhl Klash (His): ★★★★★
On top of those I wore a pair of Kuhl Klash pants, which I really like. They are rugged, durable, water resistant, snow falls right off of them, they have zipper pockets, and they're just a really great pant for backpacking when you need your pants to work.
Find the Kuhl Klash pant here.
Midlayers for Winter Backpacking
Between your base layer and outer layers, you need at least one (probably more) midlayers so you can shed layers when you warm up and put them back on again as you cool down.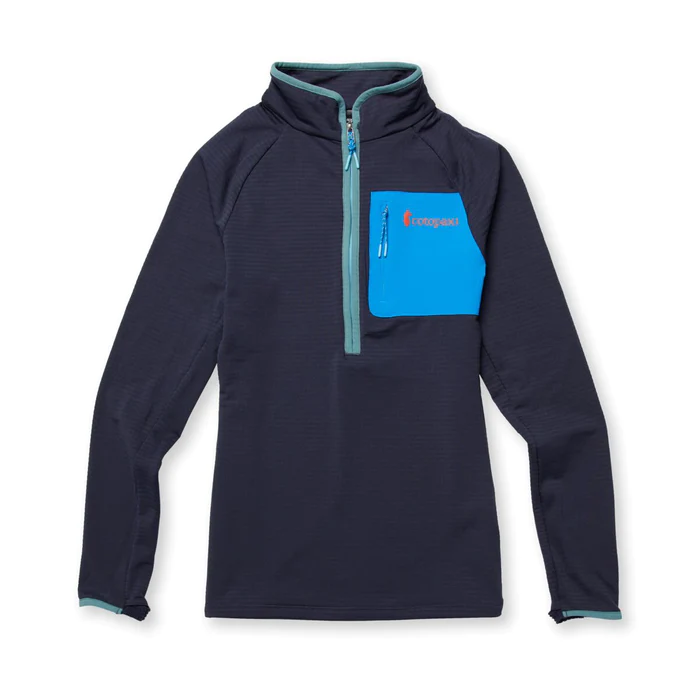 Cotopaxi Otero Fleece (Hers): ★★★★
My first midlayer was a Cotopaxi Otero fleece, which is made of recycled polyester. It's a thin, power-grid type fleece meant for active pursuits. And it fit loosely and comfortably over my baselayer. But while I appreciated the chest pocket, which made a great space to store hand warmers, snack bars, or my phone, it fit a little too loosely on my small frame, which might seem like a personal sizing issue, but this is the smallest size the brand makes, so it loses a point because small folks need quality midlayers, too.
Find the Cotopaxi Otero Fleece here.
Mammut Albula Jacket (Hers): ★★★★★
On top of the Otero, which was occasionally all I wore when I was really moving, I layered a Mammut Albula synthetically insulated jacket made of recycled materials when the temps dropped. It's puffy, it's warm, it's cozy, and it fits well over a light mid layer and under a shell. It might be my new all-time favorite puffy jacket (watch our review of several insulated jackets in this video).
Find the Mammut Albula Jacket here.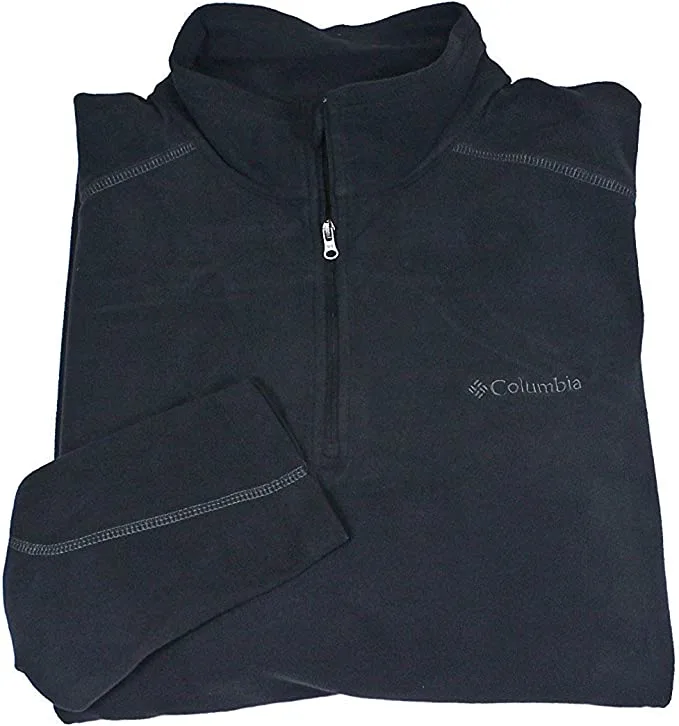 Columbia Fleece (His): ★★★★★
My first midlayer was a Columbia fleece that I've had for years and I love. It's a midweight fleece that's great for layering because it's nice and snug–just enough room for a fitted baselayer underneath and fits smoothly under another midlayer or shell. I frequently had to shed my other layers while hiking because this was so warm.
Find the Columbia Fleece here.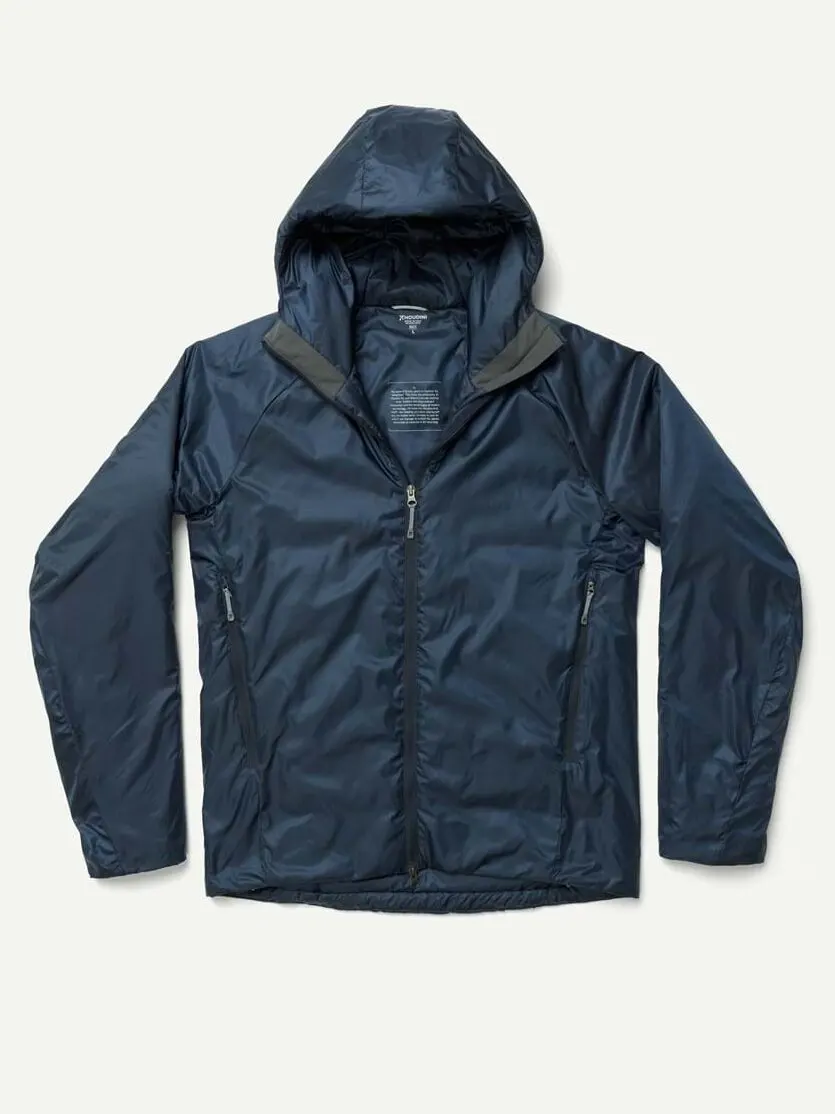 Houdini Dunfri Jacket (His): ★★★★★
My second layer was a Houdini Dunfri puffy jacket, which is just the right amount of insulation for a winter layering system. I love that it has large vented pockets to help regulate body temperature, but it also has an adjustable hood. This is probably my new favorite jacket for hiking, backpacking or around town.
Find the Houdini Dunfri Jacket here.
Winter Backpacking Shell Jacket
A solid, dependable, waterproof shell jacket is vital to safe and enjoyable winter hiking or backpacking adventures.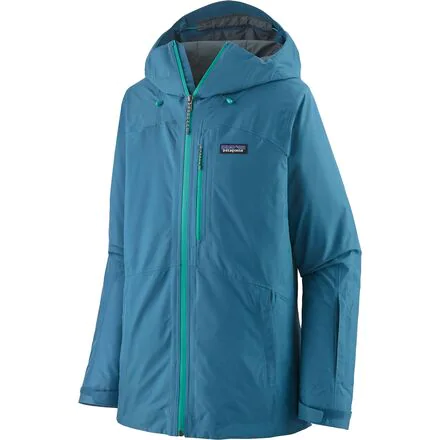 Patagonia Powdertown Jacket (Hers): ★★★☆
While I loved the pliability of the fabric, all of the pockets, both inside and out, and the many adjustability points, pit vents, etc. on this jacket, after wearing it hiking and backpacking, I can say this jacket is definitely better suited for light hiking, skiing or snowboarding, heck even sledding, than it is for backpacking.
That's mostly because of the pocket placement: they're almost entirely unusable when you're wearing a harness or a backpack with a hip belt. So that makes the jacket a little less functional for backpacking. Plus, while I never got soaked during testing, the jacket didn't shed water like other shells I've tested, so while it's a great sustainable jacket made of recycled materials, it's not terribly well suited for winter backpacking, Though it is quite a bit cheaper than many other shells on the market.
Find the Patagonia Powdertown Jacket here.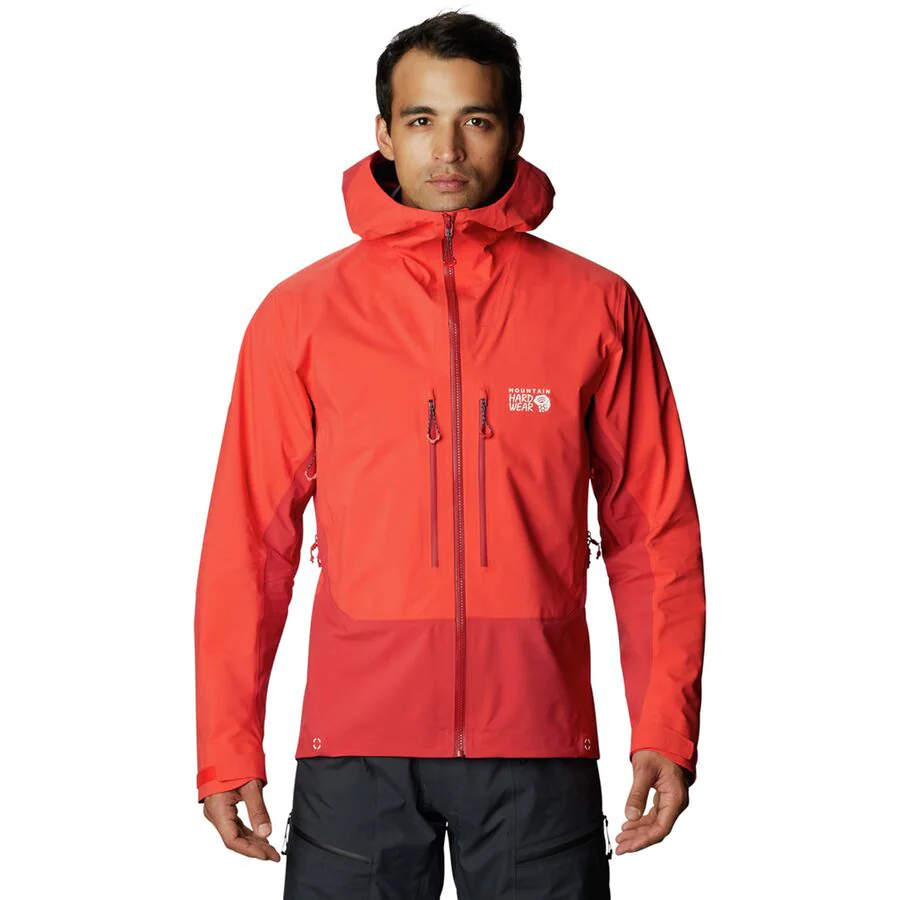 Mountain Hardwear Exposure Pro 2 (His): ★★★★☆
This jacket has all the features you want in a backpacking and mountaineering shell: it's dang reliable, It has a flexible bill to keep snow out of your eyes, an adjustable hem and hood, there are oversized pit zips to keep you cool and dry, and lots of harness- and backpack-compatible pockets.
But that's where I deduct half a point, because a few of the pockets are so high up and off to the side that it's difficult to unzip and get anything in there. otherwise it's a fantastic Gore-Tex jacket made of recycled materials that you can be confident is going to stand up to the elements.
Find the Mountain Hardwear Exposure Pro 2 here.
Winter Backpacking Boots
In the winter, insulated hiking boots are nice (check out our roundup of vegan winter hiking boots here), but durable waterproof boots will often do nicely.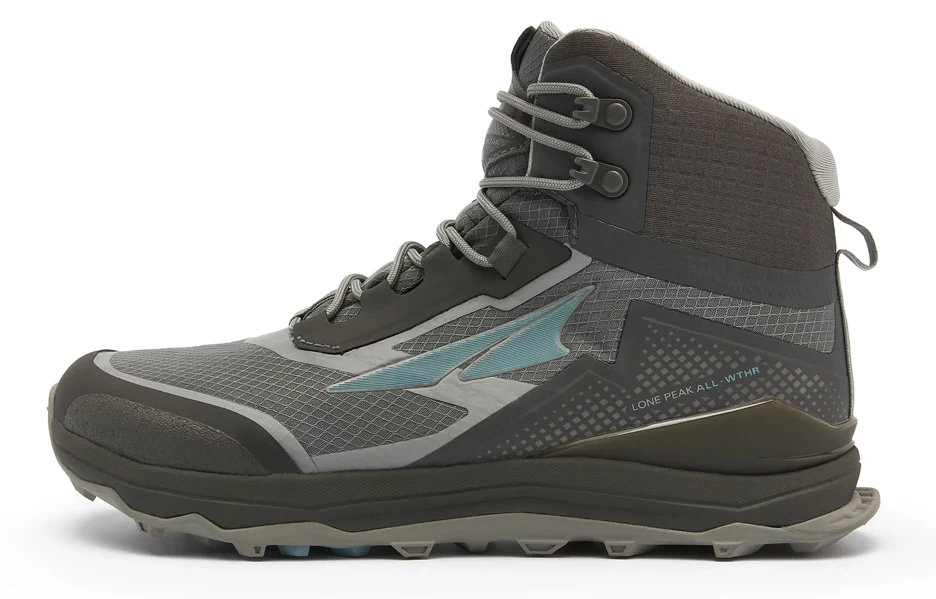 Altra Lone Peak Waterproof (Hers): ★★★★★
I'm a big fan of Altra shoes. So I was excited to test out the Altra Lone Peak Waterproof boot. It did not disappoint. While the boot itself is not insulated, so may not be the best choice for extremely cold conditions, as long as I was moving, my feet stayed toasty in temperatures below freezing.
The soles are nice and sticky and the waterproofing performed admirably. I never felt like my feet were getting wet, even when hiking for multiple days through snow. They are also supremely roomy, comfy, and zero drop, which I love.
Find the Altra Lone Peak Waterproof boots here.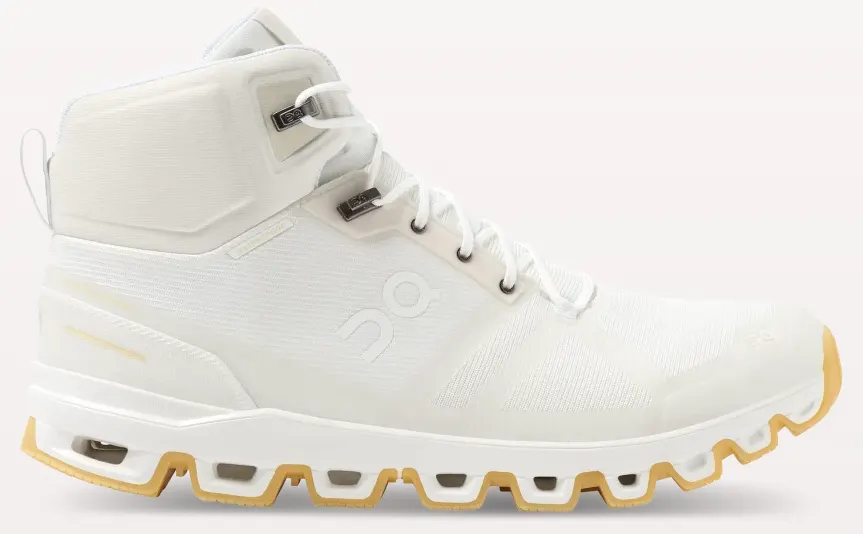 On Cloudrock Edge Raw (His): ★★★☆
I wore the On Cloudrock Edge Raw waterproof boots (check out a full review here). These are excellent, comfortable, waterproof boots that keep your feet pretty warm for a non-insulated boot. And they're impressively sustainable thanks to recycled materials, no chemical dyes, and responsible manufacturing.
However, the rubber used for the soles doesn't quite cut it when it comes to technical or wet terrain. Meaning if you're doing any rock scrambles, traversing slick rock, or crossing many creeks, the soles aren't sticky and don't feel nearly as secure as many other boots we've tested. So while I might give them a 5 for more docile conditions, because they have such limited grip, they're just not as versatile for inter hiking.
Find the On Cloudrock Edge Raw boots here.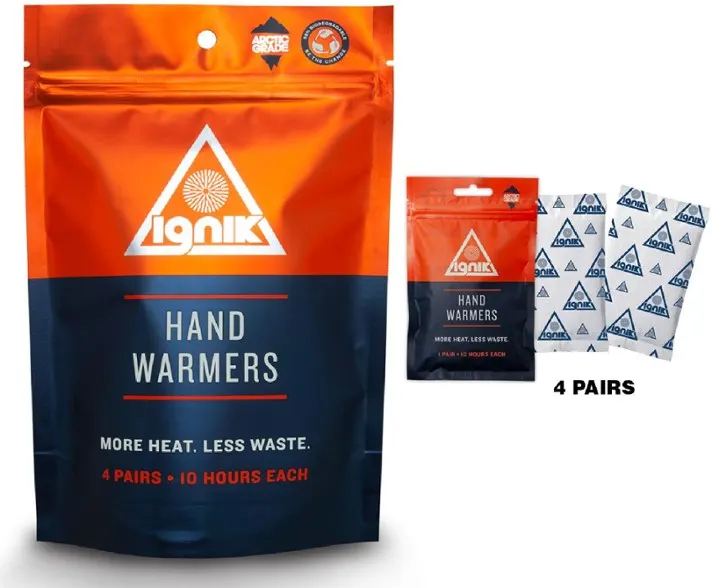 Winter Backpacking Accessories
There are plenty of other items you need when hiking or backpacking in the winter, including warm synthetic beanies to keep your noggin toasty, gloves, including liner gloves and waterproof, insulated gloves, and a neck gaiter. We're a fan of the new balaclava from freshly certified B, Corp. Buff's new POW collection, which is made of recycled plastic bottles. Purchasing one also supports the nonprofit organization Protect Our Winters in addition to keeping your head, face and neck very toasty without having to fuss with a bunch of individual layers. And I loved the vent holes over the nose and mouth, which helped keep my glasses from fogging up as much and the buff from getting as damp on the inside.
A Jack Wolfskin neck tube is also a cozy choice: the nice, thick, soft fleece is made of recycled plastic bottles and keeps your face and neck toasty.
We also brought along plenty of hand, toe, and foot warmers from Ignik. We like this brand in particular because they put an emphasis on sustainability: the warming sachets are 98% biodegradable AND are reusable. At least to a point.
By which we mean that they come in resealable little packages, so that if you open one in the morning to keep your hands warm while making breakfast, but only need them for a couple of hours, you can put them back in the reusable zip top packaging, press out all the air, and that deactivates them until you open the package back up again, maybe later that night, when they'll be usable again for several more hours, making them less wasteful than other brands (plus they stay hotter longer).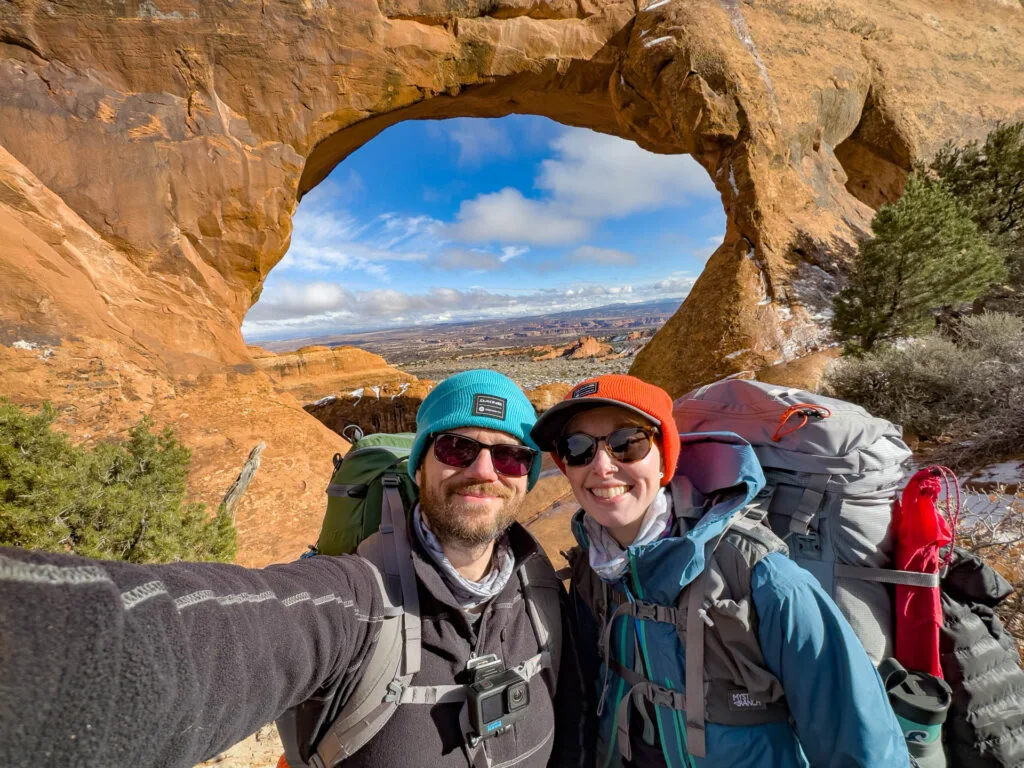 Bottom Line
So are you ready to hit the trail for some winter backpacking yet? Did you find a piece of gear you don't think you can live without? Tell us about it! We love to know if we were helpful! Our egos are so fragile…
In any case, take your gear outside to play in the winter. It doesn't like being cooped up in your closet all season. It told us so. Then get out there and wander on. And stay warm. Please don't die of hypothermia.
•
This post contains affiliate links. That means if you click-click and buy new gear, you help support more great and helpful content from Terradrift. And it won't even cost you any extra. That's what we call a win-win.
Alisha is a freelance writer and photographer based in Austin, TX. She loves her tiny house, vegan food and experiencing the community of travel in far away places. She's also pretty sure she's addicted to coffee. alishamcdarris.com