Into Glamping? Don't love sleeping on the ground? But not a huge fan of traditional hammocks either? Well, have we got a review for you! Meet the Haven Safari glamping hammock, a spacious, durable lay-flat hammock with plenty of storage space and oodles of comfort.
A while back, we reviewed the original Haven, a lay-flat hammock designed to get you comfortably off the ground when camping, while still offering an uber comfy sleep experience reminiscent of your bed at home. (i.e. flat.). But the brand is launching an upgraded glamping model of their popular product on Kickstarter, so you know we had to take a look.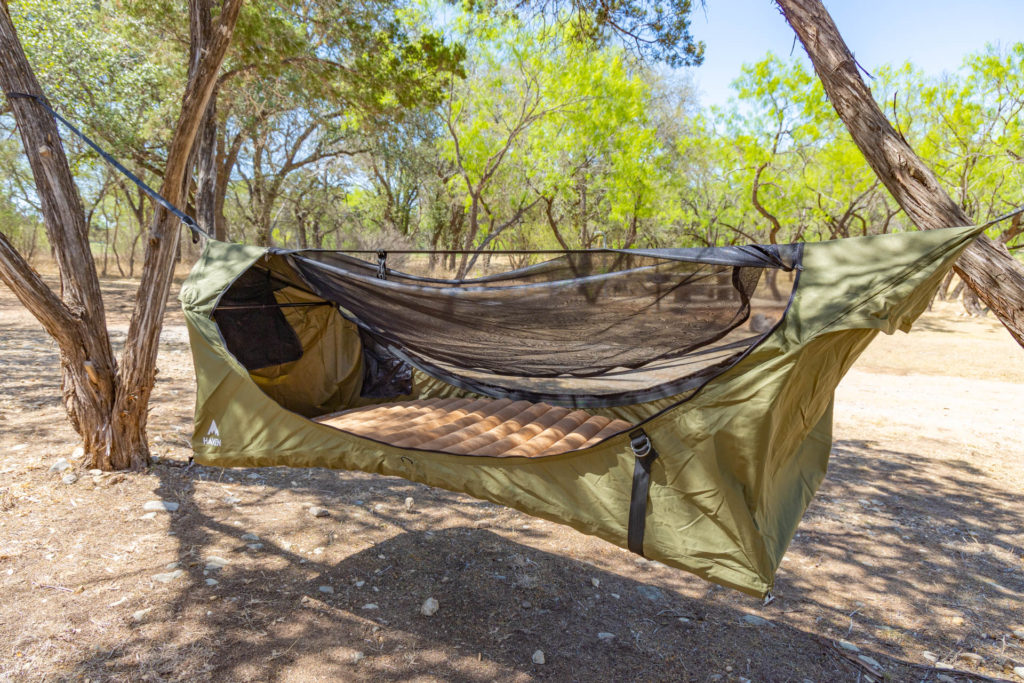 Haven Safari: The Deets
Enter the Haven Safari, a larger, more durable, versatile lay-flat hammock for car camping and backyard lounging.
What's the difference between the original and the new Safari? Well, the Safari is bigger, for starters. In fact, it's 80″ long and 30″ wide. The original is 24×78. The insulated sleeping pad–it has an R-value of 4–is also a luxe four inches thick and made of a sort of vegan suede material.
The whole kit and caboodle (lol) weighs 11 lbs, 13 oz and has a weight capacity of 350 lbs. The material is a durable, heavyweight canvas-like polyester and is waterproof (as all tents should be).
It comes in 4 colors–we feature the Canopy color here–has a lounge strap that you can tighten to effectively prop yourself up for evening reading or some such, then release to lay back down from inside the hammock, and has two double zippers so you can get in and out on either side of the hammock. The way they're designed also allows you to fully unzip the bug net and either push it toward your feet or take it off completely.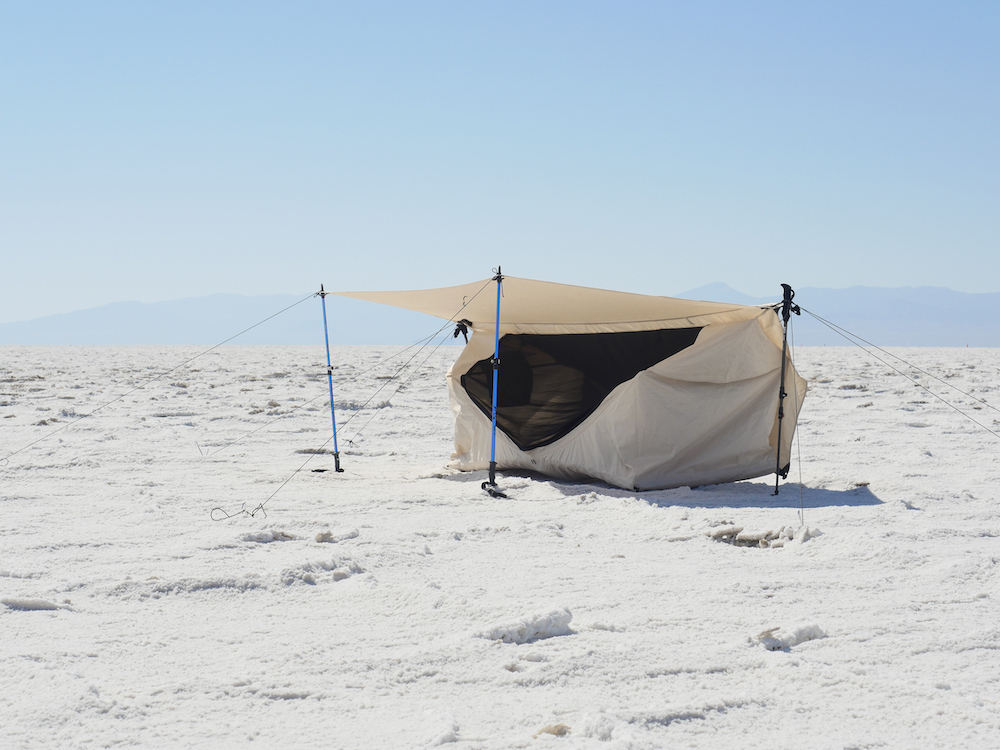 There's a waterproof fly to keep the rain off, which you can fasten to the tent body in extremely windy and wet weather to stay nice and toasty, and you can even transition the Haven Safari to the ground and use it as a bivy (a compact 1-person sleeping arrangement) if there are no trees available. (Though take note that if you plan on using the rain fly, pitching it as a bivy requires that you have 4 trekking poles on hand–or at least 2 trekking poles and two appropriately-sized sticks).
The Safari also comes with a few additional bells and whistles for Kickstarter backers, including a bundle that includes a bunting banner and a stake-able sheet of fly material that serves as a welcome mat of sorts, both made out of leftover fabric scraps.
You can also get a dimmable LED light strip to really illuminate things inside the Safari and a portable battery-powered air pump if you don't want to use the included pump sack to inflate the mattress.
And it does take a minute to inflate that big ol' air mattress, just FYI. That's glamping for you, kids.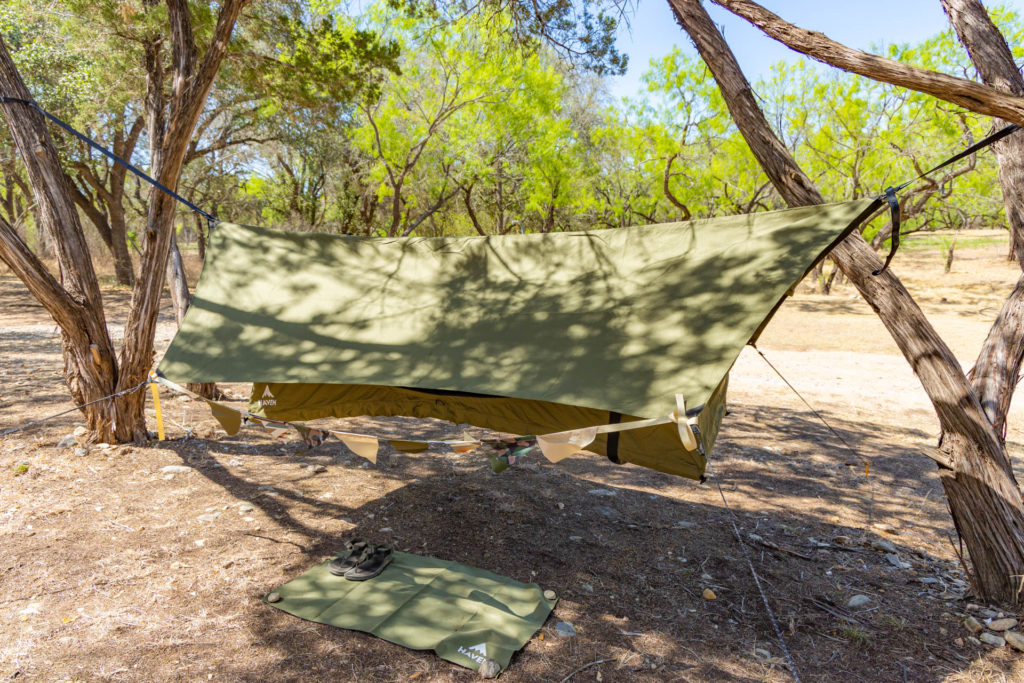 Haven Safari: The Review
As for what we thought of it, well, it's just as comfy and fun as the original, but with more space and more durable materials. Not that the original was too shabby in that department, but the Safari definitely feels more like a heavy-duty glamping experience what with the heavyweight canvas and all. Just has that vibe about it.
But let's start with the sleeping pad. I'm gonna be honest: we didn't love it. It's very noisy. And Josh thought the material felt weird on his skin, but I reminded him he probably would be in a sleeping bag most of the time, so it wouldn't really matter. Besides, NO sleeping pad feels great on sweaty bare skin, so…a nonstarter in my opinion.
The whole setup does take a minute to hang, though. This isn't our first time hanging a Haven tent and it STILL took us a solid 20 minutes. Now, I could probably halve that time after a few hangs, but it still won't be as quick a setup as a traditional hammock or simple ground tent.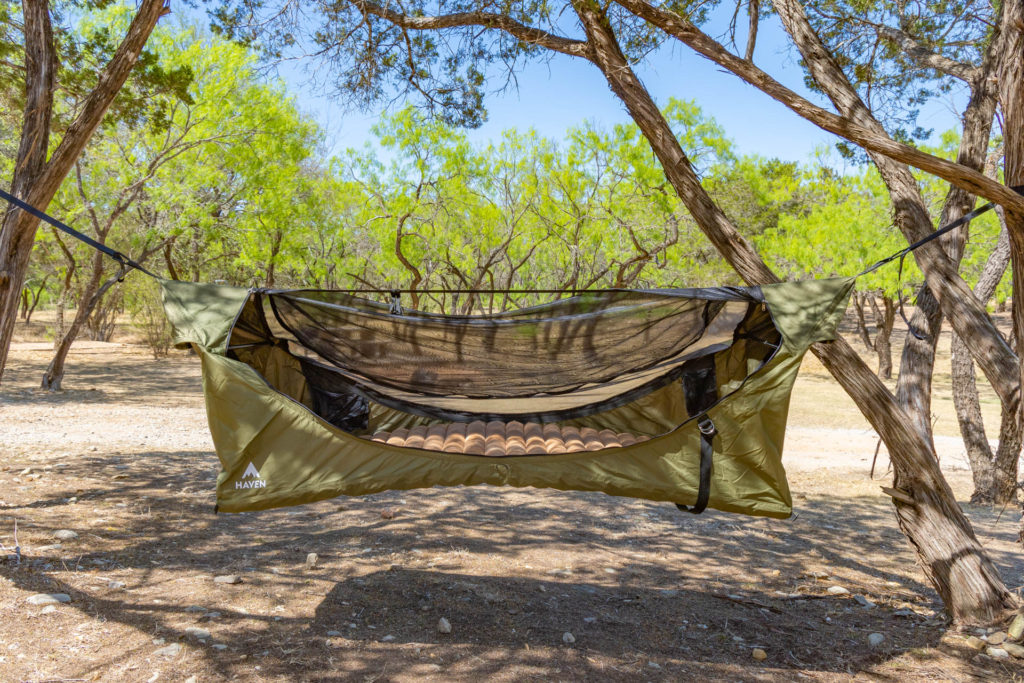 That said, I do love all the space and the pockets. If there's one thing I don't absolutely love about conventional hammock camping, it's the lack of places to store things like my phone, reading material, a pocket knife, headlamp, etc. So I dig that there are 6–SIX–spacious pockets.
There's also plenty of elbow room, even for folks larger than me, and I appreciate that I was able to sit up in the Haven Safari without feeling all smashed and cocooned by fabric. It feels more like a hangable camp sofa than a traditional hammock.
It is a bit unstable, though, which is the same issue I had with the original. If I moved around too much or got a bit too off-balance, like when rolling over or changing, the structure got a bit tippy. The only thing keeping me from ending up on the ground was the bug net, so if that's open, there's certainly a toppling out issue if you're not careful.
No more than in those backyard hammocks with the bars across the top and bottom, just more than in a conventional hammock. But there are pros and cons for every piece of gear and which ones matter depend on you and your camping style.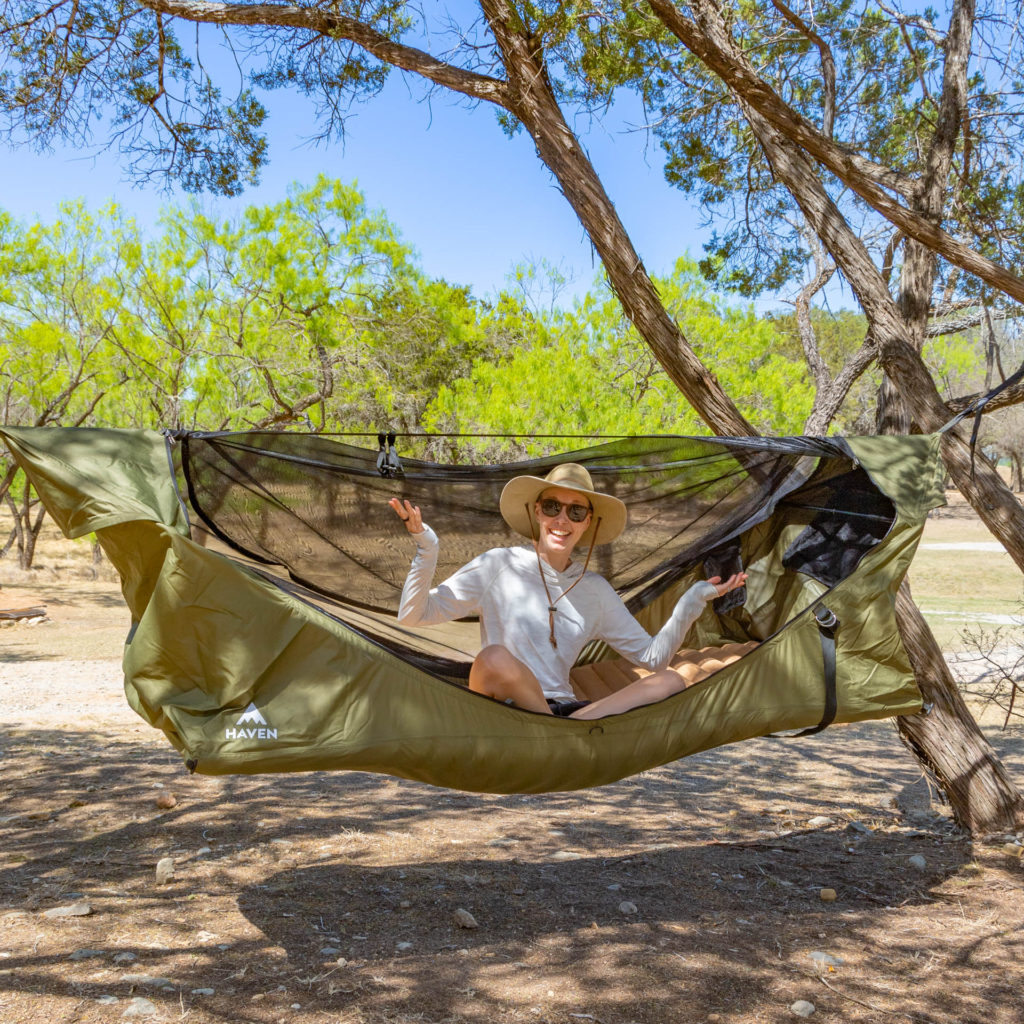 Bottom Line
Honestly, I'm perfectly happy camping in a regular hammock (just check out what we had to say about the Kammok Mantis backpacking hammock). But I'm the kind of camper and backpacker who likes to keep it simple. That may not be you. And if it isn't, then, yeah, you may really dig the new Haven Safari.
I mean, I can certainly see why you would: It's super comfy, you can lay almost entirely flat, there are tons of pockets for storing essentials inside, which you don't get with a traditional hammock, and there's lots more room to move around, which is what a lot of people cite as the reason they don't like hammocks–they feel like they're claustrophobically swaddled in nylon. (The other reason is they don't know how to properly lay in one, which we address in this video.)
But as for sustainability, we'd like to see more from Haven. Yes, the material they use is durable and intended to last longer, but we'd like to see it made of recycled materials, Haven offset their carbon footprint, commit to PFC-free DWR…that short of thing. They are still a small brand, so they will hopefully grow into that, but as of right now, they've got some work to do in our opinion. That said, we did find out Haven gives a portion of profits each quarter to OneTreePlanted.org to offset their shipping footprint. And when they take back damaged tents, they repair and re-sell or repurpose them (very few tents get scrapped entirely).
It's also not the cheapest hammock at $385 ($285 if you back it on Kickstarter). It's expensive for a camping hammock to be sure, but honestly not that outrageous for a fully outfitted glamping setup.
Anyway, there are a few days left of the Kickstarter campaign where you can get a super discount ($100 off retail!!) on the new Haven Safari for September delivery. So back it and secure yourself a lay-flat hammock here! Then, when it's ready to order straight up, we will update this post with the new link.
But whatever you do, sleep happy–on a flat surface suspended in the air if you like–and wander on.
•
This post contains affiliate links. That means when you click-click and make a purchase, you score rad new gear AND help support our little channel. Thanks for that!
Alisha is a freelance writer and photographer based in Austin, TX. She loves her tiny house, vegan food and experiencing the community of travel in far away places. She's also pretty sure she's addicted to coffee. alishamcdarris.com