We practically live in sweatpants here at Terradrift. If we're not hiking, biking, or exploring, we're working from our computers at home, and not usually in slacks and a nice button-up. Naw, we're in sweatpants. But if we're gonna live in sweatpants, we want them to be sustainable, preferably made out of natural or recycled materials that don't compromise on style or comfort. Good thing there's plenty to choose from when it comes to sustainable sweatpants and sweatshirts (and loungewear in general). Here are our 4 favorite sustainable sweats so you can be as cozy as we are as we sit and contemplate whether we want to get off the couch to go test those new hiking boots (or wait until tomorrow).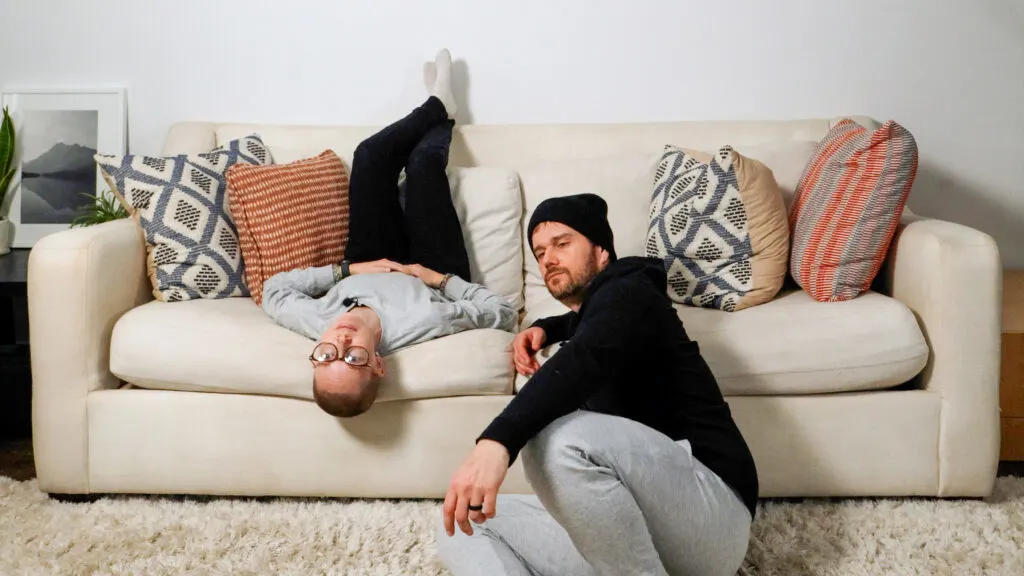 Boody
These sustainable sweatpants and sweatshirts are the stuff lazy Saturday mornings are made of. But that doesn't mean their functionality doesn't extend beyond the couch. On the contrary, the super stretchy combo of bamboo viscose and spandex in the women's Weekend Crew and Joggers makes them comfy and equally suitable for easy strolls and chill gym sessions. Heck, you could throw on the sweater for coffee with friends and they wouldn't give you the side eye.
The extreme softness extends to the men's Weekend Sweatpants and Pullover Hoody, neither of which is excessively thick or bulky, but both of which are well fitted, comfy, and ready for Saturday morning cartoons or a cool morning stroll around the block.
These sweats feel heavy and high quality in the hand, are soft to the touch, and bounce right back after you stretch them out doing deep squats or taking the gold in living room cartwheel competitions (I don't know what you do in your house…).
What makes Boody sustainable: Boody apparel is made with naturally organic bamboo, which is an abundant natural resource, packages clothing in biodegradable bags, and materials don't contain any toxic chemicals.
Pact
The 100% organic cotton Airplane Joggers and Cardigan, as the name implies, can transition seamlessly from travel day to rest day without missing a beat. That's because they fit well, are comfortable, have plenty of pockets, and feel like your favorite broken-in sweatpants right out of the box. The waistband isn't too tight and the cardigan can be styled down to act as–essentially–a housecoat, or styled up to wear out to a casual dinner, all while keeping you cozy.
The men's Off Duty Quarter Zip sweatshirt brings some serious style to the table, but paired with the Off Duty Joggers, feels just as welcome on game night as around the campfire (nobody has to know you also wore it to binge-watch Game of Thrones the last three nights in a row). And did we mention pockets?! Organic cotton and elastane make this set nice and stretchy, plus they'll only get softer with every wash.
What makes Pact sustainable: The brand uses organic cotton, which is far more sustainable than conventional cotton, is entirely carbon neutral, and ships their products in paper, not plastic, which is more easily recyclable.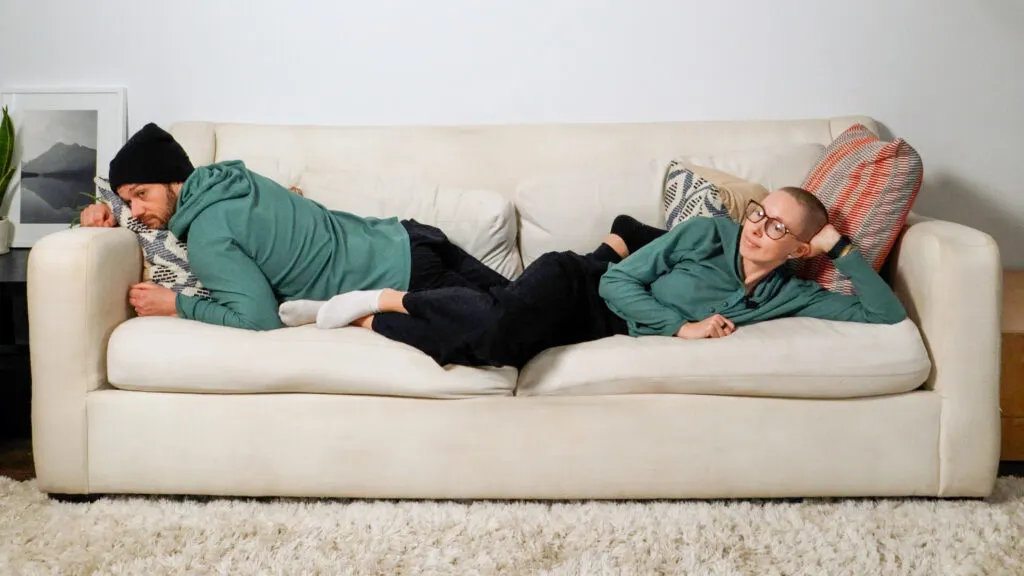 Toad&Co
Sometimes you wanna get cozy when outside temps aren't in the single digits. And for leisurely lounge sessions in milder temps–say spring or fall–turn to the women's Chaka Wide Leg Pant and Foothill Hoodie. These relaxed, stretchy, and super spacious pants made of organic cotton and Tencel feel like wearing a breezy maxi skirt, but without the potential wardrobe malfunctions. Plus they have pockets! And the organic cotton and recycled polyester Foothill Hoodie with its waffle knit reminds us of lazy weekends at the lake house (not that we ever had a lake house).
Likewise, the men's Framer II Hoody sports that same relaxed fit and waffle knit, but without the kangaroo pocket. And the Timehop Joggers, made of recycled polyester and stretchy elastane are more than capable of taking you from the campfire to the trail to the gym for some heavy lifting. That's because not only are they moisture-wicking, but they contain polygiene, which uses sodium chloride to eliminate funk (which means less washing is required AND no one has to know you haven't taken them off in four days…).
What makes Toad&Co sustainable: The brand uses more sustainable materials like recycled synthetics, organic cotton and hemp, ships their goods either in recycled paper packaging or a returnable, reusable mailer, and even publishes how-to articles to help you repair your clothing! Check out our Q&A with Toad&Co here.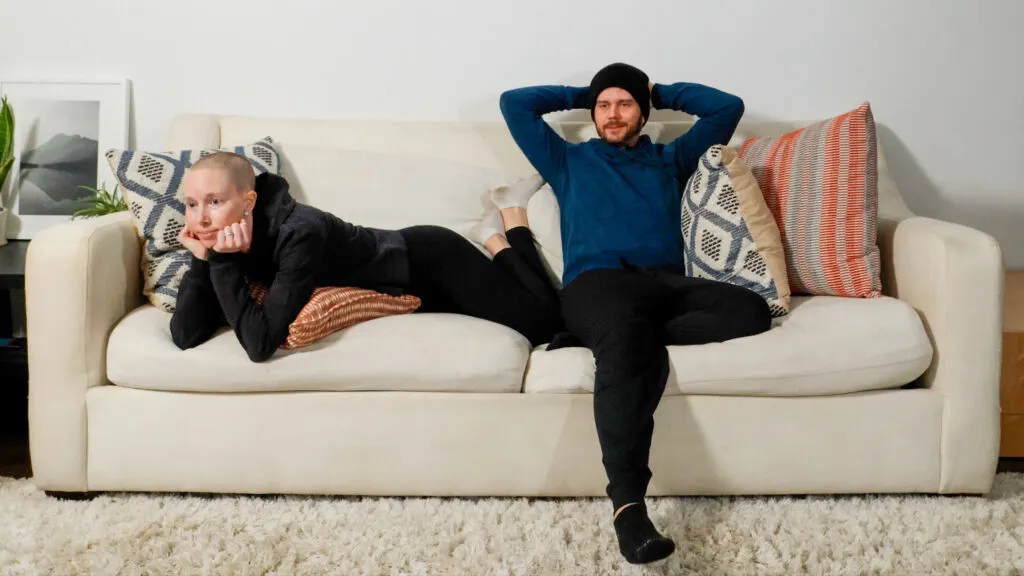 Tentree
For the perfect combo of cute and cozy when it comes to sustainable sweatshirts, the women's Cropped TreeFleece Hoodie might be our new fave. The trendy crop and ridiculously soft and stretchy fabric are never out of place whether you're having coffee with friends or Netflix and chilling on Friday night. It's made of organic cotton, recycled polyester and TENCEL, so we wouldn't be surprised if you never wanted to take it off (we don't).
The men's Organic French Terry Hoodie is made of 100% organic cotton AND is garment-dyed with natural pigment, which saves water and keeps tons of harmful chemicals out of waterways. The sweatshirt isn't as cuddly soft right off the rack, but it will definitely get softer with time. Plus, the cut and pocket design, not to mention the lovely, flattering colors available, are definitely gonna make it a wardrobe staple around these parts.
What makes Tentree sustainable: In addition to making clothing out of more sustainable materials, the brand plants 10 trees for every item sold or, as of March 7, kelp, coral and mangroves as part of their new seaforestation efforts that aids carbon sequestration and biodiversity restoration. They also offer offset subscriptions and packages and ship in fully recyclable and plastic-free packaging. Check out our Q&A with Tentree here.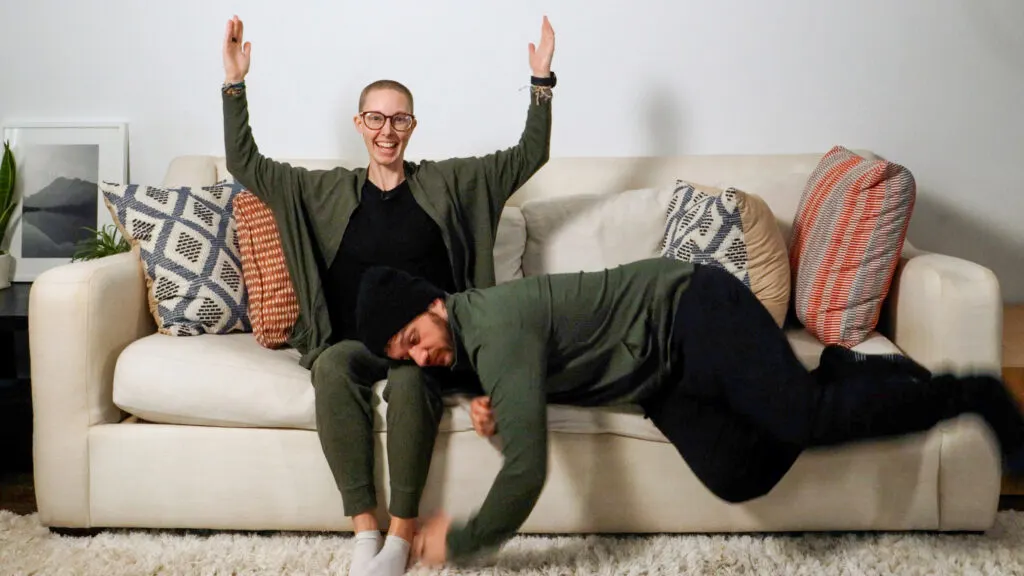 Bottom line
Sustainable sweatpants and sweatshirts do exist, including cozy versions that can easily take you from couch to campground. So find your fave, get comfy whether you're lounging with friends by the TV or the campfire, and wander on.
•
Like this article, then check these out: 6+ Vegan Hiking Socks – Hiking Socks without Wool, The 5+ Most Comfortable & Sustainable Underwear for Women, The 5+ Most Comfortable and Sustainable Underwear for Men
•
This post contains affiliate links. That means if you make a purchase using one of these links, we may receive a small percentage that helps keep the lights on here at Terradrift. Thanks for that!
Alisha is a freelance writer and photographer based in Austin, TX. She loves her tiny house, vegan food and experiencing the community of travel in far away places. She's also pretty sure she's addicted to coffee. alishamcdarris.com