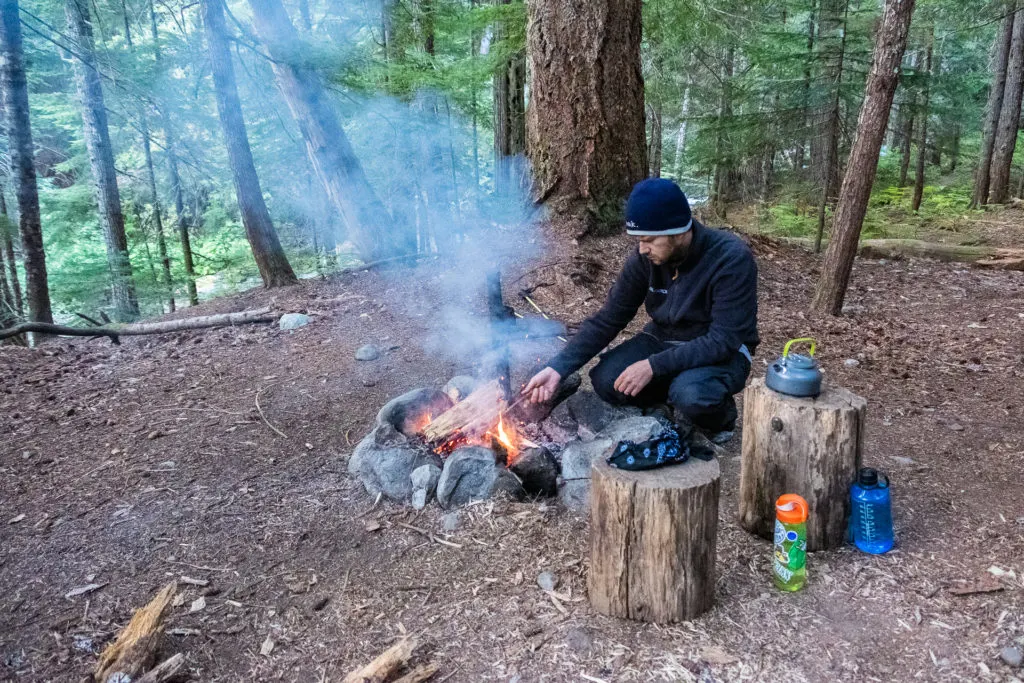 When it comes to dining in the backcountry or campground, dinnertime is a sacred time. It means refueling after a long, hard day on the trail (or a long, hard 15 minutes of setting up your tent if you're car camping). And dinnertime means dinnerware (you know, plates and stuff). Ultra minimalists might eat out of a plastic bag using their fingers or a disposable spork that's been snapped in half to save .15 ounces, but the rest of us find a plate and bowl useful. Which plate and bowl? Well, that's up to you. But we've rounded up what we think are the 5 best backpacking mess kits and camp dinnerware out there so you can decide for yourself.
I dig these bowls and cups for one major reason: they pack down flat. I hate having to finagle my bowl and mug, stuffing them with snacks or trying to fit my stove inside to save space. These guys just collapse down and stow. That's a win if you're short on space. They're also made of silicon, so cleanup is easy. Order from the Sea to Summit line here.
GSI Campware
This is what I currently have in my pack. It's simple, it's light, it's no-frills. It doesn't do any tricks, but it's cheap and it's lasted me a decade so far. Grab the bowl and the cup and set out on your way. The bowl can be found here, and the cup here.
If you rarely go out into the wilderness alone, pack all of your camp dinnerware together in one tidy little package. This kit comes with it all: two bowls, two sporks, two insulated mugs, and it all nestles together in a cylindrical kit. Think of it like the nesting dolls of backpacking mess kits. And it's all color-coded so you know when it's your partner's spork that's lost at the bottom of a stuff sack, not yours. Order the kit here.
You may not find these products at REI just yet, but we don't think it will be long! We found them at a local outdoor store and are super intrigued. These ultralight implements fold totally flat, which means they take up no room in your pack. Then they fold and snap together to make a cup, deep plate, and a bowl. They're certainly not going to keep food warm and probably won't last for a decade or more, but aren't they cool?! Order a kit here.
Snow Peak Titanium Set
Don't want plastic? We feel you. Well, titanium is about the lightest metal you can find for backpacking mess kits. And it should last a good long time. Snow Peak makes a bowl and plate, which you can get here and here, and an insulated mug, which you can order here. Just watch your fingers! When hot food goes in, the metal transfers that heat straight to your hands or lap or whatever it's touching, so maybe have a towel handy, yeah?
Do you have a fave backpacking mess kit for a stellar camp dining experience? Or are you in the market for a new one? Tell us what you like (or hate…hate is good to know, too…). Wander on!
*This post contains affiliate links, which means if you click on a link and make a purchase, we might be able to spring for some seasoning for our next backcountry cooking endeavor.
•
What makes a good backpacking mess kit?
When backpacking, weight is important, but so is space. The best mess kits for backpacking are light, but also don't require a lot of real estate in your bag, whether that means they collapse, fold down, or nest together with other backpacking essentials.
Are plastic or metal mess kits better?
That depends. Metal will last longer and can be more easily recycled than plastic in most cases. However, metal, especially ultralight varieties like titanium, can be very expensive. Also, keep in mind that putting hot foods in metal dishes can make them hard to handle due to heat transfer and require an extra layer of protection between the vessel and your hands or lap.
Alisha is a freelance writer and photographer based in Austin, TX. She loves her tiny house, vegan food and experiencing the community of travel in far away places. She's also pretty sure she's addicted to coffee. alishamcdarris.com