If I could wear sandals year-round, I would. In fact, I often prefer to be barefoot. There's just something about close-toed shoes and boots that I find unsatisfactory. My feet just like to breathe and move, I guess! And while for much of my life flip-flops were the footwear of choice, I've since found something oh so much better than flip-flops or shoes: adventure sandals. Essentially, adventure sandals can be worn–as the name implies–for outdoor adventures of all kinds, from kayaking and rafting to hiking and zip-lining to everything in between. They tend to be more secure than flip-flops on your feet, often more supportive and comfortable, and definitely better suited for rough terrain with more aggressive tread and durable soles. Have we piqued your interest? Well, now that summer is nearly here, time to toss the old hiking shoes in the closet and break out the adventure sandals! If you're not sure where to look, we've got your back. Here are the 4 best hiking sandals out there!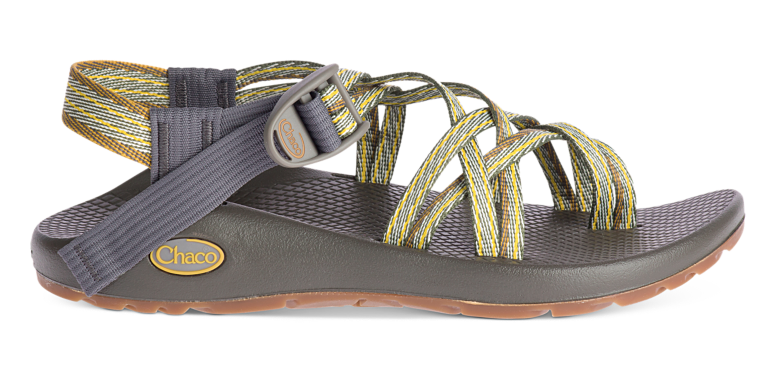 Chaco
In our opinion, Chaco sandals are the ultimate (and possibly original) hiking sandals. They are sturdy, secure, even customizable. And we don't just mean you can customize the colors and patterns on the straps and footbed and so forth; the webbing on the vegan Z sandals is fully adjustable through the inside of the footbed so they're guaranteed to offer a perfect fit. We've worn these everywhere from theme parks to hours-long day hikes to swimming in creeks to, well, everywhere (they are my favorite footwear) and our feet rarely get sore or tired. Probably thanks to the custom Luvseat footbed, which perfectly cradles your heel, arch, and forefoot. Check out some options for men here and women here (be aware that not all Chaco sandals are vegan-some contain leather, but those are clearly labeled).
How are they sustainable: For starters, Chaco recommends repairing, not replacing worn footwear. You can send tattered sandals in to be re-soled, have the webbing replaced, broken buckles exchanged, you name it, thus keeping materials out of landfills. In addition, many of their sandals are colored using the e.dye Waterless Color System to conserve precious resources.
Pros: Fully customizable, comes in a boggling array of colors and designs, comfortable, repairable, secure and super supportive on your feet, fairly aggressive tread suited for trails.
Cons: They're not lightweight or low-profile sandals, which makes them burdensome for ultralight travel and not great camp shoes while backpacking.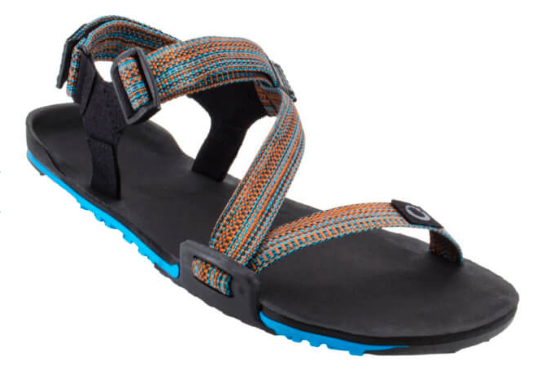 Xero Shoes
If you're into the barefoot shoe movement or you're on the lookout for a super lightweight pair of sandals, look no further than Xero Shoes. The Z-Trail and Z-Trek are both designed for adventure use, though the Z-Trek has a thinner sole. But both have alternating tread patterns to help keep you on your feet on tricky terrain and easily adjustable straps so you can dial in the perfect fit. They are light and small enough (they even roll up into a ball) to toss in your backpack or travel bag and completely forget that they are there. And these hiking sandals truly let you feel the ground beneath your feet. You know, so you feel more connected and stable as you hike. Find the men's Z-Trail here, the women's here, the men's Z-Trek here, and the women's here.
How are they sustainable: The above sandals come with a 5,000-mile sole warranty and are entirely vegan.
Pros: Super light, extremely packable, flexible, helps you feel grounded as you hike, easy to cinch and loosen quickly, the least expensive of the adventure sandals on this list (The Z-Trail).
Cons: No support or padding (only some will find this a con), only available in a few colors, only moderately aggressive tread, take getting used to if you're new to barefoot shoes.
Teva
I grew up in Teva flip-flops (it's pronounced teh-vuh, btw). The first time I felt that super squishy footbed under my soles I was hooked for life. They are supremely comfortable. But they were not well suited for anything more than beach days and errands around town. In comes the Teva Hurricane and Universal Trail. Both vegan with adjustable velcro straps, they have outsoles made for rugged terrain but midsoles that are still super comfy. They also have that classic 90's dad-sandal look to them, which is totally back in vogue. Take a look at the Hurricane for women here and men here or the Universal Trail for women here and men here for an uber-comfy hiking sandal.
How are they sustainable: The upper straps are made of recycled plastic bottles on both the Hurricane and Universal Trail. Both styles are also vegan.
Pros: A good midweight sandal that's not too heavy but not too light, supportive and comfortable, available in a plethora of colors and strap styles.
Cons: Only moderately packable, softer sole and footbed material may not hold up as long, not as well suited for pairing with more stylish outfits.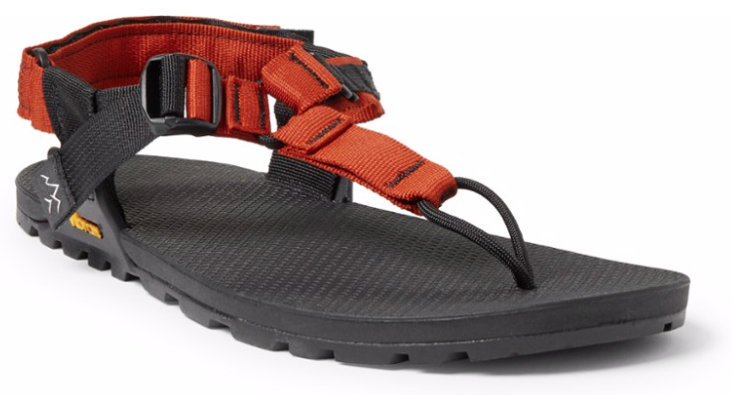 Bedrock Cairn
Another sandal designed for the minimalist footwear crowd (but not quite as extreme in the barefoot department as Xero Shoes) is the Bedrock Cairn hiking sandal. It has a super flexible sole with aggressive tread that allows your feet to move with the earth around it. The footbed isn't terribly cushy, but the 3D version has an anatomically molded footbed with a moderate amount of arch support, which many will find invaluable. They are uniquely adjustable using a series of cinch straps and hooks, and are the only hiking sandals on this list to feature a between-your-toes, flip-flop style strap (but, you know, more secure). Find the Cairn for women here and men here.
How are they sustainable: Bedrock adventure sandals can be re-soled once you've worn them out. Bedrock is also a member of 1% For the Planet.
Pros: Lightweight, easily packable, available in a variety of colors, less of an in-your-face outdoorsy design (meaning they'd look less out of place with a sundress or nice shorts).
Cons: A flip-flop style thong makes them feel slightly less natural and secure on your feet, plus they're harder to pair with socks (if socks with sandals are occasionally your thing).
And now you're ready to hit the river/mountains/trail/bike path/downtown and can rest assured knowing that your feet will be ready for (almost) anything. So if your feet hate beng crammed in shoes or boots like mine do, grab yourself a pair of rugged hiking sandals and wander on!
•
This post contains affiliate links, which means when you get yourself a new pair of shoes, we may receive a small percentage to support more great (possibly sandal-related) content. Thanks for that!
Alisha is a freelance writer and photographer based in Austin, TX. She loves her tiny house, vegan food and experiencing the community of travel in far away places. She's also pretty sure she's addicted to coffee. alishamcdarris.com