It's summer! And that means the sun's out, it's hot, and you gotta protect those peepers (just like you do your skin) from UV! But not all sunglasses are created equal. Those cheap gas station varieties may be everywhere, but if you want a pair of shades that respects Mother Nature as much as you do, consider one of these pairs of sustainable sunglasses instead.
Eco Friendly Sunglasses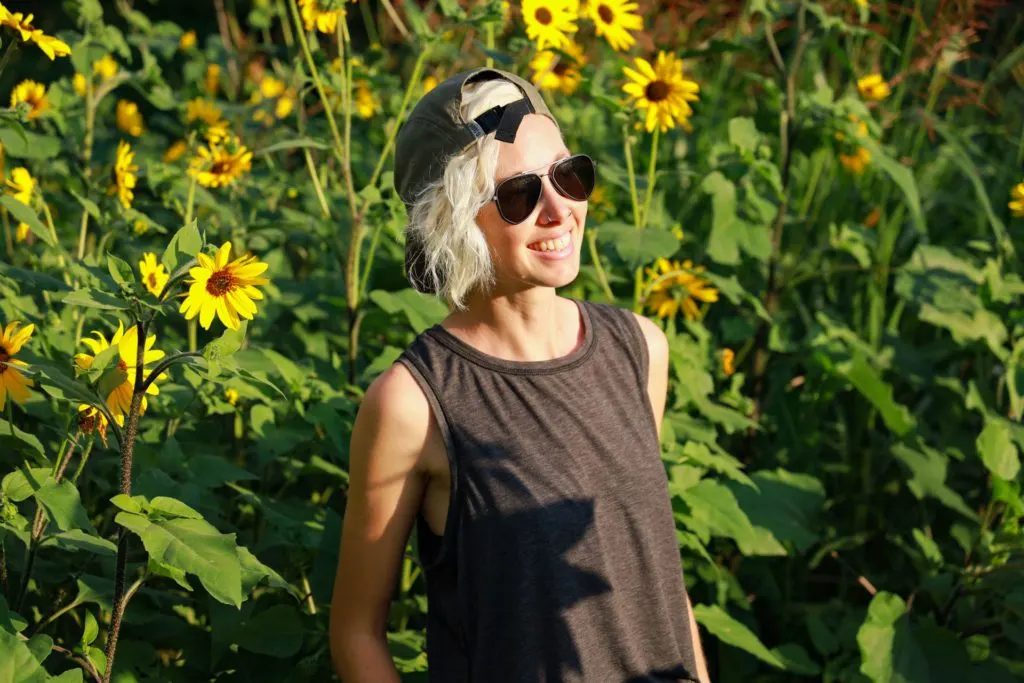 Sunski: The Everyday Adventure One
Sunski offers an awesome array of sunglasses made of recycled materials. Sunglasses that the brands designs from their home base in San Francisco. They are all high quality frames, use polarized lenses, and there's practically guaranteed to be a style to suit just about everybody! They even offer a Forever Warranty, which means for as long as you own your shades, they'll repair your frames if they break. How cool is that?
There are frames for all styles and face shapes, including options with removable side sun shields, and you can do a virtual try-on of any pair right there on the site! Our favorites (and the favorites of several of our friends) are definitely the Astras. They just fit so dang perfectly! Couple that with the very approachable price and you've got yourself your next go-to pair of sustainable sunglasses.
Why it's sustainable: Sunski makes sunglasses of recycled materials and lenses are replaceable. The brand is Certified Climate Neutral and doesn't use any single-use plastic packaging.
Price: $48-$98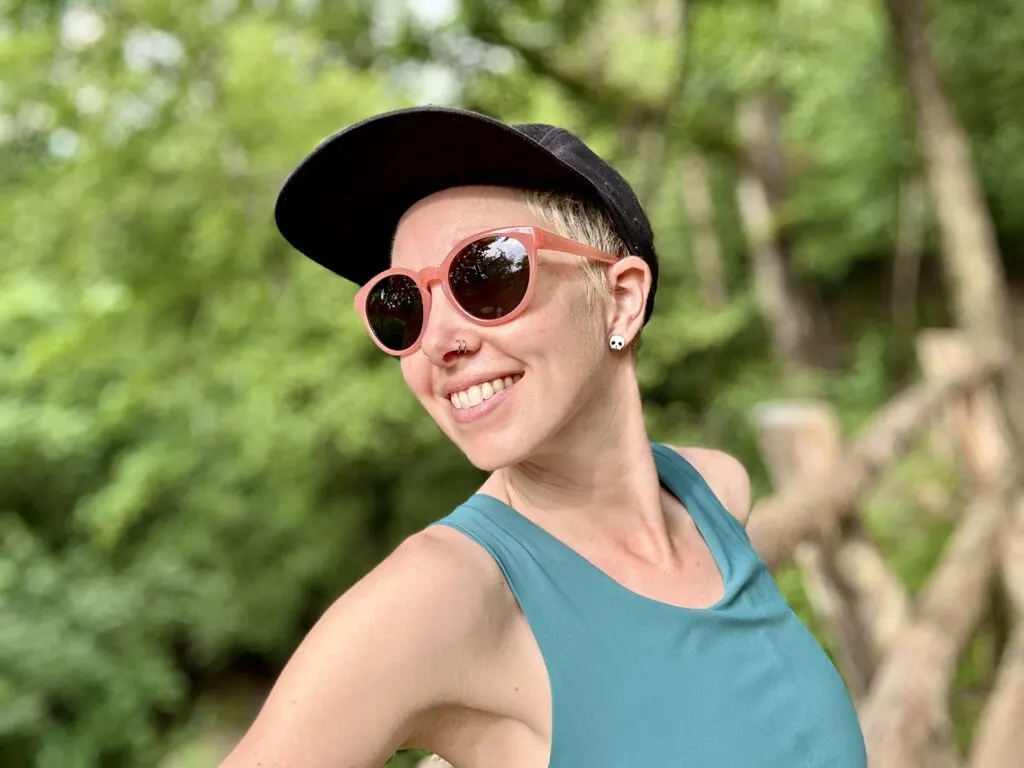 Pela: The Ones with Style
Yup, the brand you may know for their super sustainable and biodegradable phone cases now ALSO makes sustainable sunglasses! There are 10 styles available in classic, retro, and modern silhouettes. Our fave: The Sulu, which fits perfectly on my petite face–no slipping or sliding off my nose–and they look stylish as all get out, all for 33% less CO2e emissions, 34% less water usage, and 82% less waste compared to conventional sunglasses and packaging.
The glasses may not be biodegradable like their cases, but you're certain to love the variety available.
Why it's sustainable: They're made of recycled materials (including ocean plastic), and you can even send in old pairs with the brand's 360 Program, which upcycles, recycles, composts and disposes of them properly. Bonus: Pela Case is a Certified B Corp, is Climate Neutral Certified, and a 1% For the Planet member.
Price: $65-$80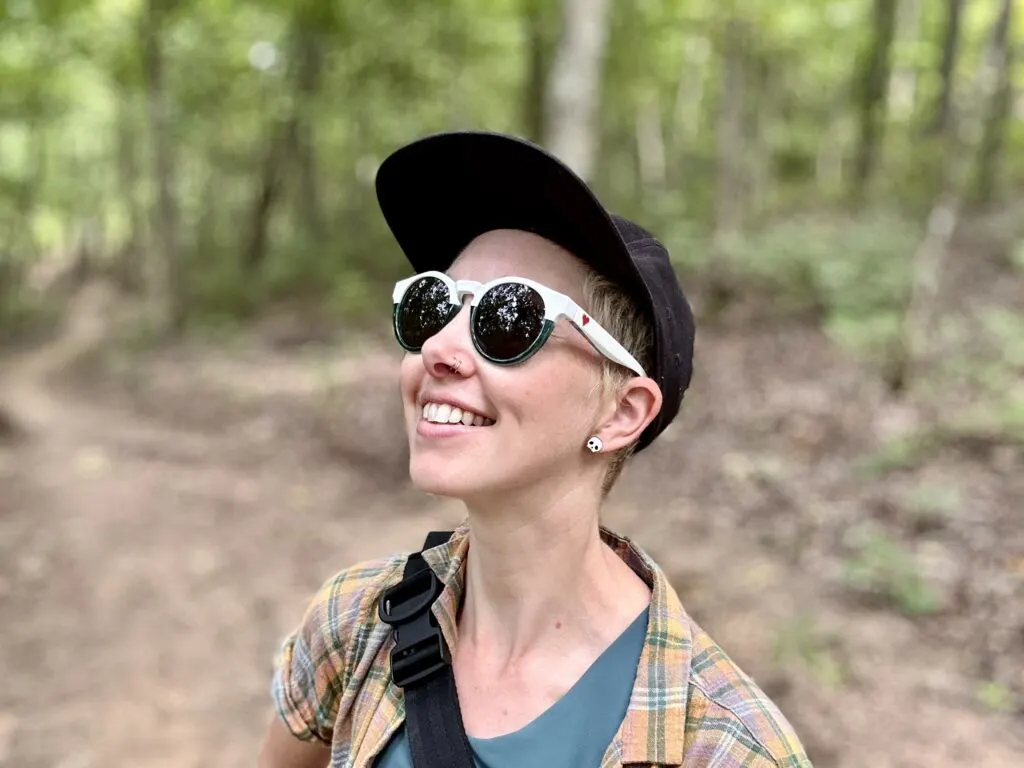 Zeal: The Ones That Promote Mental Health
Zeal Optics and Denver-based artist Pat Milbery–a pro-snowboarder turned artist and mental health advocate–have teamed up to create The Open Hearts Collection, a colorful new take on some of Zeal Optics' most classic frames, including the Windsor and Crowley. Both styles feature polarized, scratch- and impact-resistant lenses, plus $5 from each Open Hearts Collection frame sold will be donated to SOS Outreach, a national nonprofit with programming for youth developing leadership skills, life skills and fostering mental health through the power of outdoor adventures.
There are 2 colors available in each style and they look rad AF (we're partial to the Crowley, pictured above). Plus, they feature grippy, low-profile pads on the nose and arms to help them stay snuggly in place while you explore.
Why it's sustainable: Zeal's whole sunglass line is petroleum-free, and designed and crafted from renewable plant-based materials plus they contribute to a number of outdoor- and inclusivity-focused non-profits.
Price: $179
Ombraz: The Armless Ones
Armless sunglasses made of recycled materials that also stay put on your face no matter what you're doing outdoors? Yes, please! We weren't sure we'd love armless sunglasses, but after miles of kayaking, hiking, mountain biking, and even windsurfing, they proved themselves as supremely capable and comfortable: they never fell off, never slipped, and we never lost them in the drink. And those polarized lenses (available in 3 colors) are no joke. You can even order regular or narrow widths!
The 5 frame styles are secure on any size head and face shape thanks to the lack of arms and each frame is available in a handful of colors. We like the Dolomite and Leggero, but the new Viale might be our fave. Especially when paired with the removable side shields, which cut side glare when you're in the desert, mountains, or on the water. All the frames come with polarized lenses with scratch-resistant, crystal-clear optics.
Why it's sustainable: The sunnies are made of recycled and cellulose-based materials, plus the brand plants 20 trees for every pair sold, so they're actually carbon negative.
Price: $160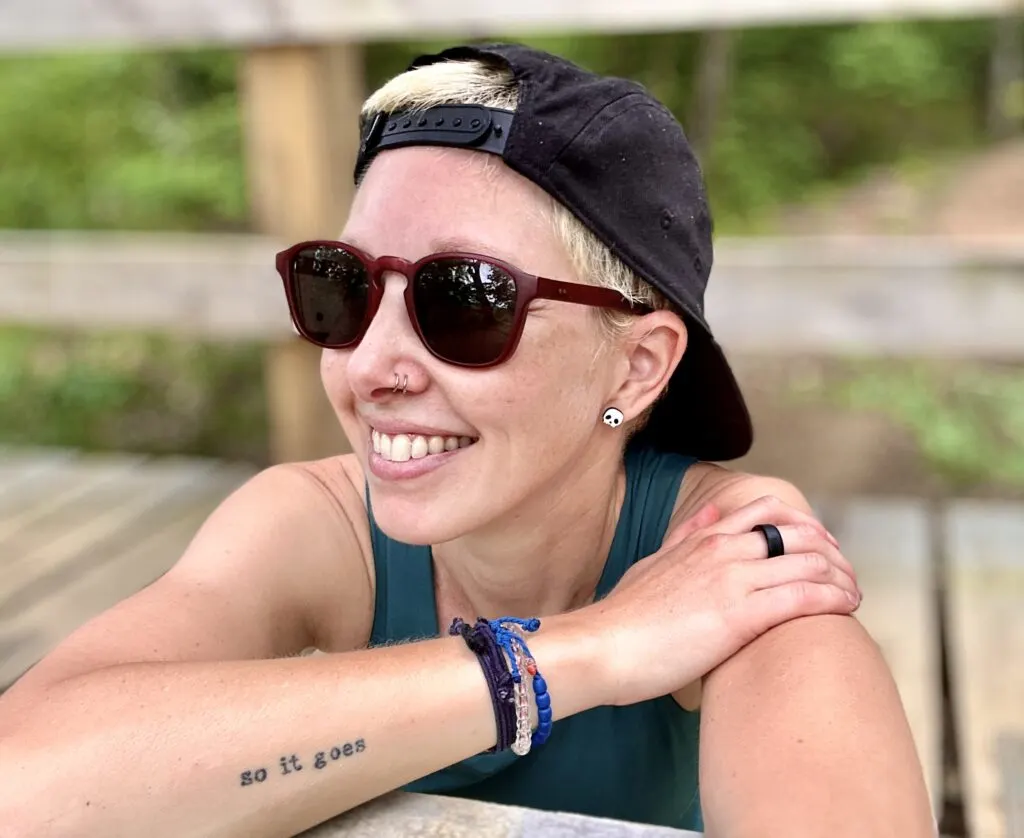 Opolis: The One Made of Ocean Plastic
Made from *literal* ocean plastic (not just plastic bottles saved from ending up the ocean, but plastic pulled *from* the ocean, beaches and landfills), these rad sunnies are polarized, scratch-resistant, use upcycled metal hinges and cores, and look dang good doing it. There are two styles available in four colors in the brand's StokedPlastic™ ocean plastic collection (they also offer bio-based sunnies) and we can't decide which ones we like best. Though the Briny style fits smaller faces better.
The StokedPlastic options also support the brand's "waste advocates" and their communities in Indonesia, Kenya and the Philippines who collect the ocean plastic. Find the shades on Opolis' website below and use code "Terradrift15" for 15%.
Why it's sustainable: Opolis' sustainable sunglasses are made of 100% recycled ocean plastic.
Price: $145
Bottom Line
Clearly there are stellar, adventure-ready sustainable sunglasses for every outdoor style. The hard part is picking which one (ones?) to add to your arsenal! Whatever you do, protect those peepers while you protect the planet and wander on.
•
This post contains affiliate links, which means Terradrift may receive a small commission from sales that result from you clicky-clicking on links. Yay for sustainable sunglasses and supporting small brands!
Alisha is a freelance writer and photographer based in Austin, TX. She loves her tiny house, vegan food and experiencing the community of travel in far away places. She's also pretty sure she's addicted to coffee. alishamcdarris.com