Summer is just about everyone's favorite time to get outside to play. Days are long, afternoons are warm, and road trips, camping, and all manner of outdoorsy activities are on the schedule! Whatever you've got planned, the right gear can make all the difference. So here are 10 of our favorite pieces of outdoor gear for summer, tested and approved by Terradrift.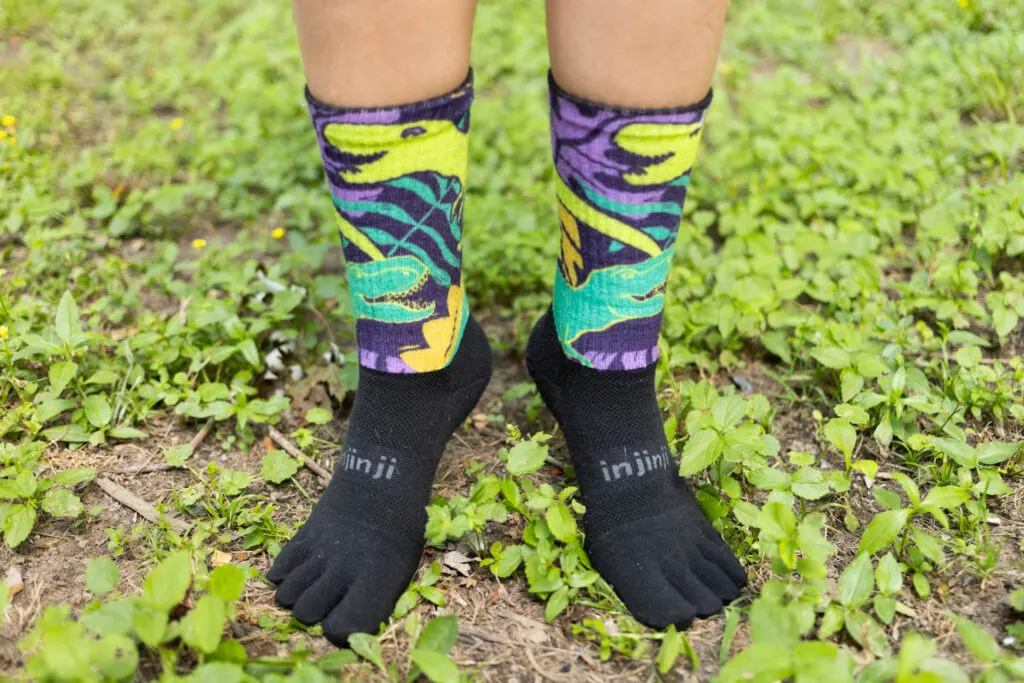 Listen, you know I'm all-in on barefoot shoes, so I'm not sure what took me so long to convert to toe socks, but now that I have, I'm never looking back. Especially since I found some that are not only comfortable and sustainable (the yarn is made of recycled materials), but animal-free (read about why we don't wear wool here) AND available in fun colors and patterns! Do you know how hard it is to find fun synthetic hiking socks?! Really hard! But now that we have, you better believe these socks from Injinji are gonna be what's in our packs (and sock drawers) from here on out.
---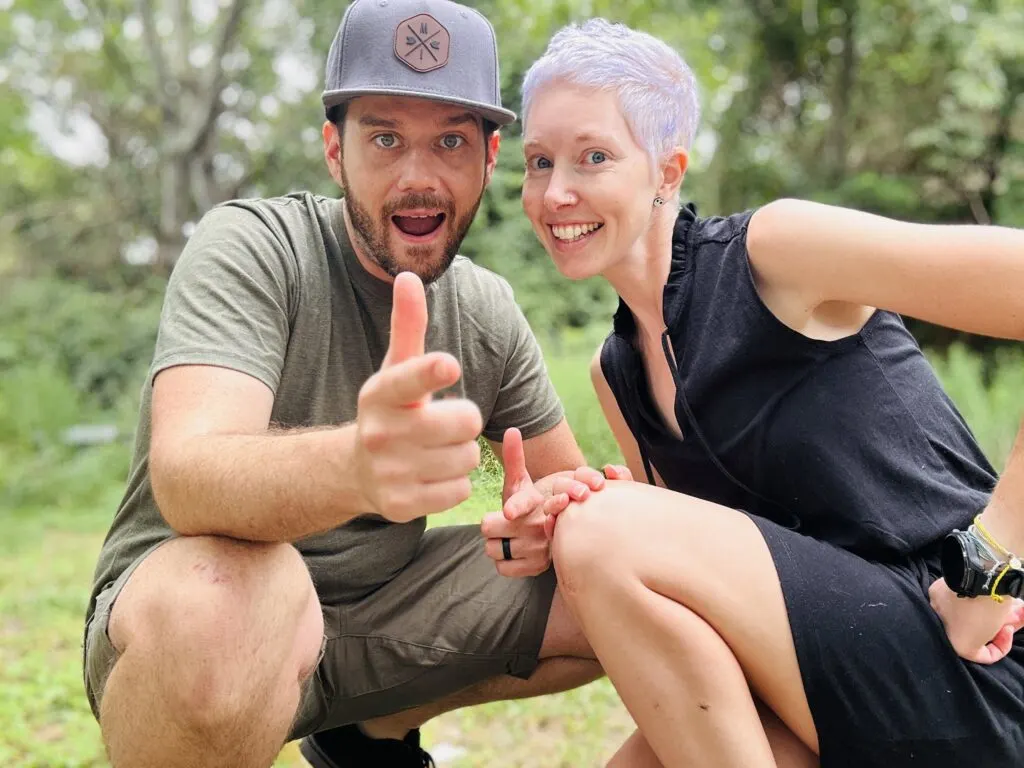 OK, so it's not outdoor gear, per se, but we don't live in synthetic hiking shirts, OK? In fact, whether we're hiking close to home, grabbing dinner in mountain towns after a backpacking trip, lounging on the couch in sustainable sweatpants, or road tripping across the country, we prefer to be in sustainable, natural fibers that don't require a lot of fuss. Enter Tentree, which makes our new favorite Arden Dress (with pockets!) and men's Twill Shorts, both of which are not only made of earth-friendly organic cotton, Tencel, hemp and/or recycled plastic bottles, the brand also plants 10 trees for every item purchased (read our interview with Tentree here). It's comfy basics you can feel good about.
---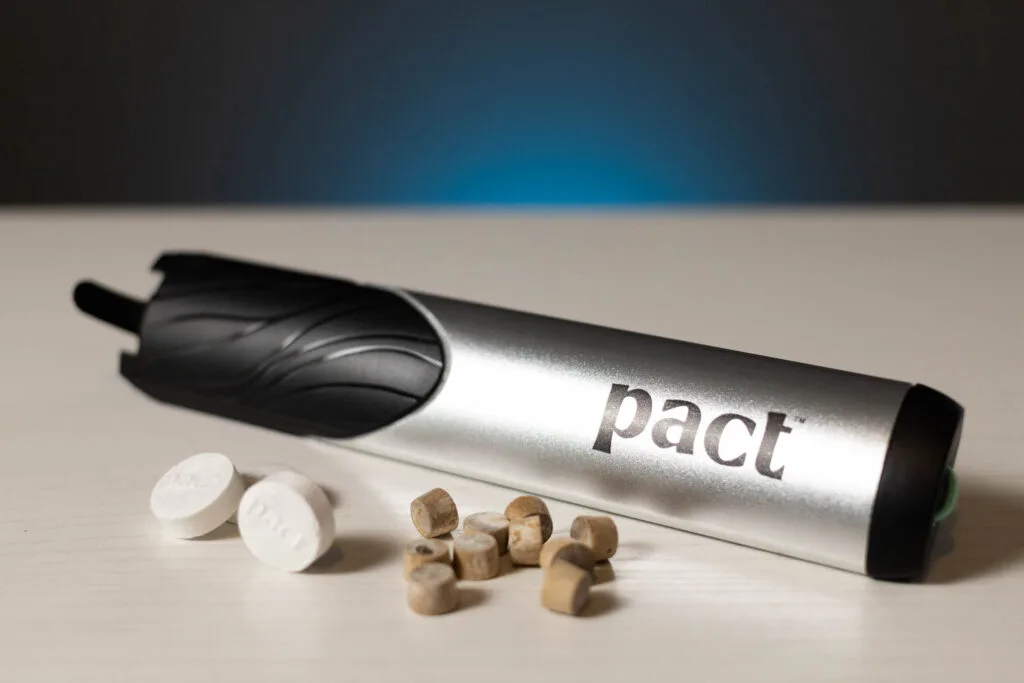 PACT Lite Bathroom Kit
We were big fans of the original PACT Outdoors Bathroom Kit for it's sexy, all-inclusive functionality (we didn't even know outdoor bathroom supplies could be sexy), but it was always better suited to day hikes than backpacking. Enter the new Lite Bathroom kit, which weighs in at only 120 grams, and that's with enough mycelium tablets and compressed wipes for a week in the outdoors! Not too shabby. It's a fantastic all-in-one kit and you better believe it's going on every adventure with us this summer, from hiking to kayaking to backpacking and beyond.
---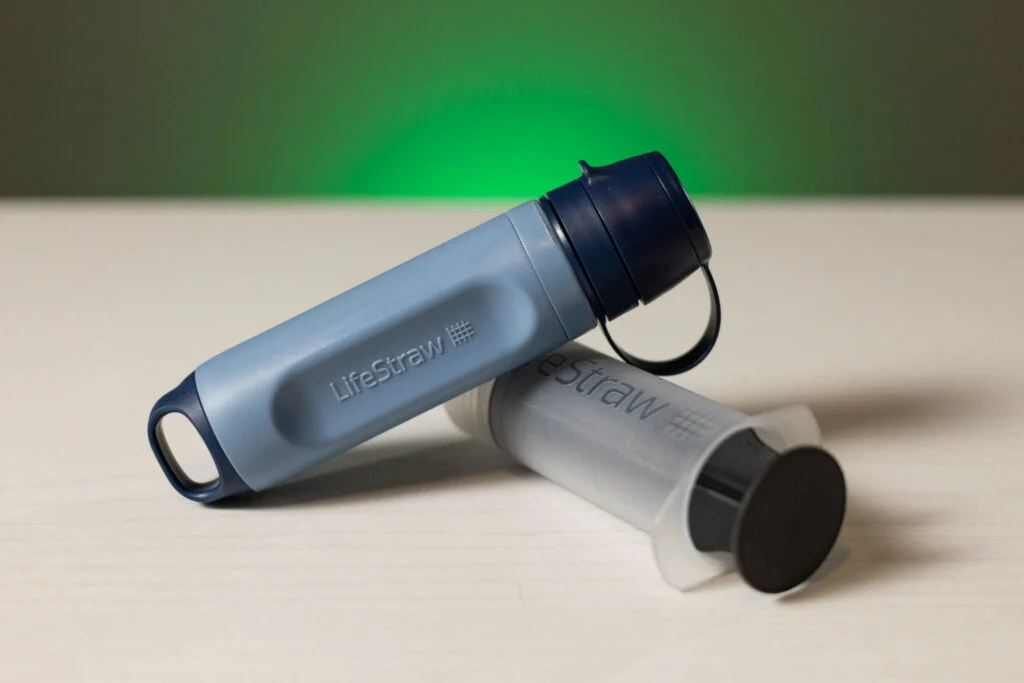 Lifestraw Peak Series Solo Water Filter
You know I'm obsessed with ultralight backpacking, so I'm always on the lookout for lighter and smaller gear. And the new Lifestraw Peak Series Solo Filter fits the bill! It's super light–just TK oz–super small–just 5.1 in– and super fast–it filters 2 liters per minute! Plus it lasts for up to 2,000 gallons! That's a lot of filtered water. It removes bacteria, parasites, debris, plus microplastics, and it'll do it before you can finish saying "man am I thirsty."
---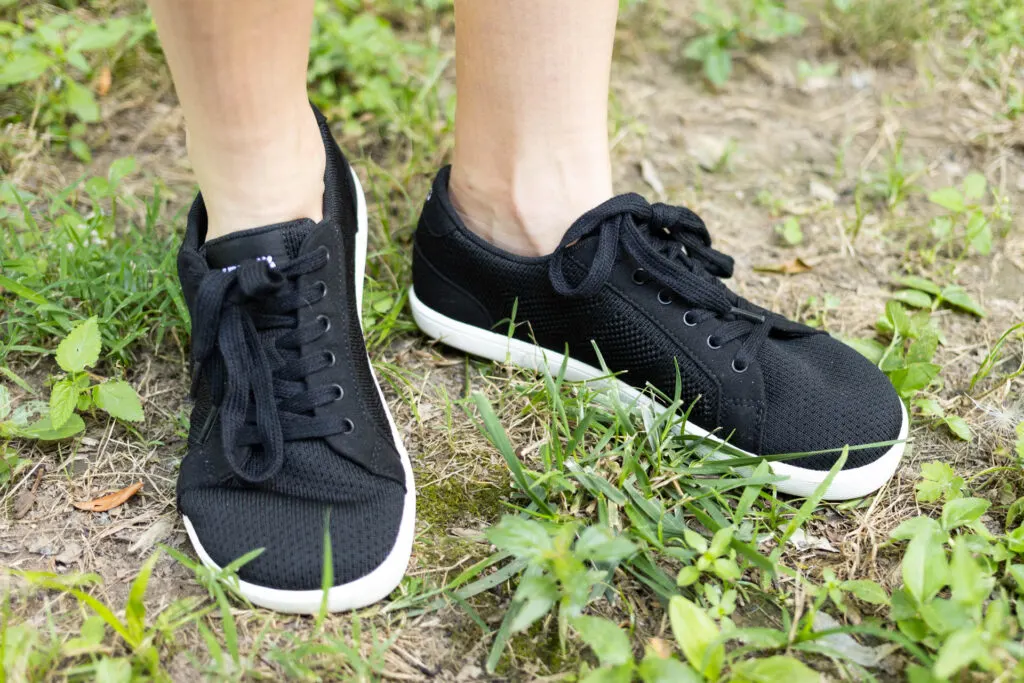 OK, so a pair of sneakers aren't exactly a must-have "adventure item," per se, but we are obsessed with barefoot shoes, and–surprise–don't spend our lives in hiking footwear. In fact, when I travel, I want nothing more than a super packable, lightweight, stylish but capable barefoot shoe that lets me wander cobblestone streets or around mountain towns without looking like a tourist. All while maintaining the natural movement that I love in barefoot footwear.
---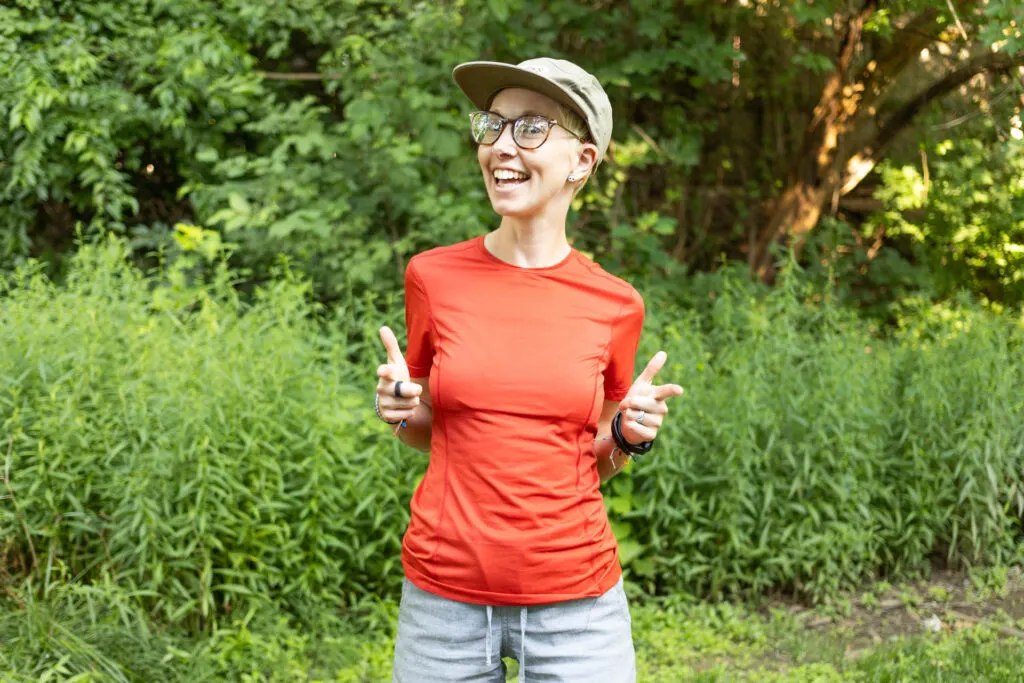 Montane Dart Lite Hiking Shirt
We're always on the lookout for the perfect hiking shirt for warm weather adventures here at Terradrift. One that is breathable but also protects our delicate epidermis from the sun that's trying to slowly poison us, is lightweight, but capable. And we may have found just the thing in the Dart Lite shirt. Available for men and women in a tee and long-sleeve version, it's available in a handful of colors (both bright and neutral), is supremely light to the touch, super breathable, and maybe our fave feature? The women's tee doesn't have a weird V-neck or scoop neck that exposes sensitive skin to the sun. This might have just become our new fave hiking, biking, and everything shirt.
---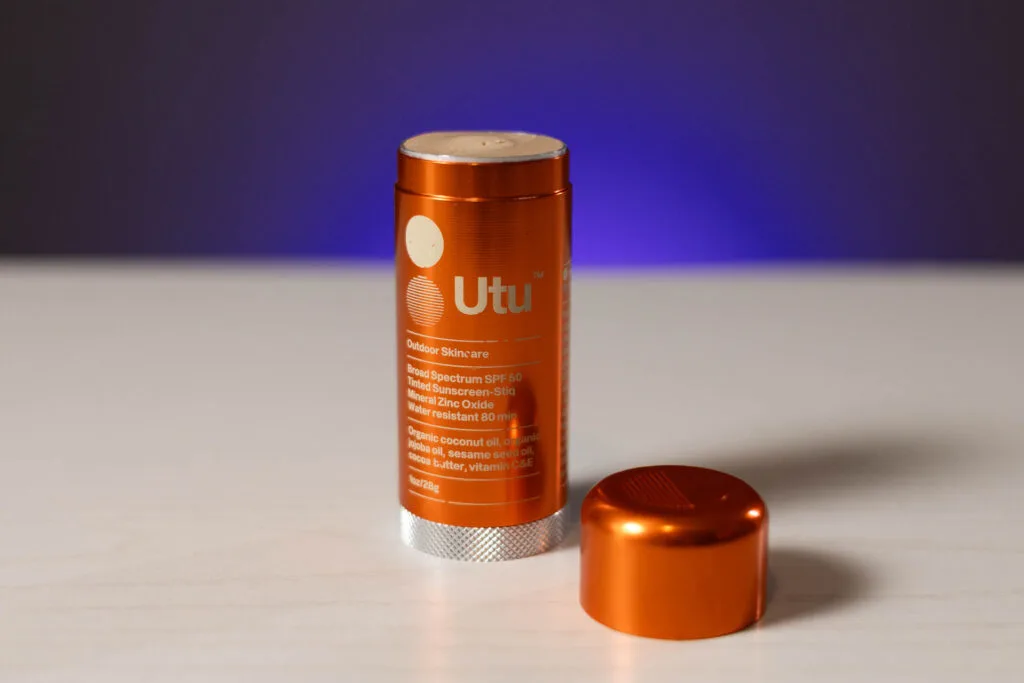 Utu Outdoor Skincare
We've found a pleasant handful of vegan, reef-safe sunscreens over the years, but products in zero-waste packaging can be tricky to locate. Imagine our delight when we learned about a new zinc oxide-based brand: Utu. It comes in SPF 30 and 50 versions, our favorite being the 50 that comes in a refillable and recyclable twist-up stick. It's tinted so doesn't leave your skin white, is thick but glides on smoothly, and is water resistant for up to 80 minutes! On the downside, the refillable metal container needs a little retooling. The lid comes off easily and the refillable insert can just fall out if you tip it upside down. But frankly, we're willing to throw a rubber band around the whole thing to keep it secure in exchange for such a sustainable, clean, reef-safe sunscreen option.
---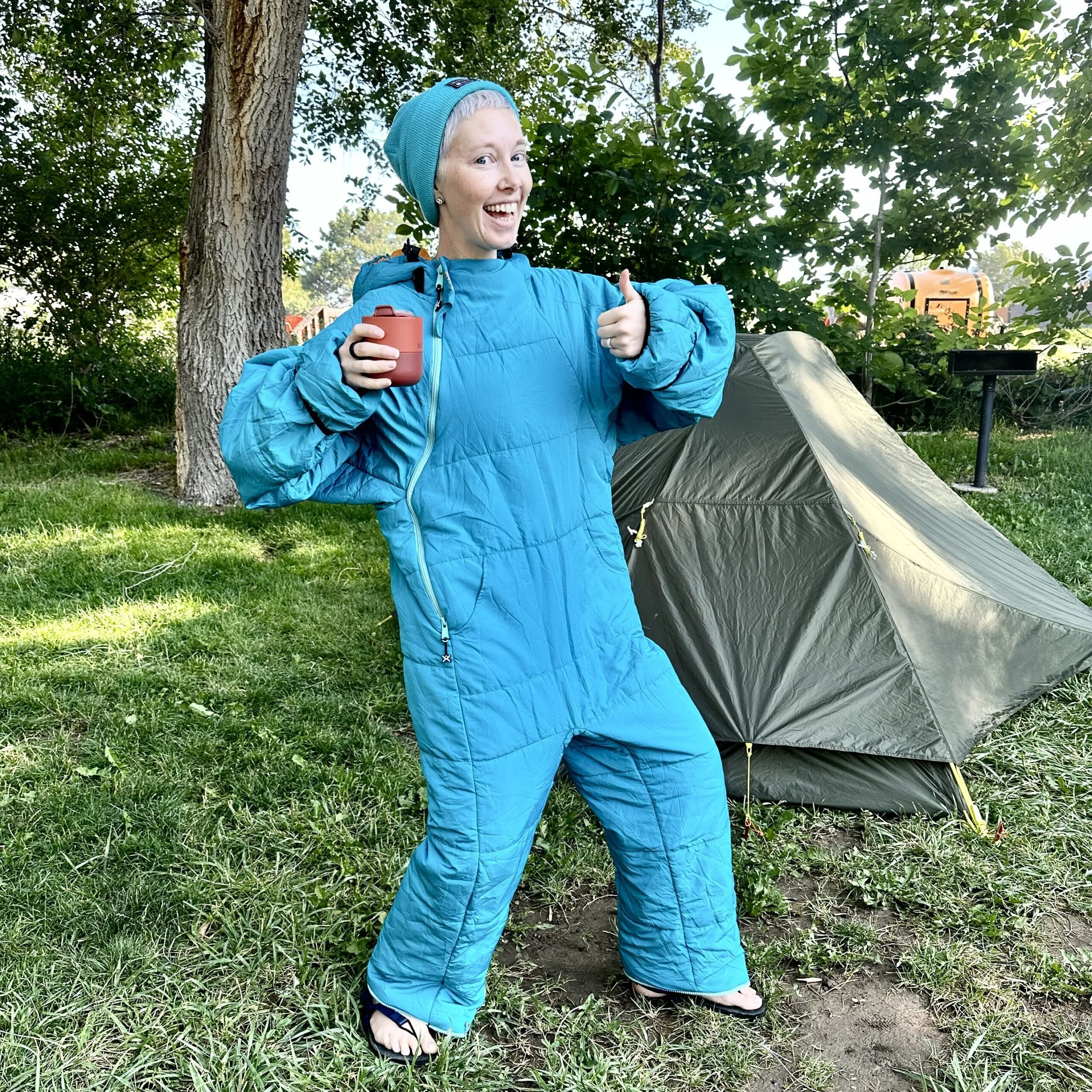 It may seem silly, but no joke, this wearable sleeping bag is comfy as all get out. It has an extended zipper for easy on and off, stowable mittens to keep your hands cozy or free for cooking dinner, a kangaroo pocket, removable booties, and even a cinch-able hood. And it's definitely not just for sleeping (it's rated for down to 55ºF). We donned this bad boy on a cool summer morning at the campground and have never been cozier. It may seem like a novelty, but we were impressed with its functionality (plus it got tons of compliments at the campground). Bonus: The fabric and insulation are made of recycled materials.
---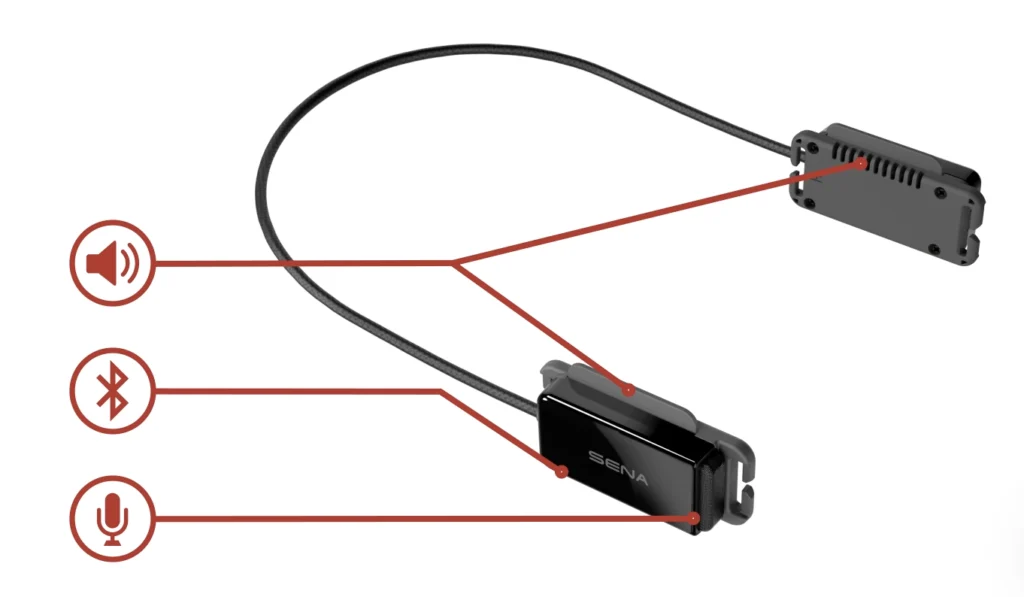 Sena Pi Helmet Intercom
If there's one piece of tech that has changed how we ride bikes, it's the Sean Pi. We were introduced to Sena's Bluetooth and intercom technology when we tested and reviewed the R1 Evo helmets a while back and loved them, but we love the Pi even more for it's ease-of-use, clear audio, and ability to be attached to just about any helmet. That means you can keep the helmet you already have and still benefit from being able to chat with your riding buddy whether you're road cycling, gravel grinding, or mountain biking. Love. Watch the full review of the Sena Pi here.
---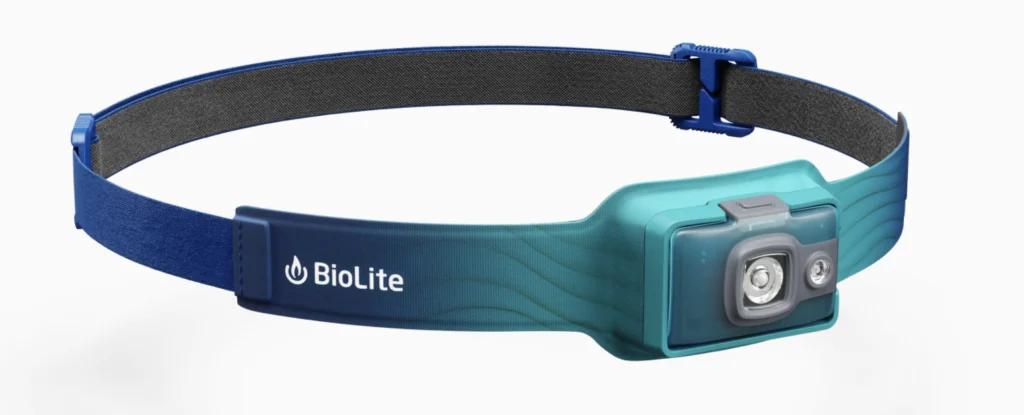 We've always been fans of our BioLite headlamps for their rechargeable batteries and hours-long life. But they're not perfect for everything. For starters, that big battery pack on the back of the head strap means you can't lay down in your sleeping bag or hammock to read and the power button is trickily tiny. Fortunately, the 300 solves both those problems, and for just 50g you get a white and red light, up to 40 hours of illumination, and the same comfy, no-slip, no-bounce head strap you know and love from a Climate Neutral Certified brand.
---
Ready to get outside to play? Gear up with our favorite sustainable gear for summer adventures and wander on!
•
This post contains affiliate links, which means when you clicky-click and make a purchase, we may receive a small percentage. You don't pay any extra and you help support more great content from Terradrift. Win-win!
Alisha is a freelance writer and photographer based in Austin, TX. She loves her tiny house, vegan food and experiencing the community of travel in far away places. She's also pretty sure she's addicted to coffee. alishamcdarris.com