On the lookout for a cool, new, sustainable, barefoot-style trail running and hiking shoe? Look no further: The Xero Shoes Mesa Trail has your feet covered.
If you've been following Terradrift for any amount of time, you've probably picked up on the fact that I'm a fan of barefoot shoes. I like 'em. I like being able to flex my foot, I like being able to feel the ground beneath my feet, I like plenty of room for my toes to move, and I like not having to deal with an inch of padding and insulation that really just serves to make my feet all hot and sweaty.
So yeah, I like barefoot style shoes. I got my first pairs last year: the Vivobarefoot Magna Trail (which we reviewed on YouTube here) and then Xero's own Z-trail sandal (which we reviewed on YouTube here), both of which quickly became my favorite trail shoes.
So naturally, I had to get my hands–or my feet?–on some Xero Shoes for hiking. Namely, the Mesa Trail ultralight trail runner.
But I intended to test it for more than trail running: I also hiked in it, wore it around town, and used it while running on a packed dirt hike and bike trail near my home in Austin.
The Xero Shoes Mesa Trail: The Deets
The Mesa Trail is a true minimalist, barefoot-style shoe. Meaning there's no padding, no gel-injected soles, no chunky heel, and no arch support. All of which combine to promote more natural foot movement and posture. All good things.
The shoe itself consists of a delightfully airy mesh upper, a moisture-wicking lining, and a wonderfully spacious toe box. The flexible sole is designed to let your feet move the way they're actually supposed to, and the zero drop means your forefoot and heel are always at the same level. Again, designed to promote balance and natural movement.
The Mesa Trail has a 5mm thick rubber sole with 3.5mm lugs, which offer just the right amount of protection and grip on uneven surfaces, plus you have the option to remove the 2mm insole if you want an even closer-to-barefoot experience.
The shoes are also suuuuper light. As in, a women's 7 is only about 6.4 ounces per shoe.
The shoes are vegan-friendly, of course, and they come with Xero Shoes' 5,000 mile sole warranty — which means if your sole wears out before you've worn them 5,000 miles, the brand will make it right by offering the same shoe at 60% off. Plus there's also a 24 month manufacturer's warranty, so you can trust that you won't wear through the shoes prematurely, despite how minimalist they are.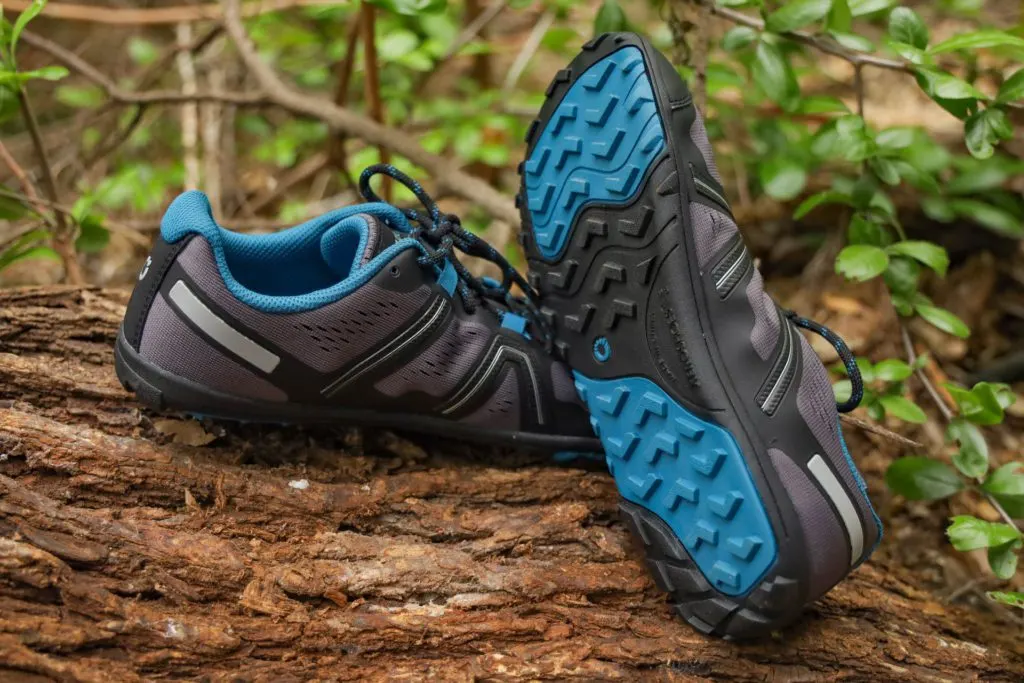 In fact, these shoes should last longer than most shoes designed for trail running since avid runners replace their shoes waaaay more often, mostly because the cushioning and foam soles get worn down. But since there's no cushy foam sole or padding here, there's nothing to get compressed and need replaced every few months. That makes this shoe more sustainable right off the bat because it means fewer shoes are headed to the landfill every year and fewer shoes need to be manufactured to replace them.
Also, and I'm not gonna get into the whole barefoot shoe argument here, but suffice it to say that studies suggest ultra cushy shoes actually do not protect you from injury. In fact, barefoot-style shoes may actually be better for your feet, spine, knees, ankles, you name it. But yes, they do take a minute to get used to if you're switching over from traditional runners.
But I digress! The Mesa Trail! You want to know what I thought of them.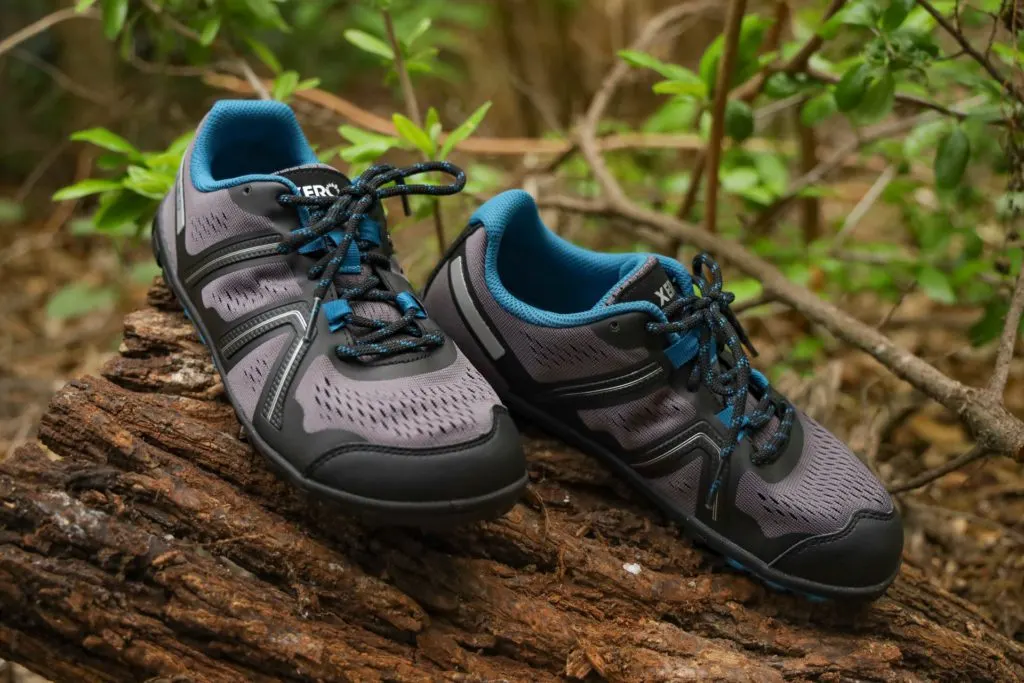 Xero Shoes Mesa Trail: The Review
First, some pros and cons:
Pros:
Ultralight
Zero drop
Reel Feel footbed
Truly barefoot style
Long-lasting
Flexible + Packable
Breathable
Cons:
Tread isn't super aggressive
No support or cushion (not a con in my book, but might be for some)
Sole isn't super thick to protect from stepping on large obstacles
As for how I liked these shoes, basically, I dig 'em. They're airy, they're breezy, they dry quickly when they get wet, they're spacious and comfortable and look pretty dang good all at the same time. The last point is my opinion, of course.
I hiked in these shoes, I ran in them on and off trail and on the beach and I loved them. There's no extra fabric or cushioning or sweaty materials to make my feet feel claustrophobic–I tend to prefer sandals for hiking and everyday wear if I have the choice–and the soles were neither too thin, nor too thick. I could still feel the earth beneath my feet, but wasn't afraid every little rock and pebble was going to hurt my instep if I landed on it wrong.
The shoes are easy to slide on and off without completely unlacing them but felt secure on my feet once they were all tightened up. And I don't hate the color options. I mean, would I love to see one offered in all grey or black or even a nice, clean, undyed white? Sure. But I appreciate that there are more neutral colors to choose from with just a little pop in the details.
The multi-directional chevron lugs make for a secure feel on rough ground, which is great. I felt pretty safe marching over all kinds of terrain, from trail running on wet rocks and muddy trails to hiking over dirt and gravel. And the strips of reflective material around the heels were a nice touch.
They were comfortable with or without socks and I love how light and flexible they are. It makes them perfectly suitable for travel.
As for sizing, I usually wear an 8 in running shoes, but I wear a 7 in Xero sandals because my feet are so narrow. I needed an 8 in the Mesa Trails. Yeah, it's my "usual" size, but I expected to need something smaller since they weren't overly built up or padded on the inside.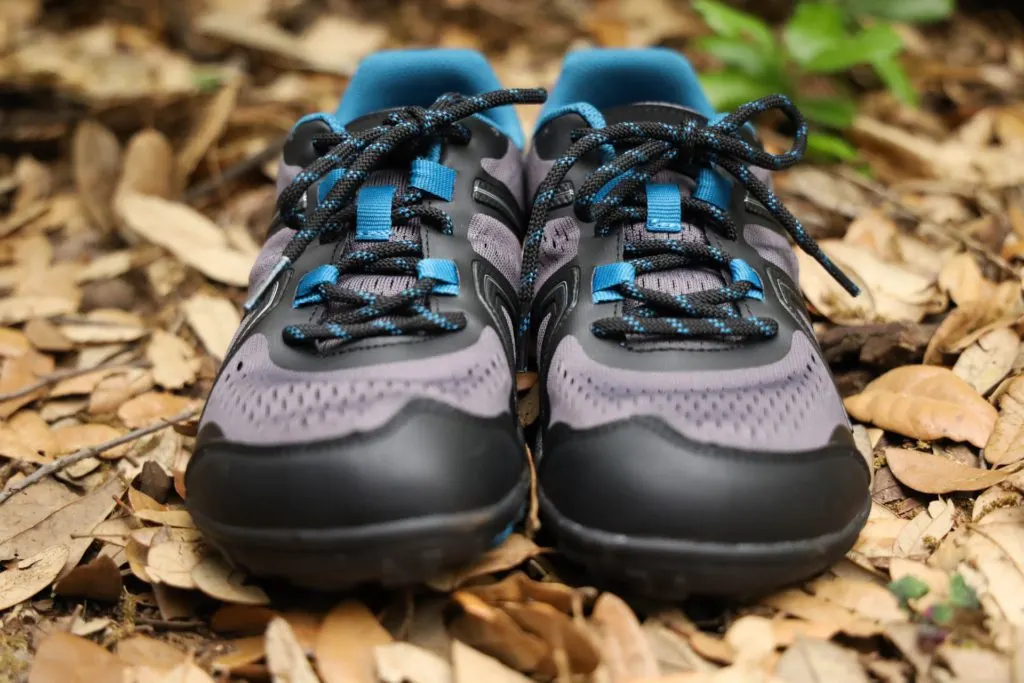 Mesa Trail Sustainability
And as for sustainability, the fact that the shoes are designed to last at least 5,000 miles is the main selling point here. How does that make them sustainable? Because most people say you should replace traditional running shoes every 500 miles. And 5,000 miles is ten times farther. Ten times! Ten! Which means ten times fewer running shoes in a landfill! Ten! I'm sorry for the repetition, it's just kinda a big deal.
Because 300 million pairs of running shoes end up in landfills every year. Three hundred million! That's a lot of materials being manufactured for such a brief use window then just tossed out so they can pile up and contribute harmful greenhouse gases as they slowly break down over decades, even hundreds of years. Then there's all the materials and emissions related to making new shoes…It's not pretty.
Now think of how much good could be done if you divide that number by 10. That's a pretty big positive change. Yeah, recycled materials are amazing and we'd love to see Xero start using more of that or become carbon neutral, but in the meantime, choosing footwear and gear that's made to last makes a huge difference when it comes to sustainability.
Bonus: Xero Shoes donates 5% of the purchase price of their DIY FeelTrue sandals to the Tarahumara Children's Hospital Fund.
Bottom Line
The Xero Shoes Mesa Trail shoes are comfortable, roomy, breathable, and an all-around great hiking shoe or trail runner for those into–or looking to get into–the barefoot shoe movement. We can't recommend them highly enough as a sustainable, vegan, long-lasting shoe that's actually good for your feet. So check out the Mesa Trail for women here and men here.
And yes, Xero also offers plenty of advice for making the switch to barefoot shoes, so if you need a little guidance, you're golden. So go barefoot and wander on!
Alisha is a freelance writer and photographer based in Austin, TX. She loves her tiny house, vegan food and experiencing the community of travel in far away places. She's also pretty sure she's addicted to coffee. alishamcdarris.com