Adventures change. You need a bottle that adapts. How? Why?! Allow us to introduce you the MODL Bottle: a modular water bottle designed for adventure.
We freaking love multitaskers here at Terradrift. We're all about minimalism and owning less that can do more. But we've learned over the years that not everything can do everything. Like water bottles. Pretty much their only job is to hold and dispense liquids. Maybe keep those liquids hot or cold. At most, they also contain a filter or purifier (like these bottles we reviewed) to make impure water drinkable. But that's pretty much all we've come to expect from our liquids vessels.
Until now.
Allow us to introduce you to a revolution in multi-functional water bottles: The MODL.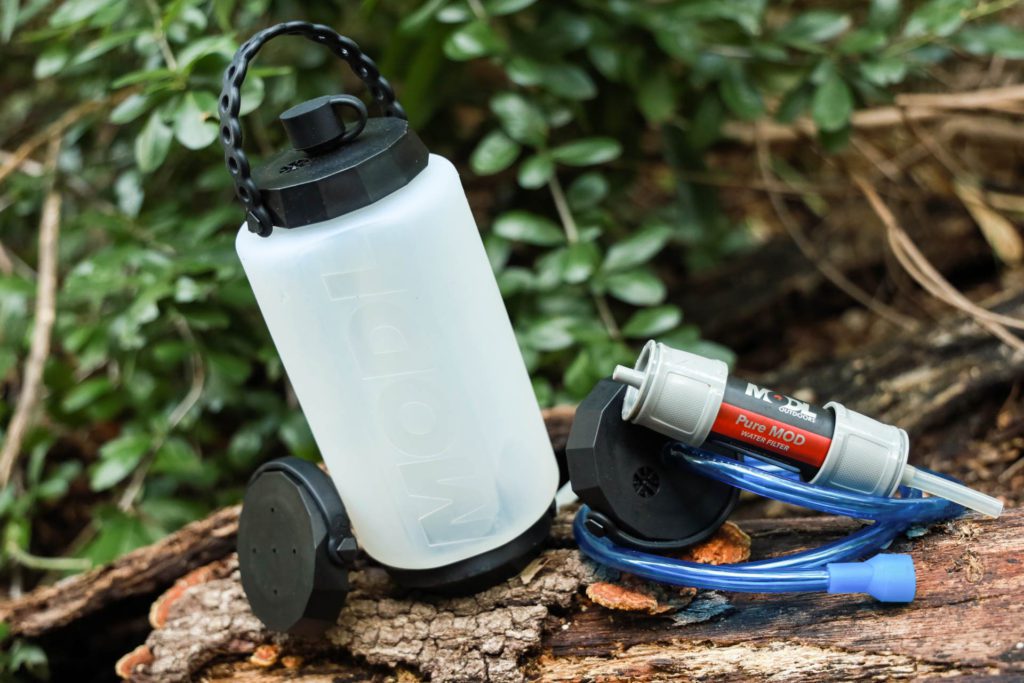 This is the MODL Bottle. Yeah, it's a water bottle, sure. But it's also so much more. It's designed to be modular. What does that mean? It means you can remove the top or bottom lid and replace it with all kinds of different caps. Like a cap with holes in it so you can rinse off dirty dishes or gear. A cap with a straw and a bite valve so you can sip on the go. A lid with a hydration hose attachment so you can use it hands-free. A lid with a squirt bottle top so you can hydrate your friends without getting their germs all over your vessel. And yes, there's even a filter attachment so you can filter water in the backcountry. These are all referred to as "Mods:" swappable caps that bring new functionality to the humble water bottle.
Basically, this bottle is versatile, modular, packable, eco-friendly, even open-ended. As in, as the company grows, who knows what new attachments and features they'll come up with?! We're hoping for a cap with a waterproof LED in it so we can use the bottle as a lantern!
Wait! Packable? Yup. The MODL is made of flexible silicone, so you can fold it up for packing so it's a fraction of its full size. Plus it comes with flexible and removable LifeLoops (or upgrade to longer, stretchier Super Loops) for easy carry. Strap it to your bag, no carabiner required. Wrap the loops around your bike frame and use the hydration hose for easy sipping while you ride. Fasten it to your kayak so it's not rolling around by your feet. Hang it from a tree branch while you use it to wash your dishes at camp (or your stinky body). The possibilities are literally endless.
It comes in a turquoise-y blue, glacier, black and clear, weighs 10.8 ounces, and you can get almost all the Mods together in one kit with the bottle or build your kit one piece at a time. I have all of them. And I'ma use every one. Every. one.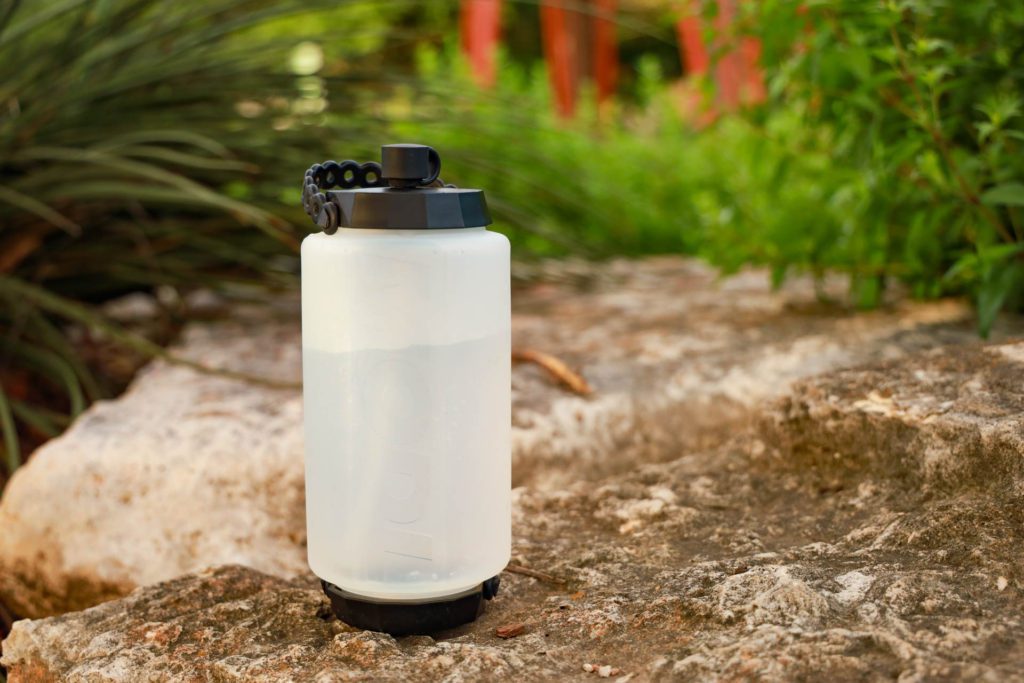 MODL Bottle: The Review
First, some quick pros and cons.
Pros:
Versatile
Modular/Customizable
Endlessly useful
Easy to handle
Won't roll away when dropped
Cons
Dirt sticks to silicone
Not ultralight
Some lids can leak a bit
Long story short: we couldn't be more stoked about the versatility of this bottle. It literally does it all.
We love that is has flat spots on both sides of the bottle that keep it from rolling away when we drop it or it tips over on a trail and that it folds up for easier storage.
And I absolutely love all the Mods. My favorite right off the bat were the Go + Flow Mod that features a bite valve cap with a straw for easy drinking and the Rinse Mod. Seriously, I can not overestimate how much I love the Rinse Mod.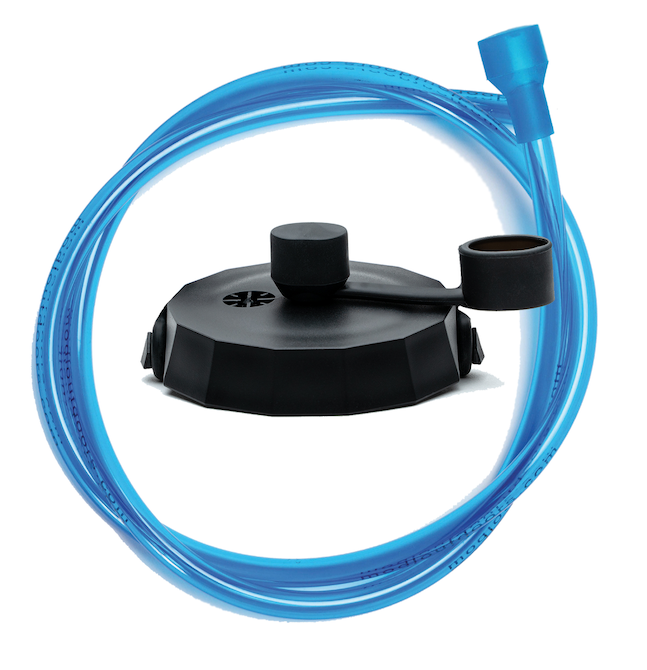 We took it beach camping and not only was it brilliant for washing dishes, it made rinsing off sandy feet before getting into the tent or the car a dream. I honestly don't know how I've lived without this thing as long as I have.
The SuperLoops were also an excellent add-on, which offered a wider range of carry and lashing options. I liked having one on the lid of the bottle at all times and usually just left one of the regular loops on the bottom.
But you can use the super loops to hang the bottle from a tree for showering, or, my personal fave: to your bike frame for rides that are too long or hot for the amount of water a traditional bottle holds, but when you don't want a sweaty ol' backpack with a hydration bladder on, either. Just lash it to your frame and–to make drinking even easier–attach the Flow Mod with hydration hose and sip hands-free! It works as a hydration pack on a backpack, too.
Even the Pure Mod was versatile! You can attach the water filter inside the bottle using the Go or Flow Mods and filter your water for sipping or attach it to the outside of the Multi Mod lid and use the bottle as a squeeze bag or gravity filter to filter water for a whole group!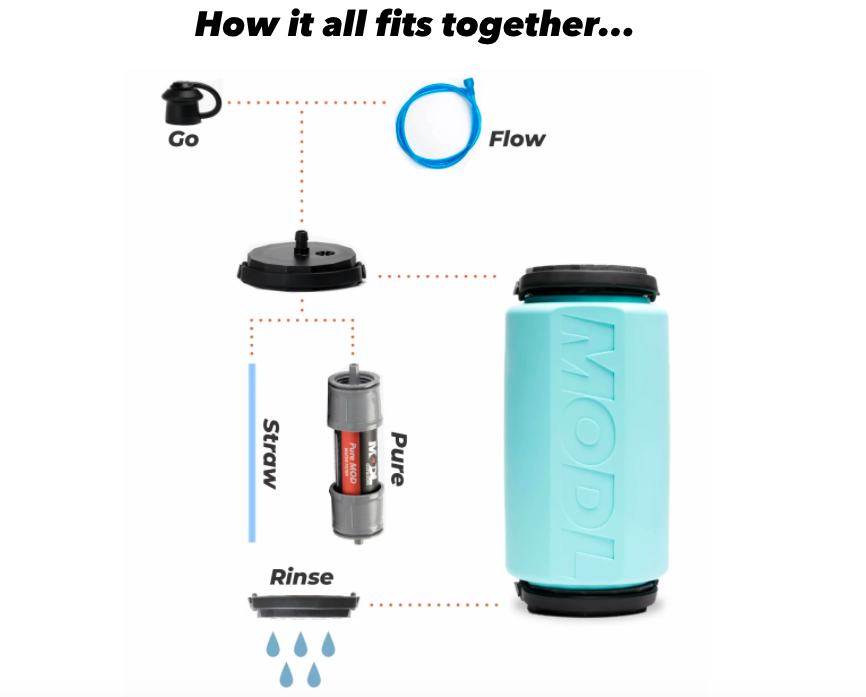 One ding: it's not ultralight. We'll definitely be taking this on day hikes, camping trips, kayaking excursions, road trips, cycling adventures, you name it, but we'll see about backpacking. We like to keep it light.
Also, because it's silicone, the bottle doesn't slide in and out of a backpack pocket that well and sand and dirt stick to it like nobody's business. Plus it doesn't fit in most car cupholders, but neither does a 32-ounce Nalgene, so these are things we can absolutely live with. Just puttin' it out there.
And it's not exactly leak proof. It is if you use the standard Mod lids, but anything with the one-way valve on top has the potential to leak. We didn't have a problem with it most of the time, but every once in a while a piece of dirt or sand would get in there and mess with it just enough to turn a one-way valve into a two-way valve. It was easy to fix: just take off the lid and fiddle with the valve, just be aware of the possibility and maybe don't toss a full bottle with the Go MOD in the bottom of a bag with sensitive electronics.
On the upside, because both ends are removable, The MODL Bottle is super easy to clean. And it's freezer safe, you can put it in boiling water, even chuck it in the dishwasher.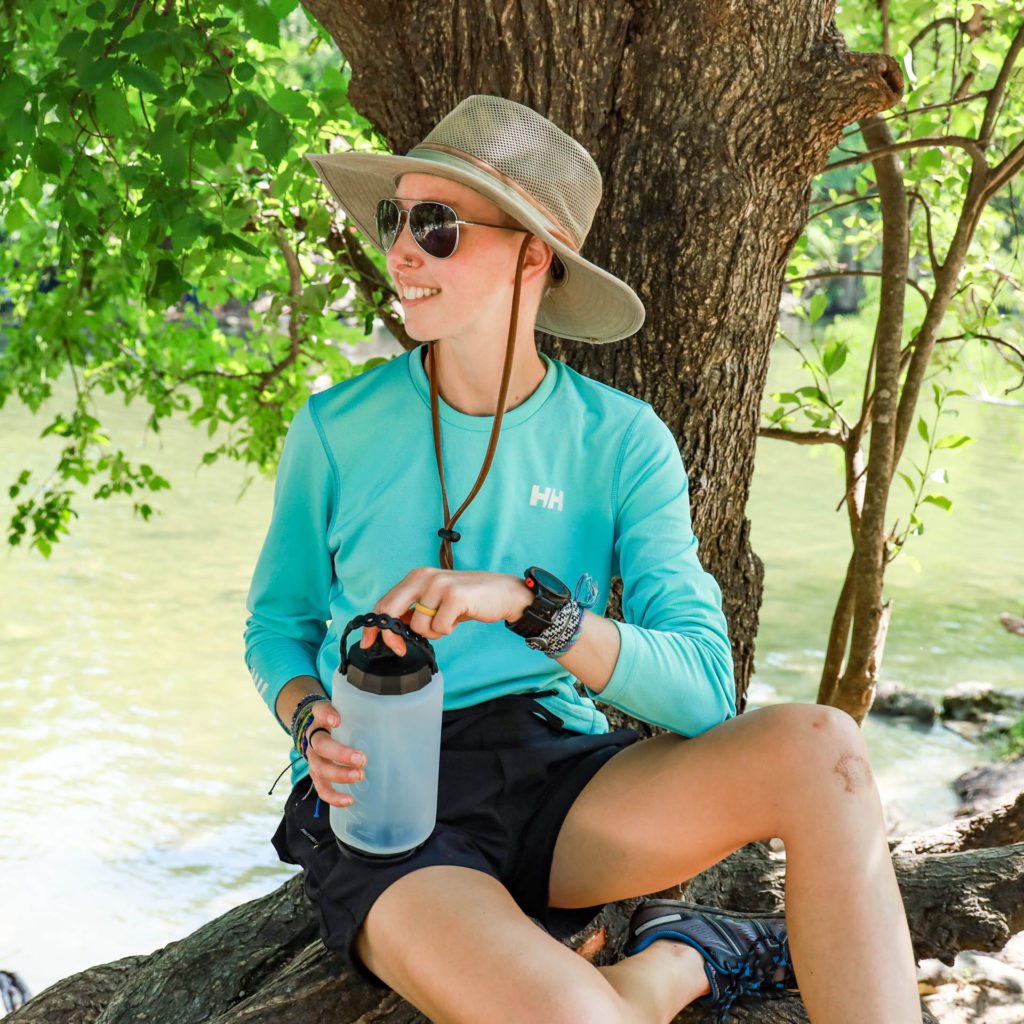 Bottom Line
I honestly really love the Modl. I like a lot of gear we test, but I don't get this jazzed about the versatility of most of them. I mean, this has become my go-to water bottle for just about any adventure, urban or outdoor. What can I say? I love a multi-tasker!
As for the sustainability of it all, the bottle is made with silicone, stainless and polypropylene, plus it's BPA-free, and the manufacturing process is completely carbon neutral. Huzzah! Why do you need one? Because adventures change and MODL adapts. Too cool.
So, basically, there's no reason NOT to get one. Or two. Get one for you mom, dad, best friend, teacher, that guy at the climbing wall who's always forgetting his water bottle…Find the MODL here and all the Mods here. And just because we love you, use the code TERRADRIFT when you check out to get a free bottle with the purchase of any Mod!!!
Now drink up, ditch unitaskers, and wander on.
Alisha is a freelance writer and photographer based in Austin, TX. She loves her tiny house, vegan food and experiencing the community of travel in far away places. She's also pretty sure she's addicted to coffee. alishamcdarris.com