Looking for the perfect, do-everything pair of hiking sandals? The Bedrock Cairn Pro II Adventure Sandals may be just the thing.
Listen, I'm not a huge fan of hiking boots or shoes. If I can get away with it, like on day hikes or adventurous afternoon outings, if it's warm, I'm gonna opt for sandals every time. So I want a rugged option that can handle it all: hiking, camping, kayaking, white water rafting, you name it. I want it to be able to handle tricky terrain and I want it to be at least moderately packable. And I've tried lots of different hiking sandals (we even wrote a post about some of the best hiking sandals here), and they all have their pros and cons. But The Bedrock Cairn may be the Goldilocks of them all.
There are actually three options in the Bedrock lineup: the Cairn Adventure Sandal (including the more sustainable Cairn Geo), the Cairn Pro II, and the classic huarache-inspired sandal. We tested out the Cairn PRO. Why not the Cairn Geo with its 30% recycled Vibram outsole and Repreve straps made of recycled plastic bottles? Because the eco-friendly Geo is more suited to urban adventures than rugged outdoor ones with its less grippy and less aggressive lugs. And since we want our sandals to be able to tackle whatever terrain we throw at them, we choose to test out the Cairn Pro II.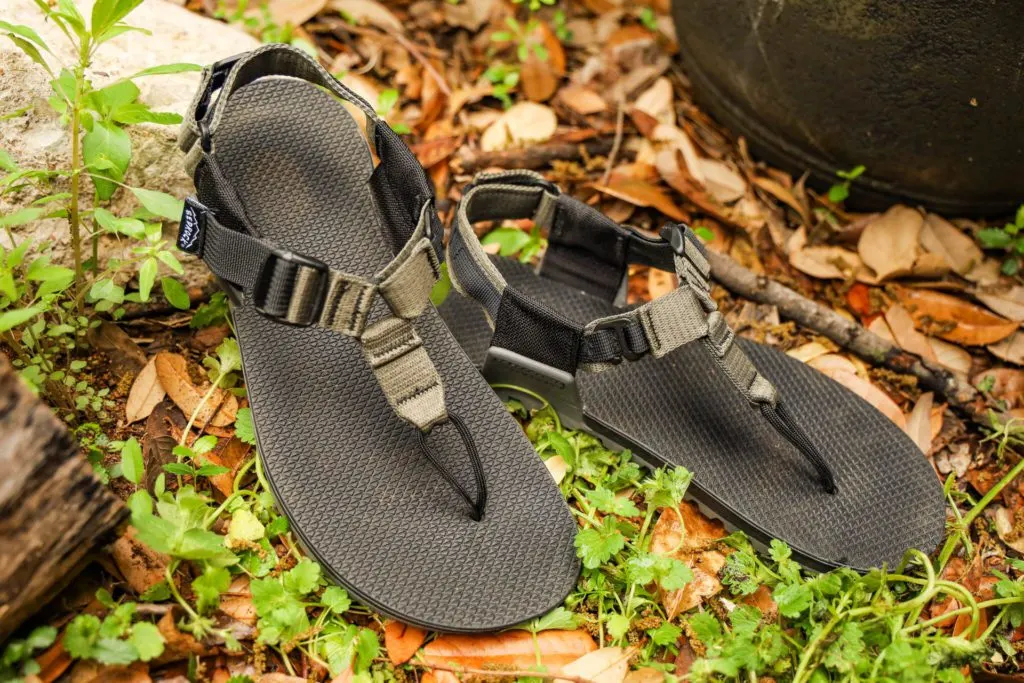 It's designed for dry or wet adventures with its extra-sticky Vibram® Megagrip outsole and the G-hook and loop system that locks in the heel strap and the front strap for a super secure fit that won't slip off or come undone whatever you're putting them through. Rapids, hiking, ziplines, tree climbing, chasing after your adventure cat…
Plus it has a minimalist footbed–and you know we're all about that minimalist footbed–that is fabulously flexibile. Plus the sandals are pretty flat and not super heavy, which means they're packable.
Then there's the Vibram® Megagrip Sole. Not only is it designed to perform in wet and slippery conditions, it's also resoleable. Meaning if you wear those treads down, you don't have to get a whole new pair of sandals! You can just replace the sole! SUper sustainable.
As for fit, there are three adjustment zones to really dial in the right fit and feel. A G-hook and loop strap on the inside of the top of the foot, the same hook system on the heel strap, and a quick-adjust strap on the outside. Use them all together to get the perfect fit for just about any foot.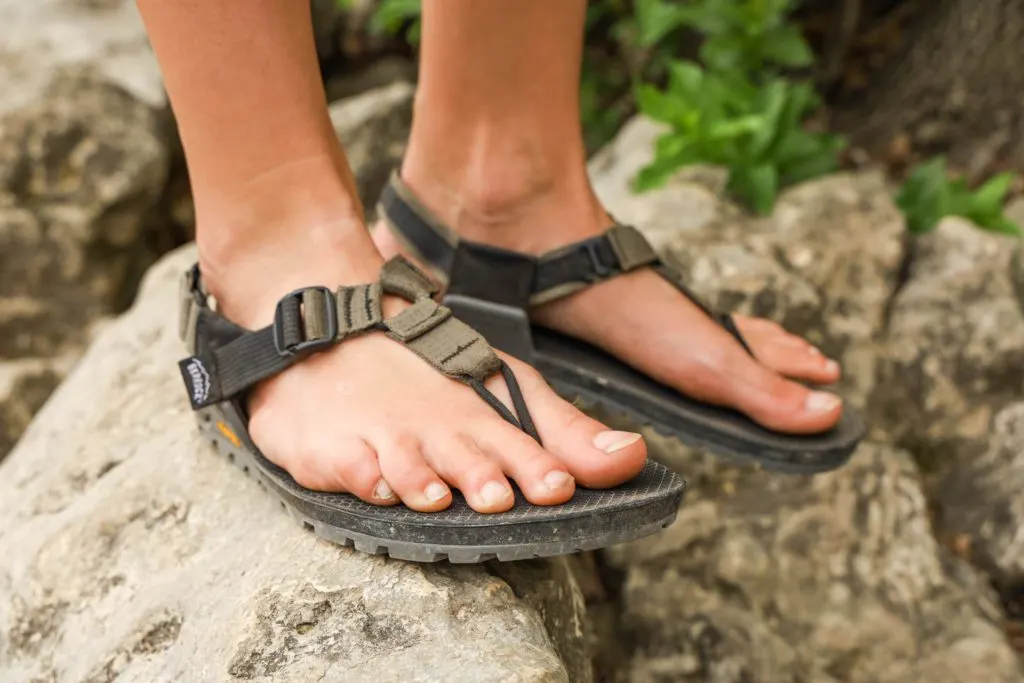 Bedrock Cairn Pro II Adventure Sandal: The Review
First, a quick list of pros and cons:
Pros:
Fairly Lightweight
Secure on my feet
Highly adjustable
Flexible
Grippy Vibram soles
Cons:
Not super supportive
Not as minimalist or barefoot-style as other hiking sandals
Toe thong could be irritating for some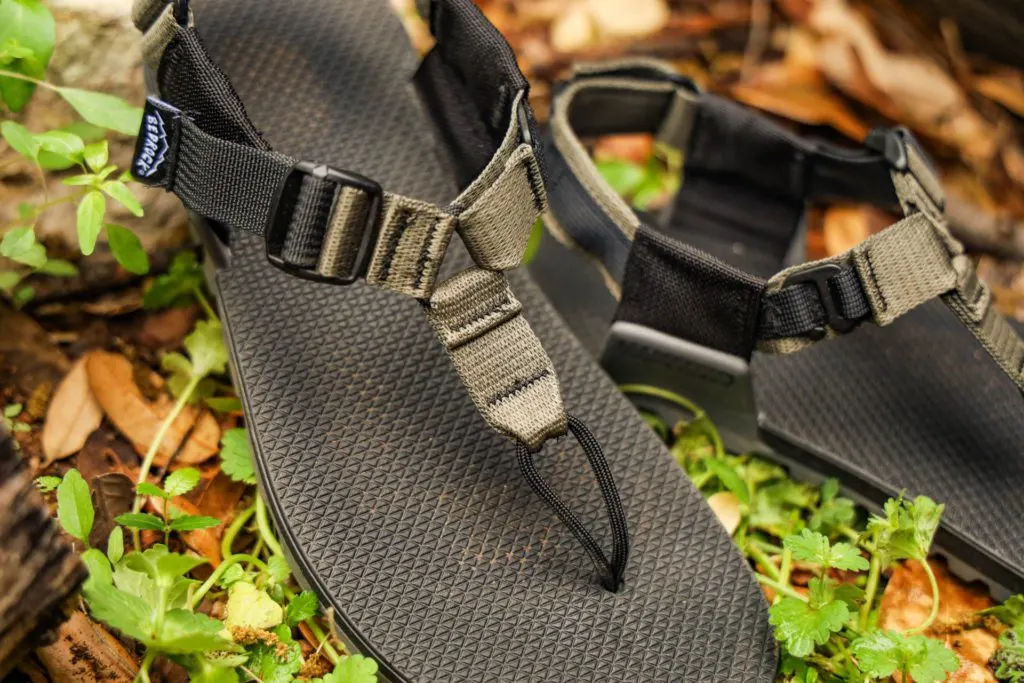 Long story short: I dig them. I was a bit worried about the toe thong component at first, concerned it would rub and be irritating. And while I did experience a bit of flip-flop fatigue between my toes on the first few outings, that space between my toes–toe pit? Is it a toe pit?–got used to it fairly quickly.
I was also worried the sandals wouldn't feel as secure on my feet as other sandals, say Chacos or my Xero Shoes Z-Trails, but wrong again. They felt like they may have actually shifted less on my feet.
I did spend the first week playing with adjustments to see what felt right, so keep in mind that if they don't feel perfect right out of the box you probably just need to loosen or tighten a few straps until everything feels secure and comfortable. But once you do, it's just a matter of loosening the one easy-adjust strap and your Bedrock Cairn Pro's are on and off in no time!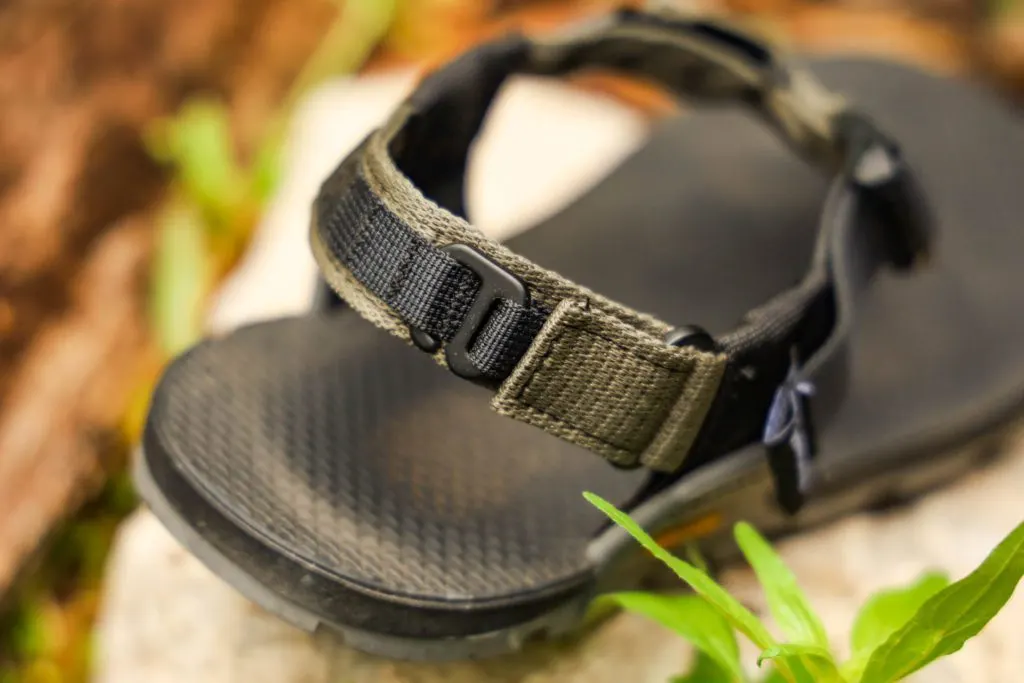 They're fairly light, too. Not as light as a pair of Xero sandals, perhaps, but they're much lighter and slimmer than Chacos or Tevas. In fact, I think they're about the perfect balance between all of those sandals.
See, I love my Xero Z-trails (check out our YouTube review here), and wear them often. But because they offer such a barefoot feel, they can be a bit uncomfortable on extremely rocky or gravel-y trails. But Chacos are extreme in the other direction: they're big and heavy with solid soles, which is great for adventures where you want support and protection, but they're not terribly packable.
The Bedrock Cairn Pro II sandals, on the other hand, are slim and light enough to take with you wherever you go, provide enough protection and separation from the ground, but are still flexible and minimalist so your feet can conform to the ground beneath them.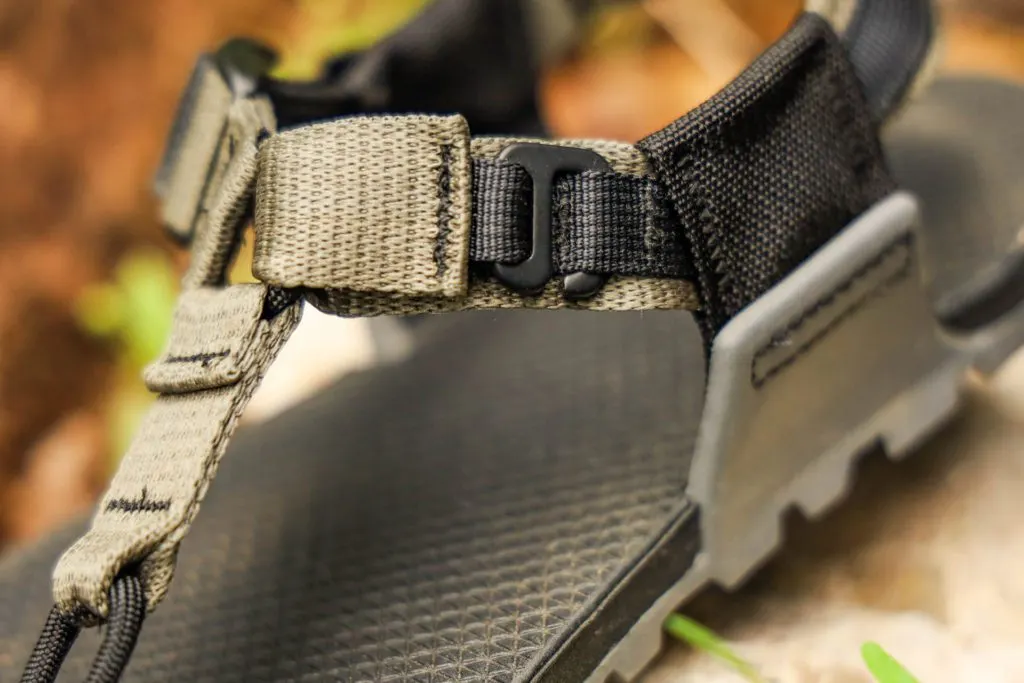 Plus, they look good doing it. I wore these not only on the trail, but in town with pants, shorts, a dress…I brought them along as my only sandal on a recent two-week road trip along the Texas coast, and they didn't look as much like "outdoor shoes" as a lot of other adventure sandals, which is probably a big draw for a lot of people.
Plus I found them fairly comfortable. Not in the same way squishy, supportive Teva's are comfy maybe, but they're zero-drop, have, not quite a barefoot feel, but a minimalist feel to them, which I like, and if you do tend to prefer a little arch support, well, the Cairn Pro 2 3D has a bit of that.
The footbed is flexible, I never had any trouble or discomfort hiking on rough trails or scrambling over large boulders, and my feet always felt very secure when walking over tricky terrain.
Basically, I like 'em. And I think they might just be my go-to sandal for all manner of outdoor adventure this summer. I mean, they're basically the Goldilocks of adventure sandals, so…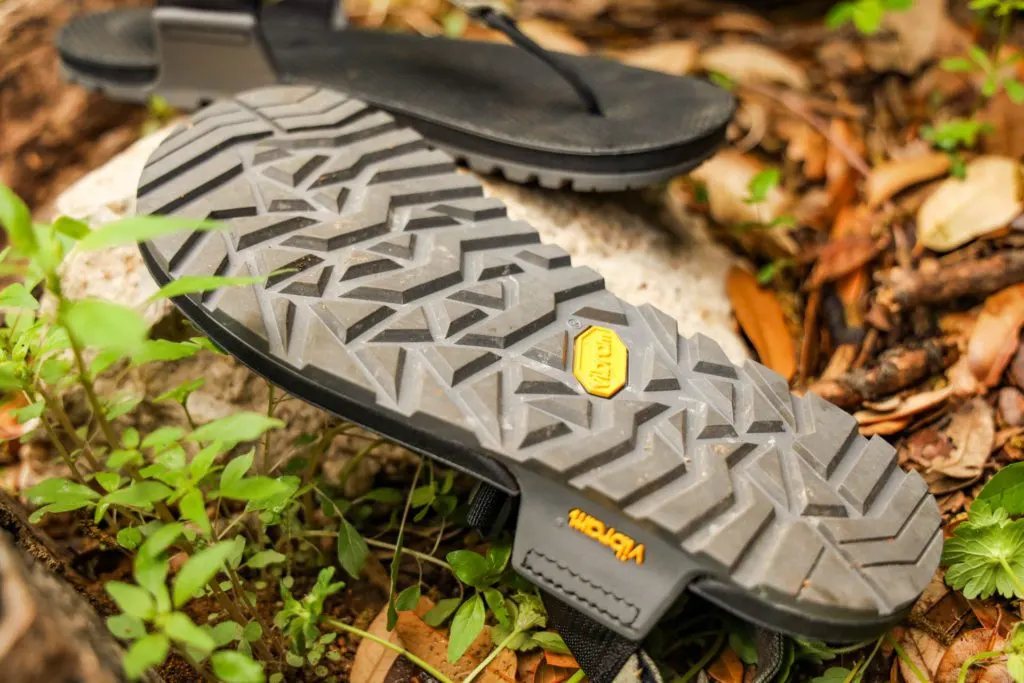 Bottom Line
As for sustainability, the sandals are made to last and designed to be resoled to reduce waste, which is an excellent feature. It means you won't have to replace your sandals after one season and that a lot fewer shoes are gonna end up in a landfill. Bedrock is also a 1% For The Planet member, which means they donate 1% of profits to environmental causes. They also don't ship in a bunch of excess packaging: the sandals will arrive at your door in just the shoe box with a shipping label, which is pretty great. And yes, they're vegan.
Basically, the Bedrock Cairn Pro 2 sandals–well, any of the Bedrock sandals available–are a great, fairly sustainable hiking sandal designed for all manner of adventure from a company that loves the outdoors as much as we do. So feel free to check out a pair for yourself. Find the Bedrock Cairn Pro II here and the Cairn here on REI.
Now strap on those sandals and wander on!
Alisha is a freelance writer and photographer based in Austin, TX. She loves her tiny house, vegan food and experiencing the community of travel in far away places. She's also pretty sure she's addicted to coffee. alishamcdarris.com