We recently discovered a new, multi-airline, travel search platform called point.me, which bills itself as a better way to book airfare with points. Naturally, we had to dive in to see how it works, if it's any easier than the other search options out there, and whether it's worth the membership fee! The answer: It depends. Intrigued? You should be. Read on to learn more about the award search website and who will benefit most from using it.
•
You know we love to travel here at Terradrift. We live for it! We thrive on it! And we think sustainable travel has the power to change the world! But we don't always love to pay for travel. Especially flights, which can be expensive and good deals hard to find.
Enter point.me: a flight search platform that specializes in locating all the award flights available across all airlines so you can find the perfect flight for the perfect number of points or miles. We have some travel coming up and plenty of points and miles with which to book said travel, so we tested it out to see how it worked to find us the best deals, routes, and options when it comes to booking.
The Details: How point.me Works
First things first: point.me is strictly an award booking platform. Meaning, if you don't have points and miles and are trying to book travel and pay with cash, this search platform isn't gonna do the trick. What it does do is show you award flights available across pretty much every airline out there. Yup, even Southwest (for those unaware, Southwest flights don't show up in traditional flight search websites like Priceline or Google Flights).
Here's how it works:
Create an Account + Import Frequent Traveler Info
You create and account (or log in) and enter details of any frequent traveler programs you participate in (totally optional, but helpful). That includes airline frequent flyer programs as well as credit card programs like AmEx Membership Rewards or Chase Ultimate Rewards (no personal account numbers are required).
Just choose the programs you have an account with from a drop-down menu, manually enter how many points and miles you have with each, and you're set. You can also link your AwardWallet account if you have one, which will automatically import any linked programs and show you how many points or miles you have in those programs.
Entering this data isn't strictly necessary–you can search for travel without doing so–but it's super helpful when searching for suitable flights and as a quick way to reference whether you have enough points or miles for any particular flight.

Search For Your Preferred Route and Travel Dates
Next, enter your route and travel dates, just like you would if you were searching on any other booking platform. You can choose from one-way or round-trip flights and have results sorted by price, duration, and more. The main difference? Instead of results displayed with prices for each flight, you'll only see the number or points or miles you need to book.
Additionally, if you entered all your frequent traveler programs into your account, you can search for just flights that are available using those programs, which is wonderfully helpful when narrowing results.
When you see a flight you like, you can select "more details" to see what booking options are available. For example, point.me may recommend booking a Delta flight with Chase Ultimate Rewards, but the same flight may also be available to book with Delta SkyMiles, partner airline miles, or another credit card's points. The website will handily list the number of points required to book with each so you have options.
Book a Flight
Once you find a flight and award booking options that suits you, it's time to book! Now, you can't do so right on the point.me website. Instead, Once you select your flight and which program you'd like to choose to book, point.me will show you instructions for what to do next.
If you're using airline miles, it will show you the flight details again, and direct you to the airline website to book directly with them. If you've selected to use credit card points, it will also tell you how to transfer those points to your frequent flyer account if necessary.
From there, locate on the airline website the flight that point.me found for you, make sure you're logged into your frequent flyer account, and make sure to select "book with points or miles." Checkout as usual and you're all set!
Why do I Need point.me? Why Can't I Just Search on the Airline Website?
You absolutely can search on airline websites for award travel! And if you are only a member of one or two frequent traveler programs, that's probably what you should do. But if you have more than a handful (I am a member of 7, plus several credit card programs), searching for a flight on each individual site could take hours. Trust me, I've done it.
The beauty of point.me is that you can look at available award flights from virtually any airline all in one place, with one simple search.
That said, point.me does require a membership, which involves a fee. There are several options available, from $5 day passes to full-service concierge services where the points.me team does all the work for you at $200 per passenger, but the middle of the road membership that offers unlimited access to searches is $129 per year. That means membership won't be suitable for everyone.
Any one who isn't a frequent traveler won't get much use out of the platform. After all, if you don't have at least one credit card or frequent flyer account with an airline, you really don't have any reason to search for award flights.
Likewise, travelers who are only members of one or two frequent traveler programs are probably not going to see much of a return on their investment. If you only have Delta SkyMiles and Southwest Rapid Rewards points, then you might as well just search on Delta and Southwest for award flights; you're not going to save much time or get access to more flexible search options by signing up for points.me.
On the other hand, travelers with lots of points and miles spread out between three or more programs and credit cards will likely see tons of benefit to signing up for a membership. I mean, only having to go to one website to search for flights on all the airlines, all in one place?! Brilliant! Like I said, the site easily saved me hours of research–and that was just on one flight search! As I usually search for award flights multiple times a year, I could save a stupid amount of time by using this search platform.
Likewise, at least a day-pass could be beneficial for those wanting to sign up for a new airline credit card in order to earn a hefty sign-on bonus. If you have a dream trip in mind for which you could use those miles, it might help you decide which one to sign up for based on what award flights cost on various airlines. For example, if you're deciding between an American Airlines credit card and an Alaska Airlines card, and see there are tons of flights to Hawaii on one for 15,000 and most of the flights offered by the other airline are more frequently 25,000, you might opt for the one that offers cheaper flights.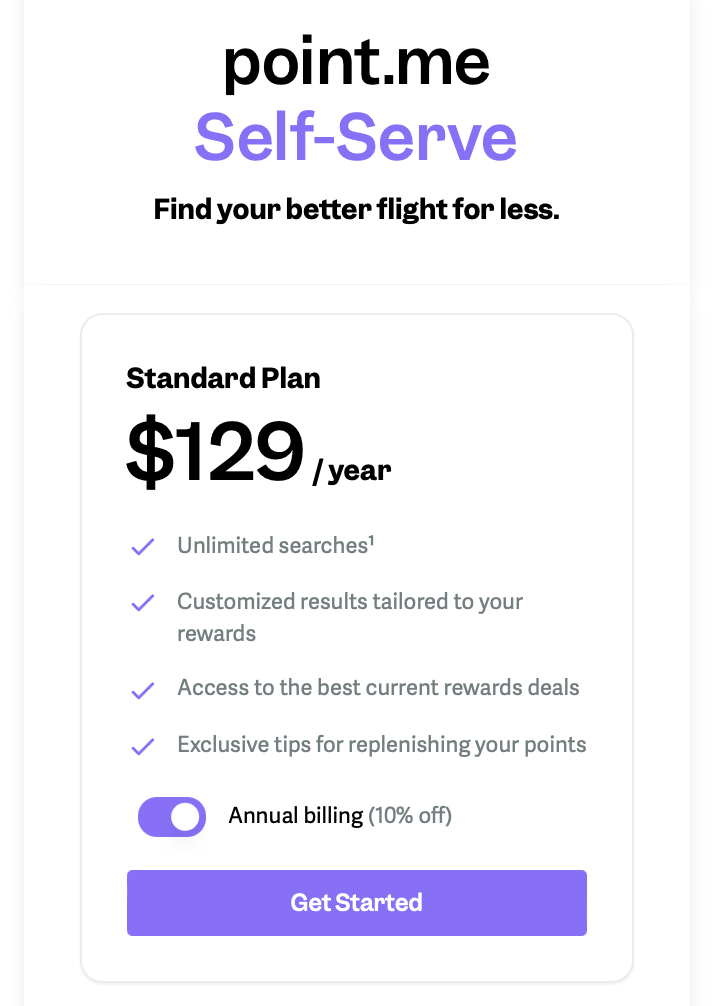 Pros and Cons of Using point.me
As long as you're the website's target customer, there are few downsides to using point.me to search for award travel. The only one might be the membership fee, but if the lump sum seems daunting, there's also a monthly payment option ($12/month).
The only downsides: it takes a while for the site to search the web for all the award flights out there (a few minutes as opposed to a few seconds), so grab a cup of tea and relax. Not really a con in our opinion. Also, for any of your credit card and frequent traveler accounts not linked to Award Wallet (many can't be), points and miles totals will have to be updated manually as they change.
And in fact, the only thing we'd like to see in future versions of the search platform is the ability to search using flexible dates, like a low-fare calendar. Any time I wanted to check to see if cheaper award flights were available a day or two before or after, I had to perform a whole new search. A low fare calendar would make that act quicker and easier, though the programing required to make that happen is likely super complicated, so we get it and can live with it.
Bottom Line
Basically, if you're a frequent traveler with more than a few frequent flyer accounts and travel rewards cards, point.me is a win for finding the best award flights across so. many. airlines. I love that the site makes it so easy to search for flights, explains clearly how to book once you've found one, and offers a place to keep track and easily reference all your points and miles account totals (even if you have to update them manually from time to time).
So yeah, we recommend the site for award travel searches. And no, this isn't a sponsored post. Just us being stoked to find such an easy way to plan award travel and wanting to share it with you. 😁 So check out point.me here, sign up for a membership, and book some award travel already!
Alisha is a freelance writer and photographer based in Austin, TX. She loves her tiny house, vegan food and experiencing the community of travel in far away places. She's also pretty sure she's addicted to coffee. alishamcdarris.com