•
The number one reason people don't want to go camping in the winter? The cold. But don't let the thermometer dictate when you get outside and play; sleep warmer while winter backpacking with these insulated sleeping pads designed for the fourth season.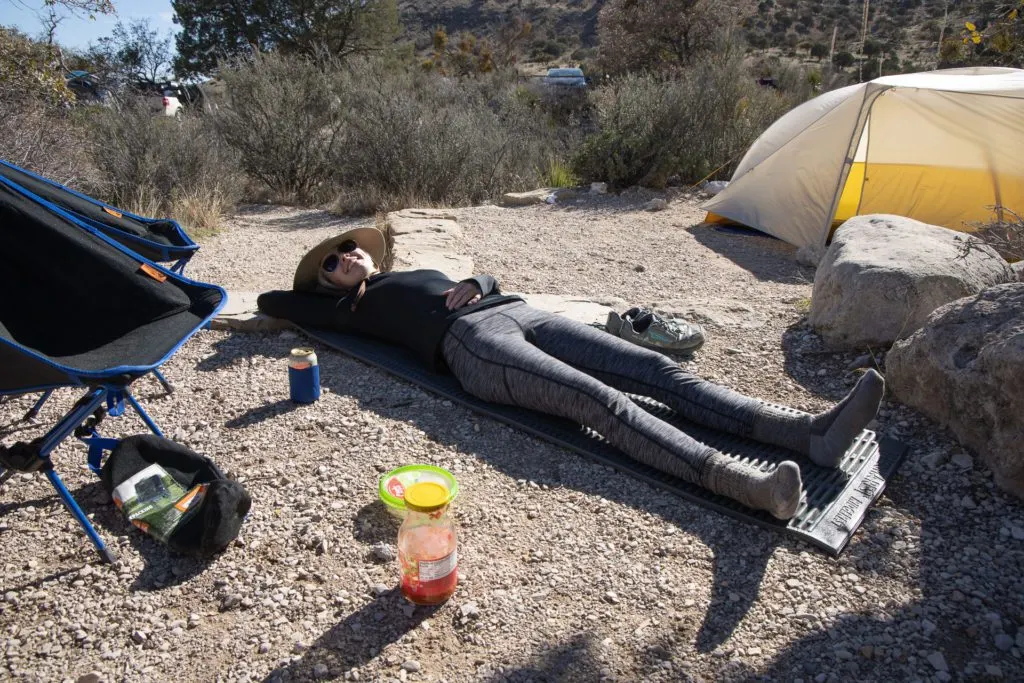 Look, we're not fans of the cold, either. There's a reason we moved to Texas (well, lots of reasons, but that's not the point)! At all of 105 pounds soaking wet (that's right, a woman just declared her weight on the internet for all to see!), I'm not built for temps below 50º. I just don't have the built-in insulation for it. That said, I got tired of letting the seasons dictate when I could go out and enjoy the outdoors. So I did some research, found the right gear, and forged ahead to embrace what we in the outdoor industry call the fourth season.
Besides learning about how to layer and decipher sleeping bag temperature ratings, the most important way to keep from freezing your butt off while winter camping is to understand that not all sleeping pads are created equal when it comes to spending the night outdoors. So if you're heading out to camp this winter, use one of these insulated sleeping pads to stay toasty(er) all night long.
About Insulated Sleeping Pads
Full disclosure: insulated sleeping pads do tend to weigh more than your typical non-insulated summer sleeping pads, but that's because there's generally more to them (coatings, radiant technology, insulation…). So get ready to shoulder a few more ounces. And not just where sleeping mats are concerned; if you'll be winter backpacking, you should probably go ahead and be prepared to carry a few more pounds than you're used to, what with all the extra layers and such.
There are also two types of sleeping pads designed for backpacking (OK, three if you count "self-inflating pads" that are generally thinner and heavier and don't actually self-inflate all that well as a separate category…): closed-cell foam pads and inflatable pads. Foam pads tend to be popular with ultralight backpackers and long-distance hikers for their simplicity and ruggedness. But they're not as comfy as thick, squishy, inflatable pads. The trade-off: inflatables can spring leaks or get punctured and if you don't have a repair kit, you're stuck sleeping on the ground.
Then there's the whole inflation debate: To blow or not to blow? How to actually inflate your sleeping pad is a point of debate among backpackers. Some say the moisture from your breath creates condensation, which can lower the R-value of your pad, while others say heat loss is negligible and not worth the extra ounces of a pump sack or foot pump. So in the end, whether you blow or use a lightweight pump sack (which comes with many inflatable mats) is up to you.
Do you Need a Sleeping Pad for a Hammock?
In the winter? Definitely. You may have read one of our posts about hammock camping where we talk about cold butt syndrome. It's for real and can make you real cold, real fast. So in cooler weather, keep that tush toasty by using a pad and an under quilt to keep convective heat loss at bay.
What is R-Value?
But let's talk about how to find the best sleeping pad for winter camping. Generally speaking, if you'll be going with an inflatable pad, start with a product that states that it's insulated. Then look up how insulated. This will appear in the form of an "R-value" listed somewhere in the details or specs online or right on the packaging if you're shopping in-store.
R-value is a widely used term when it comes to describing the warmth of insulation. The higher the value, the more insulating power it has to keep you from feeling the cold surfaces beneath you. Generally, temperatures around freezing call for an R-value between 2.5-4 and 4+ for anything colder. But as a general rule of thumb: if you'll be sleeping on frozen ground or snow, layer an inflatable pad with a closed-cell foam pad and ensure the mat with the higher R-value is closest to your body.
But let's get to the good stuff: the sleeping pads themselves!
Closed-Cell Foam Sleeping Pads
Here are a few quality closed-cell foam sleeping pads that will weather the coldest, well, weather. They may not be as comfy as their inflatable counterparts, but they certainly serve a purpose and, on the plus side, they'll never spring a leak!
Therm-a-Rest
The Therm-a-Rest Z Lite SOL Sleeping Pad utilizes radiant heat technology to bounce your body heat back toward you, keeping you warmer when nights get chilly. It has an R-value of 2.6 and weighs 14 oz. And it folds up into a tidy little stack for easy packing. Want to save a few bucks? The RidgeRest SOLite roll-up pad is also a solid choice.
Nemo
The Switchback sleeping pad is thicker than many other foam pads, but precision cut so it folds as flat or flatter. It's ultralight, too, weighing in at 10.5 oz, but with an R-value of only 1.9.

Exped
With an impressive (for a foam mat) R-value of 3, a simple accordion fold, and a weight of 12.5 oz, the Exped FlexMat Plus will help keep you comfortable when backpacking in the winter. It's even made of a more eco-friendly foam. Don't need the extra cushion of the Plus? Cut an ounce or so off your weight and try the regular FlexMat.
Insulated Inflatable Sleeping Pads
Klymit Insulated Static V Lite Sleeping Pad
Klymit's classic Static V sleeping pad series comes in cold-weather versions for your winter backpacking pleasure.
Static V: The Insulated Static V Lite is designed to perform in cold temps. There's synthetic insulation inside the pad to keep you warmer in the cold and the 2.5″ inflatable pad will keep you comfy all night long. It weighs 19.6 oz and has an R-value of 4.4. It's also available in an Ultralight version, which weighs only 15.9 oz (but costs a bit more). There's also a Hammock V for hammock camping and a Static V Luxe that's extra wide, extra plush, and extra warm (a 5 R-value! The warmest on this list!). It does weigh a bit more, though at 35 oz.
NEMO
For the plushest of sleeping experiences, count on Nemo pads to be at least 3 inches thick when inflated.
Tensor: The NEMO Tensor Insulated Mummy Sleeping Pad is lightweight and designed for backpacking and the inside contains two layers of metalized film as insulation. It comes in 2 lengths to suit your needs, which weigh 9 oz and 14 oz. It also comes in a rectangular version if you prefer. Included is a pump sack and an R-value of 3.5.
Cosmo 3D: At 3.5 inches thick and 3 pounds, the NEMO Cosmo 3D Insulated Sleeping Pad may not be the lightest, but with the integrated foot pump, it may be the most plush. It's filled with Primaloft synthetic insulation and has an R-value of 3.3.
Vector: Another solid option with an integrated foot pump, the NEMO Vector Insulated Sleeping Pad utilizes the brand's Thermal Mirror metaled film layers inside the pad for warmth (and less noisy sleeping). It's R-value is 3.5 and it weighs a not-too-slim 20 oz.
Astro: The NEMO Astro Insulated Sleeping Pad is 31 oz, 3.5 inches thick, and it has an R-value of 2.6 and features lateral baffles with Primaloft synthetic insulation. It's also available in a Lite version, which weighs 22oz and includes a pump sack!
Sea To Summit
This outdoor brand has a plethora of insulated sleeping pads available, but here are some of their heavy hitters.
Comfort Light: The Sea to Summit Comfort Light Insulated Mat weighs 21.8 oz and offers an impressive R-value of 4.2 thanks to Thermolite synthetic insulation and a heat-reflective non-woven fabric. When inflated, it's 2.5 inches thick, which is plenty to keep you comfy. It's also available in a women's version, which is a touch warmer (4.7), a touch heavier (24 oz), and, for some reason, a touch thinner (2 in). Both include a pump sack.
Comfort Plus: Ok with sacrificing weight for function? The Sea to Summit Comfort Plus Insulated Mat has two layers of inflatable chambers (one on top, one on bottom) and dual-chamber air-sprung cell tech so you can really fine-tune your comfort level (and still use the pad if one side springs a leak on the trail). The Thermolite insulation and heat-reflective fabric offer an R-value of 4 and 2.5 inches of thickness in exchange for 36.9 oz. There's also a rectangular version, if you prefer.
Ultralight: If it's weight savings you want, the UltraLight Insulated Mat is for you. It's only 2 inches thick when inflated, but it also only weighs 16.9 oz. You sacrifice a bit of the R-value (3), but Thermolite synthetic insulation and Sea To Summit's reflective Exkin Platinum fabric still insulates you from the cold ground.
Big Agnes
You know we love our Big Agnes tent. Here are some of their insulated sleeping bags, some of which even integrate with their sleeping bags.
AXL: The Big Agnes Insulated AXL Trail Boss Air Pad is built for rugged adventures. There's a heat reflective film inside, plus Primaloft Silver insulation to keep your warmer, and puncture-resistant fabric to weather some trail abuse. There's an included pump sack and the 3-lb, 3.25-inch pad has an impressive R-value of 4.4.

Air Core: More 3.25-inch sleeping pads with R-values of 4.5? Yes, please! The Big Agnes Insulated Air Core Ultra weighs in at 28 oz and features Thermolite synthetic insulation coupled with a heat reflective film to conserve body heat. And yes, it does come with its own pump sack.
Q-Core: Primaloft silver insulation and a heat reflective film make the Big Agnes Insulated Q Core SLX comfy cozy when winter camping. It's fairly light at 22 oz, but weight savings mean the R-value drops to 3.4. It's still 3.25 inches thick, though, so comfort is still king. There's also a Deluxe version that weighs 25 oz, is 3.5 inches thick, and offers an R-value of 4.3!
Kammok
A hammock brand that designed a handy insulated sleeping pad for hammocks.
Insulated Pongo Pad: Sure, the Insulated Pongo Pad one was designed for use in a hammock, but nobody says you can't use it in a tent, too. It's lined with eco-friendly Bluesign Approved synthetic insulation, has a R-value of 3.1, and weighs 22.4 ounces and comes with an accessory kit for seamless use with a Kammok hammock (read our review of the Kammok Mantis camping hammock here).
Bottom Line
Don't be afraid of a little winter camping! Break out the insulated sleeping pads and cold weather synthetic sleeping bags and get out there and enjoy sleeping outside on the quiet, secluded (possibly snow-covered) trails. Wander on.
•
*This post contains affiliate links. So shop confidently knowing when you make a purchase after clicking on one of these here links, you may be supporting more great content from yours truly ('cause we may receive a small portion of the sale).
Alisha is a freelance writer and photographer based in Austin, TX. She loves her tiny house, vegan food and experiencing the community of travel in far away places. She's also pretty sure she's addicted to coffee. alishamcdarris.com