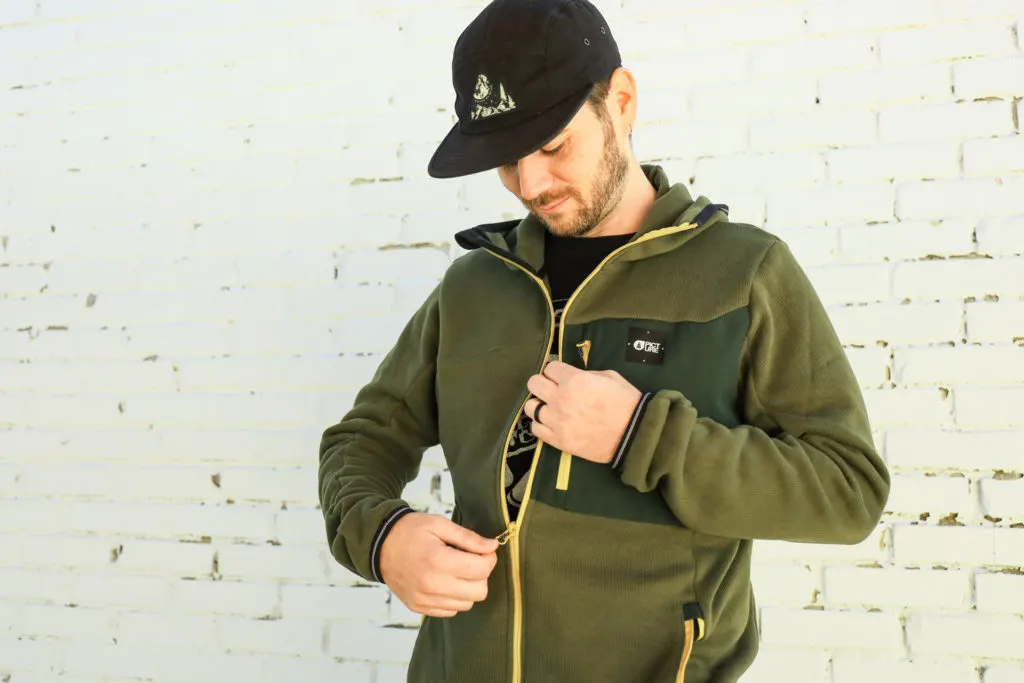 We love sustainable brands who care about the environment and we love introducing them with you. So we recently chatted with sustainable brand Picture Organic Clothing – a brand that designs dope outerwear for all your winter adventures (and more) – to find out about who they are, what makes them tick, and a bit about their most sustainable products and practices. Read on for our Q&A!
What is Picture Organic Clothing's mission and how do your products achieve that mission?
Picture's mission statement is: We created Picture Organic Clothing with the desire to inspire eco-friendly lifestyle through our passion for board sports. Our mission is to develop next-generation products that will help to fight climate change. When Picture started in 2008, they established a baseline that everything they make would contain a minimum of 50% recycled, organic, or bio-based materials in it. Since then, they've introduced several firsts–recycled/recyclable membranes, PFC-free DWR treatments, bio-sourced fabrics–and they do so at a price-point that is in line with competing non-eco products on the market, so sustainable threads are attainable to more people.
That's fantastic, because sustainable products can often come with a higher-than-usual price tag. So what kind of clothing and gear do you specialize in?
A majority of Picture's products on the market are outerwear and layers for skiing and snowboarding. However they also have a full lifestyle collection of outerwear and clothing for everyday wear, wetsuits, board shorts, and technical apparel for warm-weather outdoor activities.
One product in particular stood out to us when we first learned about Picture: your eco-friendly neoprene wetsuits! Tell us how they are different and more environmentally responsible than traditional neoprene.
Picture's collection of neoprene-free wetsuits are made with a material called Eicoprene, which is comprised of limestone + recycled tires. It's better than neoprene because neoprene is a synthetic material derived from petroleum. The great thing about Eicoprene, is that it boasts all of the same performance as traditional neoprene suits – stretchy, durable, warm – but is much better for the environment. Other eco-friendly construction elements include linings made with recycled polyester and water-based glue. Additionally, Picture wetsuits include a full list of technical features intended to improve comfort and performance while surfing all at a similar price point to the non-eco suits on the market.
(We also love the Demain jacket that is made of a bio-based sugarcane waste derivative unsuitable for human consumption and the innovative recyclable Xpore membrane that's made using no PFC's or solvents!) Find the Demain Jacket here.
Let's talk about shipping, though. Have you started using the RePack shipping system?! How does that work and why is it better for the environment?
Yes – we started using it in spring of this last year with some products and are continuing to implement. They wrote about the RePack system in great detail here.
But it's not all about the products, right? It's about giving back, too. What are some of the ways you're using business as a source for good?
Last year, Picture was awarded B-Corp certification, which means the company has met or exceeded standards for doing business as a source of good. In addition to their achievements in sustainability, they have several give-back programs that change yearly, many of which are initiated and implemented by Picture employees. Check out more about what we do here.
As an outdoor brand, do you think there's a certain responsibility that outdoor-related companies have to protect the natural spaces we all love?
Absolutely! These natural spaces are our reason for being. Without them, we have no business. But bigger picture, we need to be leaders in conservation and use our collective voice to educate the masses, not just for the survival of our businesses, but for the well-being of generations to come.
As consumers, when we go shopping for outdoor clothing and gear, how can we make more responsible purchases?
Don't base purchasing decisions on price alone. I think first and foremost, ask yourself, do I need this? Will I wear/use this for a long time? If the answer is no, consider an alternative to buying something new. If the answer is yes, do your due diligence on how the product is made, where it's made, and what it's made from. It doesn't have to be the most sustainable product ever, but small actions made by many equates to big change.
•
Excellent advice! Want to see more of the brand's sustainable clothing and gear? Check out Picture Organic Clothing and gear on evo.com, a Seattle-based outdoor retailer with all of Picture's hottest items. And check out more of our Sustainability Spotlight Q&A's with sustainable brands right here.
•
*This post contains affiliate links. That means we may receive a small percentage of sales that result from you click-clicking on links. That means we get to keep the heat on here at Terradrift! Thanks for supporting us!
Alisha is a freelance writer and photographer based in Austin, TX. She loves her tiny house, vegan food and experiencing the community of travel in far away places. She's also pretty sure she's addicted to coffee. alishamcdarris.com