A portable fire pit and grill is a beautiful thing. But most are too small, too bulky when packed up, or just aren't versatile enough to be worth your attention. But allow us to introduce you to the Wolf & Grizzly Fire Safe and Grill Kit: a perfectly portable and multi-functional fire pit and grill perfect for everything from backyard s'mores nights to backcountry adventures.
So what makes the Wolf & Grizzly Fire Safe special? First of all, it's designed to be used just about anywhere: your backyard, a campground, communal picnic areas, the wilderness…I could go on. That's because it's not only super portable (the fire safe packs down to about 1" thick, 4" wide, and 11" long), but it's also intended to keep fires confined and totally leave no trace (and fire is a big part of the 7 Leave No Trace principles).
But because fire alone isn't always enough (sometimes you want to cook food, too, so, you know, you don't starve…) there's also a Grill available (sold separately or with the Fire Safe)! It's a foldable, rollable, collapsible, adjustable grill that can be used with the fire safe or over any ol' campfire. It, too, rolls up into a compact little easy-carry case, which is made of recycled polyester, and comes with a cleaning tool to get the gunk off the grill rails, a microfiber cleaning cloth, and with or without a fire set (aka a steel striker so you can get your blaze going sans-matches).
And we tried it all so we could tell you all about it.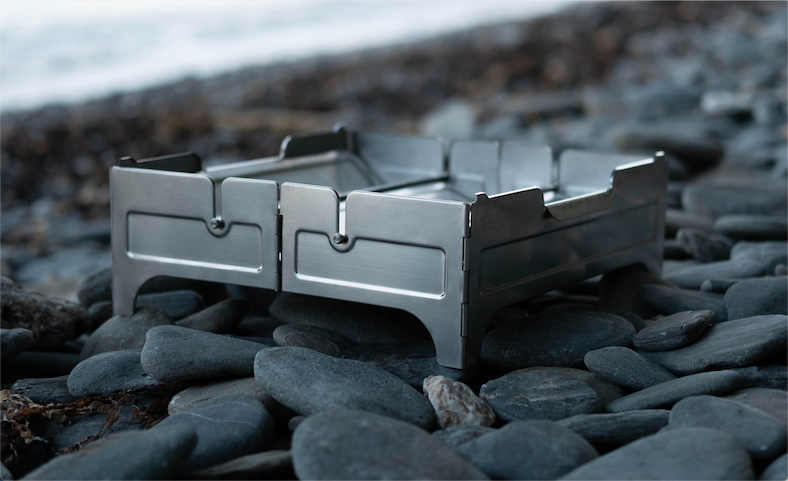 Wolf & Grizzly Fire Safe and Grill: How to use the portable fire pit
First things first: set it up in your backyard, in the woods, or at your campsite. Just pull apart the frame and slide the accordion base in place. Too easy.
As for the grill, just roll it out, swivel the lock bar perpendicular to the grill grates and slide it into place to keep the grill surface flat, then pop the little wire-y dongle bits at the corners into the slots in the corners of the stand.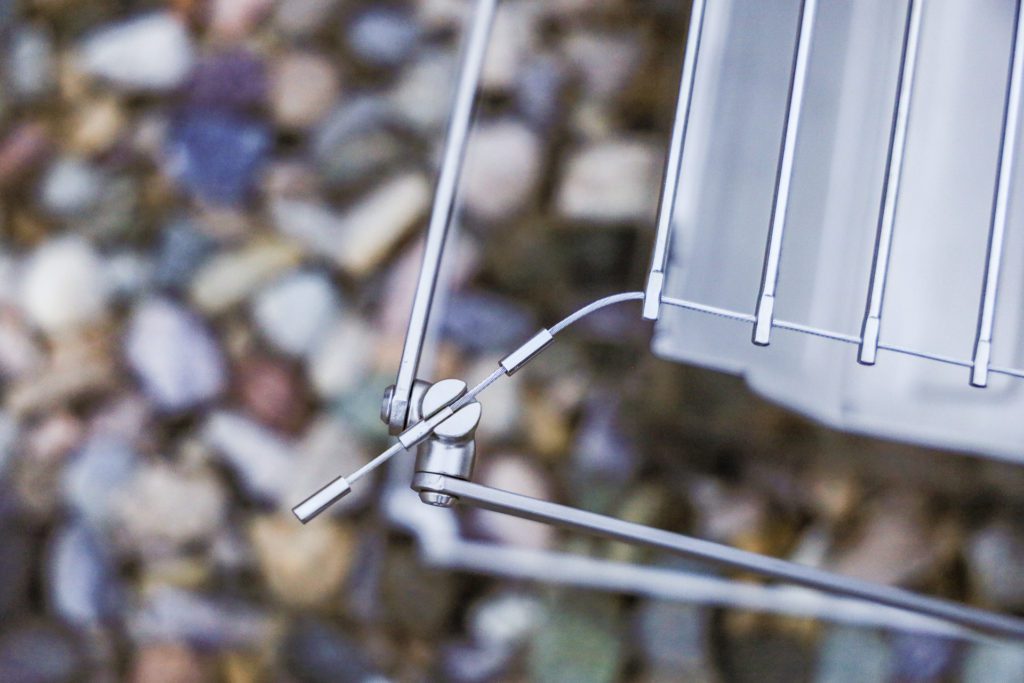 Fun fact: you can even change the height of the grill from 6" to 8" by moving said dongle-y bits. There are three height settings. And That's it. No joke. It takes all of 30 seconds to set up. I've said it before and I'll say it again: too easy.
Now All you have to do is add fire.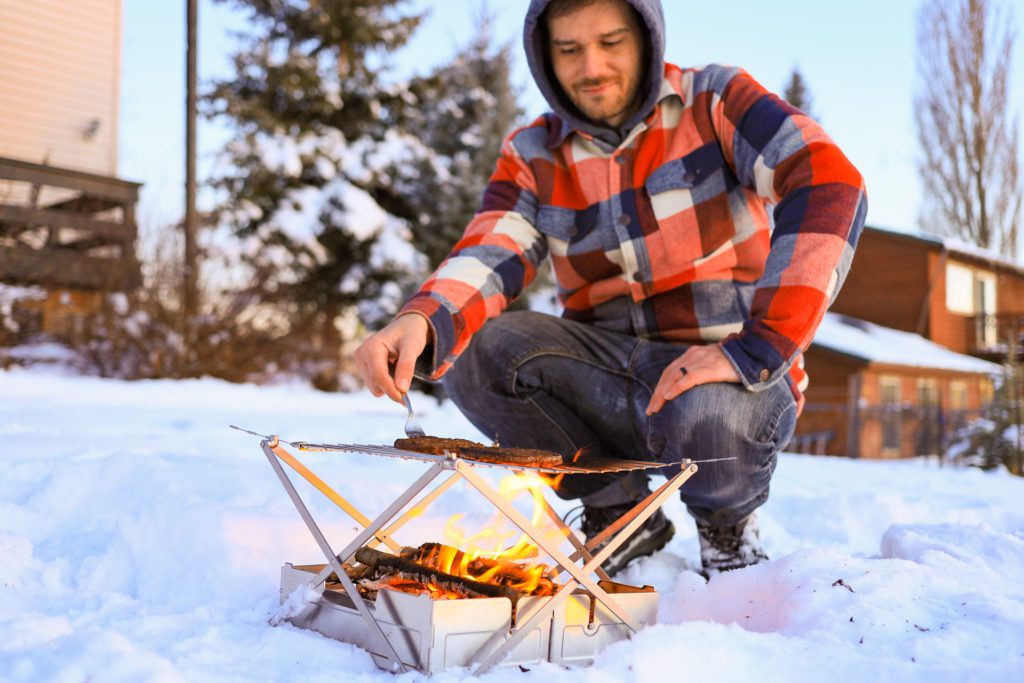 Wolf & Grizzly Fire Safe and Grill: Pros and Cons
But let's talk about what makes the Wolf & Grizzly so nifty.
Fire Pit and Grill Pros:
It's engineered to promote airflow via the accordion base.
It is completely collapsible and is compact enough to fit under the drivers seat in your car.
It's super versatile (you can use it with wood or charcoal, when camping, bikepacking, roadtripping, and more)
It is made of high-quality stainless steel, which means it won't warp or melt at lower temperatures like cheaper aluminum.
The grill is height-adjustable which means more cooking options depending on your fuel and food choices.
Fire Pit and Grill Cons:
It's a bit heavy at just under 4 and a half pounds for the whole kit, so it's a bit heavy for backpacking.
You're not supposed to put fire out with water as this can promote rust and warping.
The fire safe isn't huge, so don't plan any major blazes.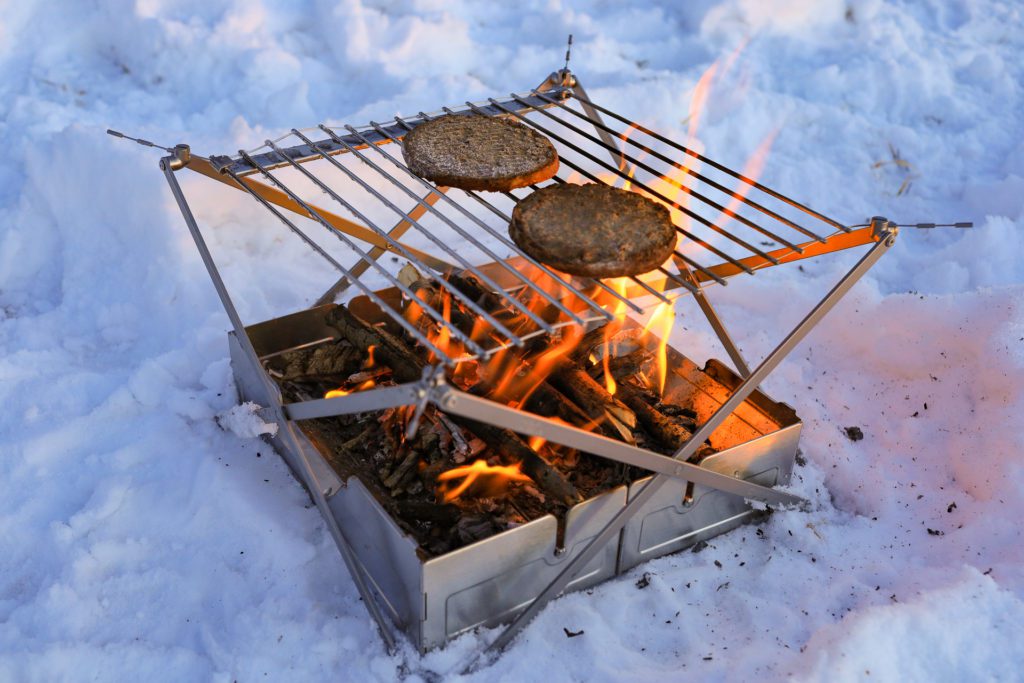 Portable Fire Pits and Leave No Trace
What's the big deal with fire and Leave No Trace principles? Well, beside the obvious destructiveness of wildfires that start because of improperly maintained campfires, flame can do a lot of damage to natural landscapes. It can scorch rock and damage the earth beneath it and destroy nearby plant life, plus the evidence of fire is very difficult to remove. So, often, fires in undeveloped areas are discouraged. But with the Fire Safe, or any portable fire pit, you can easily built a LNT fire without worrying what signs and scars you're leaving behind. And you can just pack up the whole thing and go when you're done. Still, only ever build fires in areas where fires are permitted!
Who is the Wolf & Grizzly For?
Like I said, it's a bit on the heavy side, so the Fire Safe will not likely be popular with ultralight backpackers. However, we do a lot of dispersed camping in national forests and so forth that often allow fires, but don't always have fire rings or pits. We don't usually build fires in these places, even if we're allowed, because we want to leave no trace, and evidence of a fire is difficult to erase.
But this portable fire pit is equally impressive in a backyard capacity for grilling veggie burgers, roasting s'mores, even packing up and taking to friends' backyards (when we're allowed to do that again, of course). And no more debating whether to get a wood or charcoal grill: you can use either with the fire safe. Very versatile. Cook your veggie dogs and grilled pineapple over charcoal, then pile in some wood and toast those mallows!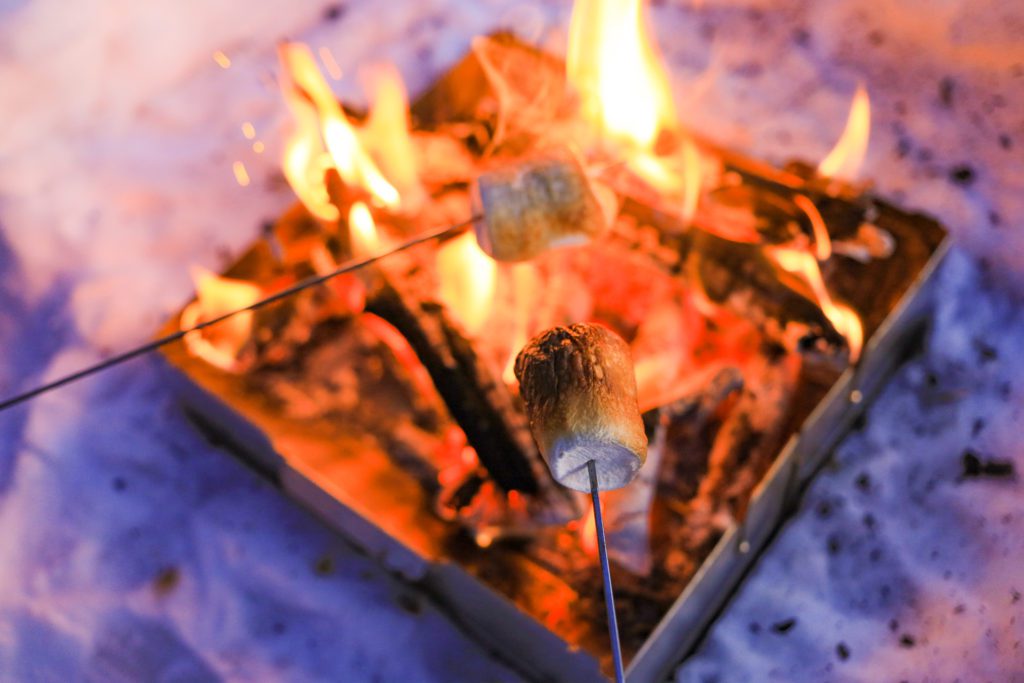 Bottom Line
Long story short, this thing is definitely coming with us on all our road trips and outdoor excursions. I mean, it packs up so small there's no reason not to (and in the Prius, every square inch is a precious commodity)! We're definitely looking forward to enjoying more fireside chats, s'mores in the woods, and camp meals that aren't Ramen that we just boiled over our backpacking stove. So go check out the Wolf & Grizzly and get one for yourself here.
Now, if you'll excuse me, I have vegan marshmallows to toast to perfect golden brown deliciousness. Wander on.
•
*This post contains affiliate links, which means we may receive a small percentage of sales that result from you clicky-clicking and getting yourself somethin' pretty. Win-win. Also, it helps us keep the content comin'!
Alisha is a freelance writer and photographer based in Austin, TX. She loves her tiny house, vegan food and experiencing the community of travel in far away places. She's also pretty sure she's addicted to coffee. alishamcdarris.com