The Dometic CFX3 100 might just be the ultimate powered cooler. It produces impressive and efficient cooling and freezing, allowing you to bring more of the food and drinks you love wherever you go: Road trips, vanlife, tailgating, backyard BBQ's, you name it. Plus it has plenty of room for all your beer/cider/vegan cheese/hummus/veggie burgers/and more and is built for serious outdoor use. And, uh, yeah, there's a mobile app that puts all the power and controls (like performance history and temperature) at your fingertips. So go farther, stay longer, and experience more. Check out our full review in this YouTube video.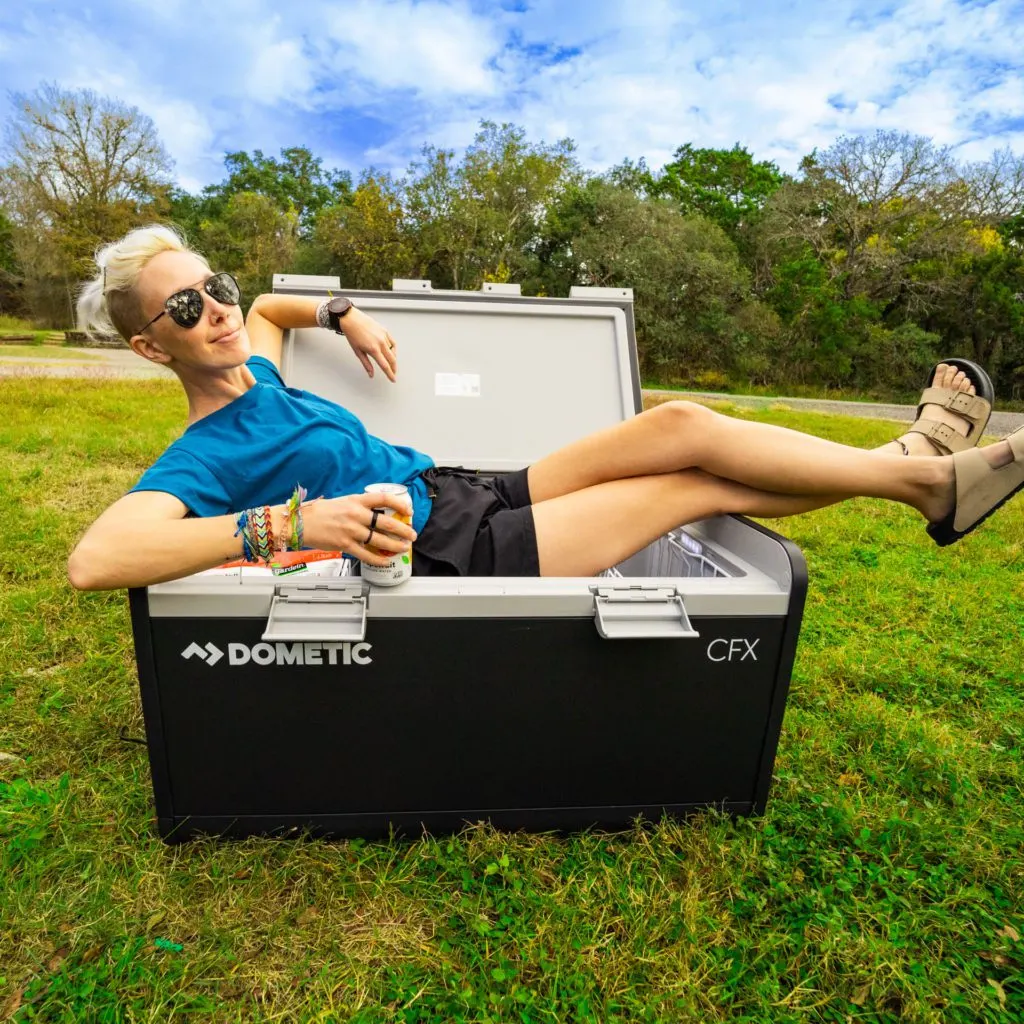 Dometic CFX3 100
If there's one thing we hate on a long road trip or extended camping excursion, it's buying ice.
OK, there are lots of things we hate: price gouging for gas, a lack of dispersed camping options, running out of oat milk for our morning coffee…but mostly buying ice.
I hate it. It's stupid. It's just frozen water. Why do I have to pay 3.99 for a bag of frozen water? And why is it always in a plastic bag? So wasteful! But it's not like I can just pop a reusable water bottle in the freezer every other day when I'm camping or on the road, thereby keeping the ol' ice box chilled for free (and without all that single-use plastic waste).
So yeah, when we got a chance to test the Dometic CFX3 100, we were like, uh, yes, Please. And now we can say "bye" to bagged ice for good, cause friends, this bad boy is electric. And super high tech.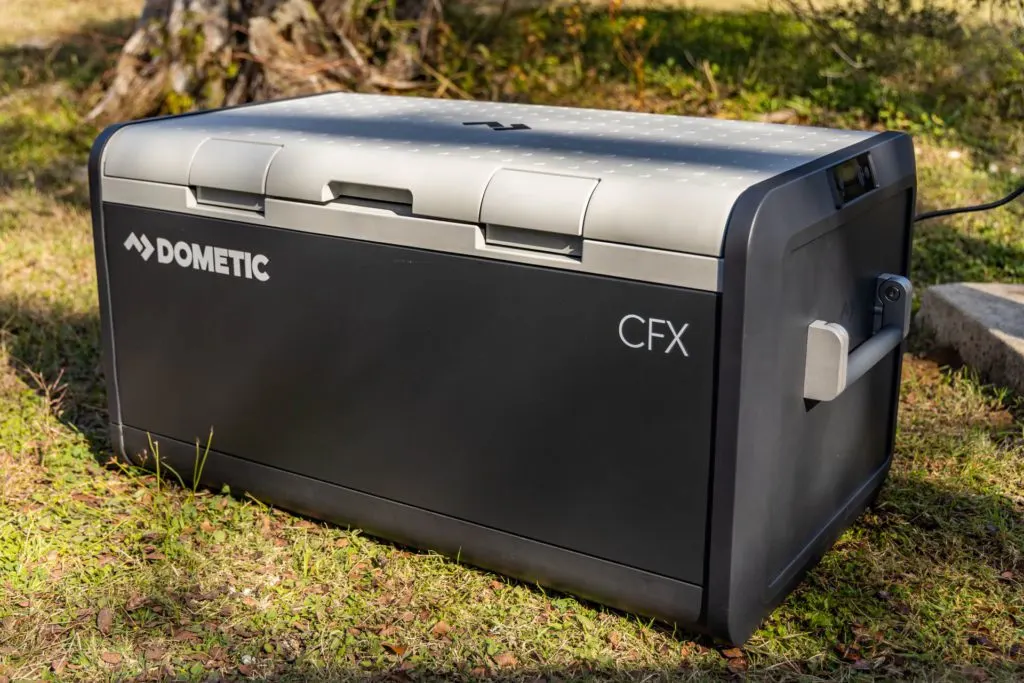 The Deets
The Dometic CFX3 promises to keep all your food and beverages–or whatever else you're storing in there–cold for as long as you need it to.
How cold? Slightly chilled to negative 7 degrees fahrenheit, that's how cold. 'Cause it's built with a powerful compressor that refrigerates super efficiently. How efficiently? The first time we plugged this puppy into our car's 12V AC port, it took all of 20 minutes to drop from 68º to 46º. That's faster than a degree a minute.
Plus, this thing is built. It's super solid, has rugged aluminum alloy handles, plus Active Gasket Technology that provides a solid seal to keep cool air inside where it belongs and minimize power consumption. Which is what you want on a long road trip or week-long campout.
But all that means it's not light at 65 pounds, so don't plan on lugging this sucker up and down any stairs by yourself, especially if it's full. Unless you're vegan powerlifter Patrik Baboumian. Then do what you want. You can handle it.
It is a capacity beast, though. The CFX3 100 is 99 liters, and fits up to 153 cans. That's a lot of hard cider. Or sparkling water. This model does only have one zone, which means everything inside is going to be pretty much the same temperature. There are other models that have dual zones so you can have a fridge and a freezer section, though, if that's what you're after.
And of course it's high-tech. There's an easy-to-read high-res display and buttons on the side of the cooler so you can control things like temperature, plus a 3-stage dynamic battery protection system.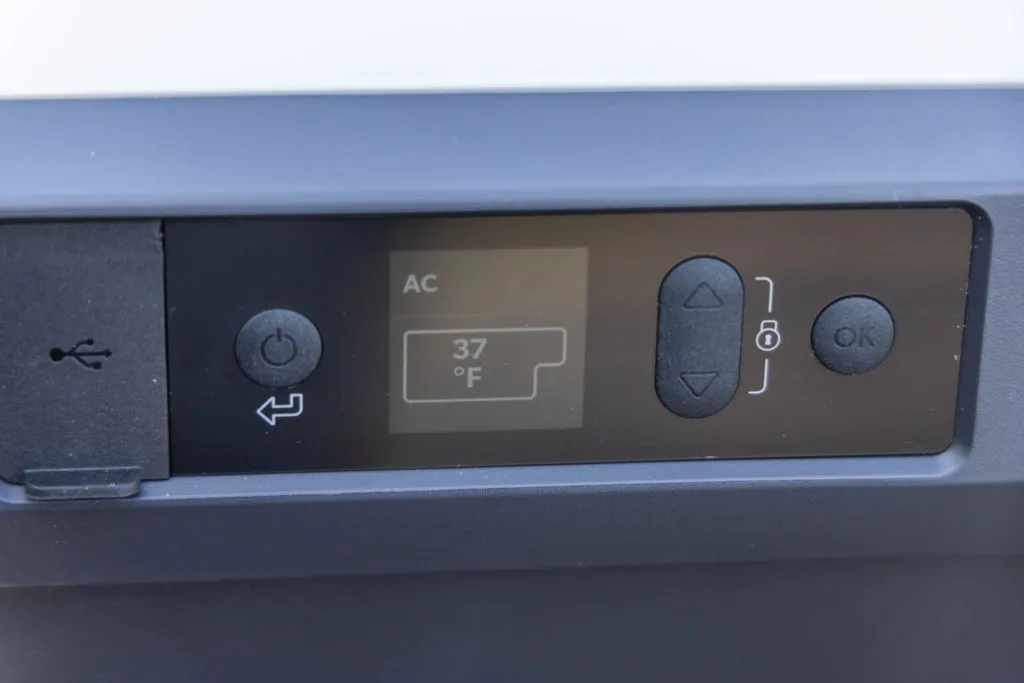 That means you can set the power draw to low, medium, or high battery protection. Set it to high in order to prevent a dead car battery if the cooler is plugged into your car when you're in auxiliary mode or a backup battery. Plugged into a regular wall socket? Set it to low 'cause you're probably not worried about a dead battery at that point. Anyway, It's a super important feature when you're far from power outlets or an emergency jump.
Oh, and did we mention the cooler connects to your phone via an app so you can control the temperature via WiFi or Bluetooth AND get performance history?! Uh, yeah. Super cool.
The cooler comes with 1 Connection cable for a 12/24V connection, 1 cable for a 120V connection, plus removable wire baskets so you can organize your cooler bounty. Or not. You do you.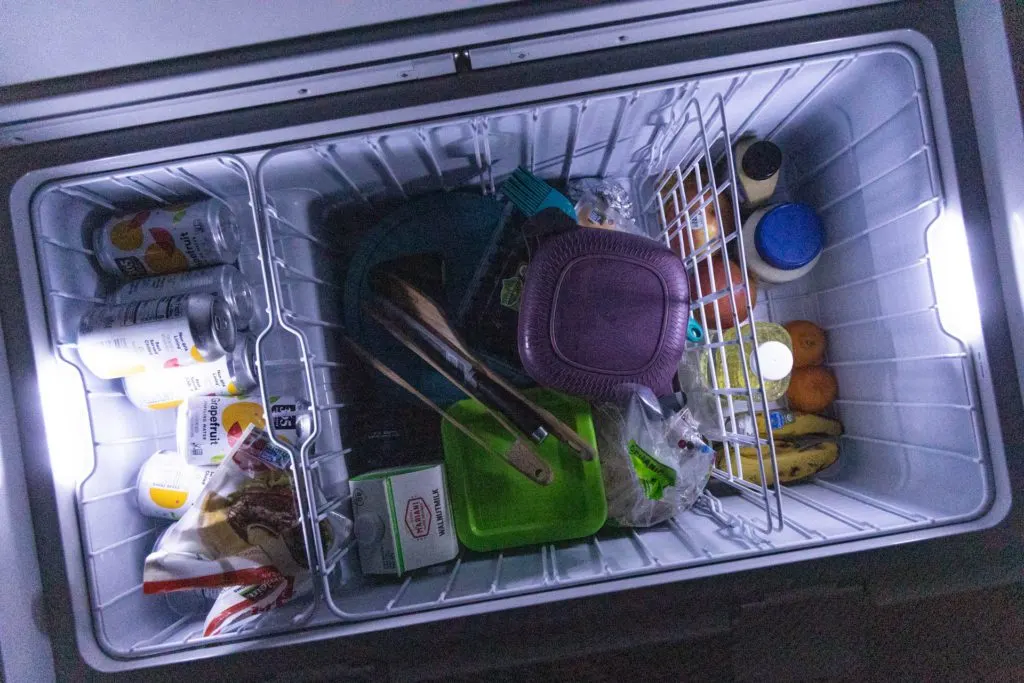 The Review
We obviously tried out the Dometic CFX3 100 and were thoroughly impressed.
We tested it using a variety of different power sources. We mentioned plugging into the car and how fast it cooled down that way, but we also plugged it into a backup battery, namely, the Goal Zero Yeti 500x (which we reviewed here) using the 12V DC car plug. With the cooler set to high battery protection, the Goal Zero gave the cooler juice for over 24 hours. Not bad. As a reference point, that battery charges a low-powered laptop max 10 times.
We also left the cooler unplugged overnight to see how it kept contents cool. It did, of course, warm up a bit as temps were in the 60's and 70's. It was 39º inside the cooler when we unplugged it at 8 pm and 60º when we checked it again in the morning around 9:30. That's with a fair amount of stuff in it, but nothing frozen, which may have helped keep the inside cooler longer.
Either way, Seems pretty standard. But as soon as we plugged it into a 120V outlet at the campsite, it cooled down right quick. As in, we set the temp at 39º and it managed it in under 30 minutes.
But the CFX3 100 isn't cheap. In fact, it retails for just under 1,500 dollars. But that's a small price to pay for those spending weeks or months at a time on the road and need fresh food, beverages, heck, even medicine, on hand. People like vanlifers, who can use the Dometic as a refrigerator, overlanders who are off the grid for days, or road trippers with or without a trailer who don't have the option–or don't want the option–of constantly refilling a cooler with ice or risking all their food going bad because they couldn't keep it cold enough.
Or frankly, anyone who hates warm beer. 'Cause honestly, how could you NOT be the hero of any party or backyard bbq when you show up with a cooler full of bevvies that are guaranteed to be ice cold all. Day. Long. Just, go ahead and start writing your speech for tailgater of the year right now, 'cause it's in the bag, bro.
In any case, find the Dometic CFX3 100–or any of Dometic's other electric coolers–we'll put a link in the description below. Then get out there, keep your veggie burgers cold, and wander on.
•
This post contains affiliate links. That means when you make a purchase, you are helping support Terradrift. But don't worry; you won't pay a dime extra. Win-win, right?
Alisha is a freelance writer and photographer based in Austin, TX. She loves her tiny house, vegan food and experiencing the community of travel in far away places. She's also pretty sure she's addicted to coffee. alishamcdarris.com