Camping just isn't camping without a campfire, am I right? But with fire bans increasing around the country, camping without a campfire is a reality for a lot of us, especially if you're west of the Mississippi. Which totally sucks. But thanks to sustainable brand Ignik, there's a shiny, convenient new solution: the Ignik FireCan and refillable Gas Growler. Why is it so great? Uh, because it means you can roast those veggie dogs and marshmallows anywhere without worrying about starting a wildfire, that's why (also, no time-consuming fire building required). We'll break down why it's so great right here, right now.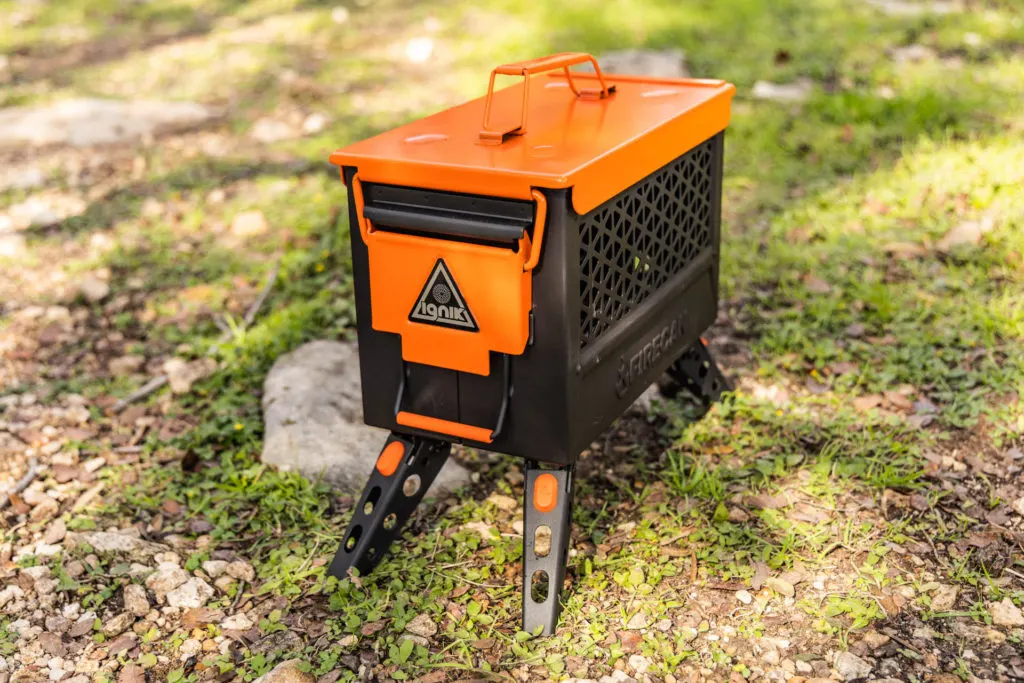 The Ignik FireCan
Let's start with the FireCan, because this is lit–no pun intended. Why? For the sole reason that this baby means you can have a campfire anywhere, anytime. Yup, even if there's a fire ban in effect.
What? I know, right? But how?
Because this FireCan isn't like a typical campfire. There's no collecting wood, no struggling to light it, no sparks flying, you don't have to worry about whether you put it out sufficiently, which, let's be honest, most people don't know how to do, and there's little to no concern about it starting a wildfire.
Because, you see, The FireCan functions more like a camp stove than a campfire, and camp stoves ARE allowed in regions with fire bans because they a.) don't throw sparks, and b.) can be shut off immediately without the use of copious amounts of water.
That's because campstoves, and the FireCan, are powered by propane. As in, those little green bottles. Or the Ignik Gas Growler, which we'll get to in a sec.
Here's how you use it: Just pop out the foldable legs, remove the lid, hook your propane up to the FireCan using the included hose, and light! Voila! Instant fire! Bonus: you didn't have to buy or collect firewood, spend 30 minutes trying to get a blaze going with damp logs, spend hours watching to make sure sparks don't land on a pile of dry brush, and then stand by with three gallons of water when it comes time to put it out.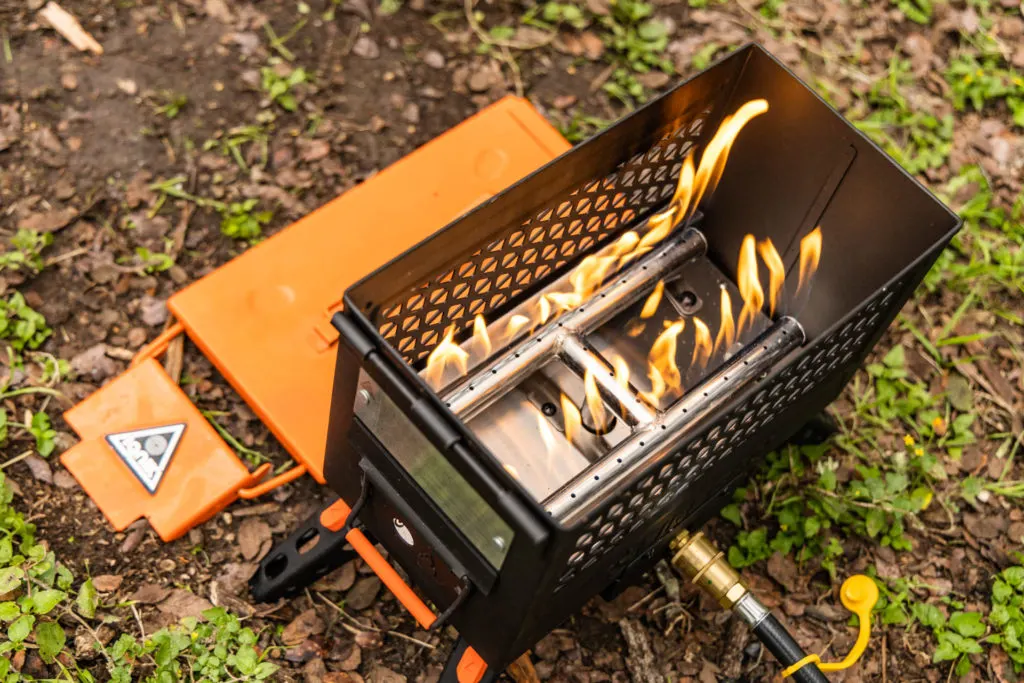 What you DO have are nice warm flames that are still perfectly suitable for hand-warming, fireside chats, and marshmallow roasting. Too easy. Now, they're not super big bonfire-type flames, but I imagine that's by design. After all, if the purpose of the FireCan is to NOT start wildfires, you really don't want 4-foot high flames threatening to catch low-hanging branches or nearby bushes (or gear like non-fire retardant tents) on fire. So don't expect some massive flames to be shooting out the top. You don't need that anyway.
Bonus: the FireCan is raised off the ground to prevent scorching so you can have a true Leave No Trace blaze, and even comes with a 5 ft. quick-release hose with adjustable regulator, which stashes inside the ammo can design when not in use.
But wait, there's more. And it comes in the shape of a miniature propane tank.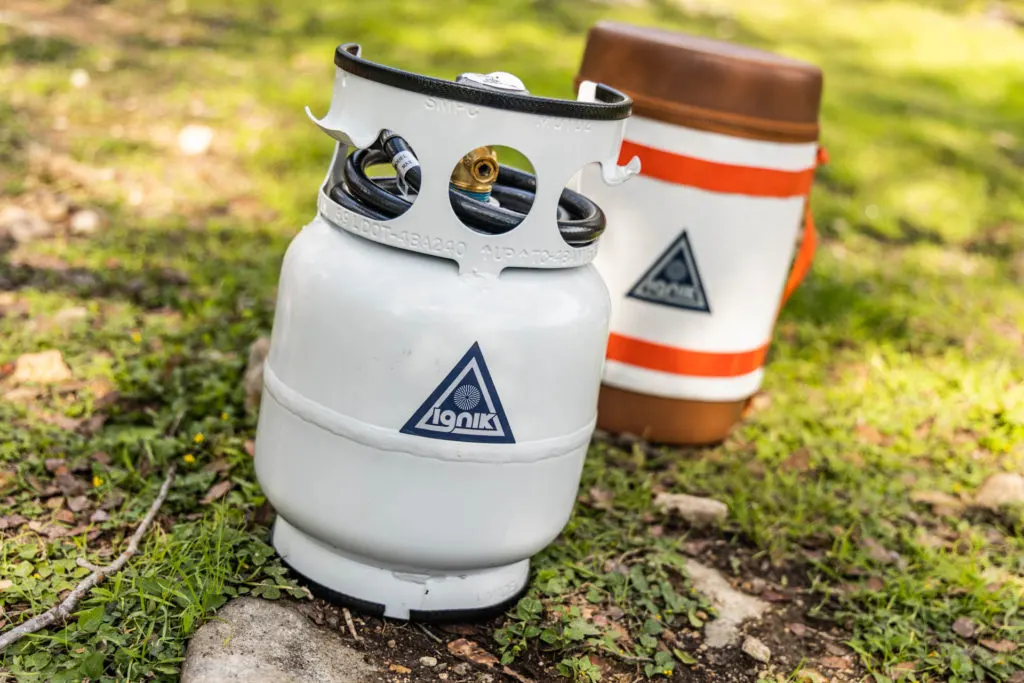 Ignik Gas Growler
I actually first learned about the Gas Growler two years ago when it won an Innovation Award at Outdoor Retailer. And I was immediately impressed. Largely because of the sustainability aspect.
Why? Because this 5 lb, 1.2 gallon portable propane tank takes the place of those wasteful, single-use green propane bottles. Why is that a big deal? Because tens of millions of those things are disposed of every year. Tens! Of millions! And most of them end up in landfills because they're extremely difficult to recycle.
But if you have a propane space heater, water heater, or camp stove in your camping or vanlife setup and not a lot of room for a full-size refillable propane tank, there aren't a lot of other options.
Until now. Because with the Growler, every time you fill up, you save 5 of those green bottles from getting produced and then tossed. That means every time you fire up your camp stove or portable heater or Ignik Fire Can, or whatever the heck else requires propane in your RV or at your campsite, you're saving a ton of waste.
And money. Let's not forget about money: One Growler refill costs about the same as one single-use green bottle. And you can fill it up at many hardware and supply stores that sell propane, no matter where you are in the country.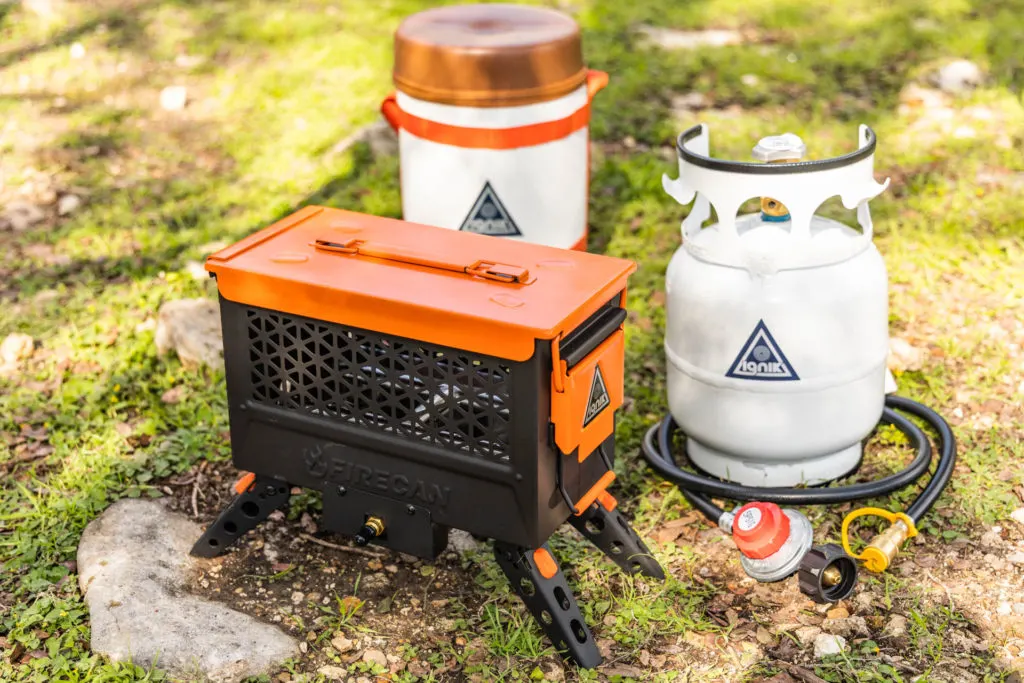 But sustainability aside, let's talk specs:
The growler comes with a 4 foot adapter hose with a 1-inch connector that attaches to pretty much every popular 2-burner camp stove and half-inch compatible product like standard home bbq's.
It complies with DOT specifications meaning it's safe to transport in your car, SUV, RV, or boat.
They're shipped pre-purged and ready to be filled.
The Deluxe Growler kit comes with a protective case to make transporting it super easy, plus it has webbing and storage space for tools and such. (And, yes, that is vegan leather.)
Use it for picnics, bbqs, vanlife, road trips, RVing, tailgating, you name it. It's way more portable than those big 15 pound tanks and more sustainable than those little green bottles. What's not to love?!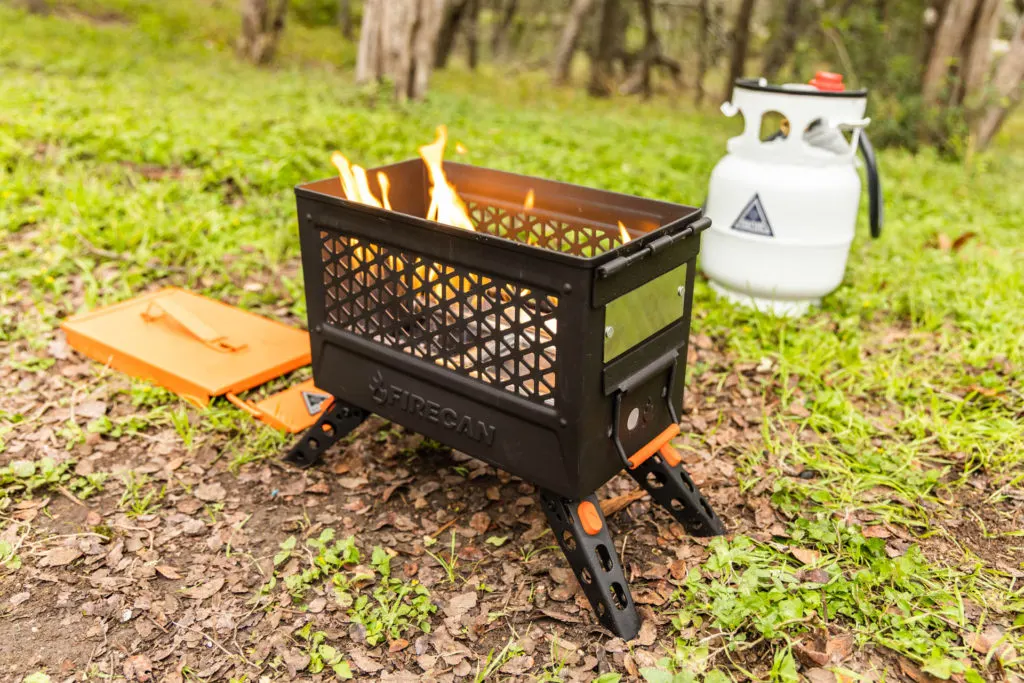 The Ignik FireCan and Gas Growler Together
The products are super easy to use together. Just hook up the quick-connect hose that comes with the FireCan to the growler, make sure the regulator is off, open the Growler valve, slowly open the regulator, and light! Too easy. And you have fire in a snap!
To shut it all down, turn off the gas so all the gas in the hose burns out. Then, once the flames are out, turn off the regulator. Disconnect the hose and you're done! No worrying about whether your campfire will spontaneously start back up in the middle of the night and burn down the forest.
Also, no slaving over a fire just so you can have a little ambiance. I mean, I'm as much a fan of fire building ritual as the next guy, but you know what, sometimes it's a pain and you just want a toasty blaze like, now. And now you can have that. Huzzah!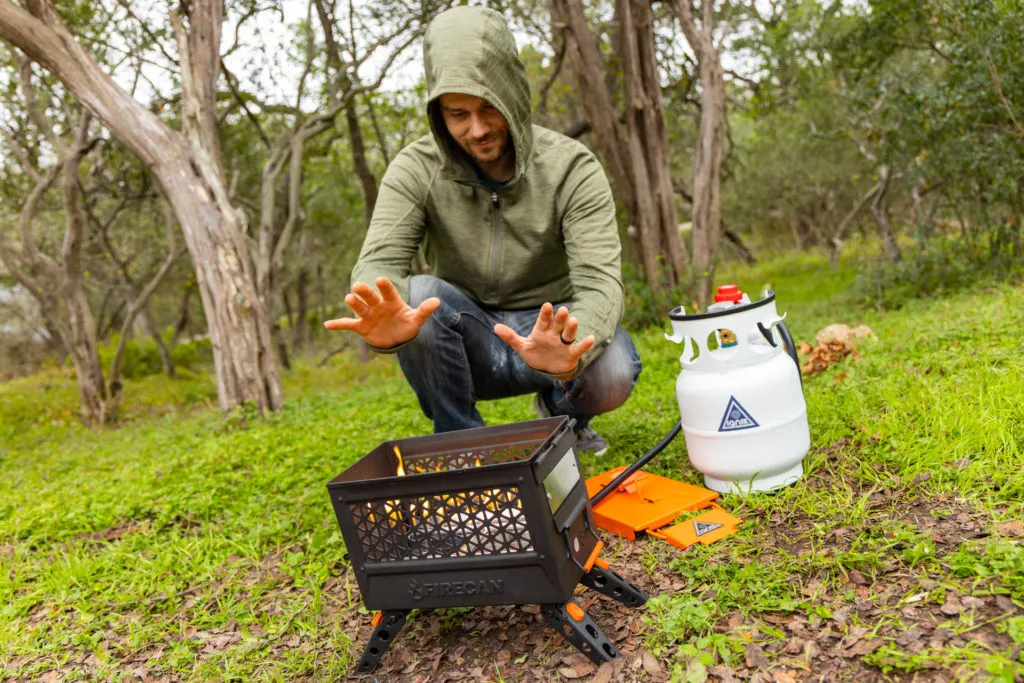 Bottom Line
We totally dig the Ignik FireCan and Gas Growler. It's gonna revolutionize a lot of camping trips. And reduce a lot of waste in the process. All from a company that puts sustainability at the forefront of everything they do. So take a closer look and score a FireCan and/or Gas Growler for yourself (or any of Ignik's other rad, heated gear) on REI or Backcountry.
Now get out there, never camp without a fire again, and wander on.
•
Looking for a more traditional portable fire pit? Check out our review of the Wolf & Grizzly Firepit and the UCO Foldable Firepit.
•
This post contains affiliate links, which means when you make a purchase, we may receive a small percentage of the sale. But don't worry; you won't pay more, you just help support more great content like this from Terradrift!
Alisha is a freelance writer and photographer based in Austin, TX. She loves her tiny house, vegan food and experiencing the community of travel in far away places. She's also pretty sure she's addicted to coffee. alishamcdarris.com