Have you ever gone camping with a loved one, images of a delightfully relaxed weekend outing dancing in your head? And then watched those images promptly vanish in a puff of smoke as soon as tent setup begins and proceed to spend the next three days giving your partner the silent treatment? Or witnessed the couple in the campsite next to you argue over which tent pole goes where for a full 45 minutes? We've all been there. It's no fun. But while we can't recommend a good family therapist for couple's counseling or tell the strangers next door that they should use kinder words, we CAN tell you about the innovative, inflatable tent–yes, I said inflatable–for your next camping adventure that might just take some of the pain out of campsite setup: the Decathlon Quechua Fresh and Black Air Seconds.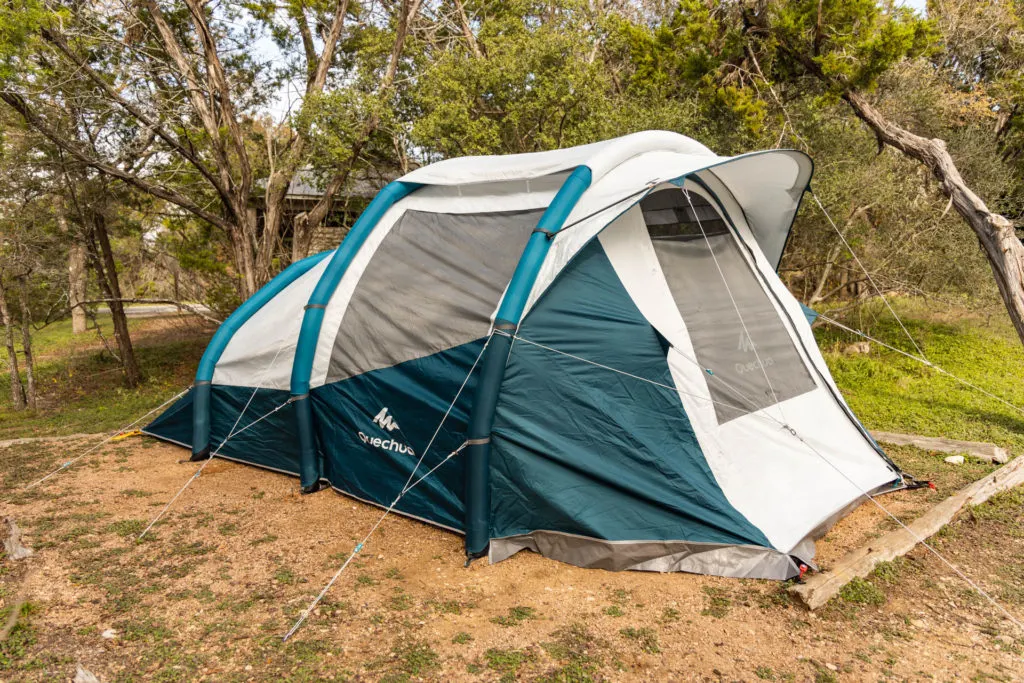 The Fresh and Black Air Seconds Inflatable Tent
Truth time: When I first saw this inflatable tent from Decathlon, I was intrigued and desperately wanted to try it out. But upon receiving it, it was one of those tents that I kinda decided right off the bat I was not gonna be into. It's huge (as in, pitched, but also packed up it is NOT compact), it's heavy (as in, thirty-two pounds), it took a bit of time to pitch, has a thousand and one guy lines that need staked out, and, frankly, just seemed like overkill, especially for just the two of us.
But ya know what? After spending a few days and nights in this tent, I kinda changed my mind. 'Cause this is a super comfy, spacious, multifunctional beast of a tent. In the best way possible.
But let's start with the features, shall we:
Maybe the biggest selling point: yup, this tent is inflatable. As in you pump it up instead of using traditional tent poles. Why do you need an inflatable tent? Honestly, at first I had no idea. I've never had trouble setting up a more traditional tent with poles by myself or with Josh. Maybe it's because we have so much experience doing it or maybe we're just amazing communicators, but then I started hearing others discuss their tent set-up experiences, which seemed to involve a fair amount of smacking their camping buddies in the face with super long tent poles or arguing about what implements go where to the point that someone might end up sleeping in the car because you no longer want to be in the same room with each other.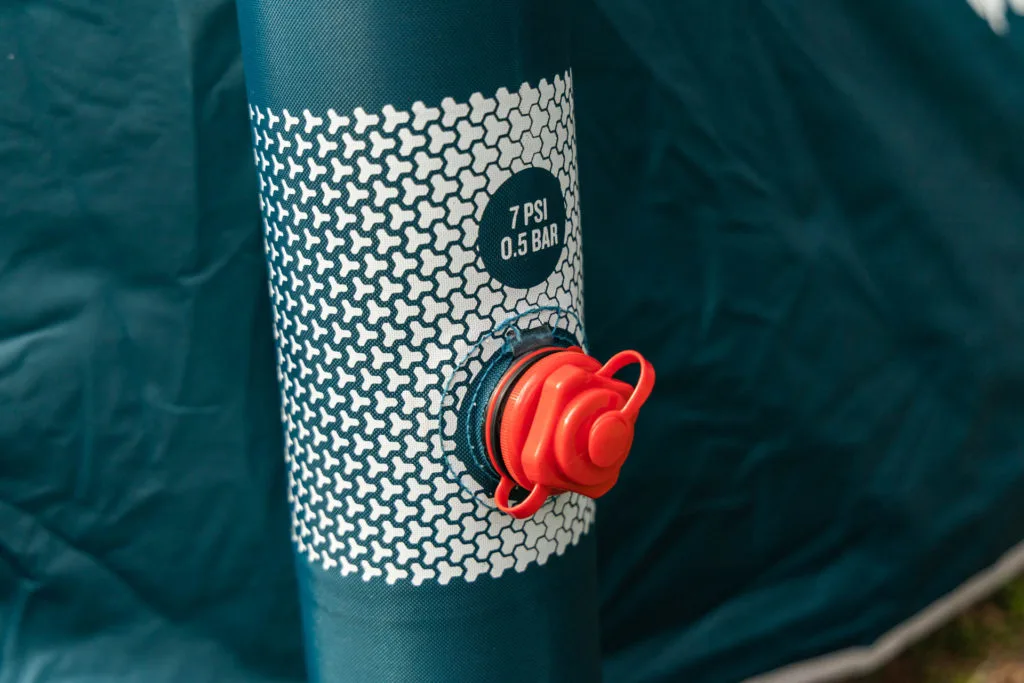 And if that's the case, well, then an inflatable tent could be pretty handy, indeed. Might even save your marriage. Decathlon doesn't promise anything about that sort of thing, but seems plausible.
But if there are no poles, how does it work?
Just like you would with any other tent, unroll it and position it however you like.
Securely stake the 4 corners, then the sides of the tent.
Then grab your pump and inflate the three tubes that form the structure of the tent. (It doesn't come with a pump, but pretty much any electric or hand pump will do, including ones you might use for an inflatable kayak or an air mattress. But Decathlon does sell one, too, in case you just want to get it all at the same time and place.)
Slide in two tiny poles to secure the vestibule area and the small awning.
Stake out all the guy-lines.
And you're done. You have a tent that can withstand up to 35 mph winds.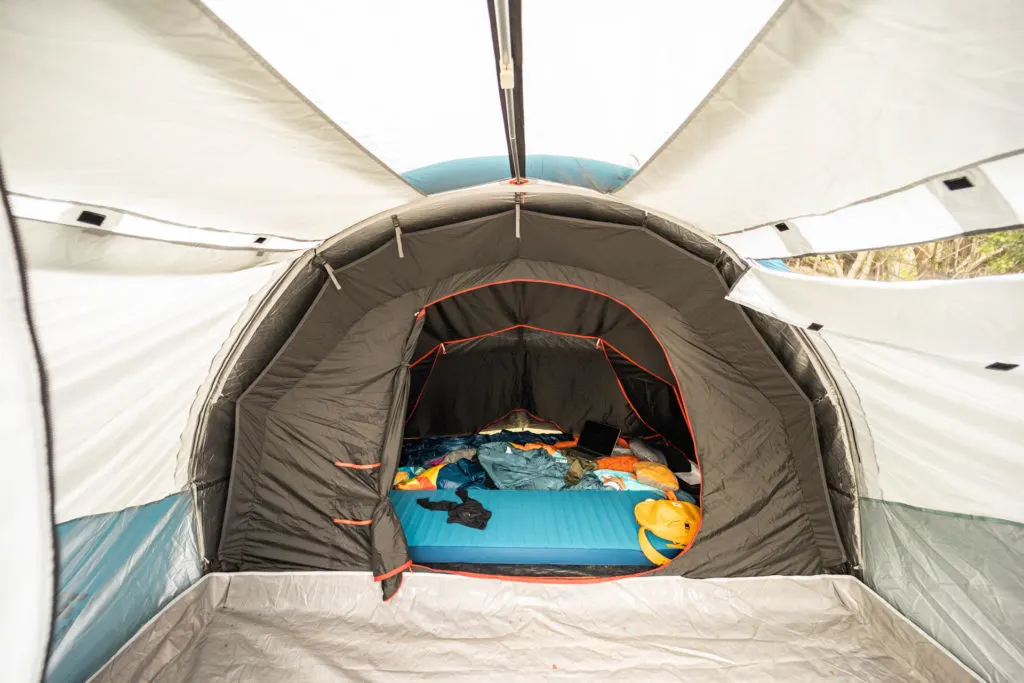 Decathlon Inflatable Tent Features
The Decathlon inflatable tent is a 4-person tent "plus". As in, plus a crap ton more space. Yeah, four people can fit in the "bedroom" section of the tent, but it also has a humongous vestibule area that functions as a mud room/entryway/living room/place to store your gear… It's actually bigger than the bedroom part of the tent!
In fact, in the vestibule area, a person up to about 5'8″ can stand fully upright. And there's plenty of room for chairs, coolers, all kinds of goodies for at least four people. It has a durable bathtub-style floor and screened "windows" on either side and on the door to facilitate airflow and let in light.
But only if you want to. After all, this is one of Decathlon's Fresh and Black tents, and if you didn't see our review of the two-person Decathlon EZ-Up Fresh and Black tent, then you may not know how rad this is. Basically, the whole tent is made of blackout fabric.
It helps keep the tent cool in the summer, but also means you can sleep in on lazy weekends because very little light gets through this thing! I see you campers out there, you guys who hate the 6 am wakeup call because that's when the sun comes up and starts burning holes through your eyelids. This tent is for you.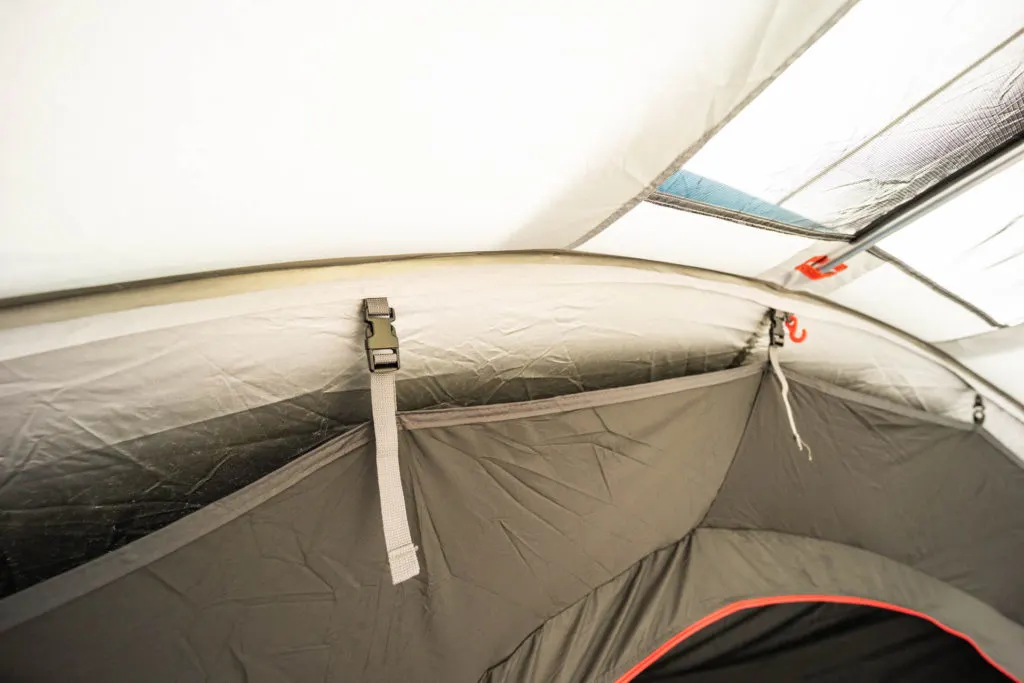 Uh, also, rad feature that I didn't think was featured prominently enough on the product page, the bathtub floor of the vestibule unclips and unzips from the rest of the structure! That means you can remove it to clean it out or remove it completely if you'd rather just leave it as a more open and natural space, but you can also do so as the first step of transforming this tent into a more basic shelter.
See, you can also unclip the "bedroom" part of the tent from the ceiling and the bottom edges, totally remove it, and create a bottomless shade-type shelter perfect for beach days, kids' soccer tournaments, festivals, you name it. Rad, right? It's like three structures in one!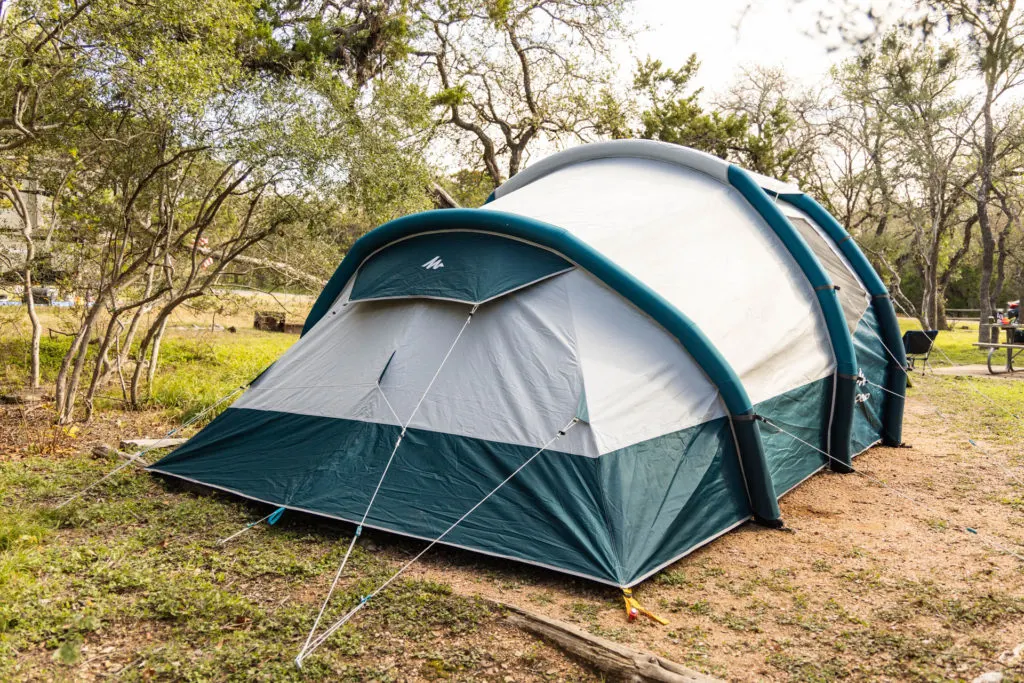 The Review
As I mentioned, I did not think I would be thrilled with this tent when I first unpacked it and set it up. It was unwieldy, was doable with one person but better with two, and there were SO. MANY. GUY LINES. I've never seen so many guy lines!
The tent took longer to set up than I would have liked, (blame it on the fact that I'm a backpacker and just want to set up camp and relax asap) but after erecting it a couple of times, we streamlined the process a bit and figured out how to pitch it more efficiently.
Basically, it would be a lot of work for just a night or two, but if you're kicking it for a long weekend or spending a week or more camping, totally worth it.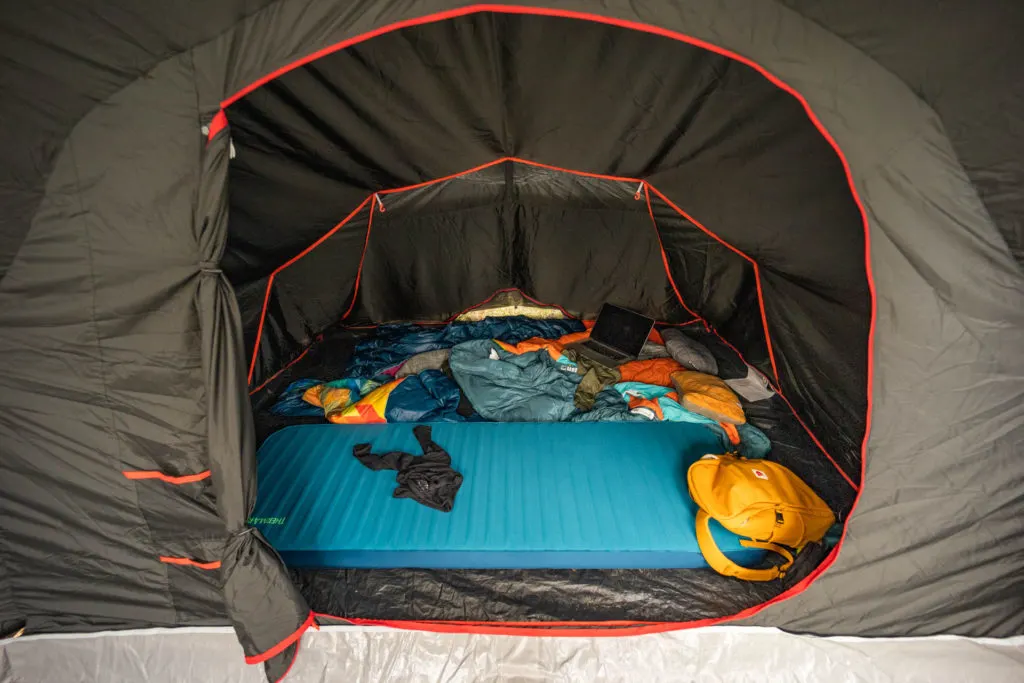 Because the two of us were VERY comfortable in this tent and had copious amounts of space to spread out. Plus, it really is super dark. We slept in until 9:30 one morning during testing. That never happens. It was delightful. And we stayed dry and comfortable in damp weather.
When the sun got warm, Josh took a camp chair into the vestibule and got some work done in the shade. When fog rolled in and threatened to soak everything, literally all our gear fit either in the sleeping area or in the vestibule with lots of room left over.
When it came time to deflate and pack it up, it was simple, but not easy. Fair warning: this is not one of those tents that you just neatly stuff back in the bag. Not without some practice, anyway. So don't be surprised if it's a bit of a struggle to cram back in there.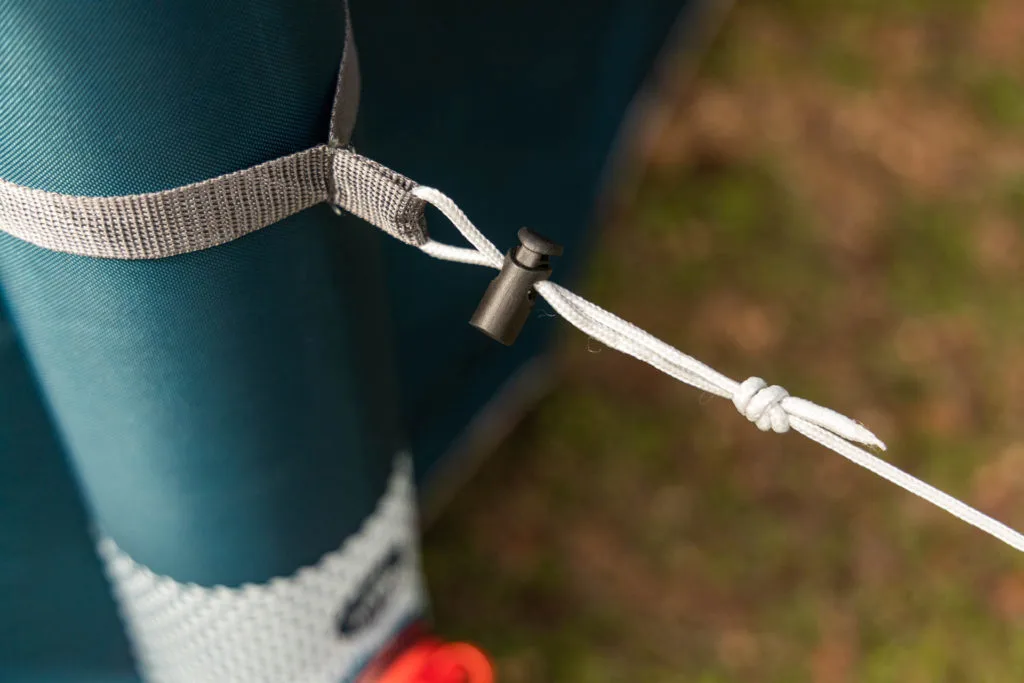 What I did appreciate about tear down was that each of those 1,700 guy lines have their own little cinch cord so you can ball each one up and secure it neatly so they won't get tangled or knotted in the bag. Good thinking, Decathlon. That's some intelligent design right there.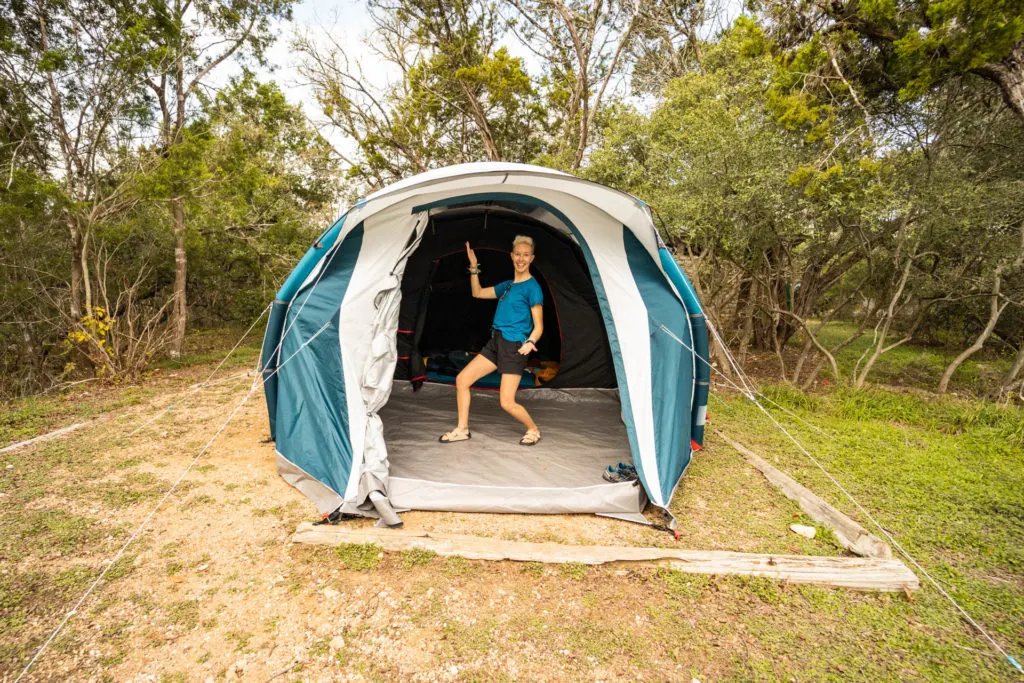 Bottom Line
Basically, I changed my mind about this tent. It's pretty rad, actually. And if you like space, no tent poles to argue over, and a durable, comfortable, black-out camping experience, chance are you're gonna dig it, too.
As for sustainability…
I'ma be honest, there's a LOT of plastic on this tent. I mean, technically pretty much every tent is made of plastic–as in synthetics–but between the air valves, cinch cords, guy lines and hooks, there's quite a bit of plastic.
That said, most of it is repairable and replaceable. Decathlon even includes a significant amount of spare parts with their tents. I'm talking a valve, patch kit, shock cord, replacement parts for the poles…that's part of their whole thing: they want to sell gear that people can keep in use longer by repairing single parts instead of replacing the whole tent, so that's cool.
The threads are also dyed before weaving them into the finished fabric, which is more sustainable than the other way around. Plus, the brand has a goal of using eco-friendly design for all their products and powering their stores with 100% renewable energy by 2026. Basically, sustainability is important to Decathlon.
In any case, if we've piqued your interest and you want to check out the Decathlon Fresh and Black Air Seconds inflatable tent for yourself, take a look here. Then, get out there, stop arguing over tent setup, and wander on.
•
This post contains affiliate links, which means Terradrift may receive a small percentage of sales that result from you clicky-clicking. But don't worry; it won't cost you any extra. But you do get to feel the warm fuzzies that come from supporting more great content!
Alisha is a freelance writer and photographer based in Austin, TX. She loves her tiny house, vegan food and experiencing the community of travel in far away places. She's also pretty sure she's addicted to coffee. alishamcdarris.com