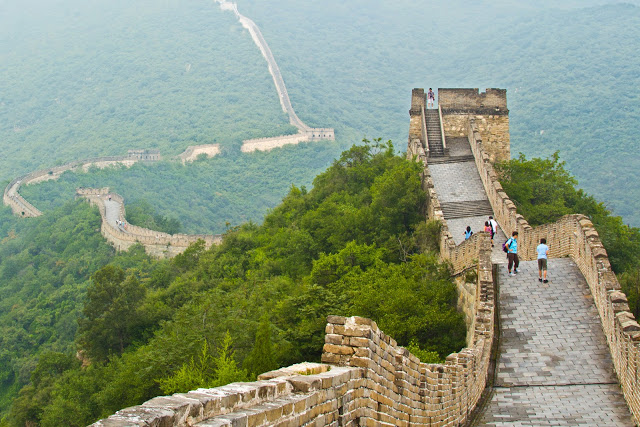 China is huge and amazing. There's so much to see and so much history (way more history than in the US, anyway). Whether you see it all at once or over as many trips as your wallet can handle (dang, flights to China are expensive!) we promise you won't get bored. Here are a few must-sees to add to your itinerary.
1. The Great Wall, Beijing
(Pictured above, Photo by Colin Capelle | CC BY 2.0)
This one's a no-brainer. If you're going to bother going to China, you better make time for this bad boy. Its total length is over 13,000 miles and building started in the 7th century BC, but no, it can't be seen from space.
2. Forbidden City, Beijing
It's the largest ancient imperial palace complex in the world and shouldn't be missed.
3. Terracotta Army, Xi'an
One of the top contenders for the eighth wonder of the world is this army of over 7,000 soldiers, chariots and horses in full battle regalia. It's more than 2,200 years old and is one of the most noteable and mysterious finds of the 20th century.
4. Shanghai
It's China's biggest, most modern city and it's packed with upscale hotels, restaurants and shopping. Of course, there's plenty of history to take in as well including the Jade Buddha Temple and the beautiful Shanghai Yuyuan Garden.
5. Yangtze River
It's the third longest river in the world and if you'd rather cruise along the banks of China than hike them yourself, it'll be the trip of a lifetime.
6. Guilin
Flanking the Li River and surrounded by mountainous peaks is this idylic out-of-the-way local. You want rice paddies? Find them here.
7. Giant Pandas, Chengdu
Sure you can see them in zoos all over the country, but that pales in comparison to watching them at Chengdu Giant Panda Breeding and Research Center or volunteering at Dujiangyan Panda Valley.
8. Lhasa, Tibet
For a religious experience whether you're trekking out to Mt. Everest on the border of Nepal or taking in Tibetan temples, Lhasa is the place to be. Don't miss the spectacular natural landscape or the monk rituals.
9. Hong Kong
Kinda part of China, but kinda not, it's not only one of the biggest, most important cities in China, but in the world. It has shopping, outdoor recreation, nightlife and even Disney World. If you have no desire to rough it in China, this is the place to go.
10. Yangshuo
With a landscape that's practically other-worldly, this city nestled in jutting hills and mountains is practically paradise for anyone who wants to spend some time in the great outdoors. Cruise the river or hit the trails for an up close and personal look at the beauty of nature.
Alisha is a freelance writer and photographer based in Austin, TX. She loves her tiny house, vegan food and experiencing the community of travel in far away places. She's also pretty sure she's addicted to coffee. alishamcdarris.com