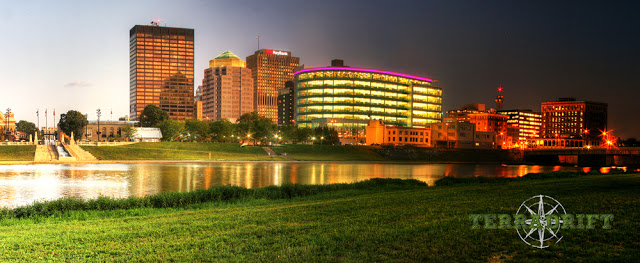 Left to Right: Day to Night. The Downtown Dayton Skyline
10 Things to do in Southwest Ohio
My home state. Born and raised just north of Dayton, a city that used to be alive with industry, a thrumming metropolis, is trying its hardest to make a comeback. I used to think that there wasn't much to do in and around the area when I resided there, but now that I am so far removed, there are quite a handful of things I make sure to do and places I long to visit when we take a trip home. Here are 10 things to do in Southwest Ohio.
Owned and operated by Cedar Fair, this is my all-time favorite amusement park. The Disney parks two hours from where I live in Florida got nothin' on this park full of roller coasters and thrill rides. Eighty total, to be precise. Thirteen of which are bona fide coasters including the Beast, the longest wooden coaster in the world. There is also plenty of live entertainment and a 33-acre water park with over 30 water slides and 20 additional water-based activities. My favorite rides are Firehawk and Flight of Fear, both of which are thrilling coasters with loops and high speeds. Josh loves Diamondback, the park's tallest coaster. You can find cheaper tickets than at the gate at Kroger Grocery Stores within at least 25 miles.
Located in one of my favorite places in Ohio is this local restaurant and family-owned farm and creamery. The restaurant I could take or leave, but the ice cream is sensational. It is produced and packaged completely on the premises and comes in dozens of flavors that change with the seasons. Usually I prefer froyo to ice cream, but I can't pass up Young's Dairy's chocolate peanut butter. Besides shoving amazing frozen dessert down your gullet, you can also pick up exceptional cheese, also made at the farm with milk from their Jersey Cows, visit those very same cows, feed the goats, pet the pigs, play putt-putt, try the batting cages, even navigate a corn maze in the fall. And while you're in town, make sure to meander through Yellow Springs, too. The quaint hippy town is brimming with local restaurants and coffee shops, interesting galleries and shops, and plenty of hiking.
If you appreciate the outdoors, stop by one of Greater Dayton's many outstanding Metroparks. The 19 parks offer everything from fishing to farmer's markets, kayaking to cycling, ice skating to bird watching, and everything in between. The different parks offer gardens for flower enthusiasts, hiking for outdoor lovers, and even educational programs for the young and old alike. There's something for everybody at these parks and I, for one, miss them dearly. My favorite attraction is the paved bike paths covering over 70 miles in Montgomery county alone and connecting several other counties. All parks are free and open to the public, though some special programs and activities (like ice skating at Riverscape in the winter or trail rides at Carriage Hill) are extra.
If you want good pizza, these guys aren't only the local favorite, they've been ranked the #2 best independent pizza joints in the nation by Pizza Today Magazine. The atmosphere isn't exceptional and the list of available toppings doesn't spread across two pages, but the thin crust covered edge to edge with their signature sausage (or just veggies for me!) and cut into bite-size squares is delightful. It certainly doesn't resemble NY or Chicago style, or anything else for that matter, but it's pretty tasty!
5. The arts scene, Downtown Dayton.
Art lovers will be interested to know that Downtown Dayton has become quite the arts community in the last 5-10 years and is begging for people to notice. There are galleries on nearly every corner, not to mention music and record stores and performing spaces. Most are only open during the day, but on the first Friday of every month, known simply as First Fridays, dozens of galleries stay open late, street performers entertain from the sidewalk, artists offer demonstrations, live music abounds, and even some bars and restaurants stay open later or offer specials. And it's all free! Well, unless you buy something. There's also the Dayton Art Institute, open 6 days a week (closed Monday) and offering a diverse permanent collection and world-class special exhibitions. Admission to the vast permanent collection is $8 for adults and free for youth. And free is always a good price to introduce kids to culture! The special exhibits are extra.
6. Live Theater, Dayton area.
For theater lovers, options abound in the Dayton area and beyond. Downtown there is the renowned Schuster Center, modern and beautiful on the inside and out and hosts ballets, orchestras, and of course Broadway performances. I have seen operas, musicals, even violinists in the performance space and the theater does not disappoint. Most tickets aren't cheap, but for select performances you can snag a $10 ticket in the upper balcony. Across the street is the older and more distinguished Victoria Theatre, offering classic movies for a few bucks on weekends in the summer, concerts, comedians, and various other productions. Half a block from the Victoria is the Loft Theatre, a more intimate space that presents often lesser known, but no less energetic and professional, plays and musicals. If you happen to be in town during "Can Night," (the casts' final dress rehearsal) you can get into a show for no more than the price of a few non-perishables. The Loft is the theater that is nearest and dearest to my heart. For something in the comedy department and a bit more informal, check out Mayhem and Mystery at the Spaghetti Warehouse Downtown for interactive murder mystery dinner theater (with whom yours truly enjoyed performing for several years). Tickets are $26 and include dinner, salad, bread and dessert. In Springboro you will find La Comedia dinner theater that presents "A taste of Broadway" for $55 or more and countless community theater companies where you can spend an entertaining and inexpensive — if less professional — performance.
For history and aviation buffs, this one is bound to be a hit. People who have merely passed through Dayton know about this official museum of the USAF. Probably because it is the world's largest and oldest military aviation museum. It boasts over 360 aircraft and missiles on display as well as many Wright Brothers artifacts and replicas (The pair lived in Dayton). It also offers aviation and space-oriented IMAX films. You could spend hours here, there's so much to see. The gift shop's quite an attraction, too, with its memorabilia and physics knick knacks, and you can stock up on astronaut ice cream for the road. The best part? Admission is free! (Not the IMAX, though. Sorry, guys.)
Baseball fans won't want to miss the chance to see a game at one of these ballparks. The Reds are Ohio's most popular major league team and the Dragons are the Reds' minor league "farm team," if you will. But they never fail to put on quite a show. More than a baseball game, it's family entertainment – the great american pastime – and with seats on the lawn starting at $8.75 (Dragon's field only), not at a bad price, either. A Reds game at the famed Great American Ballpark will run you a little more with seats starting at $21 (well worth it for avid pro ball fans, according to my Reds-loving family), but prices can change depending on the weather forecast or the day of the week, so keep an eye out.
This is truly a one-of-a-kind shopping experience that foodies far and wide don't want to miss. When we lived in Ohio and found ourselves anywhere near Jungle Jims (usually during a jaunt to IKEA), Josh would all but insist that we stop. This isn't your run-of-the-mill grocery store. No, you could spend hours — and we have — browsing the 200,000 square feet of shopping space. There are aisles and aisles of bizarre and familiar foods separated by geographical region. There are aisles for Korean and Japanese cuisine, Hungarian and African cuisine, Brazilian and Norwegian cuisine. Even nooks for kosher, french, and Polish specialties. And three whole aisles of hot sauce! Three! There's health food and pet food and a huge cooking and kitchen section, and fruits and vegetables the likes of which you've never seen, but also an area dedicated to regular ol' groceries. Oh, and an enormous selection of beer and wine and bathrooms disguised as port-a-potties. It's truly an experience and any foodie's dream come true. Josh, especially, highly recommends a visit.
One thing Josh and I miss most about Ohio are the festivals! Especially in the fall, all of Ohio is teeming with festivals celebrating everything from wine to pork to sauerkraut to apples. Sure, there are a few festivals here and there in Florida, but many of the Ohio ones are free and kick Florida festivals' butts! In the Summer there is the Dayton Celtic Festival where we have seen the world-renowned band Gaelic Storm perform for free, the Wesleyan Metropark's Garlic Festival, and the 2-month long Renaissance Festival in Harveysburg (not free, unfortunately) that we have attended many times — I'm not ashamed to say at least twice in costume — and have had our fill of jousting tournaments and giant turkey legs (well, Josh has had his fill of turkey legs). So if you're going to be around, especially in the fall, don't miss out on some of the stellar festivals Southwest Ohio has to offer. Check out the list of Ohio festivals at http://ohiofestivals.net
That's our top 10 Things to do in Southwest Ohio. Did we miss something? Be sure to leave it in the comments below!
Bonus: Our favorite Ohio confection? Buckeyes!
Alisha is a freelance writer and photographer based in Austin, TX. She loves her tiny house, vegan food and experiencing the community of travel in far away places. She's also pretty sure she's addicted to coffee. alishamcdarris.com