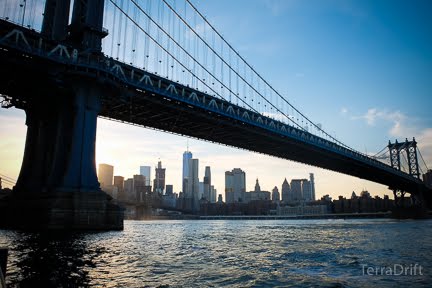 I love travel. I love food. Big cities I could take or leave. Unfortunately, big cities are often where not only the best food is located, but the best vegan food. And I will travel for vegan food. Always. And as one of the largest cities in the U.S., New York City has some excellent vegan food on offer. Hungry? Check out five vegan restaurants in NYC (that won't break the bank).
1. The Organic Grill: This vegetarian restaurant is at the higher end of the budget price spectrum, but while we usually like to stick to inexpensive vegan restaurants when traveling, we often "splurge" on one meal per trip. Keep in mind that "splurging" for us is basically normal spending for your average Joe and everything is more expensive in NYC. But in any case, The Organic Grill is a fantastically delicious option. Be prepared to spend $12-$18 dollars per (potentially shareable) meal on average. There are cheaper options, but their veggie burgers are totally worth it. And those jackfruit enchiladas! Killer.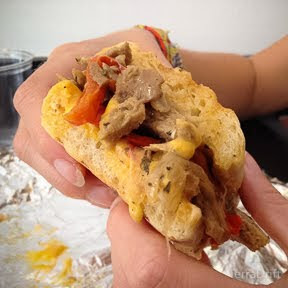 I can't pass up a vegan Philly cheese steak. And Blossom Du Jour serves up a tasty one.
2. Blossom Du Jour: There are several restaurants in the Blossom family, but if it's quick and dirty you're looking for, Blossom Du Jour has you covered at multiple locations. I nearly shed tears of joy the first time I had their vegan Philly cheeze steak. I'm sure it had nothing to do with the fact that because of our camp jobs I hadn't eaten anything but overcooked vegetables and mushy pasta for three months. It's about $10 for a sandwich, wrap or salad and nothing I've had has been disappointing.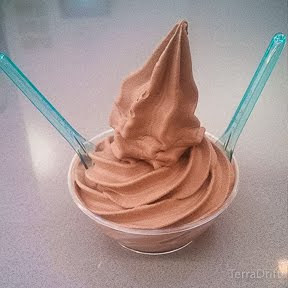 Vegan soft serve gelato at Rice Cream in NYC. Yum.
3. Rice Cream Shoppe: Have a sweet tooth? I haven't met a vegan that doesn't! But when in roam we don't often get to indulge. There's plenty of vegan dessert in NYC to go around, though! But one thing I rarely see in a vegan variety is rice pudding. And I can eat some rice pudding. This joint has multiple flavors of vegan and non vegan rice pudding in addition to soft serve vegan gelato. Mmmm…so chocolatey.
4. Erin McKenna's Bakery: More of the same in the sweets department, but I simply can't pass up a sugary treat, especially if I won't get the chance again any time soon. This bakery has several flavors of vegan cupcakes and other baked goods like squares and scones. So stock up for when you get the munchies in Central Park later.
5. Beyond Sushi: Sushi makes me smile. Even more so when I can have all the sushi on the menu! But this cozy spot doesn't just serve vegan sushi, but ramen, kimchi, and wraps, too. And you won't be stuck with your basic vegetable roll, either. Sushi rolls like the Mighty Mushroom and Spicy Mang start at under $7 and soup, desserts and sides are even less. Perfect for grabbing before a respite in the park.
What are your favorite vegan restaurants in NYC? Share them with us!
Alisha is a freelance writer and photographer based in Austin, TX. She loves her tiny house, vegan food and experiencing the community of travel in far away places. She's also pretty sure she's addicted to coffee. alishamcdarris.com