First of all, let me just say that Peak Design is my favorite camera accessory manufacturer since Lowepro. And nobody is paying me to say that. Their Capture Pro clip basically changed my life and with the Peak Design Slide Lite camera strap I don't have to choose between using the clip and using a strap. Brilliant. Extra safety for when I'm scaling a rock wall with my camera attached to my person. True story. This actually happens. So here's a review of this new strap and what I think of it as a professional photographer and frequent traveler.
Right off the bat let me point out all the features of this strap that I think are nothing short of brilliant.
First, the Anchor Link connection system. The strap comes with four, the perfect number for hooking up multiple cameras. Since I have two camera bodies that I regularly rotate between, I don't have to switch out my one good strap over and over or use a lesser strap on my day-to-day point and shoot. The patented Anchor Link system lets me simply and easily unclip the strap from one camera and clip it to the other that's already got the Anchor cords looped on. Too easy!
The Peak Design Anchor Link System is secure in addition to being easy on, easy off.
Second, the Anchor cords themselves. And this just goes to show that Peak Designs really knows what they're doing, because even as a photographer I wouldn't have thought of this. There's more than meets the eye to the thin black cords on the Anchor Link system. It's actually three layers of protection that hold up to 200 pounds (that's more than me and all my camera gear combined) and indicate wear. When the cords are black you're good to go. When you start seeing the yellow underneath you'll want to replace the cords soon. When the red cord at the center shows through your camera is no longer secure hanging from the strap; you need to buy some new ones. Again, too easy.
Third, the cinch system. Really easy quick pull adjusters look slick and are way easier to tighten and loosen than most of the other straps I've used. Easy enough to adjust on the fly mid-hike or while climbing a tree to get that perfect shot. It's also handy if you regularly pass off your camera to a husband or second shooter like I do.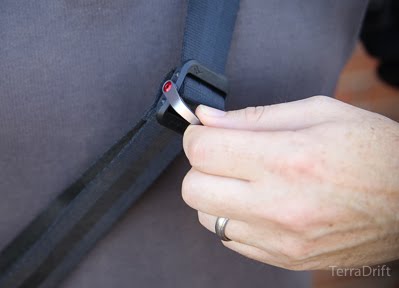 The adjustment clips on the Slide Lite are probably the easiest and least frustrating I have ever seen.
Lastly, the look. I'd be lying if I said I didn't really dig the look of this strap. Simple yet striking, it's reminiscent of a seat belt and I like that. It's not flashy (though it does come in red or blue in addition to black), and I like the simple semi-industrial look of it. It's just well designed.
But highlights aside, it's fantastically functional. It's light, it's compact, and it can be used with other Peak Designs products like the Capture Clip. In fact, the Slide Lite comes with a Capture Camera Clip compatible tripod plate that you can not only use on the clip, but on an ARCA-type tripod. I already have the Capture Clip Pro, so now I also have an extra plate so I don't have to switch one between cameras. The plate also provides an attachment point for one or two Anchor Links should you like to carry your camera lens down as I do with my larger body and lenses. If not, keep them looped around the strap lugs on the sides of your camera.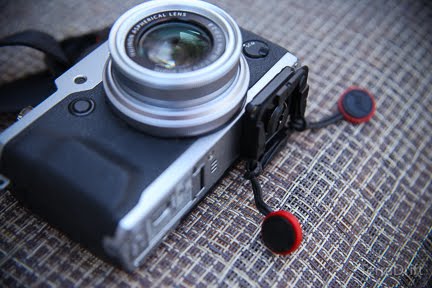 Attach the anchors on the Peak Design tripod plate or on the sides of your camera. It's up to you.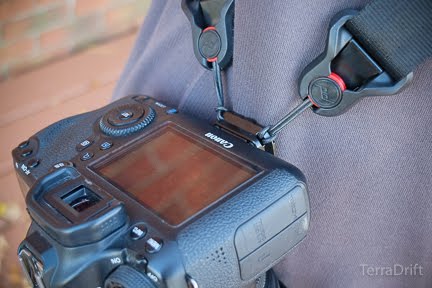 The SlideLite Anchor Links on the Peak Design tripod plate. So you can carry bigger cameras lens down.
This is the problem I have with my current strap, a Black Rapid model that screws into the tripod plate mount on the camera's underside. Don't get me wrong, I love this strap, especially as it's designed for women, but the fact that the Peak Design SlideLite can be kept on my camera if I want to use my Capture Clip or a tripod is a huge plus. I hate unnecessary fiddling and adjusting. I'm too impatient for that nonsense. I want to get the photo from the top of the cliff and then move on (or maybe admire the view with the naked eye instead of through the camera lens).
It's intended for smaller camera bodies like mirrorless cameras and point-and-shoots, with the larger and wider Slide strap available for larger models to ease the weight to square-inch coverage ratio, but it works for all kinds.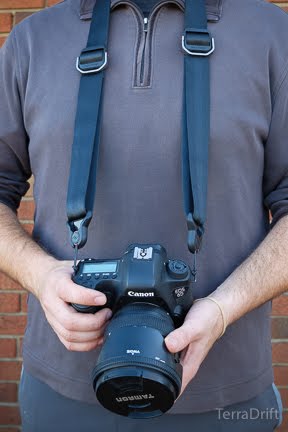 While the SlideLite's narrow and low profile design make it ideal for smaller cameras, it functions just as well with larger bodies.
Proof that Peak Design has thought of everything are the silicon strips on the SlideLite. There are two narrow bands on one side of the strap that can easily be turned up or down. Up if you're wearing the strap cross-body and want it to slide effortlessly across your clothing when you lift and position the camera, down if you're wearing it over one shoulder and want it to stay put. The strips provide a bit of extra grip, especially given the strap's slippery material, but I still wouldn't go frolicking through a field and expect it not to slide off my shoulder. Even so, I can't go single shoulder with my Black Rapid at all, so it's still a win in the multi-functional department.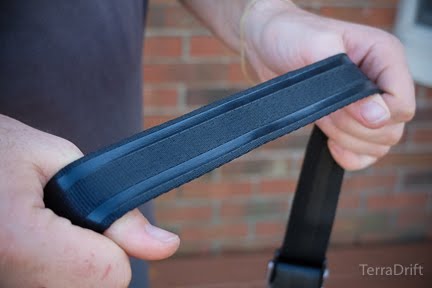 Silicone strips on one side of the Slide Lite help keep it from slipping off your shoulder.
Overall, I'm digging this strap. It's definitely going to replace my former strap. And why not? With the form, function and flexibility of the Slide Lite, who wouldn't? I might have to look into getting the full-size Slide, too. After all, we don't want Josh to get jealous.
Want one for yourself? Get a 10% discount by going to peakdesign.com and using the code TERRADRIFT!
*This post contains affiliate links
Alisha is a freelance writer and photographer based in Austin, TX. She loves her tiny house, vegan food and experiencing the community of travel in far away places. She's also pretty sure she's addicted to coffee. alishamcdarris.com