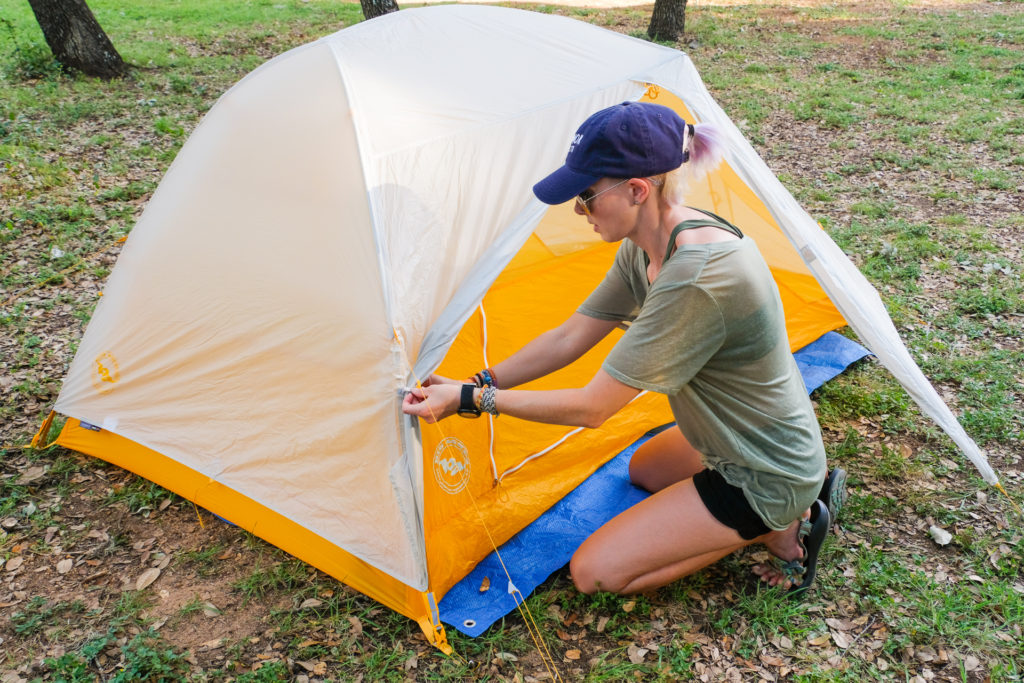 Every year, more and more people head into the outdoors for a bit of exploration and relaxation. And we're willing to bet that goes double this year, what with people all over the country scrapping summer plans that were supposed to involve theme parks, international travel, or crowded tourist attractions. But if you're new to camping, how do you even get started? What camping gear do you *actually* need? Well, take a deep breath, cause we've got your back. We'll help you figure it out with our handy beginner's guide to camping complete with 10 things you need to start camping.
10 Things you Need to Start Camping
There's a lot of cool camping gear and equipment out there. It's easy to get lost in the aisles of REI and get overwhelmed with all the sweet toys and gadgets in every direction! I mean, we regularly spend waaaay longer in outdoor stores than we intend to because, yeah, it's all super cool stuff. But in reality, you need very little of it if you're just getting started. To help you decide what's important and what's fluff, we'll list the top 10 things you need to start camping with a quality and budget option for each. Because, honestly, you don't need to drop $1000 on camping equipment if this is your first time out. Yeah, if you can swing it, buying quality gear that will last is best, but there's plenty of good gear out there for less, and if you take care of it, it can last just as long as the pricey stuff. So without further ado: our beginner's guide to camping list!
1. Tent
This one is a given, right? Unless your idea of camping involves renting an RV or camper van, you're going to need some sort of shelter. Now, that doesn't have to be a tent (we actually love hammock camping in the Kammok Mantis), but it usually is. That said, tents come in all shapes and sizes. If you're going backpacking and weight is a concern, we recommend choosing an ultralight tent like the Big Agnes Tiger Wall or less expensive REI Groundbreaker. If you're only walking 20 feet from your car to your campsite, however, feel free to go big. We like the Kelty Discovery 4 for car camping (where your car is parked within easy walking distance of your campsite). What size should you get? We recommend getting a tent designed for at least one more person than will actually be sleeping in it. For example, if there are two of you, get at least a three-person so you'll have some room to spread out. If you're camping with two kids, get a five- or six-person tent (like the Caddis Rapid 6) so you're not constantly on top of each other (or get them their own dang tent).
It's also nice to have a tall tent so you can sit up–or even stand–if the weather turns sour and you have to spend a rainy afternoon inside instead of out. Extra spacious tents are especially nice for groups, families and week-long camping trips.
2. Sleeping Bag
When it comes to sleeping bags, there are a million to choose from (we did a whole post about synthetic sleeping bags here), but we always recommend synthetic insulation over down. Get a bag that is rated for colder temps than you expect (we talk about sleeping bag temperature ratings in this post), but other than that, it's a matter of preference. For backpacking, we love the Big Agnes Sunbeam for women and Big Agnes Lost Dog for men. For those not concerned about weight or size, the REI Coop Groundbreaker 30 is a quality budget option. Pro tip: Get bags from the same manufacturer and you can usually zip them together if you're camping with a partner!
3. Sleeping Pad
It would be silly not to talk about sleeping pads in a beginner's guide to camping. Because nobody likes sleeping directly on the ground. You don't do it at home, why would you do it outdoors? That means you need to get yourself a sleeping pad or air mattress and a pillow. If you're car camping, the pillow is easy: bring the one you use at home. As for packable versions, find a budget-friendly inflatable pillow on Amazon or you can get a fancy Nemo pillow. Sleeping pads run the gamut. You can use something as minimalist and lightweight as a Therm-a-rest Ridgerest or as plush as an Exped MegaMat. In fact, you can even opt for a full-on air mattress if you're car camping and have access to electricity!
4. Stove & Camp Kitchenware
At some point on your camping trip, you're gonna wanna eat. I assume. Naturally, you can opt for raw or pre-cooked meals like pasta salad, sandwiches and cereal, but if you want a hot beverage or warm meal, you're gonna need a stove. We often use a backpacking stove like the MSR Pocket Rocket even when we're camping, but a wood-fired camp stove with a grill attachment like the BioLite CampStove is delightful, as is the two-burner propane-powered GSI Selkirk 460. Don't want to drop that much cash? Something as simple as a Coleman Butane Stove will do just fine.
Of course, you'll also need something to eat on/with. And here's an opportunity to save some cash. Yeah, you could get a whole stunning camper cookset and serving ware kit from GSI (with everything including the kitchen sink), but if you're car camping, you can just bring pots, pans, plates, and silverware from home (just don't use disposable plasticware–I mean, c'mon!). Too easy!
5. Food & Water (& something to store it in)
This one is pretty obvious, right? Don't go camping without food and water. We recommend simple meals that don't take more than one or two pots and 30 minutes to prepare, but that's your call. Just be sure to bring lots of snacks. We've learned that we snack a lot more when we're just chilling at the campsite all day. As for water, most developed campgrounds (as opposed to primitive backcountry campsites) offer running water nearby if not right there at every campsite. But if they don't, or you have to walk more than a few feet to get some, consider bringing a handful of reusable water bottles (we like Nalgene bottles) or a multi-gallon folding water cube so you can keep water at your site for drinking, washing, cooling off, etc.
And of course, you're going to want something to keep it all in. Might we recommend a cooler? You can go crazy and drop a few hundred bucks on a coveted Yeti cooler, of course, but an inexpensive Coleman model will do, too. Fun fact: the perfectly decent cooler we've been using for years actually came out of a dumpster. Just make sure to put that thing in your car at night. Even if you're not in bear country, raccoons can be awfully mischievous and are expert cooler crackers.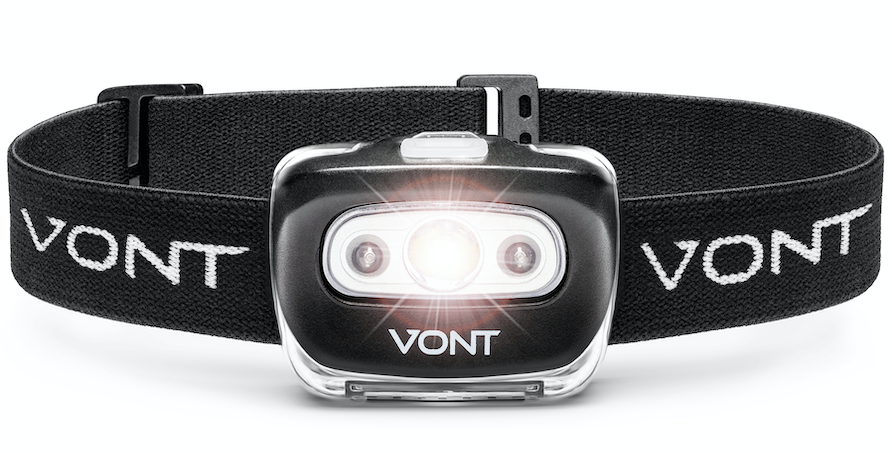 6. Light
Generally speaking, camping involves sleeping in the dark. But since most of us don't go to bed as soon as the sun sets, a little something to light the night and keep us from tripping over our guylines and fire ring comes in quite handy. Headlamps are our favorite method for illuminating our surroundings. The BioLite HeadLamp 200 is a fabulous option, but for a solid budget model, look no further than the Vont Spark (which comes in a two-pack). As for other lighting methods, an inflatable solar lantern like the Luci from Mpowered is delightful and so compact (we also love their string lights), but a headlamp or small flashlight dropped into a milk jug with the top cut off is equally effective as a lantern.
7. Camp Furniture
Sure, most campsites offer a picnic table or two, maybe a large rock or stump to sit on, but those things aren't very comfortable for very long. Instead, bring along some furniture or loungers so you can really relax. There are, of course, those foldable camp chairs so ubiquitous at children's soccer games, but if you want compact and lightweight, REI makes a Flexlite Air Chair that's perfect for camping or backpacking. But you don't have to stick with just chairs! We love an inflatable lounger and hammock, too. You know, so we can lounge however our little hearts desire.
8. Fire!
What we mean, of course, are tools to start a fire (you don't think we'd tell you to travel with actual fire in a beginner's guide to camping, do you?). Don't bother bringing your own firewood unless you're camping in the same county in which you live. Bringing firewood across state or even county lines can transmit invasive species. So it's best to just buy the firewood at the campground (or at a store down the road from the campground where firewood is probably cheaper). What you can (and should) bring are fire starters. That means matches, lighters, or a flint and steel, but also materials to help get that campfire going. I'm talking newspaper, Vaseline-covered cotton balls, dried orange peels, tortilla chips, you name it. You can even just buy yourself some pre-packaged fire starters if you want to make it super easy.
Just make sure you follow Leave No Trace principles and heed the rules and regulations for campfires wherever you're staying.
9. Outdoor Essentials
I'm talking about bug spray, wet wipes, and sunscreen. You need them all. We even rounded up the best reef-safe sunscreens (that are also vegan) in this post. And wet wipes can be used for everything from standing in for a proper shower to wiping the bug guts off your hands after you swat at too many mosquitos.
10. S'mores
Look, it's not camping if there are no s'mores, OK? It's just not. So stock up on graham crackers and marshmallows (we love Dandies vegan marshmallows) and get roasting. Pro tip: ditch the Hershey's chocolate (that stuff is basically just cocoa powder and wax–gross) and upgrade your s'more with a peanut butter cup instead. A vegan peanut butter cup, preferably. Simple? Yes. Amazing? Absolutely. You'll thank us later.
The Beginner's Guide to Camping Bottom Line
There you have it! 10 things you need to start camping all bundled into one handy beginner's guide to camping. We hopes it offers not only a handy reference point, but a little peace of mind, too, if you're going to be setting off for some of your own outdoor adventures this summer. So wander on and have fun out there! And don't forget the bug spray!
•
This post contains affiliate links, which means we may receive a small percentage of any sales made as a result of you clicky-clicking. But don't worry, it won't cost you any extra. It will help support this site that you've come to love so much, though!
Alisha is a freelance writer and photographer based in Austin, TX. She loves her tiny house, vegan food and experiencing the community of travel in far away places. She's also pretty sure she's addicted to coffee. alishamcdarris.com