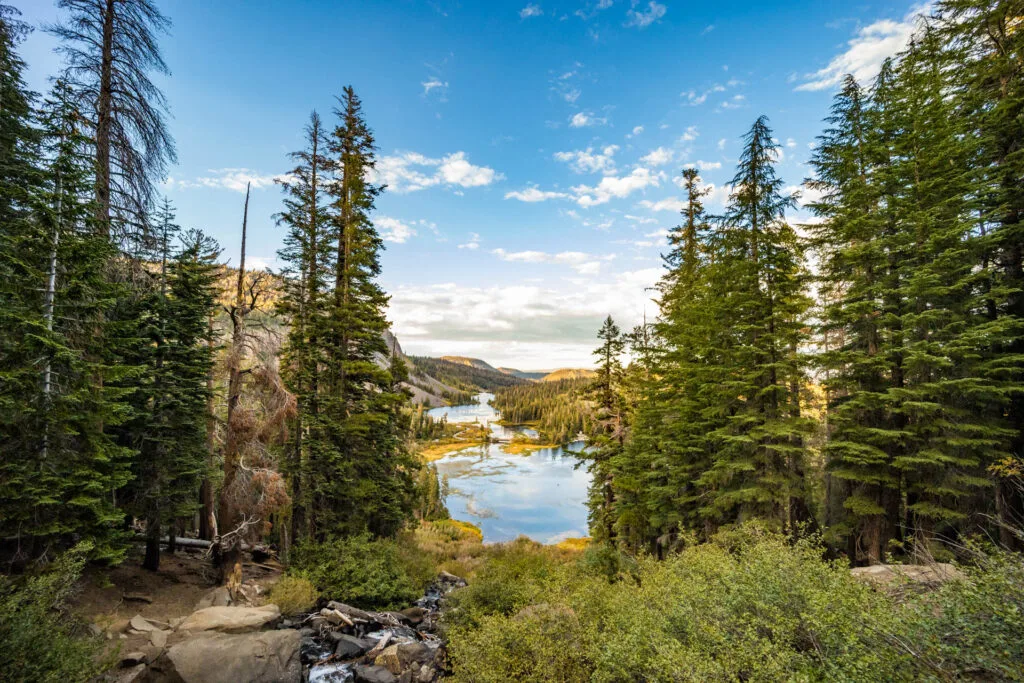 We all know California is practically made for road trips, right? I mean, the coastlines, the mountains, the national parks! But the coastal highway gets all the love (for good reason; we've driven it ourselves). So we set out to explore a bit more of the state on an inland northern California road trip for the ages. And trust us when we say there's plenty of adventure to be had.
Tip: We recommend you take two weeks to complete this road trip. And If you're flying in, wanna rent an RV? Check out RVshare for an easy and accessible way to explore California via drivables or towables.
California Road Trip: El Dorado County
Known as Gold Country, This is where gold was first discovered in California. And you can learn all about it while you explore the rivers and trails around the area.
Play
El Dorado County is huge. It stretches all the way to South Lake Tahoe! But we stayed west to play in Placerville and Coloma, which are full of history, adventure, and loads of agricultural tourism (so if you like wine and apple-picking, this is your place.)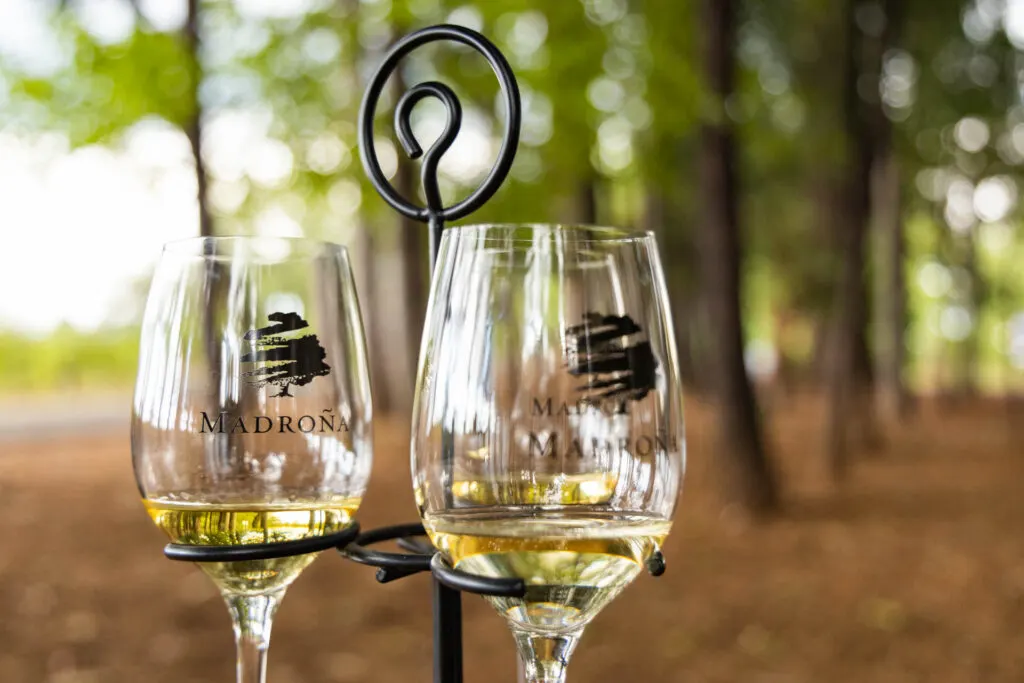 We started at Madroña Vineyards where we learned all about the small, family-operated winery and I finally discovered a wine I would actually drink. Mind. Blown. Plus we learned all about the area and how the farmers have come together to protect the agricultural landscape so the Apple Hill region (as it is aptly named) will stay that way for years to come.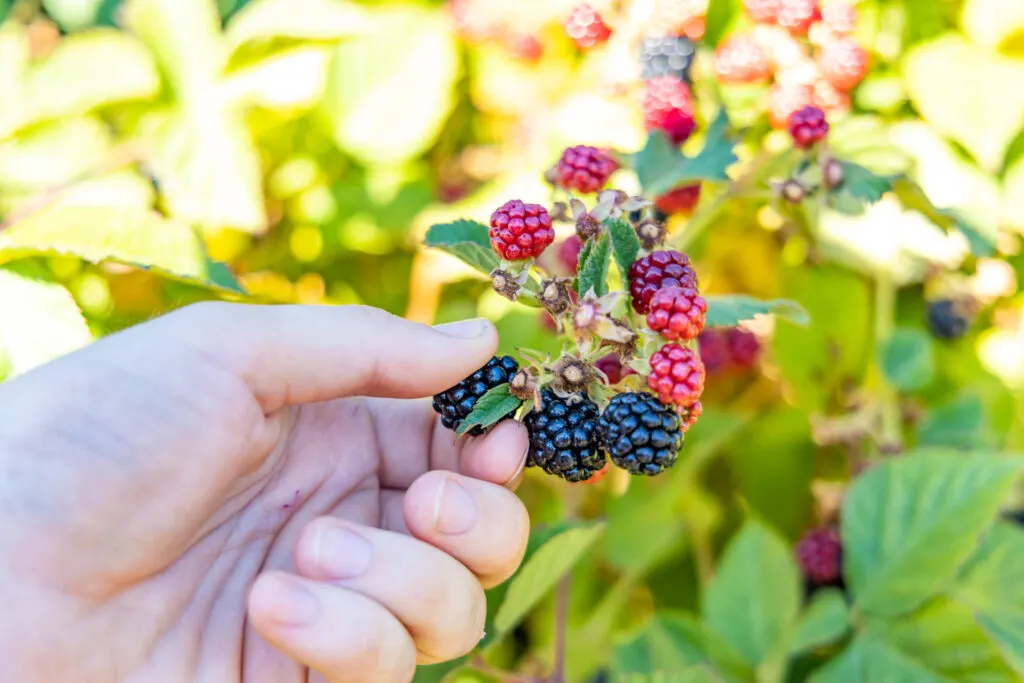 Surrounding the area are fruit stands and U-pick farms, including our favorite, 24 Carrot Farms, an organic operation where you can pick your own produce, buy oodles of it from the stand, and pick your own flowers! They also partner with a local organization to provide local low-income families with fresh fruit and veg at no cost to them! Win.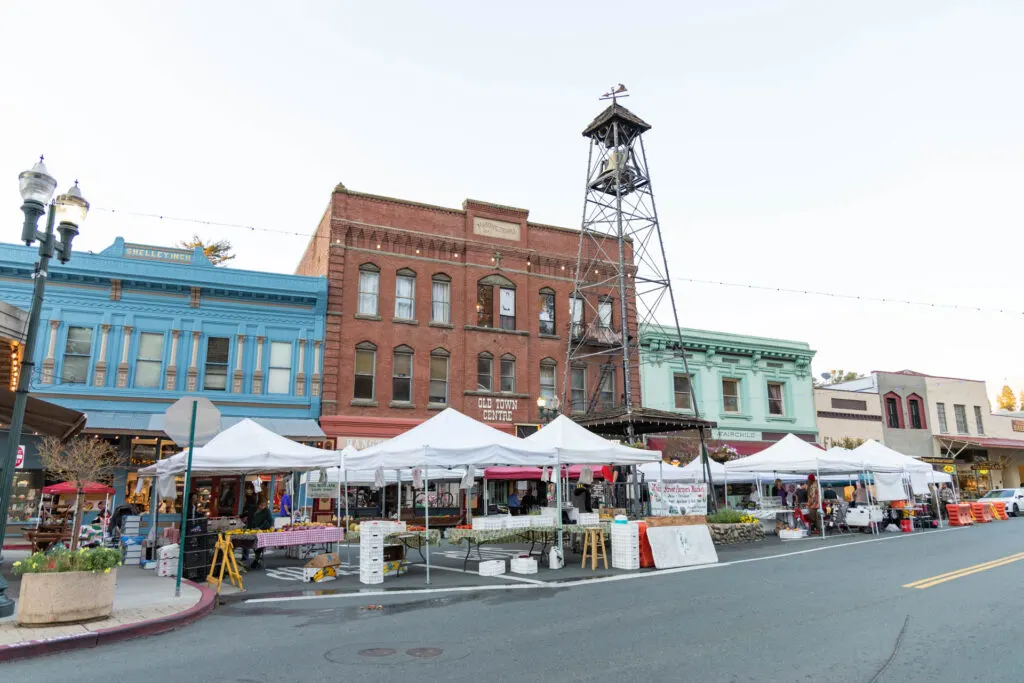 Afterward, we perused Downton Placerville where all manner of shops, including zero-waste stores, used bookstores, and quirky shops line the street. And on Wednesday evenings in warmer seasons, the farmers market is a great spot to stock up on locally made goods, peaches, figs, you name it.
When you're ready to play outside, Coloma is home to the South Fork of the American River and tons of whitewater rafting. If want to get your adrenaline pumping (we highly recommend it), book a trip with Mother Lode River Center. Why? Because they put education and conservation first and recreation second. They teach all ages about the importance of protecting the river and its surrounds, how the ecology is intertwined with every action we take, and they advocate locally and beyond for river protections.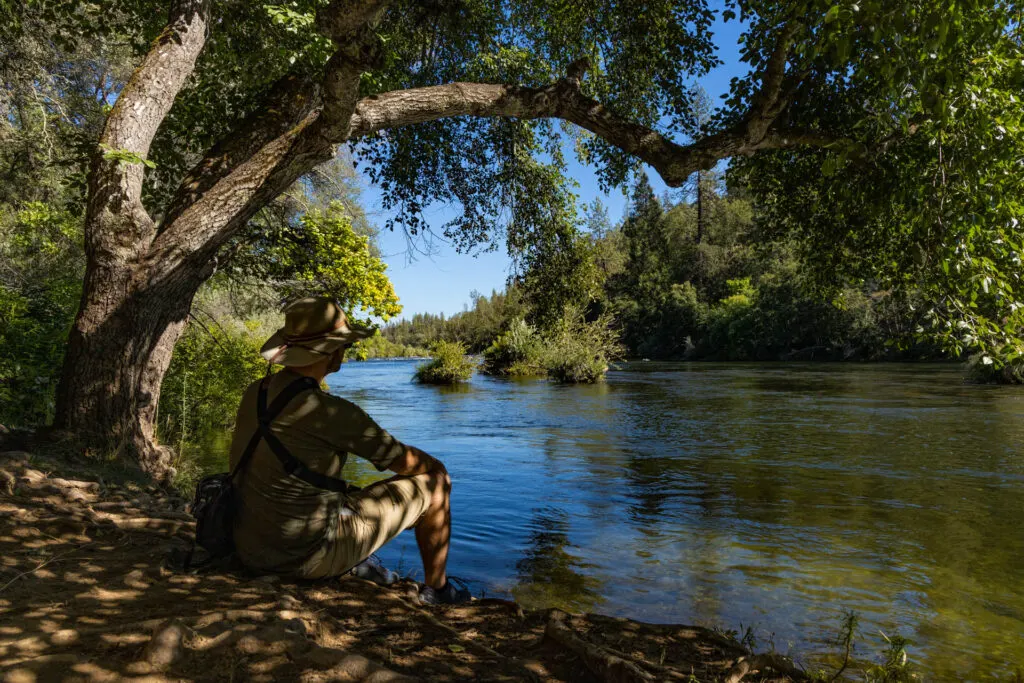 In the afternoon, head to Greenwood Creek for an easy hike along the water and through wide open meadows. Then head to Coloma to hike around and explore the history of the area at Marshall Gold Discovery State Historic Park. You'll learn about the place gold was first discovered in California, but also the discrimination and brutal violence perpetrated on the local Nisenan tribe when pioneers flooded in. Spend an afternoon exploring the park and the interactive historical displays and museum.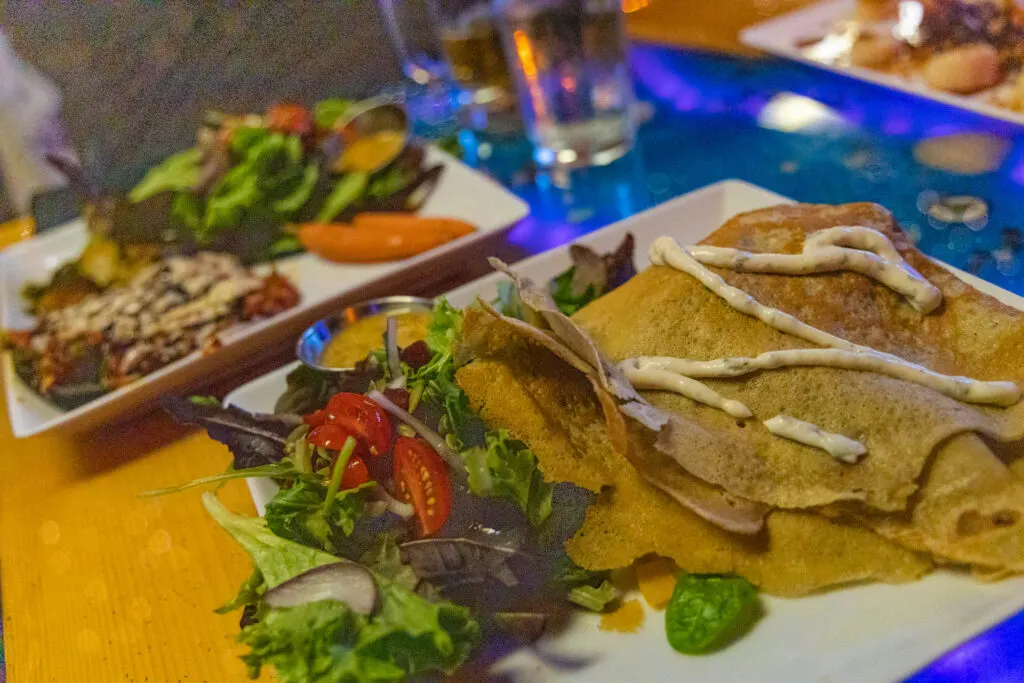 Eat
While we won't say vegan food is in abundance in the western portion of El Dorado County, there's plenty to appease all diets for at least a few days. Enchanted Forest offers an immersive themed dining experience and several delightful vegan options like crepes in a magical indoor forest setting with a million fairy lights. Just two doors down, the same folks operate a pasty shop with three vegan pasty pie options.
Brick's features a few filling vegan menu items plus a slew of inspired cocktails, and the Placerville Food Co-op down the road has tons of snacks, grab-and-go items, even vegan jerky if you want to stock your cooler or your daypack. When it's time to caffeinate, head to Pachamama for coffee. What's so special about this cafe? For starters, oat milk is the default milk option and they don't charge extra for it (!!!). But they also have vegan donuts. Just make sure you get there early before they sell out.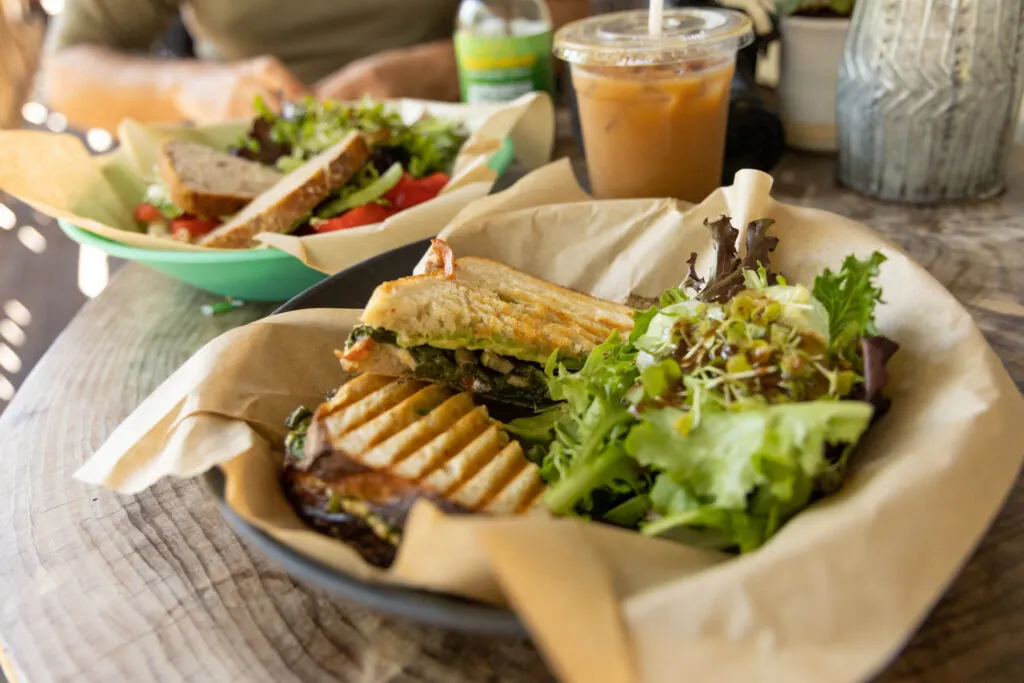 In Coloma, the only real option is The Argonaut Cafe, but it's a good one. With several vegan lunch and breakfast offerings, plus specialty snacks, treats, and beverages, it's the hip, tasty hot spot in town. Bonus: it's conveniently located in the state park (you don't have to pay to get into the park, just to park in certain lots) so you can get your grub on before or after exploring.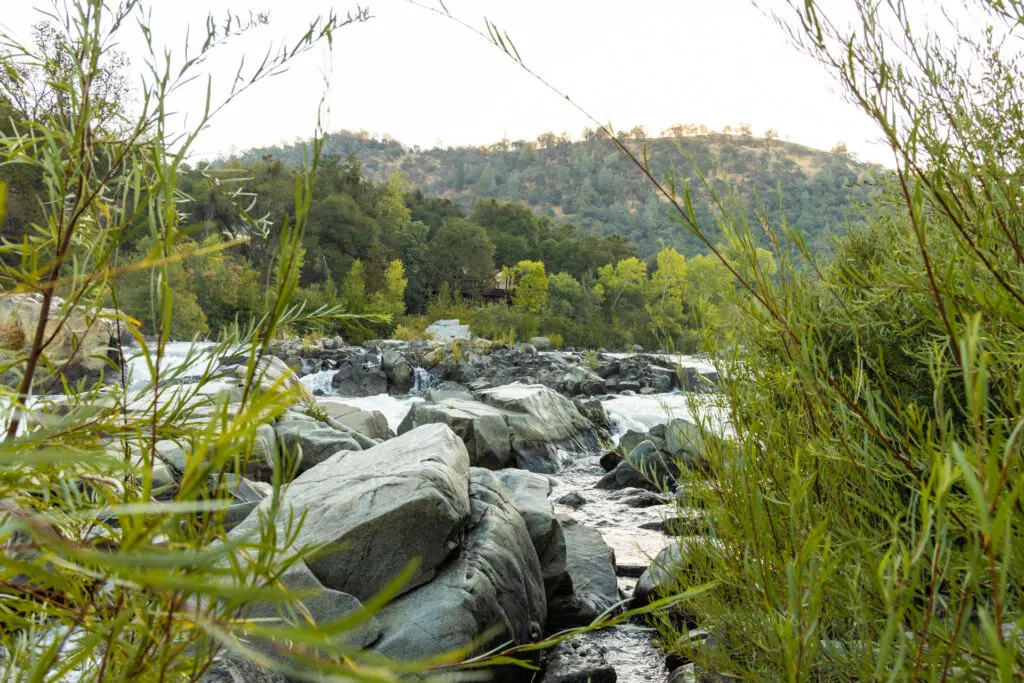 Stay
There are plenty of places to stay nearby, but we crashed at American River Resort. There is a campground if you brought your tent, but also riverfront cabins if you want a full kitchen, shower, and a deck with a view.
---
California Road Trip: Tuolumne County
If you're familiar with Yosemite, Tuolumne likely sounds familiar. That's because that's where the National Park is located. But there's much more to the county than Yosemite.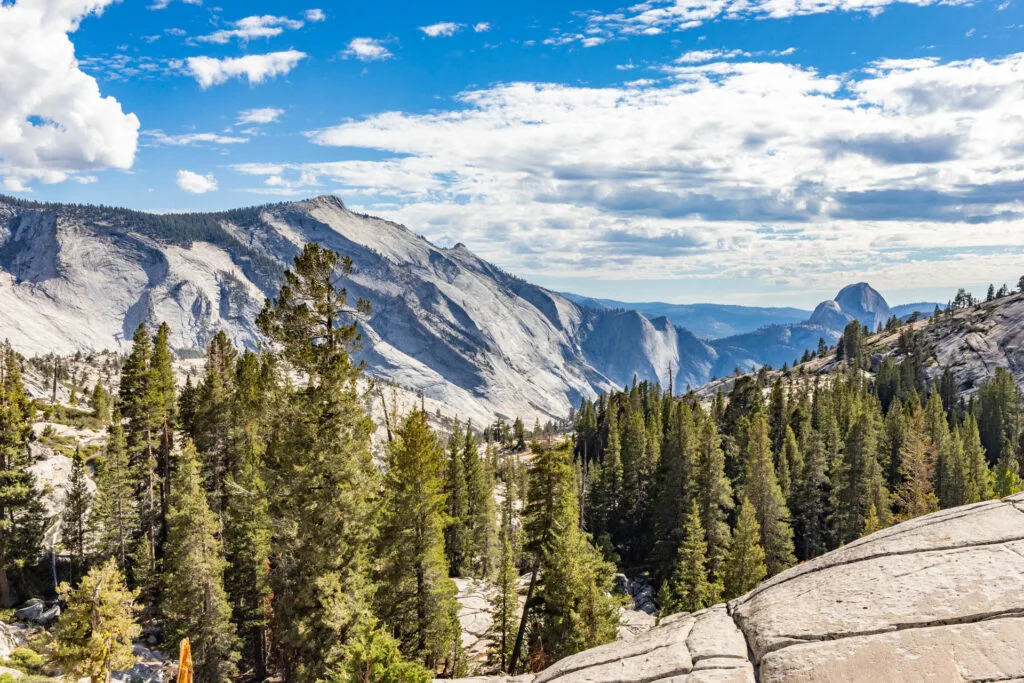 Play
Obviously Yosemite is the heavy hitter in Tuolumne County and shouldn't be missed on a Northern California road trip itinerary. And if you want to explore the national park, we highly recommend it (don't forget to make a reservation). The Yosemite Valley entrance is the most popular (for good reason–we've been there a couple times), but Hetch Hetchy and Tuolumne Meadows offer equally impressive hikes and views and waaaaay fewer people.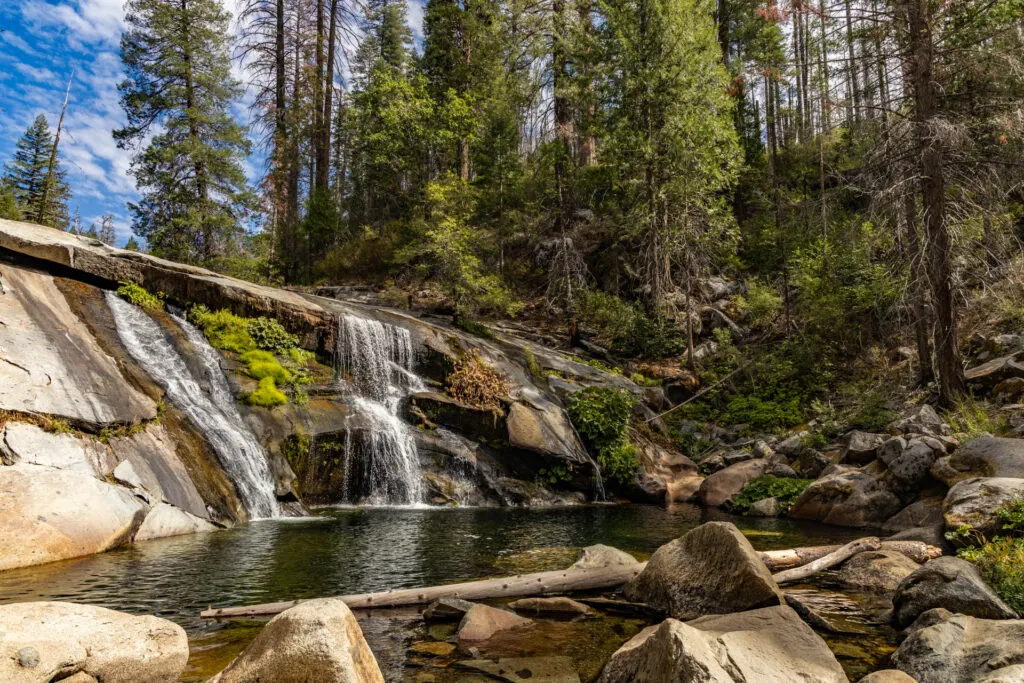 Outside the park there's plenty to do, too. Hikes abound, and one we highly recommend is Carlon Falls for a fairly easy wooded stroll through the Yosemite Wilderness to a stunning and picturesque waterfall that's also perfect for a brisk dip (or just a picnic).
Want something more adrenaline-forward? Rent bikes from Echo Adventure Cooperative (it's also a great place to buy gear you forgot or stock up on electrolytes) and head to the Ferretti Trail Network for well-groomed mountain bike trails suitable for all skill levels. You may even spot the trails' builder and tireless advocate, Dwight, while you're out there! We did!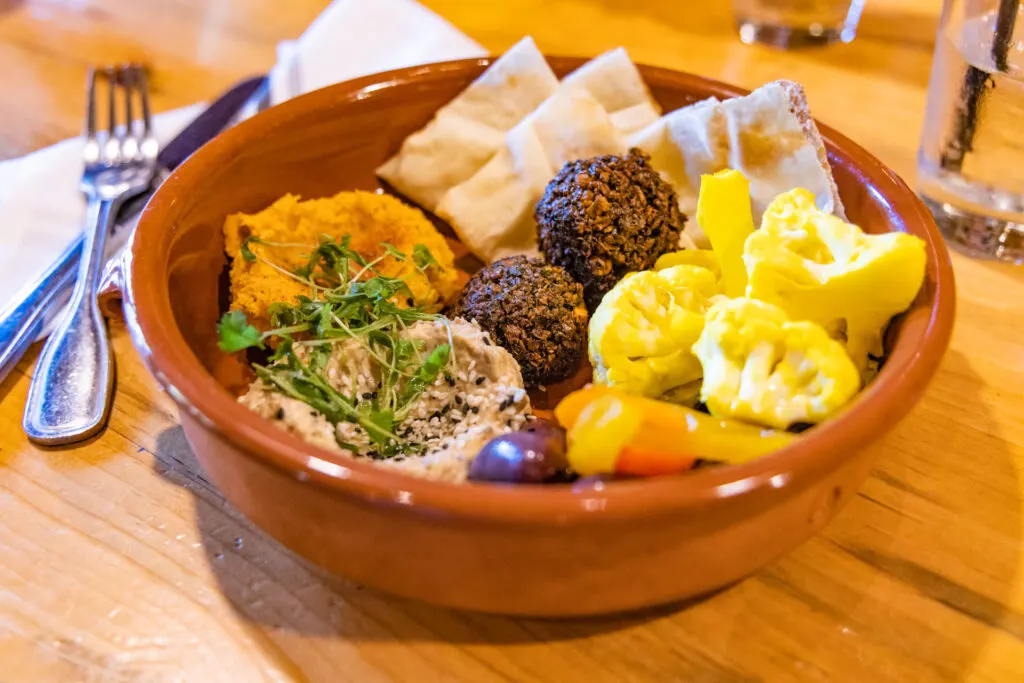 Eat
Again, you'll have to hunt to find vegan food, but it is available. On your way through Jamestown from Placerville, stop for a beer at Bear Tent Brewing. Then head over the pass to Groveland to dine at The Grill at Pine Mountain Lake. The tavern at Rush Creek Lodge is also a solid option and you can wash down your meal with a craft cocktail. Grab brekky or lunch to go at the lodge shop.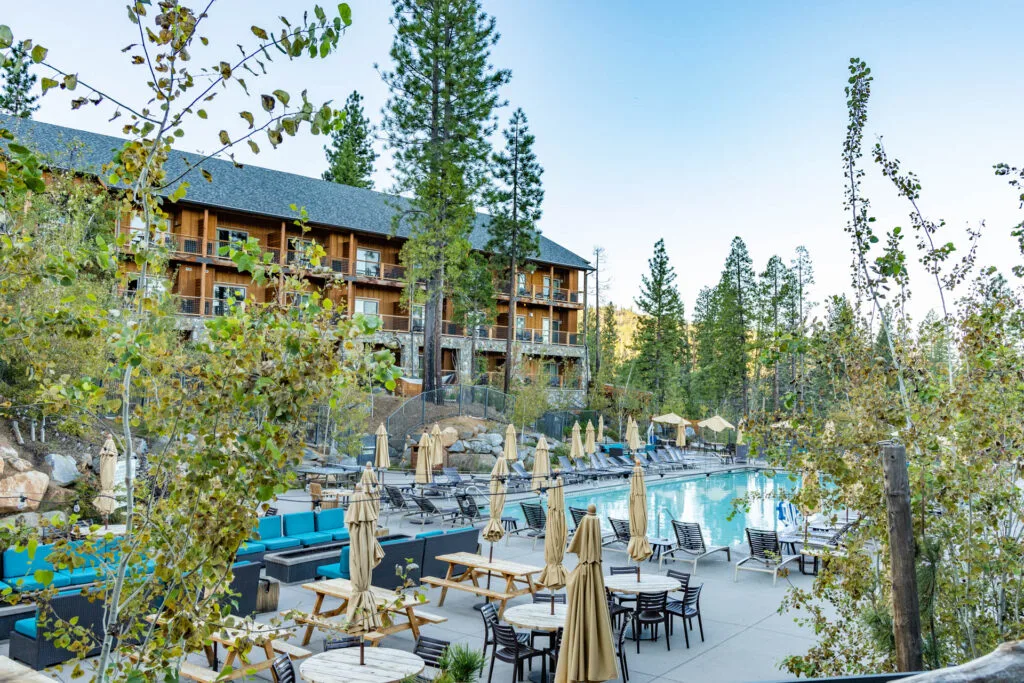 Stay
If you wanna treat yo' self, there's no better place than Rush Creek Lodge and Spa. Bonus: they take sustainability seriously with refillable toiletries in the bathroom, they recycle grey water from showers and laundry to water the garden, offer bike and paddle board rentals, have hiking trails on property, and the spa even offered free foot soaks for folks participating in local Yosemite Facelift cleanup events (that was us)! The sister property, Evergreen Lodge, is an equally good option.
---
California Road Trip: Mono County
After you drive through Yosemite's Tuolumne Valley and exit through the Tioga Pass entrance, you'll be in Mono County, so get ready for some epic hikes with stunning views. It may not look like much at first glance, but trust us, as soon as you head into the Sierras, it's a whole different world.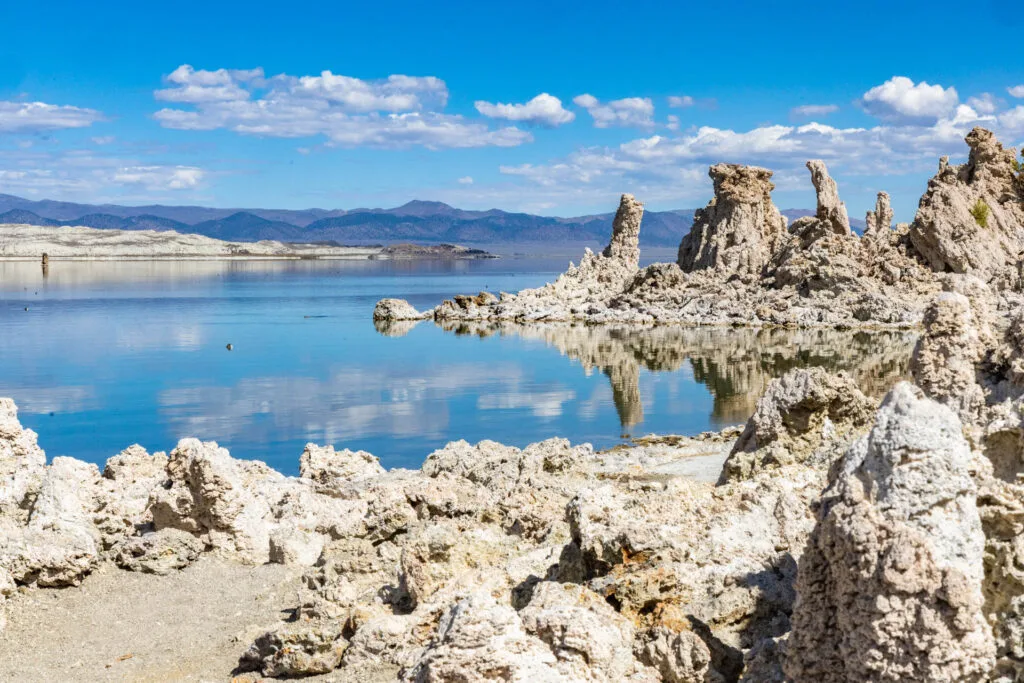 Play
Start by exploring Mono Lake's shoreline, specifically the unique geological structures called Tufa. Similar to stalagmites in caves, they are the result of calcium-rich spring water bubbling up into the carbonate-rich lake. These minerals combine, forming crazy calcium-carbonate structures that stand tall out of the water! And they're highly photographable.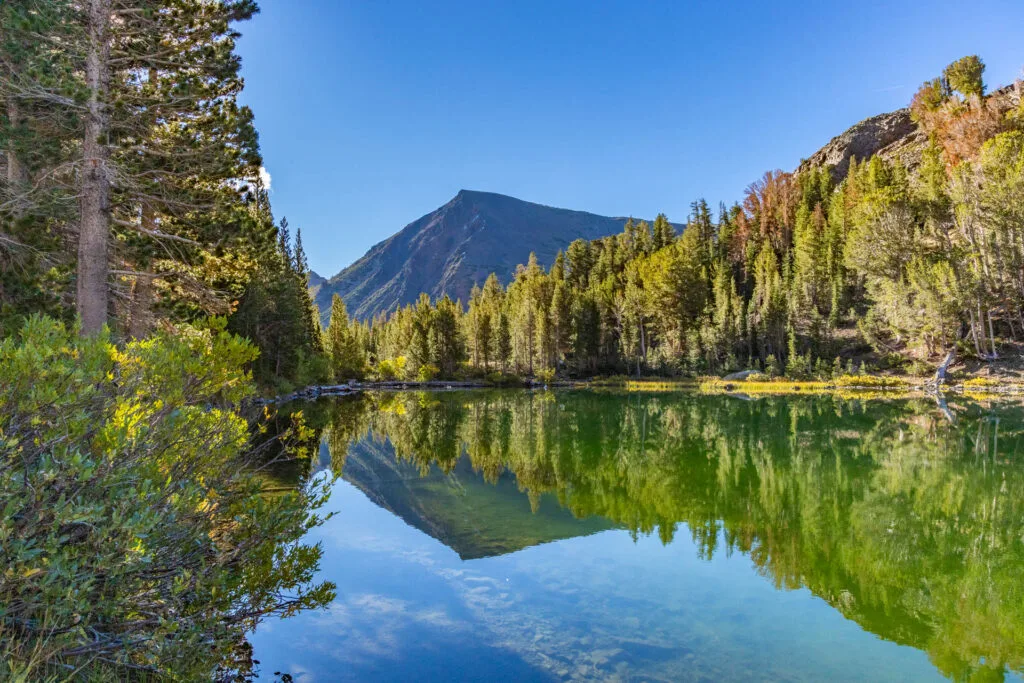 Then, head to Virginia Lakes. Part of the road in is gravel, but a parking lot at the end is a great place to start a hike around the picturesque string of lakes. This area is definitely worth exploring whether you have an hour or three. If you're heading farther north toward Bridgeport, Twin Lakes is a lovely place to watch the sunset.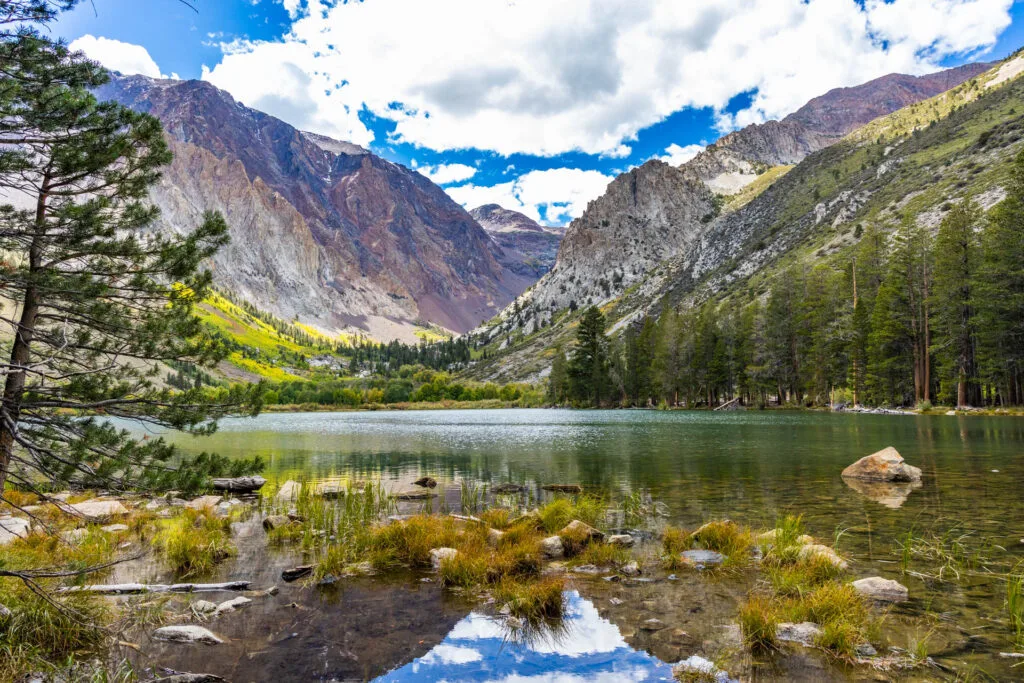 But if heading south, make a bee-line to Parker Lake. A longer gravel road leads to a parking lot and trailhead for a hike that's simply a can't-miss. This trail and the views are bananas. Pine trees, creeks, mountain vistas, and views for days. And at the end of the 3.6-mile roundtrip trail is a picture-perfect alpine lake. So bring a picnic, a hammock, a book, whatever, and stay a while.
Further down the road is Mammoth Lakes, one of the larger towns in this region and one you shouldn't miss on a Northern California road trip. Because in addition to being a hugely popular ski destination, there are hiking, mountain biking, even snowshoeing trails weaving all over the area. One long multi-use path is even paved. Seven lakes await kayakers and beach-goers and Minaret Vista offers stunning sunset views.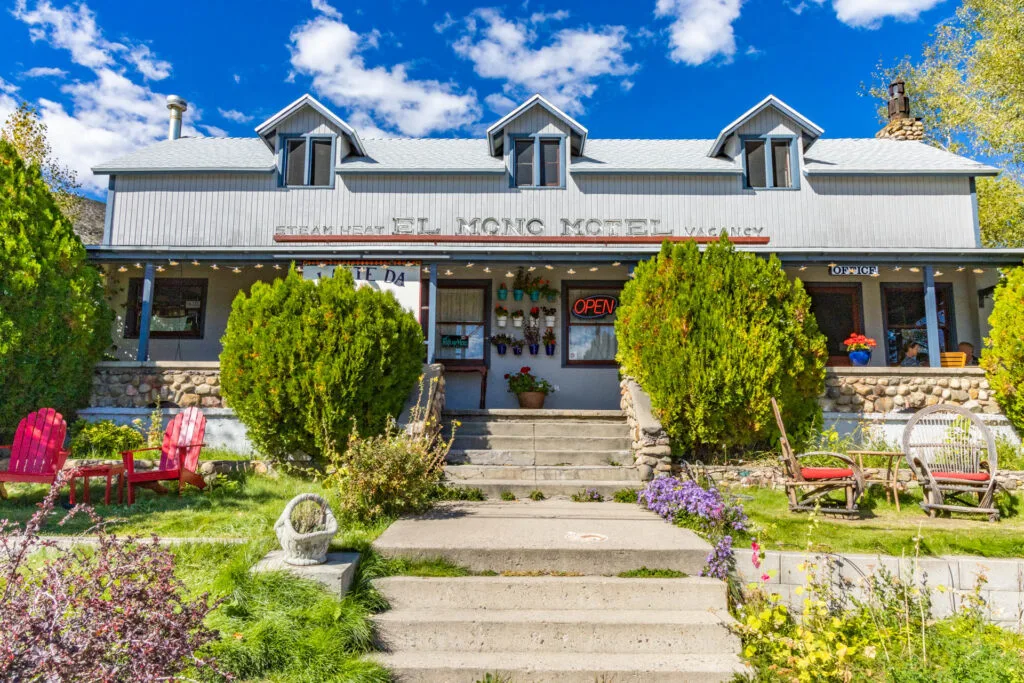 Eat
Pop by Latte Da Cafe for a vegan sandwich, baked goods, and coffee, then take a minute to sit on the lush lawn and enjoy the view from the shade. Bright colors and treats make it super inviting. In June Lake, grab a juice or healthy bite at Hermitage Organic Juice Bar. Just make sure to check the schedule first as they're closed on certain days.
In Mammoth Lakes, D'serted offers tasty conventional and vegan/GF baked goods and you should definitely grab a drink and a bite at Shelter Distilling (vegan pizza and apps ftw)!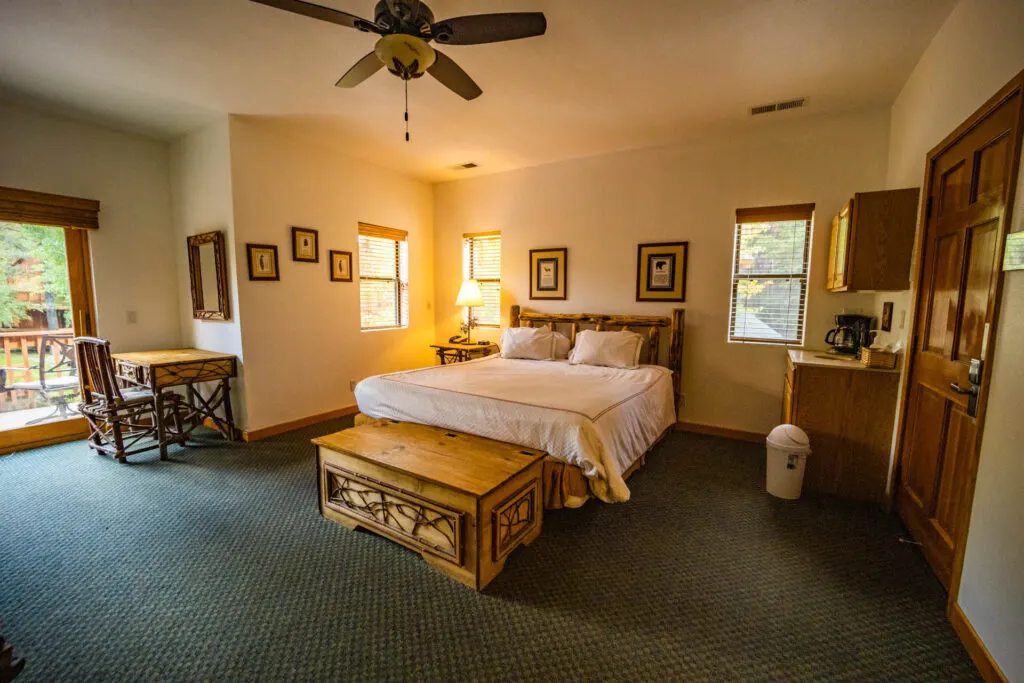 Stay
If you want to camp out close to Mono Lake and the entrance to Yosemite, we loved the El Mono Motel. It's also home to Latte Da Cafe (see above) and offers simple rooms, some with shared bathrooms, some with their own, and has a bright, lively, distinctively European hostel vibe that we adore. And the gardens are a great place to relax and enjoy a cappuccino whether or not you're a guest.
Closer to Mammoth Lakes, Double Eagle Resort is a lovely destination in June Lake with it's own pond, lovely landscaping, and cabin-inspired rooms, each with their own balcony. They are spacious and comfortable and centrally located to plenty of outdoor activities.
---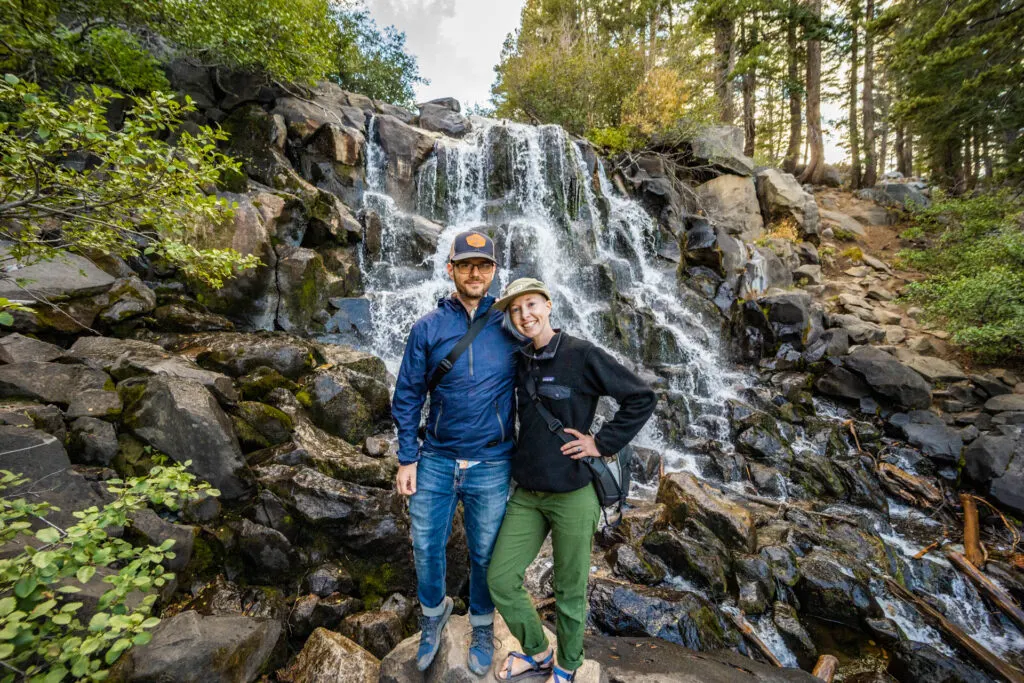 Bottom Line
This Northern California road trip offers a world of wonders from national parks to gold rush history to adventures of all kinds, including mountain biking, skiing, hiking, rafting, backpacking, you name it! So next time you head west, head inland for an unparalleled outdoorsy experience.
•
This post contains affiliate links, which means when you make a purchase, we may receive a small commission. The best part: you help support this channel and it doesn't cost you a penny. This post is also partially sponsored by RVshare.
Alisha is a freelance writer and photographer based in Austin, TX. She loves her tiny house, vegan food and experiencing the community of travel in far away places. She's also pretty sure she's addicted to coffee. alishamcdarris.com