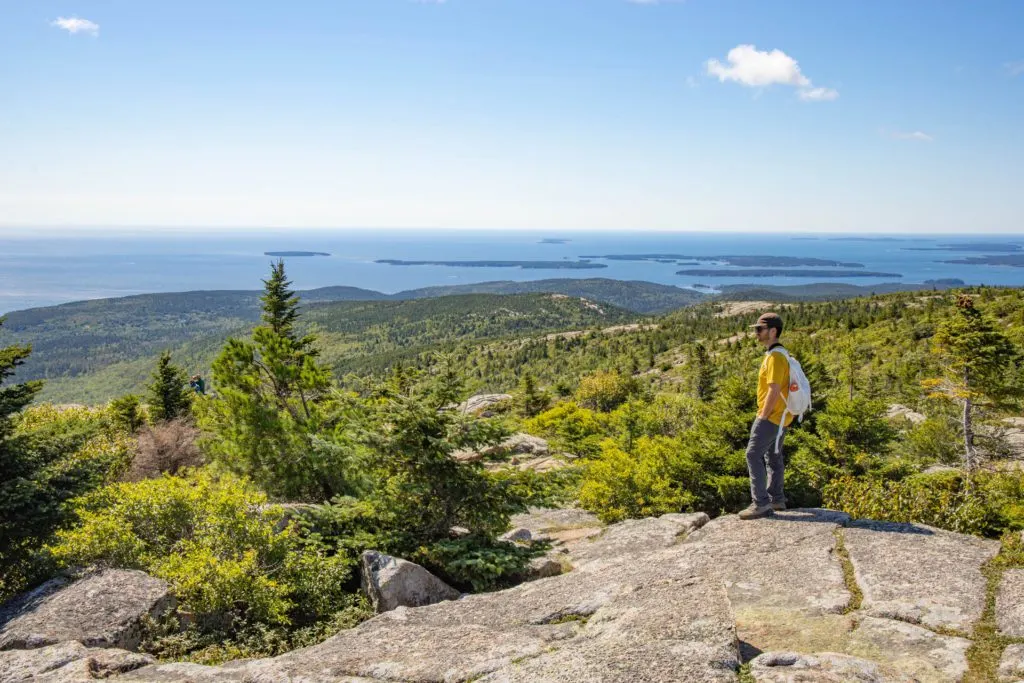 Heading to Acadia National Park for the first time? Not sure where to start or what to expect? We feel you. We were wondering many of the same things not long ago. But since we were road tripping around the northeast, we figured we owed it to ourselves to visit the "Crown Jewel of the North Atlantic Coast." So we did! And here's what we learned.
Now, I'm far from an expert on Acadia. I mean, I only spent five days there, after all, but here are a few things that would be especially helpful for first-time visitors, so here ya go.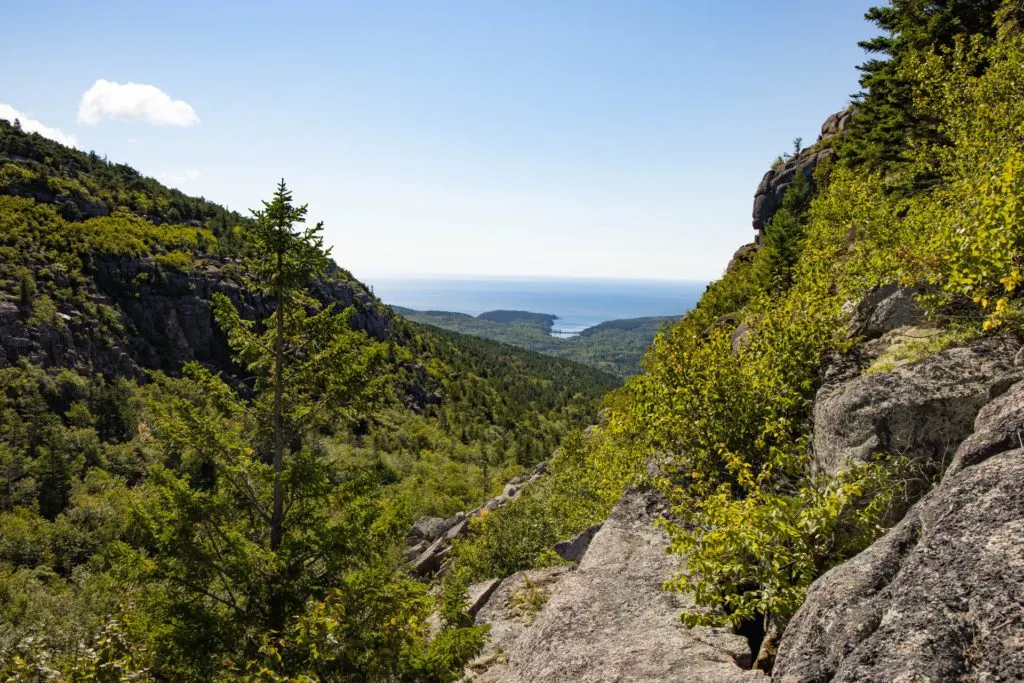 How Much Does it Cost to Visit Acadia?
There's a $30 entry fee per vehicle. The pass lasts for a week. But we recommend you get an $80 annual pass that gives you access to all the national parks for a whole year if you think you might visit two more parks in the next 12 months (we plan to visit at least 6 this year)! You can pre-order passes here. (Pst…we love national parks…)
Is Acadia Open Year Round?
Kinda. But not most services. In fact, campgrounds are only open from May or June through mid-October, as are some beaches and picnic areas. Paved roads are only open from mid-April to the beginning of December and stores, services and visitor centers are all closed by the end of October. That said, the areas that do remain open year round offer excellent winter-weather activities. Check seasonal info here.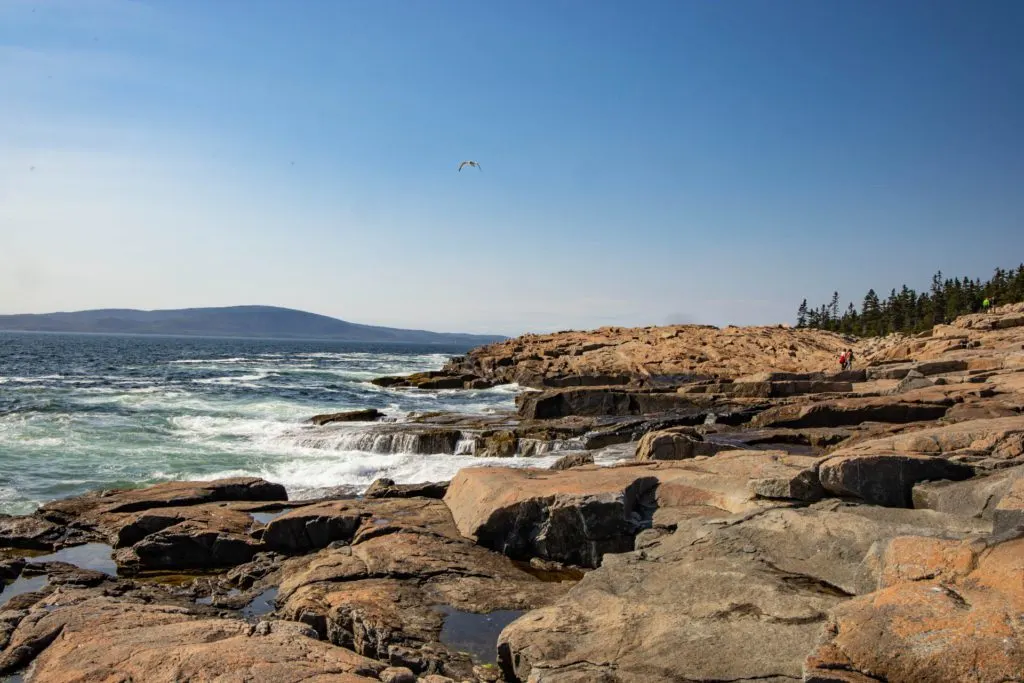 Acadia National Park Geography
For starters, there are three main areas of Acadia National Park: Mount Desert Island, Schoodic Peninsula, and Isle Au Haut.
Mount Desert Island is the most popular destination by far. Like, BY FAR. As in, overrun with vehicles and visitors. It's the island where Bar Harbor is located (just outside of park boundaries), which is full of quaint shops, restaurants, bars, and fancy inns. Mount Desert Island is also where most tour companies operate, where most of the park's hiking trails are, and home to the largest campground.
There are also two (let's call them) lobes of Mount Desert Island with parkland. The eastern lobe is the more popular one, and the western lobe is where you'll find Seawall Campground, a fair number of hiking trails, and an abundance of two-way roads.
Schoodic Peninsula is often referred to by those who know as "The quiet side" of the park. It's a good hour and a half drive from Bar Harbor (or a seasonal ferry ride), so most people don't even bother, but it is still home to some good hiking trails, coastal drives, quirky small towns, and a nice campground.
Isle Au Haut island is the smallest part of the park and is only accessible by passenger ferry (read more about that here). It's the place you want if you really want to get away from crowds entirely. There is one small campground and a few short hiking trails on this island and it's as close to backpacking as you'll get in the park. Speaking of…
Can I Backpack in Acadia National Park?
Short answer: no. There is no backcountry camping in Acadia. It's actually a pretty small park. That said, for an experience similar to backpacking, consider visiting Isle Au Haut. There are no amenities or supplies on the island, so it's very much like backcountry camping, just without most of the hiking.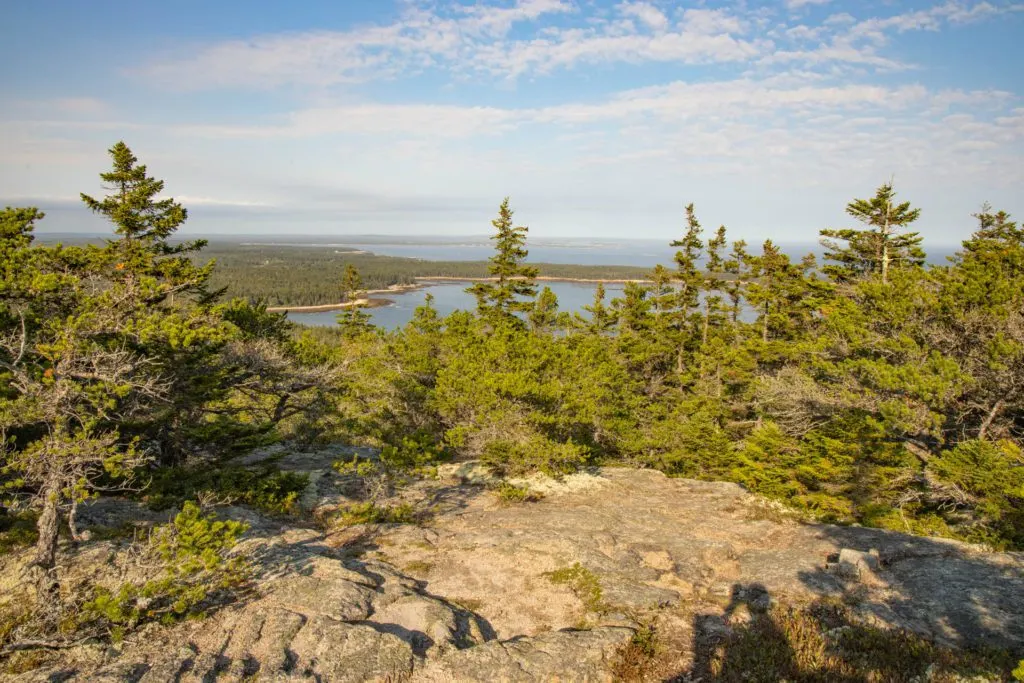 How to Get Around Acadia National Park
Much like many national parks, coming prepared for how you're going to get from place to place and setting expectations is important. Let's get this out of the way right off the bat: Acadia is one of the five most visited national parks in the country. My guess is that it's because sure, it's beautiful, but it's also the only national park north or east of Shenandoah, meaning it's the only one that anyone who lives in the northeast has got, so it's the one they go to.
But reasons aside, it's supremely busy from spring through fall. And that means the roads are practically guaranteed to be lined with cars and parking lots full all day every day. We visited on a weekday after Labor Day weekend and were still floored by the number of people and cars.
So yes, obviously you can drive around the park, but note that much of the 27-mile Park Loop Road is one-way, so don't think you're just gonna turn around and keep circling until you find a parking space. You should expect to drive slowly, make way for lots of cyclists, and park a mile away from the trailhead you want to visit, especially if you plan to get there after 9am.
Also important: for most of the season, you need a reservation to drive up the Cadillac Summit Road. If you didn't make a reservation in advance (you can't make it day-of), then you'll have to hike up it instead. Which we recommend, anyway. Totally worth it.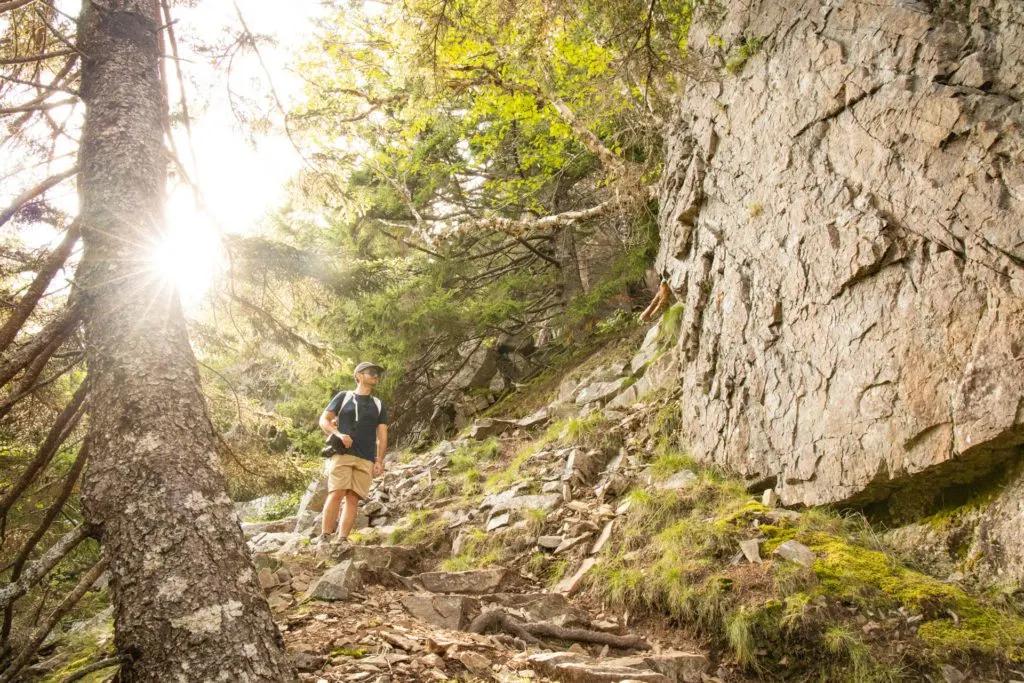 Don't want to deal with parking or traffic? Good news: there are free Island Explorer bus shuttles that run the loop road seasonally and will stop at most of the popular trailheads and viewpoints. So yes, you can ditch the car and let a free bus shuttle you from place to place.
As for Bar Harbor, plan to circle the small town approximately 27 times in order to find a place to park. And then plan to spend $27 on parking. Ok, I exaggerate. But there's no such thing as free parking in Bar Harbor. It's ALL metered. And I'm the queen of finding free parking. So be prepared.
On the Schoodic Peninsula, the road is still one-way, but the peninsula is smaller, so it doesn't take as long. And since there are far fewer people, you're much more likely to park wherever the heck you want no matter what time of day it is. We never had a problem parking within a two-minute walk of where we wanted to be.
If you prefer to visit in the winter, many services and stations will be closed, including most of the Park Loop Road, but you can still hike, snowshoe, cross-country ski, even snowmobile in many areas!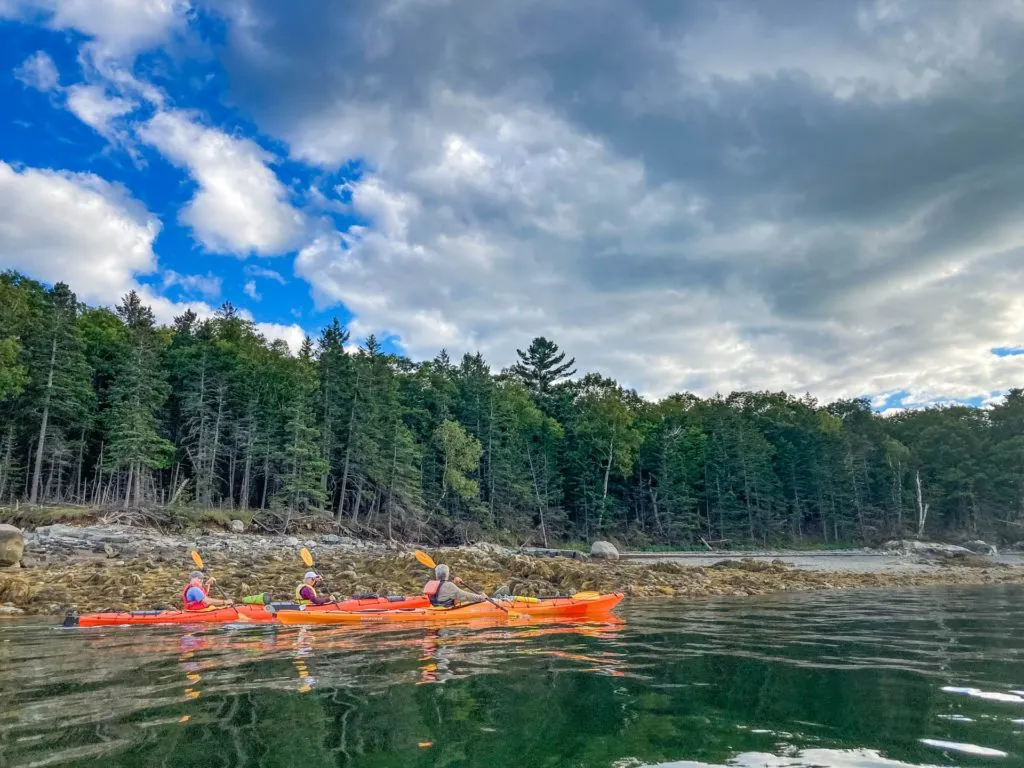 What is There to Do in Acadia National Park?
Camp. You should definitely camp. There are several campgrounds available for reservations (and you'll want to reserve as far in advance as possible if you're going in the summer). Check out the camping options here.
Hike. You should absolutely hike in Acadia. As much as possible. We loved the Gorge Trail and Cadillac North Ridge Trail to Cadillac Mountain and the Gotham Mountain trail on Mount Desert Island and the Anvil Trail to Schoodic Head on the Schoodic Peninsula. On the latter trail we had the whole summit to ourselves the entire time we were up there, at least 15 minutes, plus the whole peninsula offered, stunning views of rocky coastlines, beautiful forests, and was so far from overcrowded it was amazing. Find the perfect hike here.
What else is there? There's plenty of shopping and dining (and drinking) in Bar Harbor, including some solid vegan options (like Reel Pizza Cinerama and Lampoc Cafe).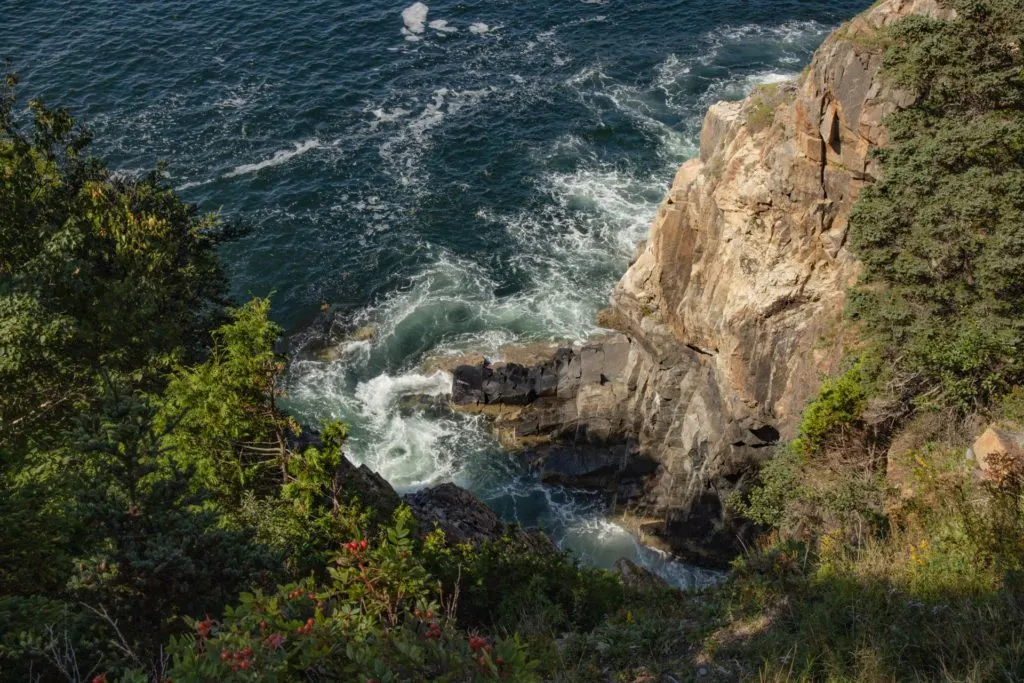 You can also take a kayaking or cycling tour out of Bar Harbor. We went on a half-day paddle tour with Coastal Kayaking Tours and spent four hours paddling six-ish nautical miles around islands, across the bay, took a break on Rum Key where we explored for a while, and learned about the history of the area and the park and much of the wildlife that lives there. It was lit. You should go. Find out more about Coastal Kayaking Tours here.
You can also rent a bike or bring your own and pedal around Bar Harbor or the entire peninsula. The Park Loop Road is a bit hilly, but a stunning ride. If you prefer to go off-road, there are gravel carriage roads for biking, walking, and horseback riding.
On the Schoodic Peninsula there's more hiking, biking, carriage roads and wave-watching, but you can also visit the Schoodic Institute to learn about scientific studies within the park, the local landscape, and the programing the center offers to students young and old.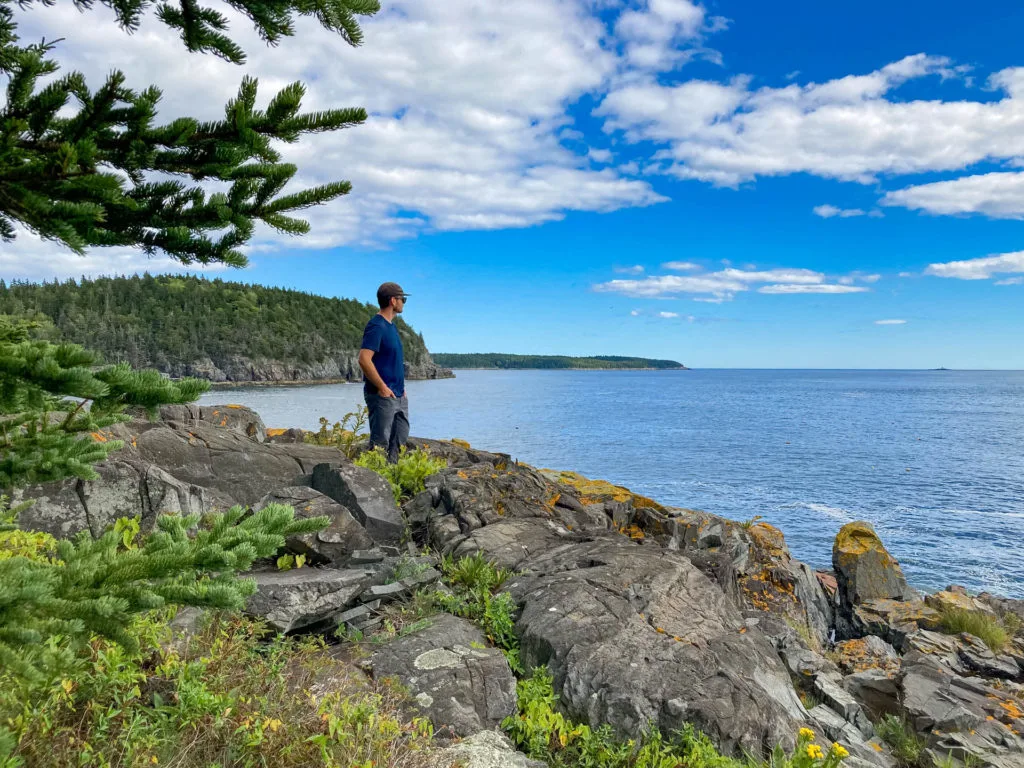 Tips for Visiting Acadia National Park
Ready to hit the road and explore? Here are our tips:
Get started early. If there's a hike you really want to do or a sight you really want to see, get there as earl in the morning as you can. Like, 9:00 is probably too late for the more popular spots. Aim for 8:00 or earlier to guarantee you get to park where you want and the area isn't overrun with other visitors.
Have a backup plan. As in, if you get to a trailhead parking area and there is a line of cars a mile long parked down the side of the road, be ready to earth walk and extra mile or pick a new trailhead. Preferably not one back in the direction you just came from (one-way roads, remember?).
Spend at least two nights. Anything less and finicky weather or overcrowding could really put a damper on your visit.
Head to Schoodic. Seriously. Mount Desert Island is great, but we would argue that not only is Schoodic just as (if not more) stunning, it's less stressful. So chill and explore the "Quiet side." We saw bigger waves and fewer crowds.
Now start planning your Acadia visit and wander on!
Alisha is a freelance writer and photographer based in Austin, TX. She loves her tiny house, vegan food and experiencing the community of travel in far away places. She's also pretty sure she's addicted to coffee. alishamcdarris.com