Prague is a beautiful city. Beautiful architecture, beautiful castles, beautiful streets… but it's also swimming with tourists. And I mean swimming. They're everywhere. You can't turn around without running into another traveler or tourist (mostly tourists — and yes, there's a difference). Is it still worth a visit? Absolutely. And fortunately, there are enough free things to do in Prague to keep you occupied for at least a few days.
Public Transportation
Prague has great public transit. Buses, trams and metro are all well maintained and easy to use. One ticket grants you access to all forms of transport and stops and signs are easy to find. Buses, trams and metro even all have really intuitive screens that not only tell you what stop is coming up, but the next four or five stops ahead, too. All stations operate on the honor system and we didn't see anyone ever checking for tickets, but tickets are cheap, so just buy them, OK?
Public Transit in Prague: Tickets can be purchased at newsstands and similar shops and convenience stores. You can purchase one 30-minute ticket for 24 koruna ($1.10), a 90-minute ticket for 32 ($1.45), a day pass for 110 ($5) or a three day pass for 310 ($14). You'll pay more if you try to buy it on the bus and you'll have to have cash. We went for the three day pass just because we thought it'd be easier, though after we did the math before we left, it would have been about as much to just buy a bunch of single tickets.
From the airport: Getting to the center of Prague from the Prague airport is relatively easy. There are multiple buses that run into the city (The 119 will take you to Metro line A and the 100 to Metro line B) and an Airport Express that goes straight from the airport to the main train station and from there you can get a train or bus anywhere. The express bus is 60 koruna ($2.70) and a normal city bus that takes a bit longer is just 32 ($1.45).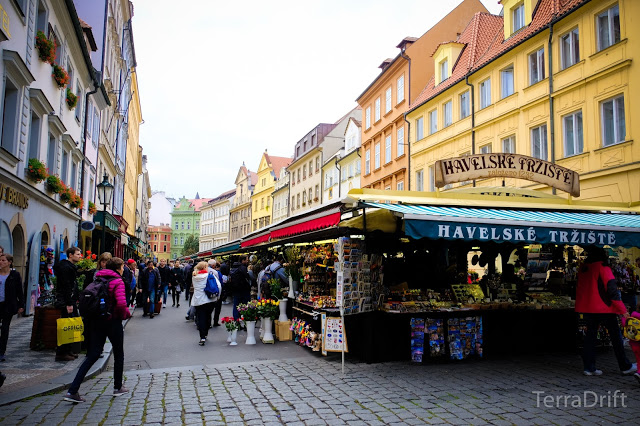 Free attractions in Prague
Visiting Prague on a budget? Fear not. There are plenty of things to do that don't cost a thing.


Take a free walking tour: There are plenty to choose from, just do a Google search. Or make it easy on yourself and just show up for a Sandeman's Free Walking tour. Wear comfy shoes, 'cause you'll be walking for like, three hours, but you'll learn a lot about the history of the city, and at the end you can pay whatever you think the tour was worth. So, technically free, but a couple bucks won't kill you. We did these in many cities, including Berlin and Brussels.
Marvel at the Astronomical Clock:
Or don't. Apparently, it's in the top three most disappointing monuments in Europe, but I'd have to disagree with that one. You may have heard that little people pop out and move around, but don't hold out for anything too exciting: the movement is limited. But take a few minutes to examine the clock itself; all those parts telling time, the phase of the moon, the position of the earth around the sun, it's a pretty impressive feat of science and art. There will be a million people crowded around every hour, though, so be prepared.
Visit the Prague Castle Complex:
The Prague Castle Complex is the largest in the world. And it's not a bad place for a wander in the morning. You'll go through a security check to enter, but it's free to take a stroll around the expansive gardens, gaze up at the cathedrals and castle walls, and read up on local history. The exhibits and many of the building charge exorbitant entrance fees, but wandering between them all doesn't cost anything and it totally worth it.
Take in the view:
For the second best view of the city (the first one from the observation tower isn't free), walk to the top of
Letenské Sady
(or Letná park), near that big weird sculpture of the metronome, and take it all in. On a clear day you can see pretty far.
Play all day at Hamley's: I don't care if you're 5 or 50 — who doesn't love a toy store? And this one has a slide and everything! A slide! And toy demos. And life-size stormtroopers. And a merry-go-round! What's not to love? Need an afternoon pick-me-up? this is the place.

Walk across Charles Bridge: We saw this bridge from a distance first and were all, "OK, it's a bridge. What's the big deal?" But walking across it from one side of Prague to the other was actually a little bit cool. There are sculptures, lots of photo ops, and some pretty good views. Go at night, too, to see everything lit up along the river. There are usually street artists and performers (as well as people hawking generic crap) along the pedestrian route, so let yourself be entertained.
Wander up Wenceslas Square: Which is actually less of a square and more of a long street with shopping on both sides and a nice public chill spot in the middle. Also there's free WiFi. I know this because I made not one, but two internet calls for articles I was working on from a bench in the square. Handy, no?
Take a snap at Lennon's Wall: John Lennon's face isn't visible anymore through all the layers of graffiti and street art, but I'm told it was actually there once. If you're into street art, the display is constantly changing.
Take a walk up (or on top of) Petrin Hill: You can hike up it if you want, or for the low price of a bus ticket, you can ride the tram cart (and there is someone checking for tickets here). It's a short ride or a long hike up, and once you reach the top, you can walk around the gardens, gaze up at Observation Tower (once again: not free), and enjoy the feeling of being on top of the city.
Visit Kampa Island: While I feel like the term island is a bit misleading — Kampa is more like just another neighborhood that happens to be surrounded by a narrow canal — it's still worth a wander. There's a nice park on the "island" and the buildings along the canal are lovely and there are cafes and restaurants, too.
Admire some churches: Not all are free, but the impressive edifices that don't charge admission include Old Town Square's Our Lady before Tyn and St. Vitus Cathedral.
Czech Museum of Music: It's only free on the first Thursday of the month, but if you happen to be in town you can check out all manner of instruments, music, and more. If you're into that sort of thing. It's located in the Church of Santa Maria Magdalena.
Sit for a film screening: I'm not gonna lie, I'm pretty bummed we missed this one while we were in Prague. Unfortunately, we didn't know it was a thing until we left. But we don't want that to happen to you, so for your edification, the American Center, part of the U.S. Embassy, often shows free independent film or documentary screenings on Thursday nights. I know, right? Check out the schedule and bring some popcorn! Or don't. I'm not sure what the policy is on snacks, actually…
Cheap things to do in Prague:
These things aren't free, but if you're into them, they might be worth it.
Drink: In a bar or from a supermarket, it doesn't matter. Booze is cheap. We bought a bottle of red wine so I could make sangria for one of the sites I write for and it set me back all of $3. A beer from the supermarket cost as little as .50 and if you find a bar or pub that isn't swarming with tourists or hipster swanky, you can order a pint for $1-$2. Now you know why the Czech Republic drinks more beer than any other country. You're welcome. Beer not your thing? Try some absinth from one of the many shops that sell it. You are in Bohemia, after all!
Climb Petrin Tower: Or Observation Tower, as it's often called. Of course, we didn't do this, because, as you may recall from our recent posts on Bruges or Reykjavik, I don't pay to climb stairs. It's still not that expensive at only 150 koruna (or just under $7 per person), but I wasn't feeling it. Fun fact: it not only looks like the Eiffel Tower, because it's on a hill it's at the same elevation as the Eiffel Tower, too.
Investigate the Jewish Quarter: While walking around this small, historic neighborhood is free, there's an admission fee to enter the many synagogues, galley and museum, including a crazy cemetery where bodies are buried 12 deep because once upon a time no one would grant the Jews permission to expand their property. We were actually going to pay the 330 Koruna ($15) for this one, if only to see the graveyard and where the Golem is purportedly hidden away (if that tells you anything about us), but the day we went everything was inexplicably closed (and no, it wasn't the Sabbath).
Listen to the music: There are dozens of concert halls and theaters vying for tourist dollars, practically begging visitors to buy tickets to hear orchestras perform classical composers like Mozart, Bach and Vivaldi. But your best bets are The National Theatre, Estates Theatre, and State Opera (tickets for which can all be purchased from the same site), for starters.
Visit a, uh, unique museum: If you've got 30-60 minutes to kill, 250 koruna ($11) burning a hole in your pocket, and you're up for a chuckle, check out the Sex Machines Museum. Probably one of Prague's weirdest museums, it has a bunch of contraptions that, allegedly, have been used in the boudoir in centuries past. Enter if you dare.
Cheap eats in Prague
Prague is a pretty cheap city, even with the inundation of tourists. So it's pretty easy to find budget dining options in Prague, even for vegans.
Supermarkets: I know you know, but it must be said: cooking your meals is always the cheapest option. Billa and Albert are the big ones but don't expect to find a plethora of vegan options at either.
Creme de la Creme: Some of you may not believe me when I say the best vegan gelato I've ever tasted was in Prague. Not the U.S., not Italy, Prague. But you don't have to believe me, 'cause it's true. Best. Gelato. Ever. The peanut butter flavor was the peanut butteriest and the dark chocolate was to die for. Even the pistachio was phenomenal and I don't even usually order pistachio! (That was a Josh flavor.) They have non-vegan flavors, too.
Dhaba Beas: One of Prague's ubiquitous pay-by-weight buffets, this one is all Indian, all vegetarian, mostly vegan. We paid 105 koruna (less than $5) for a pretty good sized plate of food that both of us shared and felt pretty good about. And if that isn't cheap enough for you, the hour before they close whatever food is left is 40% off! (There are multiple locations)
Veganland: Another restaurant with several locations is a pay-by-weight buffet, this one all vegan and mostly Asian food. Again, it was pretty cheap at around $6-$7 for a plate big enough to share and was pretty tasty. They also have a few vegan staples and desserts for sale.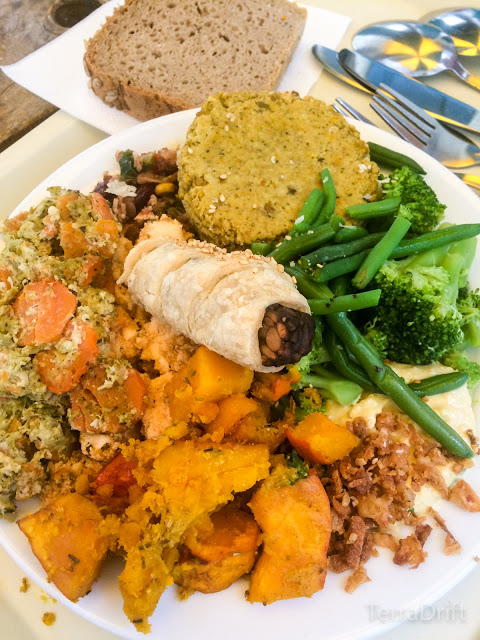 Country Life: This one confused us at first as there are several Country Life locations. The first one we went to was just cosmetics and body care items. The next was a small health food store, but behind it is a delightful vegan pay-by-weight buffet where we paid about 135 koruna (or all of six bucks) for a heaping plate that stuffed both of us. No joke. Of course, it was happy hour when, instead of the normal price per gram, a plate up to 1000 grams (that's a whole kilogram or 2.2 pounds!) was only 135 koruna. It's country-cooking, homestyle-type food, but it's tasty, warm and filling.
Blue Vegan Pig: Those of you who are loyal Terradrift followers know I'm helpless to resist a vegan donut. So naturally, I would find at least one joint to satisfy my obsession. This place even offered a peanut butter and jelly donut, which was right up my alley. There are other breakfasty items in this tiny storefront, too, but the donuts were the cheapest!
That enough to get you started? Should be! So pack your bags and get yourself to Bohemia!
Wander on!
Alisha is a freelance writer and photographer based in Austin, TX. She loves her tiny house, vegan food and experiencing the community of travel in far away places. She's also pretty sure she's addicted to coffee. alishamcdarris.com