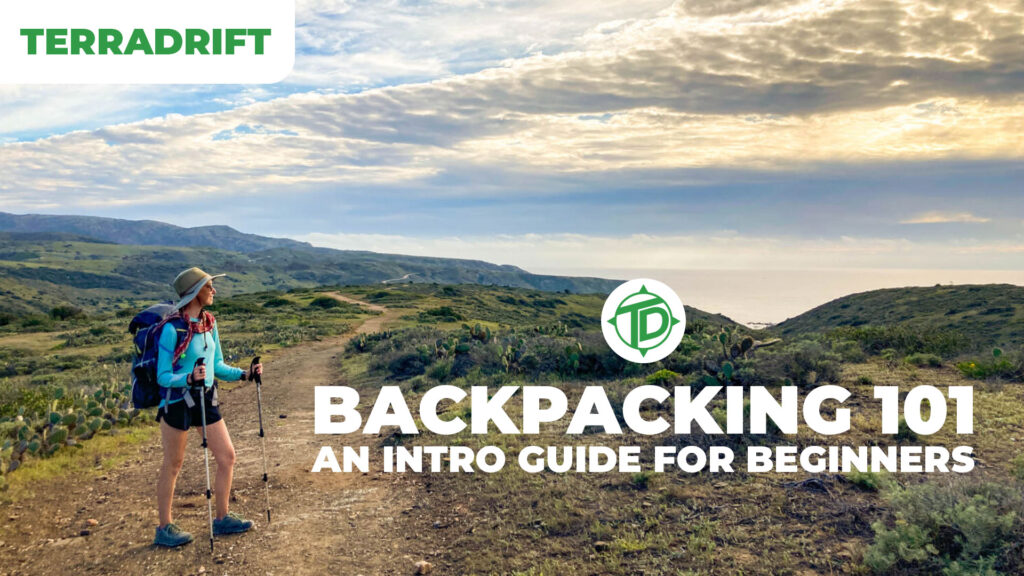 Tired of piecemealing info together from across the web to educate yourself and learn the ropes when it comes to backpacking? Wish you had a guide to, well, guide you as you plan your first backpacking trip? Or a community of other backpackers to connect with? Dude! We read your mind! And we created the most baller backpacking 101 course ever so you can connect, get educated, and build the confidence you need to plan your very first backpacking trip (or your first one without your buddy with all the gear).
Amazing, right? Honestly? We're totally stoked about it. Wanna know more? Sure ya do.
What the Backpacking Course Covers
So. Dang. Much. That's what this course covers. Indeed, we'll cover a variety of topics in the fun, educational, snarky Terradrift style you've come to know and love, including what to pack, what goes in a first aid kit, how to feed and hydrate yourself in the backcountry, how to avoid animal encounters, practical tips and tricks, and how to backpack more sustainably.
You know, the basics.
Along the way, we'll share not just the facts, but stories from our own experiences, helpful tidbits we've learned along the way, and tips from over 20 years of experience.
Each lesson will be available in both video and text formats so you can watch, read, or do both depending on whether you're trying to convince your family you're working on your taxes.
You'll also get access to a dedicated Facebook page just for students so you can network with others who are new to backpacking, get trip planning and destination advice, ask questions, connect with us, and more! And yes, you'll have access to these lessons for life. We'll even update them from time to time to stay abreast of new standards and best practices outdoors.
All because we want nothing more than to help you venture confidently into the backcountry to experience the magic of the outdoors in some of the most magical places on the planet.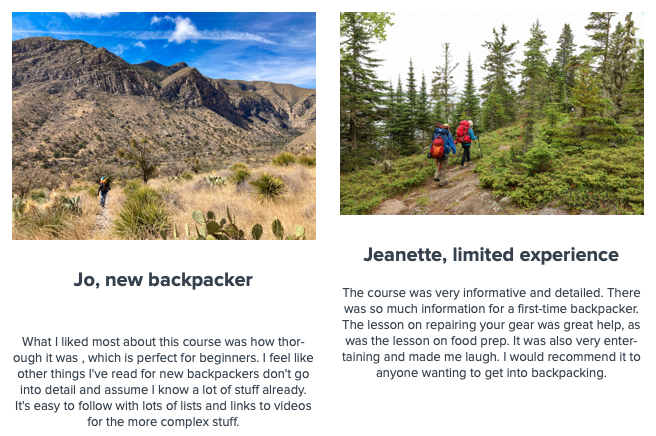 Who this Backpacking Course is For
We created this Backpacking 101 course for those who are brand new to backpacking or have maybe been on a trip or two, but never on their own and never as the one in charge of planning.
This course is for the friends who have tagged along, but never had their own gear and are finally ready to strike out on their own.
It's for adventurous souls who don't know where to start but are dying to get out there and try something new.
It's for moms and dads and college students, hims, hers and theys, 20-somethings and 30-somethings with kids, without kids, grandparents, solo hikers, people who have never hiked before, people who hike all the time but have never backpacked, and people who grew up camping but haven't done it for years.
It's for everybody who's either new or relatively new to the concept of backpacking and wants to build a solid base of knowledge so they can confidently venture out on their own adventures, assured that they know how to do a bear hang and how much food they need to pack.
And that's exactly what this course provides: a foundation of knowledge on which to build a life filled with not just backpacking, but all manner of outdoor adventures (plus exclusive discounts on gear and Terradrift swag).
Sign Up Now!
Ready to finally take the plunge? Do something to inspire confidence outdoors and start planning your next backpacking adventure! We think you're gonna dig it.
Still not sure if it's for you? Drop us a line. Tell us about your experience and what you hope to get out of it. We'll let you know if you won't be disappointed.
Alisha is a freelance writer and photographer based in Austin, TX. She loves her tiny house, vegan food and experiencing the community of travel in far away places. She's also pretty sure she's addicted to coffee. alishamcdarris.com