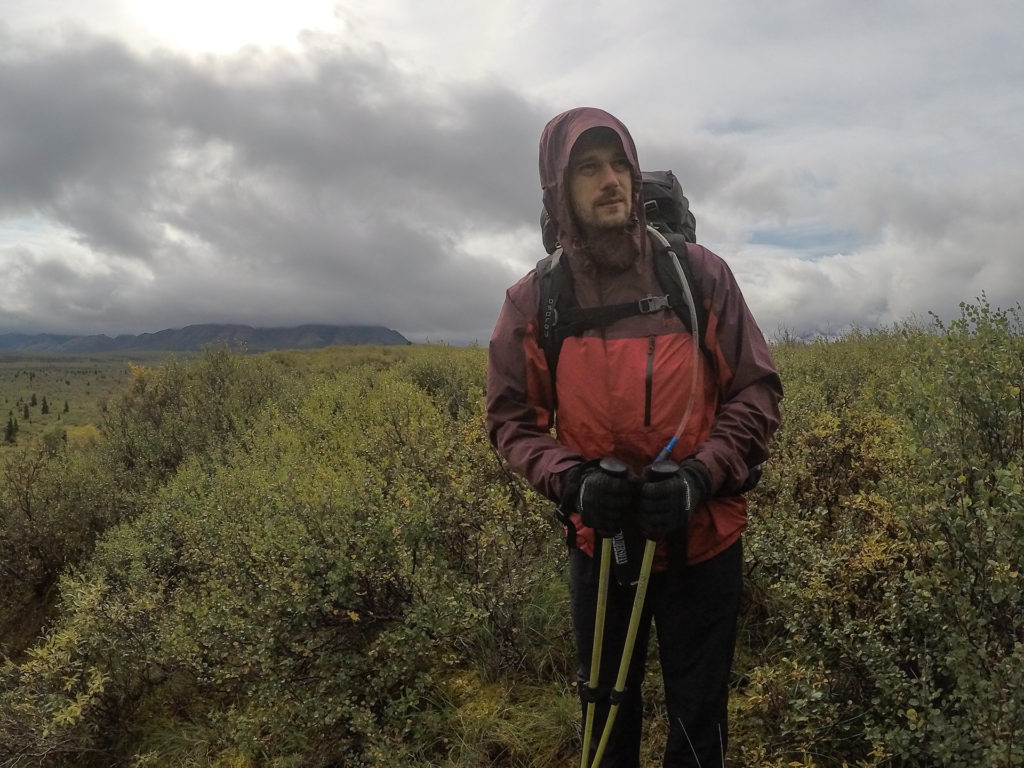 I'm pretty sure no one wants to go backpacking in the rain. If those people exist, I haven't met them yet. But I'm dubious of their existence because, generally speaking, not many people enjoy being soaking wet for days on end. Which is what happens when you go backpacking in the rain. Especially in cooler climates.
But sometimes it's unavoidable. Maybe you booked a campsite months ago and can't get a refund. Maybe these are the only vacation days you get all year and you have to make the most of them. Maybe you're traveling and this is your only chance to get out there and explore. Whatever the reason, if you're going to go backpacking in the rain, there are ways to make it more enjoyable (and less miserable). And we're gonna show you how!
Keep Your Gear Dry
First of all, if there's rain in the forecast, your top priority is to make sure your gear will be safe and dry.
That starts with a rain cover for your backpack so everything inside doesn't get soaked after the first few minutes of rainfall. If your backpack didn't come with one, there are plenty you can get online or at a local outdoor retailer (we like the Duck's Back from REI).
Expecting more than a light shower? Sometimes rain covers aren't enough. Persistent deluges have a way of getting into unprotected nooks and crannies and getting your stuff all soggy. Don't let your stuff get soggy. Pack it all in dry bags (like these) or at the very least, trash bags. The most important items to protect? Your clothes and sleeping bag.
You should always ensure that you always have a dry set of clothes on every backpacking trip, especially in cooler temperatures. You can succumb to hypothermia in warmer temps than you think, and if you're wet, those chances increase greatly. So protect a warm base layer at all costs.
The same goes for your sleeping bag. Synthetic bags remain warm even when they're wet, but down is completely useless as an insulator if it gets wet (just one reason we recommend saying no to down). Either way, no one wants to climb into a wet bag at night, so keep that thing dry at all costs!
To keep smaller items like maps, cell phones, matches, etc. dry, invest in some small, clear waterproof pouches. You can use zip-top bags, too, but be careful, because they tear a lot easier and if they do, they're not of much use as dry storage anymore, are they?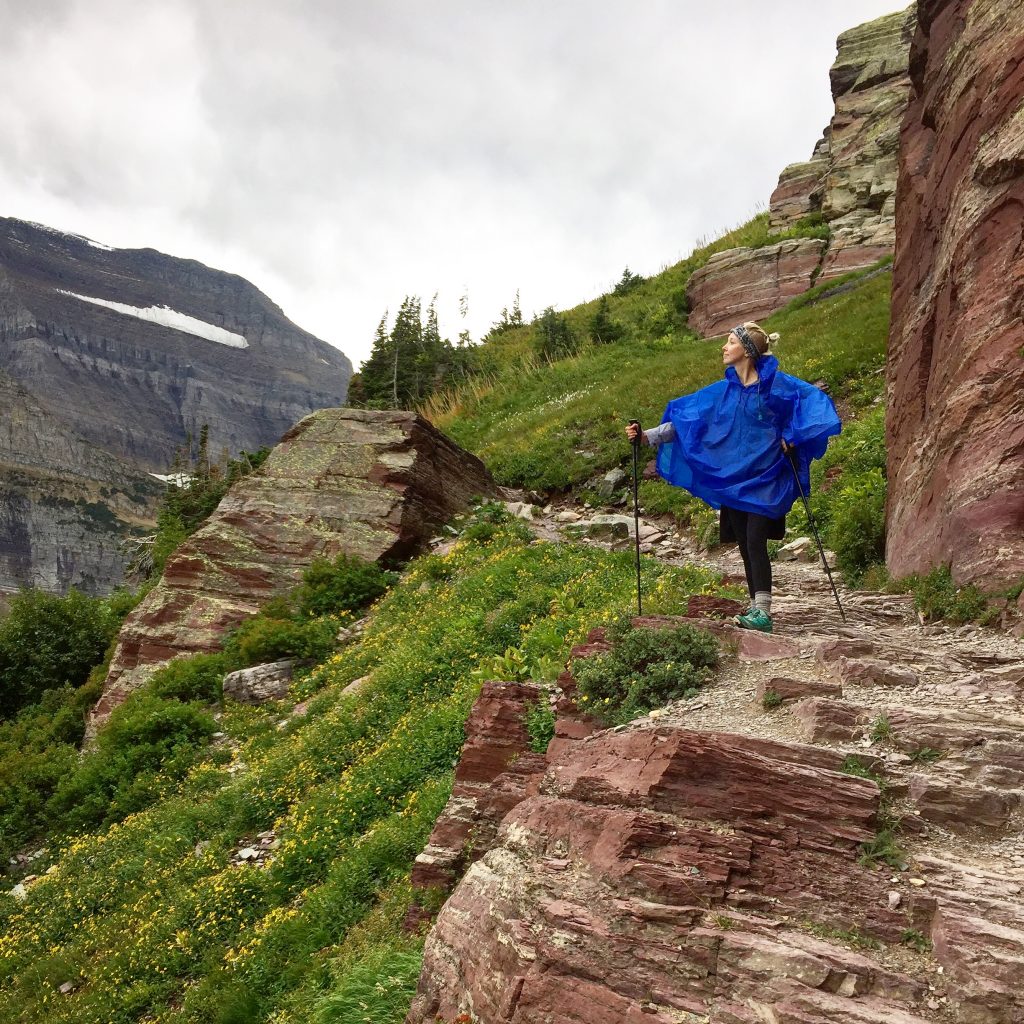 Keep Yourself Dry
But you don't want to focus all on your gear and forget to keep yourself protected (or at least semi-protected) from wet weather.
Naturally, a rain jacket is an obvious first step, but have you considered a poncho? I freaking love a poncho because I can not only drape it over myself and my backpack, but it covers my pack straps and hip pockets, too, which aren't protected by the rain cover. But it also protects my camera, which is almost always clipped to one of my shoulder straps (protected by a Peak Design Shell, of course).
A poncho also makes a great multi-tasker: you can also use it as a groundcloth for your tent or string it up to use as a tarp at base camp to give you somewhere to sit out of the rain.
It's also super handy to bring a hat. We generally like a wide-brimmed hat to protect our delicate epidermis, but that doesn't work too well with a hood, so if there's rain in the forecast, grab a ball cap-style hat instead. It will keep the rain off your face and will still fit under a rain hood.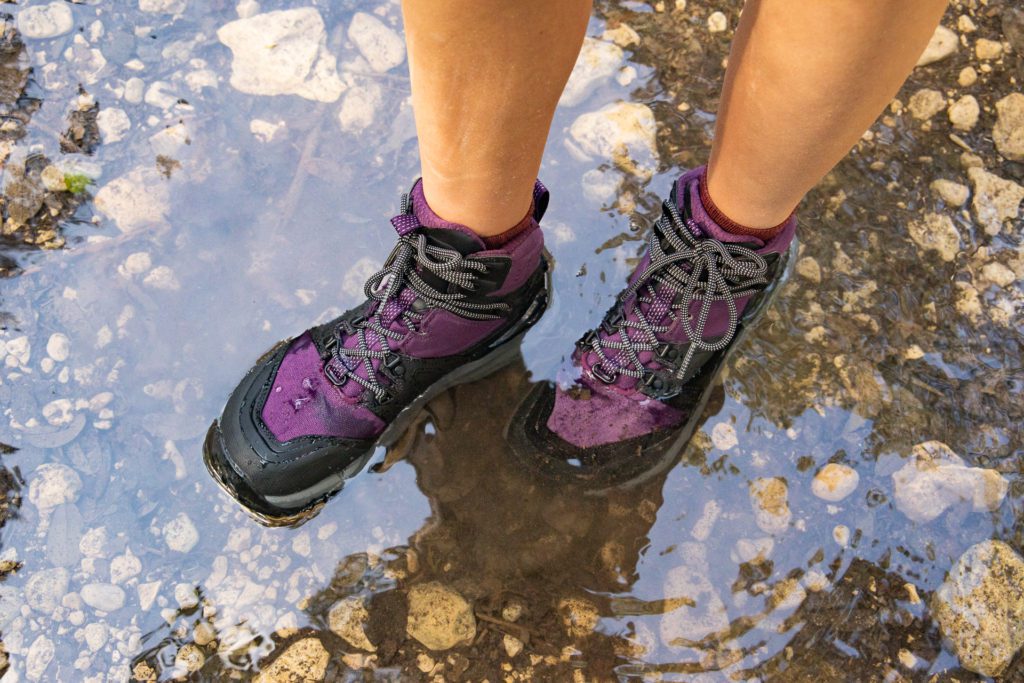 The Great Waterproof Boot Debate
Rainy weather is where fans of waterproof footwear get stuck in the mud, so to speak. Because yeah, while waterproof hiking boots and shoes are great at keeping your feet dry during shallow water crossings and short showers, they're absolutely useless in high water crossings and pervasive rainy conditions (though they will keep your feet warmer in cold conditions, even when wet). 'Cause waterproof boots can't keep rainwater from running down your legs into your shoes. And rain will run down your legs into your shoes.
And if those shoes are waterproof, that water is gonna be stuck in there with nowhere to go. To be sure, any shoes are going to get soaked and squelch with every step, but waterproof shoes will stay that way long after the rain stops.
You can slow the roll of rain in your boots by using gaiters, but those only work for a short while in persistent showers. You can make an effort to keep your socks dry by wrapping your feet in plastic bags, but unless you're taping the bags to your calves, that, too, will only be effective for a short while.
So expect your feet to get wet and come prepared. That means no cotton socks (synthetic socks only–we don't recommend wool), but also, make sure you always have a dry pair to wear at night.
And never hike without a blister care kit. Because it's when your feet are perpetually wet that blisters go nuts. Your feet are what's taking you places here, so make sure you take care of them. You're SOL without them.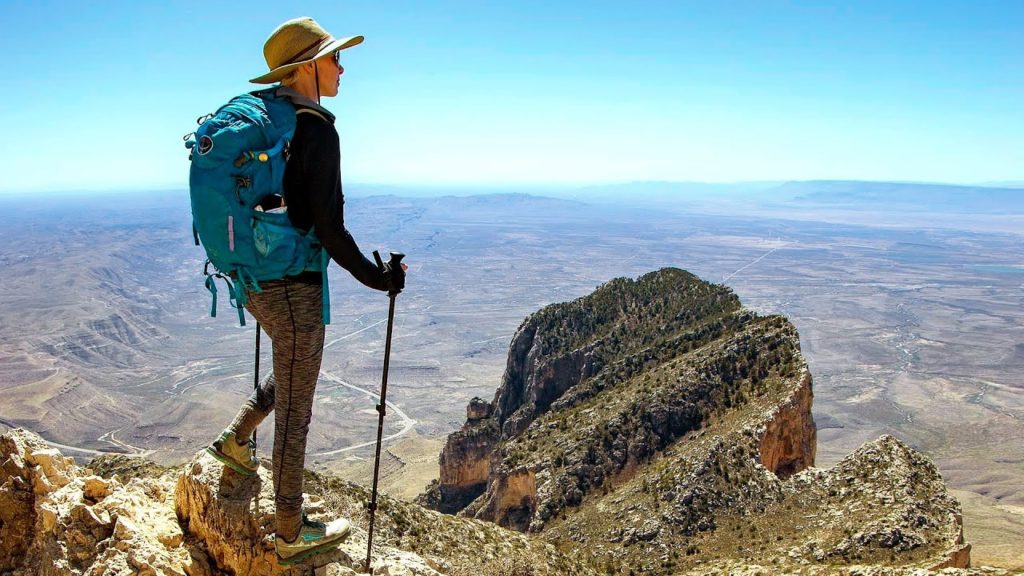 Choose the Right Clothing
We've said it before and we'll say it again: synthetics are the fabric of choice for the outdoors. That goes double in the rain.
Natural fibers like cotton, hemp and tencel take forever to dry and cause chafing, blisters and more. Plus, if your clothes are constantly wet, hypothermia is more of an issue. Instead, opt for materials like polyester or nylon. They dry faster, but also won't stretch out, rub and bunch like natural fibers. You'll be much more comfortable and won't be waterlogged by the time you get to camp.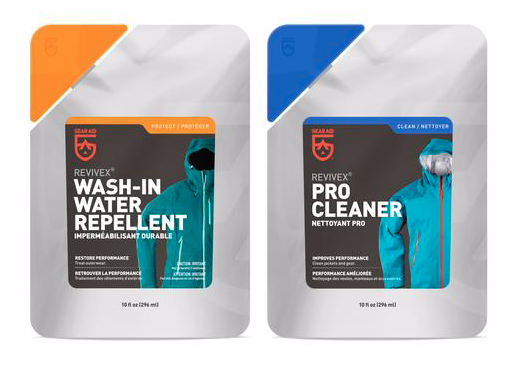 Waterproof Your Gear
Yes, your tent, rain jacket and poncho are all waterproof out of the box (or off the rack), but over time, waterproof coatings wear and deteriorate and need a little refresh. We wrote a whole post about maintaining and repairing outdoor gear (including re-waterproofing gear), but here it is in a nutshell: get yourself some gear cleaner and waterproofers like the kind from Nikwax or GearAid and wash your gear per the instructions, then treat it to a new coat of water repellent. Your rain jacket will be shedding liquid sunshine like it was new.
You can also waterproof shoes and clothing, though the results won't be quite as complete as something that was meant to be waterproof in the first place.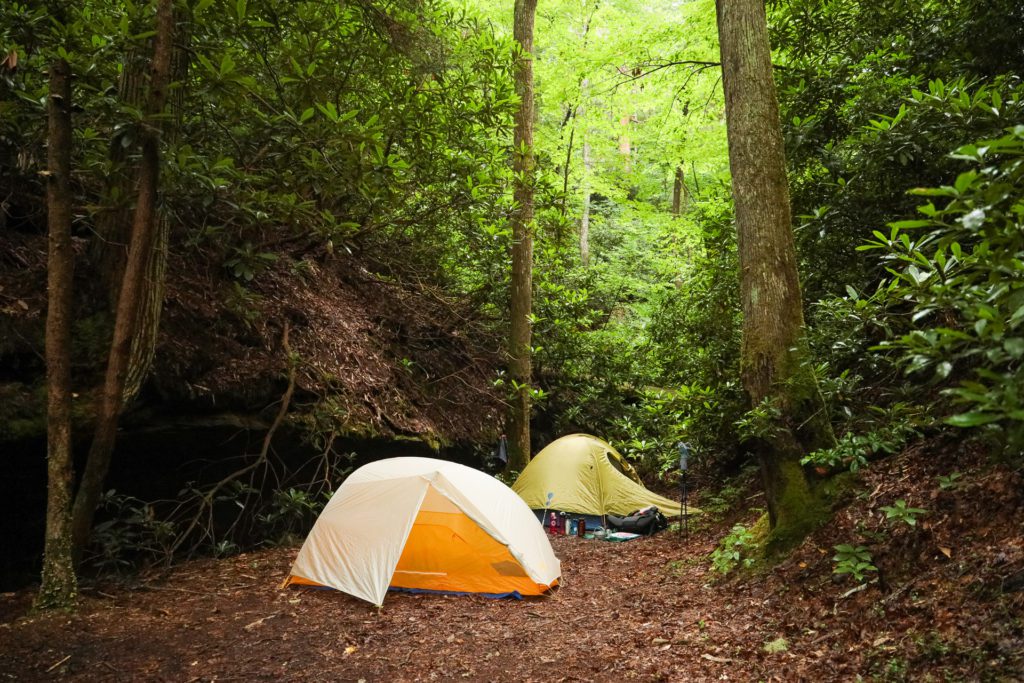 Pitch Your Tent With Caution
When it comes time to set up camp after spending the day backpacking in the rain, do so carefully. Start by selecting a spot on high ground if possible, but definitely avoid river banks or anywhere low spot between two high areas (like mini valleys) as rain could run down from multiple directions and flood you out.
But remember to look up as well as down. While camping under trees can help protect you from heavy rain, if the trees have dead or dying limbs that the wind could rip off and send flying downward, you could be putting yourself in danger.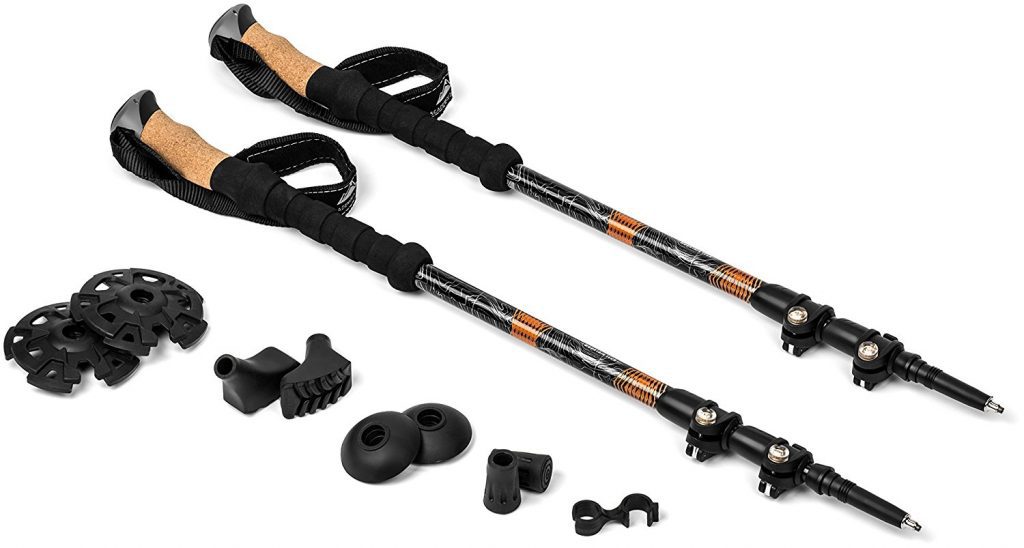 Hike Safely
When backpacking in the rain, make sure you hike safe. You'll probably need boots or shoes with deeper lugs than usual to compensate for the muddy, soft terrain, but you might also consider trekking poles, even if you don't normally use them. They can help you balance if trying to cross swollen streams and catch you when you slip on wet roots or rocks.
You should also know the signs of hypothermia and take extra caution to prevent it when hiking in cold, wet weather. And if hiking in a group, don't rush ahead, but take your time to ensure everyone is treading safely and doesn't need a helping hand when crossing slippery logs or descending steep, muddy trails.
Dry It Before You Store It
Finally, when you get home (after you've made a bee-line for a hot shower), make sure to completely dry out all your gear. Hang tents, backpacks, rain gear, sleeping bags and every other soft good to dry. Keeping wet gear in a bag for days or longer is a recipe for mold and mildew disasters. So wether you do so in your backyard or basement, air that gear out!
Backpacking in the Rain: The Bottom Line
If you're out there in less than desirable weather, don't fret; just pack wisely and be prepared. Keep you and your stuff dry, exercise caution when hiking, and don't get washed out in your sleep on your next wet weather backpacking trip. Now get out there and wander on! (And don't forget your poncho…)
•
This post contains affiliate links, which means we may receive a small percentage of sales that result from you clicky-clicking on those links (like, maybe enough to get ourselves a new poncho). Thanks for supporting Terradrift.
Alisha is a freelance writer and photographer based in Austin, TX. She loves her tiny house, vegan food and experiencing the community of travel in far away places. She's also pretty sure she's addicted to coffee. alishamcdarris.com