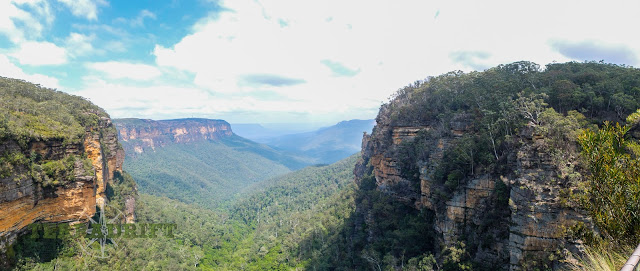 Just about everybody who goes to Australia ends up in Sydney. It's like an unwritten rule or something. Not going to Sydney when you visit Australia would probably be like not going to New York City when you visit the States. Sure, people will tell you either of those places are just another big city, no big deal, but the fact of the matter is we all know we're going to end up there anyway. But just because you're in the city doesn't mean you have to stay in the city. Fortunately for travelers who love the outdoors, the Blue Mountains are just a couple hours drive or train ride away and offer endless adventures! Here's a guide to the Blue Mountains on a budget.
Getting Around
Rent a Car: Maybe not the cheapest option, but assuming you're going to the Blue Mountains via Sydney, it's not hard to find a rental car and then you can motor about as you please. It's not a must have, though there are a few locations you won't be able to get to by train.
Train: Trains at Central Station in Sydney will take you all the way to Mount Victoria and back again and town centers of all the stops along the way are within a two minute walk of the tracks, making it a super convenient and cheap way to get around.
Buses: You can catch a bus (or series of buses) from Sydney, but it will take longer and not save you any cash. Once in the Blue Mountains there are a few here and there, but your best bet will be the train.
Opal Card: As of early 2016, you'll have to have one of these reloadable cards to take a bus or train in New South Wales. No more paper tickets will be sold, and while you can sometimes pay in cash when you get on the bus, the driver will give you dirty looks. You can pick up an Opal card at just about every convenience store in town and reload it online or at a kiosk in the stations.
Hitchhiking: Unlike thumbing a ride in the States, hitchhiking in Australia is more widely acceptable and while I was a bit unsure of myself the first time I stuck out my thumb, it was quite the pleasant experience. Of course, this mode of transportation probably won't get you from the city to the mountains, but once you're there you might have a shot.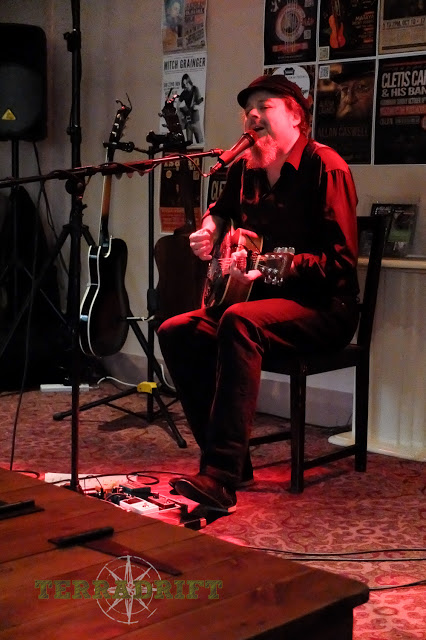 Hotel Blue's Lounge Series features local and international musicians every week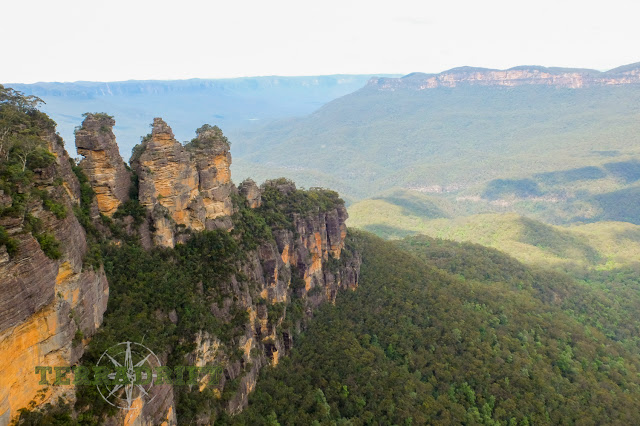 The Three Sisters in Katoomba is a popular photo op for tourists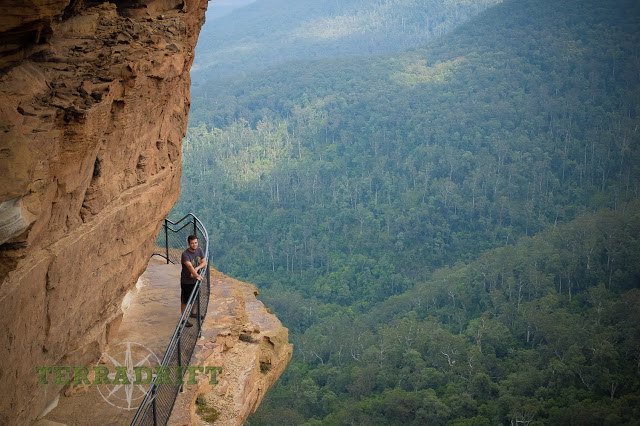 The National Pass in Wentworth Falls offers stunning views of the Mountains and valleys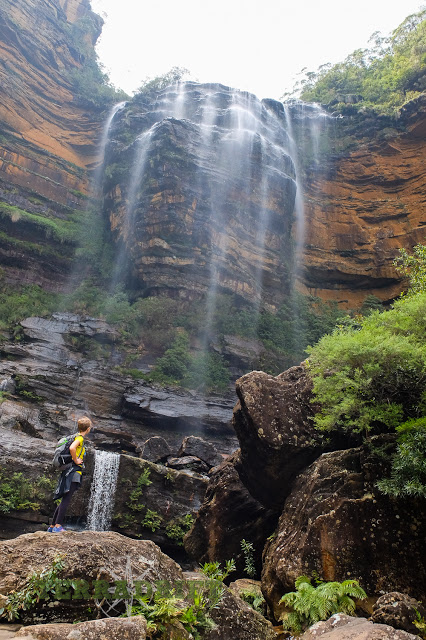 The National Pass in Wentworth Falls has no shortage of, well, falls
Free Things to do in the Blue Mountains:
While most of the free activities are outdoor activities, there's still plenty to keep you occupied in the upper Blue Mountain towns of Katoomba, Leura, Wentworth Falls, and Blackheath.
Bush walks: Otherwise known as hiking in the U.S., there are enough walks to keep you occupied for a month spread throughout these towns. Information centers can offer maps and advice, but our favorite hikes were the Charles Darwin Walk and National Pass in Wentworth Falls and the Six Foot Track in Blackheath (the best parts of which you might need a car to access. Hitchhiking anyone?). Check out a Visitor Information Centre or download maps here. If you're trekking alone they'll even lend you a personal locator beacon for safety.
Mountain Biking: Bring your bike? Hit the trail. There are several great cycling trails in the Blue Mountains and you can even transport your bike on the train for free!
Rock Climbing: If you have your own gear, the Blue Mountains is a great place to climb! You can find maps and info on where to begin here.

Shopping: Free as long as you don't buy anything, browsing the shops in Leura Village and Katoomba can provide an interesting afternoon. Leura has more upscale and quirky shops whereas Katoomba is home to more antique stores and adventure outfitters.

Music: Sips and Sounds at the Penrith Regional Gallery in Emu Plains is a bit of a trip at an hour and a half from Katoomba on the train, but offers art, music and food in the garden on Summer Friday evenings from 4-Sunset. Bar snacks and drinks aren't free, but the evening outdoors is. Hotel Blue's Lounge Sessions offer free jazz, blues, folk and more Thursday through Saturday evenings and Sunday afternoons. It's not quite free if you enjoy a beer or cocktail with your music, but it's a nice place to relax and listen to some tunes.
Rhododendron Gardens: If you're visiting in spring or summer, visit these gardens in Blackheath. You can walk there from the train station and spend an hour walking along the paths and gazing at the gazillions of rhododendrons. There is a requested gold coin donation ($1 or $2), but that's practically free, so it stays in this list!
Blue Mountains Botanic Garden: In Mount Tomah (you'll need a car to get there), you can spend an afternoon in this 28 acre garden with plants from around the world. They're grouped by region and you can take a free guided walking tour if you like.
Festivals: Upcoming events like festivals and grower's markets (farmer's markets) can also be found on visitnsw.com. Most of these, like the Leura Village Festival, Blackheath Rhododendron Festival, monthly grower's markets and more can be found here. But there's lots going on every month of the year. For a full overview of festivals, check this out.
Art Galleries: There are a handful in just about every town in the upper Blue Mountains. Find a list, far from exhaustive, at bluemts.com or https://bmcan.com.au/arts-trail/.
Libraries: Spend an afternoon at the Blue Mountains City Library in Katoomba. Far from your run of the mill library, this one has comfy seats encouraging guests to sit and read, tables, outlets and wifi for laptops, and sweeping views over the city and mountains. It's a cozy place to spend a rainy afternoon, and it's connected to the Cultural Center (listed below) and a cafe, so you can easily spend some time reading about Australia's history, flipping through magazines, or planning the next leg of your journey.
Spend the cash. It's not much for these attractions and it's worth it.
Mount Vic Flicks: This historic theatre plays mostly art house and Indy films, but if you're into that, tickets are $11 and you can even grab some homemade snacks at the concession stand.
Adventure Tours: If you're up for a real splurge, there are numerous adventure companies that offer rock climbing, abseiling (rappelling), caving and more. And while you can expect to shell out something like $200-$220 per person for a day of excitement, some companies, like Australian School of Mountaineering or High and Wild, offer two days of climbing education for around $350. That way, you get more practical know how and you can get out there and do it yourself.
Blue Mountains Cultural Center and World Heritage Exhibition: At $5 per person, this Cultural Center is a pretty good deal, especially on a rainy day. There are always special exhibits, plenty of art, and even film screenings and curator talks from time to time.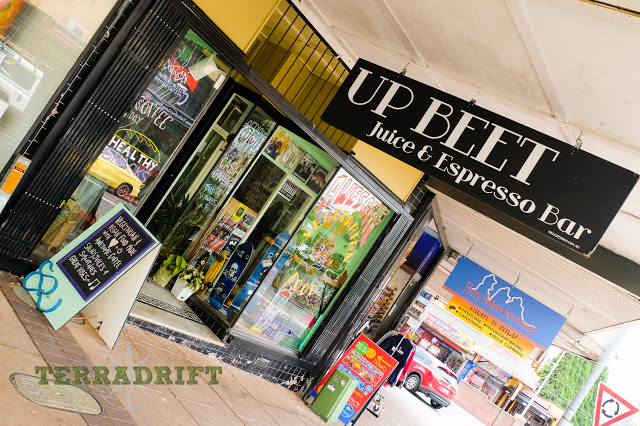 Drop by Up Beet, a vegetarian café in Katoomba, for a tasty lunch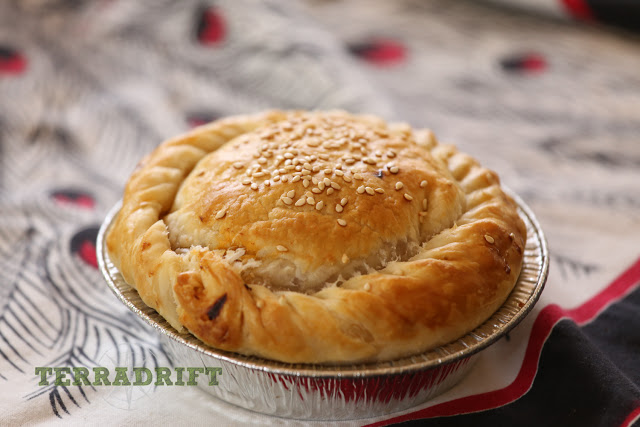 Nearly everywhere you go in Australia, savory meat (and veggie) pies abound.
Meat, vegetarian, and even vegan options are available at Altitude Delicatessen in Blackheath
Grab a Bite:
There is no shortage of cafes and restaurants in the Blue Mountains. Finding one that caters to a tight budget, however, may take some digging. Fortunately, we did the hard work for you!
Cafes: If it's coffee you're looking for, don't fear popping into any one that looks interesting. Seriously, everybody in Australia knows how to pull a shot and I haven't had a bad cup yet. Another upside is that, unlike in the U.S., drinks are pretty much the same price from one place to another. Prepare yourself for ordering, though, by checking out our Australian Guide to Coffee. Cafes are also a good bet for lunch or dinner (if they're open for dinner). Meals like sandwiches and salads are generally around $10 whereas sit down restaurants are usually closer to $20.
Bakehouse on Wentworth: Located in Blackheath, this bakery sells killer sourdough, pastries and pies. Sweet and savory. They have some vegetarian options in addition to meat pies and prices range from $5.50-$7.00. Try a roo pie (yes, kangaroo) if you're feeling brave.
Altitude: Also in Blackheath, this cafe serves up good coffee and reasonably priced sandwiches, even vegetarian and vegan ones (though you may have to ask for no mayo, etc). Sandwiches are all under $10, a good deal for Australia.
Up Beet: This vegetarian and vegan cafe in Katoomba is small but mighty. You can grab a toasty, wrap, salad, or even a quesadilla, all for under $10. They also serve coffee, smoothies and cold pressed juices.
Ruby Fruit: Leura's only vegan restaurant, Ruby Fruit serves lunch, smoothies, vegan desserts and even some vegan groceries like dairy free cream cheese and almond milk. With meals closer to the $10 and up range, it's a little pricier than some others, but it's vegan, so it's often to be expected.
Piedmont Inn: If it's pizza you're craving, this Italian joint's got it. The locals even love this place. Two can split a pizza starting at $19 for a large, but be warned, that's the to go price. You'll pay a few bucks extra to dine in.
Pies: I know it sounds generic, but any place that advertises pies (the savory kind filled with veggies and meat, not the sweet kind filled with fruit and sugar) in the window is going to be a good bet for cheap eats. Pies come in many varieties, including vegetarian, and are usually $5-$7 and reasonably filling.
Yellow Deli: A hip, mountainy sort of place, The Yellow Deli in Katoomba offers sandwiches and soup and salads for under $10. And they're pretty tasty. They even offer several vegetarian options, which can be made vegan upon request.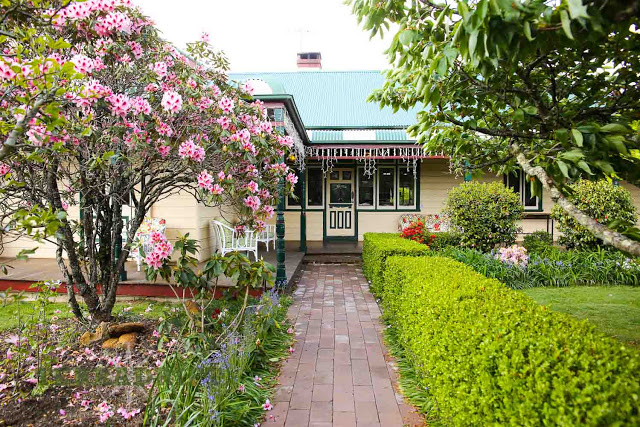 Glenella Sports Bunkhouse in Blackheath provides accommodation for budget-conscious Outdoor enthusiasts
Places to Stay:
Hostels: There are numerous hostels in the Blue Mountains, and of course not all are created equal. We've heard great things about Flying Fox (from $30 per night, $20 for a tent site) and Number 14 (from $34 per night) in Katoomba.
Glenella Sports Bunkhouse: If you're headed to the Blue Mountains for mountain biking, rock climbing, adventure racing, or other outdoor sports, give Glenella a go. Upstairs is a bed and breakfast but downstairs is a sports bunkhouse, which is a sort of cross between a hostel and a B and B. A private room is between $75-$85 per night, cheaper than a hotel but more than a hostel, the upside being you don't have to pay per person, so if you're traveling with a buddy, you're getting a pretty good deal. Plus you'll often get to hang in the living room with the hosts or other guests.
Camping: If you have a car (these places are tough to get to if you don't) you can camp for free in Megalong Valley or at Ingar in Wentworth Falls. Do your research on what's available at these sites, though, so you don't arrive unprepared.
Ways to Save:
BlueMts.com.au: This site will have all the local happenings – from music to festivals to movies – listed for your review, even the free ones.
VisitNSW.com: Another guide to what's on in the Blue Mountains. Check out what's happening while you're in town.
Travel by bus or train on Sunday and public holidays and the max fare you'll pay with your Opal card is $2.50. Be prepared to fight the crowds, though, because everyone has the same idea.
Alisha is a freelance writer and photographer based in Austin, TX. She loves her tiny house, vegan food and experiencing the community of travel in far away places. She's also pretty sure she's addicted to coffee. alishamcdarris.com