Noisy zippers, restrictive mummy bags, crinkly fabric…let's be honest, sleeping outside just isn't the same as sleeping in your bed at home. But with the new zipper less, comforter-like, silky soft Sierra Designs Night Cap sleeping bag, you can get pretty dang close.
And, spoilers, it does not disappoint. Which, not gonna lie, was a little surprising, because Sierra Designs is not really one of those brand high up on my list of stellar outdoor brands making quality stuff. But that's my bad. I was clearly mistaken. Because I really liked this sleeping bag.
So let's talk about all the details that make this bag so great.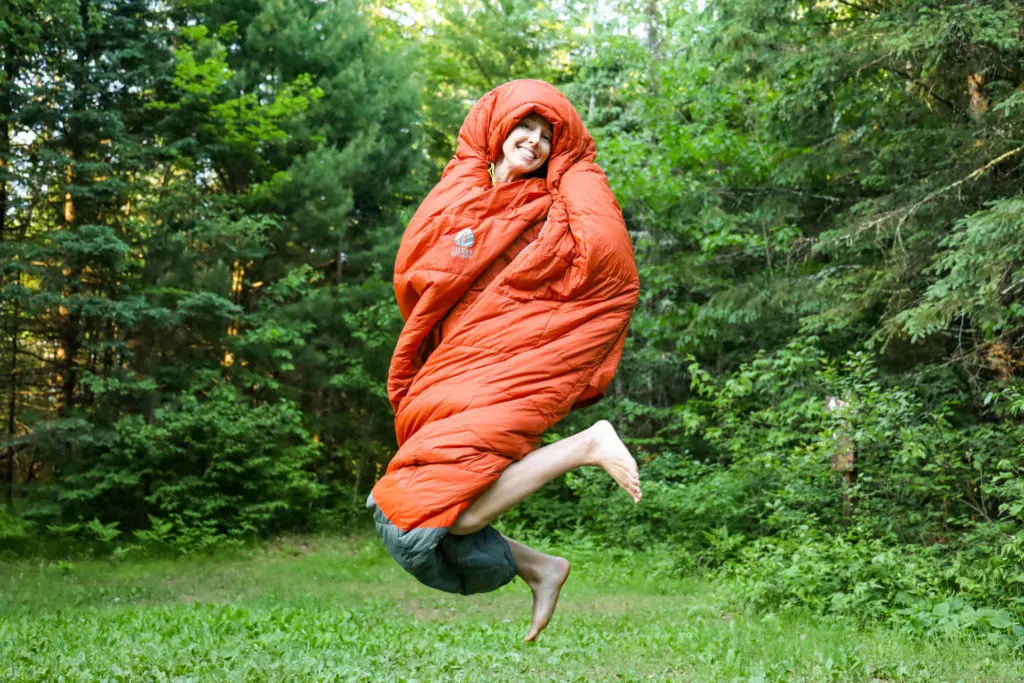 Sierra Designs Night Cap 35: The Deets
First of all, the whole thing is made of recycled materials. Recycled polyester makes up the fabric and lining and the brand's SierraLoft Eco synthetic insulation keeps you all toasty.
The bag comes in a 20ºF and 35ºF version–we tested the 35º–and they all come in regular and long lengths. The 20º is even available in a women's specific version (read all about sleeping bag temperature ratings and what they mean here).
But here's what makes the Sierra Designs Night Cap truly unique: there's no zipper.
I know, right? It's crazy, but it works! Instead, the upper portion of the bag folds over you like a comforter via a wrap-around design, which tucks into the other side of the bag, kind of like you'd tuck yourself into your own bed at home.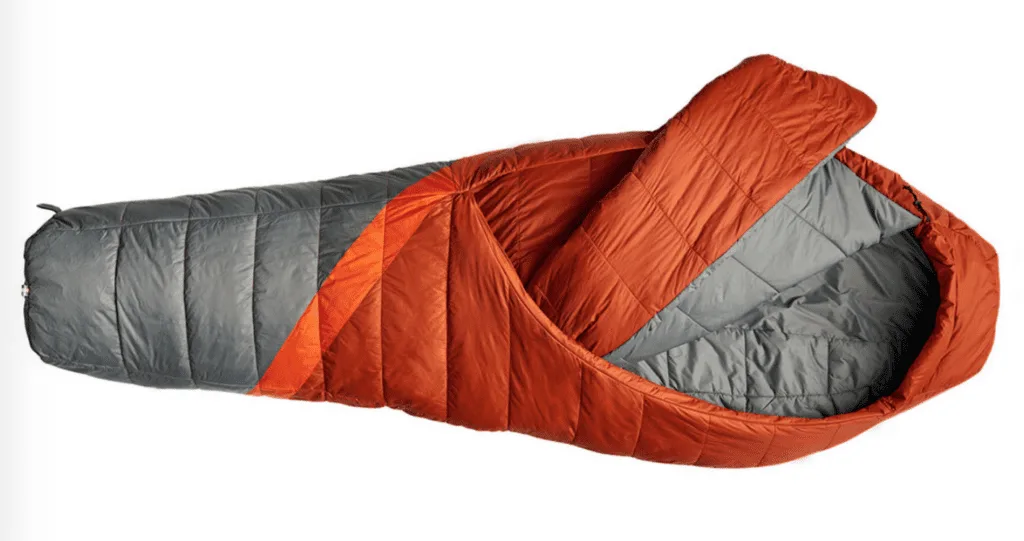 And an unexpected bonus: there's no noisy zipper to wake your tent mate and get stuck when you have to pee in the middle of the night.
But that's not all! There's also a zipperless foot vent–an opening near your ankles with a slight overlap of fabric–that allows you to stick your feet out of the bag on warm nights or tuck them back in without having to sit up, scrunch into a ball, and fiddle with a zipper in the middle of the night.
There's also a cinch cord on the hood, naturally, and a sleeping pad sleeve that helps your bag stay put on your sleep pad throughout the night. It comes with a tolerably compact stuff sack–but not a compression sack–and packs down nice and compact. The 35º weighs under 2lbs 4oz, so it's more than suitable for backpacking.
Which I can attest to, because I recently took it on a week-long backpacking trip on Isle Royale National Park in Michigan.
But you want to know what I thought of it, don't you?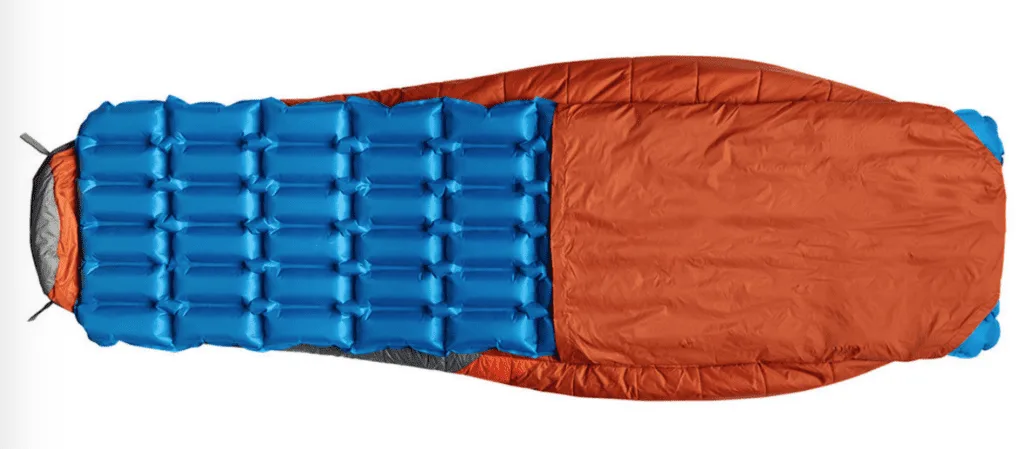 Sierra Designs Night Cap 35: The Review
I liked it. I really did. Honestly, I was surprised how nice the bag was because I really don't have that much experience with Sierra Designs. The fabric is very soft and silky, which I love in a sleeping bag, and the insulation was nice and fluffy, which makes for a cozy night's sleep. But it is also exceedingly compressible. I had no trouble stuffing it into the very bottom of my backpack with all my other gear.
I loved the foot vent on slightly warmer nights and the ability to just throw off the top layer when I got too toasty. The brand advertises that it offers a sleeping experience closer to that of your bed at home–you know, like with a comforter and all that–and I think they're pretty spot on.
I also really liked the pad sleeve. Mostly the fact that it's only a very small section of the back of the bag, so I still felt like I could turn and scrunch my legs up and all that without feeling tied down.
And the bag was as cozy as it claimed. I used it in temps very close to the bag's comfort rating of 39º, and I stayed pretty toasty all night long. I maybe felt a few chills on the coldest nights, but nothing that kept me from sleeping, so color me impressed.
I mean, I was sure all my rolling over would end up throwing the blanket-like top right off of me, but I stayed pretty well bundled through it all! Probably thanks in part to the little pocket in the corner that you can tuck around your shoulder or stick your hand in when side sleeping.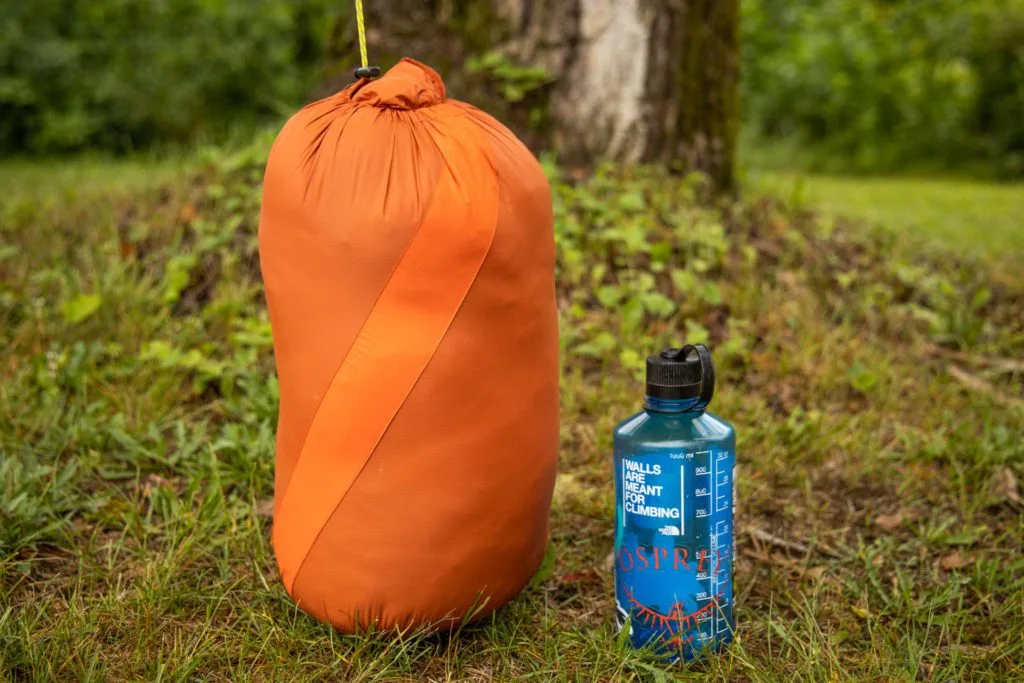 Josh didn't find the design quite as secure as I did, so maybe he moves around more erratically than I do, but he had a little more trouble staying all wrapped up like a cozy burrito. Still, he agreed it's a super comfy bag. And he did only use it a couple of times whereas I slept in it for at least a week's worth of nights.
Of course, I had a few little qualms. For example, once or twice I did stick my feet through the vent without meaning to. And the bag is actually quite wide, which means it will fit a broader group of people, but I'm tiny, so I had to really wrap myself up to stay warm.
I also wish there was an interior pocket for things like batteries or phones to keep them warm on cool nights, but I guess you can't have it all.
And while I did like the pad sleeve, take note that that small portion of the back of the bag doesn't contain any insulation, so if you forgo using the sleeve and roll over on a cold night or use the Night Cap without a pad in a hammock, you'll be able to feel the cool air on your back. Just a heads up.
But all in all, this bag is a winner in my book. It's lightweight, it packs up small, it's soft and cozy, the temperature rating is accurate, and I was comfy cozy whether sleeping on my back, side, stomach, you name it. This may be my new go-to spring and fall backpacking sleeping bag right here. And since it starts at about $150, it's one of the more affordable eco-friendly sleeping bags on the market that are intended for backpacking.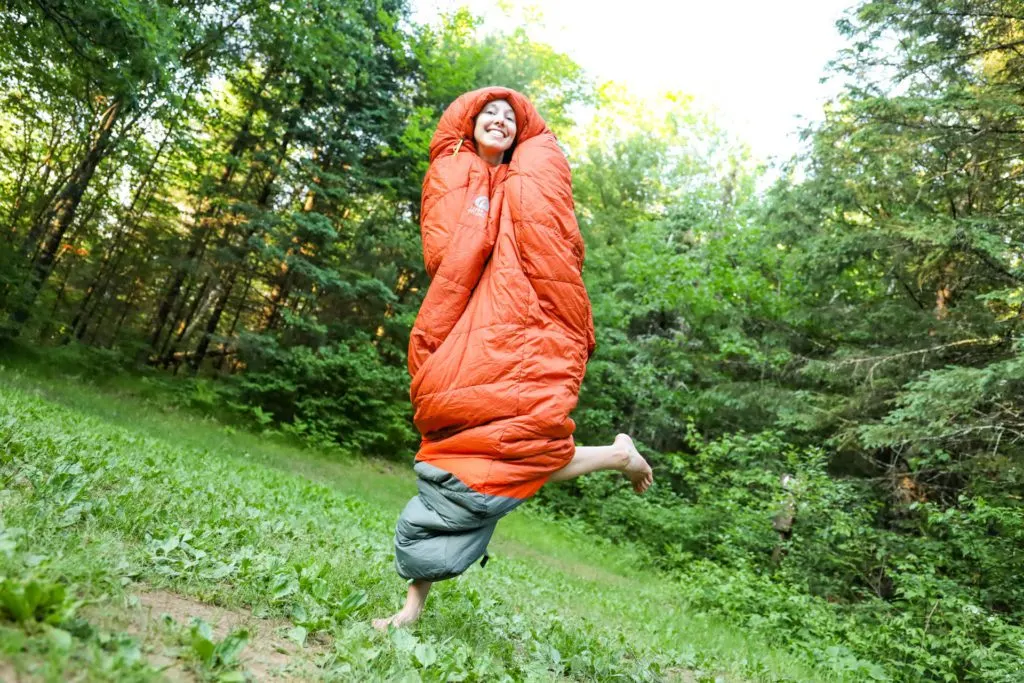 Bottom Line
Despite my erroneous misconceptions about Sierra Designs' ability to make rad, sustainable, high-quality gear, the Sierra Designs Night Cap exceeds every expectation. Comfortable, warm, packable, light, soft and lofty, it's a surprisingly legit sleeping bag for camping and backpacking, especially for those who wouldn't mind a more familiar sleeping experience when spending their nights outdoors. So score yourself a Night Cap here. And then sleep outside and wander on.
Alisha is a freelance writer and photographer based in Austin, TX. She loves her tiny house, vegan food and experiencing the community of travel in far away places. She's also pretty sure she's addicted to coffee. alishamcdarris.com