Traveling to Turkey? Looking for a Turkey [Türkiye] itinerary with plenty to do to keep you occupied as you explore? We've got you covered. Read (or watch) for things to do in Turkey!
After more than 2 years of no international travel, I was nervous and more than a little excited to hop on a plane and head halfway around the world to spend a week in Turkey (now known as Türkiye thanks to a recent UN decision). I craved the culture shock and change of scenery that can only be experienced by flying to a country so far from my own, and so very different.
So when I got the chance, I jumped at it. Listen, I was so excited to go I didn't think twice about leaving Josh at home (you wondered why the video this time around was a bit sub-par, didn't you? Well now you know: he's the video mastermind…). So I got myself a visa, hopped on a flight, and took off to discover this wild and wonderful place that straddles east and west, Europe and Asia. Wanna know what it was like? Maybe what you should do on your own week in Turkey? Read on!
Start in Istanbul
Whether you have an afternoon, a full day, or a whole weekend, take some time to explore Turkey's bustling capital, a city on two continents (it straddles Asia and Europe). We stayed at the locally-owned Levni Hotel, a great base of operations for city excursions.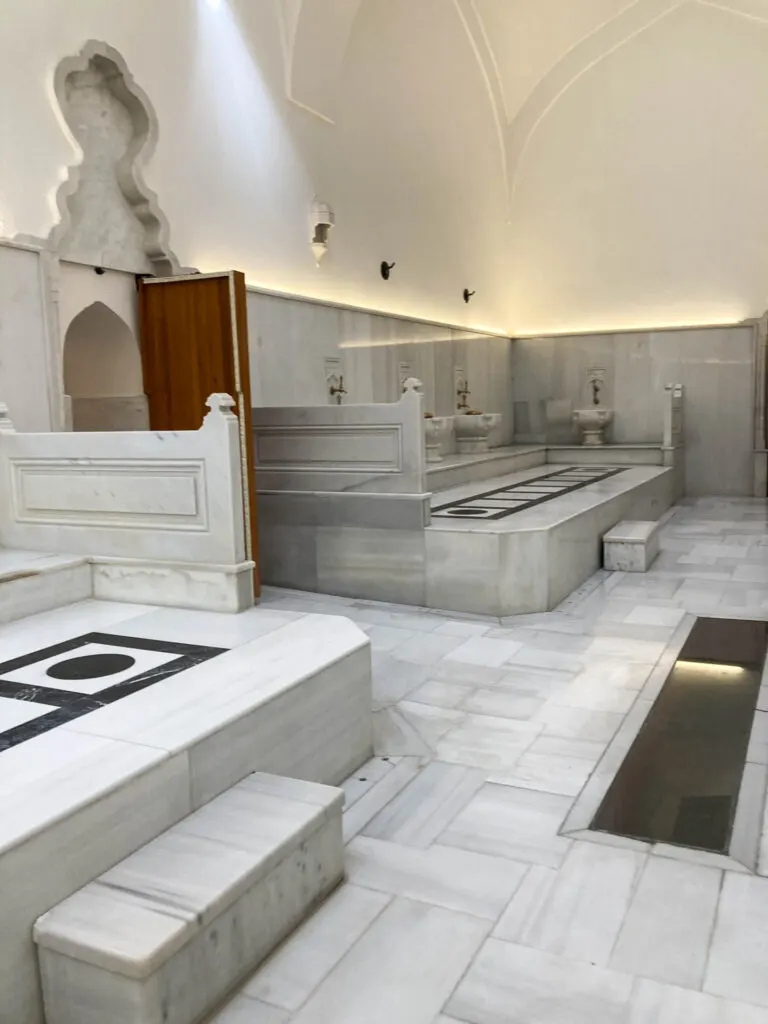 Turkish Bath
A visit to a Turkish bath or hammam is an iconic experience in Istanbul. But don't be like me and arrive totally unprepared for it; Know that it involves getting completely naked save for a disposable thong, dumping warm water over your head in a room full of other (same-gendered in my case) naked people, and having an old Turkish woman literally scrub down your whole body before piling bubbles on top of you and ensuring every inch of you is squeaky clean. Seriously. I was entirely unaware of what I had signed up for. As was the woman I was with. But do as I did: laugh, shrug off any prudish modesty, and embrace the unique cultural experience. Take note, though, that some Turkish baths are co-ed, so if you're sensitive about that (or that's the experience you prefer), do your research beforehand. Check out the Hürrem Sultan Hamami here.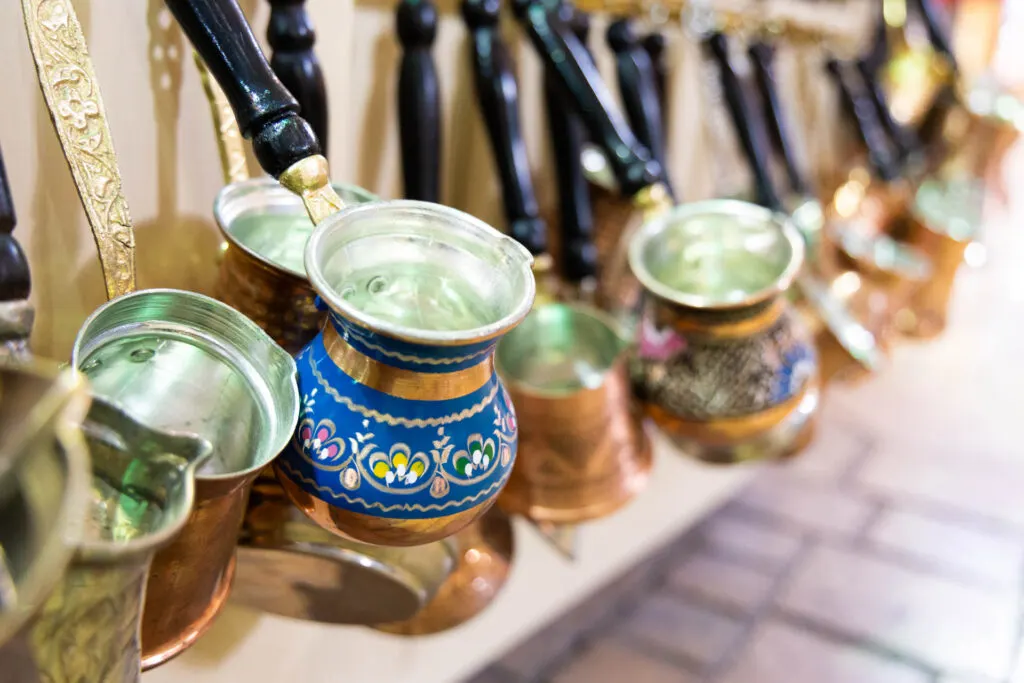 Grand Bazaar
Definitely schedule a few hours to explore the Grand Bazaar where you'll meander the endless aisles of Turkish goods, foods and souvenirs available from innumerable booths and tiny storefronts. Festive Turkish clothing, T-shirts, jewelry, Turkish coffee pots, Turkish towels and more abound! My recommendation: using Google Maps, drop a pin at the gate through which you enter the bazaar. As you wander, if you lose your place after a dozen twists and turns, it'll help you find your way back.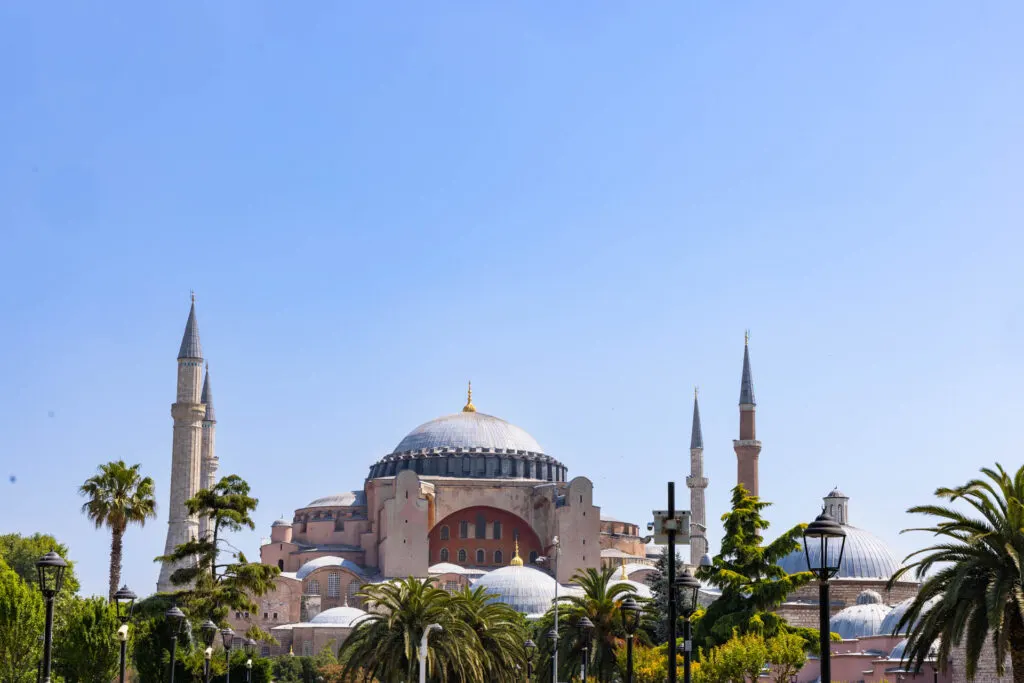 Blue Mosque
The famous Blue Mosque (or Sultanahmet Camii in Turkish) is a popular attraction for all, whether you're Muslim or not. Called such for the stunning blue tile inside (there's also a blue tint to the dome outside), it's still a place of worship, but you're welcome to visit. Remember that in Mosques in Turkey, you need to cover your knees and shoulders and women must cover their heads. So wear appropriate clothing, and women, bring a headscarf.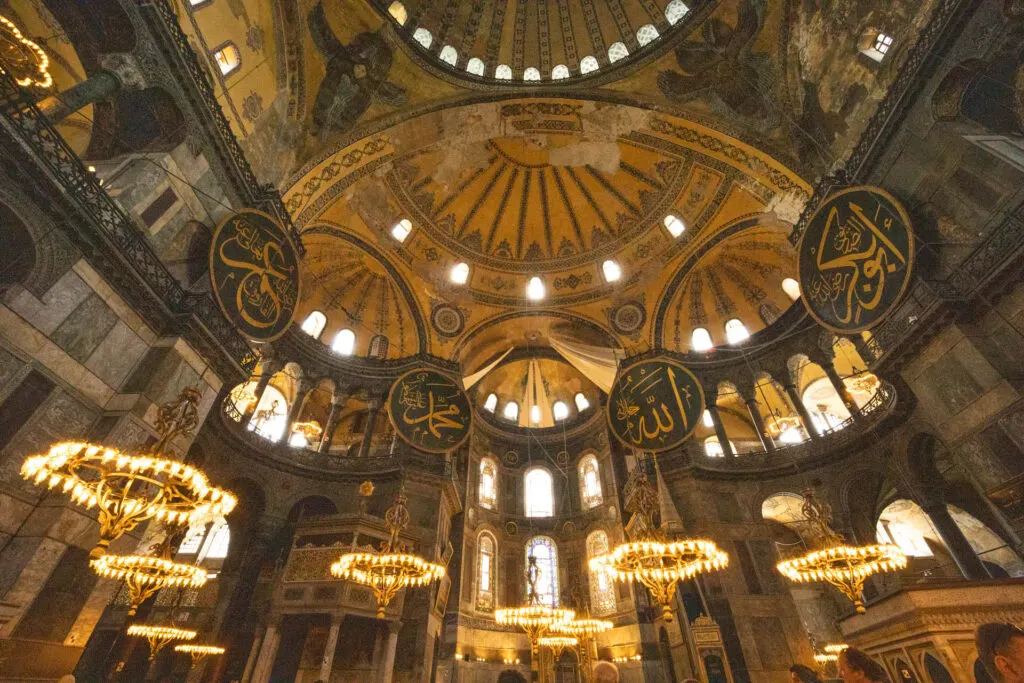 Hagia Sophia
The same rules for clothing and covering apply at the picturesque Hagia Sofia mosque-turned-museum-turned mosque. In the space that–I would argue–is even more impressive and awe-inspiring than the Blue Mosque just across the plaza, dozens of chandeliers that once held dozens of candles (it's all electric now) hang low, creating an atmosphere of ethereal warmth and light. high ceilings and arches offer space for prayers to swirl overhead, and one section is once again reserved for prayers.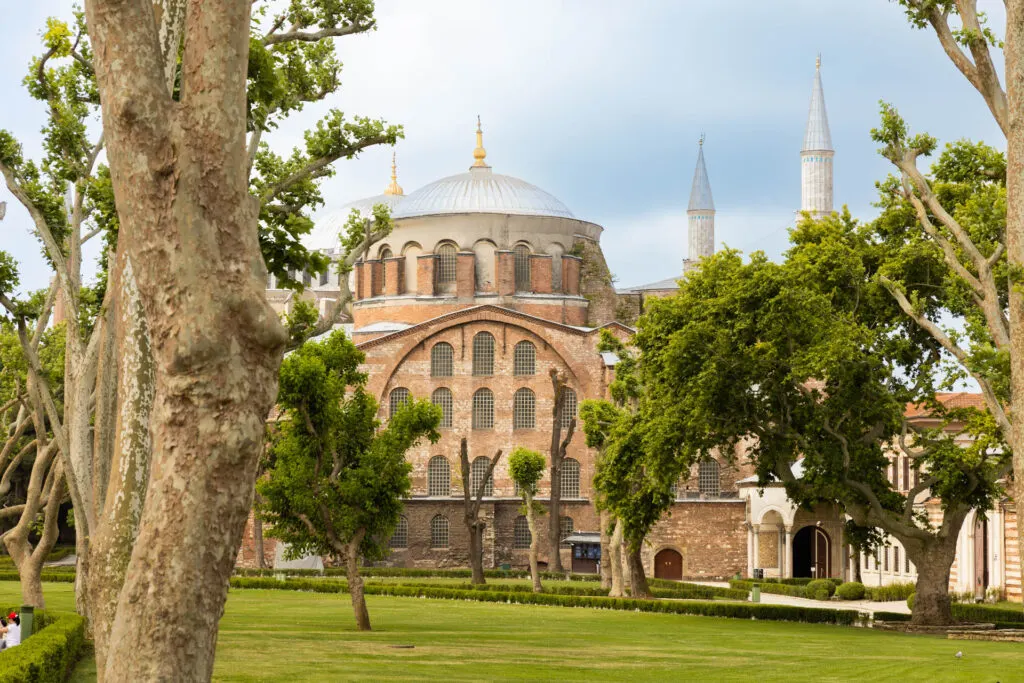 Topkapi Palace
A stunning palace complex-turned-museum, Topkapi is where numerous sultans lived and reigned. Intricately painted tiles, Turkish poetry, and ornate thrones still decorate the many rooms and buildings and lush gardens fill the space between. There's one room just for displaying impossibly stunning weaponry like knives, swords, and axes, one room dedicated to relics (think clippings of Muhammad's beard hair), and another just for the most impressive clock collection you've ever seen. It's absolutely worth a visit, so get a ticket and get ready to feast your eyes on more delicate and stunning craftsmanship than should be allowed to exist in one place.
Cruise the Bosphorus
Whether on a tour boat or a private yacht, take an hour or two to cruise on this major passage that's home to ships of all sizes: from privately owned vessels to tour boats to cargo shipping vessels to massive cruise ships. You'll see the Asian and European sides of the city from the water, get a fresh perspective of the hills and mosques and palaces that flank the river, and learn a little something about the area, too.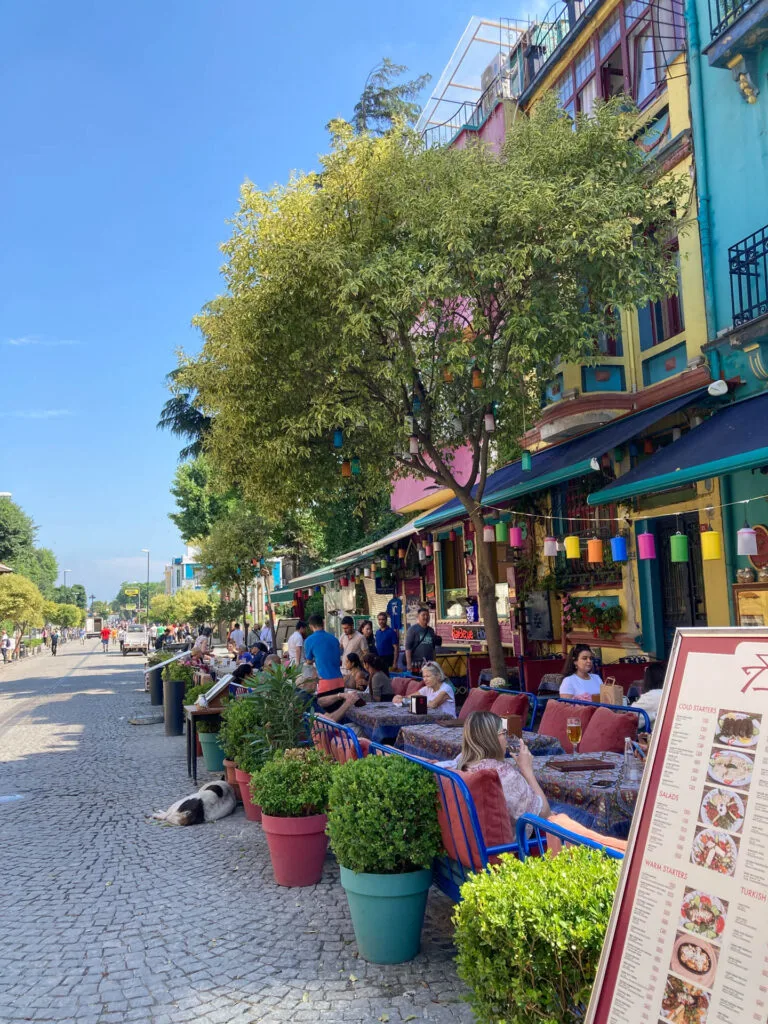 Wander Around the City
Traffic is wild and often unmoving in Istanbul, so don't be afraid to hit the sidewalks and explore the city by foot. It's highly walkable with many pedestrian streets and alleyways, and shops line every thoroughfare. Our favorite area? Taksim Square. Start at the top of the hill and walk (or take the little red tram) down the pedestrian street for all manner of storefronts and restaurants.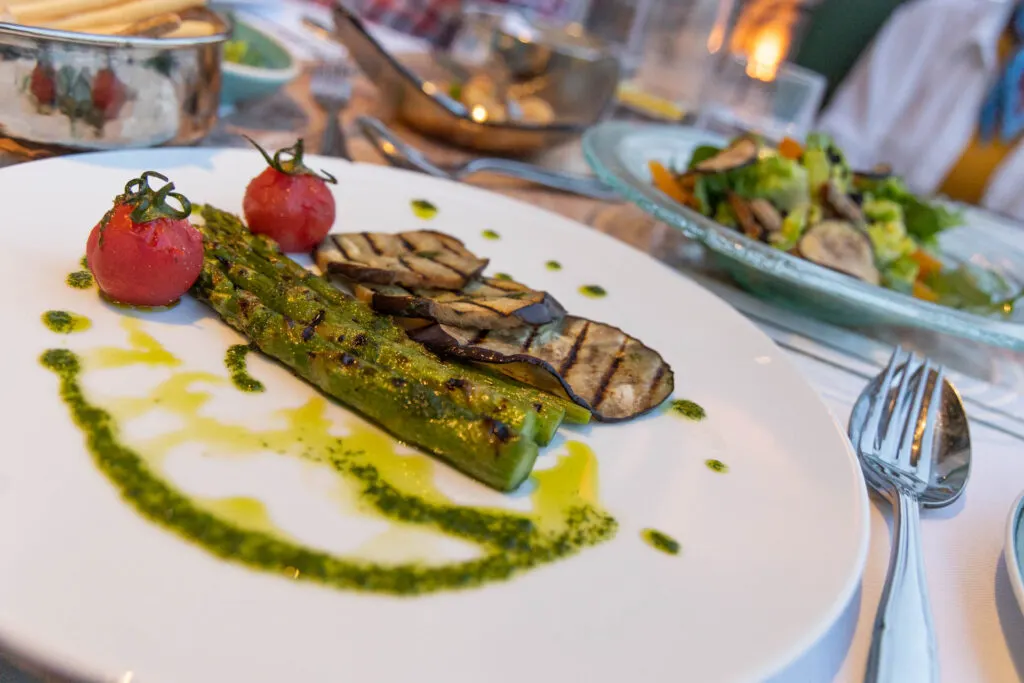 Dining
Dining in Turkey is a treat. Food is everywhere and many restaurants specialize in small portions and multiple courses and family-style dining so everyone can sample a plethora of foods. If you're vegan like we are, though, be prepared to ask lots of questions (and read this post with tips on traveling as a vegan). Know that some restaurants put butter in their hummus and meat in their dolmas, so don't assume those items are automatically a safe bet. And get ready to eat lots of eggplant, tomatoes, and tons of fresh fruit.
Cappadocia
While Istanbul is a thrumming and lively metropolis (filled with cats), the true beauty of Turkey can be found farther afield. Most notably in magical and picture-perfect Cappadocia (pronounced cap-uh-doke-yuh by the locals). So get ready to be impressed with the natural wonders of the region.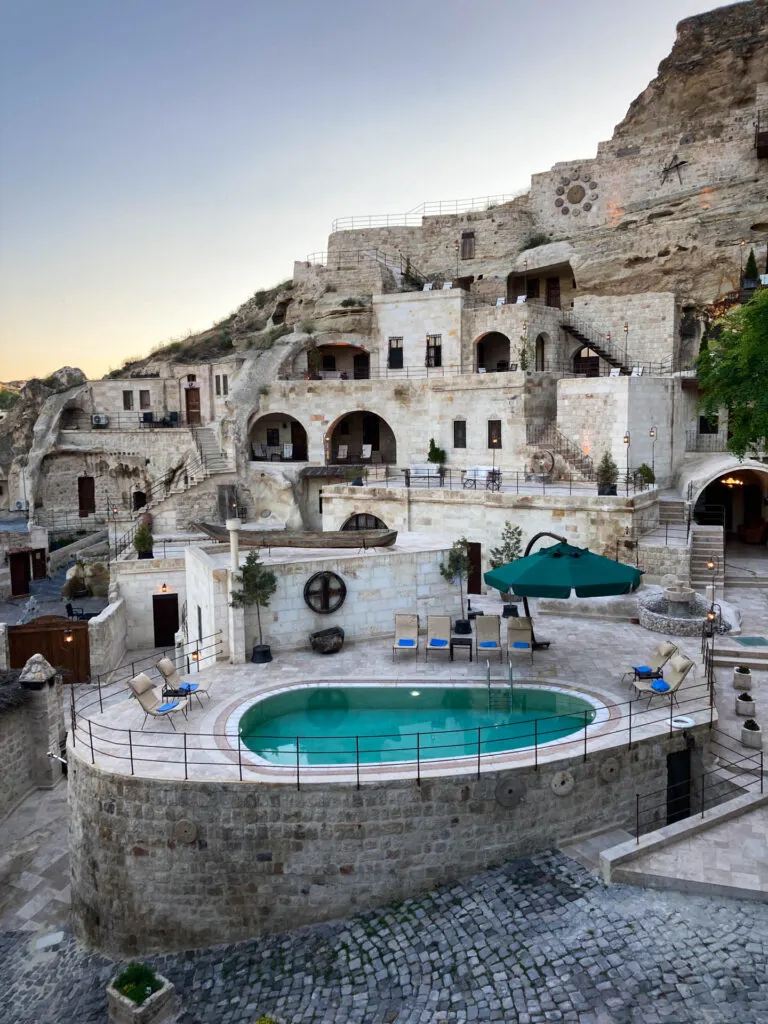 Stay in a Cave Hotel
First of all, if you're not staying in a cave hotel in Cappadocia, you're not doing it right. Because there's nothing quite like sleeping in a room carved out of rock like the city's ancient citizens did hundreds of years ago. Bet maybe the only thing better than the unique accommodations is the view of Yunak Evleri cave hotel and the landscape surrounding it from literally anywhere on the property. Tiered balconies offer stunning viewpoints of the layered structures of rooms and hidden courtyards stacked on top of each other. And from the cobblestone drive, gazing up at the massive cliffs the hotel is built into feels like gazing up into another time entirely.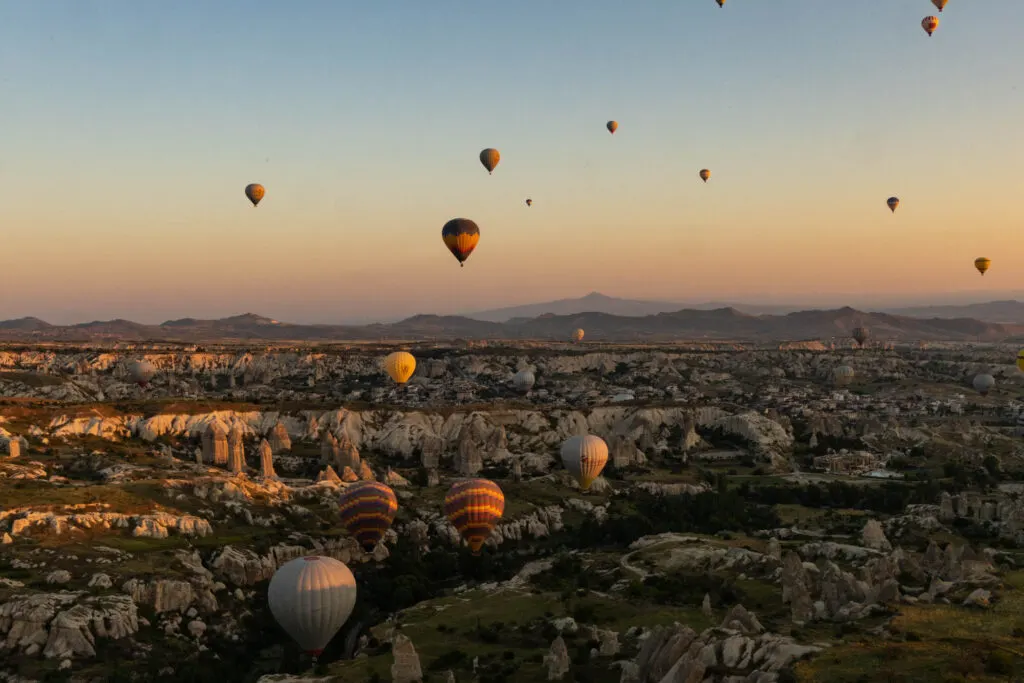 Hot Air Balloons
Cappadocia is famous for its sunrise hot air balloon rides (we bet you've seen photos). So you should absolutely not pass up the opportunity to hop in a basket and cruise to 3,000 feet or so. You'll start early, before the sun rises, but that's what makes the journey so magical: when you see the first rays peak over the hills and plateaus in the east and illuminate not just the balloons filling the sky, but the jagged valleys below, it's truly moving.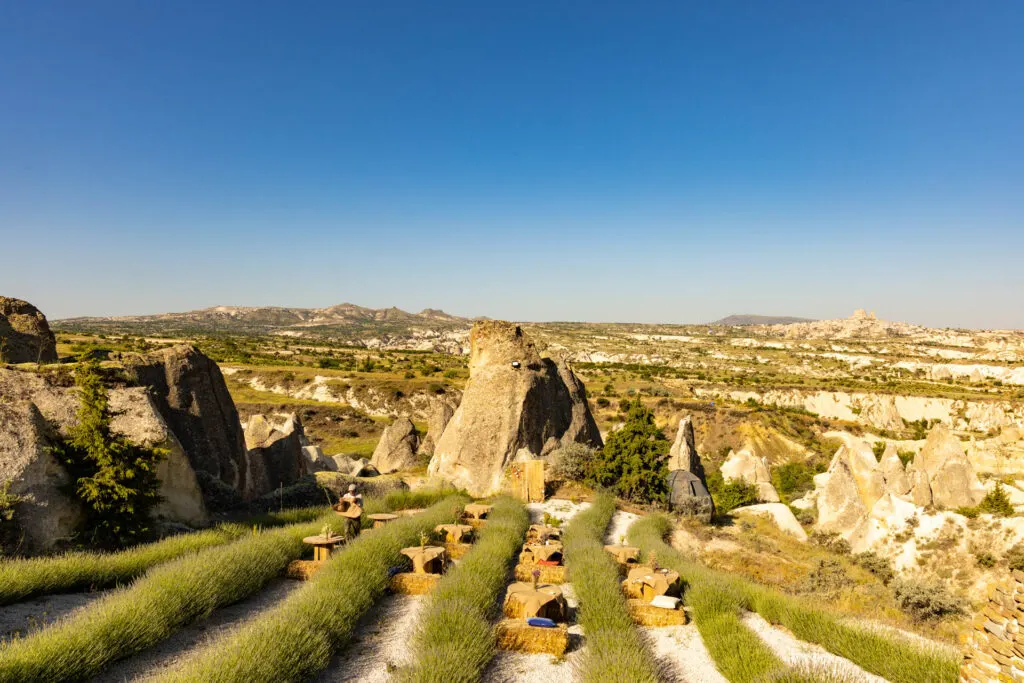 Have a picnic
Schedule a picnic breakfast at Wish Cappadochia Valley for when you return to terra firma after your balloon ride. A spread of homemade jams, bread, olives, and so much more are available as you sit in a field of lavender and look out over the epic valley below. Seriously a magical experience. You can also book a stay at the Wish Hotel here.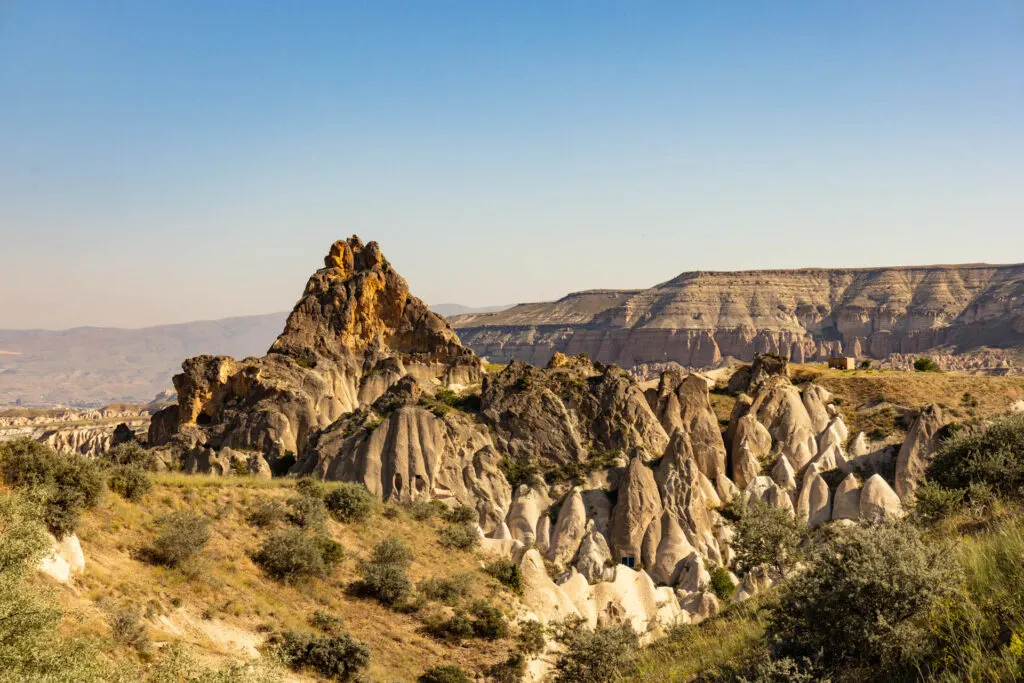 Take a Hike
Explore the floor of the Rose Valley on a hike through this unique landscape that features just as many riparian environments as arid rock faces. Gaze up at fairy chimneys, caves, and windows carved on impossibly high cliffs, and marvel at the unique structures of eroded rock, painted in shades of red, brown, and yellow. Enjoy the view from the bottom after seeing it from hundreds of feet overhead (in a hot air balloon).
Goreme Open Air Museum
For a bit of history, head to the Goreme Open Air Museum and wander through the cave churches and dwellings carved into the cliff faces as you learn about the early orthodox Christians who worshiped, lived, and defended themselves here. Ancient Byzantine frescoes adorn the stone ceilings that date as far back as the 4th century and staircases allow visitors to explore inside many of the caves. It's a UNESCO World Heritage Site and shouldn't be missed.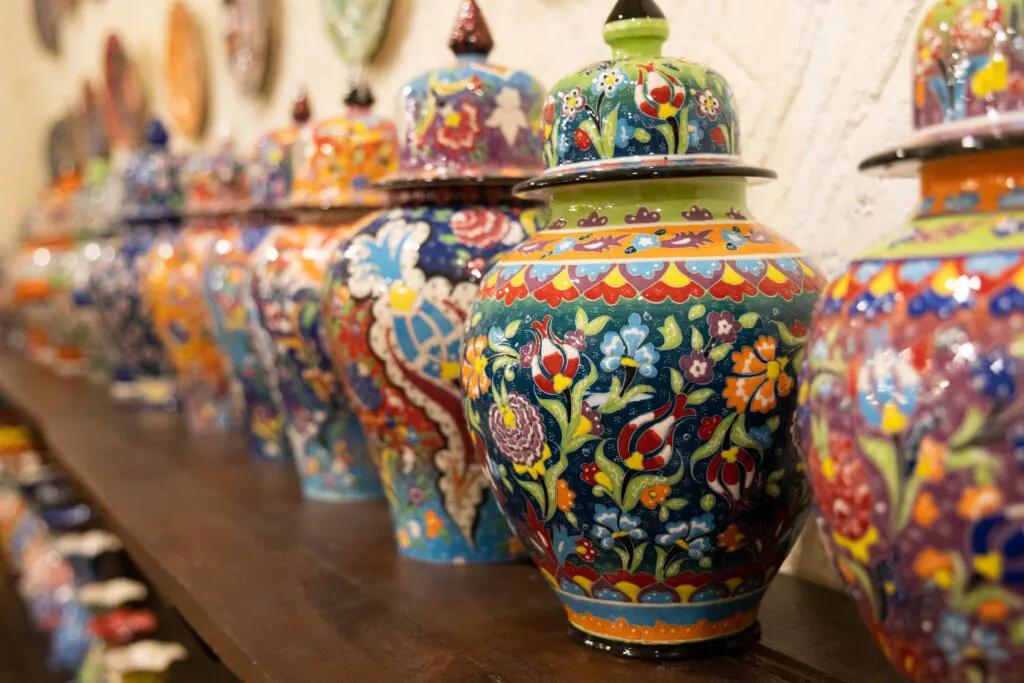 Enjoy the Pottery
Cappadochia is known in part for its pottery, so make sure to stop by a few shops as you pass to take a look at the handmade items available. Want to watch artists at work? Visit the studio of local pottery icon Chez Galip to watch him throw, test the strength of the clay, and see his and his students' intricate, ornate, and innovative decorative styles.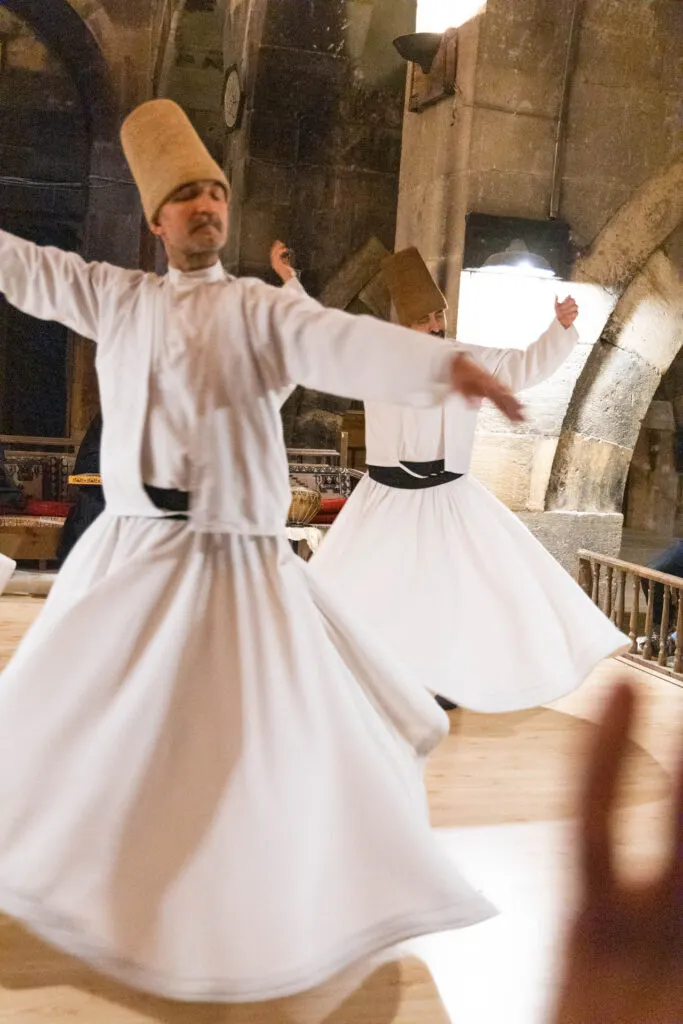 Watch the Whirling Dervishes Whirl
There's nothing quite so relaxing and mesmerizing as watching a performance by the Whirling Dervishes. While the practice started as a form of meditation to feel closer to God, there are men who perform special ceremonies just for visitors so they can experience the quiet wonder for themselves, a meditative experience in itself. There is a worshipful air about the room as the ceremony begins, and an intense quiet pervades as the men spin and spin in a trance-like ritual.
Visiting Turkey
Americans, as well as many other visitors, will need a visa to enter the country. You can apply for a digital visa here. I got mine about 24 hours before my trip and din't have to wait; I was approved immediately.
Don't want to venture into Turkey alone? You don't have to. Join a small group tour with a knowledgable and resourceful local guide. For an itinerary very similar to this one, we recommend Exodus Travels' new Premium Cappadocia walking tour!
What is Exodus Travels?
First things first: what makes Exodus Travels a tour operator worth considering in a sea of tour companies that offer exploratory adventures in far-flung lands? One reason: sustainability. Exodus is committed to it.
What does that mean for a tour operator? Well, you can read a bit about it in this article we wrote for Popular Science about greenwashing in the travel industry, but for a tour operator, sustainability should start at the heart of the company and radiate out into everything they do.
For Exodus, that's the case. For starters, all their adventures are net-positive, meaning when you book an experience, they offset not just the whole carbon footprint of every guest's trip, but a bit extra, ensuring that they are giving back more to the planet and its ecosystems than they take.
Additionally, they are also on a mission to halve their carbon footprint by 2030, are rewilding 100 square meters of natural space for every passenger on every trip, are eliminating single-use plastics everywhere possible, and adhering to the highest standards of animal welfare.
They're also supporting the people and communities in the places they visit by hiring only local guides, booking rooms in locally-owned accommodations, which means creating employment opportunities for locals, promoting and supporting gender equality (my guide on this trip was a woman), respecting and protecting traditional and cultural heritage, and offering disaster relief for their destinations.
The company even publishes annual sustainability reports, meaning they are transparent and forthcoming with their successes and how far they need to go, and transparency is super important when it comes to true sustainability.
Basically, they take their responsibility for respecting people and planet seriously as they help travelers explore the world.
Find the Premium Turkey Itinerary here, plus many, many more.
Then get out there and wander on.
•
This post contains affiliate links. Which means when you clicky-click and make a purchase, Terradrift may benefit!
Alisha is a freelance writer and photographer based in Austin, TX. She loves her tiny house, vegan food and experiencing the community of travel in far away places. She's also pretty sure she's addicted to coffee. alishamcdarris.com