The more time we spend outside, sleeping in tents, summiting peaks, hiking to hidden lakes, the more we realize outdoorsy folks like to enjoy a frosty beverage while they're kickin' back or takin' in the view (ourselves included). But a cold beer or a passing of a flask of bourbon doesn't always cut it. Sometimes you want something more. That's where camp cocktails come in. Because if you want a martini while you grill your veggie burgers or hammock in the shade or entertain at your campsite after a day of hiking or kayaking or biking, well, dang it, you should have it!
But the idea of making camp cocktails far from running water, an ice maker, or your bar at home can seem daunting. We have good news: it doesn't have to. In fact, we whipped up 3 delicious cocktail recipes that are not only easy to make, but will definitely impress your campmates, plus a packing list so you'll always have everything you need to shake up some adult beverages by the campfire.
An Important Note About Drinking Outdoors
Let's start with some rules, because when you're drinking outdoors, it's of the utmost importance that you do so responsibly. First and foremost, the hard and fast rules:
Don't try to mix cocktails in any park or outdoor space where alcohol isn't permitted. Rules are rules for a reason. Just don't do it.
Just as important: drink responsibly. Avoid excess. The outdoors is not a place you want to be black-out drunk (or anything more than tipsy). Bad things can happen out there when you're not aware and alert, especially near water.
Don't drink and drive. And that includes cars, bikes, watercraft, ATV's, etc. Camp cocktails are best consumed when you have a whole night of just sitting and chilling ahead of you.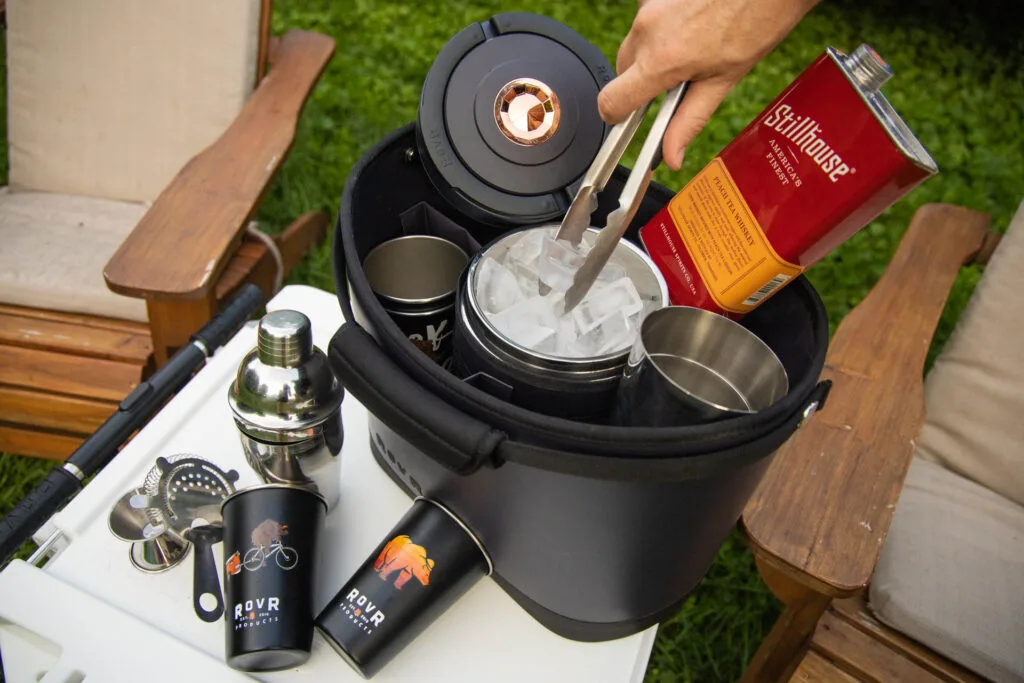 Tips for Making Camp Cocktails
OK, we got the safety lecture out of the way (we know you didn't really need to be told those things, but we just gotta put it out there), let's dive into some tips for making camp cocktails that will change your outdoor mixologist game.
Keep cocktail recipes simple. Three or four ingredients plus maybe a garnish or two means you won't have to cart your whole bar plus your whole fridge outside with you.
If you're making several cocktails, choose ones with similar ingredients like lemon juice or ginger beer to streamline your packing list.
Go through an ingredient and tools checklist before you leave your house to help ensure you have everything you need. It's an epic bummer to start mixing a cocktail and realize you forgot your zester or grater.
Leave the glass at home! This is a big one. Glass isn't welcome in the outdoors. So if your booze or ingredients came in glass bottles, transfer them to plastic or metal before you leave the house.
Don't use ice straight out of the cooler. That crap is dirty. Especially if you're also storing cans of beer or packages of veggie dogs in there. Do you want salmonella or norovirus?!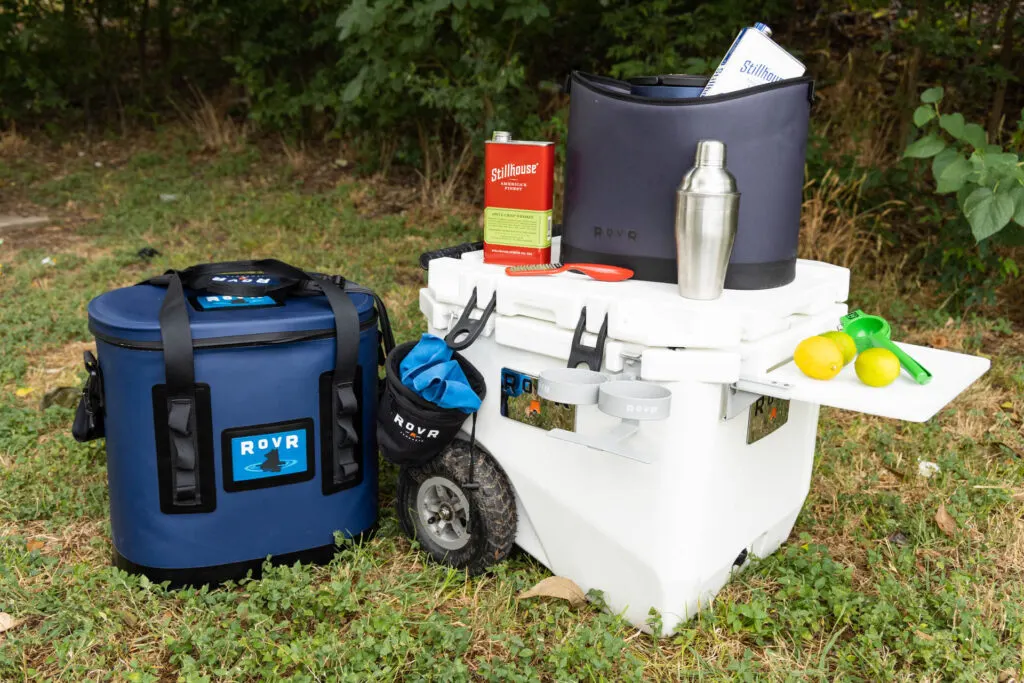 Camp Cocktails: The Tools
Naturally, you're gonna need a few tools to make epic camp cocktails. Some will be the same things you use at home, some are specific to taking your mixology game to go.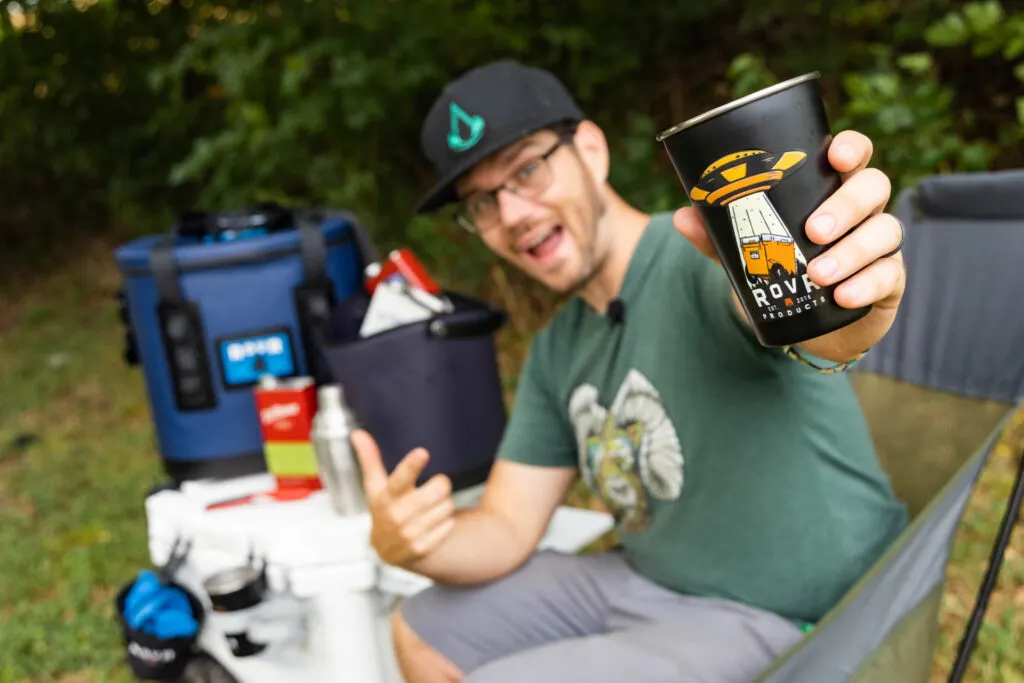 Camp Cocktails: The Recipes
Ready to get mixing? Of course you are! Sorry there are no epic photos. Cocktails in metal cups don't photograph very well. But trust us, they're all delicious.
Stillhouse Mule
Otherwise known as a Moscow Mule (but nobody is too fond of Russia right now, so who wants to call it that?), this one is made with Stillhouse Vodka because the brand sells spirits in steel cans designed to be taken outdoors. Simple, but delicious, this cocktail can be easily adjusted to suit your tastes.
Ingredients:
2 oz vodka
1/2 oz lime juice (we like our mules limey)
3 oz ginger beer
Lime wedge for garnish
Directions:
Pour the lime juice and vodka into your shaker with a few cubes of ice. Shake until cold, then strain into a cup with fresh ice, add ginger beer, and toss in a lime wedge for garnish. Enjoy cold!
Whiskey Sour
Another simple cocktail that's easily customizable if you like it more tart or more sweet, the whiskey sour has the added benefit of being served at room temp if you don't have ice.
Ingredients:
3/4 oz lemon juice
3/4 oz simple syrup
2 oz whiskey
Lemon wheel for garnish
Directions:
Combine the lemon juice, simple syrup and whiskey in a shaker with a few cubes of ice. Shake vigorously until cold, then strain into a cup with fresh ice and enjoy cold garnished with a lemon wheel. This can also be stirred instead of shaken and served at room temperature if you prefer.
Apple Pie Cocktail
Delightful cold or hot, this cocktail is like sipping a boozy apple pie, for real. We're big fans. Use mulled apple cider for more fall flavor, but apple juice will work the rest of the year when it's hard to find cider.
Ingredients:
1/4 oz lemon juice
1/4 oz ginger syrup
1.5 oz apple juice or mulled apple cider
1 cinnamon stick + 1 for garnish
1.5 oz Apple Crisp whiskey or Apple Jack
Freshly grated cinnamon and nutmeg for garnish
Directions:
Start by adding the whiskey and a broken up cinnamon stick to your shaker. Dry-shake (shaking with no ice) for 15 seconds. Then add lemon juice, ginger syrup, apple cider (or apple juice if mulled cider isn't in season) and several ice cubes and shake until cold. Strain into a cup with ice, top with a pinch of freshly grated nutmeg and cinnamon, and sip away!
You can also enjoy this as a hot toddy on cool nights by warming the juices and syrup over your fire or camp stove, adding the dry-shaken whiskey and cinnamon, and garnishing as usual.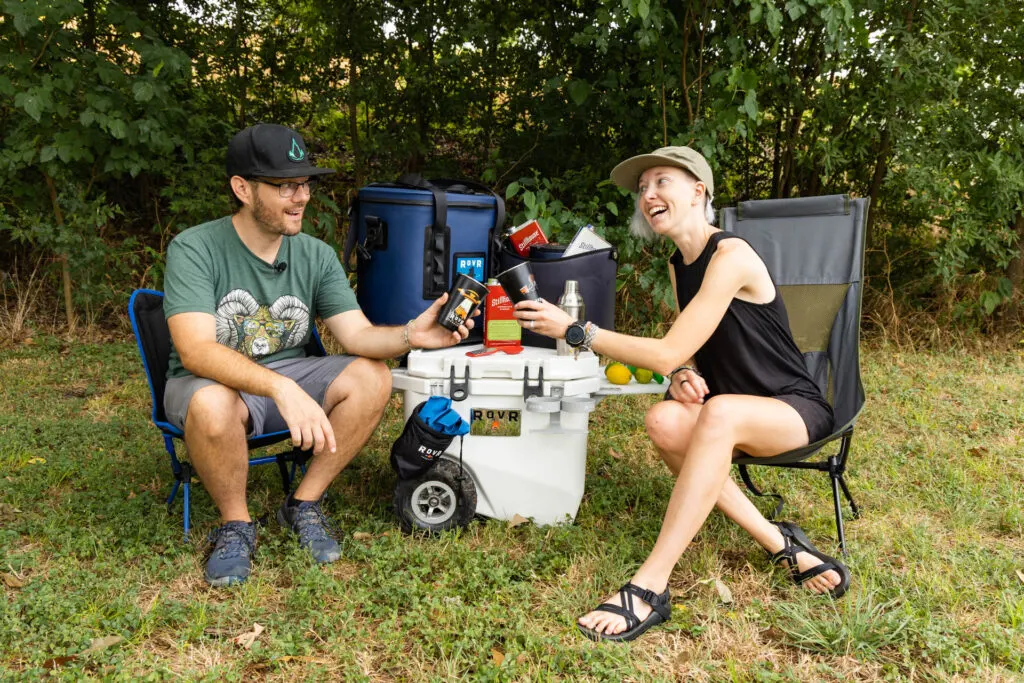 Bottom Line
See, making camp cocktails outdoors don't have to be intimidating. With a few of the right tools and a little pre-planning, you can do so much more than crack a can of beer or pass around the flask the next time you want to enjoy an adult bevy in the great outdoors. Just remember to drink responsibly!
What are your fave camp cocktails? Or are you stoked to try one of these? Let us know! Then sip something satisfying and wander on!
•
Read more: Backcountry Spirits and Sips – Camping with Alcohol
•
This post contains affiliate links, which means when you clicky-click and make a purchase, you help support this rad small business. You rock.
Alisha is a freelance writer and photographer based in Austin, TX. She loves her tiny house, vegan food and experiencing the community of travel in far away places. She's also pretty sure she's addicted to coffee. alishamcdarris.com