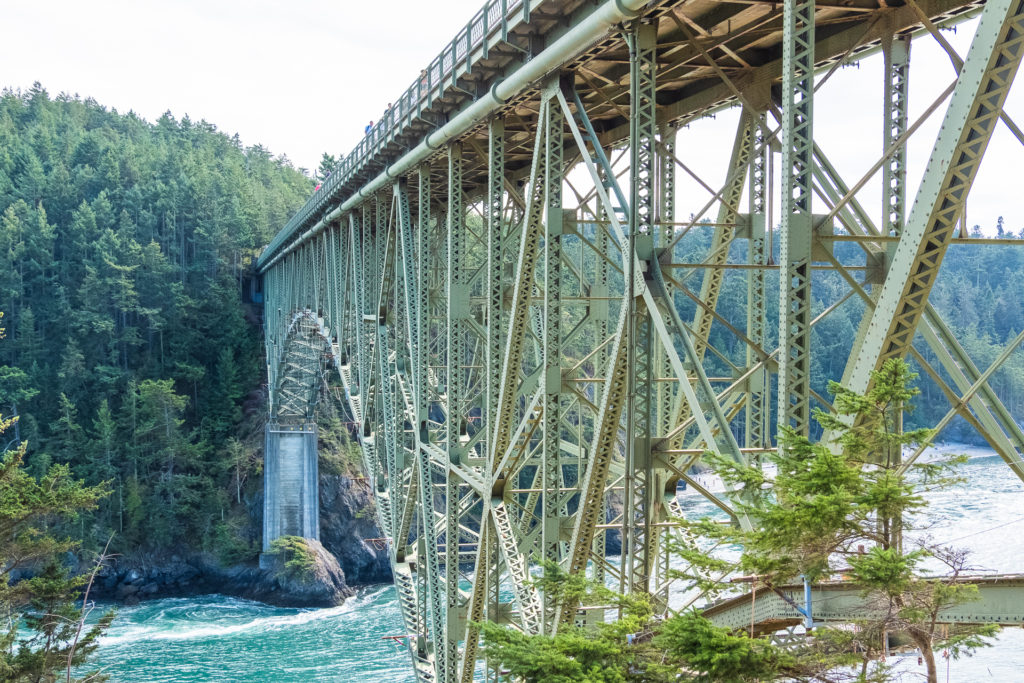 You'd think we liked living in our car or something. At least, that's what it would appear based on the fact that we spent 69 days this summer driving across two countries in one epic road trip from Austin to Alaska. Wanna know where we went? And how much we spent? Well, brace yourself, cause we're comin' atcha with all that information and more. Read on.
The Austin to Alaska Road Trip Route
It wasn't necessarily a straightforward route, and certainly not one meant to just get us from Point A to Point B. This Austin to Alaska road trip, as all road trips should be, was about taking our time and exploring as many spaces and places as we could in the time allotted. It was a slower, steadier pace than last year's west coast road trip, and we liked that. We liked it a lot. And while the above map suggests that we drove under 10,000 miles, we drove more than that. A lot more. Like, over 2,000 more. For a total of over 12,000 miles round-trip. Think you're up for such a journey (is your car)? Here's where we stopped along the way (and the way back):
We never pass up the opportunity to stop in Denver for some vegan food and urban exploration.
Josh had never been, so we had to explore together and gear up for our first backpacking adventure of the trip!
Perfect summer temps and stunning hikes? Yes, please! Also, blueberries.
By far the hardest backpacking excursion of the trip, Denali is true wilderness backpacking.
Less vegan food that we had hoped for, but a trip to geothermal Chena Hot Springs is almost enough to make it worth the trip.
There wasn't much to see between Alaska and central/western Wash, but that didn't mean we didn't take our time driving a new route through British Columbia. The Cascade Loop and North Cascades provided some awesome hiking and backpacking.
This superb city is surprisingly full of not only outdoor adventure, but vegan food, too.
Glacier needs no introduction. It's spectacular, even if it is overrun with people.
Mountains! Lakes! Secluded campsites. Win and win.
Taking a little psuedo break from travel? Check. Still making time to work and get outside and play? Also check.
Austin, Texas
And back home again, with a rainy and spider-infested stop in Palo Duro Canyon State Park.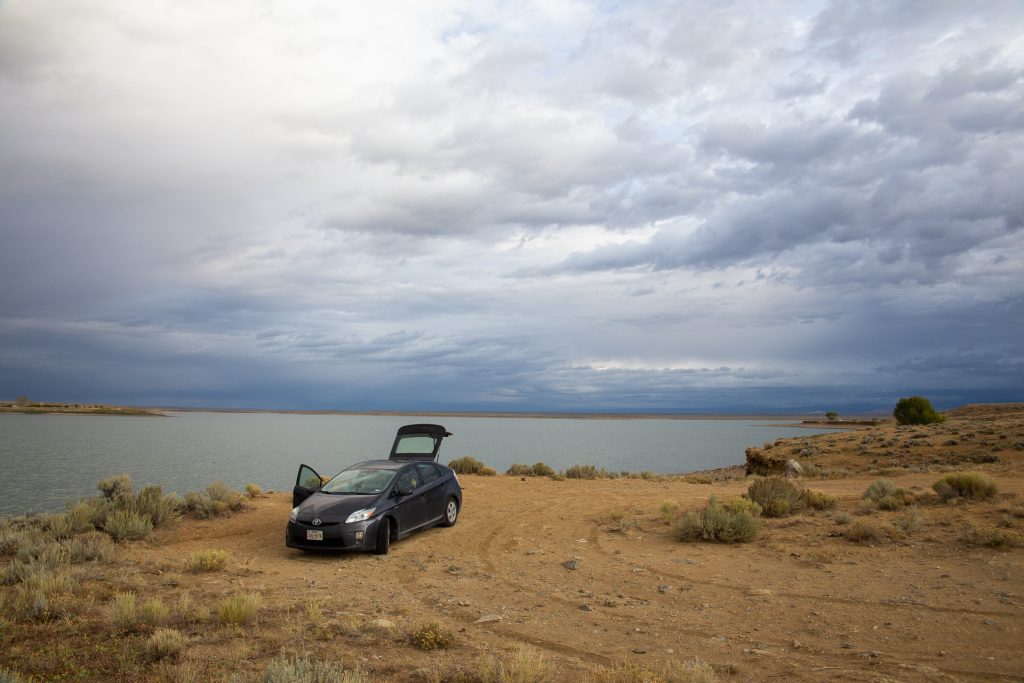 The Car
In case you're curious as to what we were driving–most people ask us if we have a van or small RV–our road trip vehicle of choice is our trusty 2011 Prius. She. Is. A trooper. For real, this girl *crushed* this Austin to Alaska road trip! (The Prius is a she, btw.) The only issue the whole 12,000 miles was a flat tire on day one, and that wasn't her fault, poor thing. She even made it all the way there and back again without an oil change! This was not ideal, obviously. We use full synthetic oil, which should get us 10,000 miles, and I'm pretty rigorous about keeping to scheduled oil maintenance, which I do myself, but I didn't have an easy way to do the work on the road and no way was I paying $80+ for a shop to do it for me (besides, I can never get the filter off after those noobs torque it on). So I just made sure she was always topped up and as soon as we returned she got some well-deserved love.
And yes, we slept in the car. But not in the back with our custom cut-out like last time. We had too much stuff this go-round. We slept in the front seats when we weren't camping or couchsurfing, which was probably a little less than half the time. And yes, we suffered from van envy every time we saw someone sleeping comfortably in a full-size bed or cooking in a pull-out kitchen (while we crouched by a backpacking stove near the tailgate), but then we reminded ourselves that we were getting 45 mpg's and they were getting about 20, so take that, van-lifers!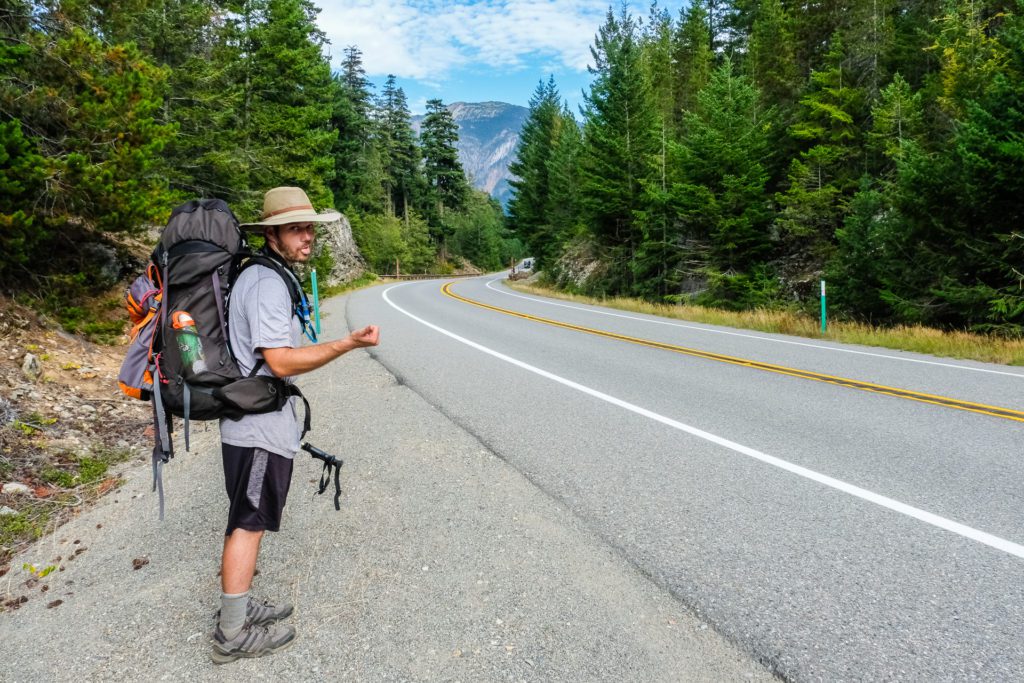 The Cost
So you wanna know how much we spent on this epic Austin to Alaska road trip? It's always about the money with you, isn't it? Well here goes.
Drumroll, please!
Our spending total for 69 days on the road was $4,250. That's about $1,417 per month or $62 per day (or $31.50 per person per day). How ya like them apples?
And yes, that's pretty much ALL of our travel-related expenses, from gas to eating out, park passes to accommodation, entertainment to a cup of coffee, shopping sprees for used backpacking gear and clothing at Goodwill to fuel canisters for our stove. Might I have missed a few things in my calculations? Sure. But this is a stinking close ballpark, OK, so deal with it.
And oddly enough, our (reduced) income for the exact same time frame was $4,500. So, yeah. We *technically* made more than we spent (though the $4.250 doesn't include non-travel-related expenses like insurances, memberships, rent, etc. that we still paid for while we were traveling–except for rent, but more on that below). That's a win, my friends.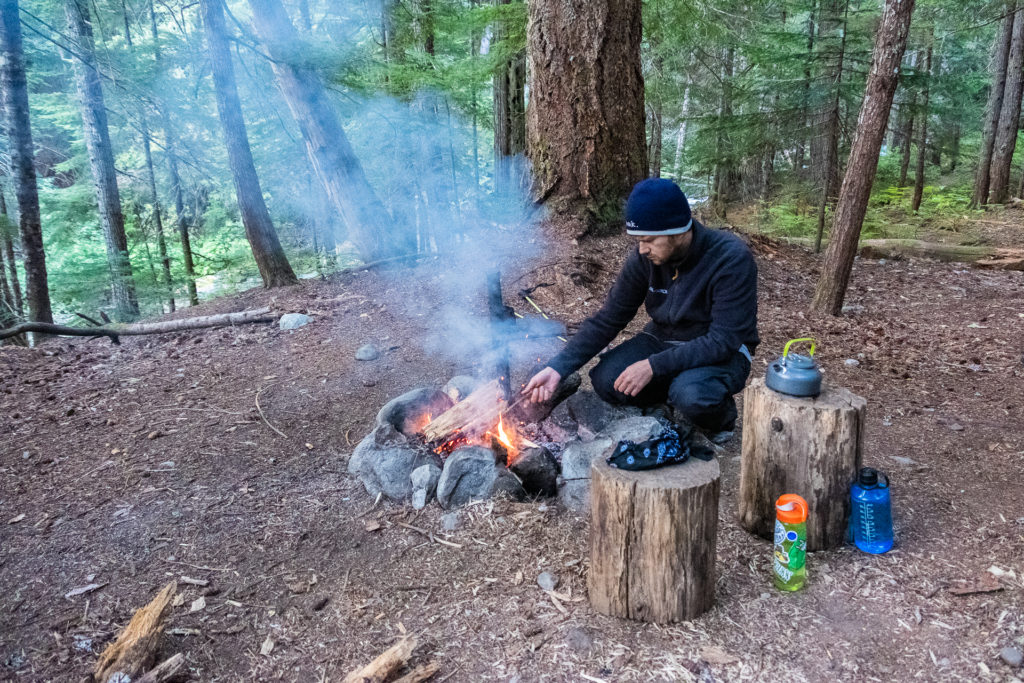 How Did We Spend So Little?
I'll tell you, but you're not gonna like it: we slept in our car and freedom camped a lot. We paid for accommodation four times in the entire two months: once when I needed a kitchen for a recipe assignment that was due, for a few days at a campground in Anchorage (no freedom camping there), one night at a campground with a fire ring (also when I needed to submit a recipe assignment…sensing a theme here?), and in Avon, Colorado when we decided to kick it for a few days and get some work done and nabbed a good deal on a resort.
What about the rent mentioned above? As you may know, we live in a tiny house. The home is ours. We built it, but we rent the land it's on because it's technically illegal to live in one on your own property, so we rent. However, we sublet it when we travel for long periods of time, which means someone was not only paying our rent for us, but we charged a little extra so we could pocket a little extra for two months.
We also ate out an average of one meal a day (if that) and cooked most of our own food, which is cheaper. As for fuel costs, well, the Prius is a champ in that department, especially when in freaking B.C. or Yukon, Canada where gas is pushing $4 per gallon or more.
Want to embark upon your own epic road trip? Does this this help it seem more attainable? Here at Terradrift we're nothing if not helpful! Wander on!
Alisha is a freelance writer and photographer based in Austin, TX. She loves her tiny house, vegan food and experiencing the community of travel in far away places. She's also pretty sure she's addicted to coffee. alishamcdarris.com