The BioLite FirePit+ is a perfectly portable smokeless fire pit and grill designed for all your outdoor adventures (even if they don't extend past your own backyard).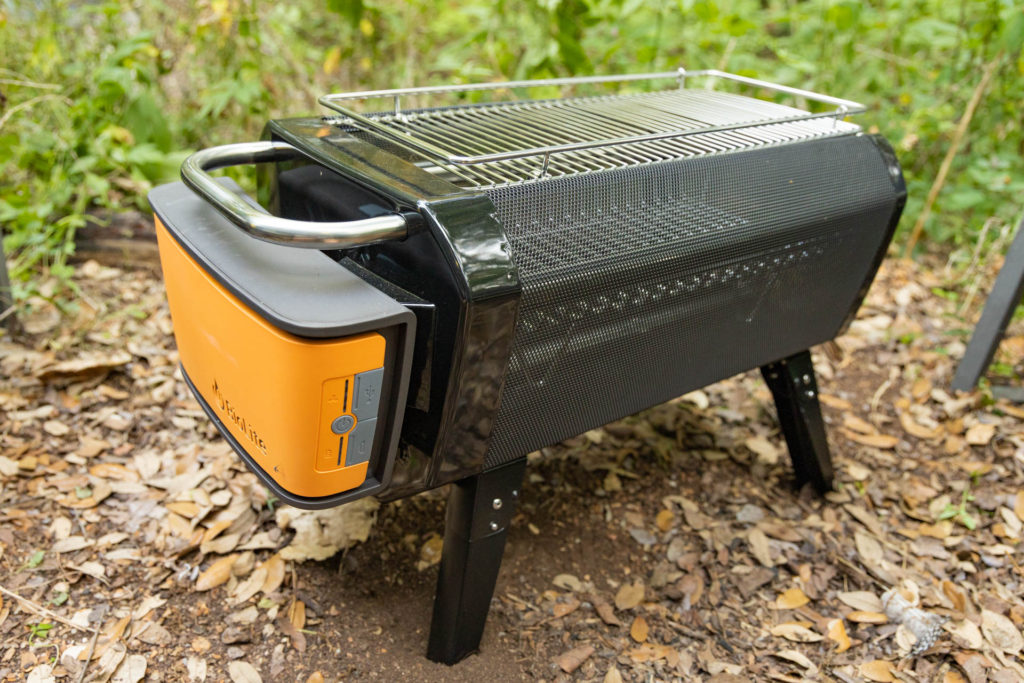 What's the number one complaint uttered around the campfire? "There's smoke in my face!" Followed by everyone present picking up their chairs and moving three feet to the left in some twisted game of musical chairs because they suddenly and inexplicably had a face full of smoke.
You've been there. I've been there. We've all been there. But it's like Christmas at your Great Aunt Wilma's: nobody's happy about being there and you just wish you could eat your grilled veggie burger in peace.
So what's the solution? A portable, smokeless fire pit you can take on every camping adventure, that's the solution. Allow us to introduce you to the wood and charcoal burning BioLite FirePit+. We'll break down the features that make it unique among portable grills and fire pits and what we thought of this well thought-out piece of tech.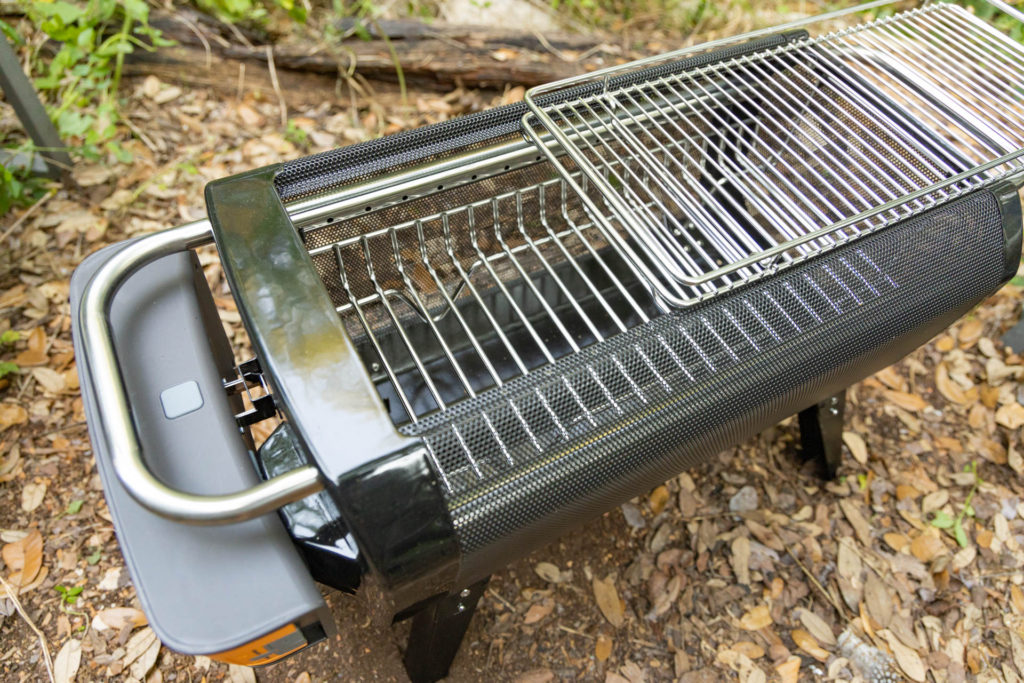 BioLite FirePit+ Smokeless Fire Pit: The Deets
We've tested BioLite gear before, namely the smokeless BioLite CampStove 2, so we know this tech works. But the FirePit+ works a little differently. Namely, unlike the CampStove, it doesn't recycle the heat from the fire and turn it into power that you can use to charge your electronics.
That said, the power pack does function as a backup battery, so you can still plug in your phone, your BioLite SiteLight String lights, pretty much anything powered by a USB cable. It should run for 30 hours on low, 14 hours on medium, and 7 hours on high thanks to the 12,800 mAh battery.
Just turn it on and voila! Power! And a fan. In fact, that's how the FirePit+ is smokeless and so dang efficient: the inside features 51 air jets that inject the fire with oxygen, all controlled by either the FirePit's powerpack or with the free BioLite Energy App.
The air jets create a more uniform burning temperature, which significantly improves combustion, i.e. a hotter, more consistent fire. It can also help get said fire going. You know, so you don't end up lightheaded blowing on the coals until the wood catches or you pass out in the dirt.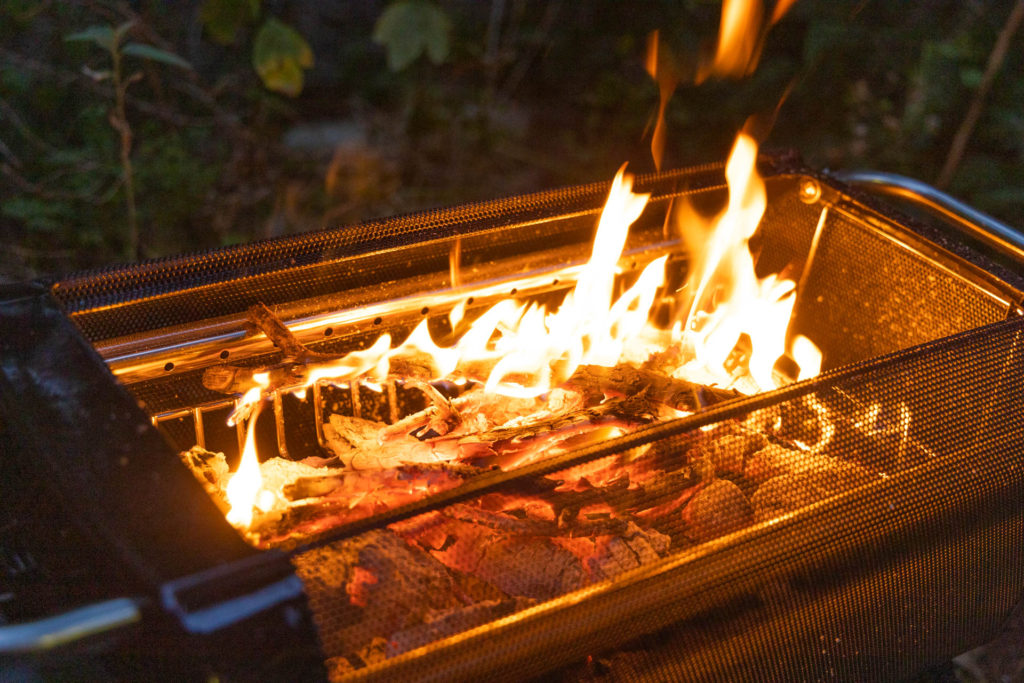 The FirePit+ is big enough for standard pre-cut logs, so you can pick up a bundle pretty much anywhere and it'll fit. The opening is long, but it isn't that wide, so you may want to opt for slightly narrower pieces, just FYI.
It also comes with a fuel rack that you can raise if you prefer to use charcoal instead of wood and transform your setup into a grill, complete with included slide-on grill grate.
The whole kit weighs in at 19.8 lbs, so totally manageable, and the folding legs make it easy to store and cart around. There's also a trap door at the bottom for cleaning out ash and coal, btw.
What's more, you can also get it with a grill lid for more serious outdoor cooking endeavors, a griddle attachment, even a fire mat to put underneath the FirePit to further protect the ground from any radiating heat. There's even a carrying case if you plan to travel with it often or just want to protect it during off-season storage.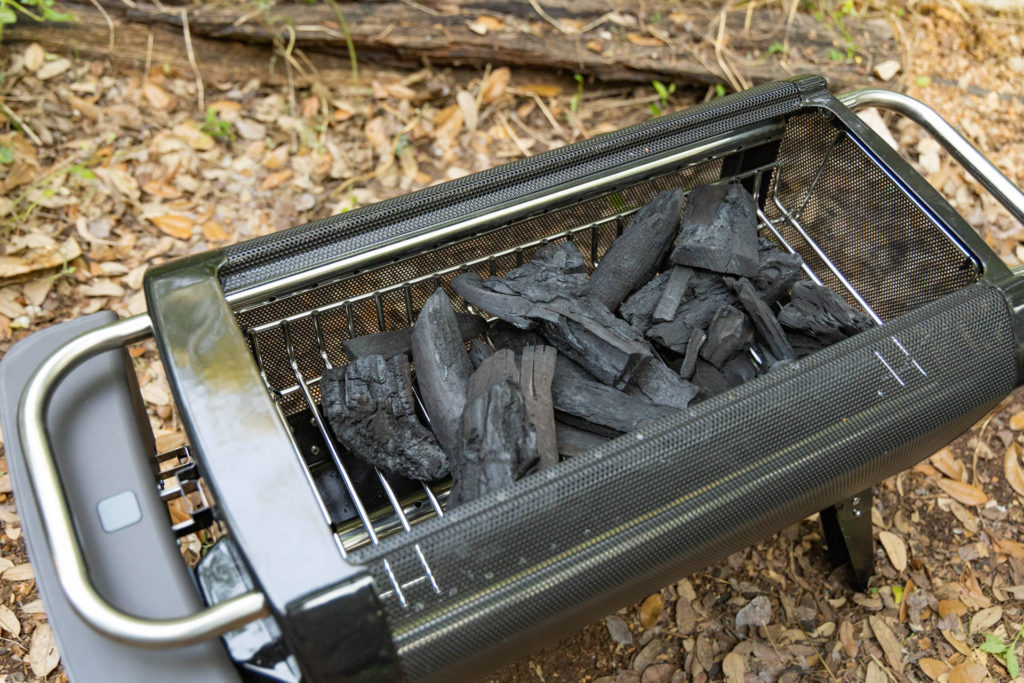 BioLite FirePit+ Smokeless Fire Pit: The Review
But what did we think of it? We liked it, that's what we thought of it. It's easy to use, it's almost entirely smokeless, and it offers a fantastic campfire or grilling experience.
There was a little smoke when first getting the fire started, but it was minimal and disappeared almost as soon as we turned the fan on. Which we did via the buttons on the power pack, FYI. The app works, but honestly, I'm not sure why you need an app for the FirePit+. The buttons are right there. And no one should ever be so far away from a live fire that they can't quickly and easily pop over to turn the fan setting down or up.
We prefer to spend less time with phones in hands when we're outdoors, anyway, so we'll probably just use the ol' analog buttons on the powerpack, thanks very much.
Inside the FirePit+, the adjustable fuel rack is super handy. In the lower position, legs elevate the rack an inch or two above the floor of the fire pit, allowing for super air flow, and when raised, there was the perfect amount of space to spread out charcoal for grilling. The grill offers limited space, so it's probably best for just 2, 4 people max depending on what you're grilling, but it made quick work of veggie burgers, a foil packet of mushrooms, and sliced zucchini.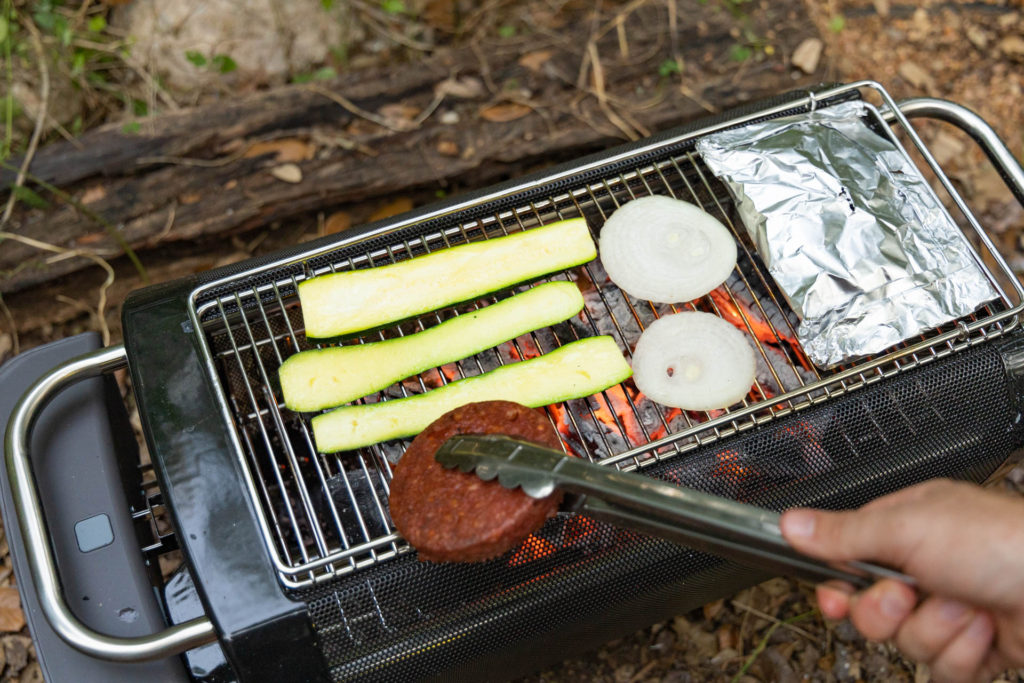 Though we do wish there was an easier way to raise or lower that fuel rack so you could easily transition between grilling over charcoal to a wood campfire or vice versa without having to wait for the whole thing to cool down.
With the right tools you could manage it, but it's hard when the fire pit is putting off as much heat as it does.
And it does put off some heat! Which is usually what you want in a fire pit. That's partly due to the air jets, but also because of the X-ray mesh all around the sides. That perforated metal makes it so that heat can radiate outward instead of just up–a welcome design feature on chilly evenings–but you can also SEE the fire, which is rad.
As for hearing it, that delightful crackle and pop of wood burning? You can still enjoy those ambient sounds on the two lowest settings of the fan. Above that, it's mostly just fan noises.
And you will need to keep that powerpack charged in order to avail yourself of the fan and air jets. I don't always love having one more thing to charge when I'm camping, but sometimes it's worth it.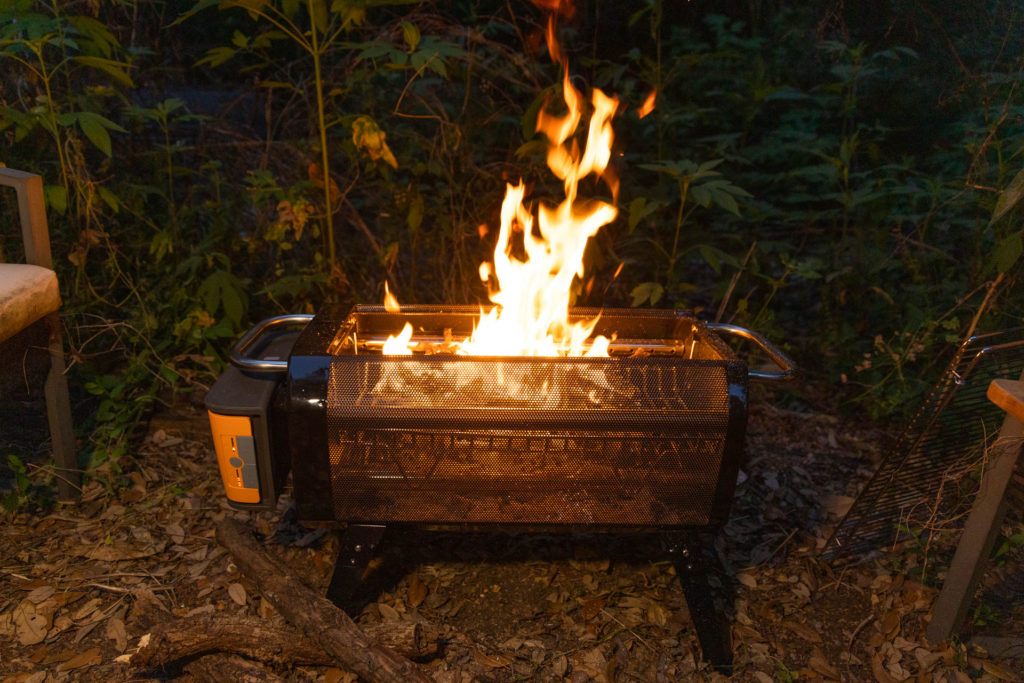 Bottom Line
No, the BioLite FirePit+ isn't a budget item at $299, but it's absolutely comparable in price to other smokeless fire pits, like the Solo Stove Ranger, which is the same price but doesn't have a power pack and isn't as portable or versatile.
Plus, BioLite is a sustainably-minded company and they're doing a lot to give back. They're Certified Carbon Neutral, for one. Plus, they provide access to renewable energy and clean cooking solutions to communities suffering from energy poverty, which is funded every time someone purchases gear.
They also publish an annual impact and sustainability report so anyone can take a look at their footprint and give-back programs, which means they care about accountability and transparency, which is huge when it comes to sustainability.
Long story short, this is a dope piece of gear for everything from backyard s'mores parties to overland camping trips to car camping at the park down the road. Do you absolutely need a smokeless fire pit that burns more efficiently and can also charge your phone?
I dunno. Maybe. I don't know your life. But it definitely makes fireside hangs more enjoyable. And toasty, too.
So set that campfire ablaze and wander on.
Alisha is a freelance writer and photographer based in Austin, TX. She loves her tiny house, vegan food and experiencing the community of travel in far away places. She's also pretty sure she's addicted to coffee. alishamcdarris.com