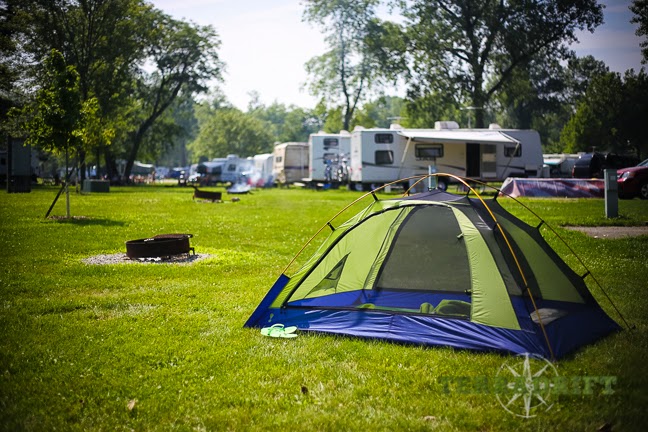 Tent Camping at Lake Loramie State Park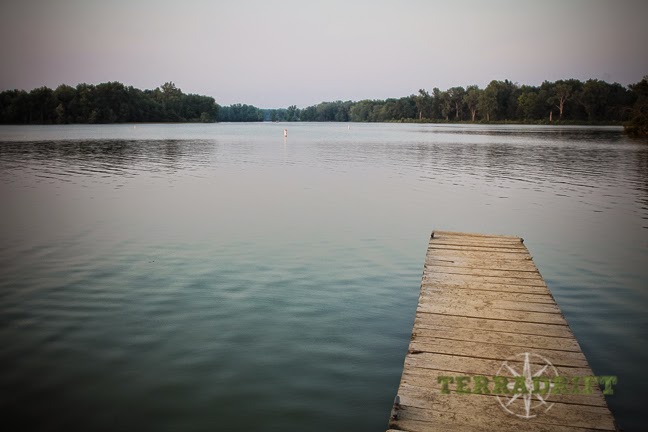 Relaxing view of the lake are in abundant supply at Lake Loramie State Park
Camping at Lake Loramie State Park, Ohio
I grew up camping — hiking through the woods, slathering on bug spray every evening around the campfire before making s'mores and pudgy pies — so a decent campground is a thing of beauty to me. I've seen campgrounds with pools, cable hook-ups, tennis courts, and more, but I still prefer the simpler sites with a tent, a picnic table, and a few outdoor activities to occupy my time before breaking out the ghost stories around the fire.
Most recently, we set up camp at Lake Loramie in Minster, OH and enjoyed a relaxing weekend by the water with my family. They had a pop-up camper, which was nice when it rained, but Josh and I slept in a tent, as usual. Throw down a sleeping pad and grab a thin sleeping bag or blanket, and you're good to go. Also earplugs and an eye mask if you want to sleep past 7. Which I usually do.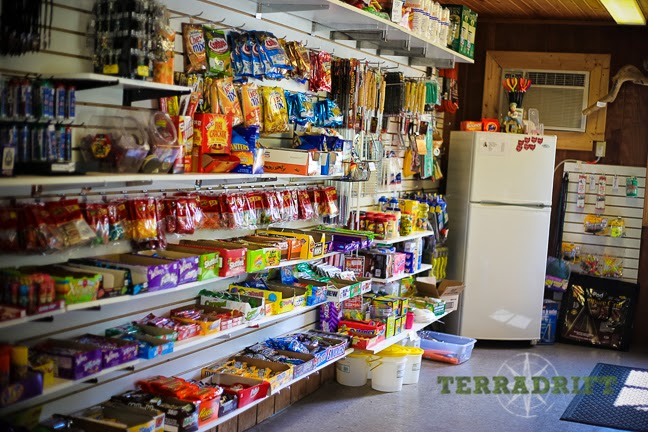 The convenience store is located in the check-in building at the front of Lake Loramie State Park and stocks all the essentials.
The campground is just outside quaint Fort Loramie, a bitty little town armed with a few bare necessities: a gas station that doubles as a grocery store, a TV repair shop, and a motel with a Dairy King out front. It's within easy biking distance if you brought a set of wheels camping with you or you could make an afternoon of it if you opt to walk. In any case, it provides an afternoon of small-town diversion perfect for campers in the simple-life mindset.
But there's no need to leave the campground, really. There's a mini convenience store inside the check-in building that stocks everything from first aid supplies to candy to bait to orange juice and even offers cups of coffee and a microwave. It also happens to be where you can rent bikes, canoes and kayaks at very reasonable rates (a canoe rental only costs $6 for the first hour!). There are also basketballs, horseshoes and lawn games to borrow and there's a volleyball court, as well. Guests can also play putt-putt on a (small, run-down) course for only $1 per game. It's not much, but it's something to do and the kids seemed to really enjoy it. And here's a tip: if you plan on playing multiple times in a day or weekend, just skip the last hole that eats your ball and hang on to it until you play the last game of your stay, that way you only have to pay once!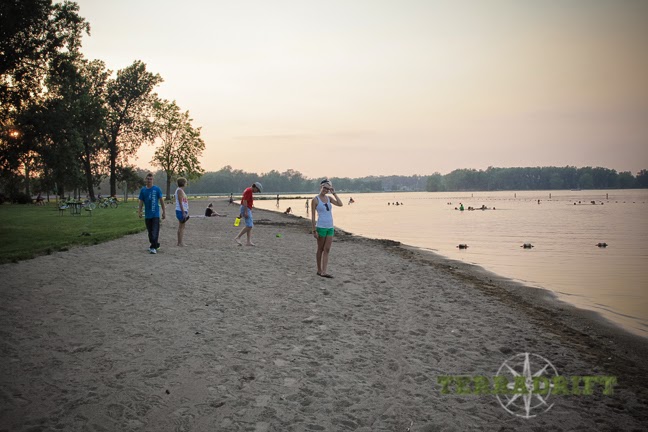 Didn't bring your own set of pedal-powered wheels? Rent one.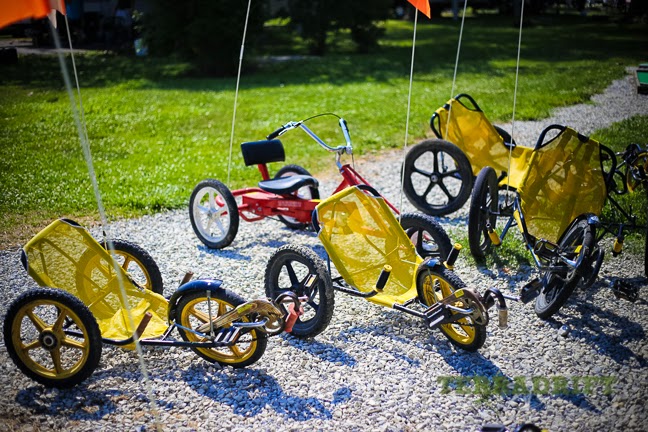 A beach for relaxing between dips in the lake at Lake Loramie State Park in Ohio.
There's also a nature center that offers nature programs throughout the day and several playgrounds to keep the kids (or parents like my dad who love to swing as much as kids) occupied. There was even a puppet show put on by (I'm assuming) a local church on Sunday. Of course, since the campground is on a lake and in fact surrounded by a mote, there's also a "sandy" beach for swimming and sunbathing. I say "sandy," but really it was just fine dirt. Nevertheless, it offers a beachy atmosphere complete with picnic tables and shelters.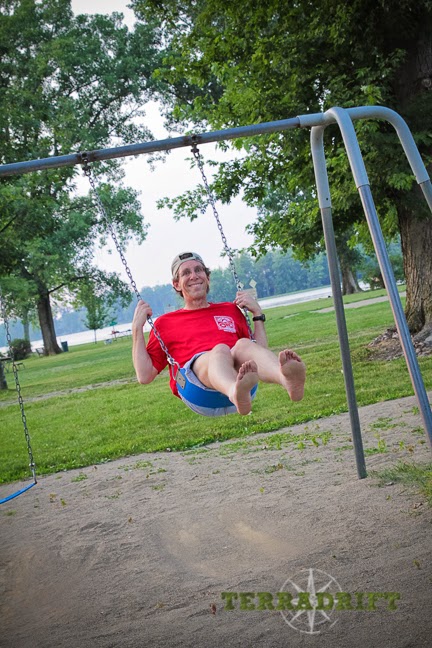 Swing sets weren't in short supply at Lake Loramie State Park.
Campers can fish pretty much anywhere on the lake, but all that our party seemed to have luck with was river catfish. Sure you can fix them up for dinner, but they were all pretty small and taste like mud. Or so I'm told. I've never actually eaten a catfish from a river or lake. But if you do decide to try your hand at fishing, remember if you're over 16 you have to have a fishing license which you can get by stopping at somewhere like Wal-mart on your way to the campground or online here. Prices start at $19 for residents and $11 for a one-day pass for visitors.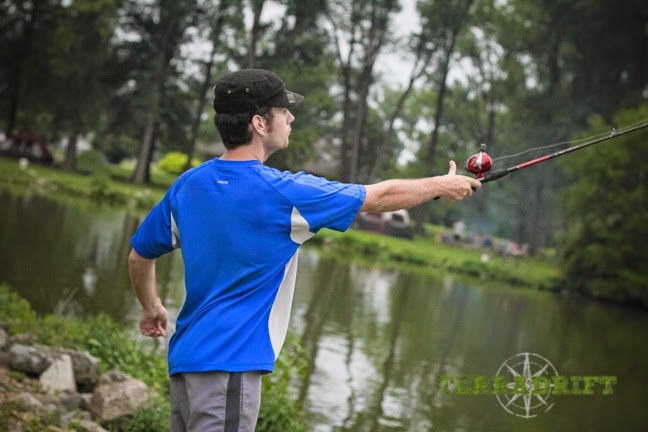 Fishing at Lake Loramie State Park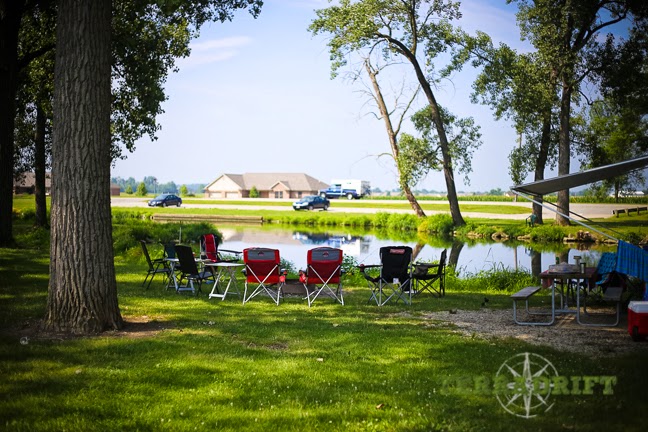 There's plenty of waterfront property at Lake Loramie State Park.
But naturally my favorite part of the trip was the kayaking. Josh and I love kayaking and so do my parents, so we were out circling the lake and conducting paddle races every day. There's plenty of lake, so we explored a different part of it each time.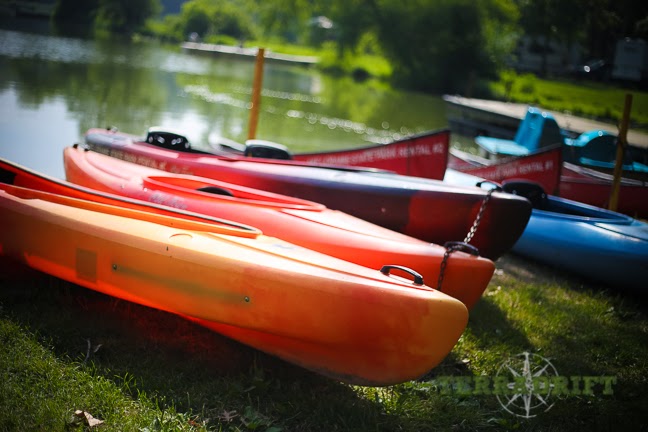 Kayaks and canoes are available to rent at Lake Loramie.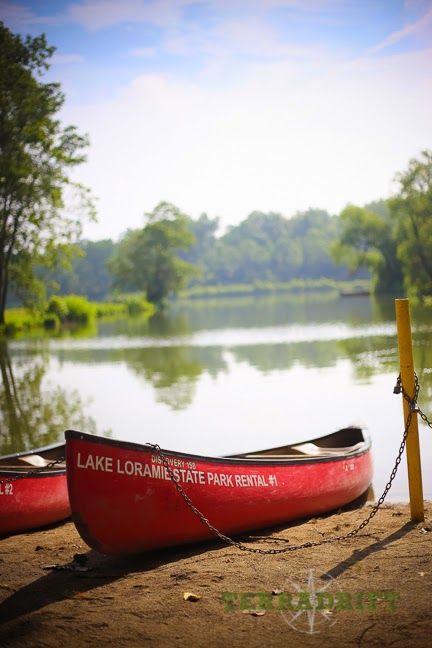 Kayaks and canoes are available to rent at Lake Loramie.
And of course there are the evening campfires for hot dog grilling and s'more making. But you can leave the Hershey's at home. I got your new favorite concoction right here: graham crackers, marshmallow and Reese Cup. I'm obsessed with peanut butter and it makes the most amazing s'more ever! Of course, if you're my dad, you chase your s'more with an apple or cherry pudgy pie (two slices of buttered bread with a hefty helping of apple or cherry pie filling smeared between them and cooked in a cast iron sandwich toaster which is placed into the hot coals until crispy on the outside and warm and gooey on the inside).
Not a tent and pop-up shelter kind of person? Well, fear not. There are even three little cabins on the lake equipped with air conditioning and gas grills so "roughing it" doesn't seem so rough.
All in all, Lake Loramie State Park is a good choice if you're looking for an off-the-beaten-path kind of adventure in Ohio. And at $24 per night for a tent sight, a heck of a lot cheaper than a hotel (and more fun). Don't forget the bug spray!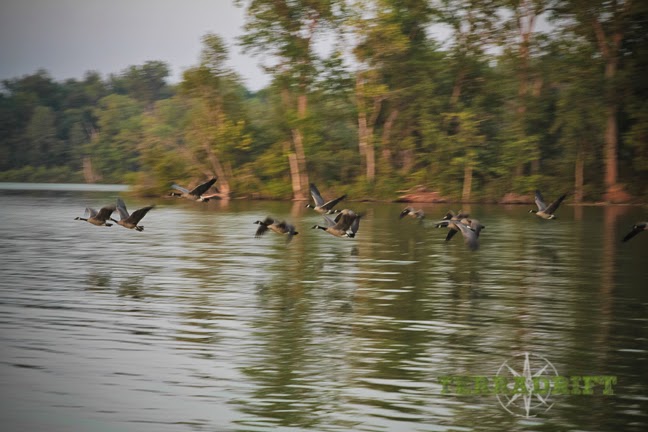 Canadian Geese taking flight.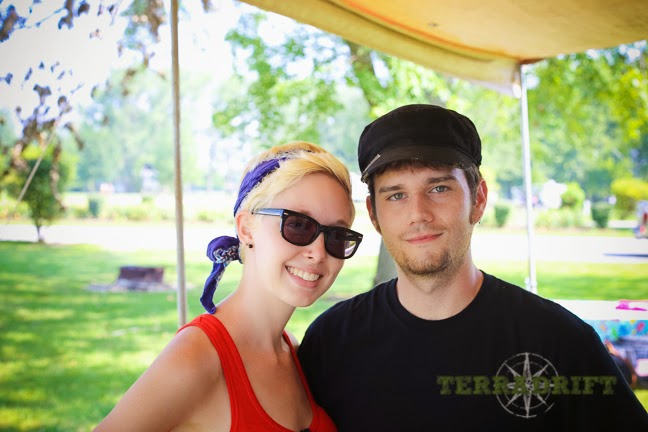 Alisha and Josh enjoying a relaxing weekend of camping at Lake Loramie State Park.
Alisha is a freelance writer and photographer based in Austin, TX. She loves her tiny house, vegan food and experiencing the community of travel in far away places. She's also pretty sure she's addicted to coffee. alishamcdarris.com