You know what they say! April showers bring May flowers! But Mother Nature doesn't care if it's spring; she'll bring the moisture whenever the heck she feels like it. So no matter what time of year it is, these sustainable rain jackets made of eco-friendly materials will keep you dry and protected from the elements. So here are 6 of the best of the best so you can stay dry during all of your adventurous wanderings.
*But don't forget! If your current rain jacket isn't shedding water like it used to, sometimes all it needs is a good wash and reapplication of a water repellent coating. Learn how to re-waterproof your rain gear here. And if you'd like to learn more about DWR treatments and harmful PFCs in waterproof coatings, check out this post.*
Sustainable Rain Jackets Made of Eco-friendly Materials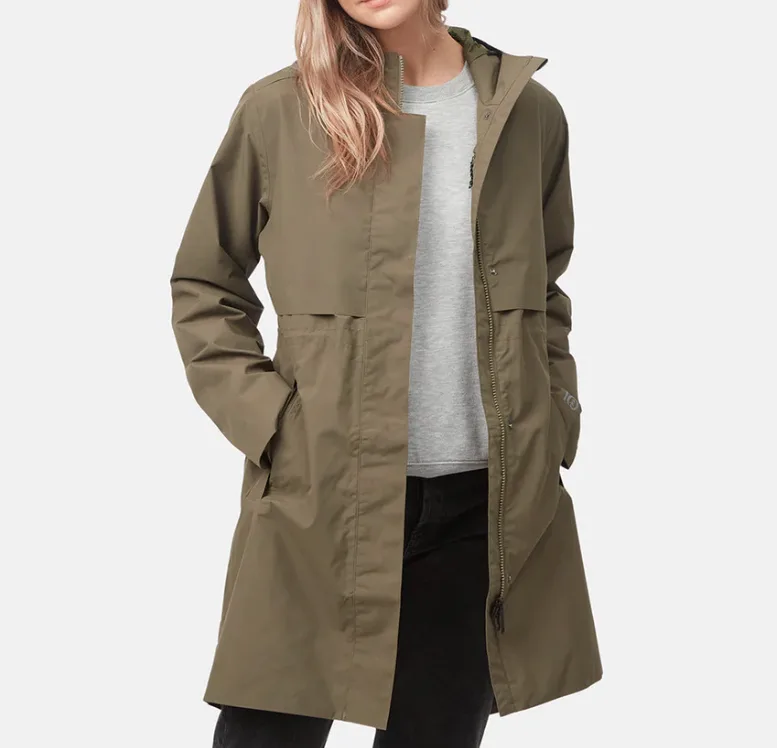 Tentree Nimbus: Best For Day Hikes and Around Town
Available in one style for men and two for women (long and short versions), this is not only a more sustainable rain jacket, but one that does good, too, because tentree plants 10 trees (get the name now?) for every product they sell. The nimbus comes in a handful of neutrals, is made of Bluesign approved materials that are also recycled, and features a PFC-free DWR coating. They do fit a bit on the large size, so order down a size if you're not planning on layering a bulky sweater underneath.
Why we like it: Rain rolls right off, of course, but the outer fabric is durable and and we love that it's lined so it feels like a high-quality piece of gear, but comfortable for long periods of wear, too.
Ding: It's not super light or packable, so perhaps not the best choice for backpacking, and the cuffs aren't adjustable.
Learn more about the brand in our Sustainability Spotlight Q&A here and find the men's jacket here and the women's short here and long here.
---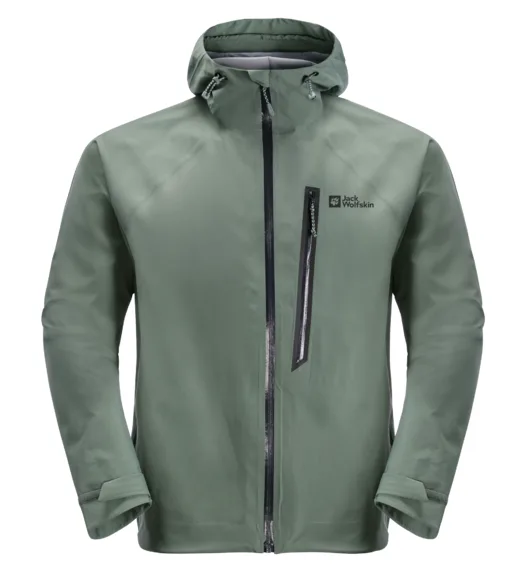 Best for High-Performance Adventures: Jack Wolfskin Tapeless Jacket
Looking for a jacket that leans more toward high-performance shell than day-to-day rain jacket? The new Tapeless Jacket from Jack Wolfskin is an excellent choice. Made with the brand's Texapore Core Fuse Stretch Ripstop 3-layer and Texapore Stretch Pro 3L fabrics, they've innovated a design that doesn't require seam tape, which means every jacket eliminated the need for more than 60 feet of seam-sealing tape! That's a lot of virgin material that never needs to be produced! But it still has full adjustability in the hood, hem, and wrists. Unfortunately, this jacket is only available in men's currently, but we hope to see a women's version in the near future.
Why we like it: Reduces tons of unnecessary materials.
Ding: There are no hand pockets and it's far from a budget-friendly jacket.
Find the men's Tapeless Jacket here.
---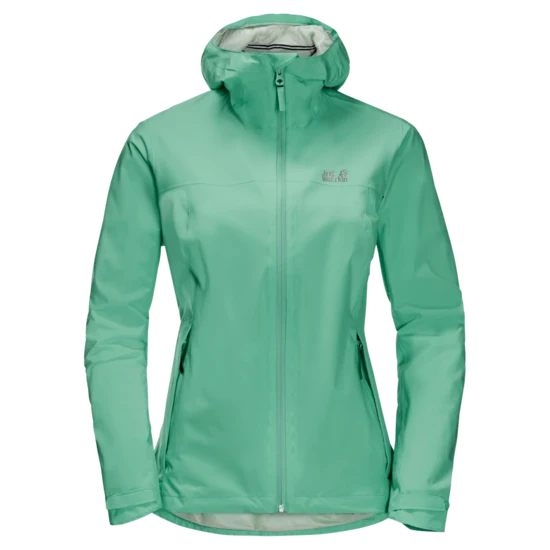 Jack Wolfskin JWP Shell: Best for Travel & Day Hikes
What do we love most about it? You mean besides the wide range of colors available? We dig that the material is soft, stretchy and pliable, which makes for a more pleasant wearing experience, but we also love that it packs up into its own pocket. As for sustainability, this jacket has some impressive features: It's made with 100% recycled materials, is PFC-free, and has an impressive water column rating (a method of testing waterproofness) of 20,000 mm. Bonus: it weighs in at just 360 grams (for a women's small).
Why we like it: Packs into it's own pocket for easy portability.
Ding: The hood isn't adjustable.
Find the men's and women's versions here.
---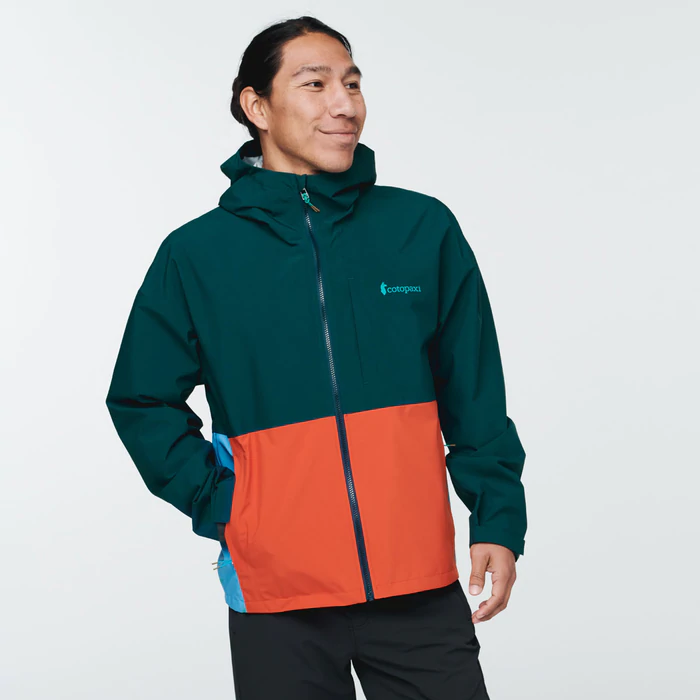 Cotopaxi Cielo Rain Jacket: Best for Urban Adventures
Made from 100% recycled polyester, this jacket is more than sustainable; it's fun! Mostly because each jacket features a swath of three different brightly colored fabrics. The waterproof rating is only 10,000, which is why we say it's best suited for urban adventures, but don't be afraid to take it out for a leisurely day hike, too! Bonus: Cotopaxi is also a B-Corp, Certified Climate Neutral, and puts a percentage of profits toward funding grants for humanitarian efforts and non-profits, so you can feel good about buying gear from a brand that does good. Fun fact: the Cielo is also available in an Anorak pullover version.
Why we like it: Fun and funky colors make the jackets unique and Cotopaxi is an all-around responsible brand.
Ding: Not as waterproof as other jackets on this list.
Here is the men's and women's versions.
---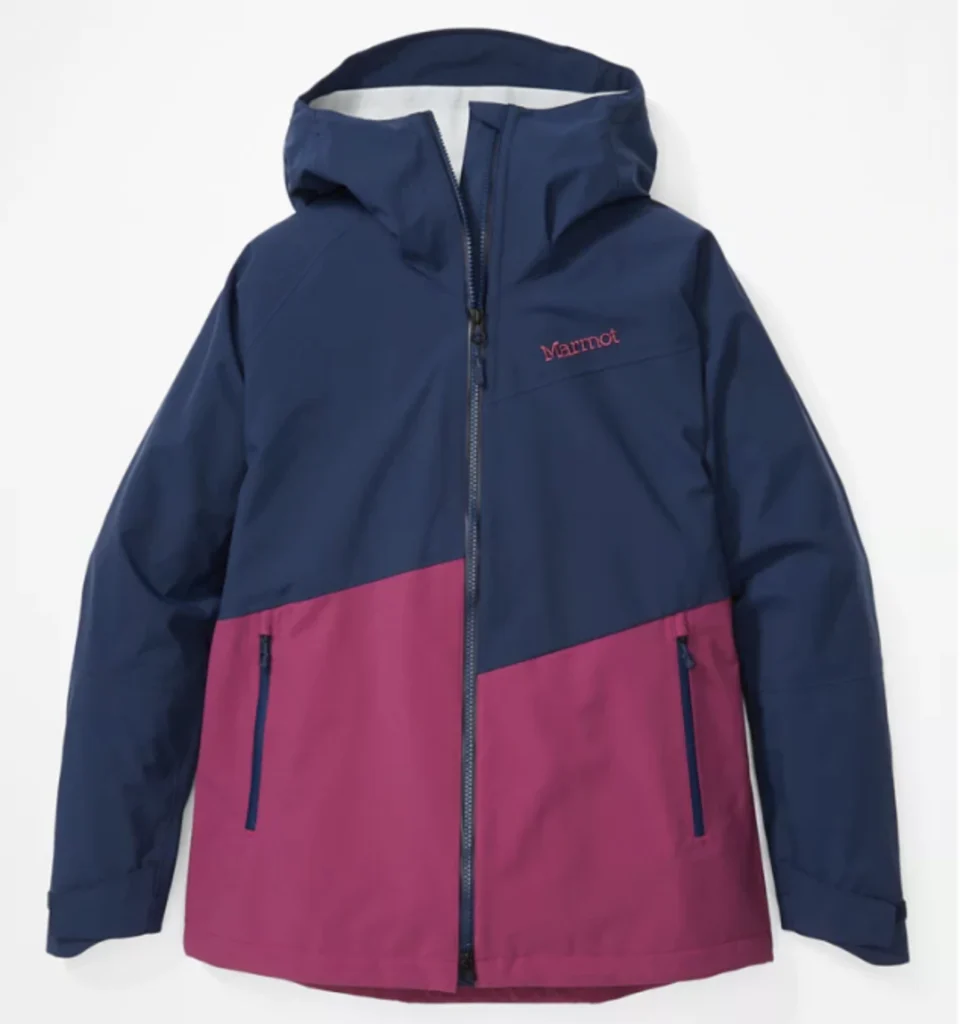 Marmot EVODry Clouds Rest: Best for Serious Adventures
Need a sustainable rain jacket that will keep you dry in rain, snow and sleet? The Marmot EVODry Clouds Rest can handle it. With a 20K water column waterproof rating, 3-layer waterproof/breathable fabric (made of recycled nylon), and PFC-free DWR, you can trust this one to keep you comfy. It's 100% seam-taped to keep water out, plus features pit zips, water-resistant hand-pockets, an interior zippered pocket, a 2-way, water-resistant front zipper, plus articulated elbows and an adjustable hem and cuffs. The hood is adjustable, too. It's not the lightest or most packable at about 1lbs 4oz, but it can handle some weather.
Why we like it: It's super durable and hard-wearing.
Ding: It's designed more for winter-wear, so it's not the most versatile jacket on the list.
Find it on Moosejaw for men and women.
---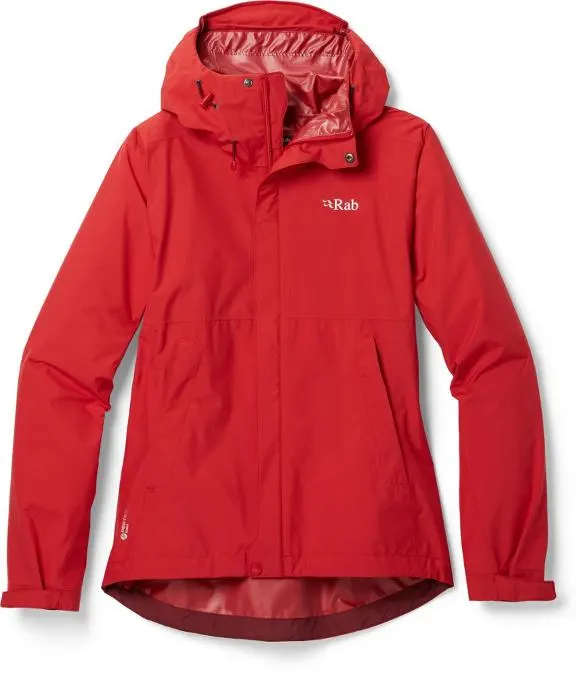 Rab Downpour Eco: Best for Backpacking
One of our personal favorites, the Rab Downpour Eco is flexible, durable, and sustainable. It features pit vents, bungees in the hood and hem, and it stuffs into its own pocket. It's made of a single material, which is a pretty big deal as that means it can be more easily recycled at the end of its useable life, plus has a PFC-free DWR finish, and is made of partial recycled materials. Check out our review of the Rab Downpour Eco here.
Why we like it: It's lightweight, has all the features you want, but also durable and the textured material on the inside keeps it from feeling too sticky.
Ding: May need re-waterproofed after a season.
Snag one for men on REI and women on REI.
---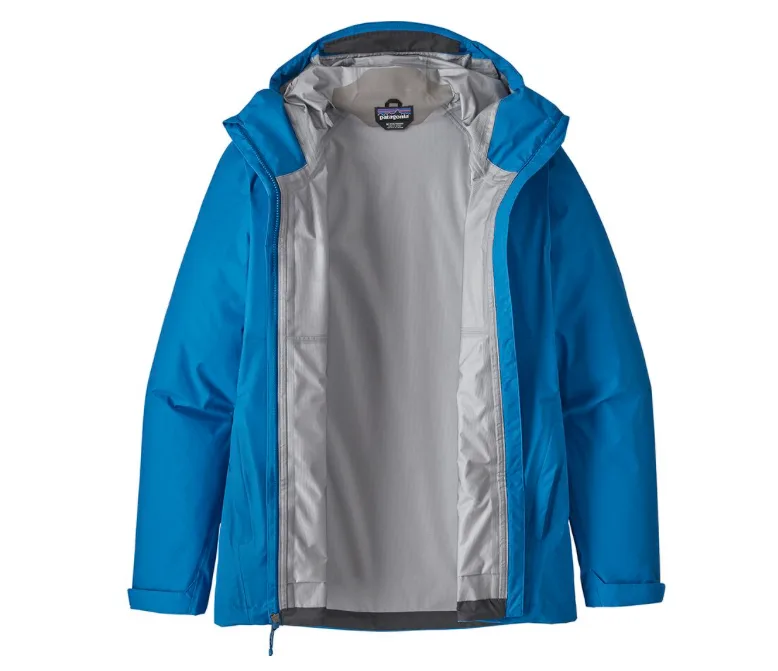 Patagonia Torrentshell: Best for durability
Made out of nice, hefty (albeit fairly crinkly) material, Patagonia's Torrentshell is clearly designed for the type of weather after which it is named. Plus, since it's from Patagonia, you can trust that it's made out of quality sustainable materials. This eco-friendly rain coat is crafted from durable recycled ripstop nylon with a durable water repellent (DWR) coating and stuffs into its own pocket. Unfortunately, the DWR is not PFC-free (read our "What are PFCs" post here), but the recycled nylon is a step in the right direction! It also has an adjustable hood, pit-zips, and is totally Bluesign approved.
Why we like it: It's recycled, Bluesign approved, and from a brand that puts sustainability first.
Ding: The material tends to be fairly stiff and inflexible.
Find the men's on REI or Backcountry, and the women's on REI or Backcountry.
---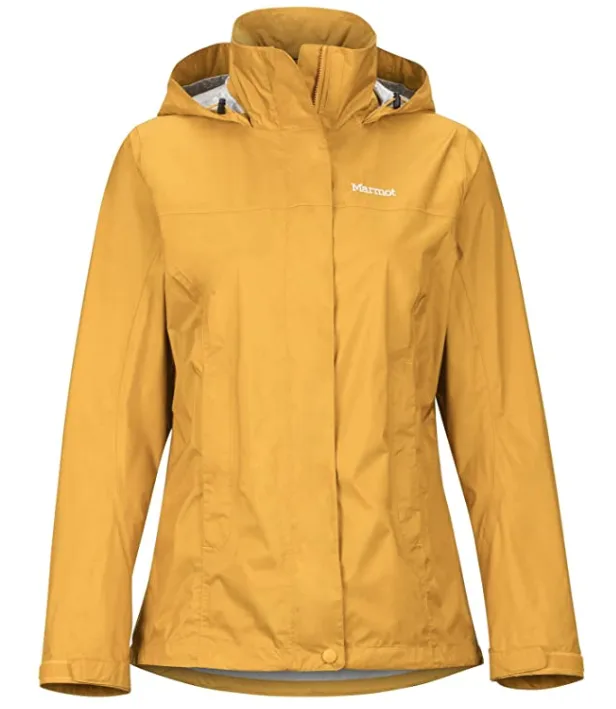 Marmot PreCip Eco: Best budget-friendly jacket
Not gonna lie: I may have gotten this one for myself simply because it comes in that dazzling mustard yellow, which matches my Merry People natural rubber boots very nicely! But also: it's a quality rain jacket made of recycled nylon with a DWR coating (again, not PFC-free). It's lightweight and unlined, so it's good for warmer temps, plus has an adjustable hood, hem, and cuffs, zipper and velcro closures, and pit-zips for venting. Extra bonus: It packs nicely into its own pocket for easy travel and the hood rolls into the nice tall collar for storage.
Why we like it: It's lightweight, fitted, and one of the most budget-friendly options on this list.
Ding: May need re-waterproofed after a season.
Find the men's on Backcountry and the women's on Backcountry.
---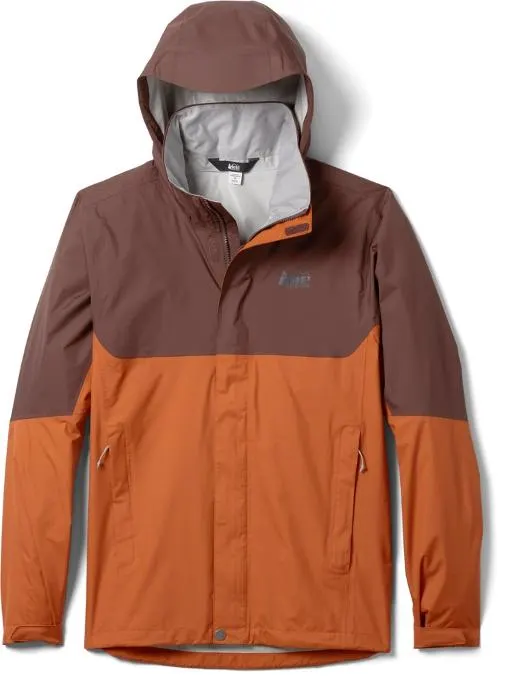 REI Co-op Ranier: Best multi-tasker
REI puts an emphasis on sustainability. So, plenty of their own manufactured products come with a sustainable seal of approval, including many of their rain jackets. But the Rainier is the one most suited for adventures of all sorts with its pit-zips, adjustable hood, and wind-proof shell. It's made of Bluesign-approved recycled nylon with a DWR finish and comes in lots of colors.
Why we like it: It's feature-rich and budget-friendly.
Ding: Lots of velcro can catch on clothing if not fastened properly.
Find the men's and women's at REI.
---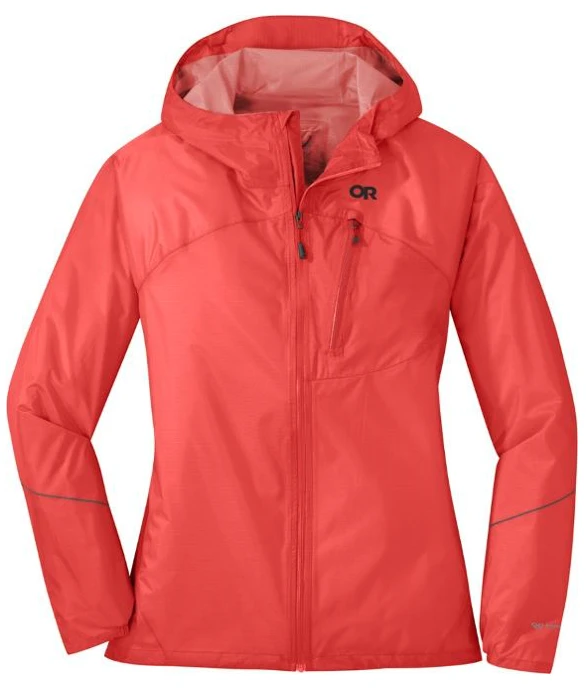 Outdoor Research Helium II: Best for ultralight backpacking
Maybe the smallest and lightest of any jacket on this list, the Helium II is made of Bluesign approved nylon. It's not recycled, but the Bluesign seal of approval more or less makes up for that. One of the few sustainable rain jackets listed here with waterproof zippers, it also has elastic cuffs and a drawcord hem, and a chest pocket that doubles as a stuff sack, but no pit zips. As an ultralight piece of rain gear, it won't keep you warm, but it sure packs down small!
Why we like it: It's super lightweight and is available in plus sizes.
Ding: Note quite as durable as other jackets on this list.
Find the men's on REI and the women's on REI.
•
So don't let a little inclement weather keep you from getting outside to play! Gear up in one of these sustainable rain jackets made with eco-friendly materials and wander on!
•
*This post contains affiliate links, which means if you buy yourself a shiny new rain jacket, you help support Terradrift. And that makes you a rock star in our book.
Alisha is a freelance writer and photographer based in Austin, TX. She loves her tiny house, vegan food and experiencing the community of travel in far away places. She's also pretty sure she's addicted to coffee. alishamcdarris.com