Looking for an entry-level electric bike perfect for commuting or tooling around town? Well, we recently got our hands on the new Espin Flow e-bike, a self-proclaimed urban commuter's dream, so we laced up our shoes and hit the city streets to see what this e-bike could do. Watch or read on for our full review of the snazzy Espin Flow.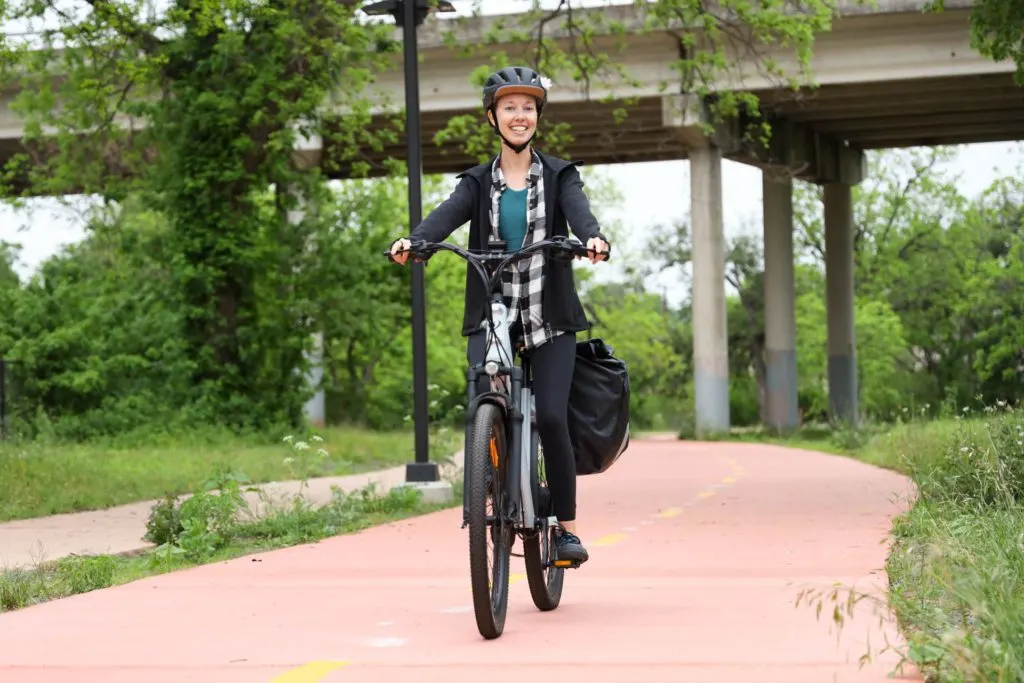 About the Espin Flow
I've always loved cycling and I feel like a kid every time I get on my trusty Trek road bike, but there's something about getting that same cycling motion and activity but so. Much. Faster.
Like 20mph faster. Usually we only hit those speeds riding downhill. 20mph is freaking fast. And it's awesome. And if you're not giggling like a toddler while you're doing it, well then you're doing it wrong. Because cycling should be fun. And it is on the Espin Flow.
But let's break down what this bike is all about, shall we?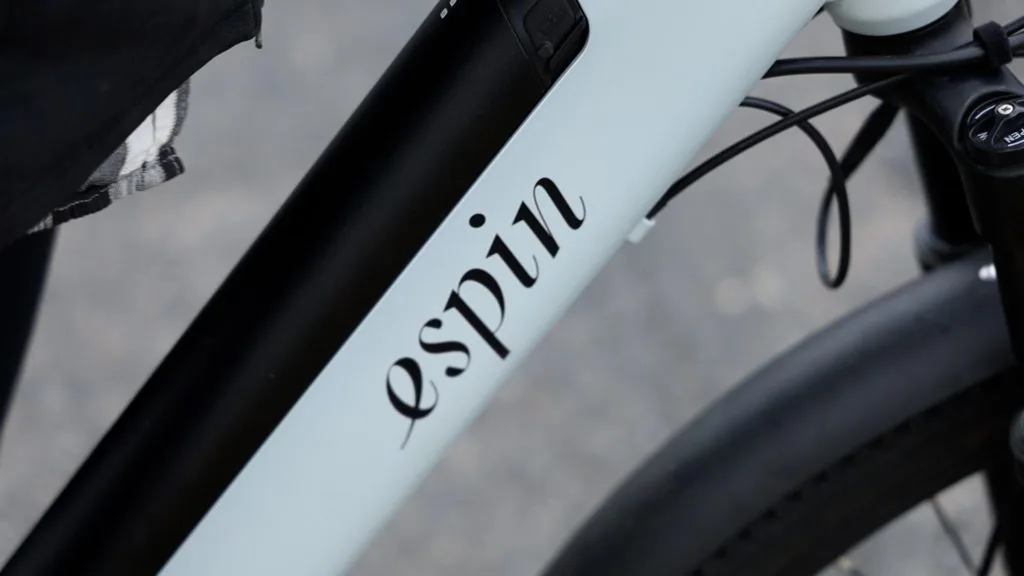 First of all, Espin makes e-bikes that are approachable and affordable, at least as far as e-bikes go. While some brands can easily be between $2-5,000, the Flow hovers closer to $1500. And if you live in the lower 48, shipping is free.
It comes in two colors: smoke grey and forest green, and features a 500W geared hub motor with 8 gears. It can go between 30-50 miles per charge (depending on how much assistance you want with pedaling), and the lithium-ion battery will recharge in just 6 hours. That's pretty decent for a bike in this price range.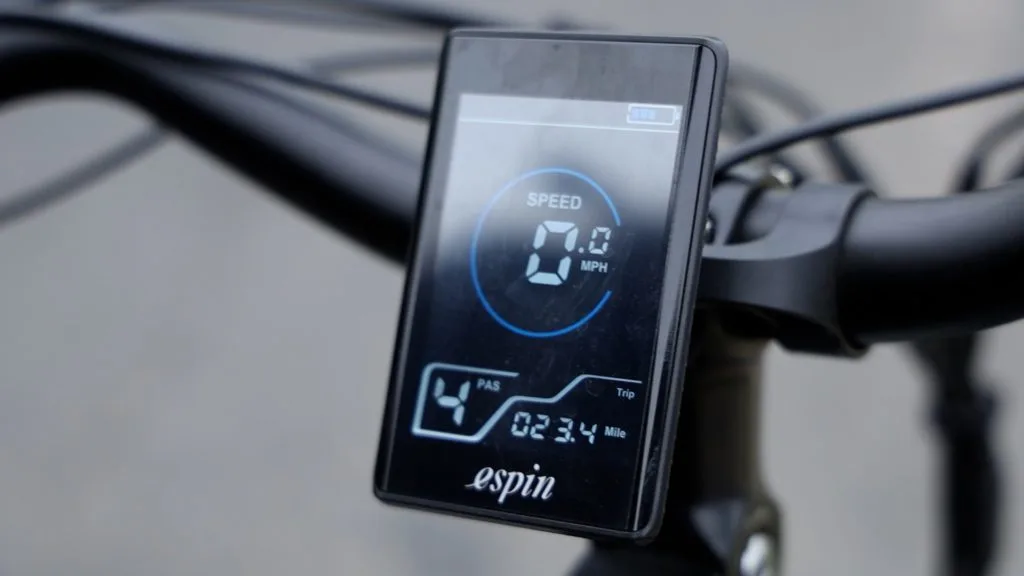 A Crystal clear color display shows you all your metrics (including your speed, battery level, pedal assist level, which ranges between 1-5, and an odometer), it has hydraulic disc brakes, which is super nice, plus a bright headlight and taillight/brake light for safer night riding, which you can turn on via the power buttons on the handlebars.
The Espin Flow arrives in a big ol' box 95% assembled (we also have a video here that guides you through assembly if you need it) and it even comes with a 12-month warranty.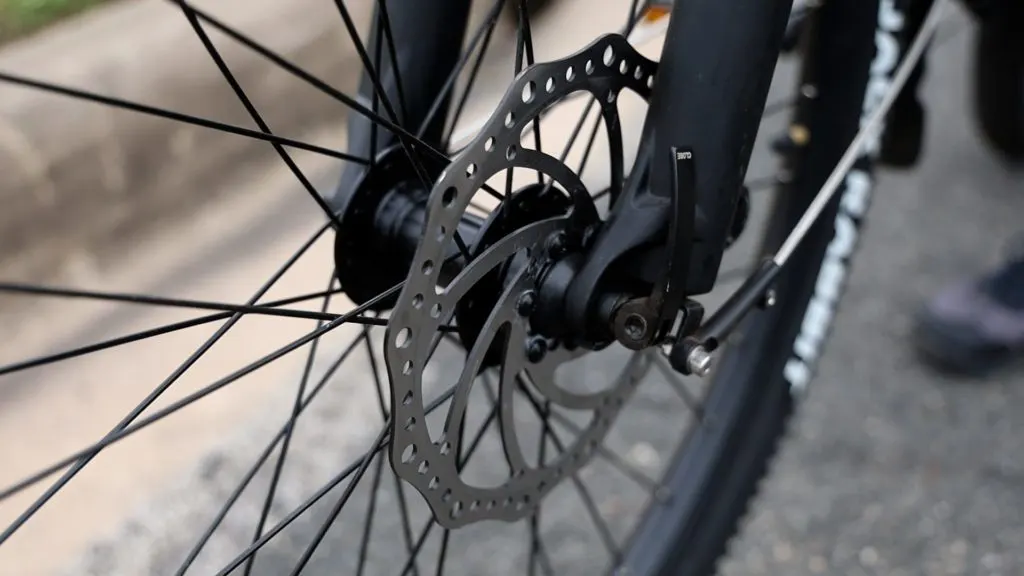 The 48V battery is removable so you can bring it inside to charge it, and yes, it requires a key to remove it. Which is great, because that means the battery will be a lot harder to steal if you have to leave the bike locked up outside for a bit. This is extra handy because the bike itself weighs a hefty 55 lbs, so you probably aren't gonna want to be carting it up a lot of stairs.
That said, there is a push assist feature that, if you're walking the bike uphill or some such, the motor will offer a little 1 mph boost so you're not heaving and huffing the whole way. Suuuper handy.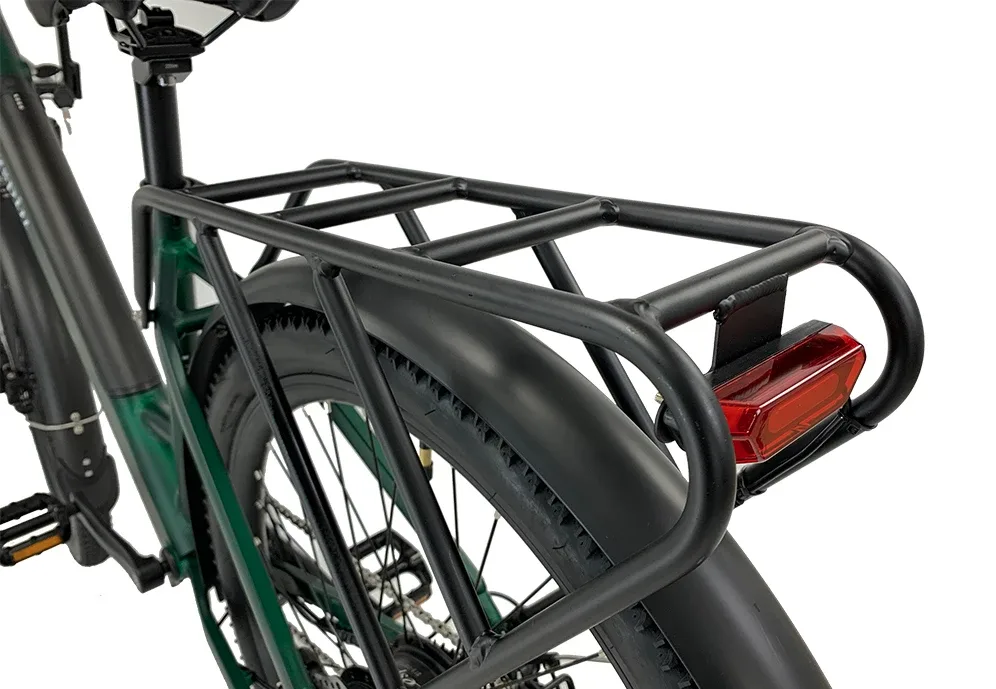 And then there are all the accessory mounts. The water bottle is weirdly located under the middle crossbar, but there are also rack mount points on the front and back of the bike, which means it's ready to cart bulky items with the aid of a few bungee cords, but the rear rack is also pannier-ready, so you can hook on bags from Espin (which double as roll-top backpacks) or whatever brand you like so you can cart stuff to the office or back from the grocery store, or a bunch of succulents or six packs (or succulents AND six packs–I'm thinking at least a dozen succulents and three to five six packs between both racks) from your neighborhood nursery or cidery…
The Flow is a pedal-assist type e-bike, which means you do have to pedal in order to get access to the electric motor, but there is a throttle, so you do have the option of an extra power boost when you need it, but only for short distances.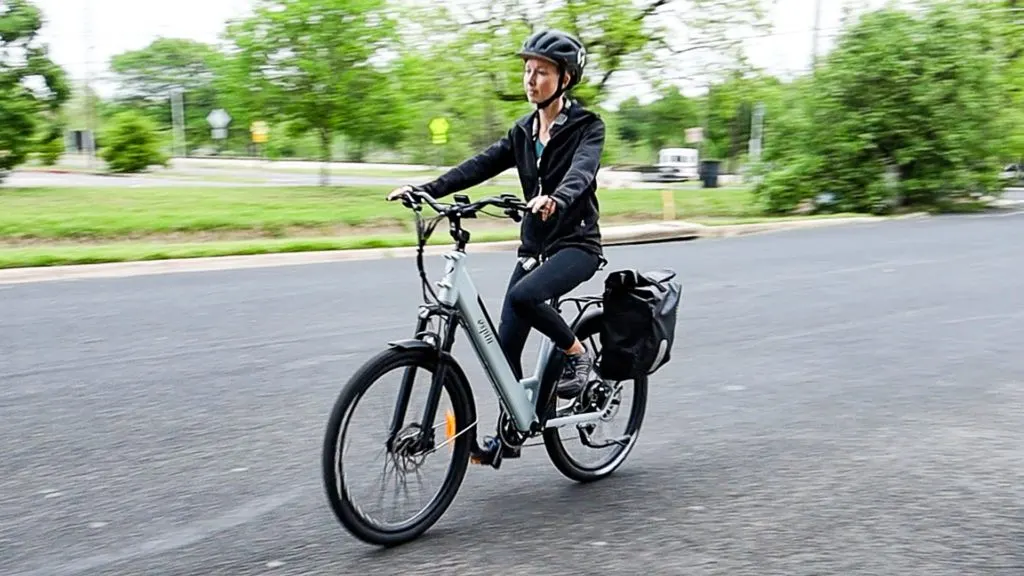 The Espin Flow Review
But how's the ride? Nice. Like with most e-bikes, there's a bit of a jerk when the motor first kicks in after you start pedaling, especially on the higher power settings, but it's nothing you won't get used to. I just wouldn't pedal when going around tight corners if I were you, at least until you get a feel for it.
The Flow has a nice easy step-through style frame, which makes it perfect for just tooling around town in whatever shorts/pants/skirt/kilt/kimono/dashiki you wanna tool around town in. And the buttons and displays are super easy to use. After just one ride down the block I felt pretty comfortable operating the bike.
Also, it made the very hilly ride to the grocery store way more enjoyable. Also, with all those racks, I was able to actually buy groceries instead of just a carton of oat milk and some bananas, which is just about all I can fit in my usual day pack.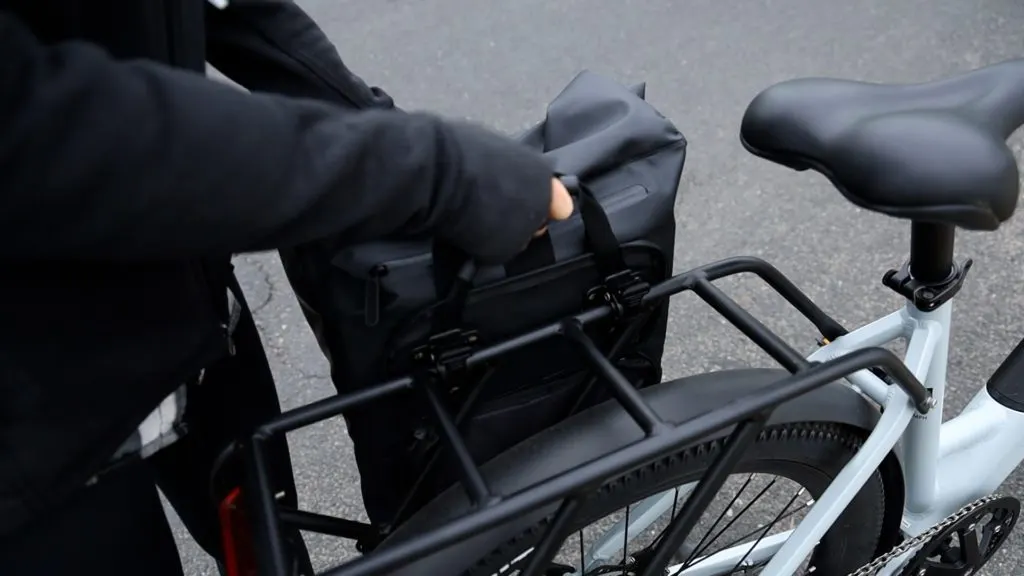 When it comes to the actual riding, stopping on the uphill can be a little tricky, which is the case with most e-bikes. The motor doesn't kick in for maybe a half revolution, and since the bike is heavy, it's hard to get it moving when gravity wants to pull you in the opposite direction. But we found that ensuring the bike was in the easiest gear before you stopped–and pushing on the throttle a bit as soon as it was time to get going–made that situation a lot easier.
The ride itself is comfortable as the handlebars are nice and high and you're able to sit pretty upright, which is great for urban riding.
All I'd say is that, before you set off across town, ride up and down your street or in a parking lot for a bit, especially if you've never ridden an e-bike before, because it does take a few minutes to get the hang of it. And that's not just the case with the Espin Flow–that's any e-bike.
But it's pretty straightforward and obviously very fun.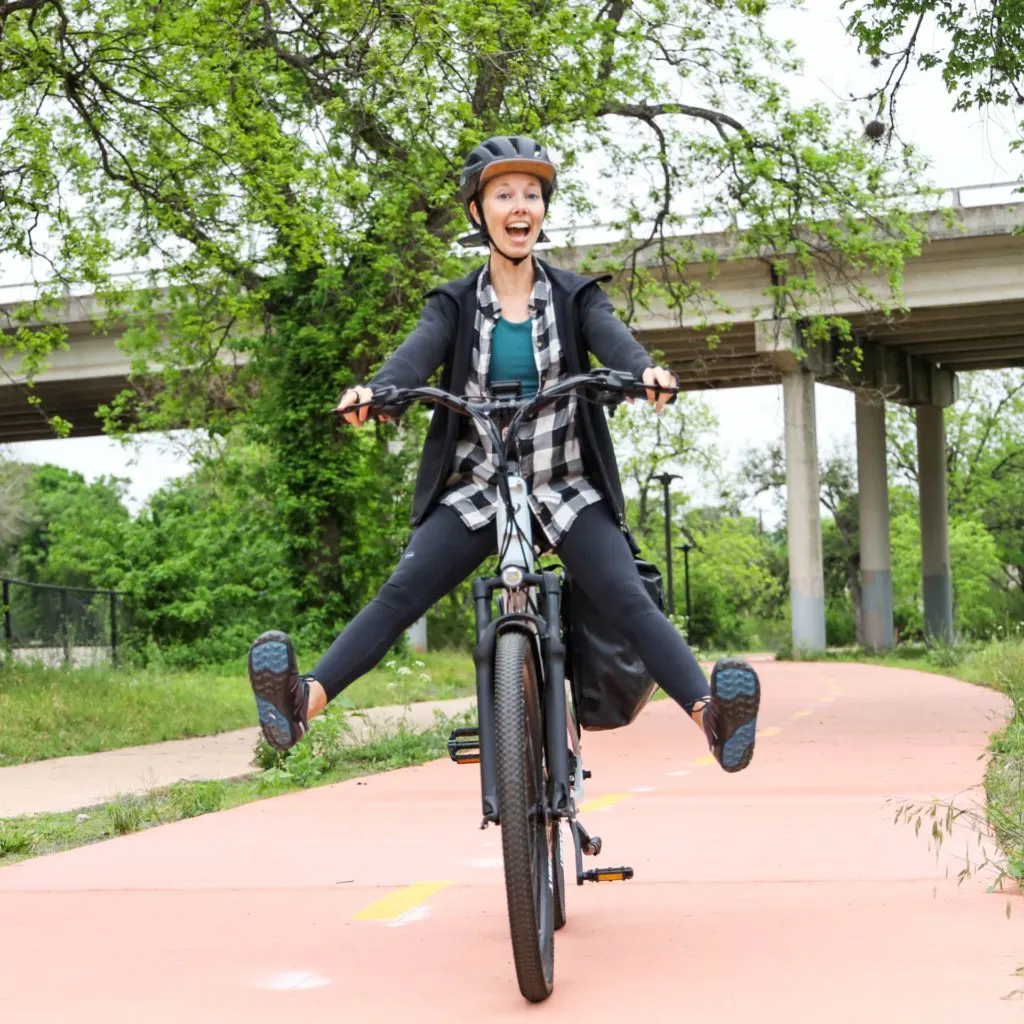 The Bottom Line
Naturally, you want to know where sustainability fits in when it comes to the Espin Flow. Frankly, It's not more environmentally friendly than a regular old bicycle, what with the battery and having to be plugged in and all, but if you're considering an e-bike as a stand-in for a gas-powered, or even a hybrid or electric vehicle, yeah, it's definitely more sustainable than that.
Here at Terradrift, we've been a one-car household since 2011. And that's totally worked for us. But there have been plenty of times we've have to play a little rock-paper-scissors for who gets the car and who has to ride the hilly route to the studio or the grocery or to a meeting or what have you. And let me tell you, you do not wanna ride 6 miles to a meeting in July in Austin. There will not be a dry spot on your body. There just won't.
So for us, yeah, an e-bike is a super fun thing to have, but it's also basically a second vehicle. A second vehicle that's way cheaper and doesn't require insurance. So yeah, it's a win.
And you can always charge it with solar! Our Goal Zero Yeti500x and Nomad 50 panels should be able to handle that. But that's a different video.
All in all, the Espin Flow is an approachable, relatively affordable entry-level e-bike that makes urban commuting without a vehicle a breeze. Add some racks, cargo crates, panniers, bungees, etc. and you've got yourself quite the pedal-powered hauler. But, you know, without the excessive panting and sweating every time you have to ride up a hill. Nobody wants to get to work covered in sweat, after all…
Have any questions about the Espin Flow? Ask away! And check it out for yourself here. Use our link and score $50 off your new bike! Huzzah!
•
Need a sweet high-tech helmet to go with your sweet new high-tech ride? Check out our review of the smart Sena R1 Evo Bluetooth helmet!
•
This post contains affiliate links. That means if you get yourself a shiny new e-bike, you also help support Terradrift! And we appreciate that!
Alisha is a freelance writer and photographer based in Austin, TX. She loves her tiny house, vegan food and experiencing the community of travel in far away places. She's also pretty sure she's addicted to coffee. alishamcdarris.com