Ready to up your cooler game? The GoSun Chill Electric Cooler doesn't require ice to keep your goodies nice and cold. But is it all it's cracked up to be? We break it down for you in a full review.
If you've been hangin' around Terradrift for very long, you're probably aware of how we feel about coolers and ice. We don't like it. Having to fill coolers with ice, that is. It's stupid. You spend $3-$6 on a bag of frozen water–a plastic bag that's almost guaranteed not to be recycled, FYI–dump it over all your food and drinks that will definitely get soggy, and then have to drain out all the water in a few hours and start the whole process over again.
It's stupid. I don't enjoy it.
Sure, we've come up with tricks and tips for avoiding it over the years–our favorites being to freeze water in reusable water bottles to use as ice packs or fill up wide-mouth bottles with ice at gas station soda fountains–but these solutions have their limits.
The solution? Uh, an electric cooler that basically functions as a portable fridge, duh.
We've tested electric coolers before–namely the Dometic CFX100–and totally dig them. Just plug them into your car or a portable power bank–which you can often charge via solar, by the way–and you're good to go!
Cold food and drinks stay cold without getting soggy or necessitating the endless purchase of overpriced frozen water. Huzzah!
So we recently got our hands on the GoSun Chill electric cooler to see how it performed.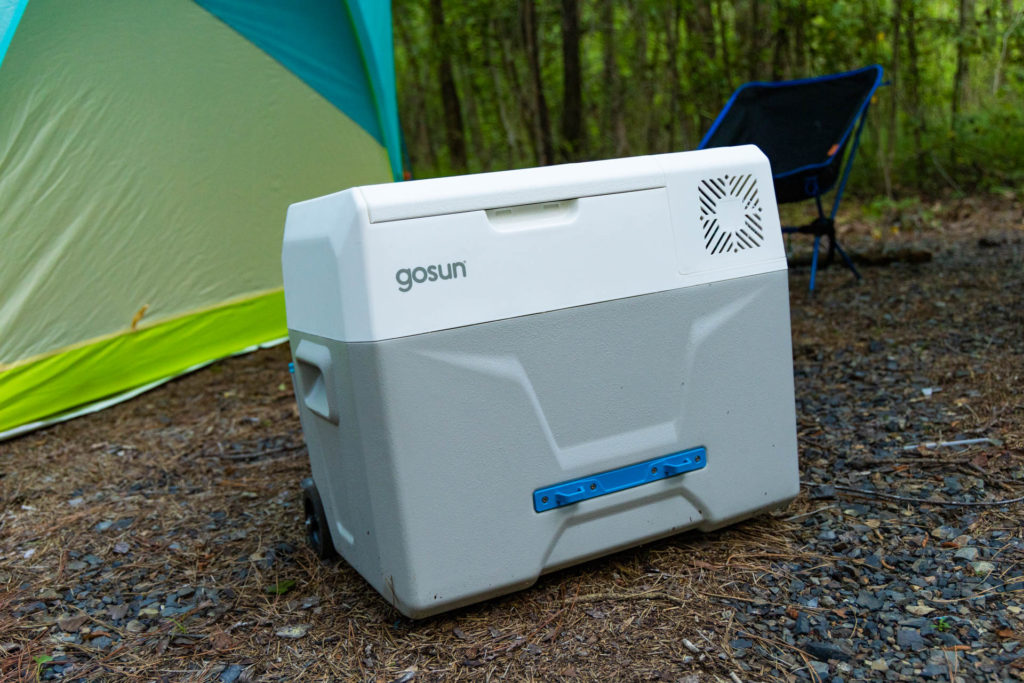 GoSun Chill Electric Cooler: The Deets
For starters, this thing weighs in at 28 lbs and has a 40-liter capacity. It comes with a DC power cable, AC adapter, 144 Wh portable PowerBank, plus two bungee cords.
The Brushless compressor runs on 12 or 24V and draws 35-45W. The digital display lets you control the temp from -4°F to 68°F and there are even battery saving modes if you're plugged into something that's not a wall socket.
But what did we think of it?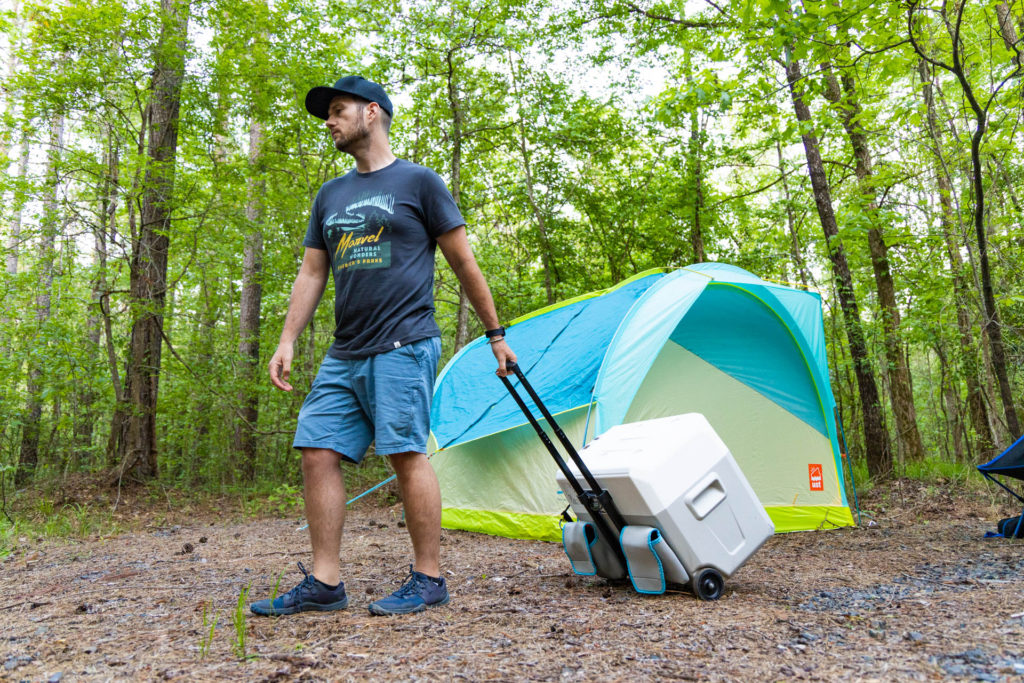 GoSun Chill Electric Cooler: The Review
Honestly? We have mixed feelings about this cooler. But misgivings aside, it performed admirably. As in, it did, in fact, keep all our stuff cold. I kept a bottle of almond milk in the cooler for a week and by the time it was empty, the milk hadn't gone off, so, win.
We plugged the GoSun Chill cooler into the car while we were driving and set it to full power, which chilled the cooler from 66 to 38 degrees in about 30 minutes, timing that was on par with the Dometic we tested.
When we were in town exploring, we plugged it into our large GoalZero Yeti 500X, which lasted a whole day before needing recharged. The power bank the cooler comes with, though? It only lasted for about 3 or 4 hours, give or take. Not even close to the 6+ hours the GoSun website brags, but enough for a leisurely picnic or afternoon in the park.
It held in the chill pretty well when it was off. When we left it unplugged overnight in 60º temps, in the morning, it was only 15º warmer than when we unplugged it.
There was plenty of room inside for lots of food and snacks and it's a convenient size for road trips, picnics, beach days, backyard BBQ's, you name it. I love a cooler in the 35-45L range.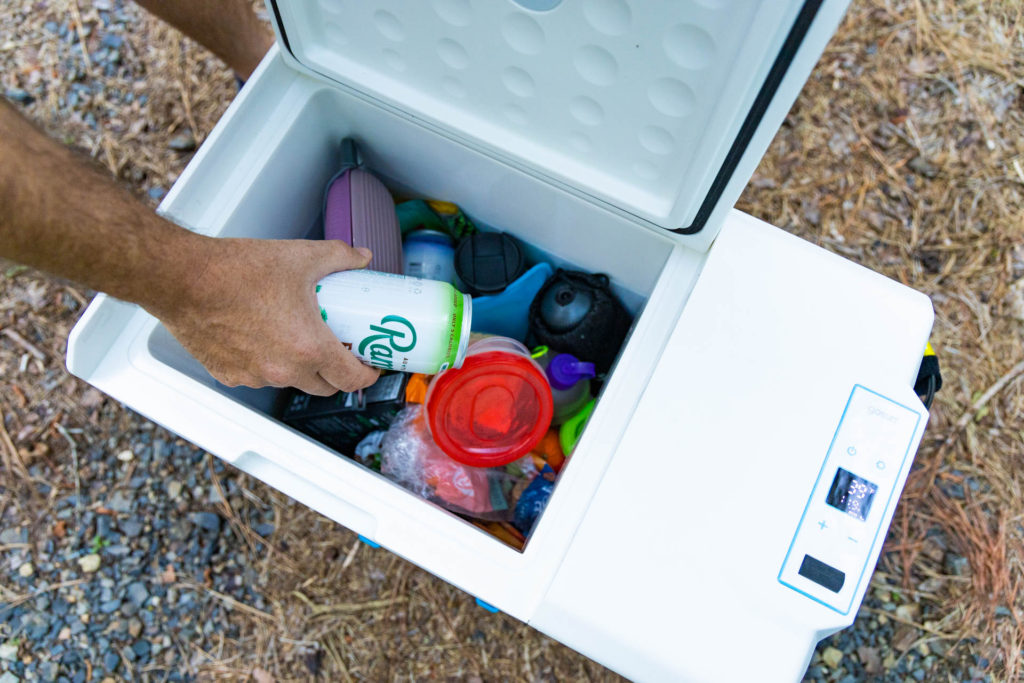 On the other hand, *sigh* there were a few things we didn't love. Starting with the fact that it looks like an electric cooler than was designed 30 years ago and never got updated.
But aesthetics aside, we had a few additional qualms with it.
For starters, this is not a sturdy, serious, expertly crafted, heavy-duty cooler. I mean, compared to a Dometic, this feels cheap. I mean, it is cheap. From a price standpoint, anyway. While the Dometic 45L is more than $1,000, the GoSun Chill is only $699, making it a significantly more affordable option. We've even seen it on sale for $549.
But it doesn't feel that well-built. The plastic over the compressor gave under just a little pressure, the lid doesn't lock, and the materials don't feel terribly rugged. I mean, that may not matter if you're not using and abusing your cooler on a regular basis, but I'm just putting it out there.
Then there are the wheels, which are small. While pulling the cooler over uneven trail terrain on the way to a swimming hole, big roots and rocks jostled the cooler all over the place. And since they're hard plastic coated in thin rubber, they don't soften the blow.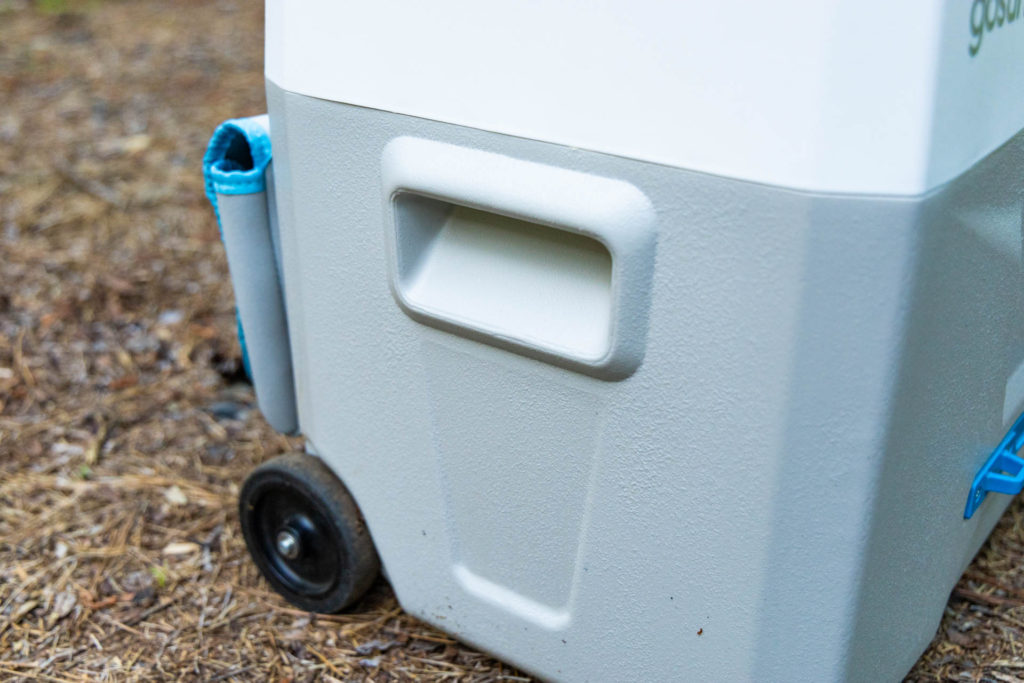 Also, and this might be the most annoying feature–I dunno, there are lots of annoying features on this one–The handles on the sides were way too shallow. If the cooler was full and heavy, they were almost entirely useless if we needed to pick up the cooler and carry it up stairs or over a curb. The handles really need to be flip-out handles to be useful.
They were also awkwardly placed for even weight distribution. As in, the shallow handles are in the middle of the sides, but most of the cooler's weight is in the back, so the whole thing just tips precariously when you pick it up.
And while we love that there are pockets on the cooler for things like power cables and the included bungee cords and power bank, they absolutely shouldn't be on the back. They flop around and threaten to–and often succeed at–spilling the contents as you're pulling the cooler. Plus, the bottoms of the pouches drag on the ground while you're pulling. Pockets on the front probably would have been a better design choice.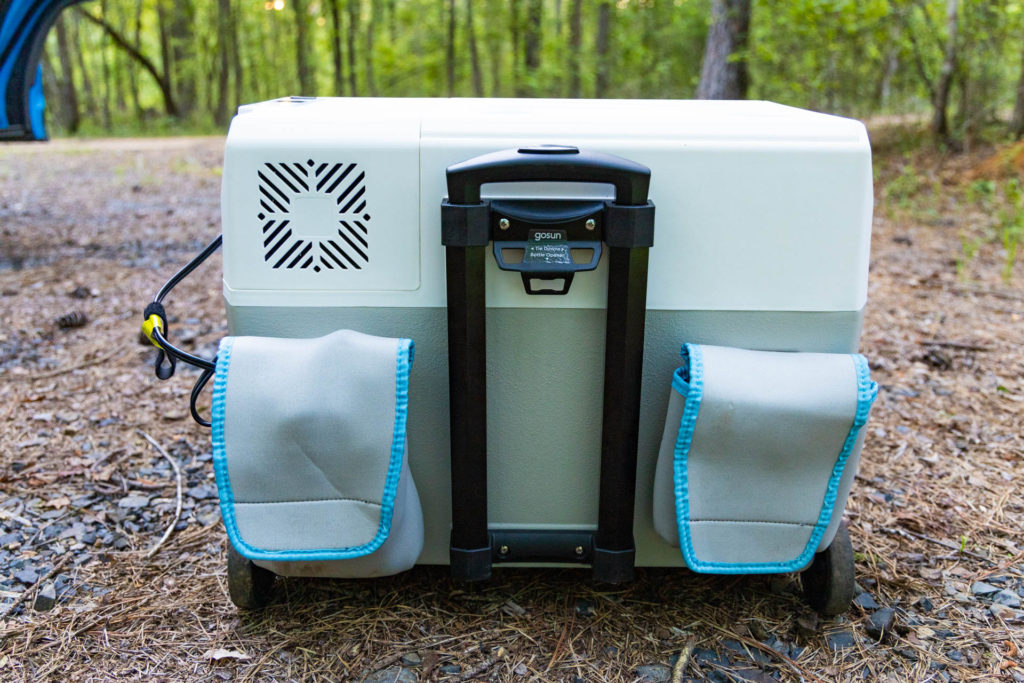 The DC outlet in the power bank was finicky, too, though when the cooler was plugged into the car or the GoalZero DC outlet it was fine. Just a few bumps were enough to dislodge the plug and cause the cooler to turn off. Which tells me the power bank input is poorly designed. We could have gotten a janky one, but I doubt it. That's especially annoying because You're supposed to use the DC cable when plugged into a backup battery.
As for sustainability, uggghhhhh… I had high hopes. But honestly, pretty much the only thing that makes this cooler sustainable is that you can recharge the power bank with a compatible solar panel (like the SolarPanel 30 or SolarTable 60).
The brand talks on their website about donating coolers and funds to disaster relief organizations and planting trees, but I don't see a lot of specifics or links backing up those claims, and that always makes me dubious.
So, yeah, a few fairly significant design flaws in our opinion. And not nearly as sustainable as we had hoped.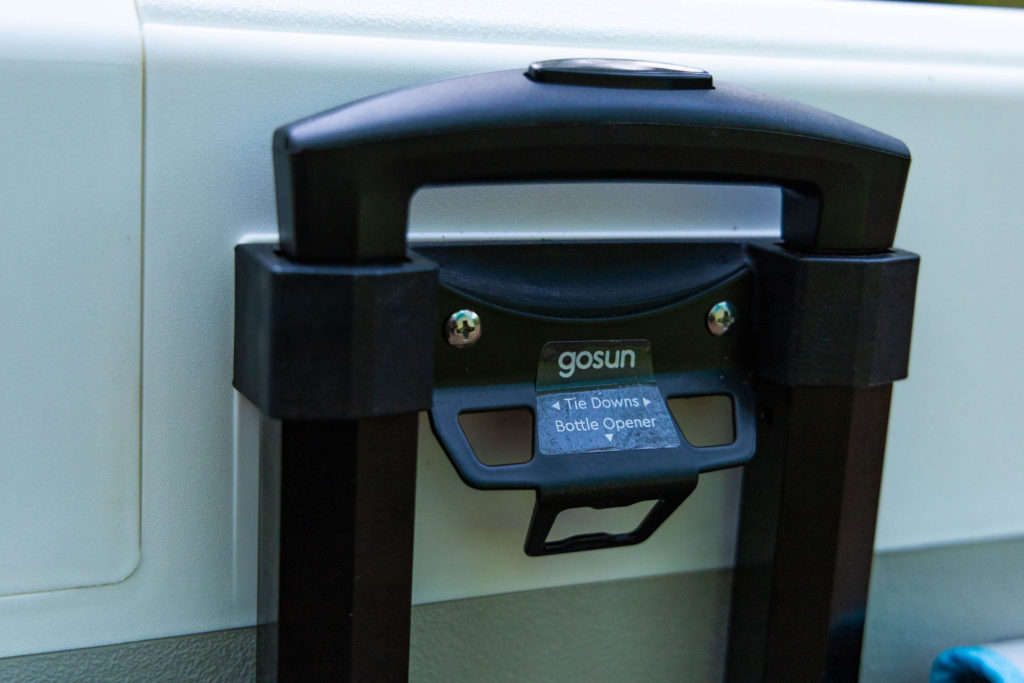 On the upside, I appreciate that it comes with an attached bottle opener (very useful) and bungees plus sturdy bungee attachment points. The ones on the front are plastic, and while they seem solid, there is the potential they'll break at some point, but it's still a very convenient feature.
There are also four shallow cupholders on the lid. No, they're not enough to fully secure your drinks, but they'll at least keep them from sliding off accidentally.
The telescoping handle seems pretty stable, too, and we do really like that the cooler has wheels, even if they're not the best, because most other electric coolers don't. So while we would have appreciated if they were more robust, we're glad we don't have to hand-carry the cooler everywhere.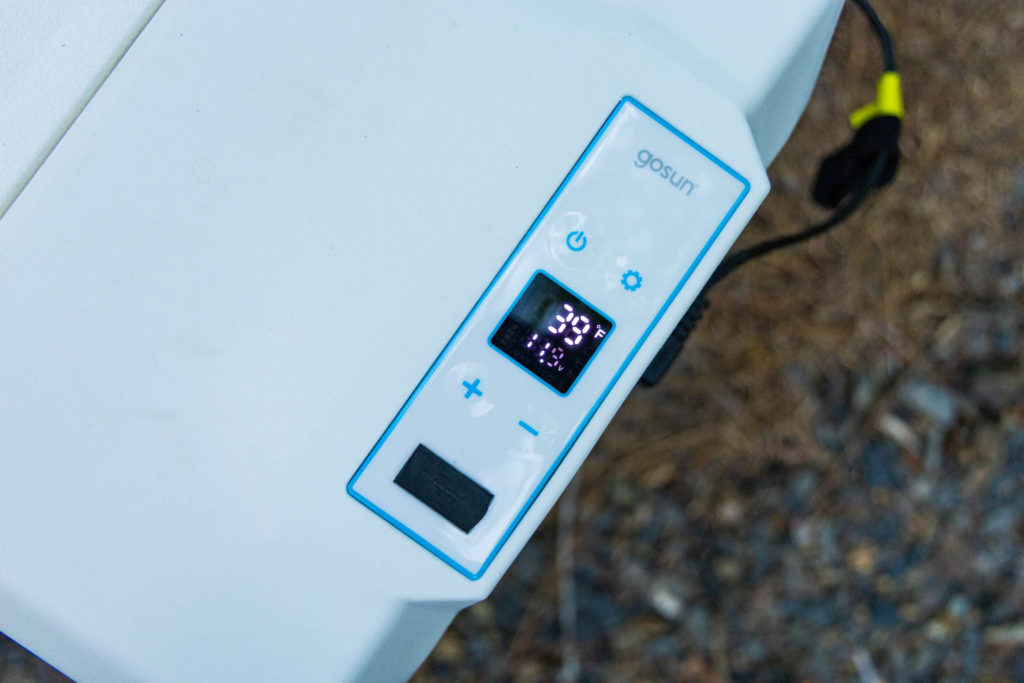 Bottom Line
Basically, while I feel like I ragged on this cooler a lot, it definitely serves a purpose. I mean, the wheels may not be the most robust for off-roading, but at least it has wheels. That's a big win.
It may not feel as well-built as more expensive electric coolers, but it's also more affordable, meaning more people are gonna have access to it.
And while it may not be a big name brand, it does what it says it does: it keeps stuff cold. And at the end of the day, I guess that's what really matters.
Do I have complaints? Sure. Am I glad I had it during a recent road trip? Yeah. Yeah I am. And that probably says a lot.
So if all my flip-flopping has made you wanna consider an electric cooler for yourself, and a Dometic or equivalent isn't quite in your budget, I'd say the GoSun Chill is definitely worth a look. So check it out for yourself here.
But whatever you do, keep your bevies frosty and your hummus from growing mold prematurely, and wander on.
•
This post contains affiliate links. That means when you clicky-click and make a purchase, we may receive a small percentage. It won't cost you extra AND you help support Terradrift. Win-win!
Alisha is a freelance writer and photographer based in Austin, TX. She loves her tiny house, vegan food and experiencing the community of travel in far away places. She's also pretty sure she's addicted to coffee. alishamcdarris.com