Not sure if you've noticed, but we've gotten really into mountain biking over the last year here at Terradrift. Apparently that happens when you move to Northwest Arkansas, home of the mountain bike capital of the world. And we're all-in. So we tried out the Sena M1 Evo mountain bike helmet, complete with Bluetooth tech and the brand's famous Mesh intercom system.
Which is a bummer if you're a social creature, like to ride with friends as a fun way to hang outside, or, like us, tend to talk through tough decisions or discuss business plans while you spend time outside. Which is why when we first tested Sena technology via the R1 Evo a few years ago and, more recently, the brand's Pi intercom system that attaches to practically any helmet you already have, we were blown away by how much we loved it.
This tech, more than anything else we've ever tested, has changed the way we ride. Or rather, changed how much we enjoy riding. For the better.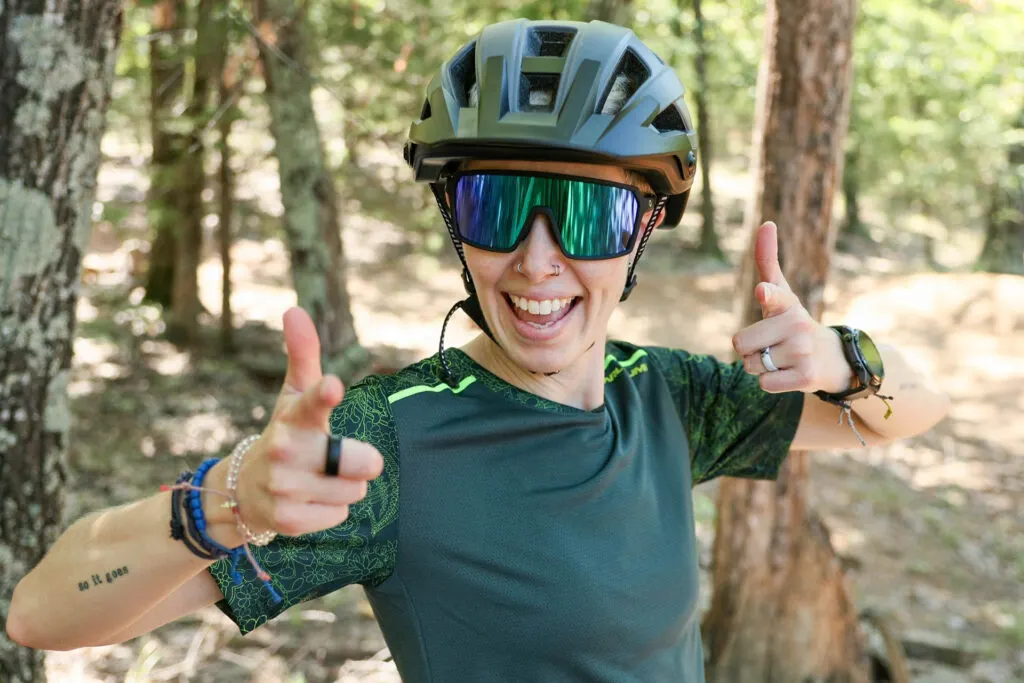 I mean, you can just chat with your fellow riders at normal volume. Without looking over your shoulder to yell at them and risk accidentally running into a tree! It's beautiful! It makes riding feel more fun. To the point when a friend visited recently and we went biking together but only had two Sena devices between the three of us, I was super annoyed that I couldn't communicate with her.
But not just for social reasons, for practical ones, too. Because when you're mountain biking, it's super helpful to be able to let the person behind you know about obstacles that are coming up or if you've fallen behind or if there's another rider on the trail ahead.
It also helps alert other hikers and bikers to your presence because they hear you coming when you're chatting all the time. They've also come in handy when I've been a bit farther behind or ahead of Josh when he wipes out. Because I can hear it happen and let him know I'm coming to make sure he isn't hurt.
So needless to say, having the ability to chat with your fellow riders is awesome. I'll never go back. And yes, from now on I'm keeping at least one extra helmet handy when friends visit. But let's talk about the Sena M1 Evo helmets specifically.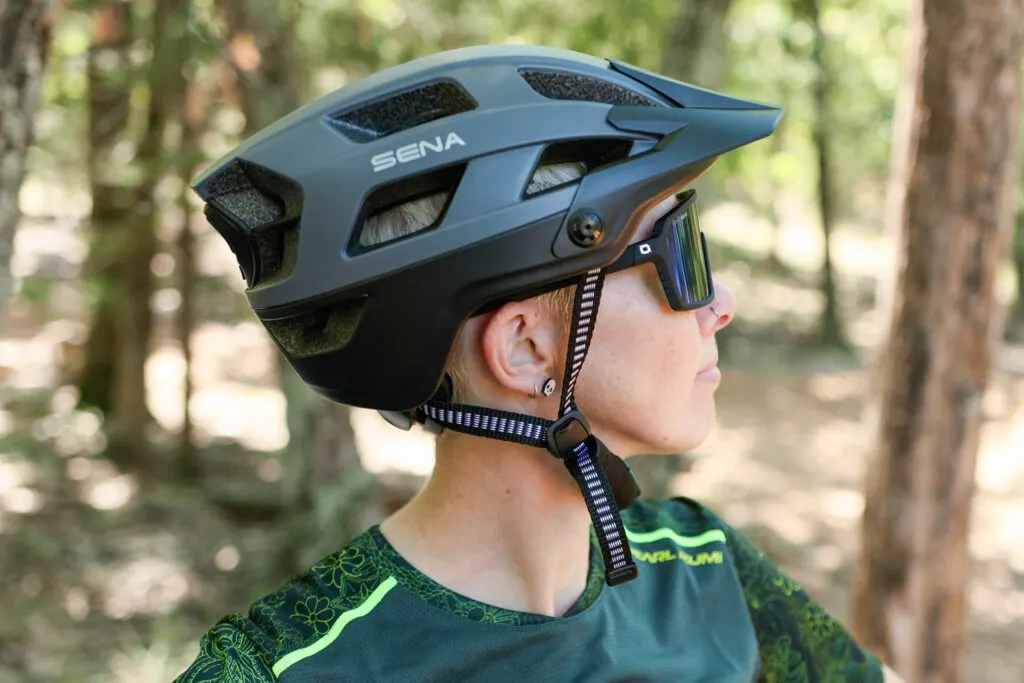 TL;DR
The Sena M1 Evo has plenty going for it, and very few downsides.
Pros
Adjustable fit
Available in multiple sizes
Available in 3 neutral colors
Glare-cutting visor
Breathable
Upgraded enjoyment-boosting technology
Cons
Expensive
Helpful to keep an app handy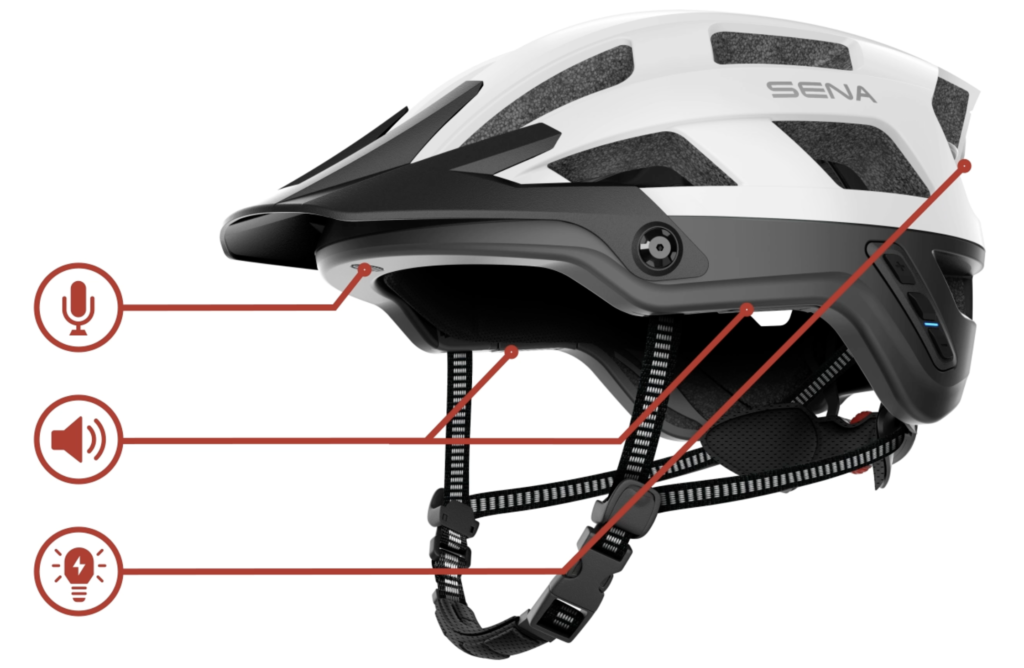 Fit
Honestly, I like the look of the M1 Evo better than the R1 Evo. These trail-ready versions just look sleeker and more aggressive, which I dig. They're certainly more at home on mountain bike trails.
They also fit better. I could never get the R1 Evo to stay put on my tiny, misshapen noggin correctly and I had to add extra padding inside to keep it from sliding around. But between the chin strap, easy-adjust sliders by the ears, and the adjustable dial-to-fit system on the back, it's practically guaranteed to fit, especially since it comes in two sizes: medium and large.
There are plenty of vent holes to keep things cool under there, a generous visor that does a great job at blocking glare and stays put better than on the R1, a safety light you can turn off and on, and it comes in three colors: matte black, matte grey, and matte white.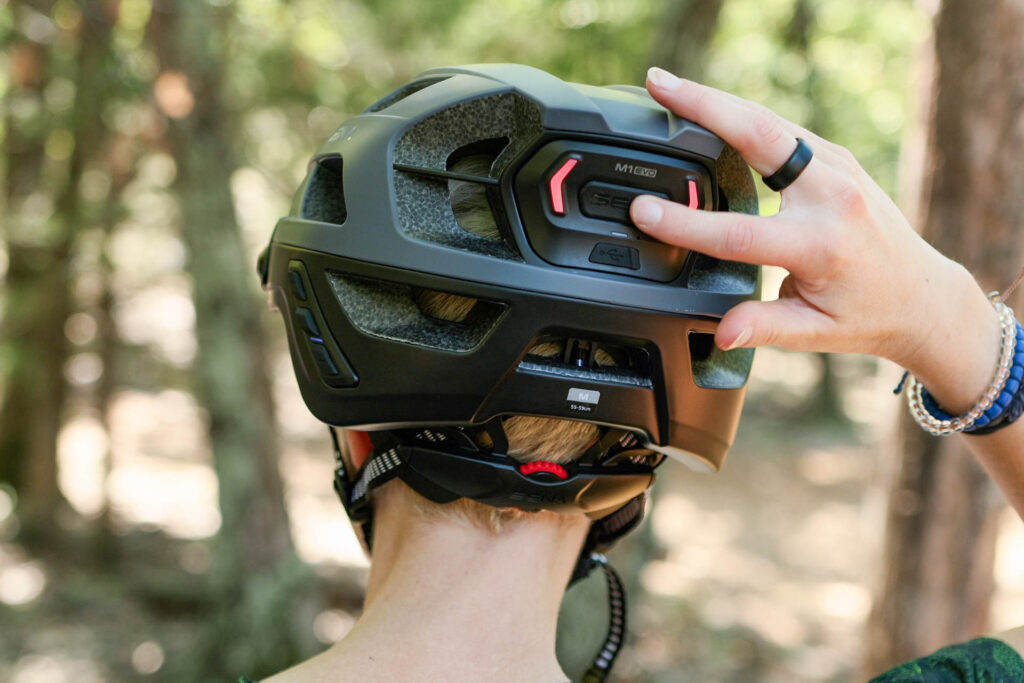 Function
But let's talk about the functionality that you're almost definitely more interested in: the bluetooth connectivity and intercom system.
There are a few techy things you can do with this helmet. One is to connect your phone via bluetooth and pipe music or map directions or audio books or whatever straight into the built-in speakers.
This is a better option than wearing earbuds because earbuds also block sounds. Like sounds made from other cyclists on your tail or hikers around the corner or traffic. With speakers you can better hear the ambient sounds around you.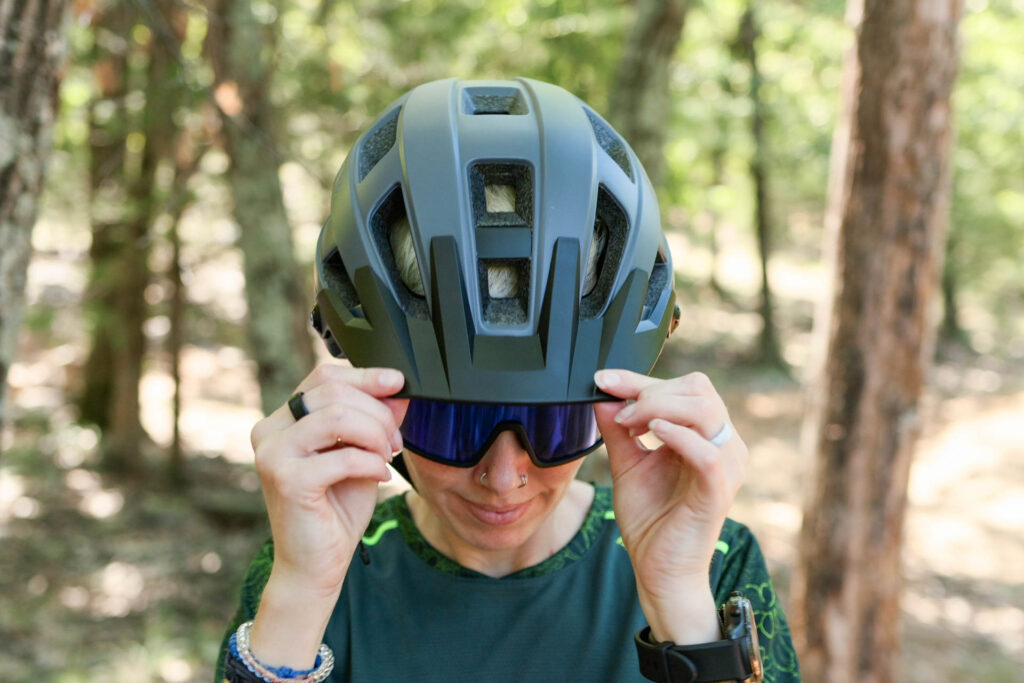 But you can also use the speakers and a recessed mic to make phone calls. Rad, right? And yes, I've done it multiple times. And the person calling can't even tell that you're on a bike. That's how good the noise control system is. We found that at most, it sounded like there was a light breeze on the other end.
But that noise control also works on the intercom when chatting with other riders. And it's pretty advanced. In fact, that's the one thing that was missing from the Sena Pi when we tested it. It still did an impressive job at noise-canceling, but not quite to the same degree as the M1 Evo. With the helmets, even when speeding downhill on the street we couldn't hear the wind rushing past the other rider's helmet. That means audio is always clear. Plus, it cuts out less than our now aging models of the R1 Evos.
You can chat until you're about .5 miles apart on unobstructed terrain, but in the woods, you'll be looking at a bit less. That said, the more connected riders on the same channel who are using the tech, the farther it can reach since it kinda works like daisy chain. So the more friends you can convince to ride with you, the better!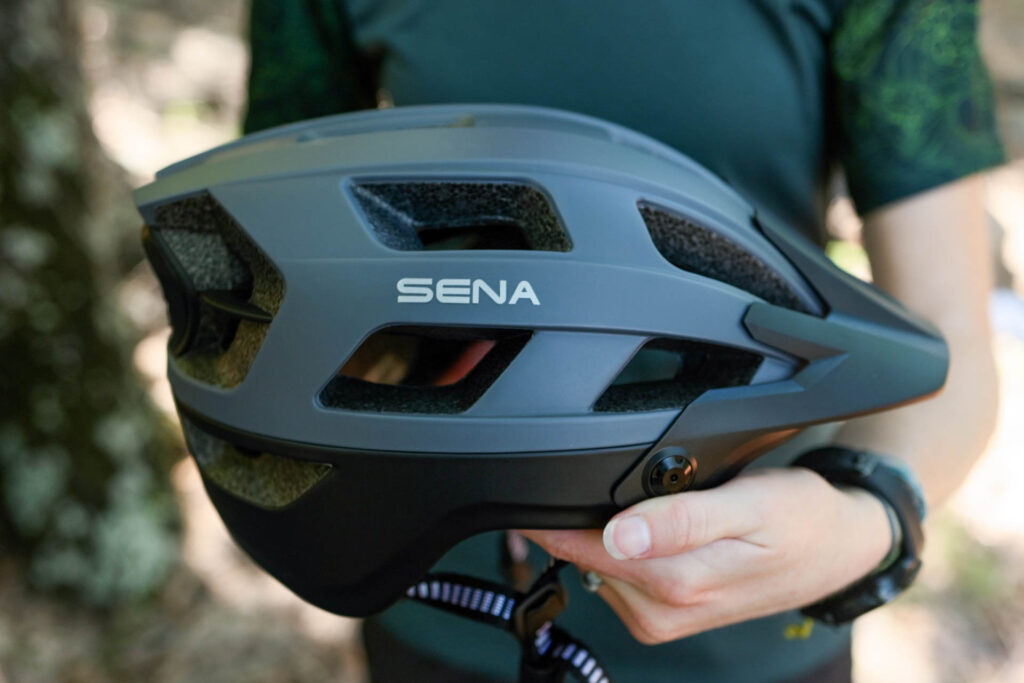 Another upgrade from the older R1's we're big fans of: there's no more "Hello Sena" interface in the M1 Evo. On those first helmets, it was only mildly helpful to say "Hello Sena" and give her directions. Firstly, because you had to remember very specific commands, and secondly, multiple times a ride she would mistake something we said (like sandwich) for "Hello Sena" and interrupt our conversation to ask us to "say a command."
I don't miss that feature, is what I'm saying. But everything else I love is still there: the simple, three-button functionality, the ability to connect to practically unlimited helmets via 9 different channels, and an app that lets you control it all from your phone (though having to fumble with another piece of tech may be wearisome for some).
The battery lasts for around 14 hours on average, give or take, which means I only have to charge it every couple of rides, and the red safety lights that can be turned on on the back of the helmet have been a lifesaver (probably literally) when I forgot my red light for my bike frame and was riding home at dusk.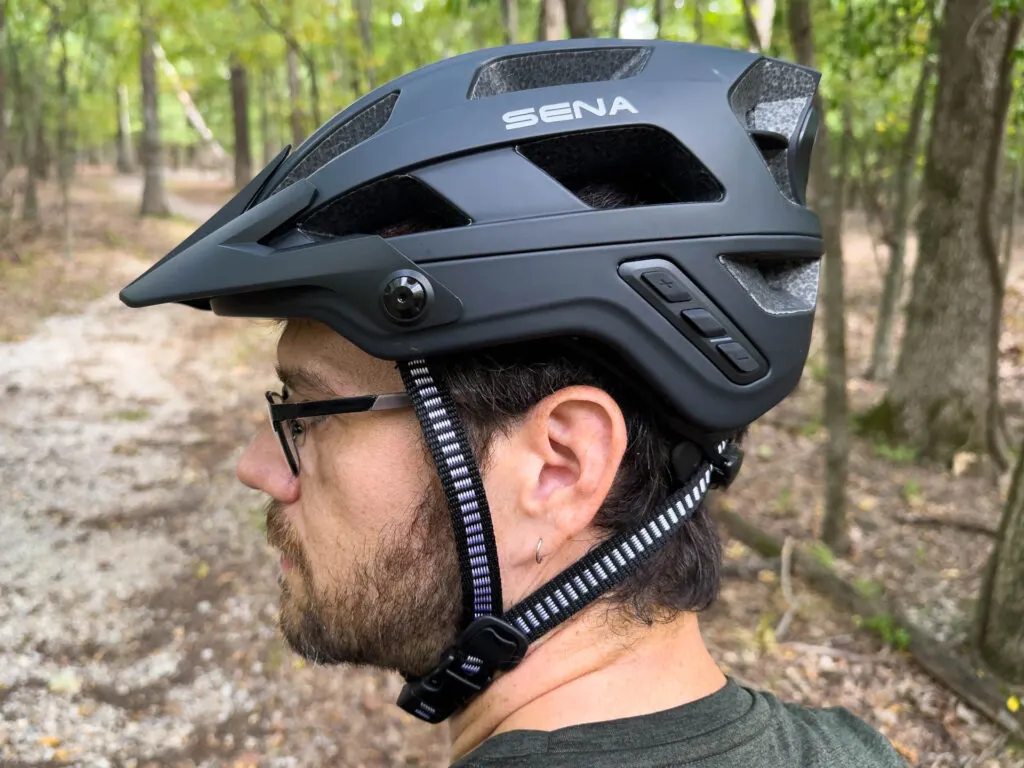 Sena M1 Evo Bottom Line
Basically, this is a rad helmet with rad tech. And I never wanna ride without it. It's not a budget item at $199, but for something that has the potential to genuinely boost riding enjoyment, it's well worth it in my opinion.
Find the Sena M1 Evo here, then get on your bikes and wander on.
Alisha is a freelance writer and photographer based in Austin, TX. She loves her tiny house, vegan food and experiencing the community of travel in far away places. She's also pretty sure she's addicted to coffee. alishamcdarris.com