Meet SHREDLY: Sustainable mountain bike clothing by women, for women, in rad colors and patterns, that stays put and has tons of pockets. Because ladies like to tear up some single track, too, and we want better gear in which to do it.
Fortunately, that's SHREDLY's mission and purpose in life: to offer an artful approach to technical apparel that would get more women jazzed about getting outside to send it on two wheels. 'Cause let's be honest: color and pattern are frequently in short supply on mountain bike trails and skills parks. So SHREDLY made color and pattern their "thing." Well, color, pattern, and making gear out of recycled materials, which saves water, reduces carbon, and diverts waste from landfills. In fact, 93% of SHREDLY's line is made out of recycled materials and they're working toward 100%.
Anyway, I got my hands on some of SHREDLY's mountain bike apparel for myself and my good friend Jo, and together, we tested out a few of SHREDLY's recycled products, including the MTB Curvy short, which won the Outside Gear of the Year award, and the Curvy 7″ short. (There are also other short options like ones with zip-able mesh vents on the front of the thigh if you're into that.) So let's dive in, shall we?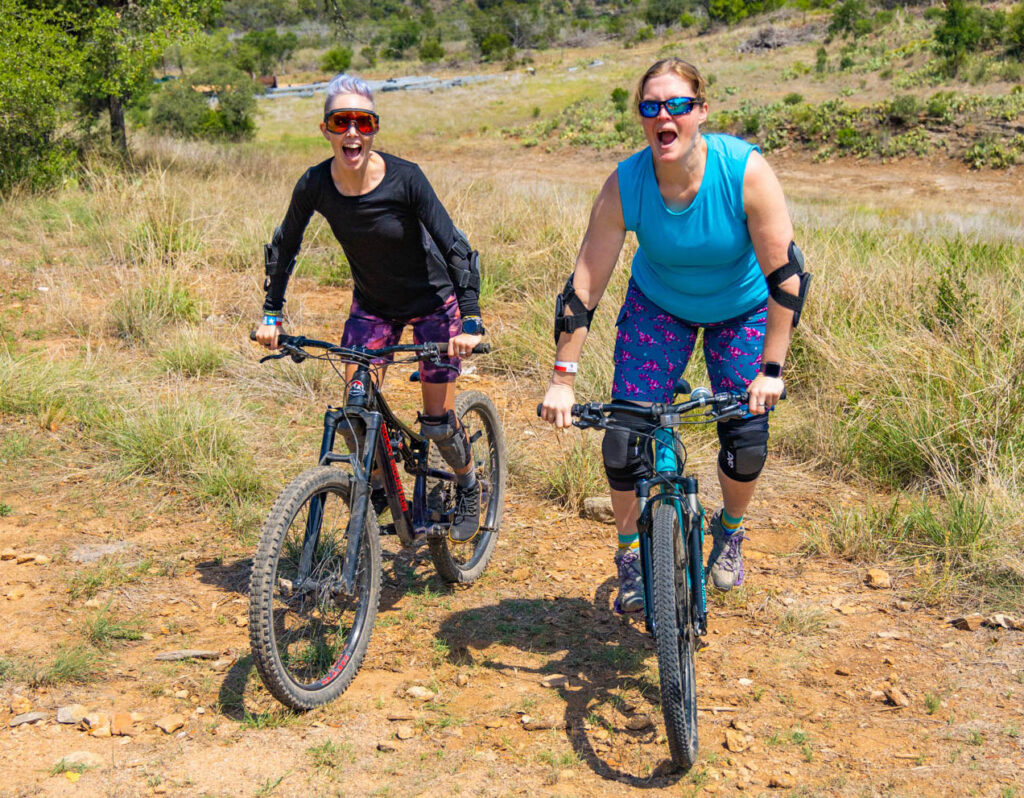 SHREDLY Mountain Bike Clothing: The Deets
As always, let's start with the deets of what we're reviewing here. I tested the Curvy 7″ short because I'm short and most of the time full-length mountain bike shorts are way too long on me. Jo tested the MTB Curvy short in the Jones II pattern. I also had the Long Sleeve tee in black and Jo the Cadencetank in Electric Blue.
Let's start with the shorts:
Sizes range from 00 to 24
Made from recycled poly/spandex with 4-way stretch
Yoga-style stretchy waistband with internal drawcord for an articulated and comfortable fit
High rise prevents gapping at the waist
Shaped back panel for "3-D" articulation at the hips/thighs
Two front pockets, one secure zippered pocket, plus one easy access pocket with snap closure on the MTB shorts (no back pockets, which is standard for mountain bike shorts)
Inseam gusset for freedom of movement and reduced friction
Length falls above the knee on most
As for the tops:
Made of a recycled polyester/tencel/lycra performance blend
Crew neck design for more coverage
Long sleeve, sleeveless, and 3/4 sleeve options
Zippered stash pocket on the bottom right seam for small essentials
Thumbholes on the long sleeve
Mesh back panel for extra breathability
Super duper soft fabric and super stretchy
But what did we think of the mountain bike apparel and how did it perform?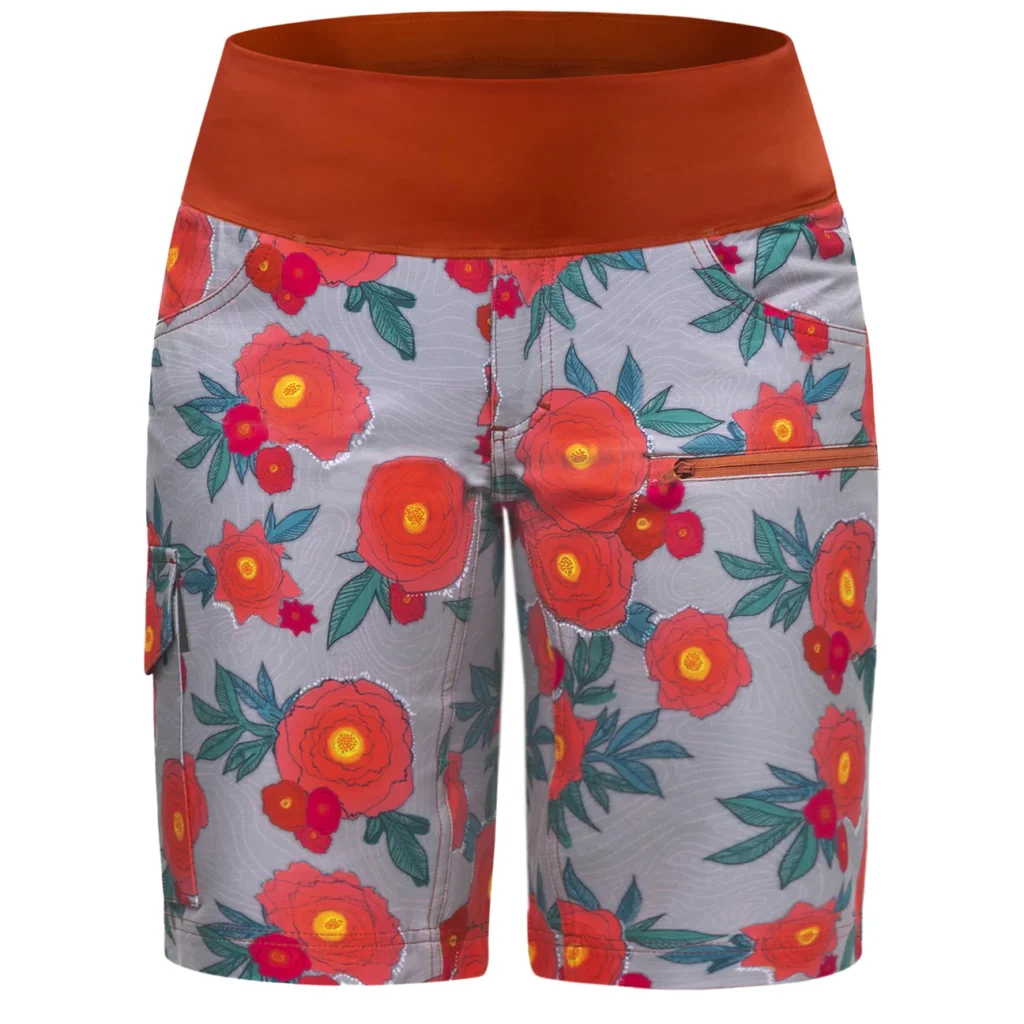 SHREDLY Mountain Bike Clothing: The Review
Let's start with the number one selling point of SHREDLY gear: all those colors and patterns! Jo was especially stoked about all the options because she loves herself some color and flair, but even I was taken with some of the options. Do rest assured, though, fellow lovers of black and neutrals: those options are available, too.
As for the actual performance of the shorts, basically, we had almost no complaints. In fact, Jo, who has quite a bit more mountain biking experience than I do, was ready to order another pair of shorts after one ride. I believe her first comment after receiving them was "So many pockets! I'm not sure what to put in them, but so many pockets!"
I'll tell you what we put in them: chapstick. Cell phones. A map. Receipts. Tiny tubes of sunscreen. Anything small we didn't want to repeatedly dig out of our packs.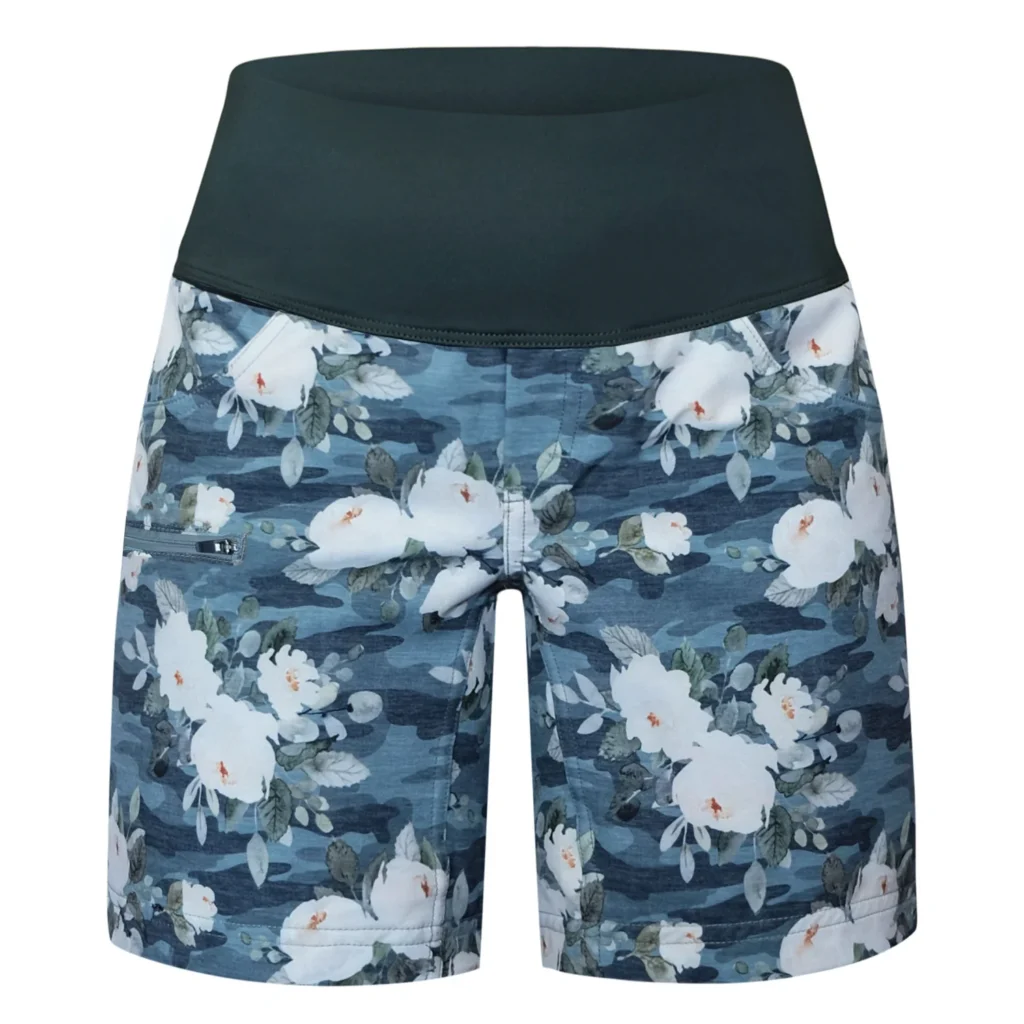 Pockets aside, we found the shorts quite comfortable. Neither of us had any trouble fitting our chamois under the shorts, which is important when spending hours on the trail. The comfortable, stretchy waistbands stayed put, we were never worried we were exposing ourselves, and honestly, I didn't think about my shorts once while riding at Spider Mountain, Texas' only bike park with a chair lift, all day.
And that may be the highest praise you can give a pair of shorts. By which I mean, I wasn't cruising downhill thinking about how my shorts were riding up or down, whether the hems were inching up my leg, or focused on uncomfortable seams or wedgies. Because none of that was an issue. They didn't cause any discomfort nor malfunctioned in any way.
My only quibbles? I wish the zipper on the pocket was burlier. It seems delicate and not very high quality, meaning it may require some care and repair in the future. That said, it was usable even with thin gloves on, so that's a plus.
And while the shorts fabric seems durable and of good quality, we've handled shorts that seem a bit more refined in the details, i.e. stitching and finishing.
That said, if something does go wrong, not only does the brand offer repairs as long as the shorts are under warranty, but if you tear or puncture your clothing via normal wear and tear, they'll repair it for a fee or they can send you fabric scraps to patch it up yourself! All you have to do is ask!
But let's talk about sizing for a minute, which is notoriously difficult when it comes to women's clothing, including mountain bike clothing, especially shorts and pants. 'Cause let's be honest–humans come in all shapes and sizes.
I was thrilled that Shredly makes shorts in sizes that range from 00 to 24. That's a very inclusive spectrum. That said, if you're smaller than I am (5'3″ and 100 lbs.), your options may be limited to children's sizes and products, because the 00–a size I've never worn in my life, btw–while it fit around the waist, the legs were juuuust on the edge of too roomy and baggy. They were on the right side of the edge, but just barely. And some riders prefer a baggier short, anyway, so take that critique with a grain of salt, I guess.
Jo's shorts, on the other hand, fit her snuggly, which she prefers. Basically, your experience may vary. Fortunately, there is a handy sizing chart on the website to help you choose the size that's right for you.
But that's just the shorts; what about these shirts? Right off the bat, let me say these are dang soft. Like, stupid soft. Like, baby bunny soft.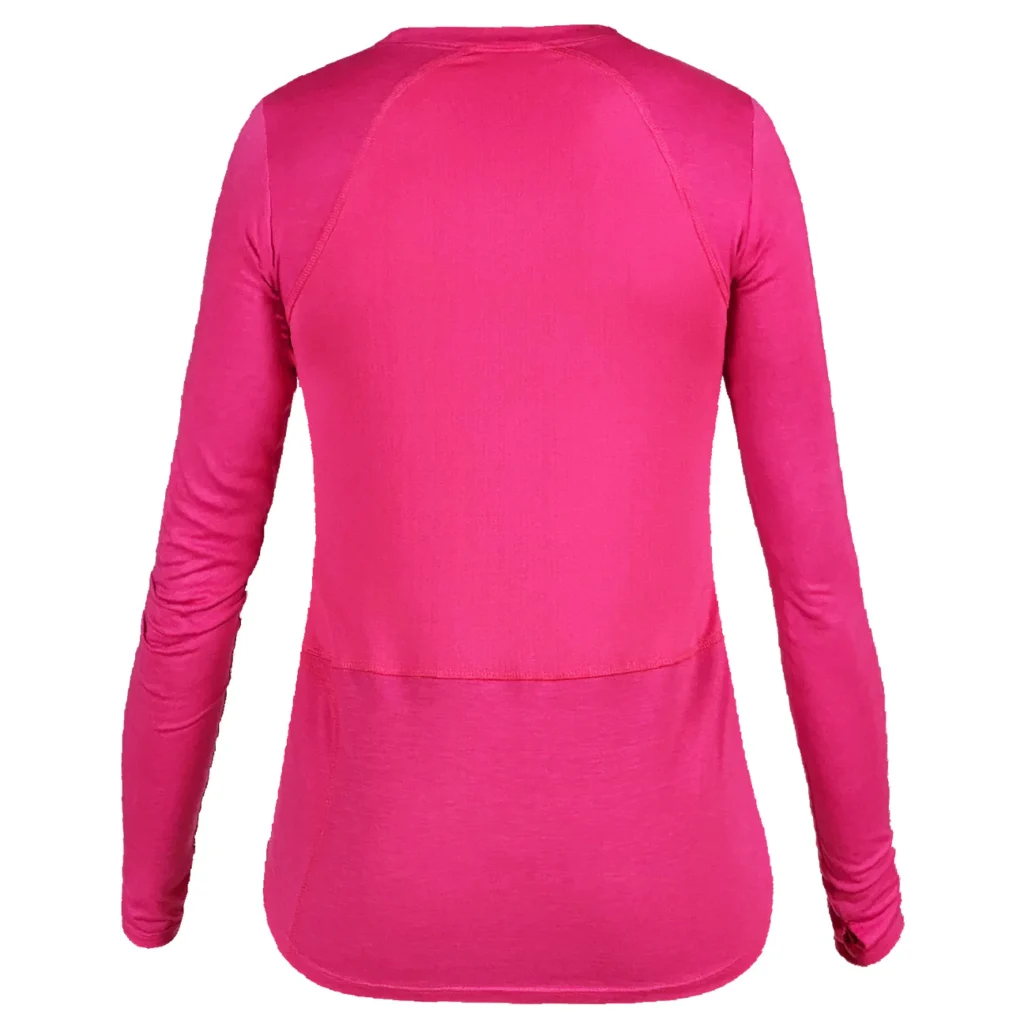 OK, maybe not THAT soft, but they're pretty dang close. That's because they're made of the brand's custom fabric, a recycled polyester/tencel/lycra performance blend. And I dig it. Plus, the shirts are plenty stretchy and breathable. On a recent warm day at the mountain bike park (and by warm I mean 93º), I was definitely toasty in the sun, but never felt the need to pull up my sleeves. And those sleeves kept me from getting sunburned, so, bonus.
The backs of the shirts feature a mesh fabric for increased breathability, which was nice when we removed our packs and could feel the breeze on our now sweaty spines.
I loved the thumb holes on the long sleeve tee, and while neither of us was sure what to put in that little zippered side pocket, we agreed it was nice to have the option in case we happened to be wearing the shirts with shorts that weren't so blessed in the pocket department.
Also, these shirts look good enough to wear at the gym, to coffee, even downtown in addition to on the trail. And I do love me a good versatile and multi-use piece of clothing, lemmee tell you. I'll likely be wearing it on and off the trail, especially as fall rolls around.
That said, the shirts do seem likely to pill and get a bit scuffed up after a few weeks or months of rough riding and getting side-swiped by brush. They're not super burly or durable, but time will tell if they'll last a few seasons of hard use.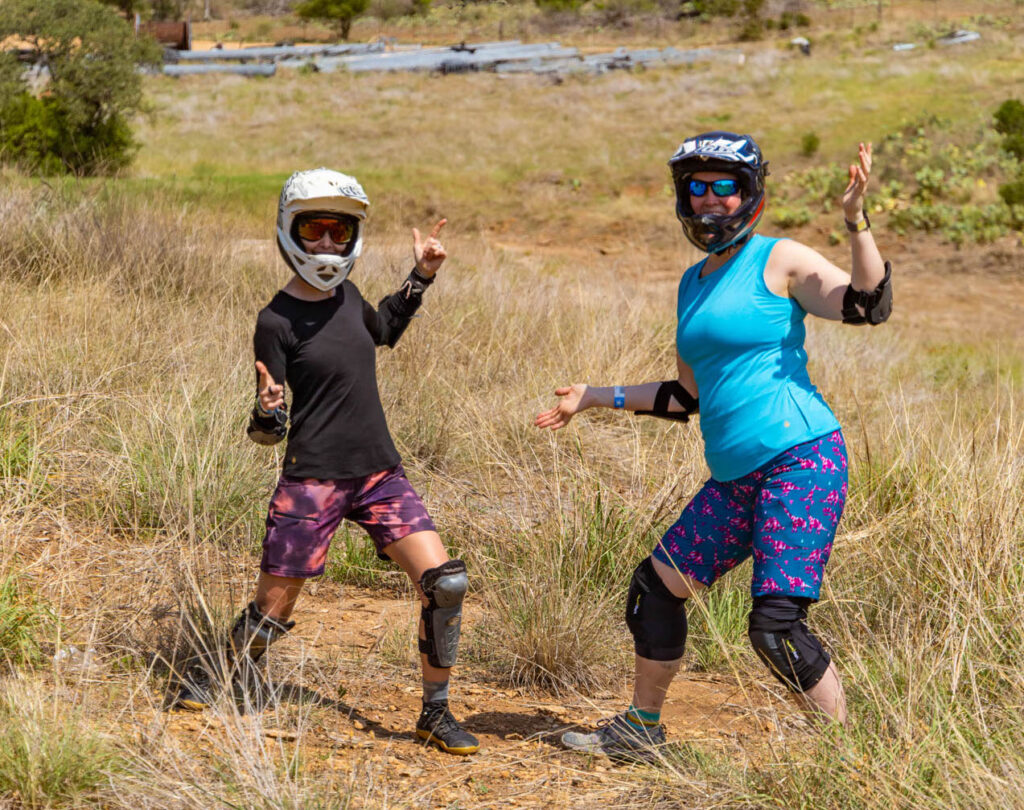 Bottom Line
Long story short, we dig SHREDLY mountain bike clothing. It's durable, fun, size-inclusive, and it's more sustainable than a lot of the other options out there. Wanna check out the whole line for yourself? Take a look here.
Now get out there, ride well and sustainably-clothed, and wander on.
•
This post contains affiliate links. That means when you clicky-click and make a purchase, you score rad gear and support this channel! And it won't even cost you any extra!
Alisha is a freelance writer and photographer based in Austin, TX. She loves her tiny house, vegan food and experiencing the community of travel in far away places. She's also pretty sure she's addicted to coffee. alishamcdarris.com