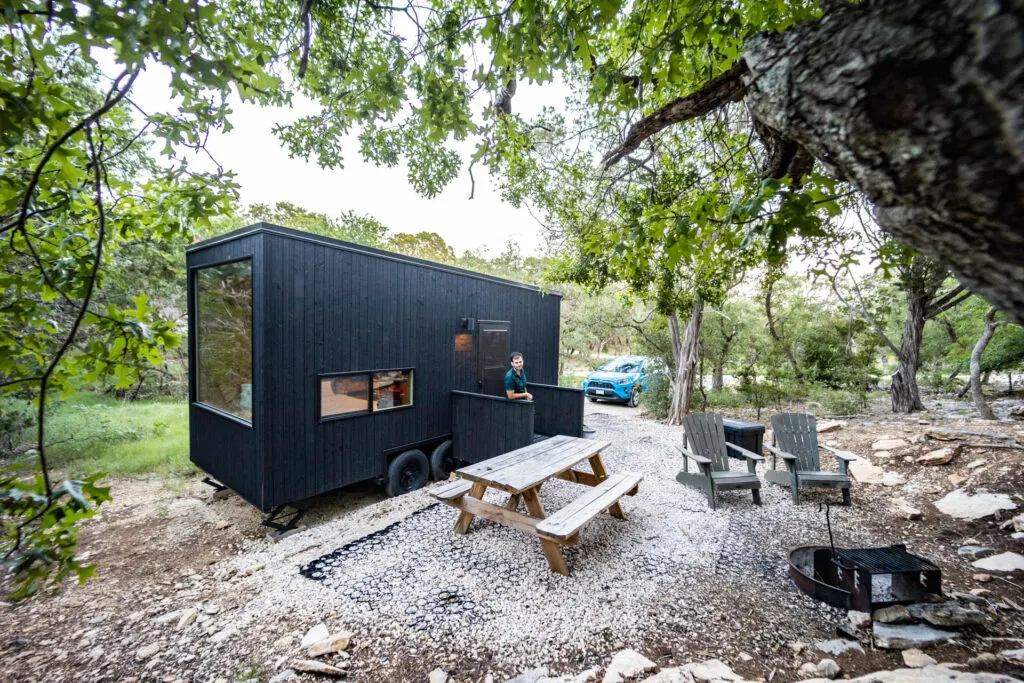 This is a sponsored post
•
Listen, we love a good weekend getaway as much as the next guy. But if we're being totally honest, a lil' weekend break (even if it involves camping) usually still involves laptops, cell phones, notebooks, planners…basically, we're workaholics and we know it. So when we got the chance to got spend a few nights in one of the Getaway tiny cabins in Wimberley, Texas, we were all, "yes, please!"
I mean, cell phone lock boxes? Spotty cell service? No TV? An excuse to just chill the heck out and enjoy some quality time in nature?! Where do we sign up? So we packed our bags and headed to Wimberley, an hour south of Austin, our closest Getaway location (there are locations around the U.S.) to unwind and knock out a few hikes for my upcoming Hill Country hiking guidebook. Here's what the stay was like.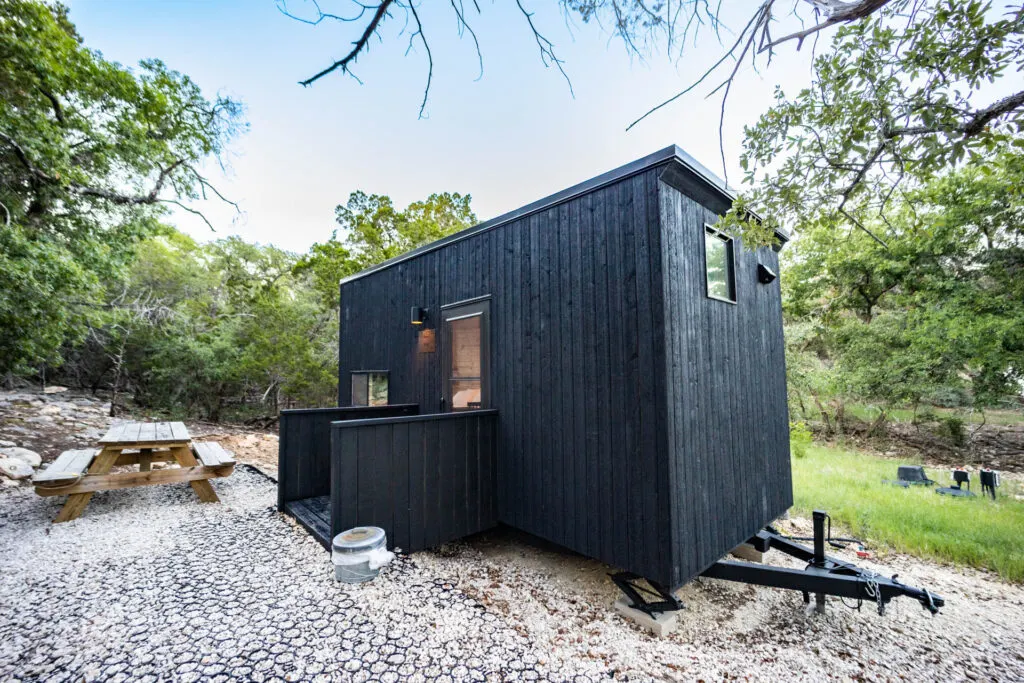 About Getaway
First things first. What even is Getaway?
Simply put, it's a place to find space. Not literally, obviously–Getaway tiny cabins are minimalist and compact–but figuratively: it provides an opportunity to carve out some time to take a break and enjoy nature, the company of friends, and take a deep breath and relax. Typically, Getaway's cozy cabins are located within 2 hours of major cities in a restorative natural setting. In our case, that was Texas' picturesque Hill Country.
We'll let them explain in their own words, though: "Our Outposts are designed to be more than a destination, but a way to create distance from the relentless demands of work, schedules, and technology. We want our guests to experience unscheduled, unstructured, and uninterrupted free time — not just for rest and rejuvenation, but to foster inspiration, creativity, and connection. Because at Getaway, we believe joy is found when we slow down, wander, and marvel at the world."
We couldn't agree more.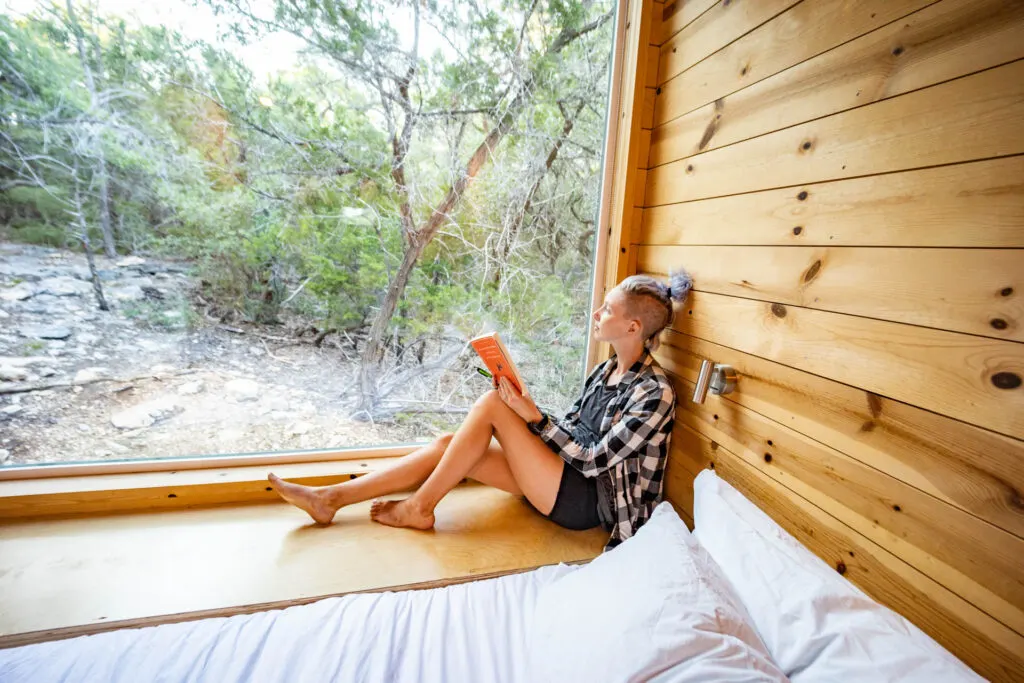 So how do they do it? For starters, the cabins don't have wifi and some may have spotty cell service at best, so you're forced to disconnect (which, let's be honest, most of us require in order to put our phones down for more than two seconds). Secondly, even if there is cell service, each cabin has a cell phone lock box where you can stash your device to keep it out of sight and out of mind.
Then, the Getaway tiny cabins are stocked with everything you need and nothing you don't. Seriously. There's a kitchen with just the essentials (a kettle, pot and pan, dishes and silverware), a simple bathroom stocked with sustainable bath and body products, there are books to read, games to play, a radio for tunes, a landline (!), AC and heat, a fire pit, and one big ol' comfy bed next to the picture window of your dreams.
Jon Staff and Pete Davis launched the concept in 2015 in order to "invite guests to savor their free time, find balance through disconnection, and enjoy the company of those who matter most."
And we think they've succeeded.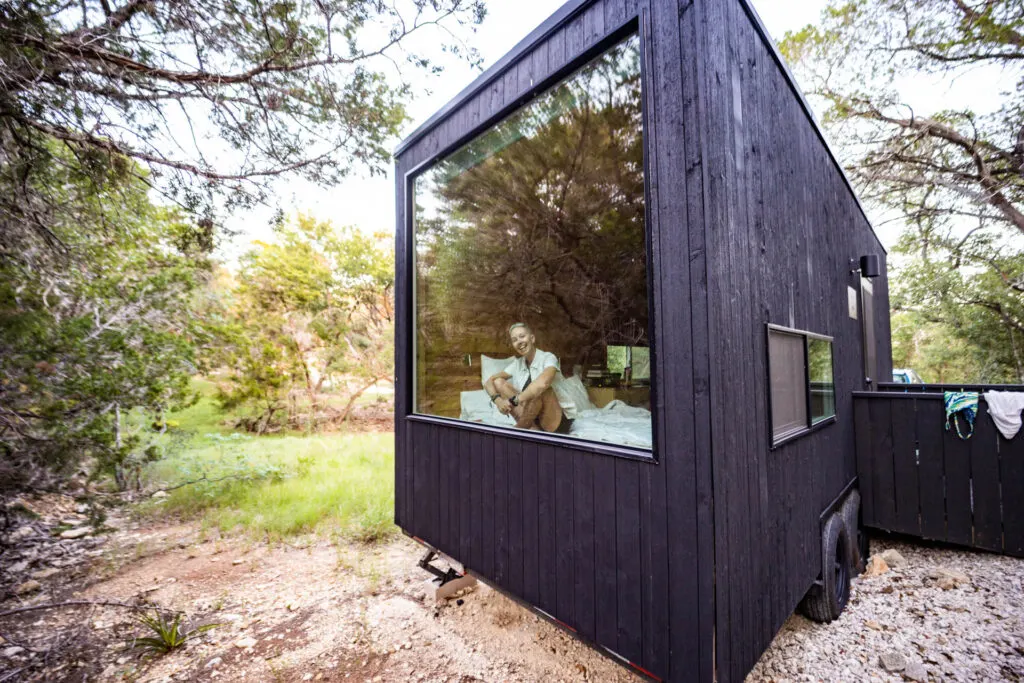 Getaway Tiny Cabins: Our Stay
Staying in one of the Getaway tiny cabins in Wimberley, TX was a dream. Obviously we're keen on the whole "tiny living" thing since we reside in one ourselves, but it was a pleasure to spend a few nights in someone else's, fully removed from all the stuff going on back home in ours.
And as soon as we walked in, we were impressed: while sure, the finishing touches could be more refined, the modern and minimalist space was inviting and comfortable. I mean, how could it not be with that giant window right next to the bed?!
There was a photo puzzle on the table (which we did together), a pile of perfectly relevant books on the counter (card games, star gazing, and tips for finding balance), and Adirondack chairs by the fire pit. But maybe our favorite things were a booklet of silly games, puzzles, and get-to-know-you activities and a map of the surrounding area that highlighted grocery stores, craft breweries, hiking trails, and more.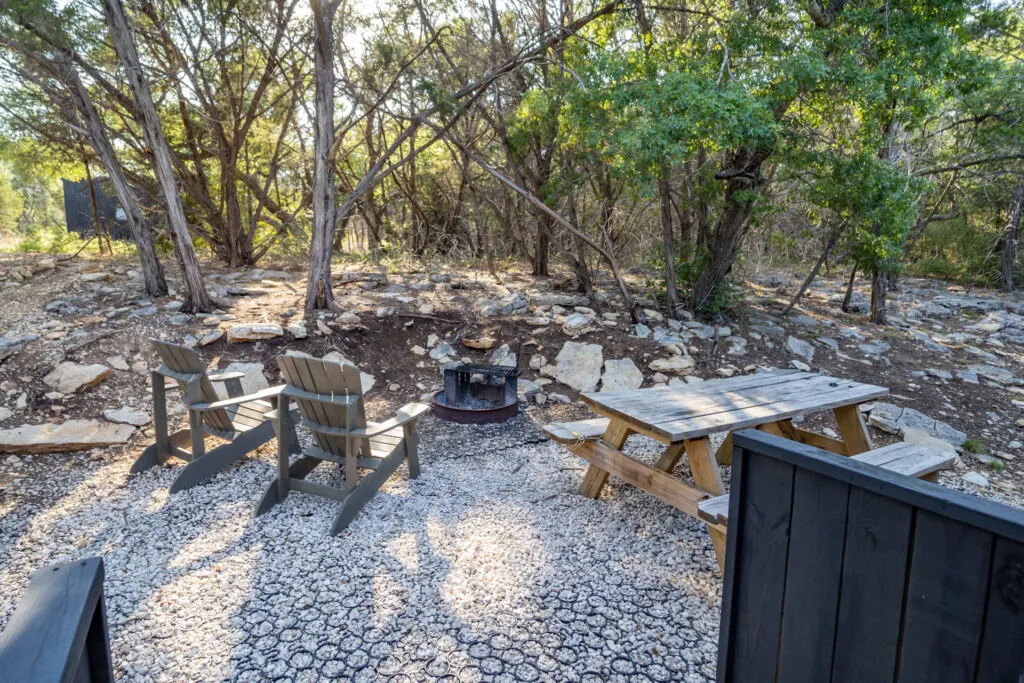 The setting itself was a treat: each Getaway cabin was surrounded by trees, far enough from other cabins and with enough greenery in between to offer privacy, but not so remote you felt like you were totally alone in the woods. Live oak trees and juniper abound and quiet hours are 24/7, which means every moment is an opportunity to just sit and listen, relax, and enjoy nature. There was even a nature trail on the property.
We would wake up, sip coffee and eat pancakes in bed, drive down the road to take a hike, come back and read, play games or goof off until dinner, cook together, then sit and do puzzles or flip through books until it got dark when we'd break out the lantern and chat around the fire pit. It was stupendously chill.
The only downside? We missed having a sink and a mirror in the bathroom, though we admit we're not ones to spend a lot of time studying our reflections, and were surprised to see that coffee and tea were extra.
But overall, it provided exactly the experience Getaway described: a quiet place to get away, relax, unwind, and spend some quality time with the people you love (or yourself). And yeah, we'd 100% go back and do it again any time we need a change of scenery and a place to take a deep breath and hit the reset button. By the time we headed back to Austin, we felt refreshed. So yeah, we can whole-heartedly recommend a quiet, natural, simple stay at Getaway.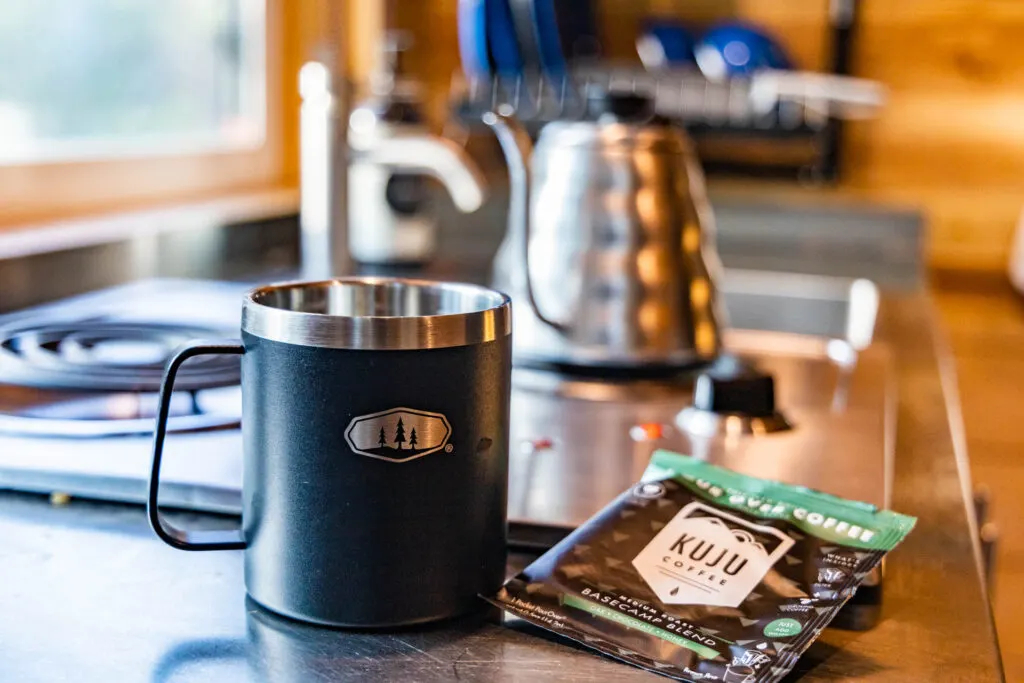 Tips for Your Getaway
If you think it's high time you book yourself a few nights in the woods, we highly recommend it. Here are a few tips based on our experience:
Pack light. Like, really light. There's not much room to stash luggage, so we recommend no more than one backpack per person or a carry-on sized bag and a backpack.
Leave your towels and bath products at home. It's all already in the cabins.
Bring your own caffeine. If you love coffee as much as we do, consider bringing your own beans and brewing device (these are some of our fave portable coffee making implements). There is a kettle in the cabin for boiling water and single-use pour-over packets, but they cost extra and we wished we had our espresso maker.
Stock the mini fridge. Bring all the ingredients you need to make your meals, because chances are, UberEats isn't gonna deliver. Bonus: olive oil packets, salt and pepper are stocked for guest use.
Bring a good book. There are books on hand, but if you plan to sit down and work your way through a biography or novel, bring one with you.
Don't forget the s'mores. You can buy s'mores kits once you arrive, but if you have dietary restrictions like we do, bring your own vegan marshmallows or gluten-free graham crackers.
Let close friends and family know you may be out-of-reach. You don't want your mom freaking out because you're not responding to her texts.
Download offline maps. Do it before you arrive to ensure you can find your way if you lose cell service.
Chill the heck out. Whatever is happening in the world can wait a few days. Take a minute to enjoy nature, hit the reset button, and find some balance. Trust us, you'll be glad you did.
So are you ready to experience your own Getaway? Do it! We highly recommend it. Book your stay here. And then get out there and wander on.
•
This post contains affiliate links. That means when you make a purchase or a booking as a result of reading this post, we may receive a small percentage of said purchase. You won't pay any extra, but you will help support this channel!
Alisha is a freelance writer and photographer based in Austin, TX. She loves her tiny house, vegan food and experiencing the community of travel in far away places. She's also pretty sure she's addicted to coffee. alishamcdarris.com