If we can travel on two wheels instead of two feet, trust me when I say that we will. Cycling around a new city (or any city) is the absolute best way to experience a place. So that's what we did when we arrived in Boise. Want to do the same? By all means, do! Here's where we recommend you ride on a self-guided bike tour of Boise, Idaho.
First, grab some brekky at Waffle Me Up, which has vegan gluten-free waffles made true Belgian-style. bikes from George's Cycles. They have two locations in Boise, but the 3rd Street location is probably your best bet if you want to explore downtown Boise and the city center. We rented a pair of e-bikes ($55 for a day), but that's just because they're fun; Boise is relatively flat and regular ol' city bikes ($30 for a day) will do nicely, too. After you snap a few helmet selfies, ride on!
This park is lovely. It is home to the Boise Zoo (if you're into that sort of thing), a rose garden, ponds, the Boise Art Museum, Idaho Black History Museum (complete with Abe Lincoln sculpture), and Idaho State Museum. We didn't go to the latter three as it was such a nice day to be outside, but if you like museums, hit 'em up!
Next, ride up the Boise River Greenbelt on your self-guided bike tour of Boise. It offers nice views of the river from either bank and headed any direction. But head southeast to the Old Idaho Penitentiary Site. Have a look around and take a tour if you fancy. They're only TK per person.
Adjacent to Julie Davis Park is this touching memorial that commemorates Anne Frank and promotes all human rights and dignity. Read the stones, sit and muse, or just take a brief walk through the outdoor memorial.
8th Street and Main Street
Feel free to zigzag streets all over downtown, but 8th and Main are where a lot of the local action is. Browse a bookstore (we like Rediscovered Books) or grab a bite to eat at one of the joints below.
There isn't a lot of vegan food in Boise, but Funky Taco is one place that offers *quality* options. They had two vegan varieties when we stopped for lunch (and one more for dinner) and they did not disappoint. Think less Tex-Mex, more hip foodie hotspot.
Do I really need to say anything about donuts? I will, though. Guru isn't an all-vegan shop (there's not a single one of those in Boise), but they have several vegan flavors every day and they do not disappoint. There's coffee, too, naturally, and a big donut guru painted on the wall. Again, naturally.
The next stop on your bike tour of Boise should be a ride past the state capitol building. Pop inside if you're into politics or history or what have you, or snap a pic of the capitol building and pedal on your way.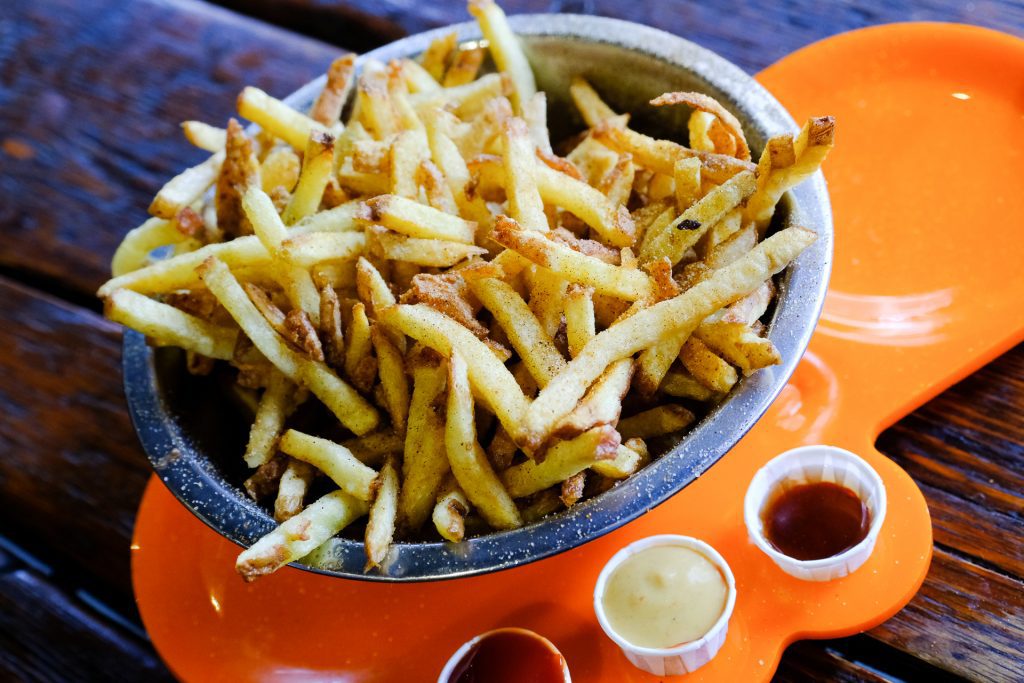 Boise Fry Company
When in Idaho…eat potatoes? Do, though. Because at Boise Fry Company you can get a giant bowl in more varieties, styles and flavors that you will know what to do with. Just ask an employee what she recommends and go with that.
Forget a couple outdoorsy items? In the market for a new tent, jacket or ski boots? Get 'em used at Outdoor Exchange. Impulse shoppers and outdoor clothing junkies beware: you're gonna wanna drop some cash once you step inside.
Hyde Park
Ride up N 13th Street for a look at Hyde Park. It's a hip shopping and dining area just a few blocks long, but it's got character galore. And funky shops, which are fun.
You'll know Camel's Back Park when you see it. Ditch your bike at the playground and walk up to the ridge. It's a steep one! But once you're up there you get 360-degree views of the city and there are a handful of paths to take if you want to hoof it for a few minutes.
Finally, head back to George's Cycles before it gets dark to return those bikes and reward yourself with vegan BBQ from BBQ4LIFE. Need help with directions? We made it easy and included a general map of our self-guided bike tour of Boise route below! Did we miss anything? Let us know in the comments below and check out where else we stopped on our epic month-long road trip (including other bike tours) here! Wander on!
Alisha is a freelance writer and photographer based in Austin, TX. She loves her tiny house, vegan food and experiencing the community of travel in far away places. She's also pretty sure she's addicted to coffee. alishamcdarris.com