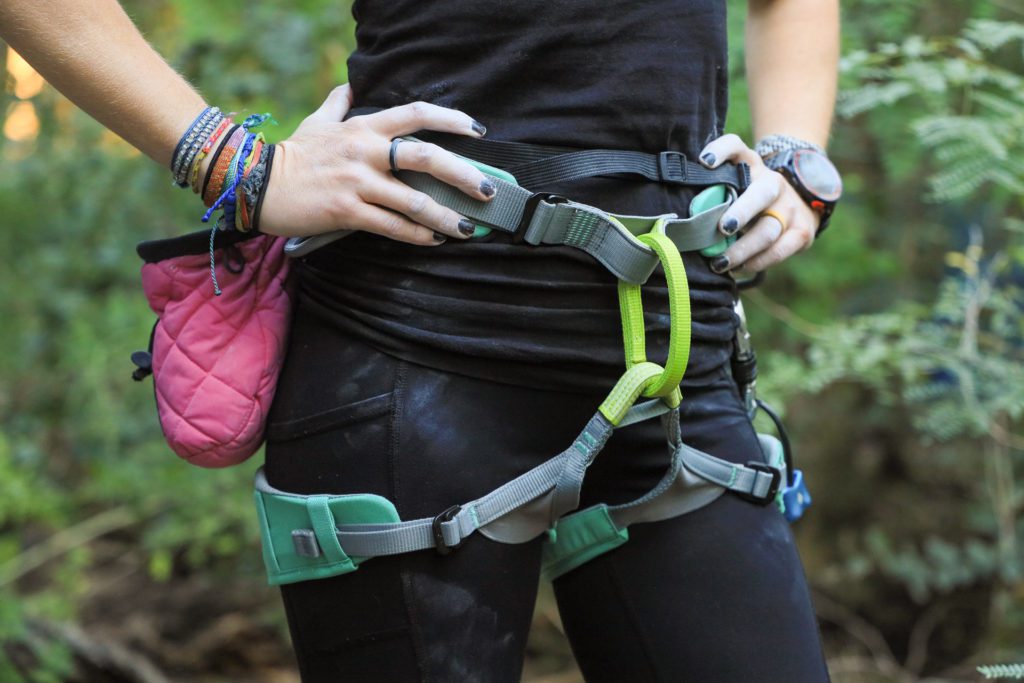 Making sustainable choices when it comes to climbing gear is tough. Because your life is literally on the line (as in, the whole point of climbing is that you're dangling off a cliff face on a line), you only want gear made of the highest quality materials. That means it's not usually a great idea to buy used gear, especially when ropes and harnesses are concerned. It's also why you can't typically return climbing gear if you decide you don't like it that well; stores simply can't resell it. And while you can sometimes find a pair of nearly new shoes or a harness that was used twice on REI's used gear section or some such, new climbing gear is what most climbers prefer. But if your most sustainable option for buying gear (i.e. buying used) is out, how do you find the most sustainable climbing harness? We'll show you the 3 best on the market this year so you can feel good about buying new.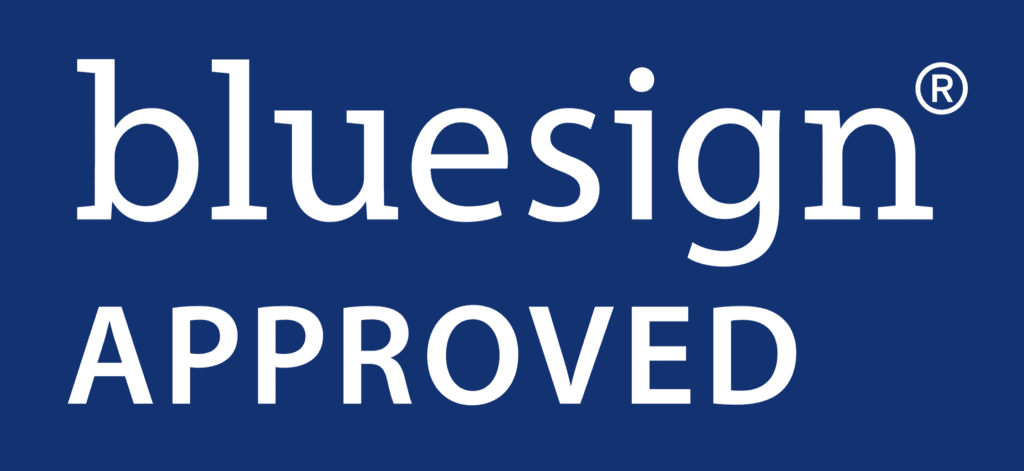 What is Bluesign®?
If you're not familiar with the term or certification, Here's a description more or less from the Bluesign website: Bluesign is a mindset of responsible and sustainable manufacturing of textile products (aka: fabrics and materials). It's a system that means that production facilities are safer and more sustainable and that one that traces each textile's path in the manufacturing process, from factory floor to finished product. And since Bluesign is an independent verifier, you can trust that verified products are better for the people making them, buying them, and the planet they're produced on. It's a holistic system that provides solutions in sustainable processing and manufacturing to industries and brands and ensures that products were manufactured with responsible use of resources and the lowest possible impact on people and the environment.
Basically, Bluesign means you can trust that everything from raw materials to the finished product were manufactured in the most responsible and sustainable way possible. And that's a reassuring thing when it comes to outdoor gear.
The 3 Most Sustainable Climbing Harnesses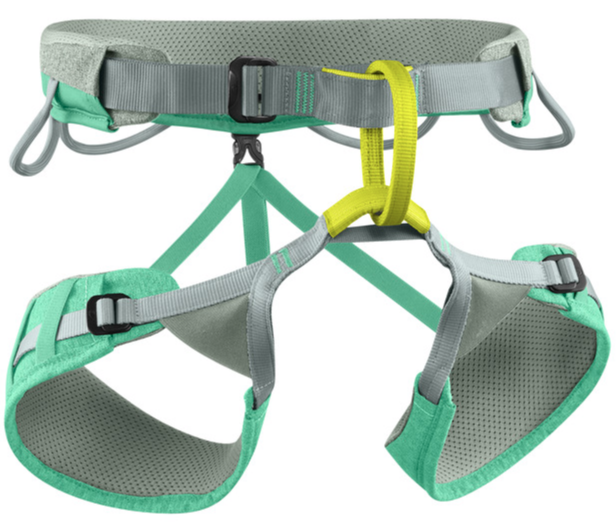 Edelrid Jayne III and Jay III
Edelrid is leading the way in eco-friendly climbing gear. From ropes made out of recycled materials to harnesses that are Bluesign approved, Edelrid has more sustainable options than any brand on the market. The women's Jayne III and men's Jay III are the newest sustainable climbing harnesses in the lineup (The Jayne III is the one I personally own) and are both Bluesign products. But keep in mind the previous iterations of the same gear can't say that, so for the most eco-friendly climbing harnesses, stick with the newest releases. Order the Jayne III on REI or Amazon and the Jay III on REI or Amazon. (There's also the kid's Finn III.)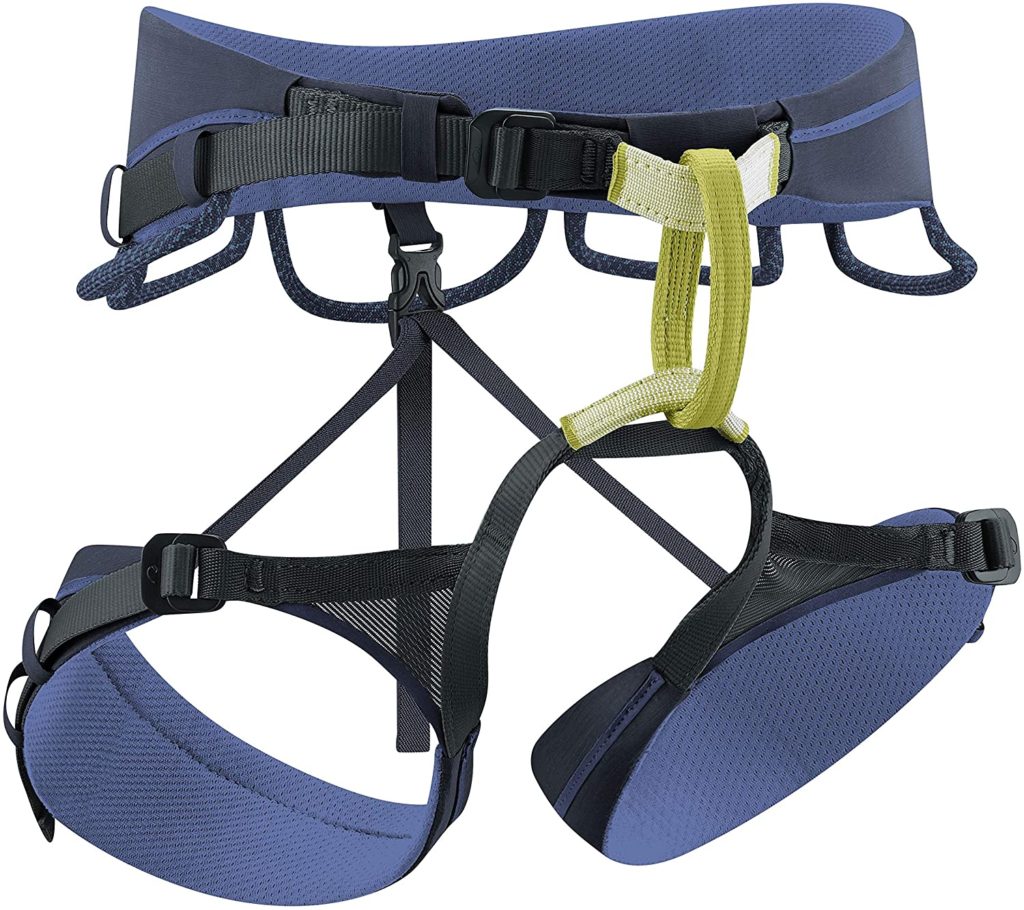 Edelrid Sendero and Autana
While the Jayne and Jay may be the most popular all-arounder harnesses, Edelrid offers other Bluesign certified harnesses, too. Like the Sendero and Autana, which are basically the men's and women's versions (respectively) of the same sustainable climbing harness. Designed for more advanced climbers and alpinists, these bad boys offer more features and functions while still being comfortable and light. Find the men's Sendero on REI or Amazon and the women's Autana on REI or Amazon.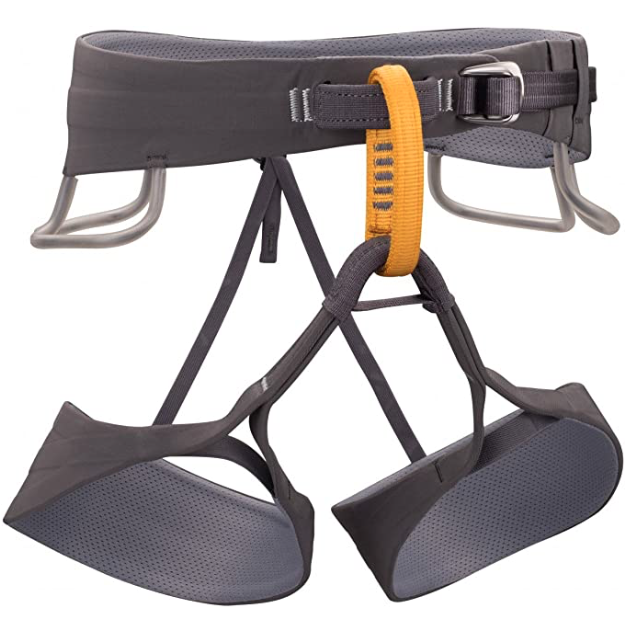 Black Diamond Solution
While the harness as a whole isn't a Bluesign product, the primary fabric used to make it is, making it a more sustainable climbing harness than most. It naturally comes in men's and women's versions and puts an emphasis on comfort for long days at the crag. Our favorite feature of these harnesses? The nice neutral tones. Find the men's Black Diamond Solution on REI or Amazon and the women's Black Diamond Solution on REI or Amazon.
What To Do With Old Gear
Have harnesses, rope, 'biners or other climbing gear that's reached the end of its useable life at the crag? Sometimes you just have to toss it, but sometimes, you can repurpose it (or parts of it) for non-climbing (let me repeat: NON-climbing) purposes. Use old carabiners for around the campsite. Save buckles to repair outdoor gear. Use old rope to make a dope dog leash for your pup and all her friends. And webbing is good for all kinds of stuff! If you can keep it out of the landfill and give even small pieces of your old gear new life, do!
Check out this article from Climbing Magazine with tips on how to know when it's time to retire gear and what to do with it next.
Whatever you do, don't keep trying to use old gear that's clearly reached the end of its life, K? Wander on!
•
Looking for more sustainable climbing content? Check out our roundup of vegan climbing shoes!
•
*This post contains affiliate links. That means when you make a purchase after clicking on one of the links on this page, we may receive a small percentage of the sale. Like, maybe enough to get ourselves a fresh bottle of liquid chalk…Thanks for your support!
Alisha is a freelance writer and photographer based in Austin, TX. She loves her tiny house, vegan food and experiencing the community of travel in far away places. She's also pretty sure she's addicted to coffee. alishamcdarris.com