We've long been enamored with the idea of Death Valley National Park in California. I mean, we're pretty into the dark and macabre, so how could we not want to visit a place with landmarks named things like Badwater, Devil's Golf Course, and Funeral Peak?! But rest assured, even if those places inspire more reticence than excitement, Death Valley National Park is still absolutely worth a visit. So here's some info to get you started.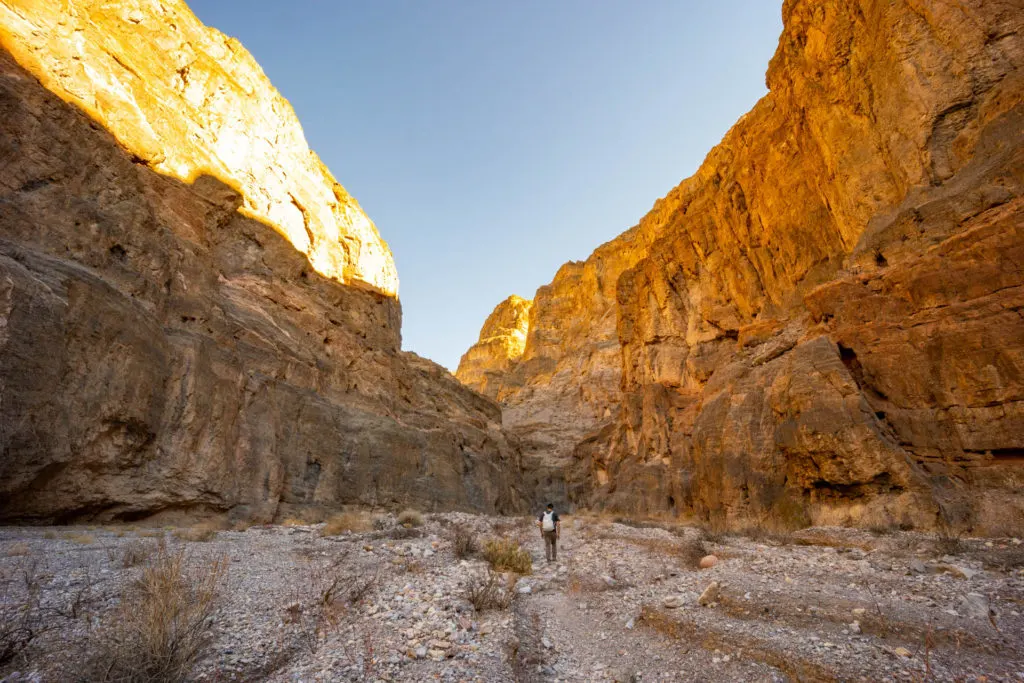 When to Visit Death Valley National Park
You can visit Death Valley any time of year, but take note: it's literally the hottest place on earth. True story. The hottest air temperatures on the planet have been recorded in the park (134º F)! So if you don't like the heat–like, really really like the heat–it might be best to stay out of the kitchen. By which I mean avoid visiting Death Valley in the summer.
Instead, opt for cooler seasons like winter, late fall or early summer. 'Cause there's no water to jump into to help you cool down (unless you're staying at one of the posh resorts in the park). We visited in January and enjoyed lovely (albeit unseasonably warm) daytime temps just below 70º F and overnight lows in the 40's.
As for how long your should stay in Death Valley, we stuck around for four nights and only scratched the surface. You could easily stay for a week.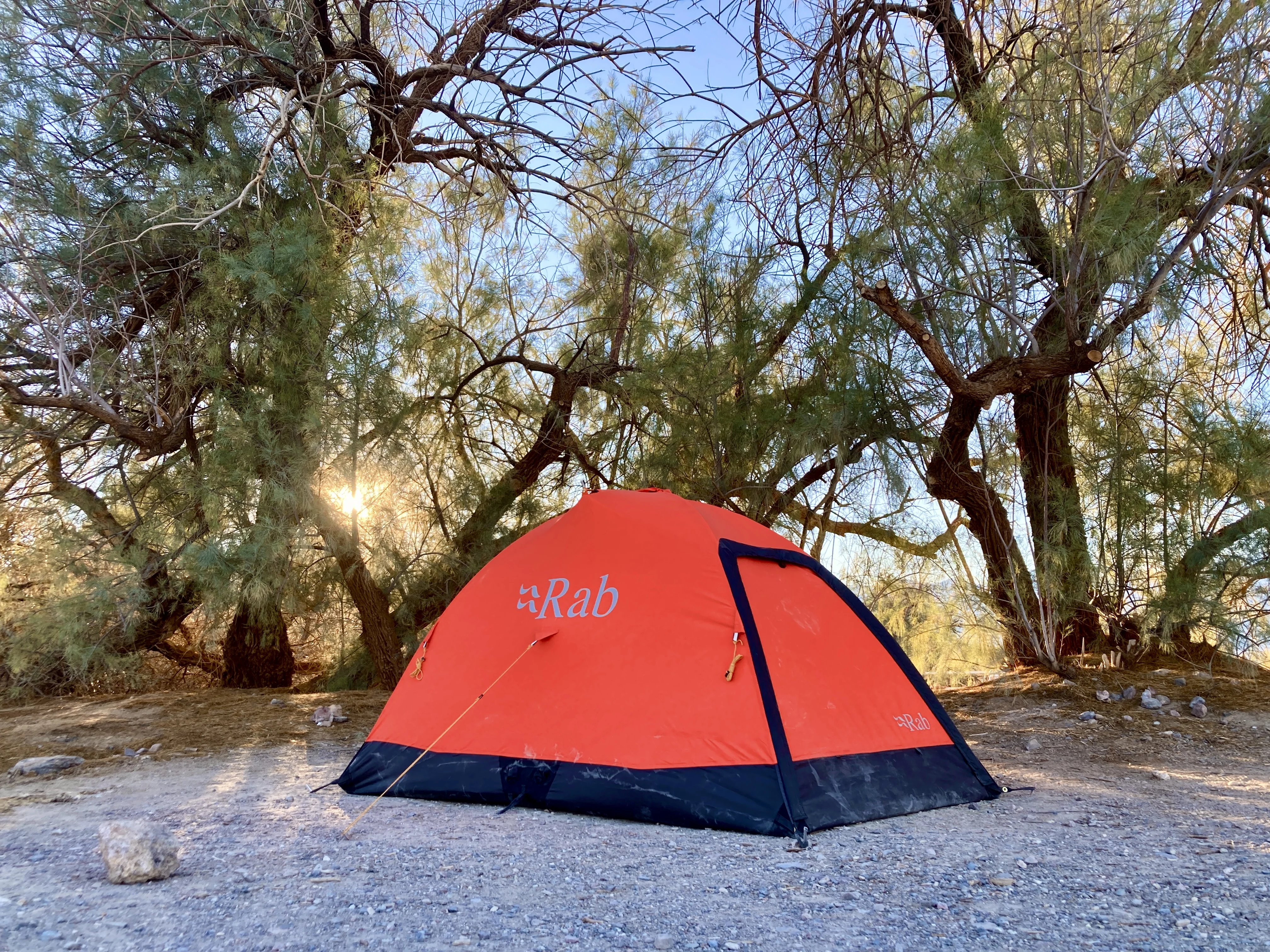 Where to Stay in Death Valley National Park
You know us; we always opt to camp if we can. And there are plenty of places to camp in Death Valley. The most popular area of the park is probably Furnace Creek where you'll find a number of campgrounds: Furnace Creek, Sunset, and Texas Spring Campgrounds.
Most campgrounds in the park charge a per-night fee, but there are four (all at much higher elevations) that are free. Check to make sure they don't require high clearance and 4×4 access to get to, though.
For prices and recommendations, (like which campgrounds require reservations and when, which ones fill up quickly in what season, etc.) we found this chart on the NPS website super helpful.
There's also plenty of wilderness to explore, so if you prefer backcountry camping, you've got options. Research more about backpacking in Death Valley here.
Kickin' in luxury more your style? There are also a handful of privately operated lodging options in Death Valley, such as The Oasis at Death Valley (the Inn and the Ranch, located in Furnace Springs) and Panamint Springs Resort. If you prefer heating, A/C and showers and pools, these are your best bet. But if you're not a guest there, you can still have a wander around parts of the properties: The Ranch, for example, is home to a pretty robust mini-mart, ice cream parlor, souvenir shop, and bike rental shop.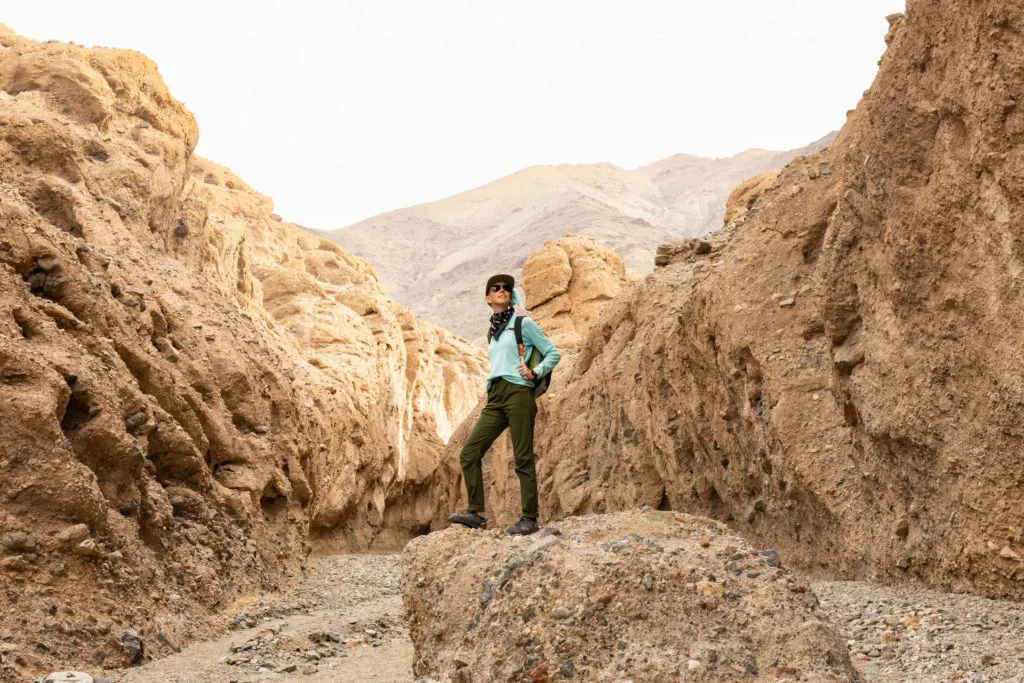 Where to Hike in Death Valley National Park
Now, this is far from an exhaustive list as there are 3,422,024 acres of park to explore (it's the largest national park outside of Alaska), but here's where we laced up our boots. And no, not a single hike was even remotely disappointing.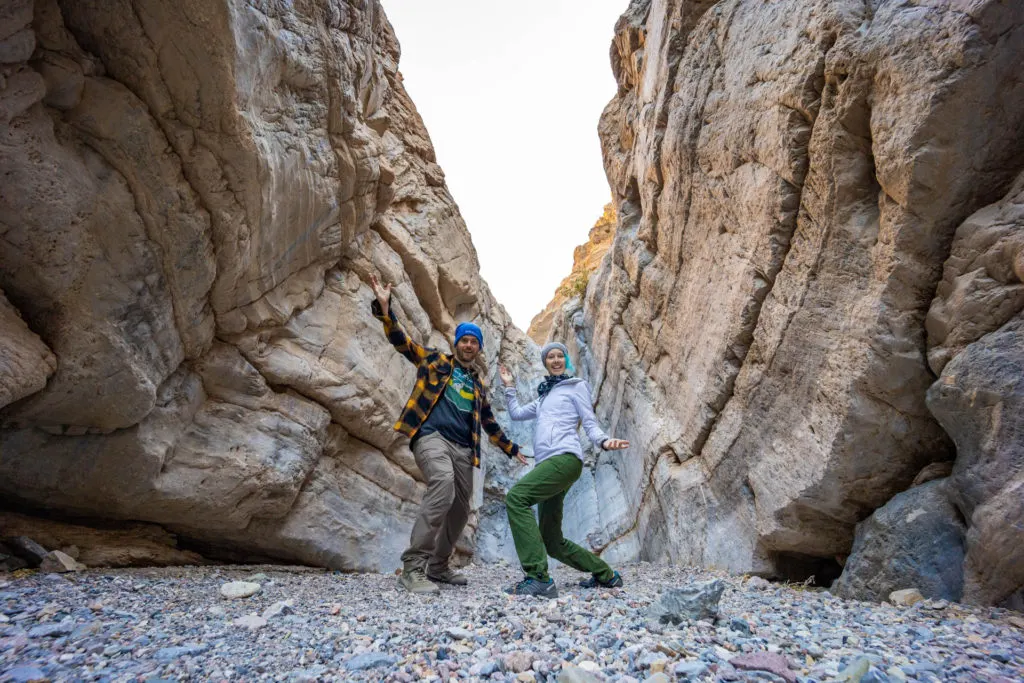 Fall Canyon (6 miles, out and back)
The first hike we went on was truly a treat, even if it was an out-and-back (doesn't everybody love a good loop?). A 30-minute or so drive from Furnace Creek, it would through narrow canyons with slanting walls and provided plenty of thrilling photo-ops. At some points the trail was so narrow you could reach out your arms and touch the canyon walls on either side. It is all uphill all the way out, though, so be prepared.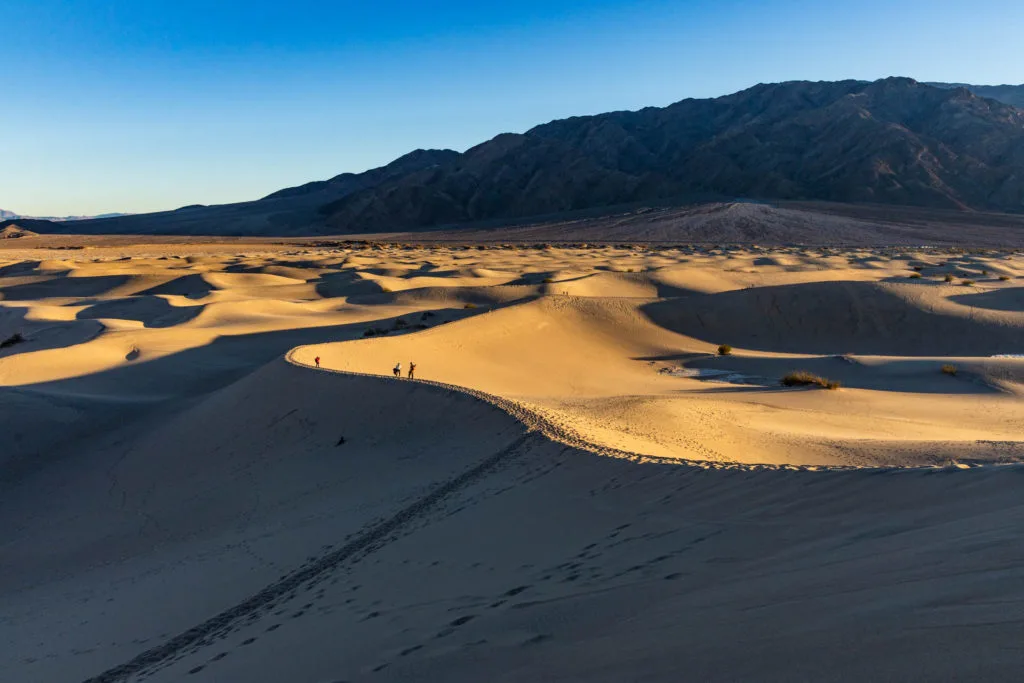 Mesquite Flats Sand Dunes (2 miles, out and back)
Listen and take note: get thyself to the dunes an hour or two before sunset for an experience you won't soon forget. There are no trails out there, so you can wander at your leisure (don't worry, you won't get lost: you can see the parking lot from the tops of any dune). And late in the afternoon when the light is golden makes for some truly stunning and dramatic scenery. Seriously, I have way too many photos of the dunes. The tallest one with the fewest people on it is about a two-mile trek through sand there and back, but totally worth it. Bring a headlamp just in case, but there was plenty of light for us to get back to the parking lot after sunset.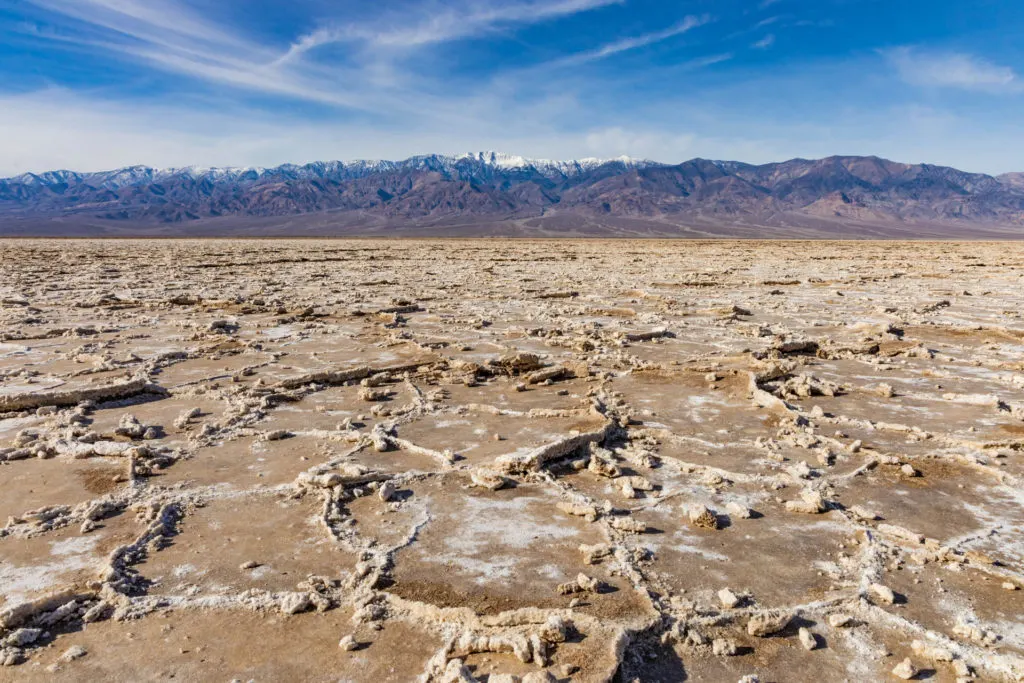 Badwater Basin Salt Flats (1-5 miles, out and back)
The lowest and hottest point in the U.S., Badwater Basin is another trail-less out and back where you can wander as you please. Just make sure to look up at the Black Mountains across the street from the parking lot to take note of the sign indicating where sea level is (you're 282 feet below it in the basin). It's a trip. But so is the scenery. With the Black Mountains on one side, the snow-capped Panamint Mountains on the other, and the valley stretching out in between, it's a sight to behold. Plus, those crusty salt flats are pretty cool, too.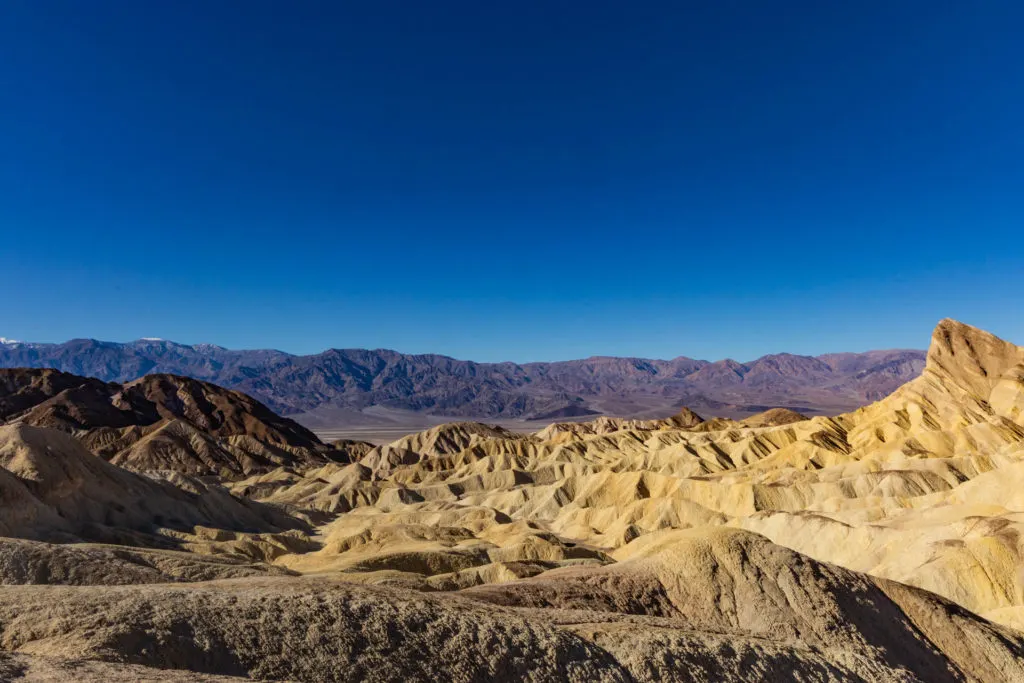 Golden Canyon (3 miles) and Badlands Loop (2.7 miles) with or without Zabriskie Point (1 mile)
Do one loop or do them both. Or tack on an extra mile and start at Zabriskie Point, which we highly recommend as that bit of trail offers some stunning views. Wherever you begin, hike counter-clockwise unless you enjoy endless steep climbs. And then expect colorful peaks, deep canyons, rocky washes, and even a few low-key scrambles. The whole loop, including Zabriskie Point, is 6.6 miles, 7.8 if you include the side trail to Red Cathedral.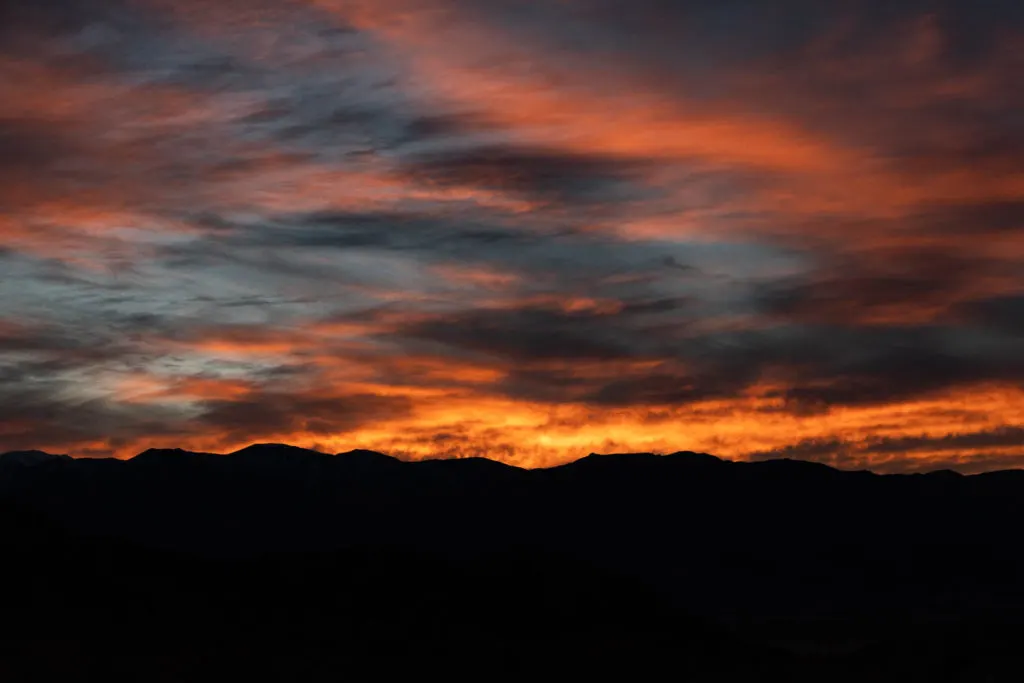 Zabriskie Point (.2 miles)
Make it a hike up some of the nearby peaks or make it a stroll up the short, paved path to the lookout point, either way, you're in for a treat. Namely, sweeping views of the canyons below and multi-colored peaks surrounding you. It's especially impressive at sunrise or sunset, but only if there are a few clouds in the sky to really diffuse some color. We tried watching the sunset three times while we were in the park and only once did it dazzle.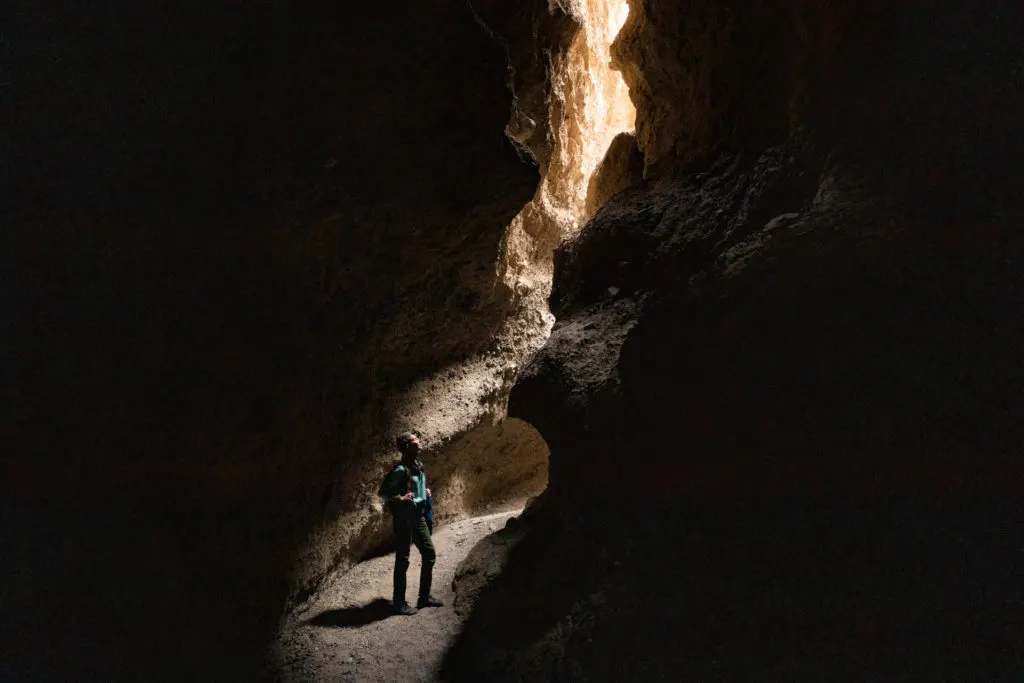 Sidewinder Canyon (5 miles out and back)
Another all uphill hike (at least on the way out), this one is worth the drive and the effort just for the slot canyons! There are (at least) three narrow passages off of the main trail, which is wide and rocky then narrow and gravel-y. And when you find them, they offer winding, super narrow passages where all you can do is look up in wonder. Bring a headlamp just in case you find some extra dark spots.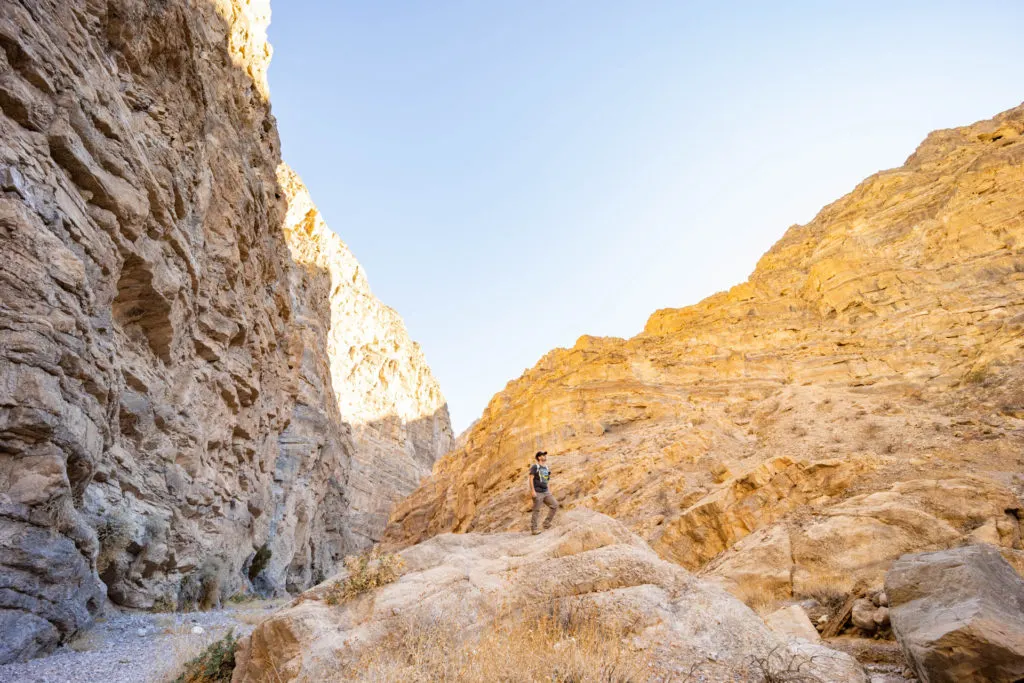 Tips for Visiting Death Valley National Park
Make the Furnace Creek Visitor Center your first stop when you arrive. Watch the 15-minute park video to learn a bit about the park and it's wildlife and geography, then take a turn around the educational exhibits to learn about the native tribe that still calls the park home, the park's history, geology and more.
If you are camping and want access to pools and showers, you can have them, but a day pass will cost you: $14 per person at the Ranch at Death Valley, to be precise.
Furnace Creek is the closest hub to Las Vegas and pretty centrally located for a variety of Death Valley activities.
There's very little cell reception in the park (we had none the entire four days, in fact), so download maps–both hiking and driving–before you arrive.
If you forgot a few supplies, don't sweat it. The general store at The Ranch at Furnace Creek had everything from refrigerated foods to stove fuel to snacks to backpacking meals and everything in between, even plenty of vegan and gluten-free items.
Bring more water than you think you need and salty snacks and electrolytes. That goes double in the summer, but the desert air is dry in the winter, too, so take care you don't get dehydrated.
The park is located on Timbisha Shoshone land, and the tribe still lives here, so keep that in mind when you're exploring. Not only was this area home to native people for ages before it became a national park, but it still is.
Always bring extra layers when hiking in fall, winter or spring. It can get cool cool in the canyons and after the sun sets, so be prepared.
Bottom Line
Just do yourself a favor and get to Death Valley. It's unparalleled in its landscape, temperature extremes, wide open space and more and deserves some serious exploration. So get out there already and wander on.
•
Looking for more National Park guides? Check these out, or read up on our latest from Acadia National Park, Great Smoky Mountains, and Isle Royale.
Alisha is a freelance writer and photographer based in Austin, TX. She loves her tiny house, vegan food and experiencing the community of travel in far away places. She's also pretty sure she's addicted to coffee. alishamcdarris.com