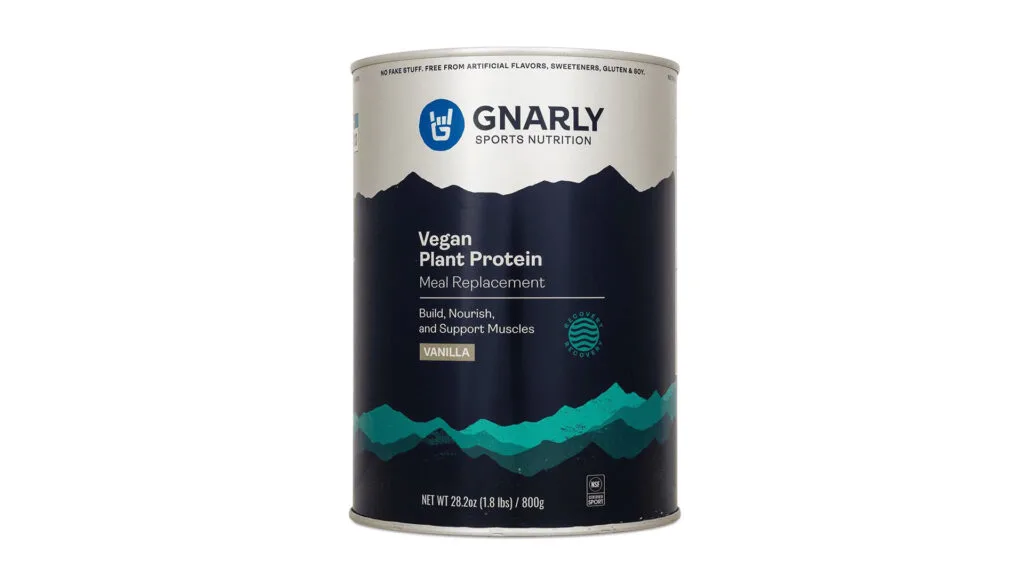 If you're planning a multi-day backpacking excursion, thru-hike, heck, even an extended day hike, nutrition is important. You're going to need some serious calories, for sure, but your body also requires protein. A lot of it. And one of our favorite quick and easy ways to get it, on OR off the trail, is with vegan protein powder.
But let's back up for a minute. According to Outside's rather intimidating Backpacking Calorie Estimator, I, a 165 lb man, could easily burn 200-300 calories per mile, meaning on a 15-mile day, I could be burning between 4,000-5,000 calories. That's a lot of calories.
Do you really need to eat that many calories to stay healthy on the trail? Not for short periods of time, but you do need to eat enough so that your body can recover for the next leg of your journey while limiting muscle breakdown as much as possible. In short: Not enough calories or protein and you'll end up looking like Captain America before the super soldier serum.
So how much protein should you be consuming to maintain your muscle? Borrowing from the world of body building, the general rule is to take in 1 to 1.5 grams of protein per pound of body weight. And while the range varies from person to person, peer reviewed studies show that a high protein diet can be instrumental in maintaining lean body mass in athletes.
And while there are plenty of great snackable, packable vegan protein options these days: vegan jerky, whole food protein bars, and seitan, for example, plant-based protein powder can help you get protein and calories fast while on the trail (without all the cruelty and extremely unsustainable factory farming required to make whey protein). And without a lot of the weight or time required to prep a whole meal.
7 Vegan Protein Powders Ranked
But there are a lot of vegan protein powders out there. A lot. These are just five of the over 60 floating around on the web and on store shelves that I came across during my research. And that's not even all of them.
For these five, I've selected a few you've probably heard of, a few you perhaps haven't, and a few "ultra" low-cost supplements. The goal? To see which ones mix and taste the best with water. Yes, I said water. Why you ask? Because when you're out on the trail you're probably not going to be carrying around a carton of almond milk in your backpack (at least, I hope you're not). Plus, by taste testing each with water, all flavor sins will be laid bare. So let's begin!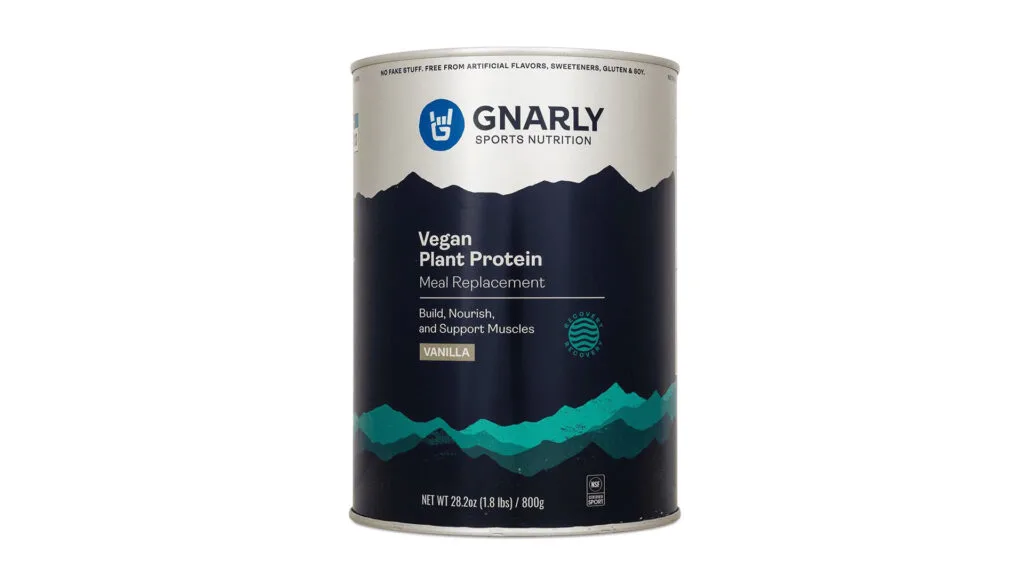 Protein Per Serving: 20g
If you're not familiar with Gnarly, you should be. They make one of the tastiest meal replacements out there. And it is a meal replacement. As in, there's lots more than just protein in here. Another thing I like about the brand? They create their products with outdoor pursuits in mind.
This protein shake thickens when mixed and is smooth for a protein powder. It's sweetened with stevia and evaporated cane juice and the chocolate flavor is one of the more decadent on this list with a subtle stevia aftertaste.
What we like: It contains additional vitamins, minerals, and all 9 essential amino acids. It's a meal replacement, after all, not just a protein supplement. Plus the flavor is bomb and the stevia aftertaste is minimal.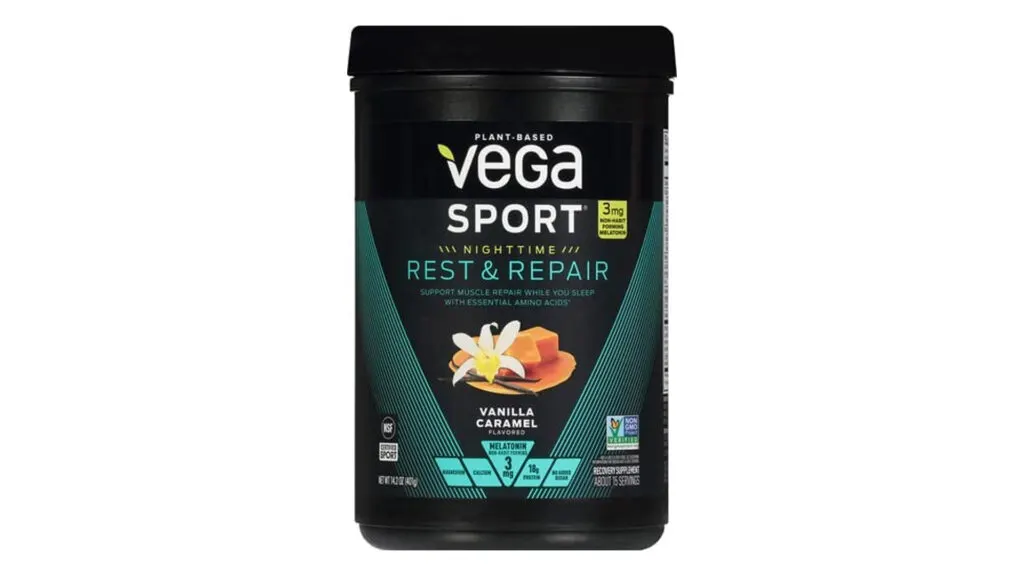 Protein Per Serving: 18g
Vega is a widely recognized plant-based protein powder. They offer lots of flavors and formulations (including ones for gut health), but for this test, we tried their NightTime Rest and Repair, which contains 3mg of melatonin to help regulate your circadian rhythm and sleep more naturally. So drinking this in the late evening may be helpful if you generally don't sleep all that well in the outdoors. The only issue? Drinking your protein 30 minutes to 1-hour before bed may having you crawling out of your tent in the middle of the night to answer nature's call.
As for taste? This one is ever-so-slightly grainy but thickens a bit when shaken for a relatively pleasant mouth feel. The flavor itself is, shall we say, not bad, but not great. I went with the Vanilla Caramel which made for a very sweet sip. It's sweetened with monkfruit, which can be a deal breaker for some, but wasn't overpowering.
What we like: This vegan protein powder contains additional vitamins, minerals, and amino acids, so acts as more of a meal replacement. Plus, we like how t helps lull us into slumber.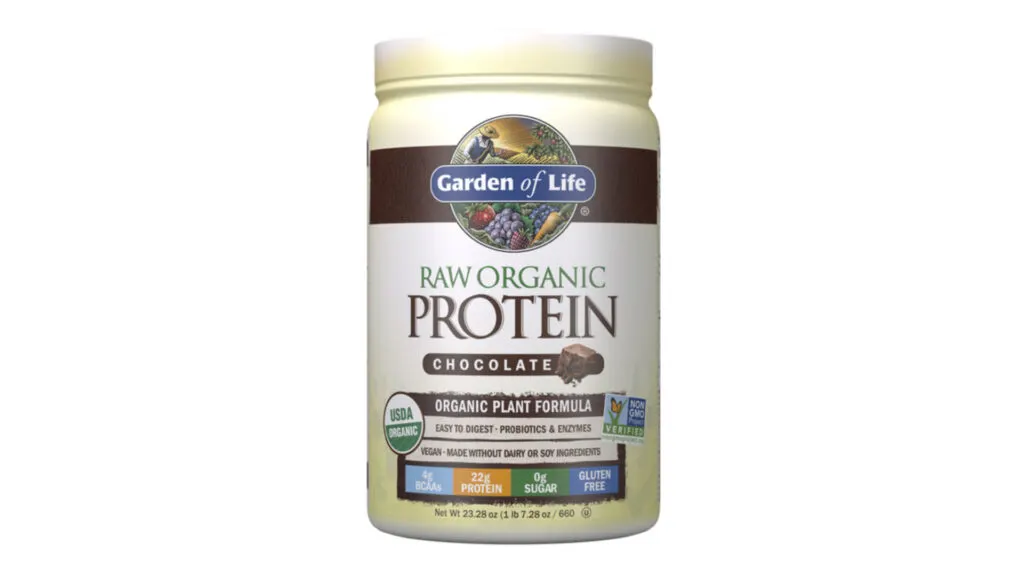 Protein Per Serving: 22g
This raw plant-based protein powder is the second grainiest on the list after the Vega (but still not bad from a palatability standpoint). Garden of Life is another brand you'll see at grocery and health food stores pretty regularly, so it's fairly accessible.
And while it advertises itself as a "shake" right on the tub and does contain some thickeners, it leaves something to be desired in terms of consistency and features only a light chocolate flavor. Even so, this one is a good "middle of the road" option: Not overly expensive and without too many compromises on flavor and texture.
What we like: It contains additional vitamins, minerals, essential and non-essential amino acids, plus probiotics and is raw.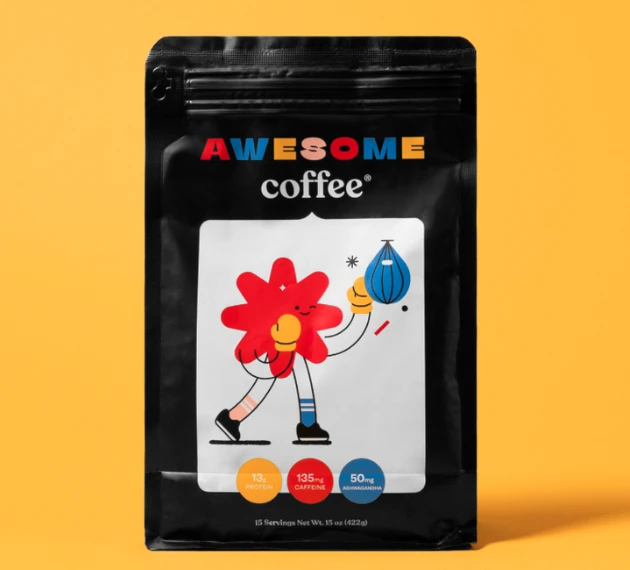 4. Awesome Coffee ($2.67 per serving): A Welcome Caffeine Boost
Protein Per Serving: 13g
Honestly, this one would be higher on the list if it had a smidge more protein per serving, but we don't have much to complain about when it comes to Awesome Coffee's protein coffee. It's a slightly sweet, totally vegan, creamy, frothy, quaffable beverage that has 135mg of caffeine plus 50mg of Ashwagandha. There are 4 grams of sugar, the rest is sweetened with monk fruit, which some (including me) think has a curious aftertaste, but after a few sips, I got over it. After all, the beverage itself is pretty dang tasty. The texture is a bit grainy, but that typically comes with the territory, so we're not too bothered by it. The main downside in my opinion? That there are only 15 servings per bag. You do get a discount for ordering multiple bags at a time, and an additional discount if you subscribe for regular deliveries, so the brand does make it easy to keep your protein supply stocked. Best served cold and shaken.
What we like: It has a serious boost of caffeine with more protein, less fat and less sugar than one of those overpriced cups from Starbucks. It's creamy iced coffee, but better!
Protein Per Serving: 25g
At around $2 a serving, this performance shake isn't a bad deal thanks to the 25 grams of protein and the added vitamins, minerals, berry and greens blends. Unfortunately, what those things don't add is flavor. Light on chocolate flavor, this powder is pretty bland even when shaken with our favorite plant-based milk. It's tolerable when shaken with water if you want to take a bit with you on your next outing, so if the price is right, it's still worth considering. It also comes in a Vanilla Chai flavor: the vanilla we tend to stay away from but the chai has us intrigued. We'll have to taste test that one next time!
What we like: The fairly approachable price and all the essential aminos, vitamins, berry and greens blends. The sweeteners, coconut sugar and stevia, were noticeable but not over powering.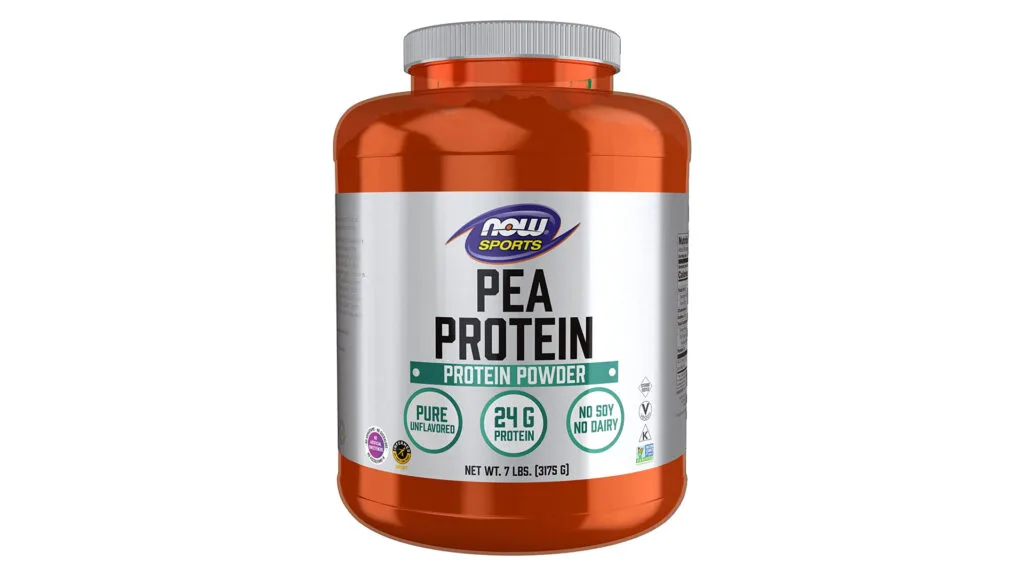 Protein Per Serving: 22g
NOW is a brand you've probably seen in the vitamin aisle of your local grocery store. The brand produces a wide range of products at approachable price points. One such product is their plant-based protein complex. While this is the grainiest vegan protein powder on the list, it doesn't feature the intense sweetener taste that plague some of the others as it's sweetened with a combination of xylitol and stevia.
Unfortunately, it does tend to separate if you don't drink it immediately. This isn't a problem at home if you're blending it with other things like banana and peanut butter (our fave protein shake mix-ins), but for outdoor recreation purposes, you'll probably want to give it a shake before each sip. So while the texture may not be ideal, it's a great value for quick and easy protein.
What we like: It contains additional vitamins, minerals, essential and non-essential amino acids, plus is budget-friendly.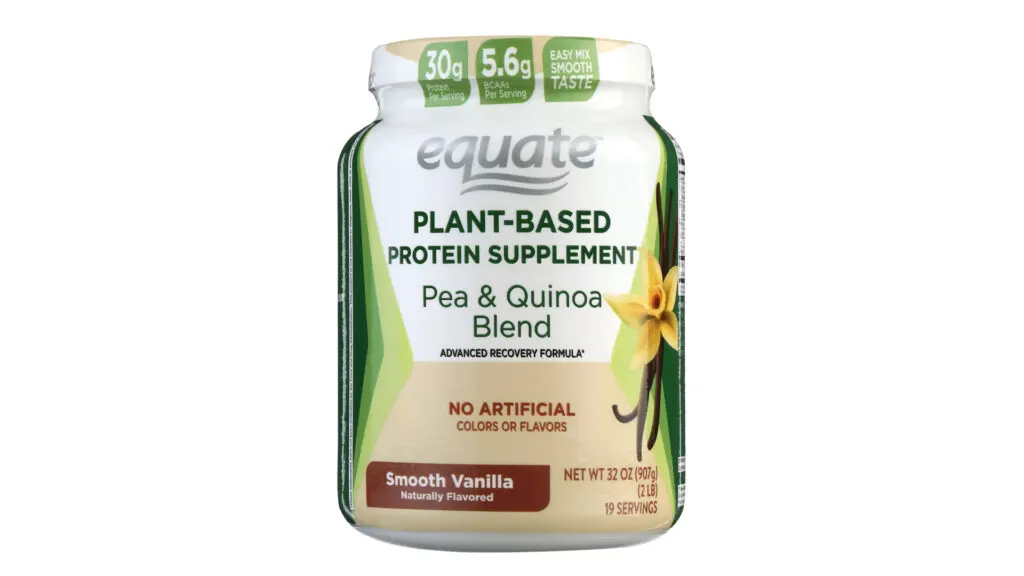 Protein Per Serving: 30g
Let's cut right to the chase. This is probably the worst protein powder I've ever had the displeasure of putting in my mouth.
The Equate Plant Protein formula has a handful of thickeners in it that produce an extremely unpleasant consistency. The vanilla flavor is more subtle than the Vega, but it really doesn't matter much because all you can taste is the sucralose and the unpleasantly pasty consistency. Even blending in a banana, peanut butter, and almond milk couldn't fully cover the awful flavor or thin out the texture.
If you're looking for a budget friendly protein, don't waste your money on this one. You'll regret it. I did.
Bonus: It contains additional vitamins, minerals, and 3 amino acids, has the highest protein content, and is super inexpensive.
Update: If you are going to bother, look for the chocolate version. It's worlds about from it's vanilla counterpart. We're still not saying it's amazing, but at home when you can blend it with peanut butter and banana, it's not half bad.
Bottom Line
Starting to see a pattern here? While not true every time, in general, you get what you pay for. The higher up in price we go, the better the flavors tend to be and the more palatable the texture.
While all of these vegan protein powders are perfectly valid options for your next outdoor adventure (except maybe the Equate), the prize for best combination of price, flavor and texture in our very scientific assessment goes to Garden of Life. Though if it's caffeine you're after in conjunction with protein, Awesome Coffee is definitely an easy-drinking winner (and definitely doesn't need mixed with anything but water), making it a great choice for a quick and easy start to trail days.
But if price isn't a concern, if you're looking for something a little better tasting after a hard hike, Gnarly lakes the gold. It tastes great and contains 20g of protein and 200 calories per serving, which should help you recover after a long day on the trail.
So that's it! What vegan protein powder should we take a look at next? Let us know in the comments!
•
This post contains affiliate links, which means if you get yourself some new protein powder, you also help support Terradrift and the teeny team who runs it. Win-win.
Josh is a freelance video producer, DP and editor based in Austin, TX. When he's not out exploring the world, he loves talking movies, tech, and travel. Check out his website, joshmcdarris.com