Does your back get super sweaty when you're hiking or backpacking? Do you refuse to stop to remove or add a layer until you can't stand it anymore because you don't want to take the time to remove your pack? Well then this new modular, versatile, occasionally backless jacket may just me the layer for you. Check out what we thought of it in this Pak-Jak review.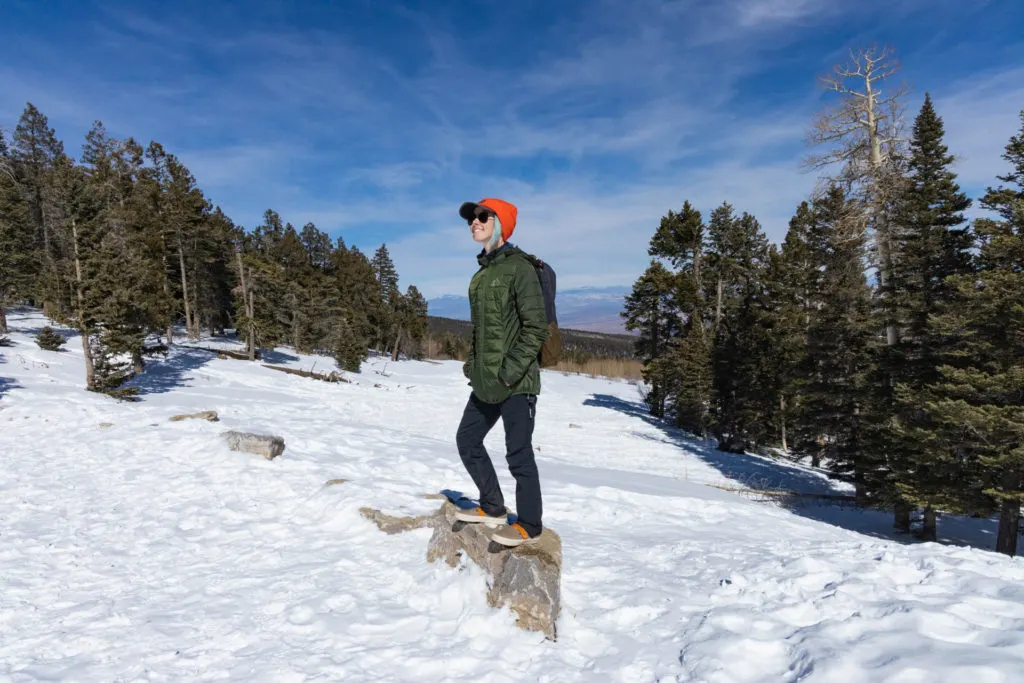 Pak-Jak Review: A Versatile Jacket with a Removable Back Panel
Yes, you read that right: The new Pak-Jak, from a small Idaho-based company, isn't your typical jacket. On the contrary: this piece of outerwear designed with backpackers and hikers in mind is quite original. Namely, because it's so dang versatile. Namely because the whole back is completely removable.
Why? Because hiking and backpacking is a layers game. As in, proper layering is extremely important in cooler temperatures (read about why and how to layer in our guide to layering). But it can't be a pain to dial in the perfect layering structure, especially in rapidly changing conditions.
Typically when you're hiking or backpacking, you're cold, then you're hot, then you stop to take a break and you're cold again. Or you warm up in the sun then hike into a canyon and the temperature drops 20º immediately and then you're cold again.
So you end up hiking colder or warmer than is comfortable or having to stop three times every hour to remove your pack, shed a layer, put your pack back on again, and do it all in reverse in 20 minutes. Most of us have accepted this as just part of the experience. But Pak-Jak wanted to change that, so they set out to design a system that would make layering on the fly quicker, easier, and more comfortable.
Here's how it works.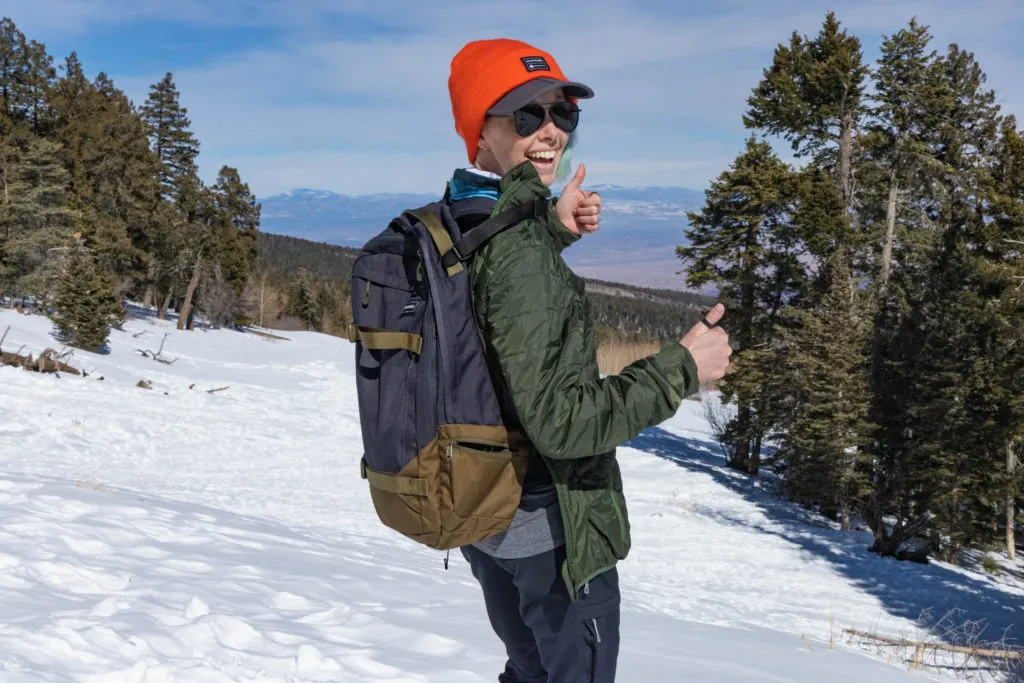 Pak-Jak Review: The Deets
For starters, even if you ignored the functionality of this jacket, the Pak-Jak is still a warm and packable mid- or outer-layer (depending on the weather). It's made of, and insulated with, fully synthetic and partially recycled materials and comes in one style for men and women.
It has a removable hood, interior and exterior pockets, cinch cords in the hem and hood, but it's the versatile, adaptable design that's intended for high-output, cold-weather adventures in mind that makes the Pak-Jak truly unique: The entirely removable back panel that can be swapped out for a mesh panel or left off completely for a layering-on-the-fly type setup.
Yup, thanks to a hood that attaches via snaps and two zippers on either side of the back of the jacket, the whole back panel just zips right off. Meaning you can replace the back panel with an included mesh section for, say, hiking with a pack when your front or arms are cold but your back tends to get sweaty, or leave the panel out entirely and use the included series of snaps and webbing to wear the jacket not UNDER your pack straps, but OVER them.
Yup, OVER your pack straps. Meaning you can take the jacket on and off as the weather changes without having to remove your pack.
Here's how it works, because initial set up can be a little tricky the first time you do it. First, attach the included straps to your backpack or day pack. Two straps go up by your shoulders and two go down by your hips.
Then, zip the front of the jacket before you unzip the back section or there will be a lot of loose pieces flopping around. Trust us on this one: it'll be a lot easier if the front is all zipped up.
Next, slide your arms into the sleeves and snap the jacket onto the straps via the attachment points on the neck of the jacket and near the hips.
You also have the option to swap the mesh panel for the insulated back panel, of course, which offers the option of wearing the Pak-Jak just like a regular jacket, but with more airflow to your back.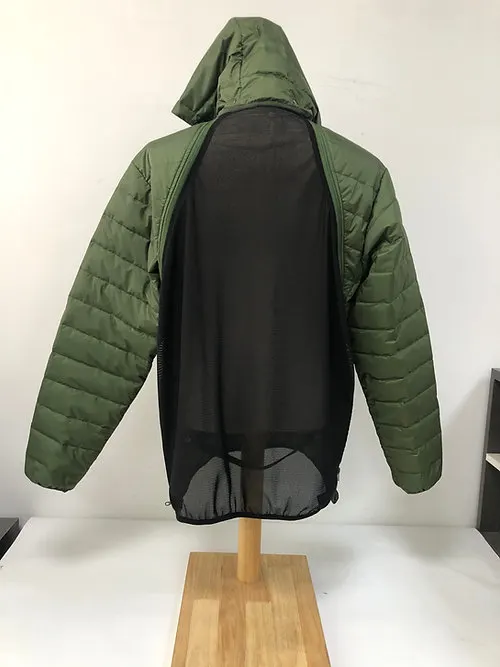 Pak-Jak Review: The Review
Right off the bat, I'm going to be honest with you, when we first heard about this jacket, we were highly dubious that it was a product we would really benefit from. But in the spirit of open-mindedness, we decided to take a closer look. And after talking with the designer and founder, we thought it might be a pretty handy product to have after all. So we took a pair out to hike and backpack in Texas, Colorado, and Utah to give them a bit of a trial run to see how we liked them.
As a stand-alone jacket, we really dig the Pak-Jak. It's surprisingly warm, nicely fitted–a lot of insulated jackets this size run a bit big–and the length of the sleeves and hem were perfect. The torso is longer than most insulated jackets, which means it offers additional warmth and butt coverage (huzzah!). We also loved the elasticated cuffs: not too tight or too loosey goosey.
The zippered hand pockets are placed nice and low, as in low enough so when we wore it under a pack with a hip belt or a climbing harness we could still access those pockets. Yay, functionality! Plus, the adjustable bungees around the hood and hem really help seal out drafts and dial in the perfect fit.
And the interior pockets? Nice and deep. Perfect for things like maps or sunnies. We do love a good pair of interior pockets.
But you want to know about the headlining feature: That back panel.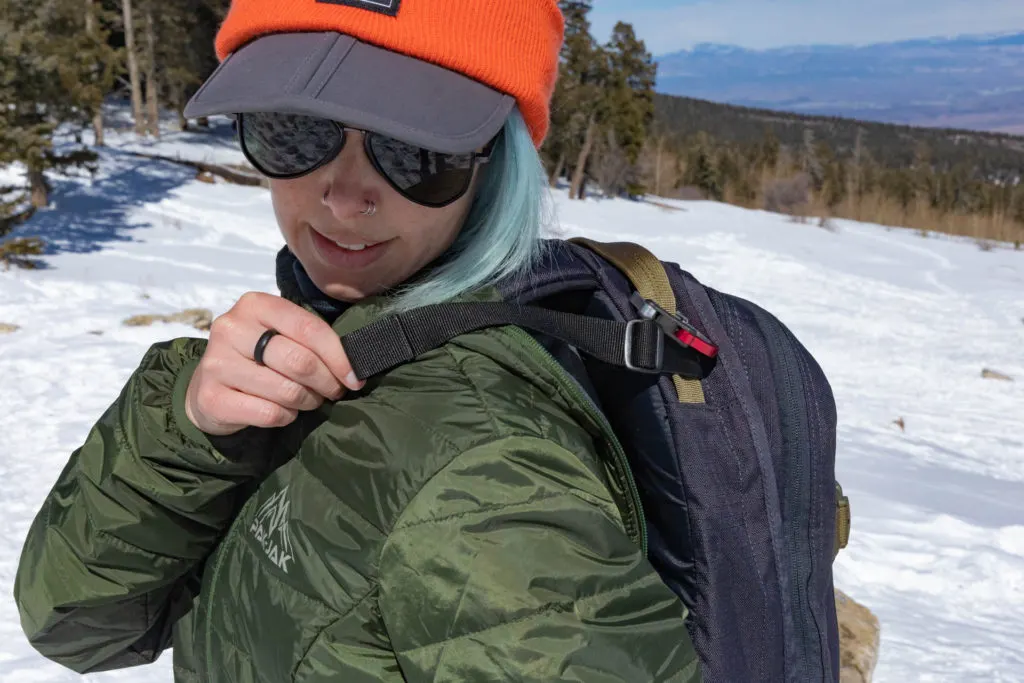 I will say, we struggled with strategic placement of those webbing straps the first couple times we looped them onto our backpacks or daypacks. We sometimes found the hip attachment point was too high for the snap placement on the jacket or the shoulder straps slid too far forward if our pack didn't have a stationary attachment point near the lid. In both cases, the jacket would hang a bit looser than desired.
That said, the jacket comes with an elastic strap in addition to the webbing straps, and you can use it in place of the hip attachment points. It essentially just wraps around your back and keeps the jacket snug. That worked better for me on many occasions, offering a better fit.
Basically it took us a few minutes the first time we clipped in to get it right. After a few more times, though, and figuring out which bits, snaps, and zippers are required to get the jacket front on properly, layering up became easier.
Which is good, because the Pak-Jak is meant to save you time and effort since you don't have to stop over and over to remove your pack and put on or take off a layer. That said, in our experience, it saved little, if any, time at all on the trail. We still had to stop hiking to get everything snapped up and sorted, we just didn't have to remove any backpacks (as long as we were able to stash the jacket front within reach, of course).
We didn't love having to swap over all the straps every time we decided to carry a different pack, but then learned you can get yourself some extras if you have multiple packs and just want to have them all set up and ready to go at a moment's notice.
But we haven't talked about the mesh panel, yet. I think this may be the most useful feature of the jacket. Because you don't lose the structure of the jacket when using the mesh back and it doesn't require straps to hold the jacket in place around your body, but still provides ventilation.
It will keep your arms and core warm, while providing a bit more airflow to your back, which is usually the first body part to get sweaty when you're toting a bag. It works best, of course, if your pack features a ventilated back panel (like the Osprey Atmos or Deuter Futura AirTrek), but will definitely boost breathability no matter what.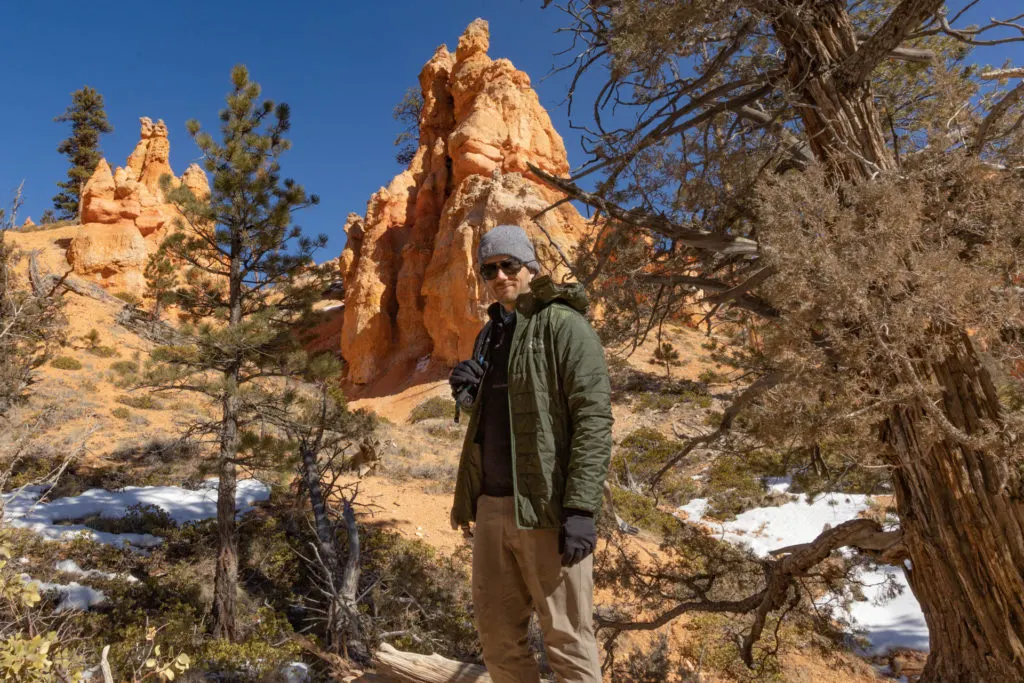 Pak-Jak Review: Best Uses
So based on our Pak-Jak review, who and what is this product best for? We see some very specific best-use-case scenarios for the entirely backless option, including on fast and dirty hikes that start out cold and end up in slightly warmer temperatures and winter hikes where you start out at the trailhead early in the morning and it's cold, but in a couple of hours or after quite a bit of elevation gain you start warming up and want to quickly shed a layer.
Or reverse that. Say, you start in the sun on a cold day, but then are popping in and out of deep shade for miles–you're cold, then hot, cold, then hot. The jacket offers a quick transition to keep you comfortable (and from sweating too much, which can leave you even colder and at increased risk of hypothermia).
If, on the other hand, you're expecting temperatures to stay pretty steady throughout your hike, or think you'll only get warmer or colder, getting this jacket set up for the backless option may not make as much sense.
That said, like most outdoor gear, the Pak-Jak is absolutely going to appeal to some hikers more than others. It's just gonna boil down to your backpacking or hiking style, how you layer, and what kind of gear setup you're hiking with.
As an ultralight backpacker, I may be less inclined to take all the parts and pieces with me on extended trips, but day hikes are another story (but that's just me). Plenty of backpackers out there prioritize comfort and versatility more than weight, and if that's you, you're gonna dig this.
One downside we did note: after wearing the Pak-Jak for various day hikes over the last month and then for a week straight while hiking and backpacking, the insulation on the inside of the jacket is starting to pull out and pill a bit, so not ideal. Pak-Jak says they're working on a solution, though, so yay. It's minor, but worth noting.
Anyway! The jackets just launched this winter and are available in size small to 2XL, in men's and women's styles, and are currently only available in this green color. I wear a small and Josh a medium, by the way.
In any case, if you want to check out the innovative new Pak-Jack, find it here:
Now get out there, stay warm (but not too warm) on cool weather hikes, and wander on.
•
This post contains affiliate links. That means if you clicks-click and make a purchase, we may receive a small percentage of the sale. But don't worry; you won't pay any extra for the privilege. You just help support more great content from Terradrift!
Alisha is a freelance writer and photographer based in Austin, TX. She loves her tiny house, vegan food and experiencing the community of travel in far away places. She's also pretty sure she's addicted to coffee. alishamcdarris.com