Ready for a road trip? Sleep comfortably in your car with this Prius platform build that involves removing the back seats entirely for even more storage space.
We go on a lot of road trips here at Terradrift. Like our Austin to Alaska road trip last summer or the socially distant one we took this year to Ohio, Wisconsin and Michigan. And usually when we road trip, we camp along the way, preferring to freedom camp in favor of pricey campgrounds (lookin' at you KOA) or hotels (especially during these pandemic days). Plus, we like to have the flexibility to stop and sleep whenever and wherever we want (forest, rest stop, Walmart parking lot…), which means we end up sleeping in our car from time to time.
This isn't always the most comfortable option, though, especially if you're sleeping in reclined front seats. It'll do in a pinch, but you don't really sleep that well. Plus, there's the whole organizational issue on long road trips: how do you keep all your camping gear, food, supplies and equipment organized while traveling for so long and occasionally sleeping in your car?
The solution? A custom-built platform for sleeping and organization. The problem? Most of the tutorials and designs out there are for one-person sleeping arrangements (like from our friend Chris of #HotelPrius who lives right here in Austin, too). And we are two people, so that wouldn't work for us. Also, they almost always involve building the platform on top of folded down back seats. That's fine, I suppose, but to me, that seems like a lot of wasted space. I mean, if you're building a sleeping platform in the back of your car, chances are that you're not chauffeuring any passengers, right? So why give up all that storage space that the rear bench seats occupy?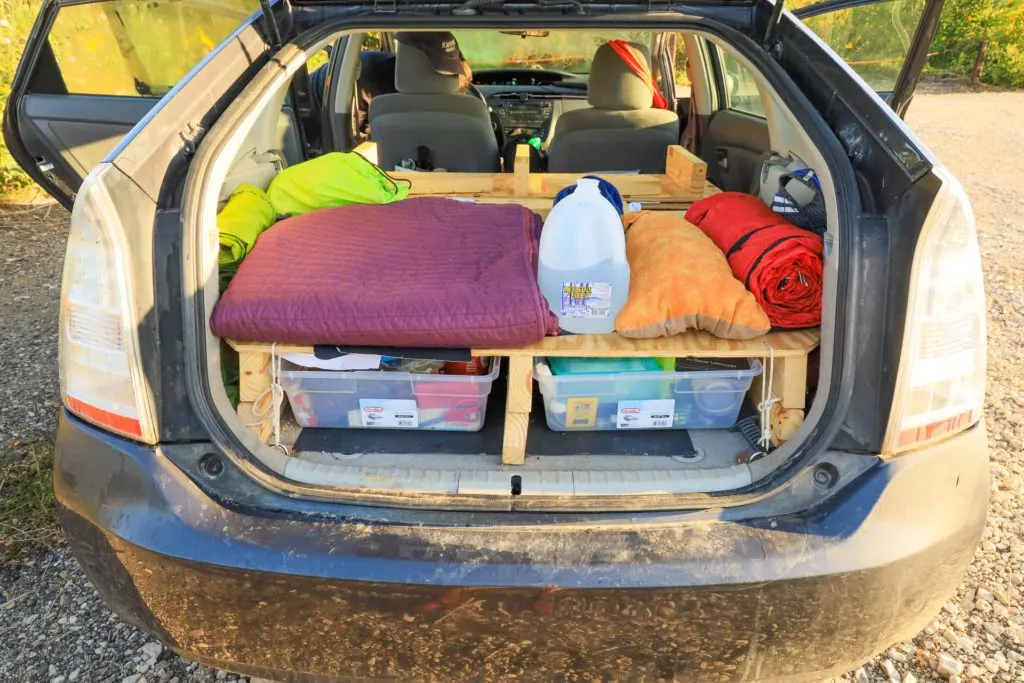 Our solution? Remove the back bench seats of our Prius entirely. Voila! A whole bunch of extra storage space for our inflatable kayaks, bulky (but super comfy) Tentsile Connect, and camera equipment (plus, you know, clothes and stuff, I guess). And because we built it strategically, we also gave ourselves enough storage space underneath the platform to stash all of our food and cooking supplies, plus a bunch more camping gear like our chairs and headlamps. Win! And an extra bonus: the solid surface offered a perfect tabletop for cooking, a chill place to sit and relax out of the sun or rain (hatchback FTW!), and a flat sleeping surface.
So how did we build a sleeping platform for 2 in our 2011 Prius? We'll show you. Below are a series of photos and measurements (and of course a handy YouTube video) for your educational pleasure.
The Platform Build
Full disclosure: this build is not for anyone larger than an average-sized human. In fact, Josh is 5'6″ and was just comfortable. A few more inches and he wouldn't have been able to stretch out his legs. We're also fairly small and trim. Two people with super broad shoulders or hips or who are just built bigger might find this Prius platform build quite uncomfortable as there's not a ton of wiggle room laterally or vertically. It's about as wide as a compact two-person backpacking tent with less headroom, if that gives you an idea.
We started with 1/2″ plywood, nothing pretty or fancy, and cut it to size using a chop saw and jigsaw (we don't have a table saw, but that would be easier). We built it in three pieces: one main piece that extended just forward of where the back seats would be, a middle rectangular piece that when folded down would cover just about the whole backseat area (a plus for hiding a carful of gear), and fold-out headrests that only fit when the front seats were scooted all the way up.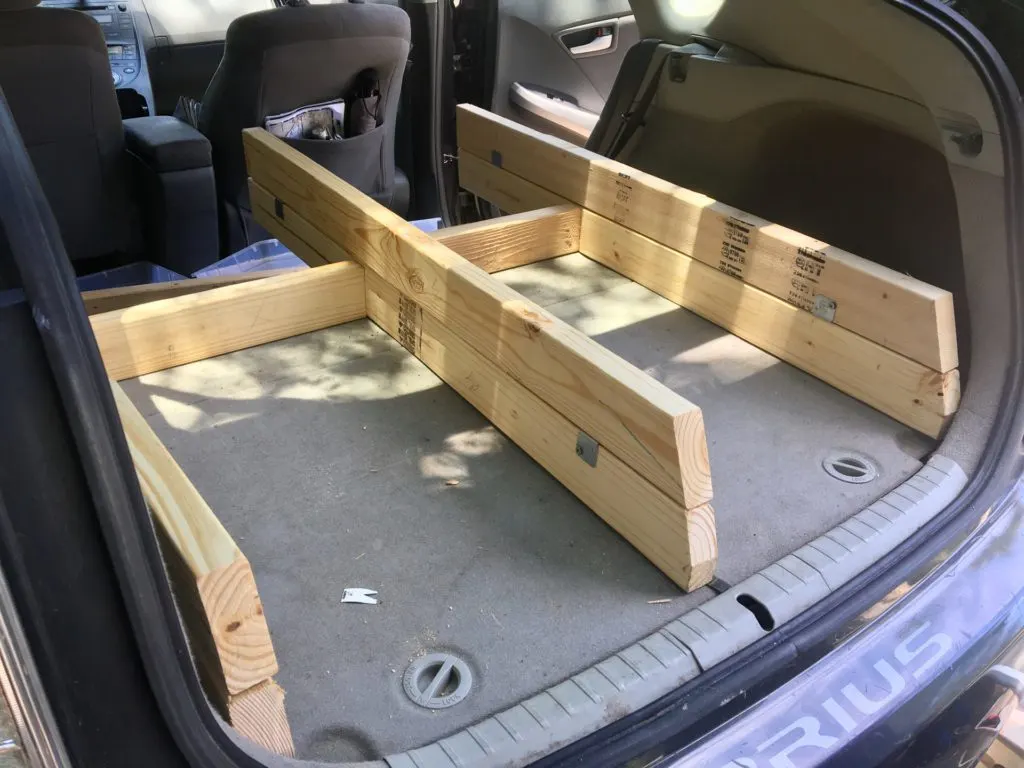 the main section, the largest one in the very back, we screwed onto two 2×4's turned skinny side up and stacked two high to create a 7″ space between the trunk floor and the bottom of the plywood platform. We used two stacked for each side of the platform plus two stacked running down the middle for structure and support. This allowed us to slide in two 6″ (ish) tall plastic storage bins full of food and cooking supplies, which was super handy.
For the middle plywood section of the platform, we only used one 2×4 for the side and middle supports to save space. Then we built three supports that we could quickly and easily attach when we set up the platform for sleeping – legs, if you will – one long leg on each side and one shorter one in the middle. The legs had those same U brackets attached to the tops, but the brackets were only screwed into the legs; the horizontal 2×4's of the platform base just rested in between the vertical walls of the bracket.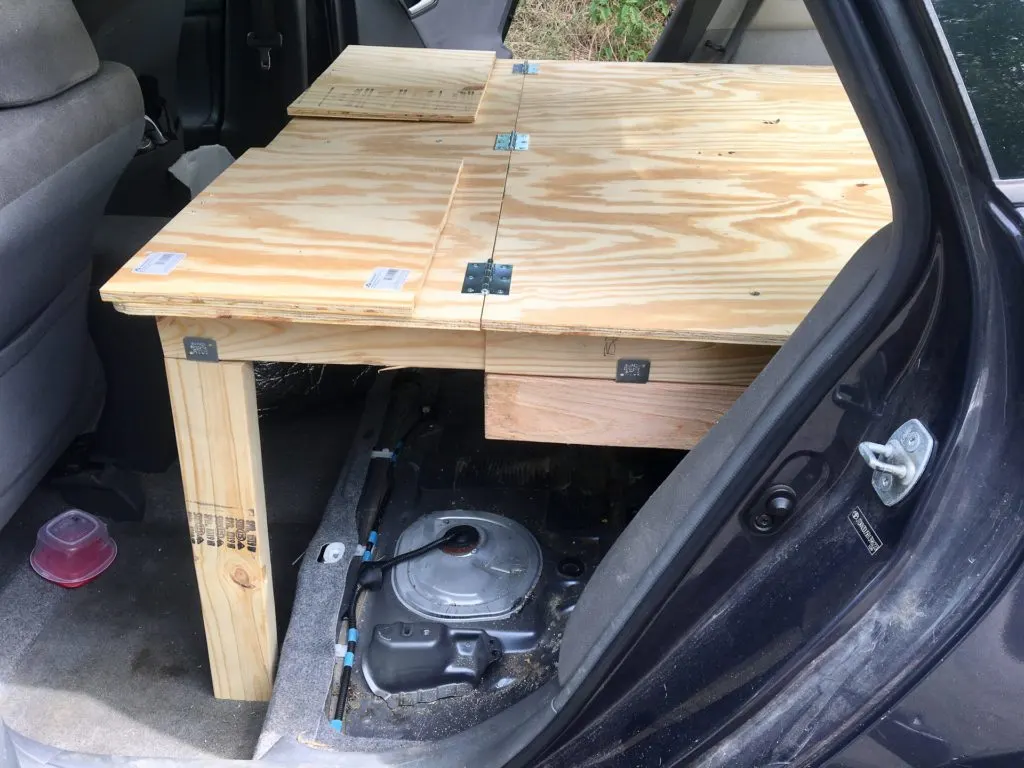 The plywood headrest sections we built separately so that we could fold the headrests away but leave the middle section unfolded during the day if we parked the car and went on a hike or wandered around town or ran into the grocery store (to hide all the stuff in our car). So they folded out separately and were supported underneath the piece of plywood by one length of 2×4 that swiveled in and out of the way for storage.
Over all, I thought it was a pretty clever build.
How it Functioned
As for using it for actual sleeping, it turned out to be pretty comfortable. It took a bit of contortionism to get in and out of the side doors when it was all set up, but it was totally doable. Some Prius owners have rigged their hatchback so they can open it from the inside and slide out the back instead of the sides, but with a 7″ platform, it's still a tight squeeze.
Neither of us is claustrophobic in the least, so we had no problem with the lowish headspace, but it was more spacious than I thought it would be. There was still plenty of space to prop ourselves on our elbows, stretch out, turn over, you name it.
Two backpacking sleeping pads fit perfectly inside with just a few inches to spare. And we could easily reach up and turn the dome light off and on, reach the center console for chargers or water bottles, and even reach under the platform to grab an extra sweater or some such from the floor below.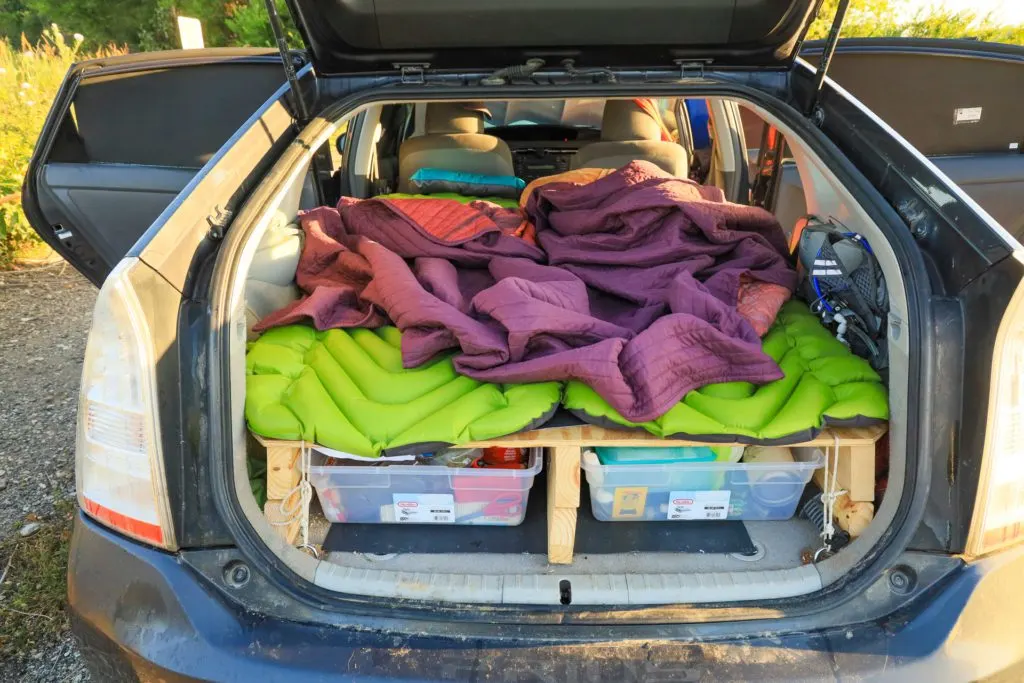 As for temperature, anyone who's ever slept in their car knows it's difficult to regulate. So when it got surprisingly cold during part of the drive around Michigan, we just bought an extra blanket. Hot, humid weather is the more challenging issue to solve. But we got a USB/battery-powered fan (which we plugged into a backup battery and ran all night with no issues) and cracked a few windows.
In fact, if you're sleeping in your car, you should always crack a few windows, no matter the temperature. You know, to keep yourself from suffocating. You won't die if you don't, but you won't sleep well. All it takes is a hairline crack and enough oxygen will enter to keep you in the clear.
In any case, it was quite comfortable, especially on very cold or rainy nights when we didn't want to set up the tent in yucky weather or knew we'd be chilly all night if we did. It was a nice, solid, flat sleeping surface that offered just the right amount of room (if you're used to backpacking tents, anyway). It sure beat sleeping in reclined front seats, anyway!
Prius Platform Build: What We'd Do Differently
As for what we'd do differently, probably use thicker plywood, at least for the sections that fold out. Those felt a bit flimsy so we had to be careful not to lean all of our weight on the headrest or the middle of the center piece, which wasn't always supported by the brace we built since we measured it for use in an empty car (and the inflatable kayaks raised the floor by a few inches). We never cracked or broke the headrests, but we also only slept in the car about 6 times on the platform's maiden voyage, so I'm not sure they'll stand up to much more abuse than that.
I also might have to work out a different support system for the headrests and possibly the middle of the center fold-out. There just wasn't enough support there. Maybe two 2×4's would work better for the headrests. Slide-out supports would work better for all of it, frankly, it just might take a bit more figuring and a larger cash investment, if you know what I mean.
The Prius Platform Measurements & Instructions
Now, bear with us, here, because we don't write technical build instructions for a living. We also don't build for a living. But we can measure! So, hopefully, between our sketches, photos, and measurements, you'll be able to figure it out. We tried to write detailed step-by-step instructions, we really did, but they were less helpful than just convoluted and confusing, probably because we were more or less winging it ourselves as we went…But you're a smart cookie. We believe in you. You'll figure it out.
Main Back Section, Plywood: 44″ wide x 45.5″ deep (back corners clipped as in photo)
Middle Section, Plywood: 44″ wide x 14.5″ deep
Headrests (x2), Plywood: 18″ wide x 12″ deep
2×4's for the Platform Base: 48″ (x6, with corners clipped at approximately 22º on the side closest to the hatchback door so hatchback can close, as in photos), 17″ (x4), 14.5″ (x3),
2×4's for the swiveling headrest supports: 8″ (x2)
2×4's for the leg supports: 22 1/4″ (x2, for the side supports), 9 1/4″ (x1, for the center support)
3.5×3.5 Hinges: x4
Truss Head Wood Screws, 1.5″: 50+
Finally, to keep the platform in place, we drilled 2 holes near each corner of the platform above where a pair of metal anchor points are located on the floor of the Prius. Then we used a foot or so of rope threaded through the anchor points and the holes we drilled in the plywood and tied it tight to prevent the whole structure from sliding forward every time we hit the brakes. You can see the white rope and silver anchor points in several of the above photos. Pro tip: secure the ropes with easy-to-untie knots so you can still get to the spare tire and tools without too much trouble.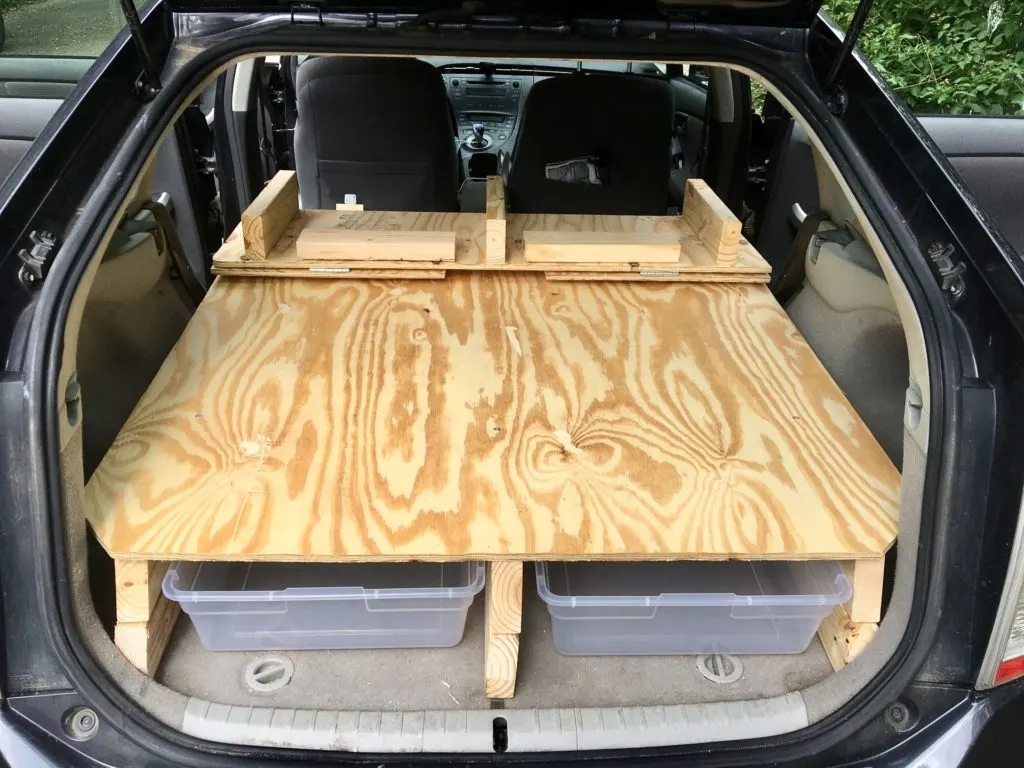 Bottom Line
Basically, this Prius platform build for two with the back seats completely removed was a win. It offered not only a more comfortable sleeping surface, but a great way to store, stash, and organize all of our stuff (and protect it from view when we parked downtown or at a lonely trailhead). Could it use a few tweaks? Sure. But over all, we're super glad we built it and months later, we still haven't put the seats back in because this platform has turned out to be a great way to not only sleep comfortably in our Prius on long road trips, but store quick-grab camping gear for impromptu adventures.
So you gonna build your own Prius platform or what? If you do, let us know! And send pics! We love to see what others can come up with!
Alisha is a freelance writer and photographer based in Austin, TX. She loves her tiny house, vegan food and experiencing the community of travel in far away places. She's also pretty sure she's addicted to coffee. alishamcdarris.com