The term "sustainable travel" often evokes images of low-flow shower heads, rickety beachfront shacks with no AC, yoga retreats deep in the rainforest, and a general lack of luxury amenities. Well, that, or thoughts of nothing more than reusable water bottles and reef-safe sunscreen…Fortunately, sustainable luxury is absolutely an option when traveling. And Peninsula Papagayo in Costa Rica knows it.
I got to experience it first-hand this month, basking in sun and surf while I learned all about what the peninsula–and the accommodations and residences on it–are doing to make the world–and their little corner of it–a cleaner and more sustainable place.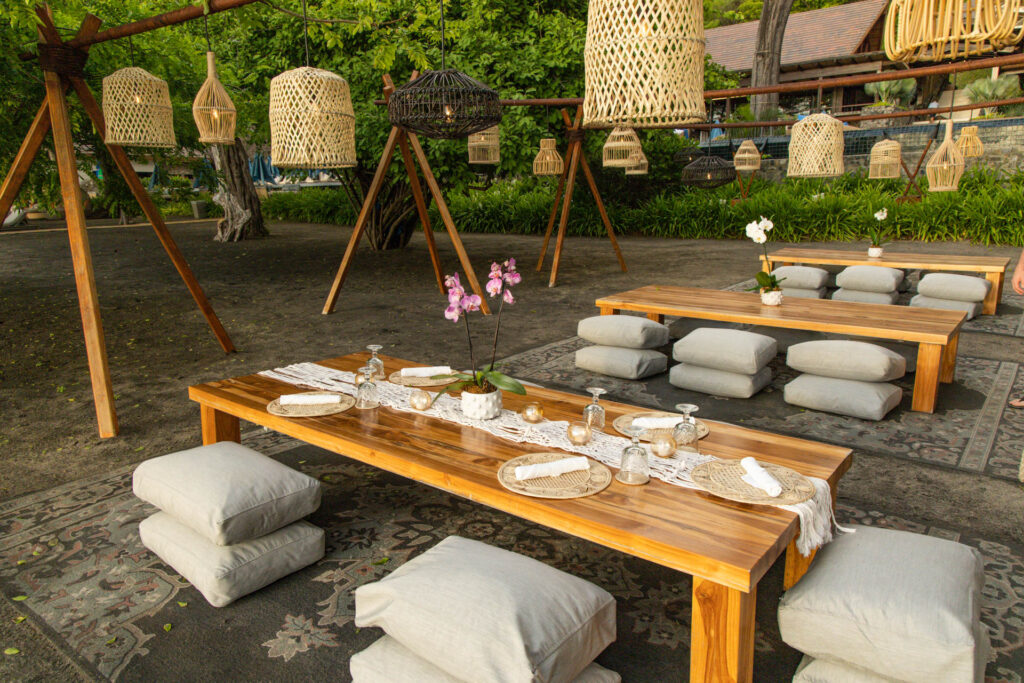 Peninsula Papagayo: The Experience
As I was driven onto the property–a private shuttle picked me up at the Liberia airport– the flat, green countryside turned into a palm-lined drive at the entrance to the privately-owned peninsula: perfectly orchestrated rows of trees welcoming me to paradise, the long, winding road rising and falling like waves as it slowly descended toward sea level, past Andaz resort and toward the Four Seasons, perched on the strip of land between the Pacific on my right at Culebra Bay on my left. Peaks of turquoise water flickered through lush foliage, the shaded outline of a monkey barely visible here and there between the branches.
Once deposited in the bright, open-air reception area, a cold coconut with a bamboo straw sticking out of it was placed in my hand as a welcome as I was invited to lounge and have a snack in the poolside bar below while I waited for my room to be ready. As I munched on vegan sushi and guacamole, I smelled the salt air that wafted from one beach to the next, my skin itching to feel the splash of the waves. And it would, soon enough. But not before investigating my luxurious accommodations, the king size bed, the jacuzzi tub, the kombucha in the mini bar and the sliding glass doors to the balcony that overlooked the beach. The balcony on which I'd lounge every morning with plenty of fresh fruit and nuts while I listened to the waves crash two stories below and the birds sing mere feet away.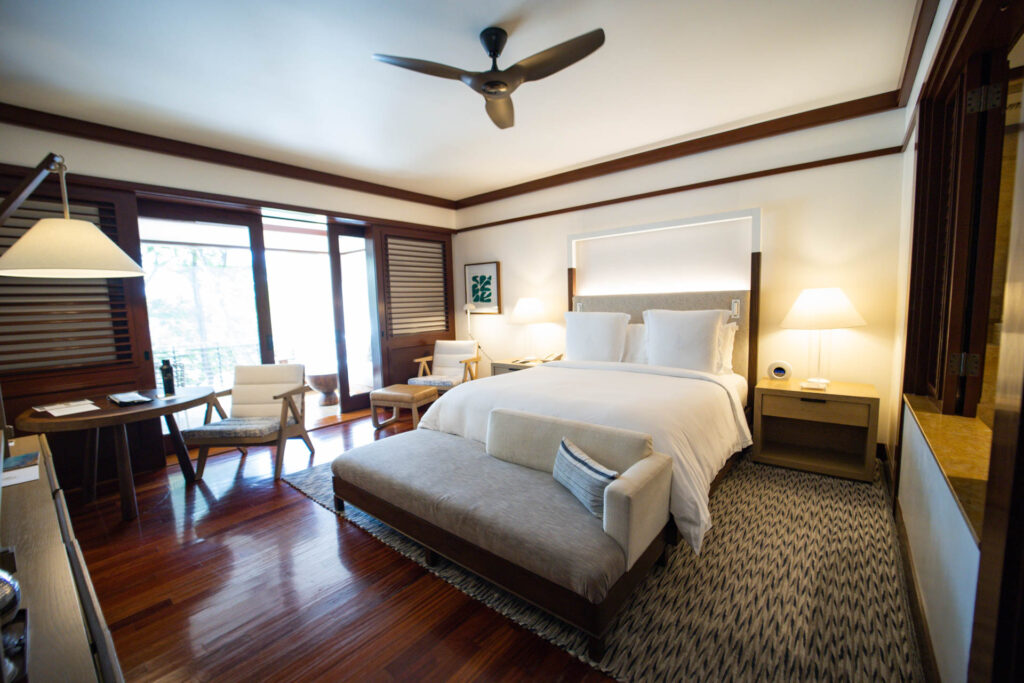 After breakfast, there might be a quick dip in one of the pools, or a quiet paddle in the bay as I looked for schools of rays. Following that, a hike through tropical dry forest with binoculars to better spot howler and white-faced monkeys and scads of tropical birds. Later, an e-bike helped propel me up the steep, winding hills to the Explorer's Club where I learned about the animals, trees, and unique, protected ecosystems on the peninsula.
After sandwiches in the open-air restaurant by the pool, I got up close and personal with eels, colorful fish, even a small octopus as I snorkeled among the coral reefs beneath the waves. Reefs that biologist Juan José Alvarado, working with Peninsula Papagayo, has been working tirelessly to restore for nearly two years, cleaning, planting, and gardening fragments to boost the area's biodiversity and help return the underwater ecosystem to its former glory.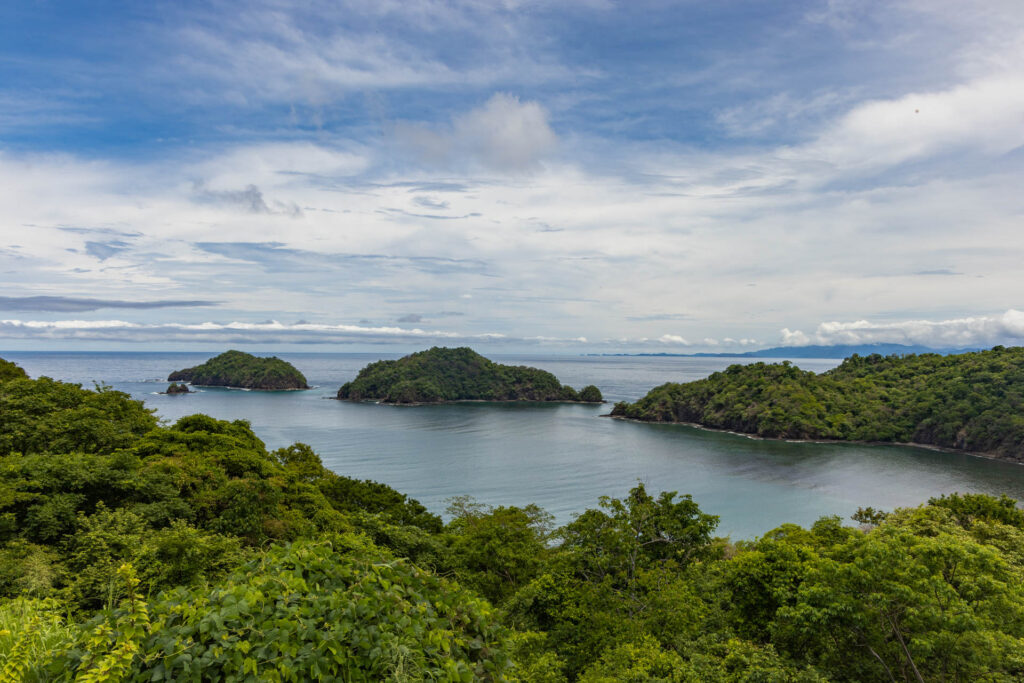 One afternoon, I wandered the rows of lettuce and beets and peppers on a few small family farms run by women who took pride in their new occupation. Two years ago, when the pandemic hit, whole families were suddenly unemployed; a large percentage of the community works in the tourism industry. So Peninsula Papagayo's non profit, Crescendo Juntos, taught dozens of women and their families how to farm, funded the startups, and then further supported them by purchasing the produce they grew for use in the Andaz kitchen.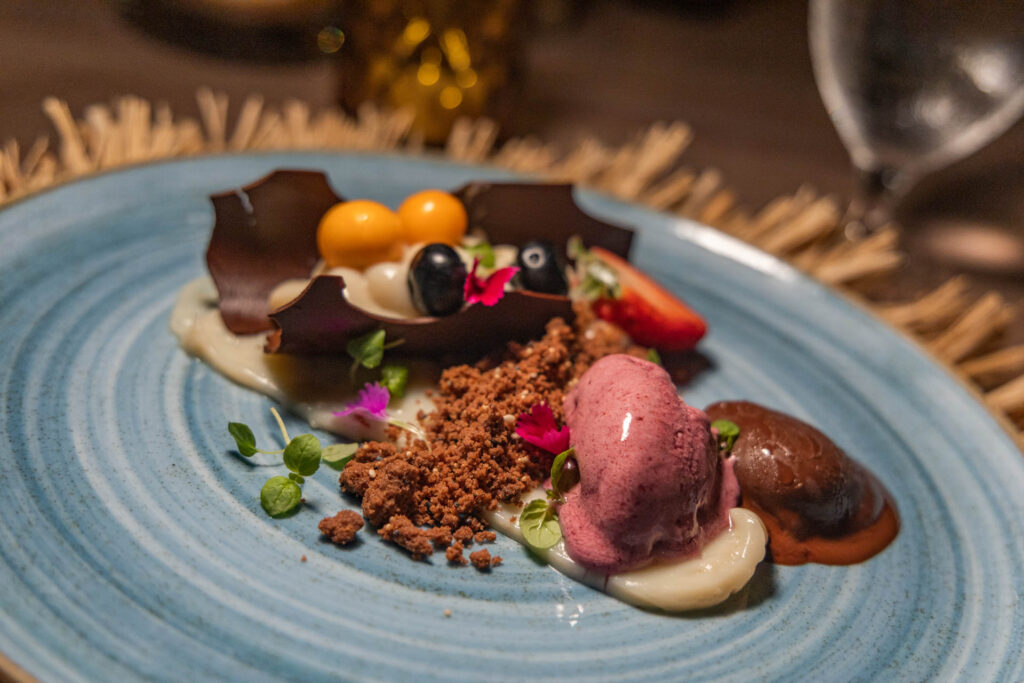 A kitchen (and chef) that, along with Four Seasons, served up fine vegan fare as the sun set, multi-course meals unparalleled in presentation and flavorful preparation. Even elaborate vegan desserts made their way to my table, a truly delightful and surprising treat (preceded by more beverages served in fruit and followed by strong coffee).
When it was finally time to head back to the Liberia airport, the shuttle was a hydrogen-powered car, one of only four in the whole country (the peninsula is working on getting a fleet of electric or hydrogen-powered vehicles). It was the perfect end to a surprisingly sustainable retreat in a country that takes sustainability and preservation seriously.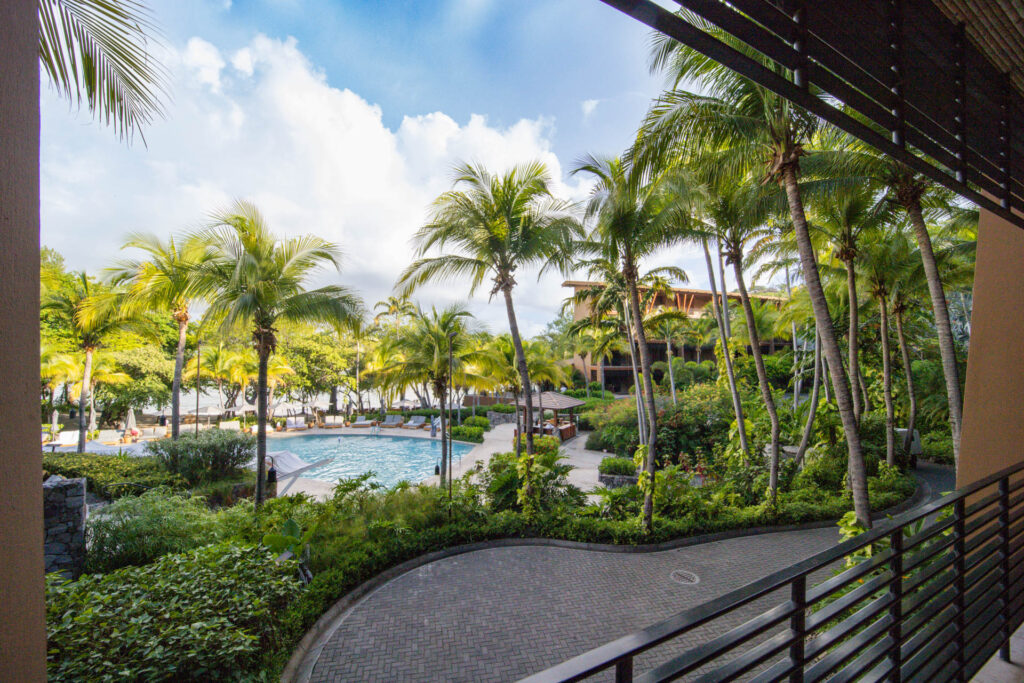 But what other initiates does Peninsula Papagayo implement to make it a truly sustainable travel destination?
In-Room Sustainability Features:
Refillable bath and body products instead of single-use plastic bottles.
Water in reusable glass instead of plastic.
Waste and recycle bins in every room.
Ceramic coffee mugs instead of styrofoam.
Drinking glasses instead of plastic cups.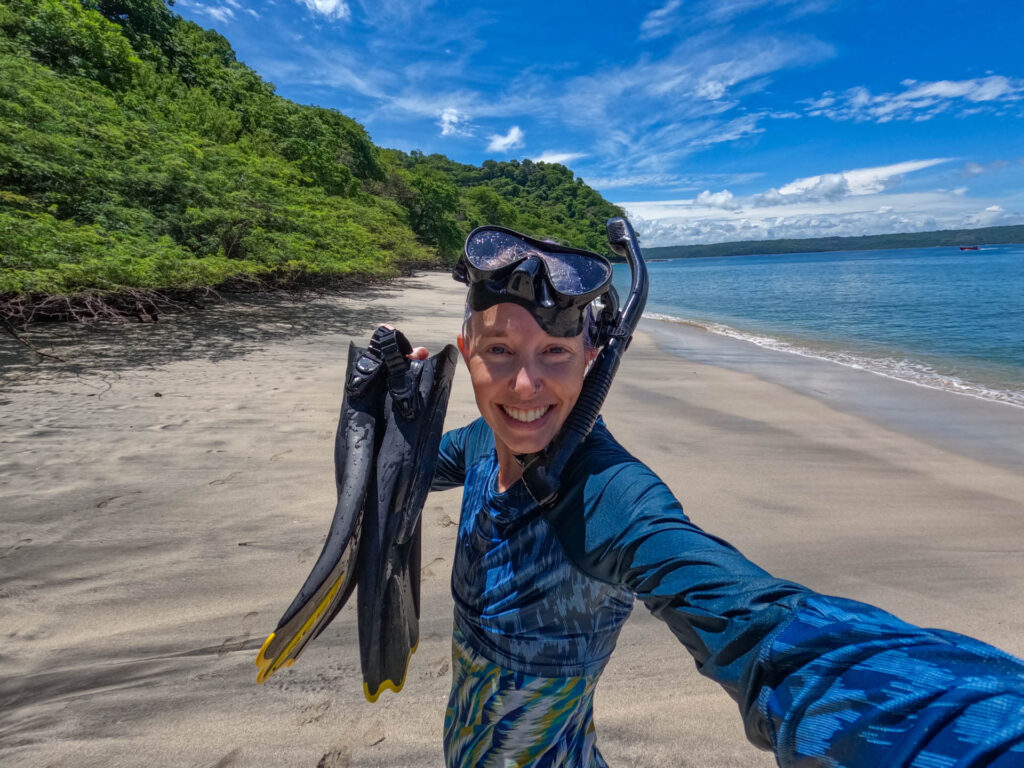 Other Sustainability Features:
Water refill stations instead of ubiquitous plastic bottles.
No plastic straws in sight and to-go cups are biodegradable.
Spa offers many natural and vegan products and treatments.
Only people-powered watercraft are available for rent, including SUPs, water bikes, and kayaks–no jet skis).
A compost site on the peninsula to compost food waste.
Water footprint calculations to reduce excess water waste.
Carbon footprint calculation in the works.
The golf course is watered in part by recycled rainwater.
Four Seasons has implemented a program to audit how much food gets thrown out each day, including how much comes back to the kitchen uneaten, all to reduce food waste.
Lots of vegan options on seasonal menus.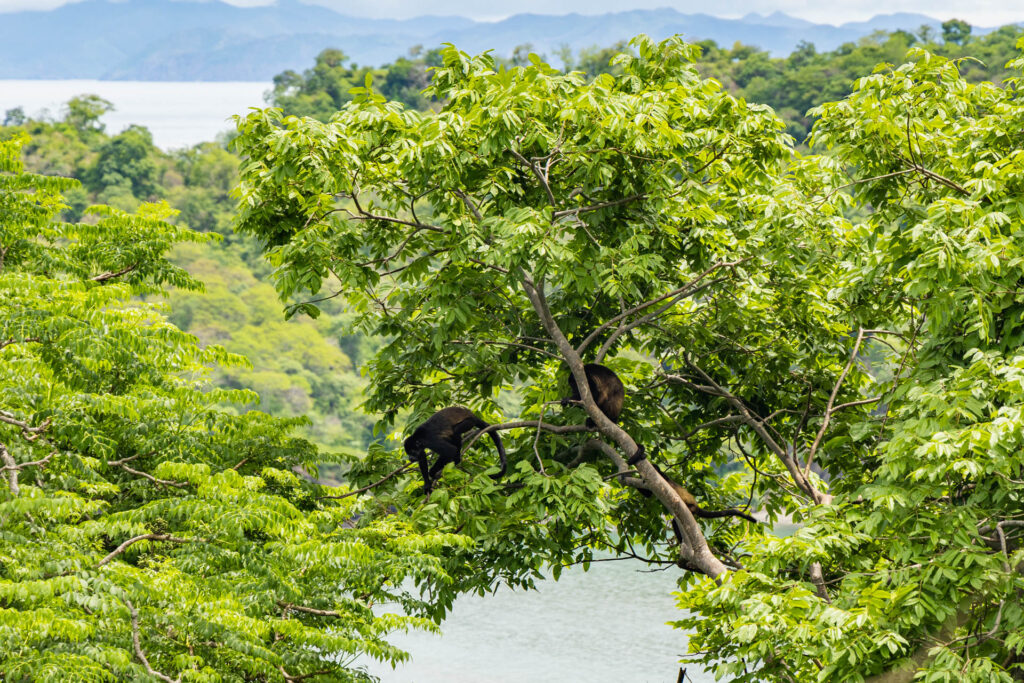 Sustainable Activities Guests can Participate in
Go on a guided nature walk, paddle, or bike ride to learn about the tropical dry forest and its inhabitants.
Sign up to help with monkey counts.
Volunteer to help clean, plant, or snorkel with coral as part of the property's coral restoration program.
Offset your travel to the peninsula using the property's new app.
As of December 2022, participate in a beach cleanup at your leisure using tools available from 5-Minute Cleanup beach kiosks.
Pay to tour (and support) a local farm.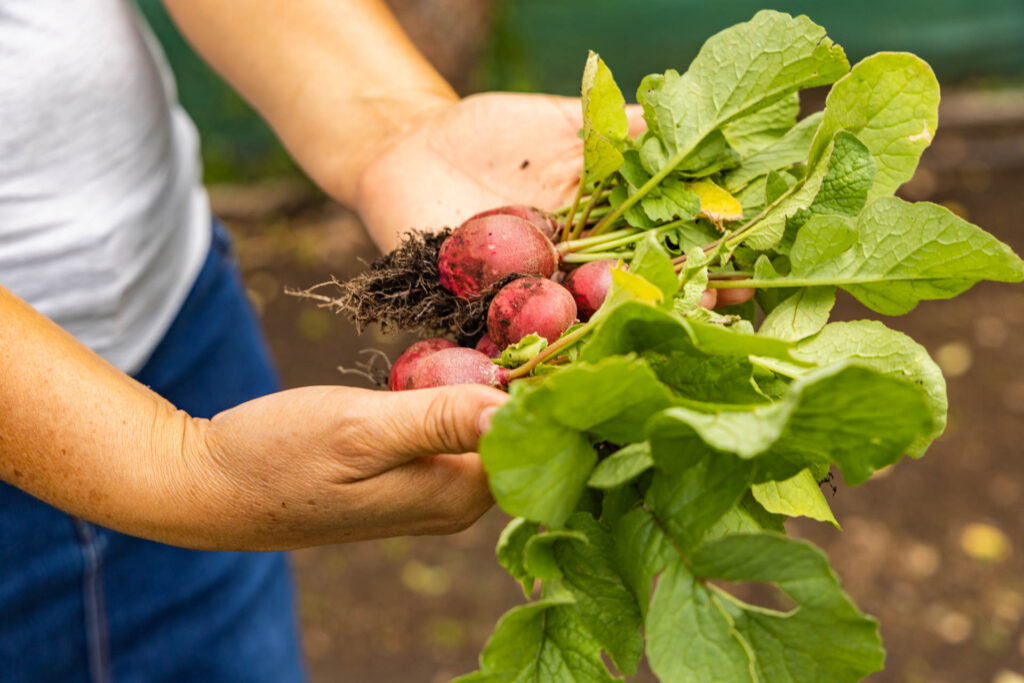 Giving Back
Peninsula Papagayo's non-profit, Crescendo Juntos, advocates for and supports local students and their education, school supplies, teacher training, provides access to medical care and mental health programs, and educates and supports local farmers (and then buys their produce for use in hotel kitchens), among other programs and projects.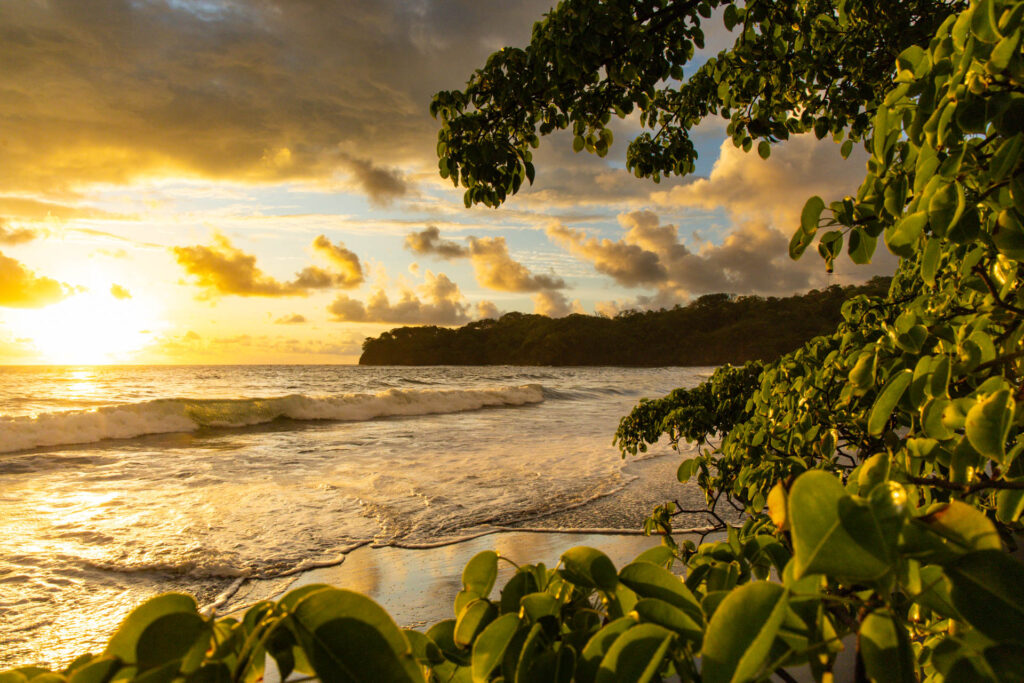 Bottom Line
Long story short, Peninsula Papagayo has one of the most comprehensive sustainability programs we've ever seen from a destination. They've hired the right people (Head of Sustainability Susana Alamo Vicente is a force of–and for–nature), put their money where their mouth is, are working hard to educate guests and residents so that everyone is on board with the "why" of it all, and are implementing programs that cover ecosystems from land to sea, beneath the waves to the tops of trees, and advocating for people from employees to residents of surroundings cities and villages.
And that's sustainable travel we can get behind.
Wanna book a stay? We highly recommend it. Book a few nights at Four Seasons Costa Rica at Peninsula Papagayo here or Andaz Costa Rica Resort at Peninsula Papagayo here. Then wander on (in sustainable luxury).
•
This post contains affiliate links. That means when you click-click and book an amazing stay, you help support this channel and more helpful content! You rock.
Alisha is a freelance writer and photographer based in Austin, TX. She loves her tiny house, vegan food and experiencing the community of travel in far away places. She's also pretty sure she's addicted to coffee. alishamcdarris.com