Allow me to introduce you to the tolerably ultralight, totally undyed Granite Gear Crown 3 60L backpack , a lightweight backpack I've been wanting to get my hands on for quite some time now. Firstly, because I'm a huge fan of undyed gear (it's more sustainable that conventionally dyed gear, plus stands out in a crowd–and in photos–and is stupendously fun to get filthy).
Secondly, because a thru-hiker friend with whom I backpacked on Catalina Island in California and on part of the PCT in Washington freaking loves her older Granite Gear Crown 2. I mean, really loves it.
And if a thru-hiker is that head over heels with a bag, well, that says something. After all, it's as light as 2lbs when stripped down (about 2.4 as-is) and supremely versatile, plus plenty roomy. So to test it out for ourselves, we took it on a backpacking trip to Grand Teton National Park to see how it performed Here's what we thought after we both carried it for several days over mountainous terrain.
Granite Gear Crown 3 60L: The Deets
First things first: The specs and features of the Crown 3!
Available in a unisex and women's-specific fit (short, regular, and long torso sizes in unisex; short and regular for women)
Rigid foam back panel
Rated for up to 43lbs (15kg)
Load-lifter straps and dual removable sternum straps
Fully adjustable hip belt (from 26 – 42in on the unisex and and 24-40in on the women's)
Two hip belt pockets
Roll-top opening with top compression strap
Hydration port & internal hydration sleeve
Side and front compression straps
Removable lid with mesh interior pockets
The lid and hip belt convert to a lumbar pack (the lid can also convert to a chest pack)
Large side pockets
Stretch mesh front pocket
Bottom gear loops
Pair of elastic bottle holders on both shoulder straps
2.4 pounds
60-liter volume
Removable internal frame sheet and aluminum stays (rated for 25lbs without either)
But numbers and statistics only go so far to ward telling you what you need to know, so let's break down how the pack performed in action.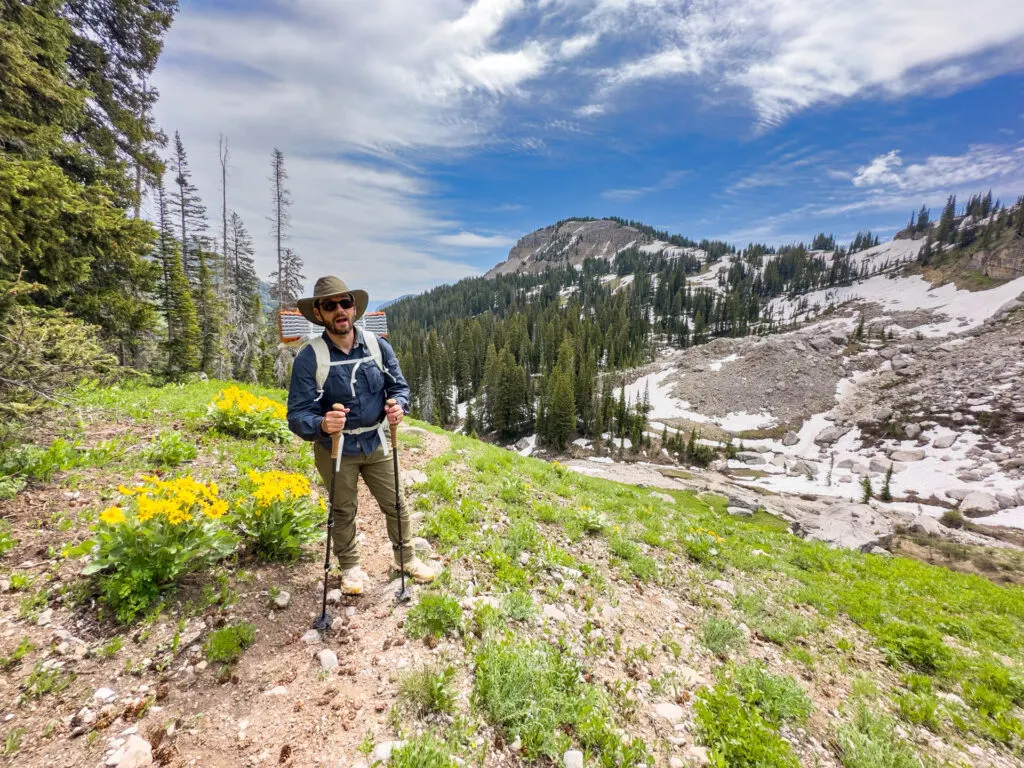 Granite Gear Crown 3 60L: Form and Function
Let's start with how all those features functioned. First off, the structure: a rigid foam back panel plus a removable molded plastic frame sheet and aluminum stay offered extra rigidity, which came in handy for keeping a bulky bear canister from digging into our spines. But it also makes the bag more functional: remove the frame sheet and stay and you have a slightly lighter pack for lighter loads (25lbs) or keep it all in place to comfortably carry heavier loads (up to 45lbs).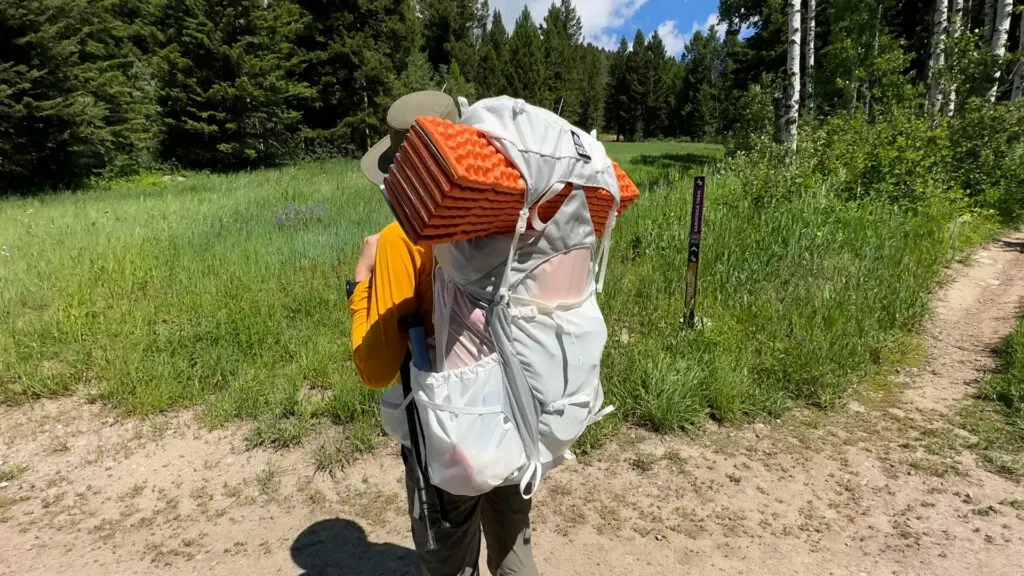 The massive side pockets offer plenty of room for a large Nalgene AND a Smart water bottle topped with a filter. Seriously, I loved how spacious they were and since they're not made of stretchy fabric–they just have a cinchable bungee on top to keep things secure if you need–it was easy to slide bottles in and out. Fabric instead of mesh or stretchy fabric means they'll be more durable, too.
Speaking of pockets, you can route the side compression straps to go inside the pocket or outside depending on whether you want to lock your bottles in place or compress the contents of your bag while still having easy access to hydration, which is super handy. I hate side compressing straps that just go around the outside of pockets because it makes sliding bottle in and out difficult to impossible if everything is cinched down.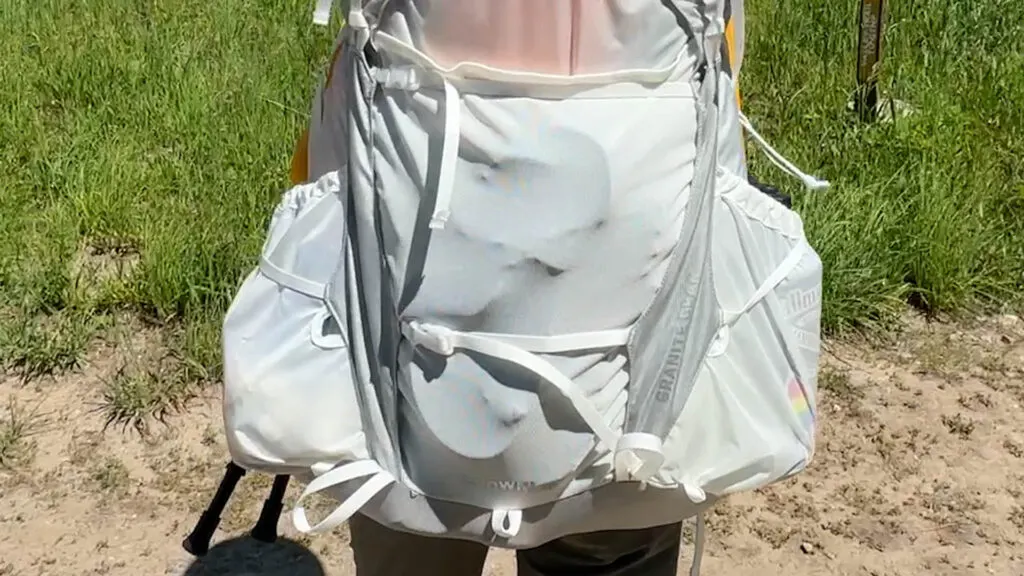 The front of the pack features a nice big stretchy pocket and two more compression straps, which came in handy when I wanted to just drape a rain jacket or stash a pair of sandals that needed to dry out after a creek crossing.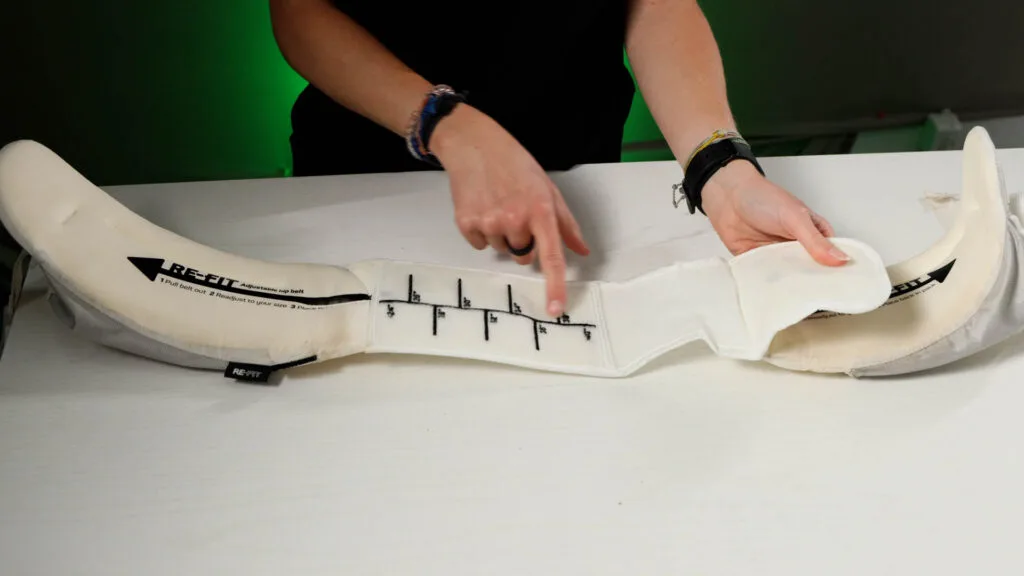 The new Re-Fit hip belt is comfortable AND adjustable so more people of more build types can comfortably wear the pack. It fits waists from about 24 to 40 inches, which is excellent. Plus, it has massive zipper pockets so you can stash snacks and such.
Or, you can remove it entirely. Which I normally wouldn't recommend on a 60 liter pack, BUT, you can also fully remove the lid via two buckles in the front and two in the back, clip it around the detached hip belt, and carry it as a generously sized hip pack. Brilliant!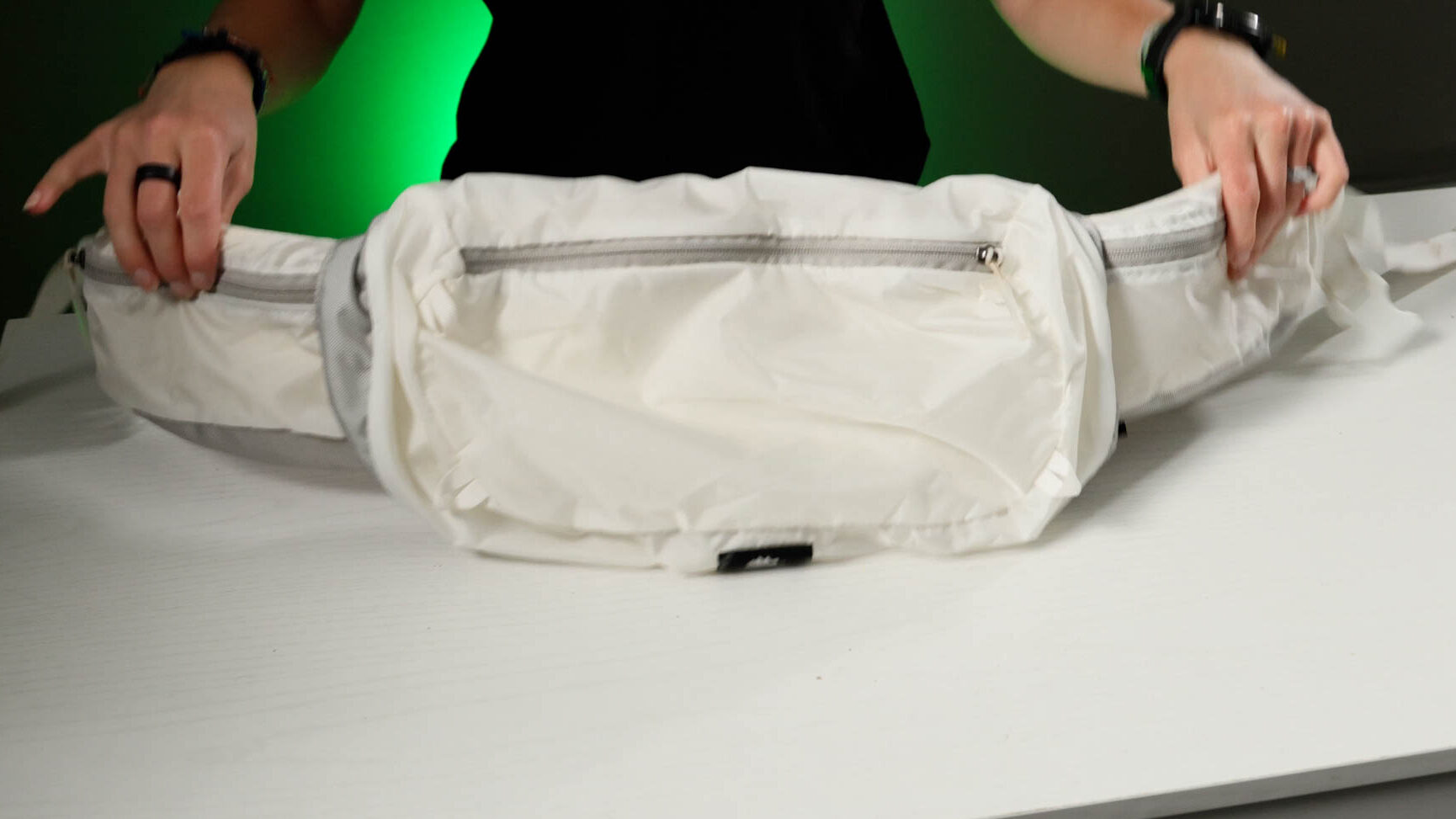 I mean, that's some solid versatility right there. You're basically getting a backpack and hip pack in one, which is perfect for trips that might involve day hikes or shorter excursions from base camp.
You can then even remove the buckle straps designed to hold the lid on so there's no unnecessary webbing flopping around if you plan to backpack without it (which reduces the pack's weight by just under 3oz).
If you do remove the lid, the opening rolls to close and a compression strap buckles over the top. It's a great place to attach a foam sleeping pad or an ultralight tent.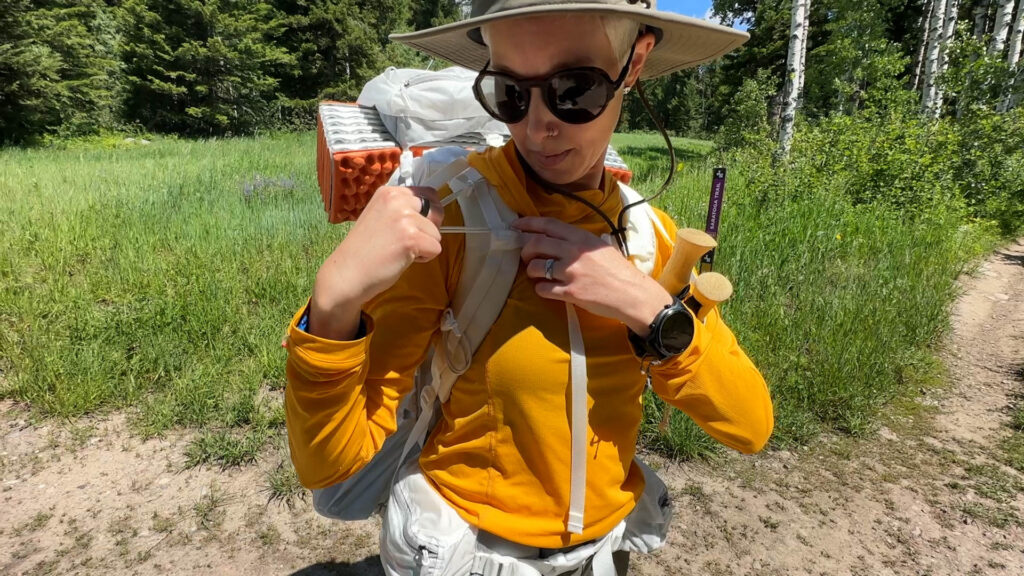 I appreciated the removable bungees on the shoulder straps–two on each side–because they're larger than most bungees and allow you to secure tons of stuff to the straps: a phone–as long as it's in a grippy case, of course–trekking poles, water bottles, a beer in a coozie, you name it.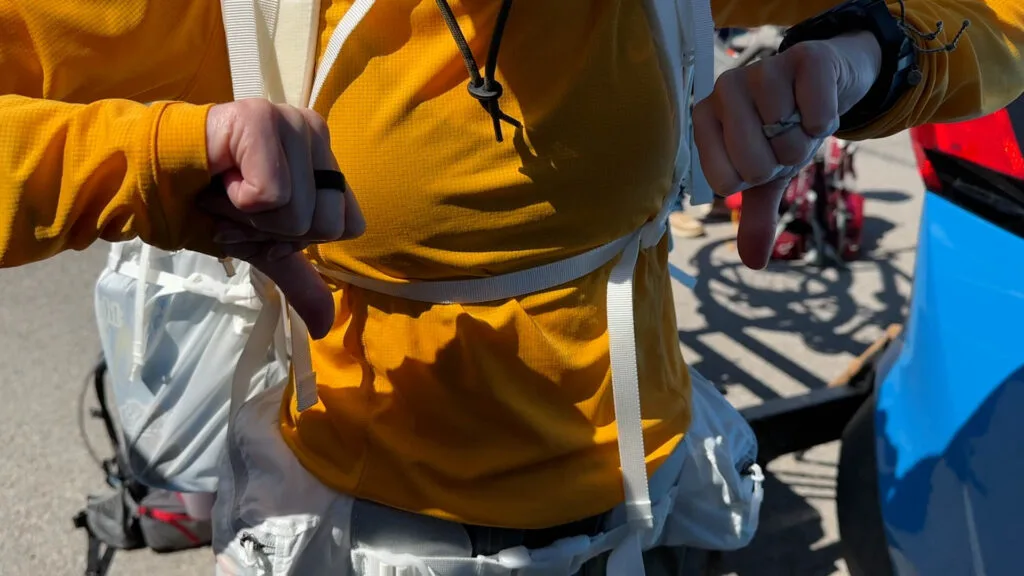 I didn't care as much for the dual sternum straps. They're intended to work more like a running vest: use both and ideally the pack becomes more stable and stationary and all that. However, I removed the lower one immediately. I dunno if it's just my body type, but it hit in a weird spot and because of how the pack straps fit me, I couldn't move it any lower. Plus, it didn't seem to aid in stability, so I ditched it.
But let's talk about actual fit and function for a sec. Because all those features are great, but they don't matter if the pack is uncomfortable.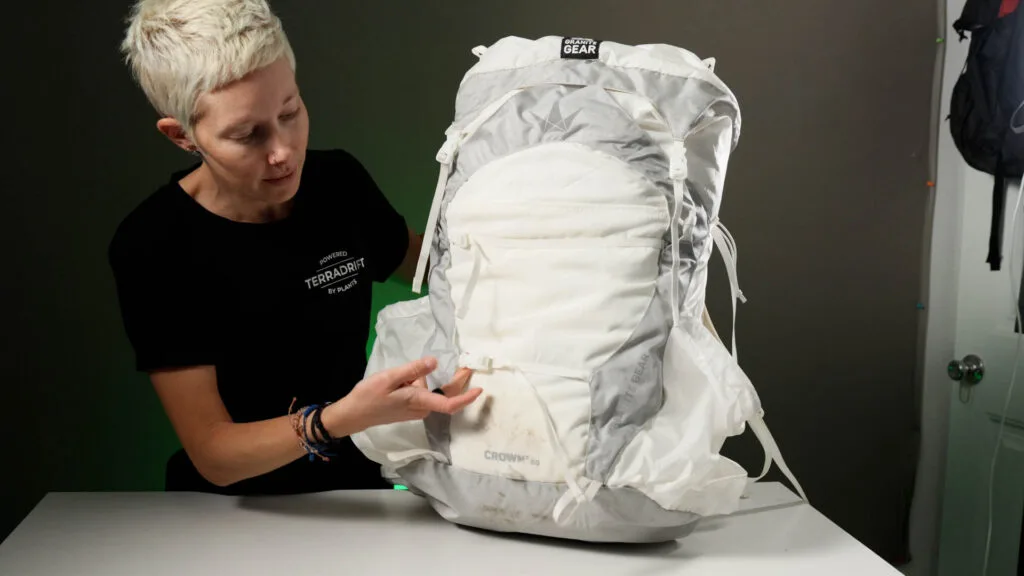 Granite Gear Crown 3 60L: Fit and Comfort
Which, unfortunately, It kinda was.
But that may be largely a personal problem, because body type and size have a lot to do with who finds a pack comfy and who doesn't.
Now, we tested the women's-specific fit. So the shoulder straps are shaped just a bit differently and the torso is a little shorter. But as it turns out, not short enough. This is the smallest version of the pack with the 15in–18in torso, and it still felt too big for me.
In part because where the shoulder straps are positioned on the torso isn't adjustable. Now, that's pretty typical for an ultralight backpack, but it makes getting the perfect fit for a wider range of individuals a bit trickier.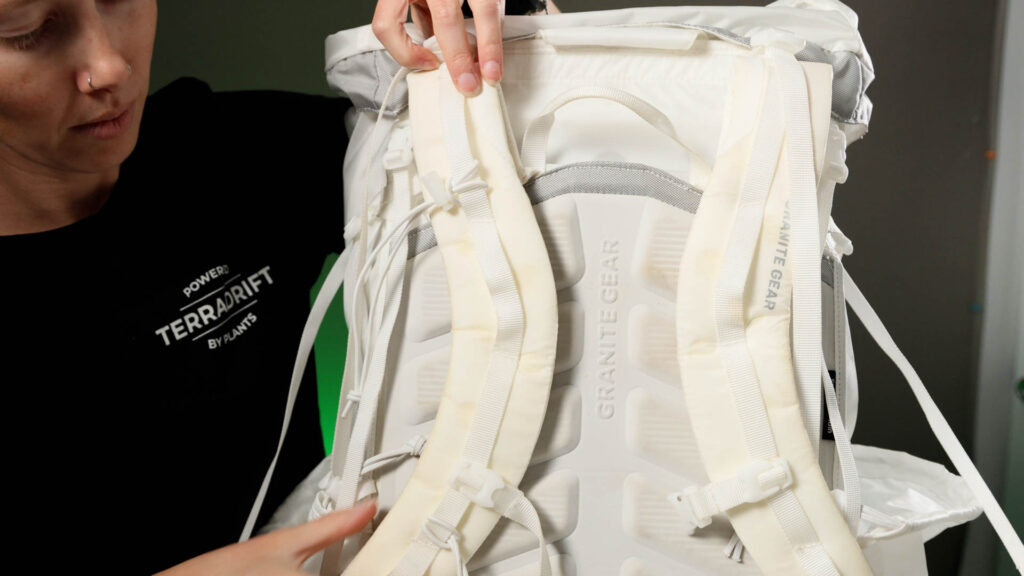 In contrast, the Osprey Eja Pro we tested recently has fully adjustable straps that you can raise and lower on the torso, thus dialing in the perfect fit. And it's still an ultralight pack.
That said, Josh also carried the Crown 3 for a few days, and it did fit his body a fair bit better despite being a women's pack–I mean, he's not a large man. But still, it certainly looked less ridiculously oversized on him. I'm tempted to say that a person of my size just has no business carrying a 60L pack. I'm too dang small at 5'3″ and 105lbs.
So the Crown 3 60L may not be the ideal pack for shorter backpackers or those with a shorter torso. At least I didn't find it very comfortable or well-fitting.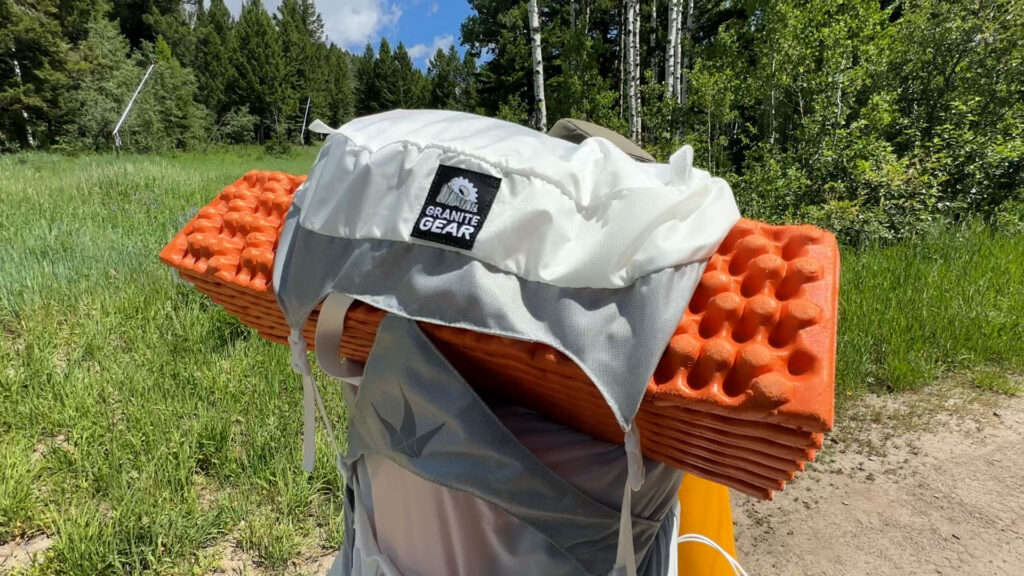 That said, we were carrying more weight than we usually do thanks to a bear canister and the extra layers required for cold mountain nights, but we were still well within the comfortable carry range of this pack–which is 45lbs with the frame and stays inserted.
Sizing aside, the padded hip belt and shoulder straps were comfy enough, but that rigid foam back panel was…less than ideal. It had zero squish to it, so it was quite stiff and not very breathable.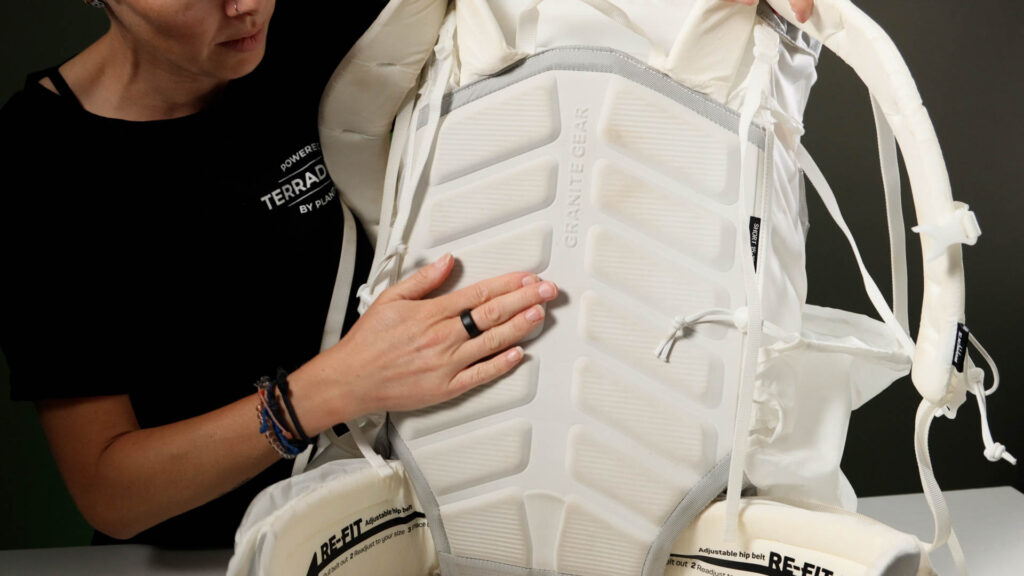 That said, neither are a lot of true UL packs. In fact, if you're comparing the Crown 3 60L to say, the Waymark EVLV, the back panel should actually be more breathable. Plus the Crown WILL be a more comfortable and suitable pack for heavier loads thanks to that panel, as completely frameless packs are notoriously tricky to pack in a way that sits comfortably on your back.
Especially if you're carrying a bear canister. Even the Crown took some finagling to get it situated inside the Crown comfortably–you'll still have to pack it strategically–but I found that positioning it on top of a stuff sack full of clothes helped keep the base from digging into the posterior of my pelvis.
When we carried the Crown 3 without a bear canister, it was much more comfortable. Still hot, though.
Dang bear canisters. Always complicating backpacking trips.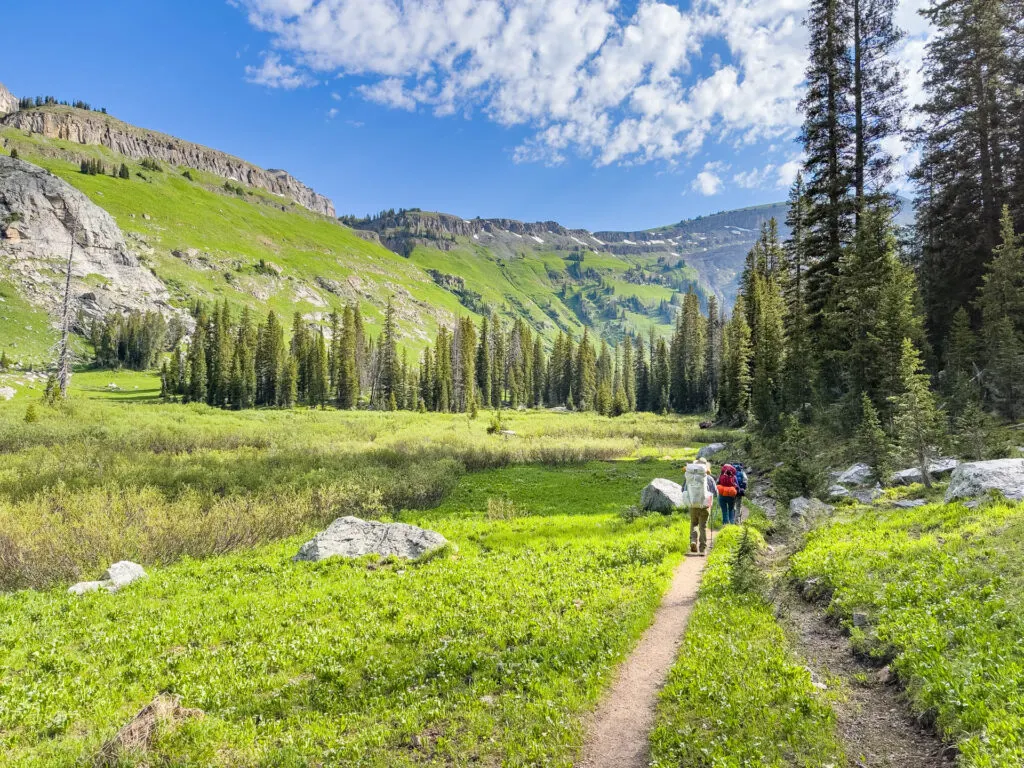 Sustainability
As for sustainability, the whole bright white undyed thing isn't just for looks. Synthetic dyes are actually super harmful to the environment because they seep into waterways and threaten the health of people, plants, animals, everything (read more about why undyed gear is sustainable in this article).
So undyed gear is more environmentally friendly gear. We're big fans. We have undyed boots, sleeping bags, day packs, and love it all.
Also, it's super fun to get dirty–though the Crown 3 60L does come in one other color if you really hate white.
But just because it's undyed doesn't mean it's free from all harmful chemicals or materials. It's not made of recycled fabrics–though they are durable fabrics that are easily repairable and should last for years–and the pack is treated with DWR that contains PFAS, which is a major bummer (read more about DWR and PFC's here).
Also, it seems largely unnecessary. It's not like DWR makes your pack magically waterproof in a downpour. You're still gonna need a rain cover or pack liner.
So backpack manufacturers, can we please ditch DWR that contains PFAS already? Please?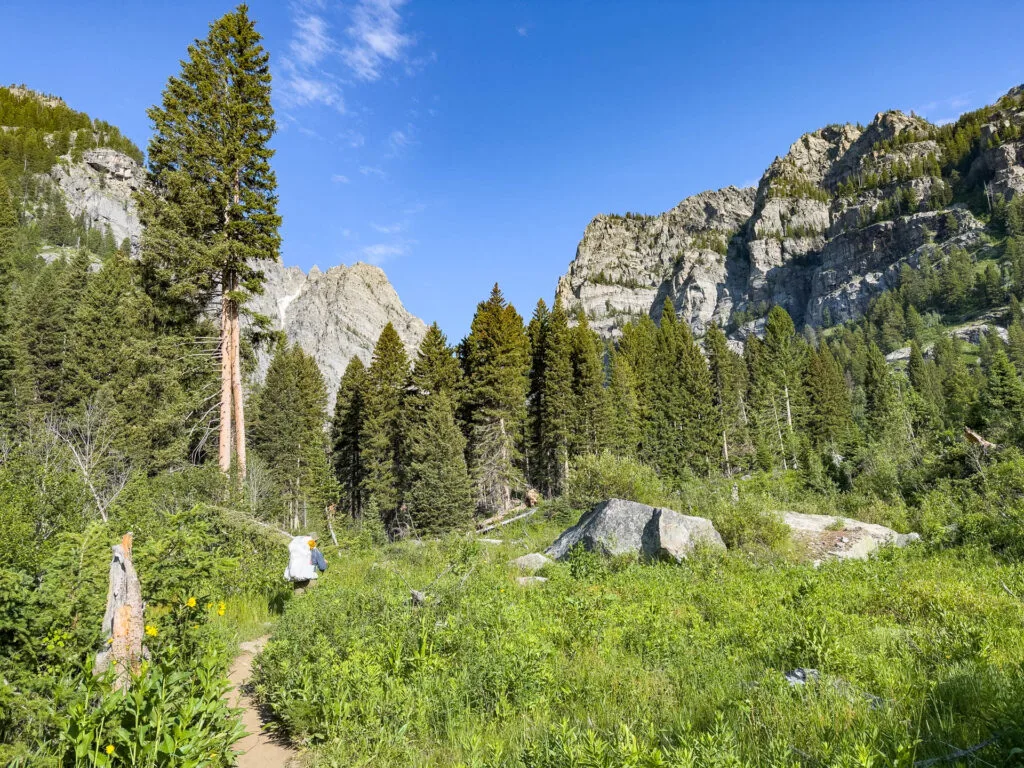 Bottom Line
When all is said and done, the Granite Gear Crown 3 60L is highly versatile, tolerably comfortable, has loads of space for gear plus extra storage and organizational pockets, and looks good doing it.
It can carry moderate or ultralight loads and features tons of customizable straps and useful features for everyone from weekend warriors to thru-hikers.
The only real downsides are that it doesn't fit smaller bodies as well and there's not as much adjustability as you might find on other packs that attempt to bridge the divide between standard and ultralight packs. Also, that DWR…😒
If it sounds like the pack for you, check out the women's and unisex versions below, then hit the trail and wander on.
•
This post contains affiliate links, which means when you clicky-click and make a purchase, we may receive some compensation. Don't worry, it won't cost you any extra, but you will be supporting Terradrift! That's what we call a win-win!
Alisha is a freelance writer and photographer based in Austin, TX. She loves her tiny house, vegan food and experiencing the community of travel in far away places. She's also pretty sure she's addicted to coffee. alishamcdarris.com